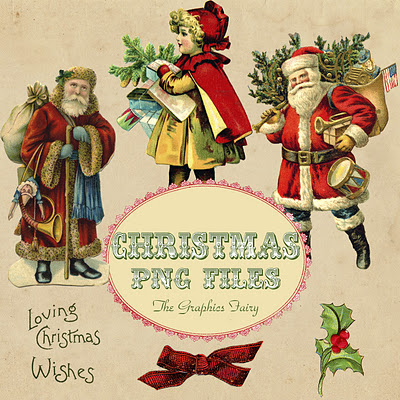 UPDATE: Well this experiment was a bit of a Flop I'm afraid! We've reached some type of Bandwidth Limit and Google Docs won't allow anymore downloads on this. It may come back in a few days, I'm just not sure about that. I haven't had much luck in finding an alternative, it seems that most all of the File Hosts either limit Bandwidth, or have some other sort of issues with them. For those of you that didn't get to download it please go HERE to grab the PDF File with the same images in JPG format. Sorry for the inconvenience!
Click
HERE
for the
Zip File Download
(When you click the link, you will see 7 files, if you want
to download them all at once
, click on "
Download Original
" which is located in the
upper right corner of Google Docs
!)
Here's something new that I tried today. I've created a Zip File of some of my favorite Christmas Images. These are PNG files with the backgrounds removed, perfect for Digital Collage, Scrapbooking, or Web Design. I've had several requests lately for various different file types of my images, while I can't offer every file type every time (that would turn me into a crazy person pretty quickly!), I can do some other types of things every now and again. This collection took me nearly the entire day, but it is the first time that I've done this and I'm sure I would get faster with practice. I definitely want Feedback from you guys! I think this could be one of those things that you will either love or hate! If your into the Digi stuff, you will probably love it, but if you're normally a traditional crafter type, you might not be so keen on this, as you will need a zip utility like WinZip to unzip the files in order to use them. I'm just not sure what ratio I have here of Crafters to Digi peeps, so I need your help with that! If you think you would prefer some regular JPG Collage sheets, that could be an option too, or maybe you have something entirely different in mind that you've been wishing for here. Let me know! In the meantime I hope you can use these 6 PNG files. Included are 2 Santas, a Little Red Riding Hood, "Loving Christmas Wishes" sentiment, a Red Grosgrain Bow and a Sprig of Holly.