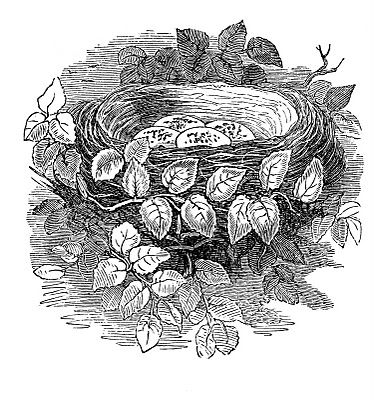 Click on image to enlarge
This splendid engraved Bird's nest with eggs image comes from the most amazing book! In fact I do believe it's currently THE most amazing book in my collection, but that's all I'm going to tell you today, more on that tomorrow because I have some other exciting news to share with you today!
So here it is. Today I'm being spotlighted… interview and all, by a wonderful new site called The Blog Guidebook. Now I know what you are thinking. You're thinking "geez Karen another interview, how many times are you going to make us read about you!". haha But here's the thing, it's a fabulous new site and a wonderful resource for anyone that blogs, or is thinking about blogging. It really is worth checking out! And besides, there's a bribe involved! Yes that's right, I'm now resorting to bribing my readers to read interviews about me!
So here's the 411:
1) Leave a comment here on this post and tell me the name of one of your favorite images here on The Graphics Fairy.
2) Pop on over to the The Blog Guidebook and leave a comment there as well.
You might just walk away with a $25 Gift Card to Michael's Crafts. And you know you need some craft supplies!
(I'm running this through Thursday and will announce the lucky name on Friday)
CLOSED – Thank you to all that participated!!!


Share