Here's a Romantic Vintage Image showing a Lady with a Flower Basket! The basket is full of pretty Pink Roses and the woman is wearing a lovely flowing dress. Nice for your Shabby Projects!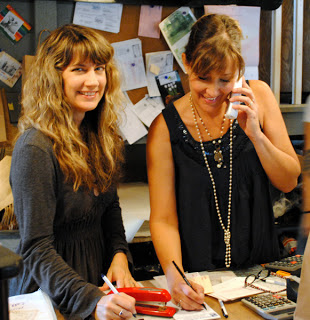 Me and Lisa, working at the Counter at Lucketts
In Other News: The Lucketts Store Holiday Open House is this weekend! Nov 2 – 4th 2012. If you live in the greater D.C. area be sure and stop by, it is gorgeous and worth the trip! I'll be working one of the counters, along with my friend Lisa, and the rest of the crazy bunch, be sure and say hello if you stop in! Also Marian will be doing a Book signing for her new book!