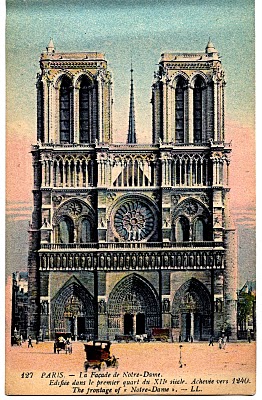 Click on image to enlarge
This is another postcard from the Paris postcard souvenir book. This one is Notre-Dame. How grand it looks! If you look very closely you can see some tiny motor cars and even a horse and wagons. Everything looks so small next to this immense building! To see more in this series, including the back of the card you can go HERE.
P.S. I had planned on announcing the lucky name of the person receiving the gift card tonight, but there was a little mix up and I'm not sure if I was to handle it or if Sarah at The Blog Guidebook was to do it. I am waiting to hear back, but it is Friday night and she may have plans, so I will probably just make the announcement tomorrow instead!
Share