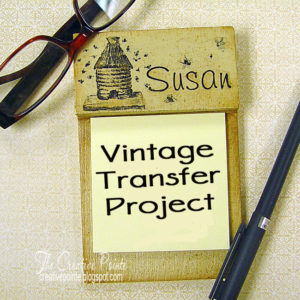 Today's reader feature is this beautiful beautiful Vintage Style Note Holder, submitted by our friend Cindy Pointe.  Cindy first selected and used my French Beehive image, then placed it in photoshop for her layout design.  She then painted the entire wood holder with Americana Decor Chalky Finish.  Next, she printed out the image using a laser printer, and cut each of them out.  Cindy then transferred the Beehive image onto the note holder using a polycrylic method.  After the image was transferred, she used a brown acrylic paint to shade in the image, letters, around the sides, bottom , and back of the holder.  Next, she flyspecked the whole piece, and once it was dry she painted a coat of polycrylic.  For her last step, Cindy placed double sided tape onto the back of the post-it notes to attach them to the holder.  These would make such cute party favors, and gifts!!
This is such a lovely project! Thank you, Cindy, for sharing your talents with us! To visit more of Cindy's projects, please visit her Blog site here.  To learn how to transfer images yourself, visit the Transfer Methods Page.
Do you have a project you'd like to submit?  You can share your projects, HERE! We would love to feature you!