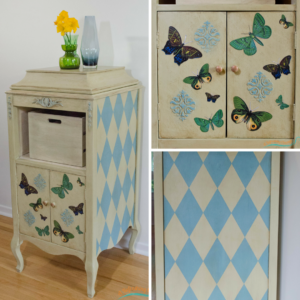 This morning's reader feature is this Beautiful Victrola Cabinet, submitted by our friend Michelle Muncaster.  The cabinet was stripped of all the Victrola parts, and the top door was missing.  Using Anne Sloan chalk paint in Versailles and a 50/50 mix of Versailles and Giverny to create the lovely blue color, Michelle hand painted the entire piece and made a harlequin design on both sides.  Michelle then decoupaged my Vintage French Butterfly #2 image, French Butterfly #3, and Papillon French Butterfly image onto the front door.  She also added raised stencils to the front door as well.  Michelle finished off the doors with a Anne Sloan Craqueleur, and used a dark and light wax for the whole body to give it an aged and vintage look.  This could make such a great storage or display piece.  Love the butterfly images!!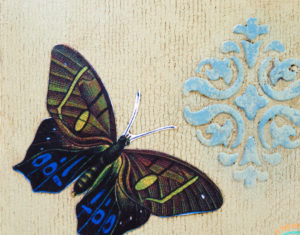 This is such a fabulous project! Thank you, Michelle, for sharing your talents with us! To visit more of Michelle's projects, please visit her Facebook site here.  To learn how to transfer images yourself, visit the Transfer Methods Page.
Do you have a project you'd like to submit?  You can share your projects, HERE! We would love to feature you!