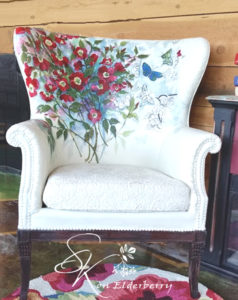 This morning's reader feature is this beautiful large Wingback Chair, submitted by our friend SK Sartell.  This chair had been in storage for decades, and was ready for a new life.  SK first recovered the entire chair with a white canvas, and added some heavy lace onto the chair seat.  She also hand sewed some lace to the upper front corners of the chair.  She then hand painted the entire chair, which included using my beautiful Butterfly Branches image throughout the entire theme. For her finishing touch, SK waxed the whole chair with a clear paste wax and buffed for shine.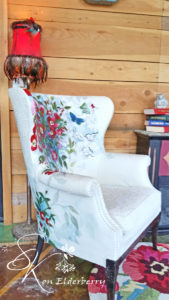 Thank you, SK, for sharing your talents with us! To visit more of SK's projects, please visit her Blog site here.  To learn how to transfer images yourself, visit the Transfer Methods Page.
Do you have a project you'd like to submit?  You can share your projects, HERE! We would love to feature you!