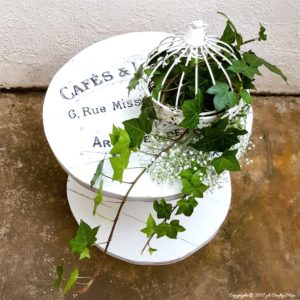 Today's reader feature is this gorgeous Wooden Cable Spool Side Table, submitted by our friend Michelle Leslie.  A wooden cable spool was hard to find, so she decided to create her own from scratch.  In order to pull this off, she used certain supplies such as: some cut offs she had, a PVC pipe, Shiplap, pallet boards, glue, and small circles of thick bits.  After finding and cutting all of the supplies needed, she applied the white paint onto all of the pieces, and then put the whole table together.  She then transferred part of my French Typography image onto the top of the table.  For her final touch she wanted to create an authentic look, so she made a hole at the top center of the table.  This is such a creative and beautiful piece!!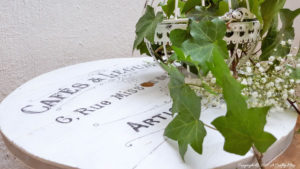 Thank you, Michelle, for sharing your talents with us! To visit more of Michelle's projects, please visit her Blog site here.  To learn how to transfer images yourself, visit the Transfer Methods Page.
Do you have a project you'd like to submit?  You can share your projects, HERE! We would love to feature you!