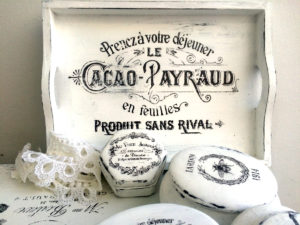 This morning's reader feature is this beautiful wooden tray, submitted by our friend Solange Marques.  This tray was the first of a series of many transfers using this transfer technique.  Solange wanted to try this transfer method on painted wood, and it turns out it was a success.  She transferred my French Chocolate Cacao image using BoBunny transfer solution.  Solange first printed the image using a laser printer, cut the image out, and then placed it face down on the surface that she wanted the transfer on.  Then she took a cotton swab and wet the tip with the solution.  Going by sections, she then rubbed the cotton swab over the whole image.  For her final step she rubbed over the paper using scissors, and then removed the paper to see the final product.   This tray would make such a wonderful display piece!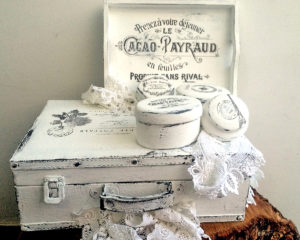 Thank you, Solange, for sharing your talents with us! To visit more of Solange's projects, please visit her blog site here.  To learn how to transfer images yourself, visit the Transfer Methods Page.
Do you have a project you'd like to submit?  You can share your projects, HERE! We would love to feature you!