Hello! My name is Diana, and I am the girl behind Dreams Factory, a blog with Vintage, French & Shabby touches. I was flattered and extremely happy when Karen asked me to do a guest post on her DIY blog and I've decided to show you how to transform some ordinary tin boxes into vintage, super chic & frenchified decorative boxes with a grain sack inspired pattern, that you can use in your home to store all kind of things, even beautiful memories from France. 🙂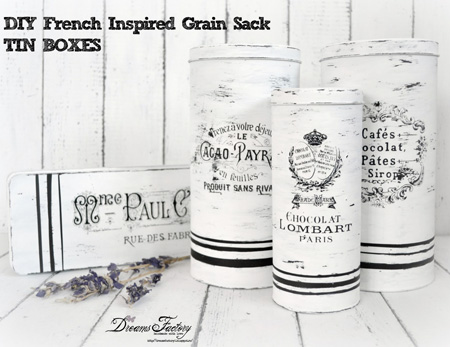 Before we begin, please try to imagine this whole transformation as a process of adding multiple layers – we will have primer, a base coat, wax candle, a top coat and some matte finish spray. It is important that your layers are not too thick, because you might not be able to close the lid of the boxes when you finish – don't ask me how I know
that … 🙂
It is also very important not to use too much water with your acrylics, because the paint might crackle on the boxes when too thin – don't ask me how I know that either 🙂
Supplies:
– Synthetic brushes
– Primer or Gesso
– Black and white acrylic paint (or any other two contrasting colors), 
– Candle wax
– 320 grit sandpaper
 – Scissors
–  Matte finish acrylic spray
– PVC tape (or any other tape)
– Waterslide decal paper 
–  Ordinary tin boxes 
*This post contains affiliate links.

Prepare your surface by applying one thin coat of primer. The primer will give your object a matte and uniform look. Let the primer dry completely before moving to the next step.
Use a brush to apply a thin coat of black acrylic paint, the base coat. Let it dry for a few hours, maybe over night, just to be sure the paint is completely dry.
Rub your boxes with a wax candle – this will help to get the distressed look- it will get the base coat (black
acrylic paint) to show through your top coat (white acrylic paint) – so be sure to rub the corners, the edges and all the surfaces that you want to age more.
Apply a thin coat of white paint.
Depending on your preferences, you can choose to apply another thin coat of white acrylic paint.I have decided to go for a second coat of white paint.Let it dry completely before moving to the next step.
Start distressing the surfaces with a 320 grit sandpaper to get a vintage look – there are no rules, just give it a little more sanding on the places that you want the white paint to look chippy and the black one to show from
underneath. Only stop when fully satisfied with the results.
Cut different size widths of tape and apply them on your boxes to create parallel stripes,a grain sack inspired pattern.
Coat your stripes with white paint first – this will act like a sealer and will prevent the final paint to spread under the tape.
 After the white paint is dry, apply the final paint (black) and let it dry completely.
Peel the tape off, but be gentle, you don't want the paint from underneath your tape to come right off with it.
Even if the paint peels off a little bit when you remove the tape, don't worry too much, we love that vintage look. And it can't be something so bad that some black or white acrylics can't fix! 🙂
Choose the images that you want to use from The Graphics Fairy, save them on your computer, copy/paste them into a Word document and re-size them to match your boxes.
Cafes, Chocolat, Pates et Sirops
For the image transfer I prefer to use the waterslide decal paper. I love the final clean look of the transferred image and the fact that you can apply it onto almost any surface. The waterslide decal paper has two sides – a shiny and transparent top foil and a paper base underneath the foil.
It is relatively easy to work with. Keep in mind that different brands of Waterslide Decal Papers may have different instructions, so make sure you read the instructions carefully on the package for your brand, and follow them.
Print your images on the shiny side of the waterslide decal paper and let it dry for a few minutes.
Cut the image with the scissors, close to the borders.
Sink your cut image into a bowl of water for 1-2 minutes. While in the water, check to see if the top foil with the actual image on it starts to slide, but don't remove it from the paper base just yet.
Take the waterslide decal paper out of the water and position it to the desired area on your box. You can now gently slide and gradually remove the paper base of the waterslide leaving the top foil with the image on the box.
Use a towel paper to remove the water and the air bubbles formed under the decal. Wipe gently because you don't want your decal to move from its position.
Allow the decal to dry for a couple of hours.
Spray the whole box with a matte finish acrylic spray to seal the decal and the acrylics. Make sure to do that in a well ventilated area or even take it outside. Allow it to dry completely.
You are all done now! 🙂
Don't hesitate to ask for any other further details.
I really hope you like them and decide to make some of your own!
Don't forget to smile! ♥
P.S. The French inspired grain sack tin boxes will be available in my Etsy shop real soon.
Hello! Are you new to The Graphics Fairy- DIY?
Welcome, I'm so glad you're here! This is actually a separate blog from my Vintage Image site. Browse around to find Projects and DIY Tutorials, as well as Free Iron On Printables (many of them French!) You can subscribe via email so that you don't miss a single project or printable, just click HERE to sign up!