DIY Faux Rusted Pots Technique
Hello, Graphics Fairy friends! I'm Diana from Dreams Factory and I'm excited to share another DIY project with you – today we are using a technique to make some gorgeous DIY Faux Rusted Zinc Pots! With fall (officially) just around the corner, now it feels like the perfect time to add some spices into our lives. Of course we can add them to our pumpkin spice lattes or apple sauces, but what if we tried adding them to our craft projects to create some faux rust? Wait, I've already done that! 🙂 Remember my super chic DIY Faux Rusted French Labels? Can you believe I shared that project over 2 years ago?! I still love that project, but don't you think time flies way too fast these days?!
Anyway, while I was trying to decorate these beautiful zinc pots I had around using the faux rusted labels mentioned earlier, I had this (brilliant) idea – why not try to create some faux rust on the pots too?! So I started experimenting basically having no idea where my experiments would take me. I love when that happens, don't you? 🙂 I usually allow myself to be surprised and I enjoy the whole process even more. I have to say I'm really happy and quite amazed with how these beauties turned out, hope you will love them too!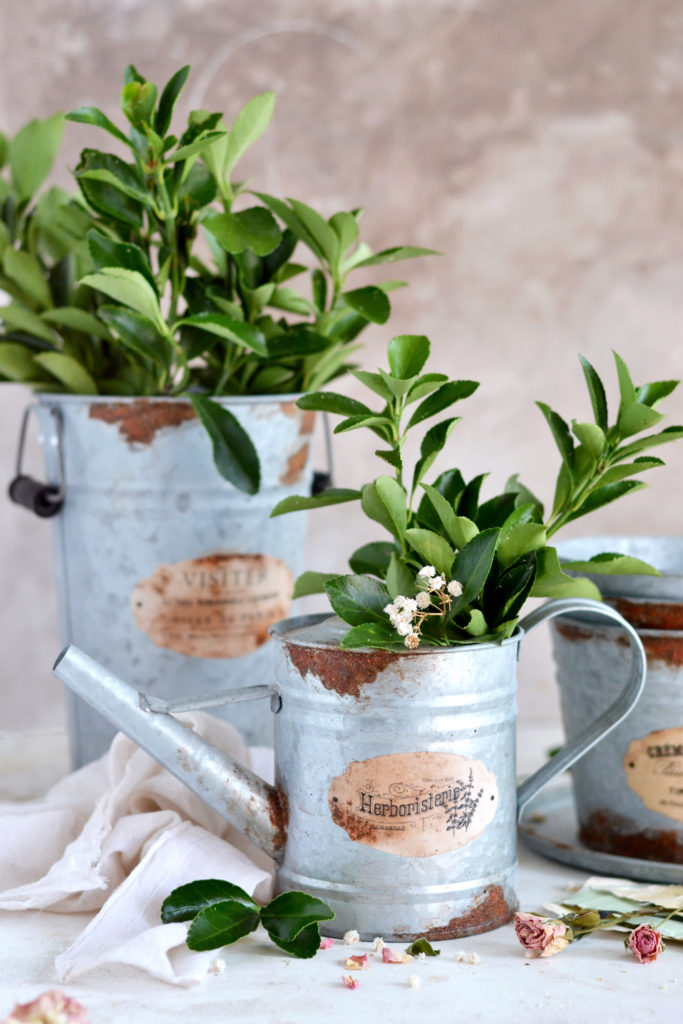 The lovely zinc pots that I'm using today can be found on Amazon, in different sizes and shapes, but you can easily adapt this project to any zinc pots that you have. You can choose to French decorate them first, like I did, or you can simply rustify them without any labels, it's all up to you!
SUPPLIES:
zinc pots
cinnamon
brushes
a plastic (or teflon) sheet to protect your working area
parchment paper
watercolors or acrylic paint
So it all started with these lovely simple zinc pots.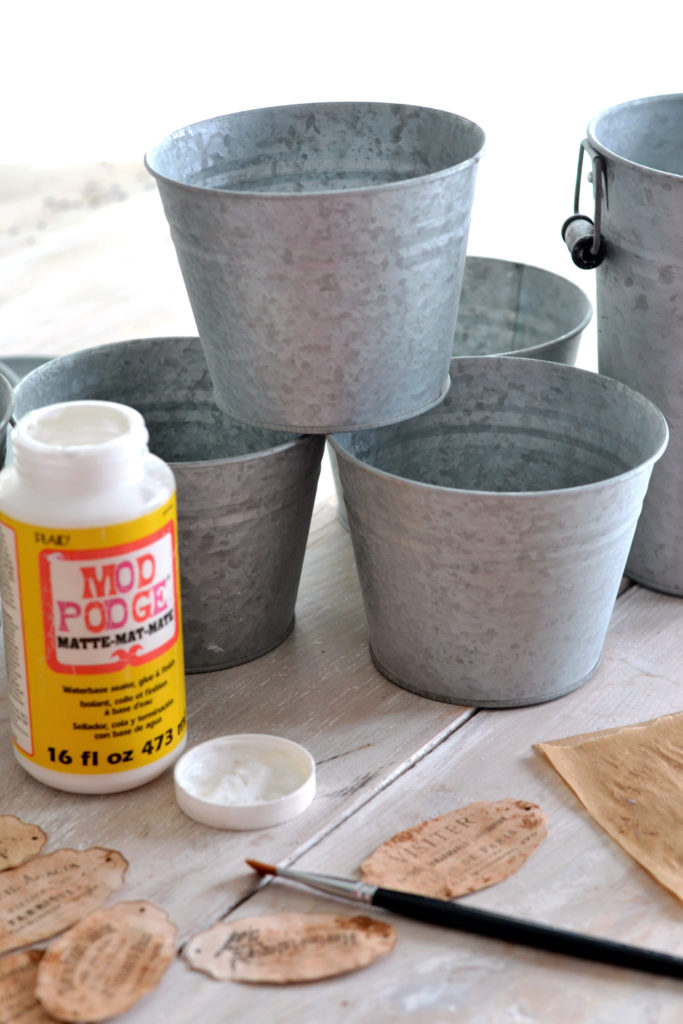 DIY Faux Rusted Zinc Pots – adhering the French labels
I already had the Faux rusted labels on hand, if you don't, just make those first! Go make them now, I'll wait for you until you are finished!
Done? OK, let's move on! 🙂
1. Place a small piece of parchment paper on your table so you can completely cover the back of a label with Mod Podge. It's important to brush a uniform layer of Mod Podge so the label would properly adhere to the zinc pot.
2. Center and align the label, then add it on the pot. Use your fingers to press and gently remove any air bubbles.
3-4. Brush a thin layer of Mod Podge on top of the label, this will make the paper almost waterproof after drying. Adhere all the other labels – if you have several pots – and let them all dry.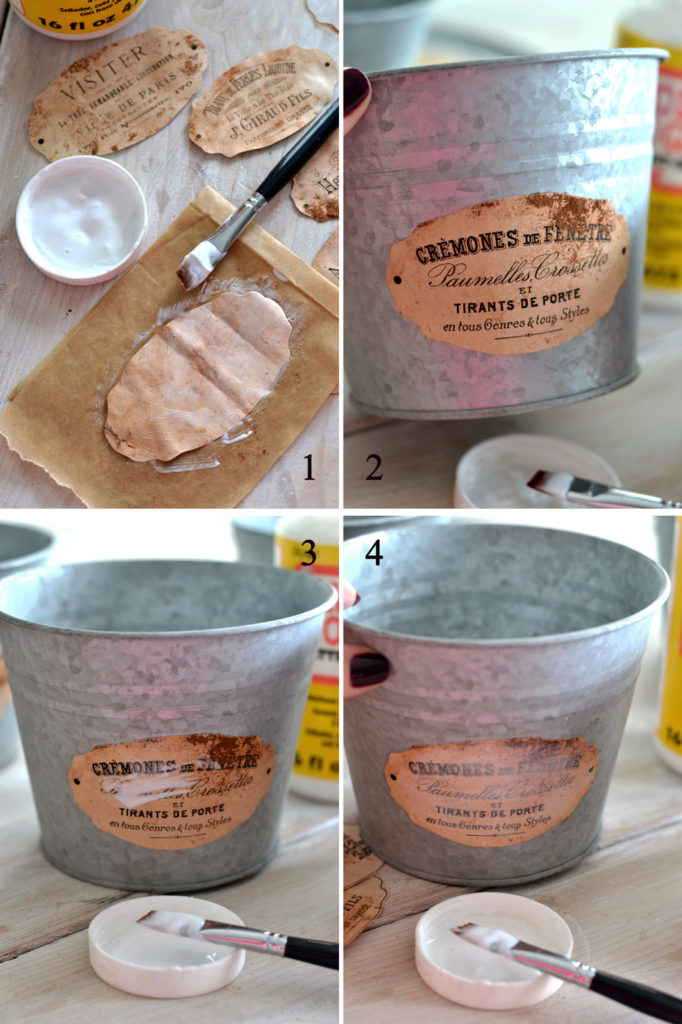 Now it's time to spice things up! Literally! 🙂
For the next step you can use cinnamon or pumpkin pie spice, like I did. Just make sure you protect your surface first, things will get really messy!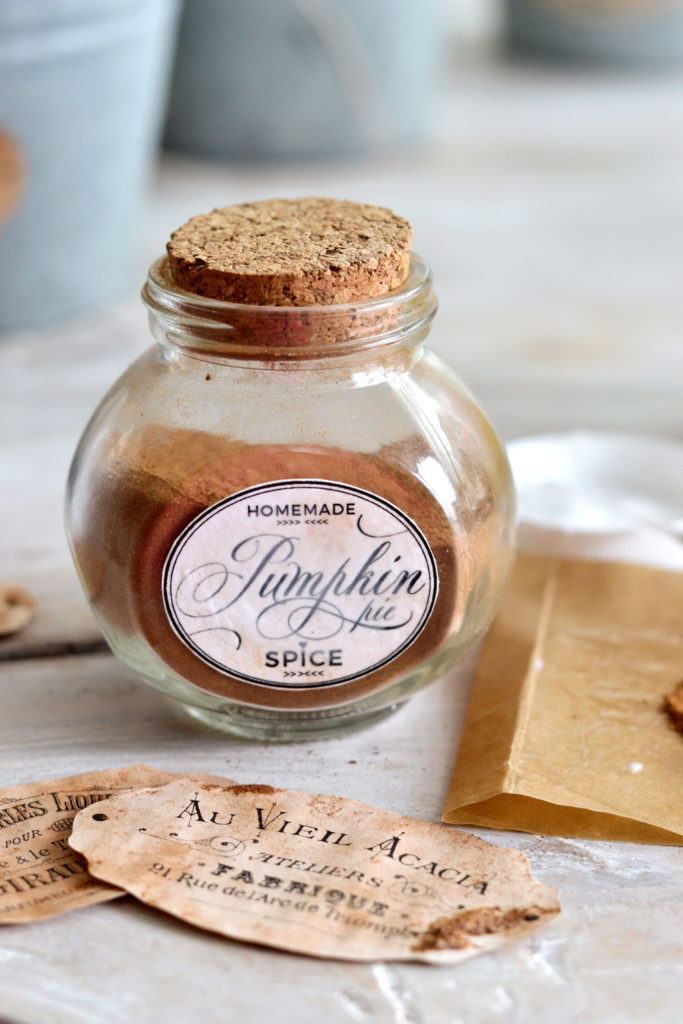 DIY Faux Rusted Pots Technique – creating the rust on the pots
Method 1
I told you my project was all about experimenting, so for my first try I added a little bit of cinnamon and a few drops of Mod Podge on the parchment paper used earlier. I used my brush to partially mix them and then I used the same brush to add the DIY Faux Cinanmon Rust on the zinc pots. I tried to mimic a naturally occurring rust and I initially dabbed and brushed a small amount of this mixture on the edges, here and there. You can also use a q-tip instead of your brush, with this method I only managed to add a small amount of rusted mixture on the edges.
If you are going for a more subtle vintage rusted look, this is the way to go! 🙂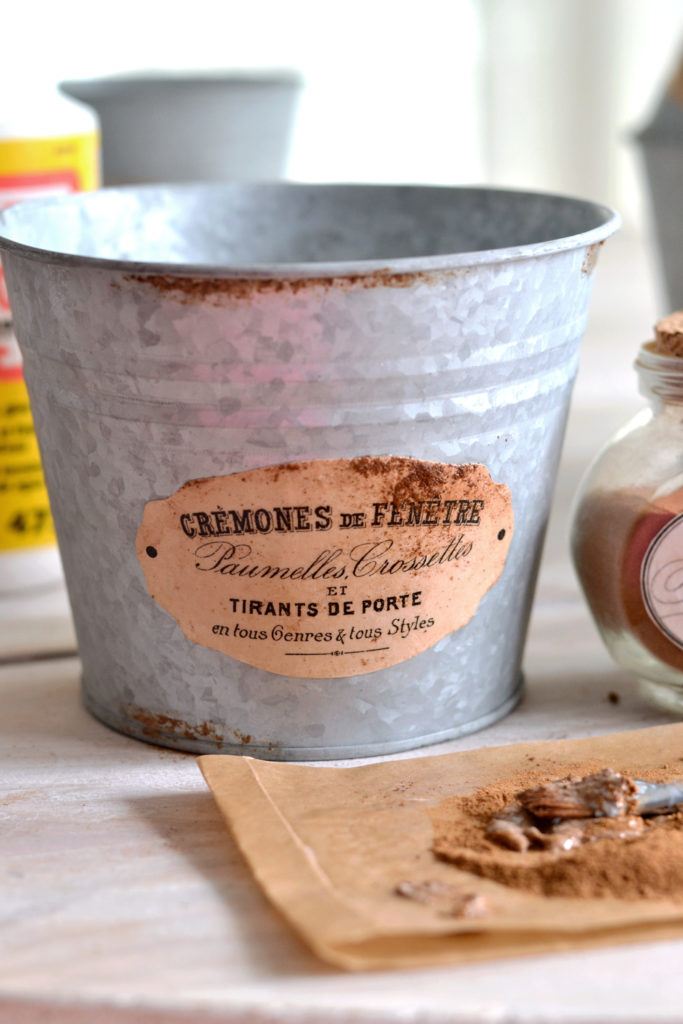 Method 2
If you want to give your zinc pots a more visible rusted appearance, give this second method a try!
1. Start by brushing some Mod Podge on the edges, here and there.
2. Sprinkle some cinnamon on top so you completely cover the Mod Podge.
3. Gently tap the zinc pot on your (protected) table and add more cinnamon if needed. You can also brush more Mod Podge in other areas, then add cinnamon, to create more rusted spots. Just remember, the cinnamon will only adhere to the Mod Podge – the more Mod Podge you add, the more cinnamon you will be able to add.
4. Do the same for all the pots and prepare for a real mess. At some point you will feel like a cross between a mad scientist and a chef that has gone rogue with a cinnamon bottle. 🙂 I told you things will get pretty messy … but at least your house will smell amazing! 🙂
Use a clean finger to gently press the faux cinnamon rust on the zinc pots and let everything dry for a little while.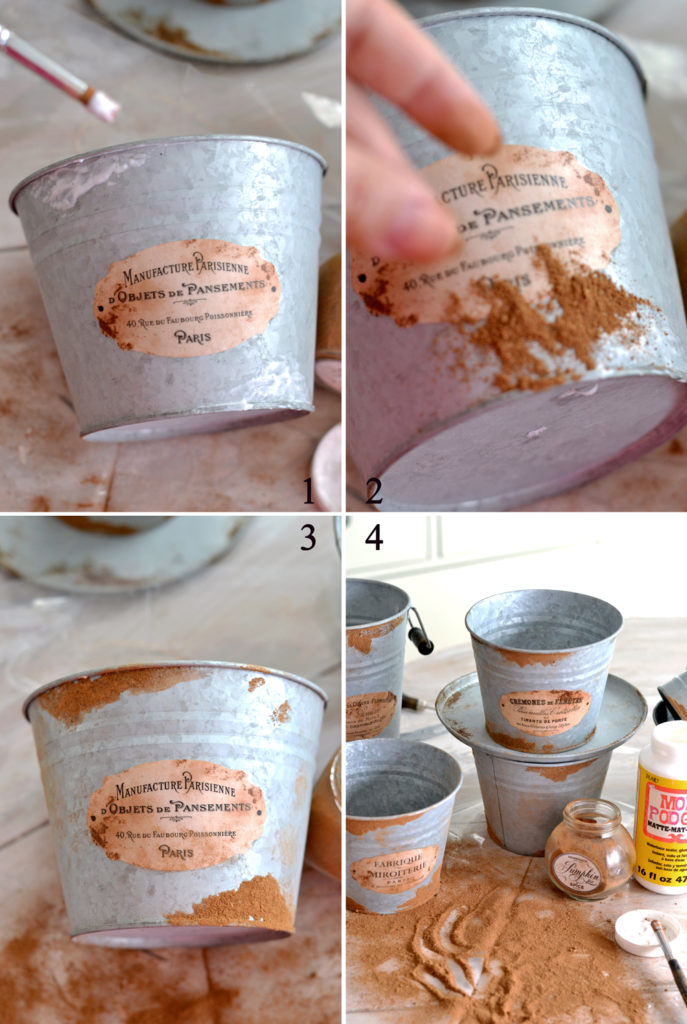 Then use a clean brush and a generous amount of Mod Podge and cover all the rusted areas that you created earlier.
Some of the rust will come off, but that's OK, we are not looking for perfection here 🙂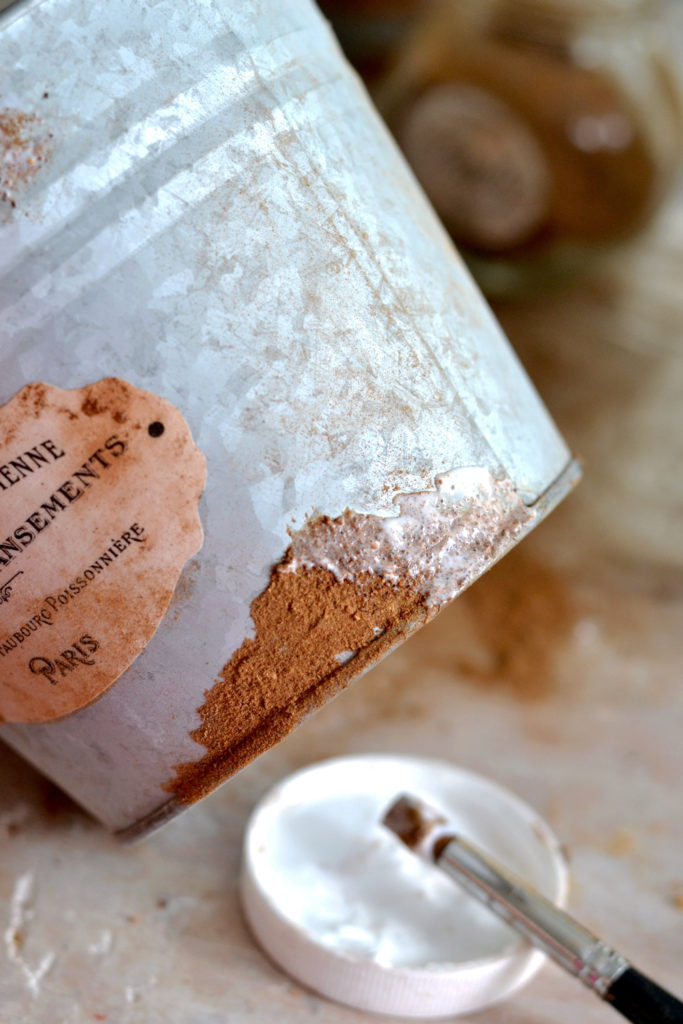 This is how your DIY faux cinnamon rust will look on the zinc pots after drying. It will now be embedded into Mod Podge and you will see that it will completely change it's beautiful cinnamony color into a dark brown color. At this point you might even think that everything is ruined, like I first did, that brown might not look that appealing!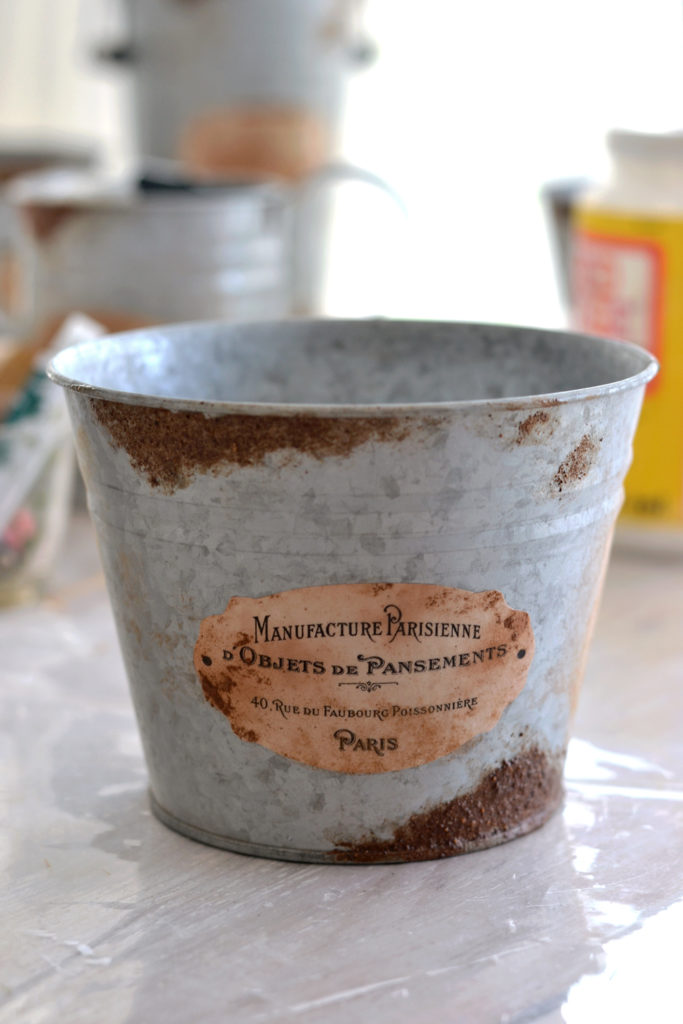 But there is nothing a little bit of color can't fix! My trusted friends Yellow Ochre, Burnt Sienna and Burnt Umber came to the rescue! 🙂 Ah, and a little bit of Cadmium red!
I used watercolors (I woke them up with a few spritzes of water first), but you can also use acrylic paint if you want. Now it's the perfect time to experiment with colors and truly make this rust your own!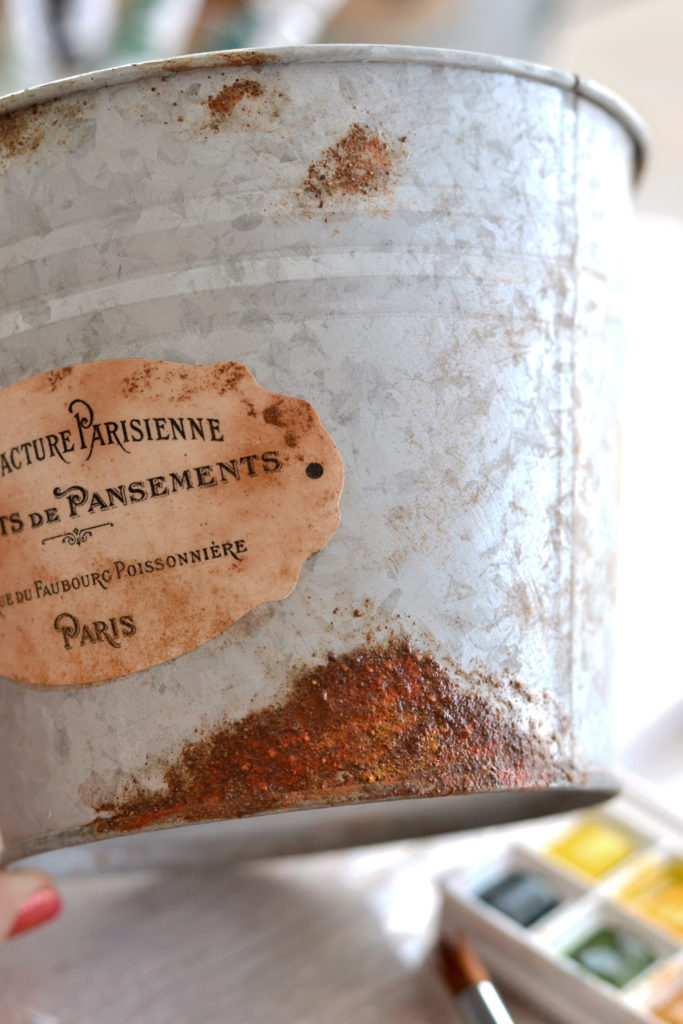 I used a small flat brush for this step, but if you don't have one, you can also use a toothbrush. Use your brush to dab some color here and there until you are happy with how everything looks. All these small pops of color will completely turn your DIY Faux Rusted Zinc Pots from dull to simply amazing in no time! 🙂
You can even add some color on the French labels, too, to give everything a more cohesive appearance.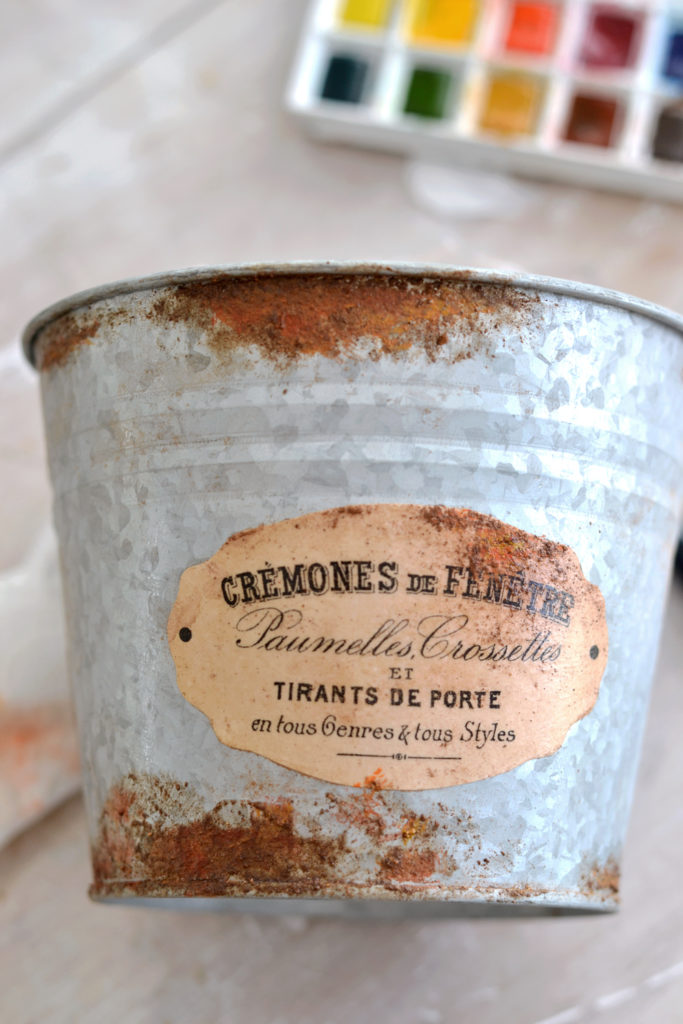 Finish all your pots following these steps … then sit back and admire your magnificent rusted work! 🙂 Each of your DIY Faux Rusted Zinc Pots have so much character now and are simply stunning on their own! Remember, you are in control and you get to decide how much rust you want to add, depending on your preferences. I also rustified the back of the pots, too! It just feels like you can never have too much rust! 🙂
By the way, I'm really curious, do you prefer the heavily rusted ones, or the more subtle ones?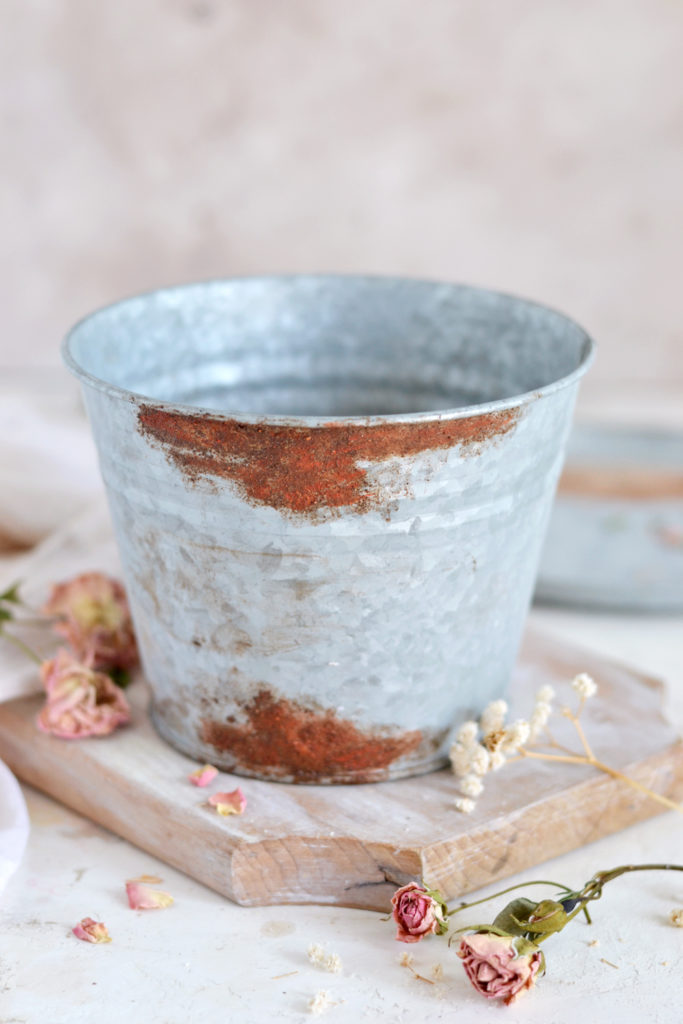 This is one of those projects that not only look but also feel vintage and rusty. The cinnamon and the Mod Podge manage to create such a beautiful texture, you will be amazed to see how similar it actually is to real rust!
NOTE: You could also add two small dots of black dimensional paint over the faux nail marks on the labels, I bet your zinc pots would look even more amazing! 🙂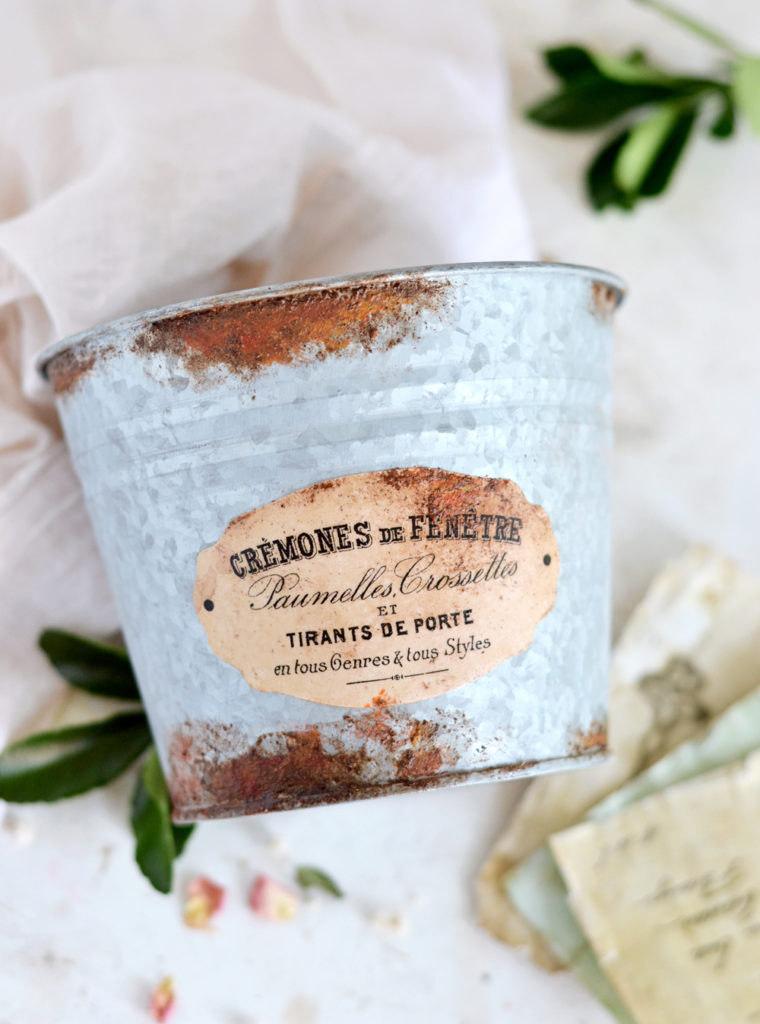 I hope you will try this DIY Faux Rusted Pots Technique…. now you'll be able to make gorgeous designer pieces for your home decor! They can be used as vases or pots with seasonal fresh or dried flowers, cacti or small tree branches, they can be easily adapted to any season. You can even use them to plant aromatic herbs and have them near by in your kitchen to accompany you in all your cooking adventures!
Happy crafting,
Diana / Dreams Factory