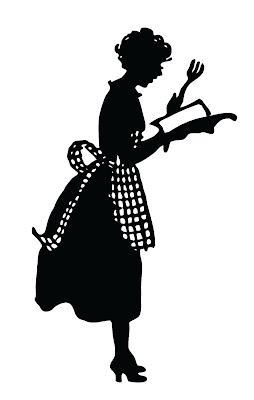 Click on Image to Enlarge
Update: For those of you that are having trouble enlarging this one, you can grab it HERE. There seems to be a glitch with this one, that I'm not able to fix.
This is an adorable Silhouette of a Woman wearing a checkered Apron! She looks like she's about to Cook or Bake, with her Cookbook and Fork in hand! This would be cute to use on Recipe Cards, in a Family Recipe Book or to illustrate a Cooking post on your blog. This one came out of a Circa 1920s Cookbook.