Best Paint for Terracotta Clay Pots
Would you like to spruce up your Terracotta Clay Pots for Spring and Summer? Painting them is an easy and inexpensive way to make it happen. Plus, painting terracotta pots is a great craft technique that anyone can do. It does not require great artistic skill and is loads of fun! Today we will learn about the best paints available to decorate these flower pots and review some of the basics involved in painting them. Let's learn how to turn these classic flower containers into a personal masterpiece for your home or garden.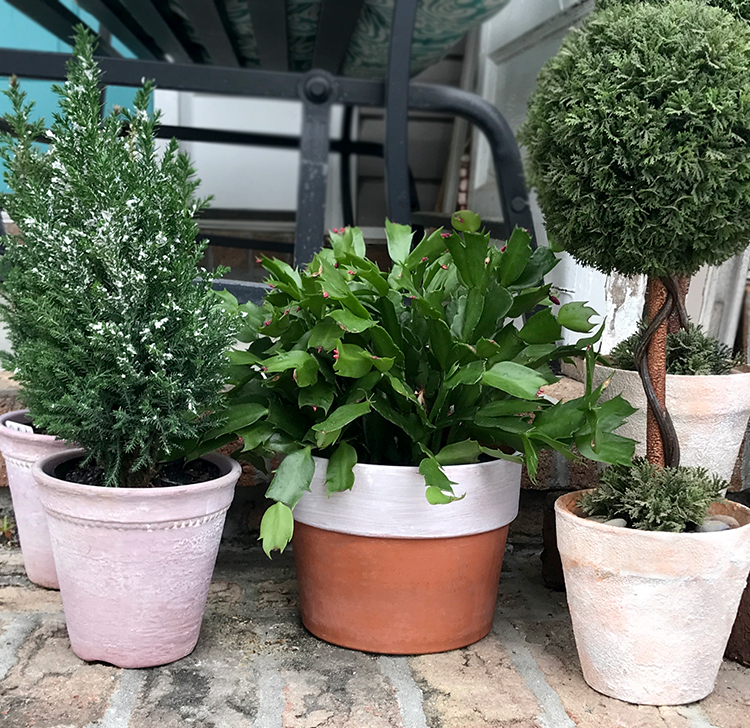 What Will the Terracotta Pots be Used For?
Before painting the surfaces, it is important to know where the pots will be placed and what will go in them. If your intended purpose is to put soil in the pots and grow plants, you want the water to pass through or drain out. The reason to use a clay pot to grow plants is the porosity of clay. The pores in the pot's walls allow air and moisture to get to the roots and lets them breathe. Extra moisture will pass through these pores, making for a healthy plant. So we do not want to mess with this ecosystem by waterproofing them with thick layers of paint! For pots with growing plants, I recommend a thin, light wash of paint that does not cover the entire surface of the pot without a primer.
However, if you want a pretty way to contain an artificial plant indoors, you can use any paint and primer that you like. Since you will not be watering the plant, you will not need to be concerned about the porosity and breathability of clay. YAY!
The most important point to remember about terracotta clay pots is, as previously mentioned, the fact that they are porous. Paint will soak into the clay surface. And depending on how you plan to use them, you need to make some decisions about whether to prime them or not. Some paints and primers will affect their breathability. Other products can make the pots waterproof or water resistent. The soil in a waterproofed pot will hold much more moisture than an untreated pot. Sometimes it is better to not mess with the breathability by waterproofing them. Hmmmm???
Chalk paint was dabbed onto the pots below with the tips of a paint brush. When dry, they were washed with watered down paint. (See directions for washing clay pots below)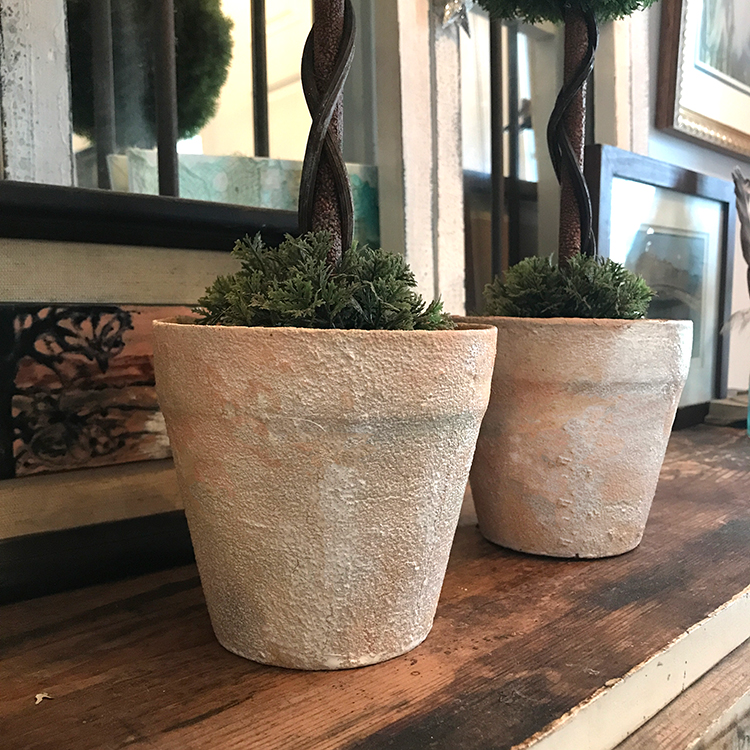 Preparing the Clay Pots for Painting
The first step in painting clay pots is to clean them thoroughly so the paint will adhere well and stay attached. It is almost like painting dirt or clay in this case. New and used pots can be cleaned by simply running water over them while lightly scrubbing with a pot brush or scrub brush to remove dust and dirt. Clay pots hold a good amount of moisture so it can take a while for them to completely dry, even if they are new. Placing them in bright sunlight for a couple of days works especially well. It is most important for them to be thoroughly dry before you paint them to ensure success.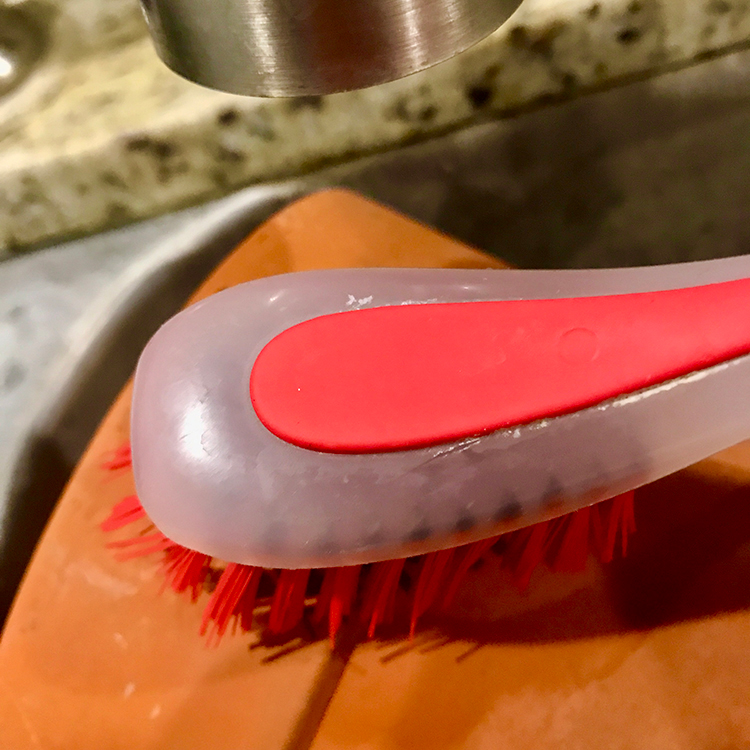 Primers and Sealants for Terracotta Pots
Getting paint to stick to a porous surface can be challenging. We will be discussing two methods – one for pots with living plants and one for pots with artificial plants. Plus, pots to be used outdoors will need to be treated differently than those that will remain indoors. My best advice is to use a sealant instead of a primer in both cases. Primers tend to be thicker than sealants and can clog up the breathability. A sealant adds some protection to the paint while still allowing the pot to breath better. There is much to think about, but I have broken it down for you. Please note that sealing or priming is considered an optional step. I share some recommended sealers below.
Pots with Live Plants
I recommend a thin, light coat or wash of paint that does not cover the entire surface of the pot. Personal Note: I usually leave my outdoor, live plant pots unsealed on the exterior. If I seal, it is on the inside only. Over the years, I have found very little difference in the appearance of my painted pots. But, I do reapply the paint every few years. White paint is dabbed and wiped onto the pots below.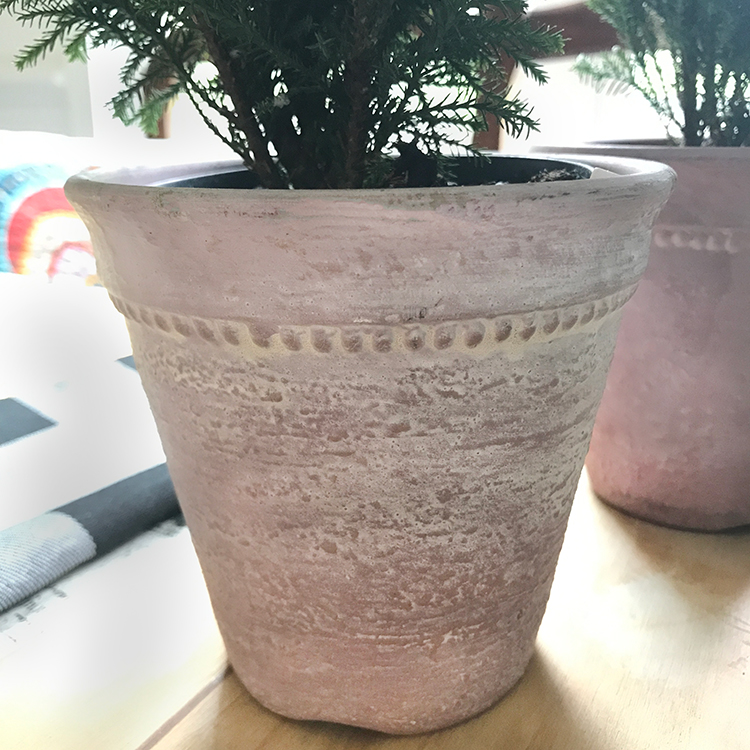 If you plan to put your pots outdoors, a clay pot sealant is a good option for maximum protection of the plant. Here are the best sealants to use with paints:
For the Exterior Surface of the Pot (over and/or under paint)

Ornamental Sealer is a clear, water-based spray, with a low sheen finish, that is easy to paint over. Outdoor or Indoor.
Shellac is an all natural sealant that leaves a shine. Indoor.
SafeCoat Poly EXT is a clear synthetic coating for use over water-based paint. Outdoor or Indoor.
Penetrating Oils (Tung, Hemp, Walnut) are all natural, clear, and will darken the pots. You MUST use oil paint over these oils. A water-based paint will not stick. Outdoor or Indoor.
An All-Natural Drying Oil. This is the sealer to use if you want to go all-natural and pure + you want a durable but breathable sealant. Tung Oil is the most durable of the drying oils and will give you the most protection on terra-cotta; it's definitely the best drying oil for the inside of terra-cotta.
Sealing After the Paint
A splendid method for sealing your garden pots after painting them is a specialized clear coat water-based spray acrylic in either a matte or gloss finish. Two coats are recommended. This will help prevent chipping and scratching while still maintaining some breathability. One good product for this is Deluxe Duramax Terracotta Primer and Sealer, which is a clear coat fast drying spray paint that provides exceptional protection against water and UV rays. Additionally, it is important to note that there are self-sealing acrylic paints that are now available, which eliminates the need to seal separately. An example is Doc Holliday Colors Acrylic Self-Sealing paint. Another popular product for sealing is Mod Podge Outdoor. This one is considered water-resistant instead of waterproof, so it is best for terracotta pots that are placed in a covered area like a porch or covered patio.
Pots with Artificial Plants
You can pretty much use all of the above sealers for a clay pot that will hold an artificial plant, which will remain indoors. You can also skip this step entirely and go straight to the paint. The same applies to sealing after you paint. The pot below was washed with white paint.

Best Paint to use for Terracotta Pots
There are so many possibilities, from simple to more detailed. If you apply a lot of paint, your paint might bubble, crack, and peel. You will need to decide if the pot will be used indoors or out.
Acrylic Paints – The most practical and commonly used paint for clay pots is highly pigmented acrylic craft paint with bright, pretty colors. FolkArt is a popular brand that offers a variety of acrylic craft paint options. You can also use Acrylic house paints.
Multi-Surface and Indoor/Outdoor Acrylic Paints – These are specialty craft acrylics that work well on clay pots.
Milk or Mineral Paint  – These are yummy 100% natural paints that leave a powdery, matte finish to the pots. They come in wonderful colors that will change color when wet. If you leave them alone, the original color will return when they dry.
Chalk Paint – These leave that velvety, chalky finish that blends in well with the look of terra cotta. There are many color to choose from and several brands.
Oil Paint – Leaves a strong finish on the pots and can go over the oil-based sealants. It does reduce the porosity of the terracotta and tools must be cleaned with mineral spirits, etc.
Acrylic Spray Paints  – Paints like Krylon Fusion All-In-One or Liquitex Professional Acrylic spray are good choices. There are many color to choose from. These will have a thicker, more opaque look when dry. The paint must be at least around 75% dry before a second coat application is applied.
Best Brushes to use for Painting Terracotta Pots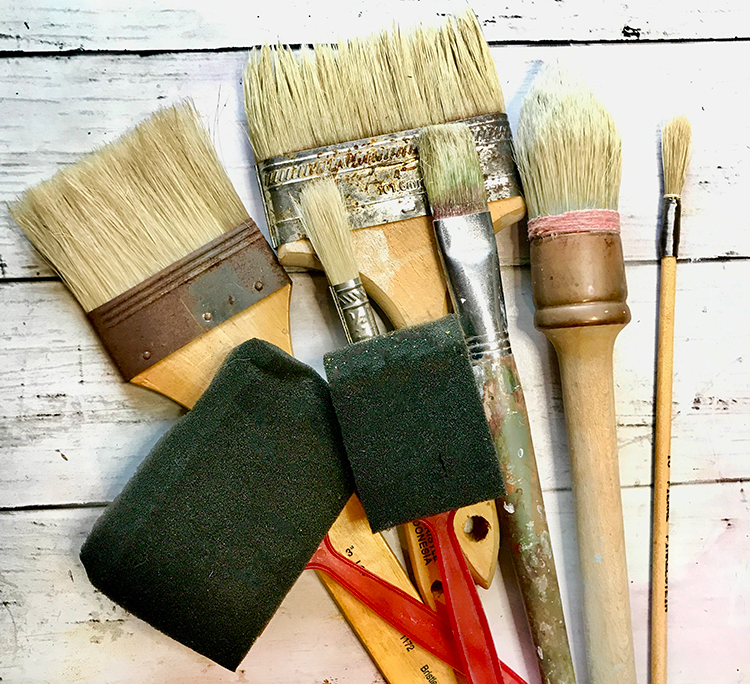 I prefer to use the natural brushes called 'chip brushes.' They are inexpensive and come is several widths. They can leave lines and linear strokes in some paints. Foam sponge brushes are considered the 'gold standard' for all stages of clay pot painting since they easily spread the paint smoothly, thoroughly, and evenly across the surface. Small flat brushes can also used for painting after application of a base coat.
Basic Materials for Painting Terracotta Pots
Brushes – approximately 1/4″ to 2″ wide.
Acrylic, Chalk, Milk paint in your choice of color (this method works for oil based paint as well)
Optional Spray sealer (matte or glossy)
Basic Steps for Painting Terracotta Pots
Thoroughly clean the pot as noted above. Make sure that they are completely dry before painting!!! Cover your work area to protect the surfaces. This method can be used with all the paints mentioned above, except spray paint (for obvious reasons). Note: The base of the pot does not need painted, but some crafters prefer to paint the top inside rim above the soil level, which is typically around 1/2 an inch. Tape off any areas you do not want paint to get on.
Mix some acrylic, chalk, or milk paint with just a little bit of water on a paper plate. The amount will depend on the size of the pot.
Apply the first coat to your pot. Allow to dry to touch. You could stop here if you like the look. I prefer to drag the paint around the pot with horizontal strokes as you see below.

For a more opaque coverage, apply a second and third coat using paint that has not been water-thinned. I love the striations left by the brush.

The rim is painted with an almost dry brush laid flat against the rim.

Allow ample time for your painted pots to dry thoroughly before planting. Longer drying times are needed for thicker paint, but at least 24 hours are required in most cases.
Basic Steps for Washing Paint onto Terracotta Pots
Thoroughly clean the pot as noted above. Make sure that they are completely dry before painting!!! Cover your work area to protect the surfaces. This method can be used with all the paints mentioned above, except spray paint. Below the rim has been painted with a brush and  is wiped with a terrycloth wash cloth to create striated marks.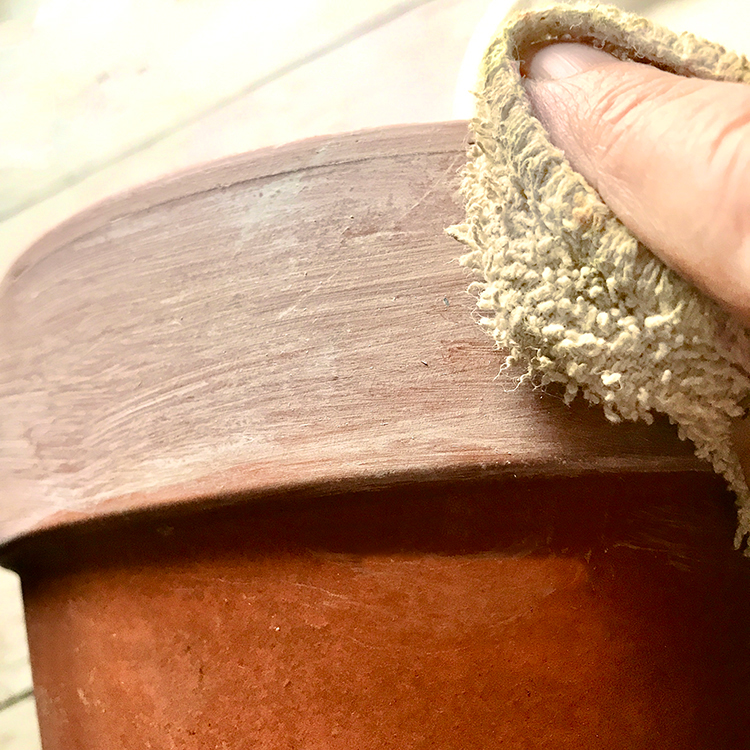 Mix some paint with just water at a 1 part paint to 1 part water ratio on a paper plate. The amount will depend on the size of the pot.
Apply the paint with a brush or terrycloth wash cloth. I prefer to drag the paint around the pot with horizontal strokes. Sometimes I leave the strokes as they are and other times I soften the paint by dabbing with a soft cloth or rag as seen below.

Allow ample time for your painted pots to dry thoroughly before planting. I allow at least 24 hours before planting.
Other Painting  and Decorating Ideas
Although this is considered optional, in today's world with Pinterest, Instagram, Facebook, etc., decorating and displaying your unique crafting ideas has become very popular. This tiny flower pot was taped off and painted with white paint. The surface of the pot is pitted so it leaves interesting texture. Paint was spattered over the pot as well.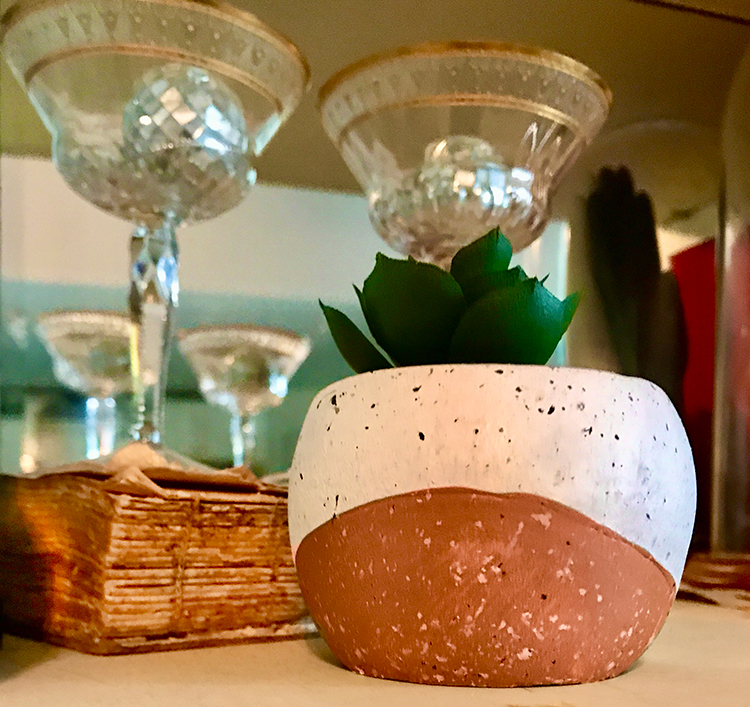 Use Painter's tape or stencils to create fun patterned designs. Make polka dots with the back end of a paintbrush. Cricut and similar cutting machines can make letters and hundreds of designs to place on your pots. See our DIY Aged Terracotta Pots Tutorial for a fun style of painting and decorating your pots. You can also decoupage any of our TGF labels to the surface for a unique look. As with any art or craft, decorating clay pots is a fun personal endeavor that has limitless possibilities.
I hope that you have enjoyed learning all about Best Paint for Terracotta Clay Pots! I encourage you to play and experiment with different paints and paint consistencies to achieve the look you desire..
I also teach Crafting tutorials over on The Graphics Fairy Premium Membership site. You can find even more of my art, DIYs, and whimsical shenanigans on website RebeccaEParsons.com.