Butterfly Ancestry Junk Journal
Hey, everyone! Danielle Robotham, one of our amazing Junk Journal Design Team Members, created a fabulous Butterfly AncestryJunk Journal for us this week. As you know, we feature one new Junk Journal project each week created by one of our creative team of artists. Our Design Team Members select from the 100's of Vintage Image Bundles on our Premium Membership Site, for their creations, in order to show you beautiful ways to use those images. We hope you will be totally inspired by this series!
Therefore, please make sure you check out the video tour at the bottom of the page…please scroll all the way down to see it. Are you ready to be inspired? I will step out of the way and let Danielle tell you all about her incredible project…
Hello lovelies, my name is Danielle of Fill A Space and I'm happy to be back to share another journal project for The Graphics Fairy!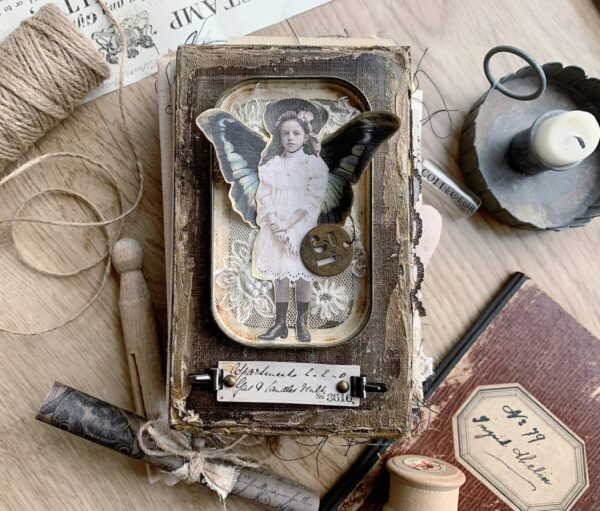 This journal was inspired by 'The Observer's Book of…' series, a collection of books that cover everything from British Wildlife to Astronomy. From my collection I decided to use 'The Observer's Book of Butterflies', and with that I had my jumping off point. Next, you guessed it, I searched through the large collection of Butterfly imagery on The Graphics Fairy Premium Site, I began to narrow down which Butterflies I wanted to create with. But wait a minute, I stumbled across a new bundle called 'Family Tree Genealogy'. I felt instantly inspired by this kit and felt compelled to change my initial idea, until that lightbulb moment….'Let's merge both themes, butterflies and people'. Thus I present to you my 'Butterfly Ancestry' journal.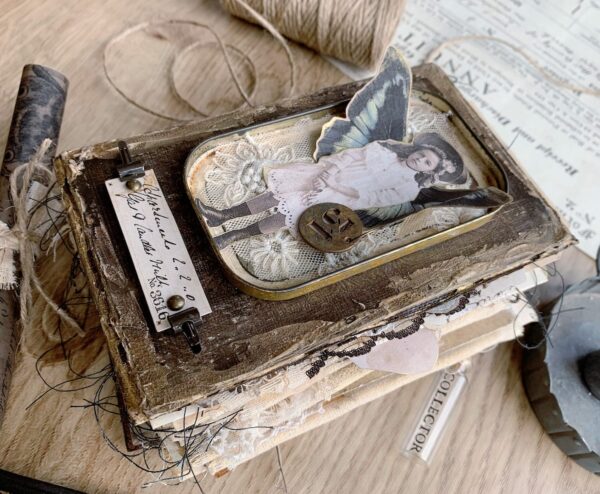 I initially wanted to work with the original book cover however, it was an undesirable shade of Blue and didn't quite fit my style. Luckily the Premium Site has a lovely selection of book covers to choose from, so I did just that and chose a Brown leather effect book cover printable as my base. After resizing the image and adhering it to my original cover, I began the aging process, adding layers of distress ink, crackle paste, wood stain and distress crayon around the edges. I was super pleased with how this turned out and the tones set the colour palette for the rest of the journal.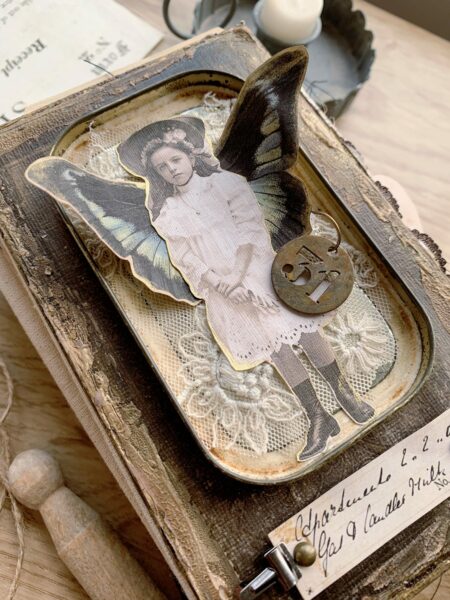 One of my favourite elements is the cover. I didn't hesitate once I had the idea of using a tin as the focal point, I adore using different materials in my work, especially metals. I've been eager to alter an altoid tin and this was my way of marrying this idea with journal making. The Graphics Fairy free site has a lovely course by Kelly Boler, if you'd like to explore this idea. I used the lid of a vintage tobacco tin, needing to cover the bright Yellow colour around the trim, I rubbed on some gold gilding. From there I layered a piece of vintage lace, fussy cut butterfly wings and a portrait, dressed with a rusty charm and there you have it. Simple yet effective I found.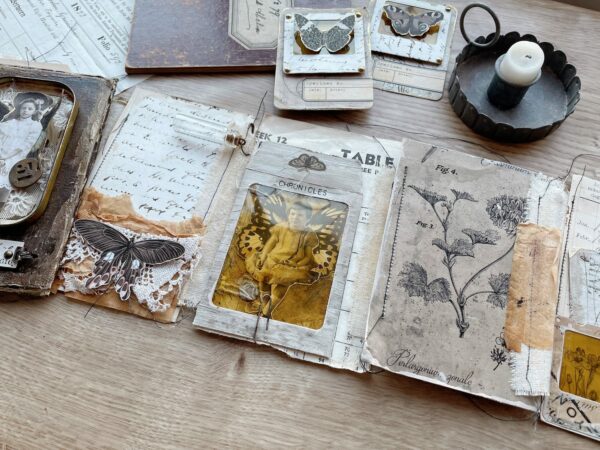 I find that my design team projects for The Graphics Fairy give me the opportunity to try new binding/construction methods, which excites me. This time around I was eager to create a 'Accordion' style construction. I began collecting the pages, I had tea dyed a selection of the original book pages to honour my initial idea, you'll find them scattered throughout. These book pages acted as a guide to size for the remainder of my papers, a mix of authentic pieces and digitals from the Premium Site. keeping to plain Beige and Brown tones, they have a broad selection of plain background papers.Once I had my pages sized appropriately, I cut strips of plain Calico fabric roughly 1in by 4.5in, enough to sit between each page. These would act as the hinge to bind the journal together.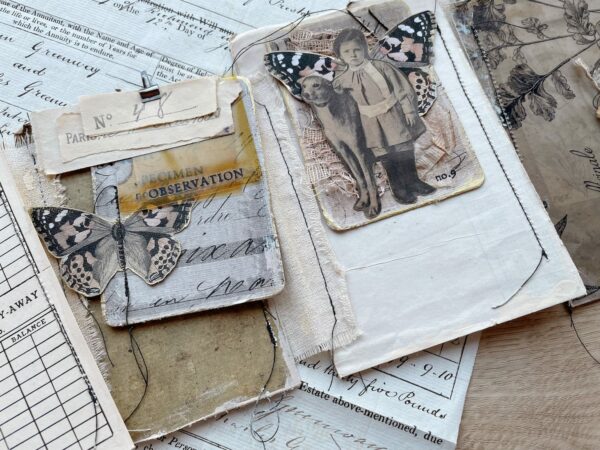 I wanted to use the simple idea of collaging butterfly wings with portraits/vintage photos throughout, let's call this the 'Butterfly Ancestors'. I began by resizing and muting the colours of my selected images, ensuring I had a variety to play with. I found already having these fussy cut elements to hand, helped me apply this simple idea in different ways with ease.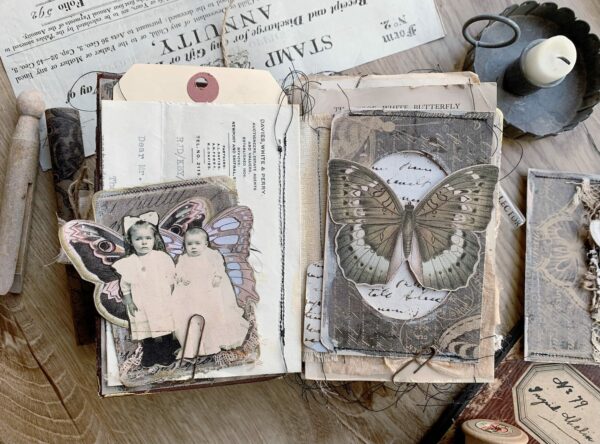 I applied this 'Butterfly Ancestors' collage theory, in a few different ways. Knowing this journal was petite, I wanted extra journalling space with mini playing cards style, journaling cards. I was pleased to find the perfect printable kit for the job, 'ATC Card Backgrounds' 2.5in x 3.5in script backgrounds, that so happened to perfectly fit a card die cut I had. I muted the colours before printing, then printed on both sides. Once I had die cut these cards I had a pile of bases to collage on top of.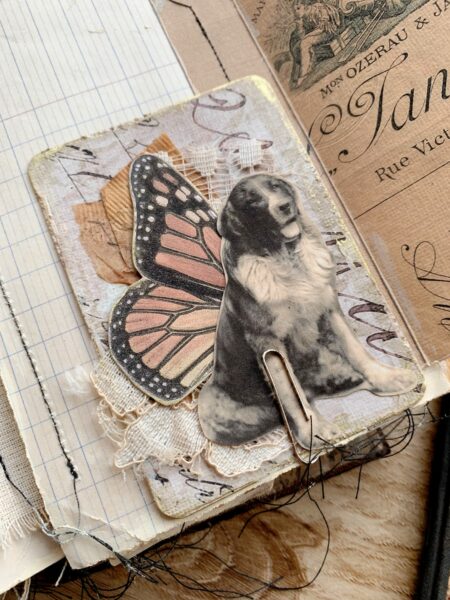 I used small pieces of lace and dried tea bags to create layers before applying my 'Butterfly Ancestors' to the cards.

I wanted to incorporate Butterflies in as many ways as I could, specimen cards being the obvious go to. I wanted to elevate this idea, with inked associate, I used some Tim Holtz alcohol ink and dabbed it onto some associate sheets I had in my stash from my school days. It's moments like these that encourage me to never throw anything away, the 'I'll use that one day' thought we all get, well it actually paid off this time!. I used some double sided foam tape to elevate the specimen cards and finished off with some specimen labels available on the premium site, part of the 'The
Lepidopterist' kit.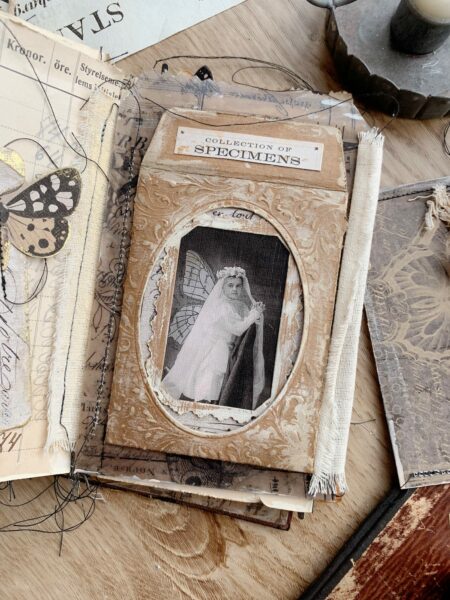 I had a little play with creating a digital collage too, using a Black and White Blueprint style Butterfly wing and layed it onto a sweet portrait of a young girl. Loved how this turned out, I'll definitely use this image in the future, she's so sweet!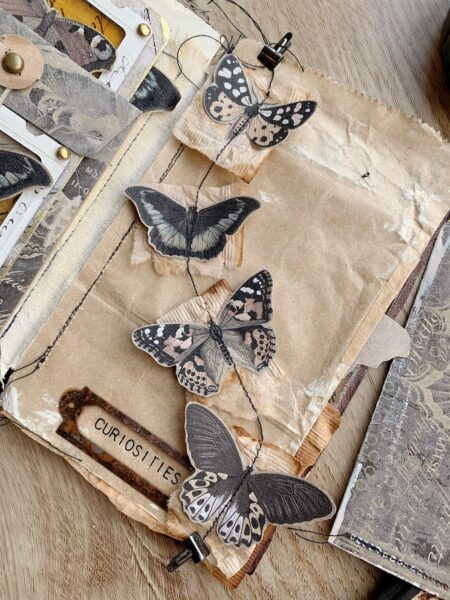 I remembered a marvellous idea I saw a while back on The Premium Site, of a 3D Butterfly tag. It is a course by Terri Kolte where they show you how to create a dimensional Butterfly specimen tag. This sparked my imagination and prompted me to use some 3D Butterfly elements, making all that fussy cutting worthwhile!. Which brings me to another favourite element of this journal, I sewed a string of Butterflies, using my fussy cut Butterflies and small pieces of dried tea bags. Just running a straight stitch through them on my sewing machine.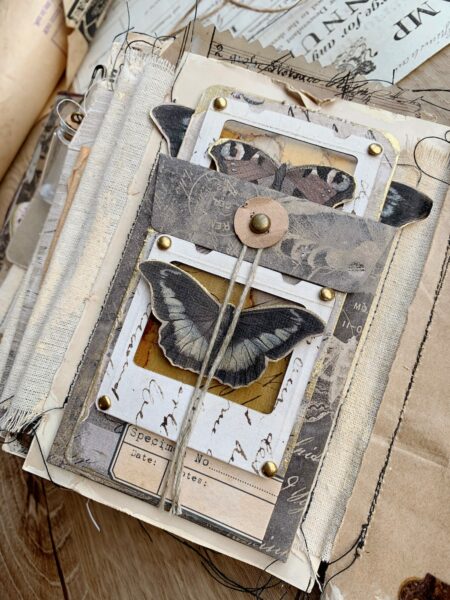 The string of Butterflies, prompted me to create a few more interactive pieces for my journal. I used a mini coin envelope die cut to create this accordion pull out envelope that I attached to the page. Love this idea and in a larger journal, you could add even more pockets.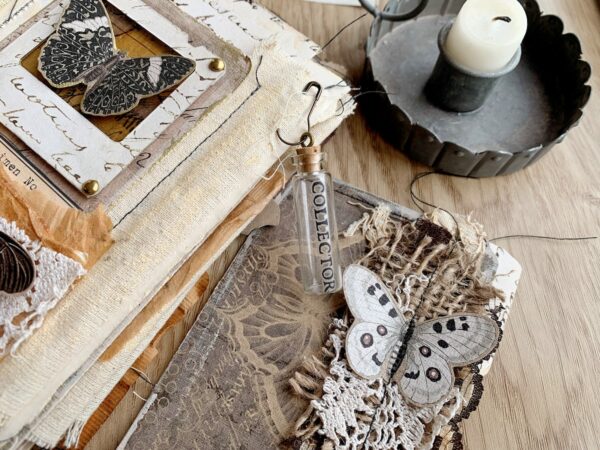 A last minute interactive piece was this miniature specimen bottle, I created using a Tim Holtz rub on and a mini eyelet screw. Usually I would glue the lid shut however I left it so the user could open it to add whatever they wanted inside. An idea for you would be to fussy cut super miniature Butterflies out and pop them inside!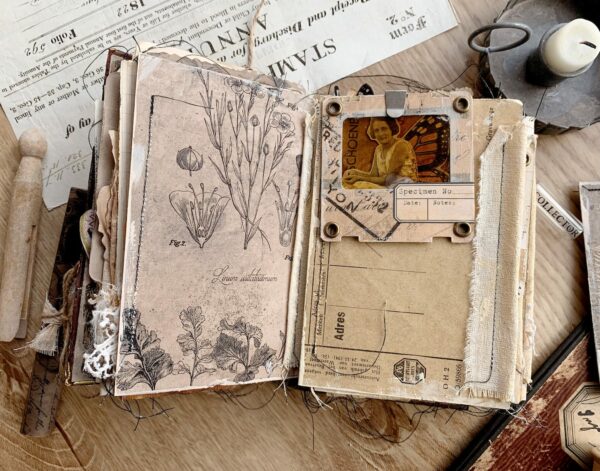 I made sure to only decorate one side of the accordion journal, leaving the other side free for the user to decorate and use as they wished. I'm thrilled with how this simple idea came to life, resulting in a lovely small but impactful journal. I hope you enjoy it too!
Let's take a tour of the journal:
JUNK JOURNAL SHOW & TELL VIDEO TOUR
Premium Membership Bundles I used:
The Lepidopterist
Wings and Things
Black and White Cut Flowers
Gnomes and Wee Folk
Bright and Bold Butterflies
Take Flight
Butterflies and Moths
Book Covers and Tintypes
The Vampires Lair
Digi People 1 & 2
Tattered Paper Treasures
Bittersweet Hues
ATC Card Backgrounds
You can find me here:
Danielle's YouTube
Danielle's Etsy 
Danielle's Patreon
Thank You So Much!
Danielle
Check out the Graphics Fairy Premium Membership Site HERE!
Hello! Are you new to The Graphics Fairy?
Welcome, I'm so glad you're here! Browse around to find 
thousands of Stock Images
 that you can use in your projects or designs! I post new Vintage images every day, as well as projects and DIY's too! Need more info about my site? Try my 
FAQ
 page.