22 Children with Hats Images
Today we have a huge and darling collection of Children with Hats Images! Some of the images are so sweet. Some are quirky. All are adorable. Find Little Miss Sunshine, a Child on a Swing, and Sweet Boys and Girls Playing with a huge top hat. We have several illustrations of Children in the Garden and a few unique Graphics of kids. There are two lovely Sepia images of little girls in wide brimmed hats. Most are from Post Cards or Trade Cards. So nice to use in your Journal or Children's themed Craft or Collage Projects. Some might be great for Wedding Projects as well.
Sweet Children in the Garden Illustrations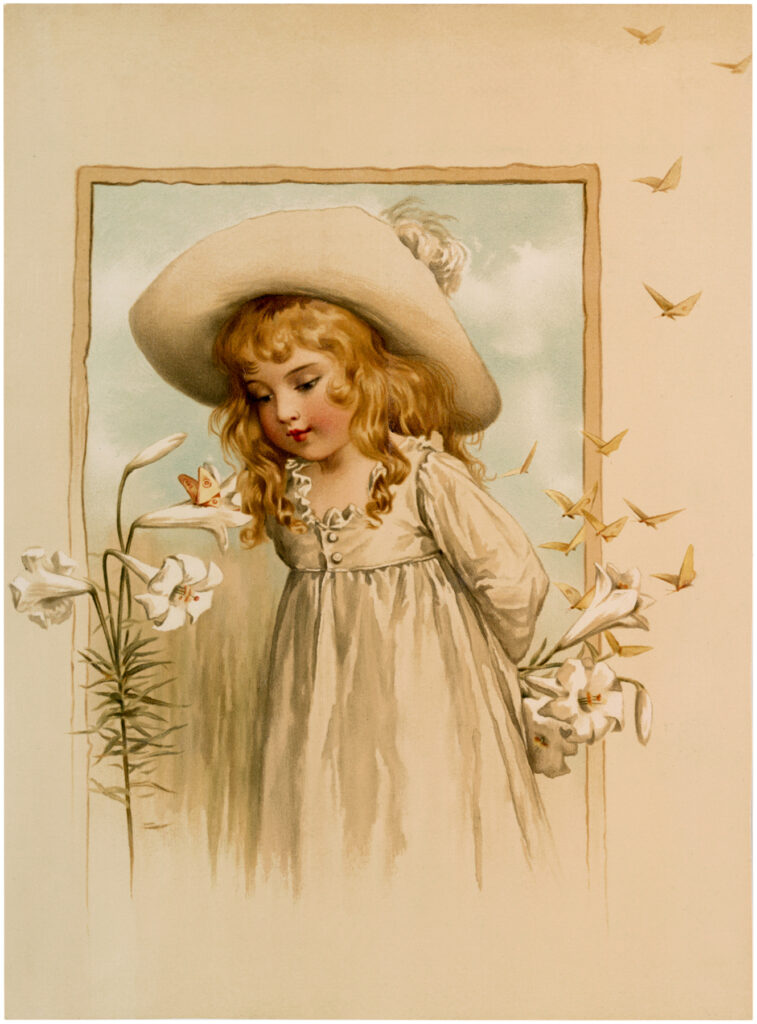 Here we have a Gorgeous Little Girl in a fancy large Hat Image! What a beautiful image this one is! Shown is a marvelous Antique Card, with a lovely Spring Scene. The little girl in the picture is gathering White Lilies and some cute Butterflies are following her!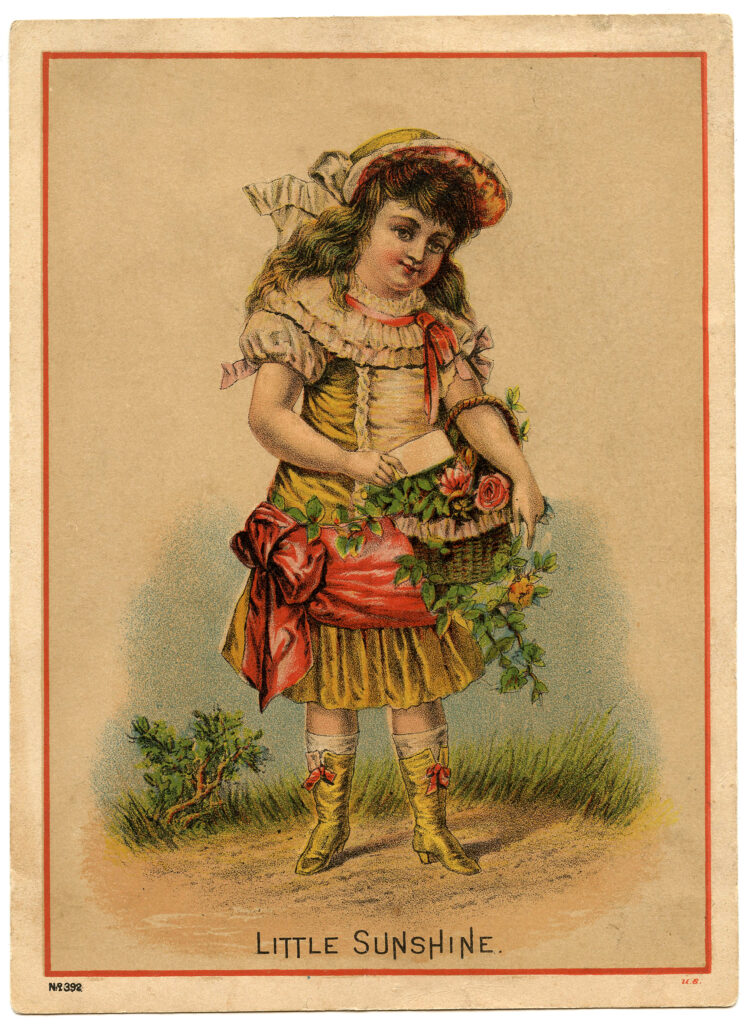 Above is an Antique Advertising Card with a cute Little Miss Sunshine Image! This sweet girl is wearing a very fancy Yellow Dress with matching Bonnet, and some impressive boots! She's holding a basket full of Roses. The card has a caption "Little Sunshine" at the bottom. Cute!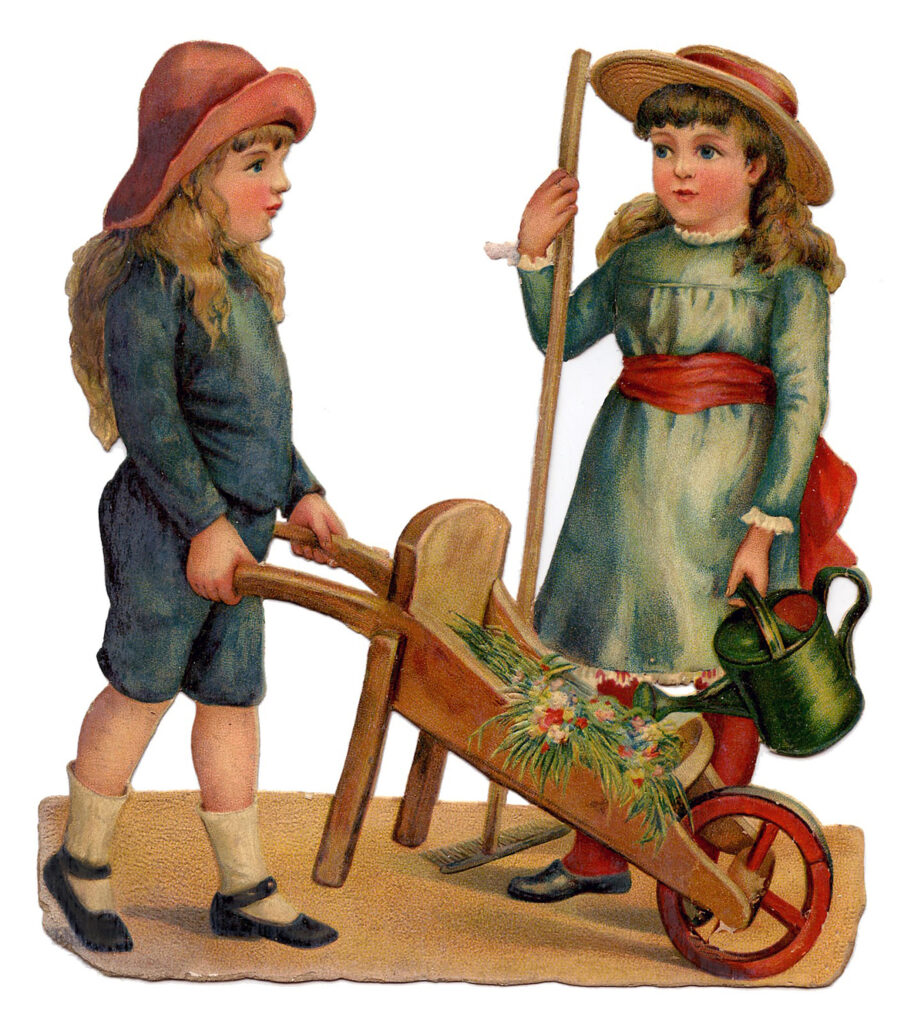 This one is so dear… don't you think?! Shown are two charming children all ready to do some Gardening. They are prepared with everything that they need, including a Wheelbarrow and a Watering Can!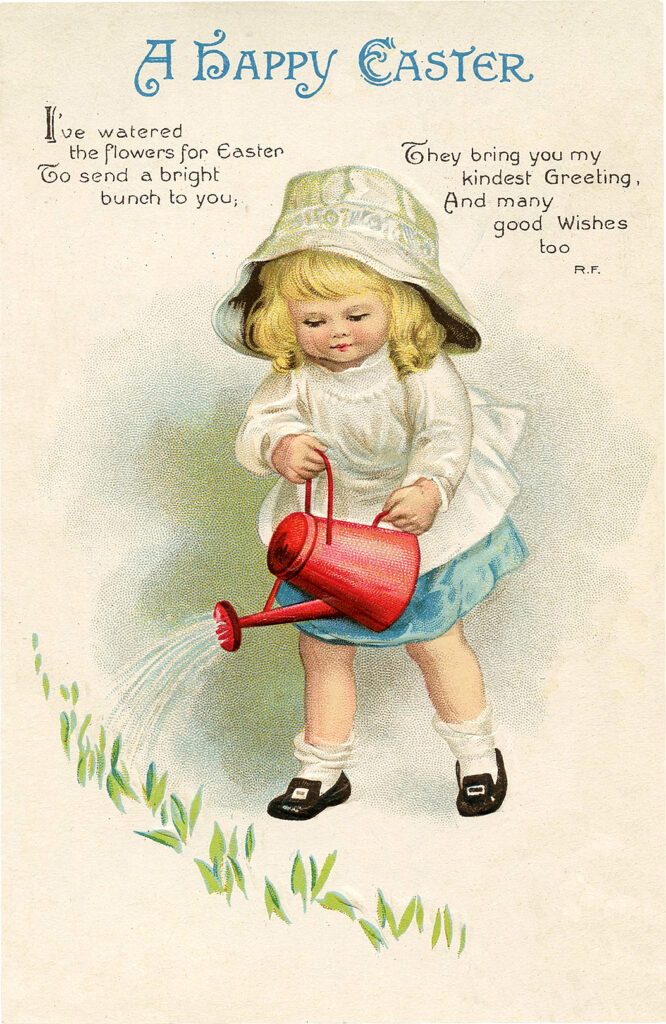 Featured above is an Adorable Vintage Garden Girl Image!! It is a Vintage Easter Postcard with a cute little girl, watering her Garden with a Red Watering Can. The card reads, "I've watered the flowers for Easter To send a bright bunch to you, They bring you my kindest Greeting, and many good Wishes too." So nice!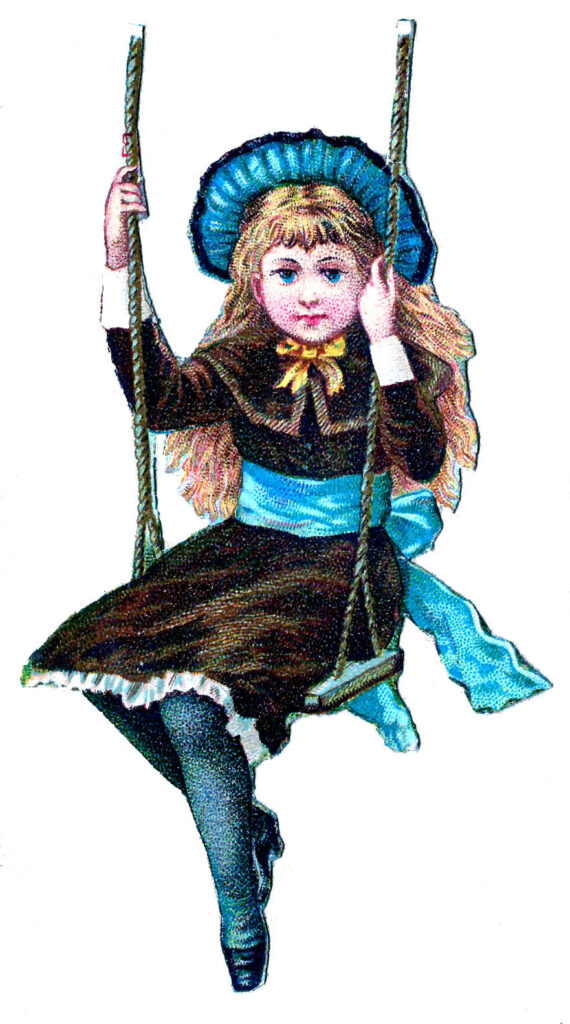 Isn't this image darling? This little girl on a swing was found in a family scrap book that my Great Grandmother put together. The sweet child is wearing a beautiful dress with wide blue ribbon and hat!
Vintage Children in Winter Hats Pictures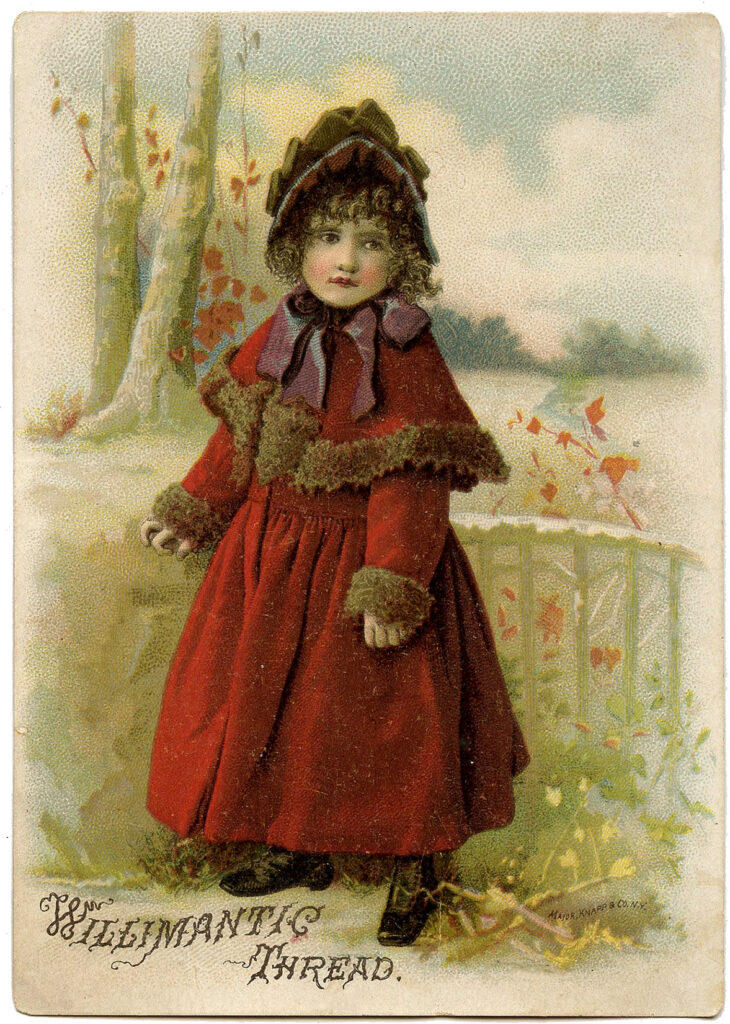 Here is a truly darling Victorian advertising Trade Card! The image features a pretty little girl dressed in a red fur trimmed coat and hat. She is standing in a garden. The card is actually selling Thread!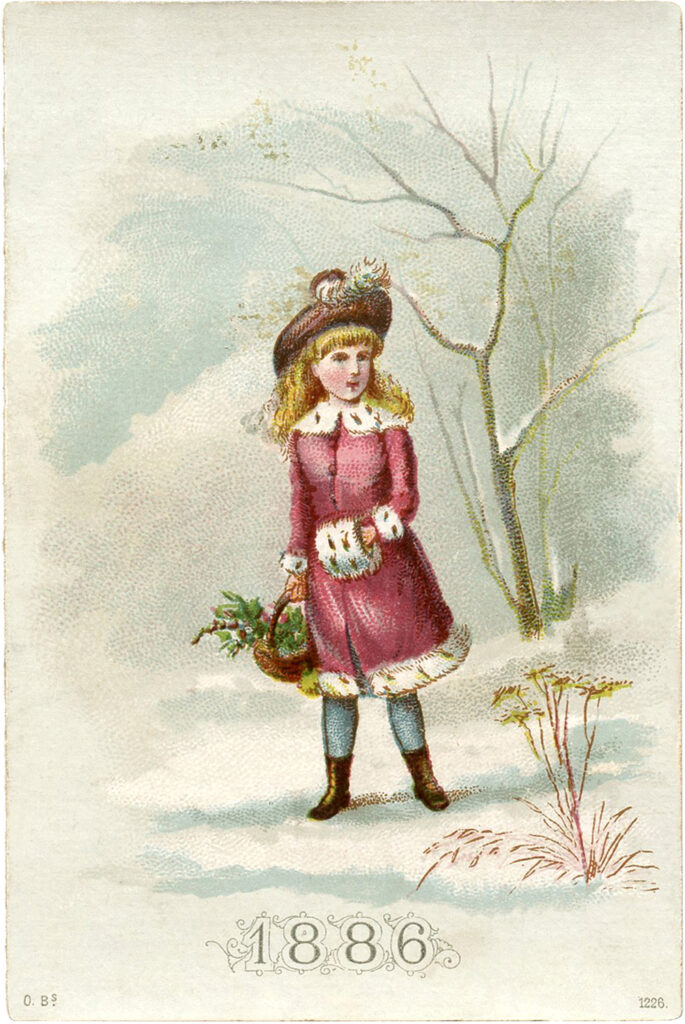 This is a sweet little Winter Girl Image! The little Victorian Girl is wearing a darling Red Coat with White Fur trim and a matching muff. Her wide brimmed hat is adorable. She's carrying a basketful of Greenery ( it looks like Holly to me) through the Snow on a Winter Day. The card is dated 1886 in a beautiful fancy font!! A pretty little card!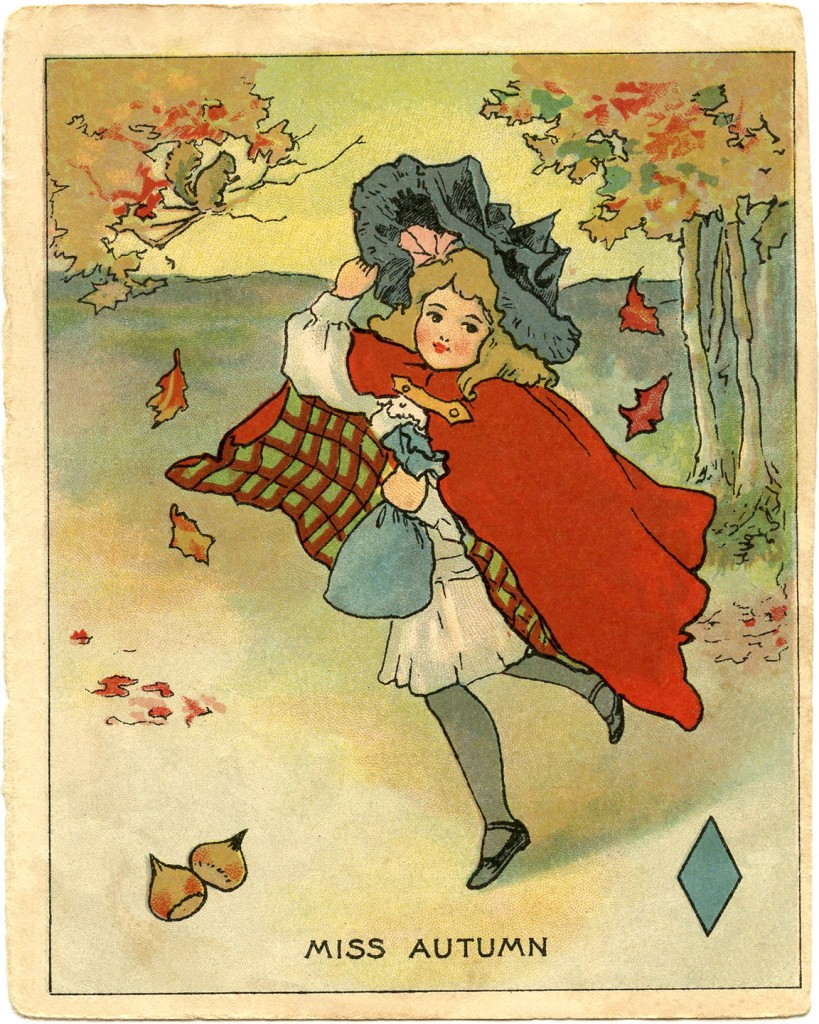 Here we have Miss Autumn. It's not quite Winter yet, but she's pretty well bundled up and leaves are already beginning to Fall!
Children with Hats Images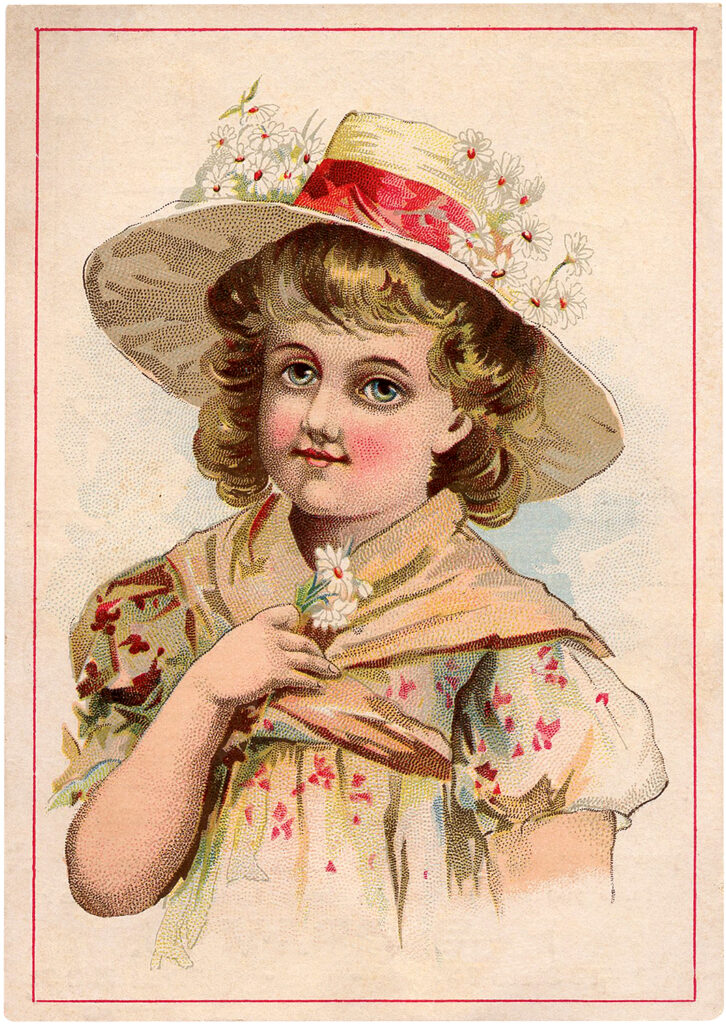 Featured above is a Vintage Adorable Girl in Beautiful Hat Trade Card Image! In this vintage trade card a cute girl with big blue eyes wears a wide-brimmed hat with large red ribbon along with a lovely dress displaying red flowers and a wrap indicating she is from the French countryside. She clutches a small bouquet of daisies, which are also tucked into the ribbon of the hat.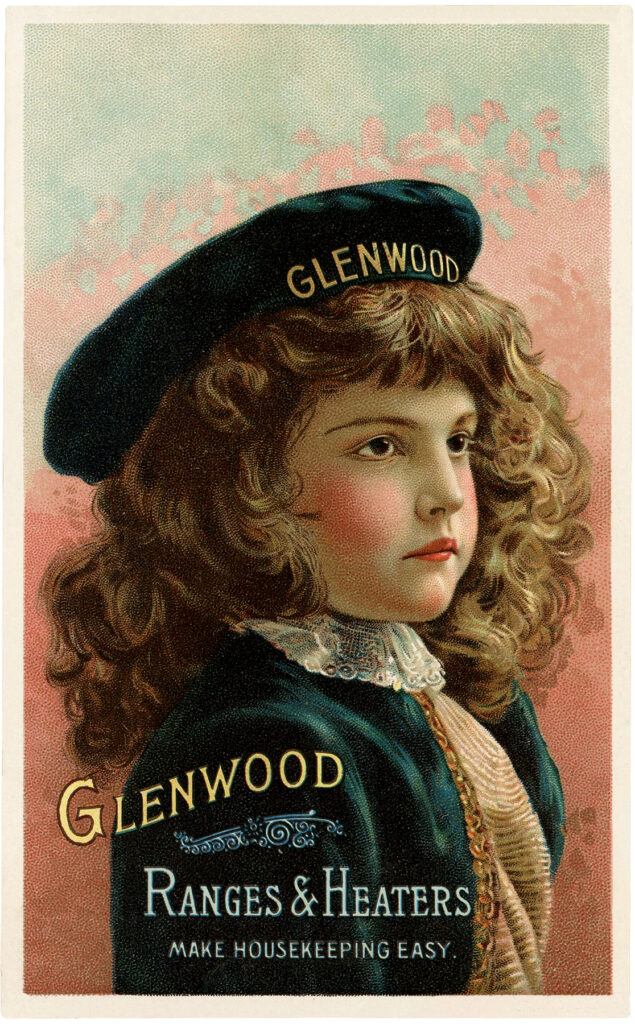 This is a Vintage Ranges and Heaters Ad Image! Shown above is a gorgeous child! The pretty child is wearing a fancy looking blue Velvet Suit and tam. It is an ad for a Range and Heater company, and reads, " Make Housekeeping Easy." A fun old time advertising image.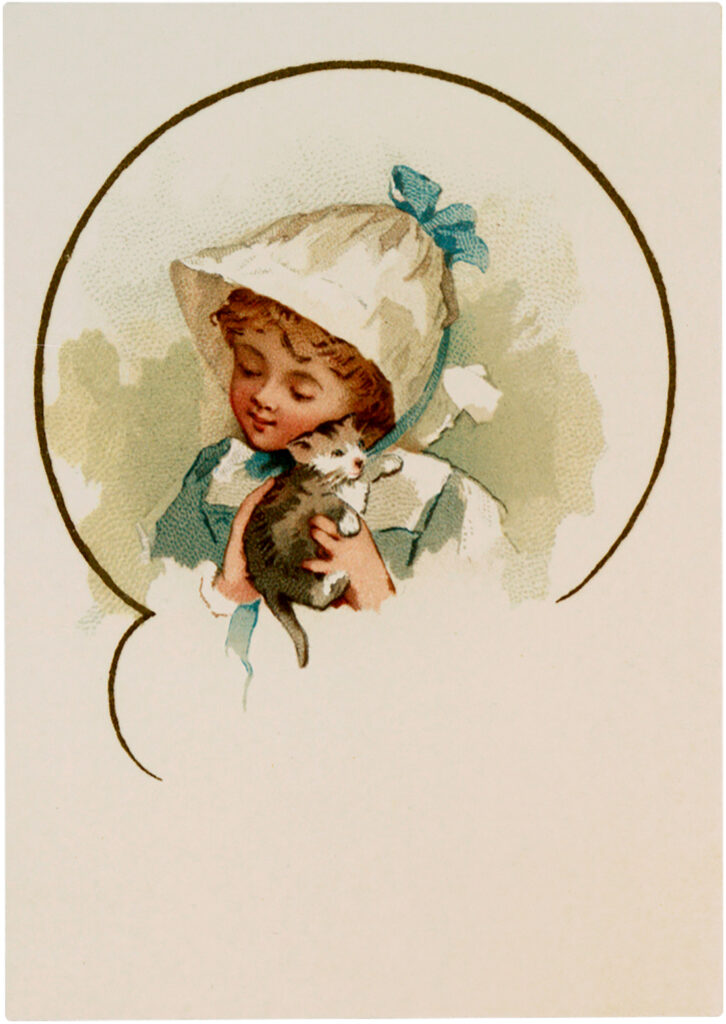 Above is another cute card. This is a Girl with Kitten Image! She is in a large, white bonnet. The cute little girl is holding her Kitten close to her face and giving the Kitty a little hug! Such a sweet, precious Image!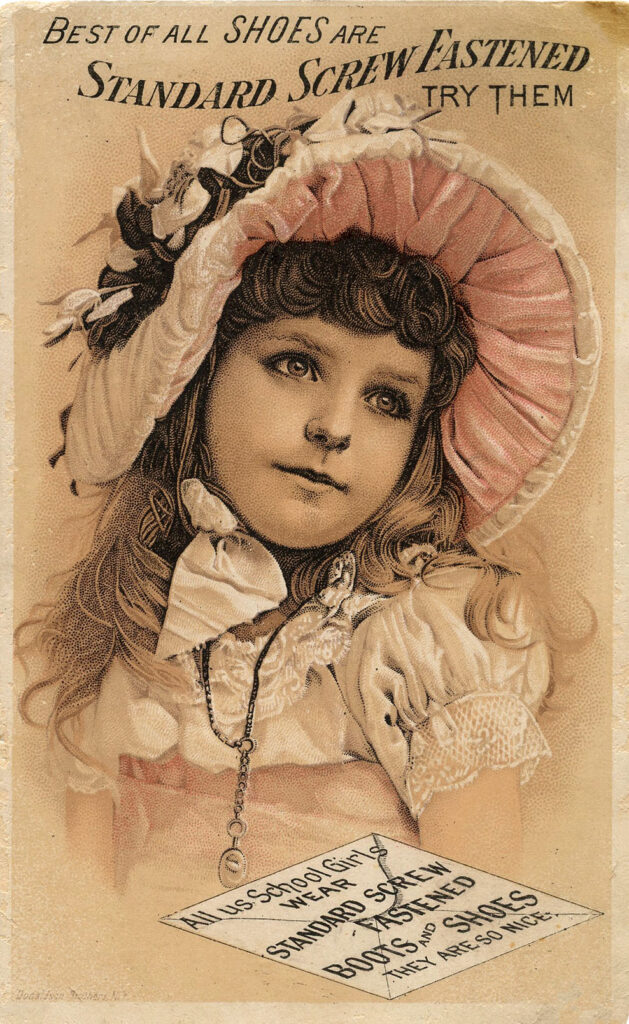 Here is the dearest Victorian advertising trade card! This one features a little girl with beautiful eyes who is wearing a gorgeous pink hat! The card was an advertisement for boots and shoes. The card states that the shoes are "Standard Screw Fastened."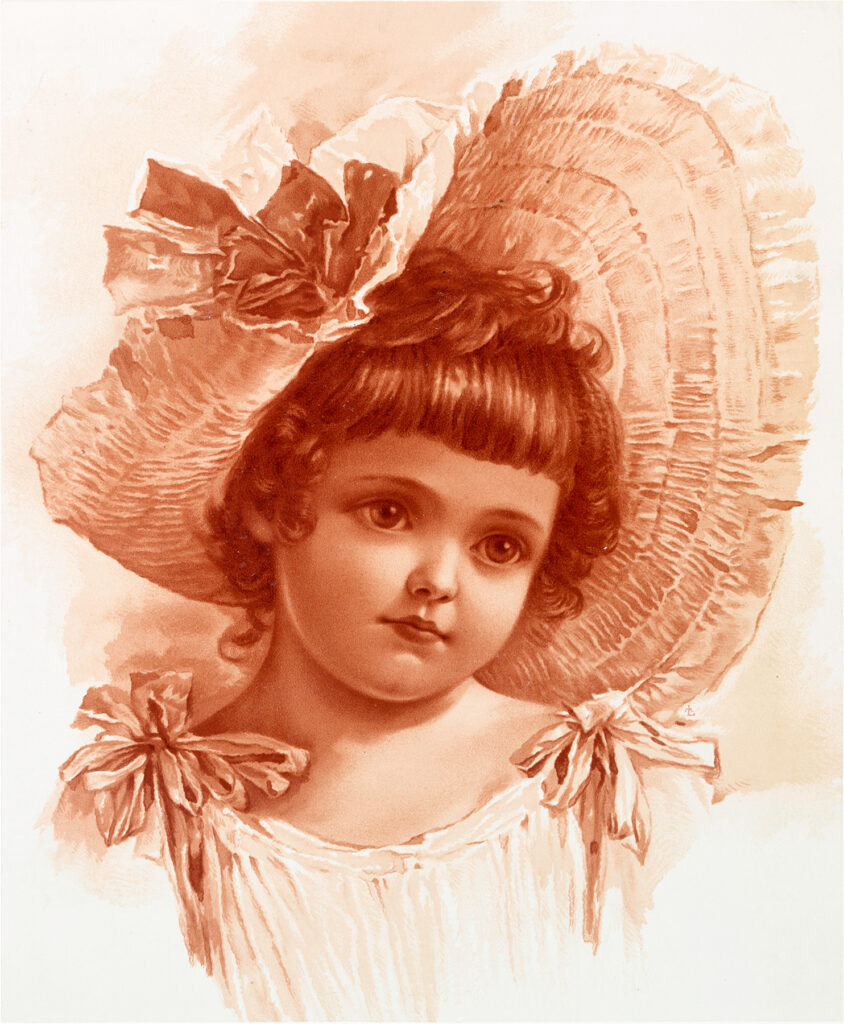 This Vintage Adorable Girl in Ruffled Hat Sepia Image is a precious chubby cheeked girl sporting an enormous ruffled hat with a silk flower. Her curly hair, wide eyes, and pensive look make a statement in her white gathered gown with ribbon bows on each shoulder. She pairs beautifully with the image below!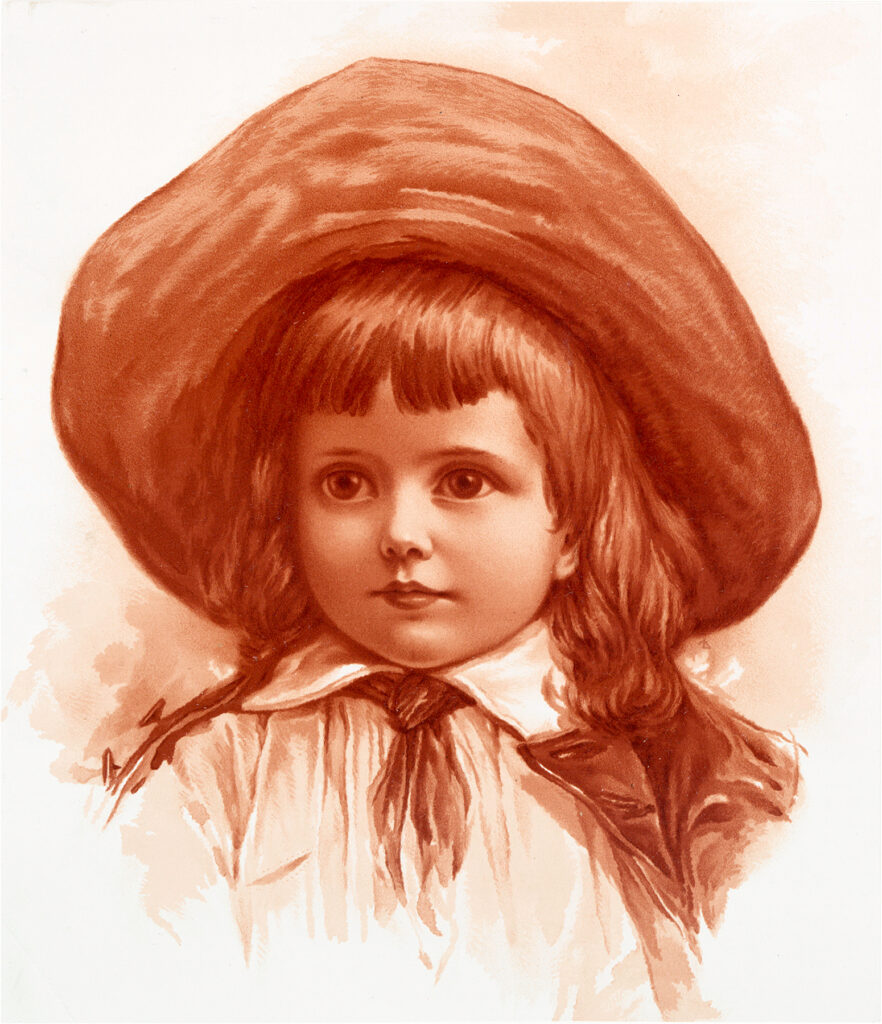 Above is a Child in Wide Brimmed Hat Sepia Image! This sepia colored drawing of a young child in a wide brimmed hat is adorable. The child has long curly hair and large, piercing eyes. A white, puffy shirt with a pointed collar and a scarf tied at the neck peeks from under a coat casually slung over the shoulders.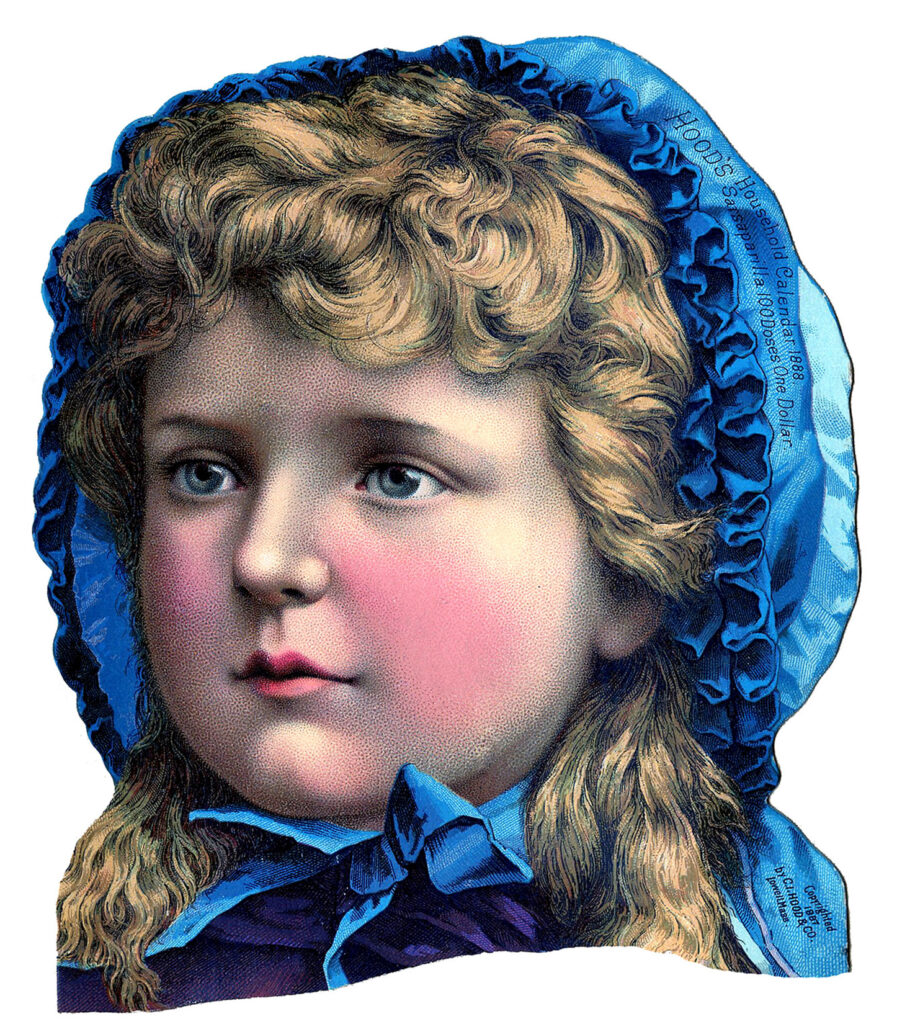 Above is a little girl is a from a Circa 1889 Hood's Sarsparilla Calendar. I think she has just the most stunning face! That vivid blue color of her bonnet is fabulous. This one actually comes out of an old Scrapbook that belonged to my Great Grandmother!! I hope you like her!
Old European Kids in Hats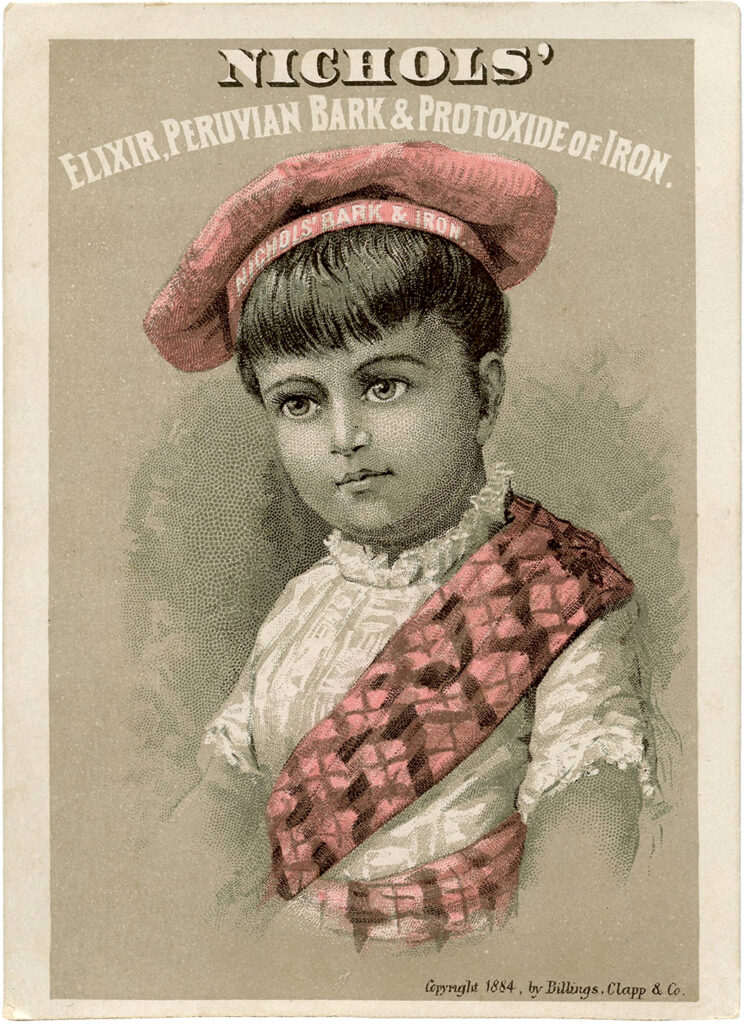 Above is a sweet Scottish Girl Image! Shown is an old Advertising Card, featuring a pretty little girl wearing a Pink Tartan Plaid Garment and pink Hat! Such a precious face on this little cutie! The Card was used to advertise some type of Medicine using "Elixir, Peruvian Bark, and Protoxide of Iron."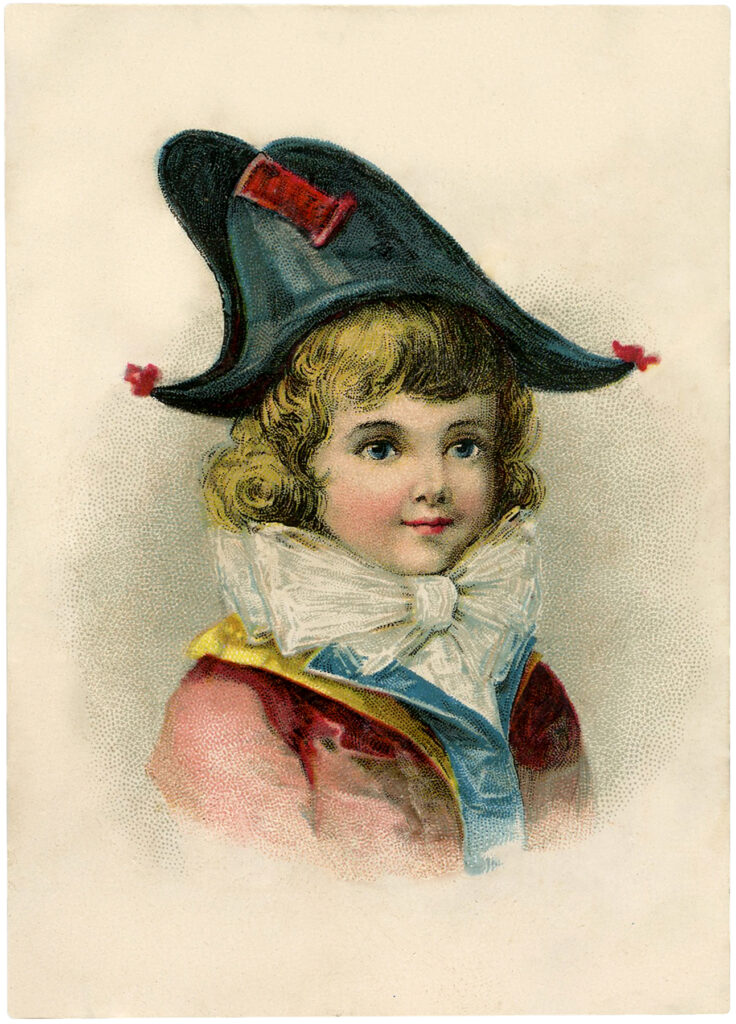 This is a darling Vintage Bicorne Hat Boy Image! Shown here is a cute little boy dressed in fancy clothing and wearing a large Bicorne or Bicorn Hat, similar to what Napoleon wore! Such a cute image for your French themed Projects!
Fun and Quirky Children Graphics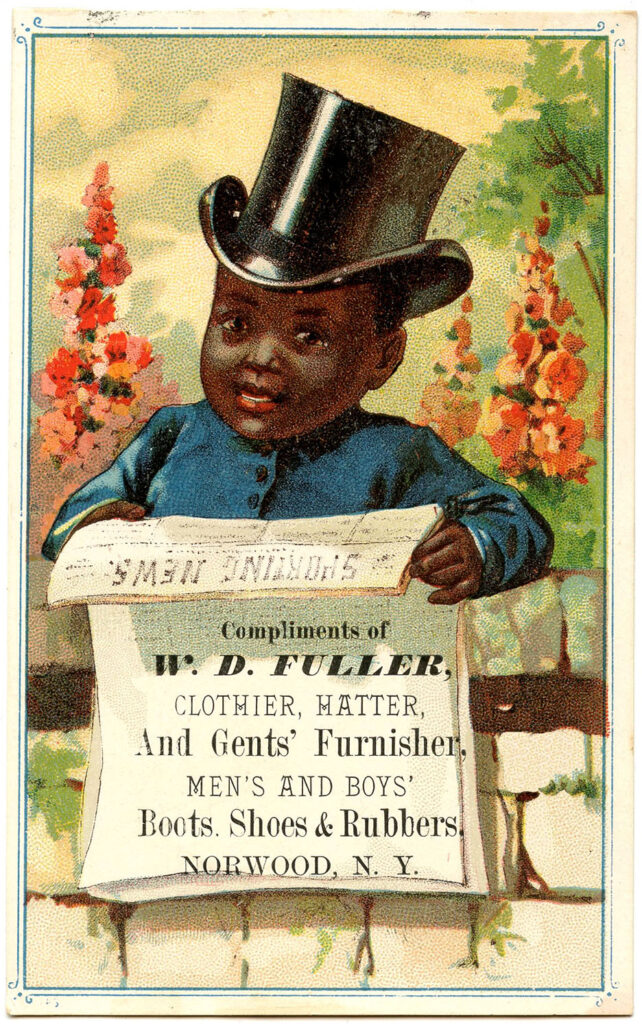 Above we have an old trade card showing an adorable child in a shiny new top hat. He is holding a newspaper. It is an advertising piece for a clothier and hatter. How fun.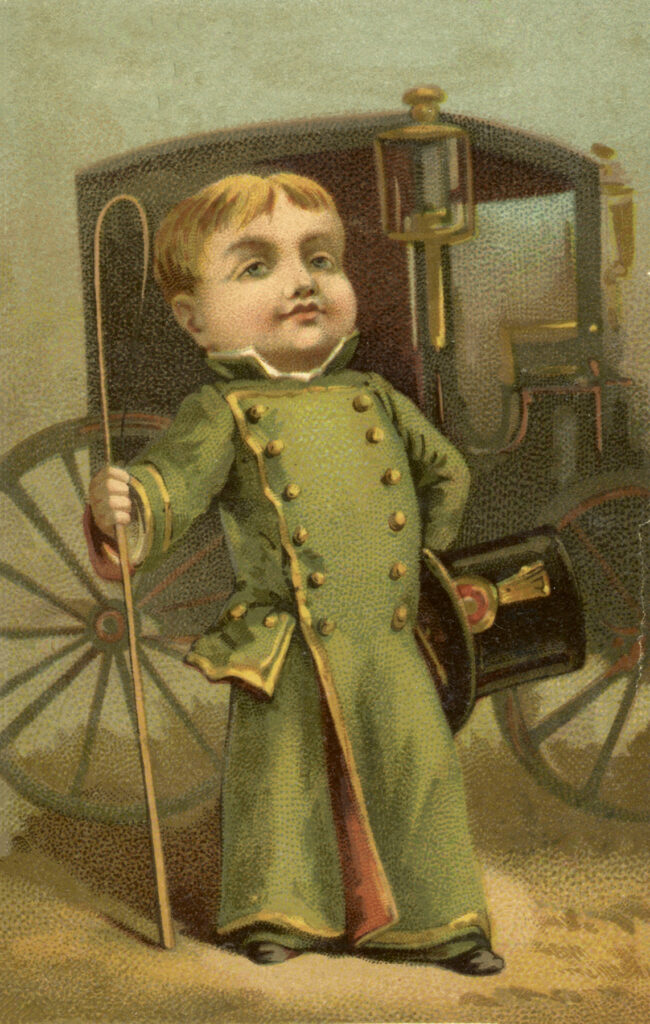 Here we have a Vintage Boy With Carriage Image! This is a quirky looking boy with unusually large head standing in front of a carriage wearing a green uniform and holding a large black hat in one hand with a tall carriage cane in the other.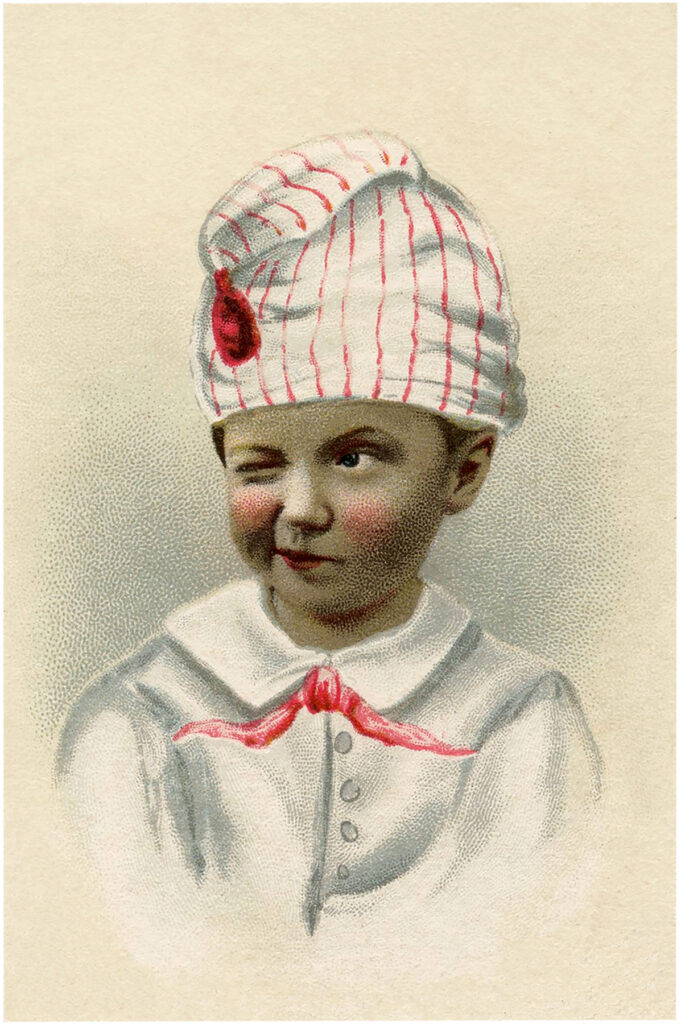 This is a Cute Winking Boy Image! The adorable little boy appears to be wearing a Striped Nightcap. He's squishing up his little face in order to Wink! Such a fun image.
Whimsical Children Playing with Hat Pictures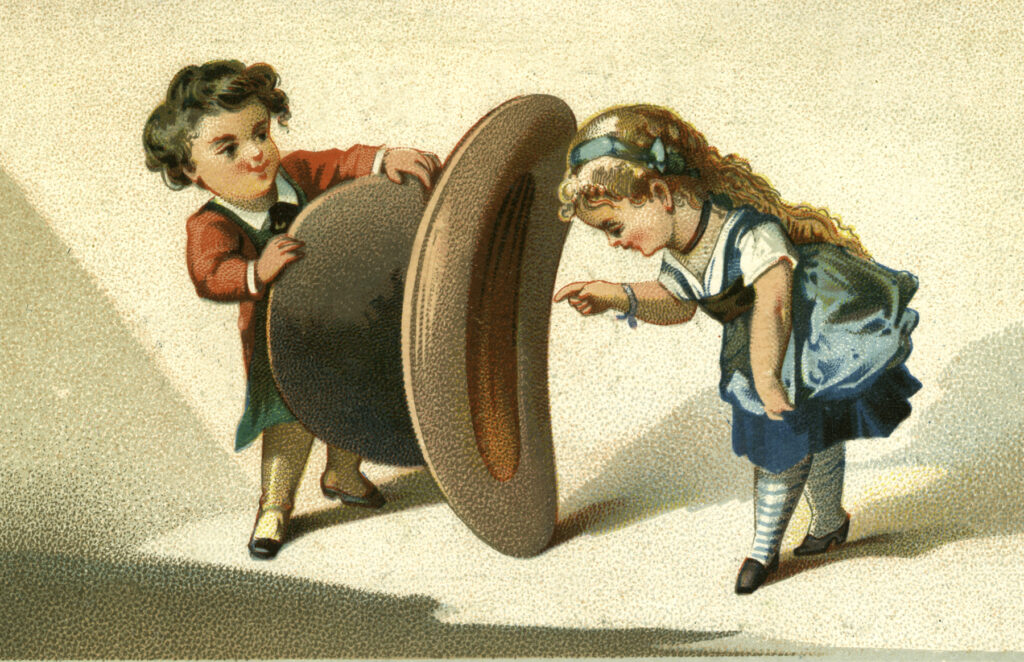 I love this Vintage Playful Boy and Girl with Large Hat Image! This vintage image of a boy and girl playing with a large bowler hat has aqua, red, and brown colors on a creamy background. The strawberry blond girl, who looks a lot like Alice in Wonderland in her aqua dress and pinafore with striped tights, might be stepping into the hat. The curly haired boy wears a bright red jacket.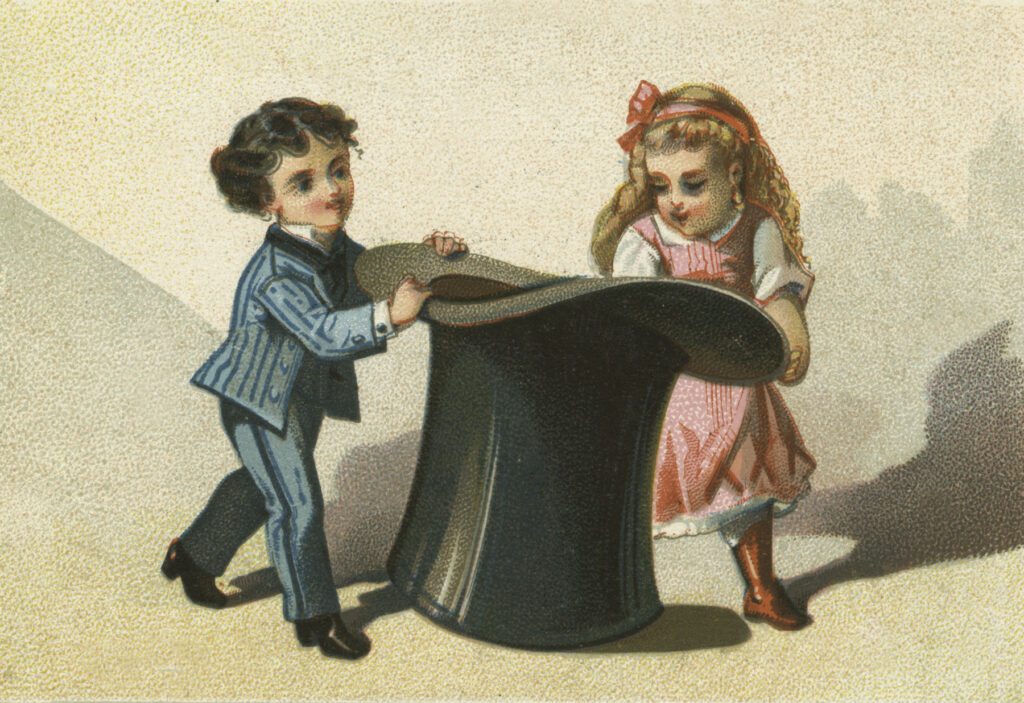 This Antique Whimsical Girl and Boy with Giant Top Hat Graphic is an old drawing of a boy in an aqua suit and a girl in pink pinafore with a pink ribbon in her blond hair. They are playing with a giant top hat. Darling!
I hope you enjoyed this fun curated collection of Children with Hats Images! You might also enjoy our 17 Flowers in Hair Images HERE!
Hello! Are you new to The Graphics Fairy?
Welcome, I'm so glad you're here! Browse around to find 
thousands of Stock Images
 that you can use in your projects or designs! I post new Vintage images every day, as well as projects and DIY's too! Need more info about my site? Try my 
FAQ
 page.