2 Cologne Advertising Trade Cards
Posted below are 2 Austen's Forest Flower Cologne Advertising Trade Cards. They were created by the W.J. Austen Company, a perfume company, that was based in Oswego NY. I first posted these back in 2007. These newer versions are much better quality high resolution scans, so hopefully you will find that these versions are easier to work with. Both of these cards are quite rustic and aged looking. I didn't bother to try and clean them up too much, as I think the rustic-ness of them really adds to their charm. They are loaded with age spots and the ink is a bit imperfect. I have to say I am rather intrigued with the concept of "Forest Flower Cologne". I find that I can't help but wonder what sort of flowers grow naturally in the forest that are suitable for the creation of perfume?! Do you have any ideas? I can make out a bit of the description on the back of one of the cards, as these were both glued into an album at one time, so much of it is worn away. The descriptions says "It possesses the permanence of odor and the true fragrance of natural flowers, forming a delicate and lasting bouquet." Well now … I'm not so sure about the permanent odor part, but the rest sounds very nice!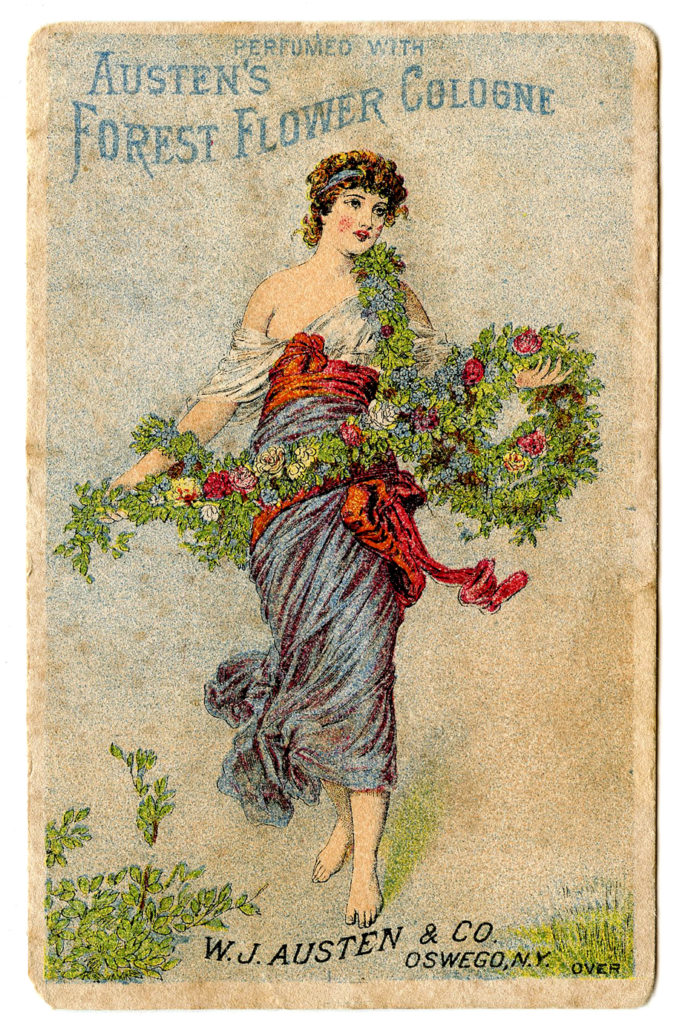 This first card is my favorite of the two. Featured here is a lovely woman, possibly even a Goddess? She is wearing a blue and white flowing gown, with a red long red silk sash wrapped around her waist. Her feet are bare and she is carrying a very large garland of roses and leaves. As if she has collected the flowers from the forest and is ready to make Cologne or Perfume with them now!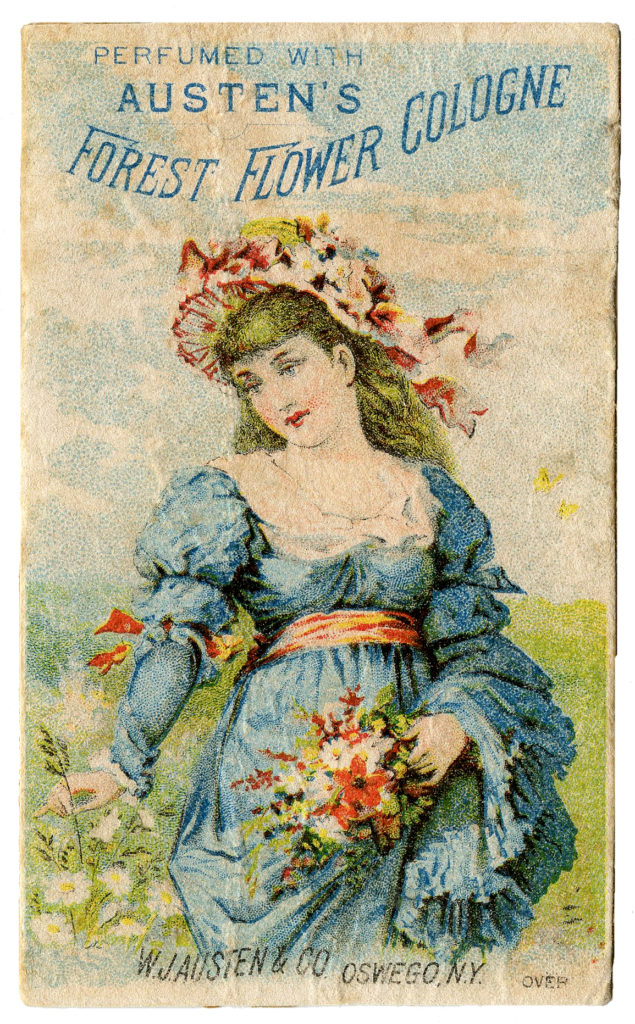 This next card is also quite pretty. In this one we see a charming young lady, wearing a blue Empire Waist Dress. Her dress also has a red sash and she has looped the hem of her ruffled skirt over her arm. She has a pretty Bonnet on her head that is embellished with flowers and ribbons. She is collecting a bouquet of flowers and leaves and appears to be in a field of some kind. Perhaps a field of flowers. I've kept the original size of these cards and they are smallish little treasures, around 4.5″ or so. And would look lovely tucked into a Junk Journal or added to a Collage or Mixed Media Art piece. I think they would work perfectly with any sort Jane Austen themed project, given the name and the style of dresses that the ladies are wearing. So charming! I love collecting these old trade cards, as did the people that originally collected them. There seems to be an endless of amount of them to collect and they come in all different themes. You might also like this Advertising
trade card from this post as well. 
Hello! Are you new to The Graphics Fairy?
Welcome, I'm so glad you're here! Browse around to find thousands of Stock Images that you can use in your projects or designs! Need more info about my site? Try my FAQ page.