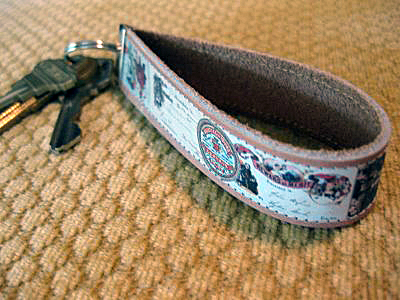 I'm so happy to share with you another great craft project from the ever so talented Cathe Holden of Just Something I Made! Cathe made this project using a vintage image from here at The Graphics Fairy, and turned it into the a gorgeous keychain and fantastic leather cuffs, it's like two projects in one! Once again, she will be my guest blogger today, all of the photos, text and project instructions come from her blog.
This post may contain affiliate links which won't change your price but will share some commission, you can find our
privacy policy here
.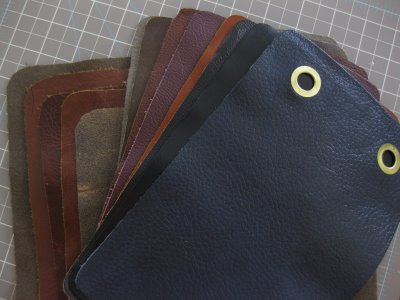 I'm back using more of my leather swatches (thrift store find!) You can usually find leather furniture swatches/samples on ebay and most craft stores carry small leather craft pieces.

Similar to my leather photo wallet project, these pieces were pretty easy to make with a T-shirt transfer sheet for DARK fabric and more great graphics from The Graphics Fairy. I also designed a couple with art from my blog & Etsy store banners.




Using The Graphics Fairy images, I created a narrow collage measured to fit the size crimp bars I'll be using, which are 3/4″ wide. I also made a repeat pattern from a pretty frame image she had on her site. You can grab the art from here and reduce or trim to size. You may also notice that when I print on the transfer sheets, I usually fill up the whole sheet with art & images that I can always use later. I hate to waste any space on these sheets, especially if there's not enough left over to feed back through the printer. I made a few images for patches I'll sew to something one day.


[1]-[2] I printed out my graphics onto the transfer sheet and trimmed out each design

[3]-[4] Following the directions for the transfer sheets, I peeled off the backing of each piece and ironed onto the smooth surface of the leather.


[5] You can see what happens if you move your iron when pressing instead of holding it in place. But this little mishap was fixable, you'll see. [6] Once all my images were transferred to leather I cut out the strips, leaving some extra space around the edges.


[7] I stitched along the strips and [8]-[9] trimmed out each to size.


[10] The stars of this project are the crimp bars. For this post I wanted to link to my original supplier, but found that they are out of stock. So by googling, I located more: LINK.


[11]-[12] I placed the crimp bar on the ends of the strips and covered with a scrap piece of leather before crimping with my pliers to avoid scuffing the metal. The cuffs have teeth that sink into the leather and grip well.

[13] I punched starter holes into the repeat frame strip and then [14] pressed in metal eyelets


[15]-[16] To complete the bracelet cuffs, I added jump-rings and clasps to the crimp bars and on my blog cuff, also attached some beads
For the keychains, I simply hooked the openings of the crimp bars onto a metal key ring. The keychains are perfect for looping over a hook and have less chance of getting lost in my purse!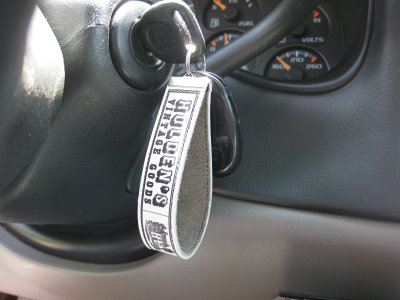 I hope you enjoyed this fun project today. Make sure you check out Cathe's blog at Just Something I Made for this and other great tutorials!