DIY Fall Coasters
Hello Graphics Fairy friends! I'm Diana from Dreams Factory and I'm happy to be here again to share another DIY project with you! Today I will be showing you how to make these gorgeous DIY Fall Coasters with a vintage vibe. I could have used several techniques to transfer the images, but this time I've decided to go with decoupage simply because I wanted to give printed tissue paper a try.
I couldn't be more excited, tissue paper is absolutely amazing to work with because it has the ability to almost blend into the decorated surface and creates exquisite finishes! If you like napkin decoupage you will love using printed Tissue paper instead, as you can customize and use any design that you like! The possibilities are endless!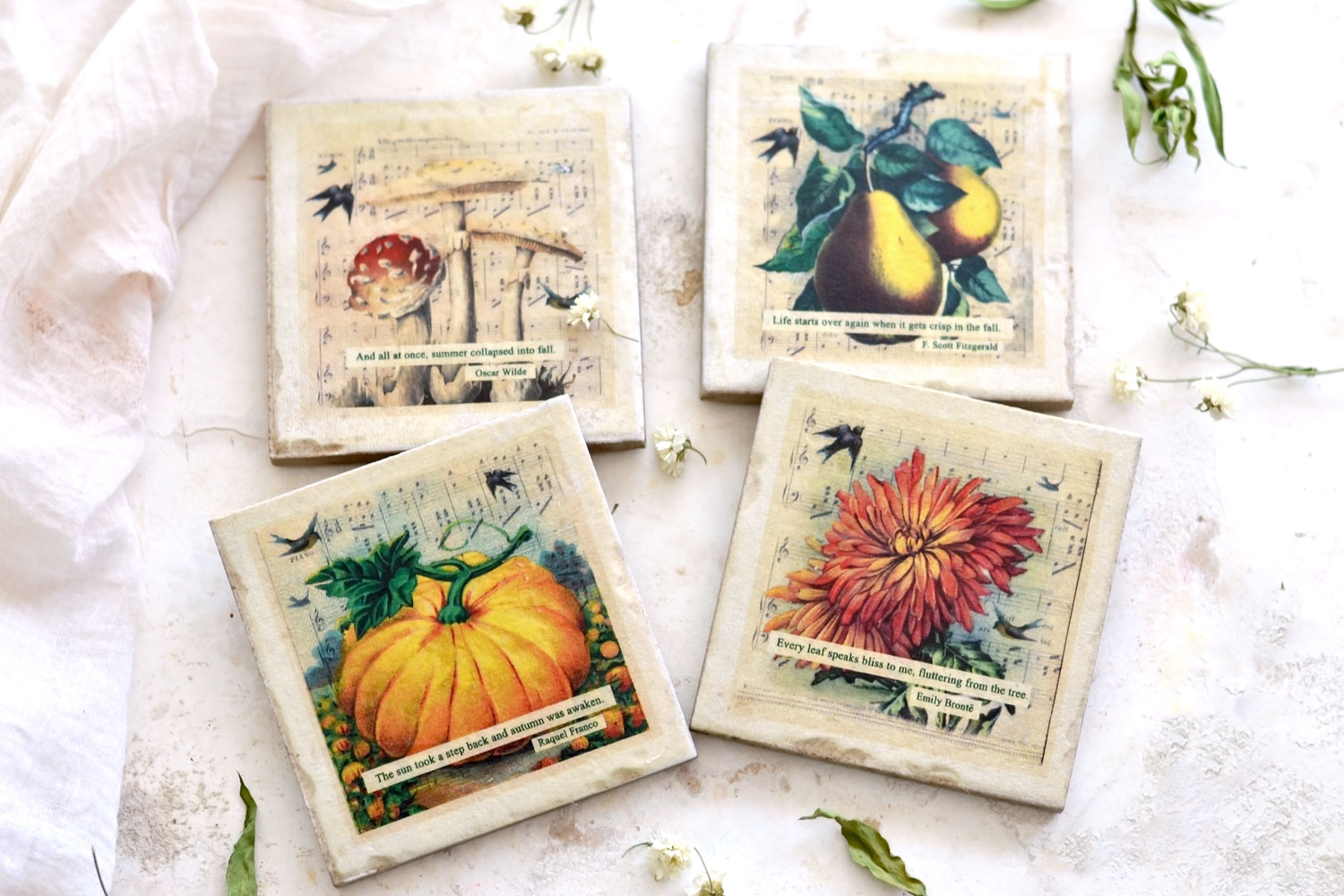 If you are not familiar with tissue paper printing, it would be best to check this article first – How to print on tissue paper. What I did a little bit differently was to use paper tape instead of duct tape to secure the tissue paper in place. I used a laserjet printer for this project, if you are using an Inkjet printer you may want to seal the ink first …we have a tutorial for that HERE!
Don't forget to pin the DIY Coasters to save for later: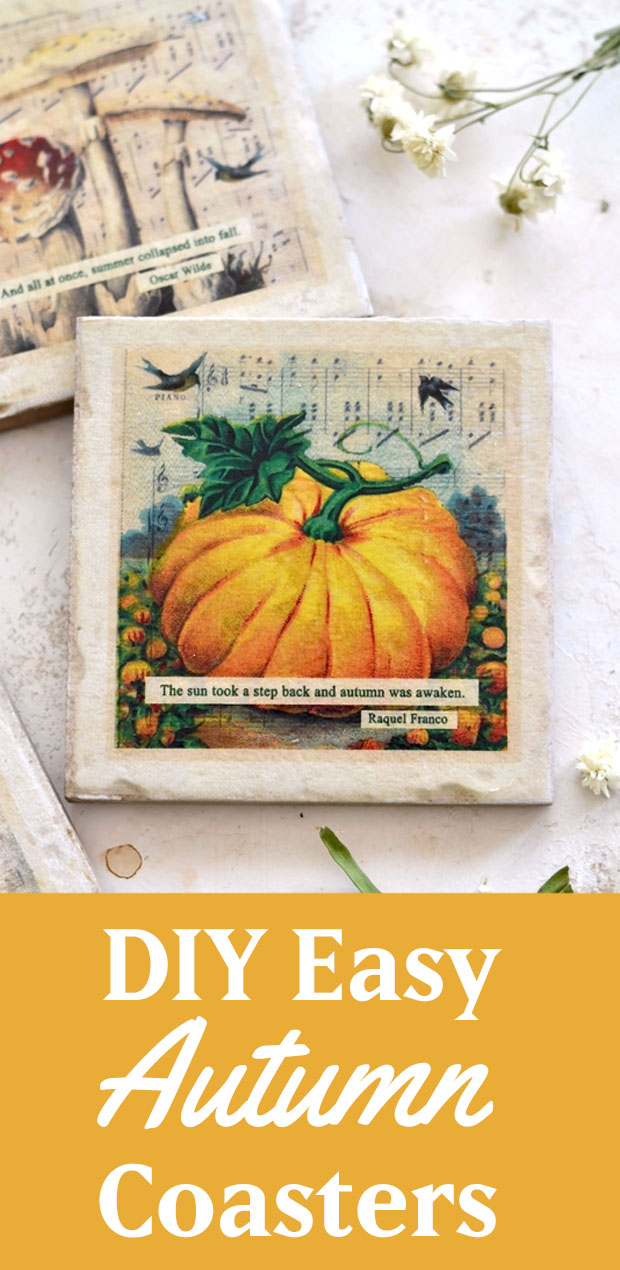 To create the printables I've used images with cream, yellow, orange and red tones that will instantly make you think of cozy falls. I didn't use Fall Leaves in my designs, but you could of course created your own with whatever motif you like. I've also included a few short fall quotes that will make great conversation pieces while enjoying your hot apple cider with your family and friends.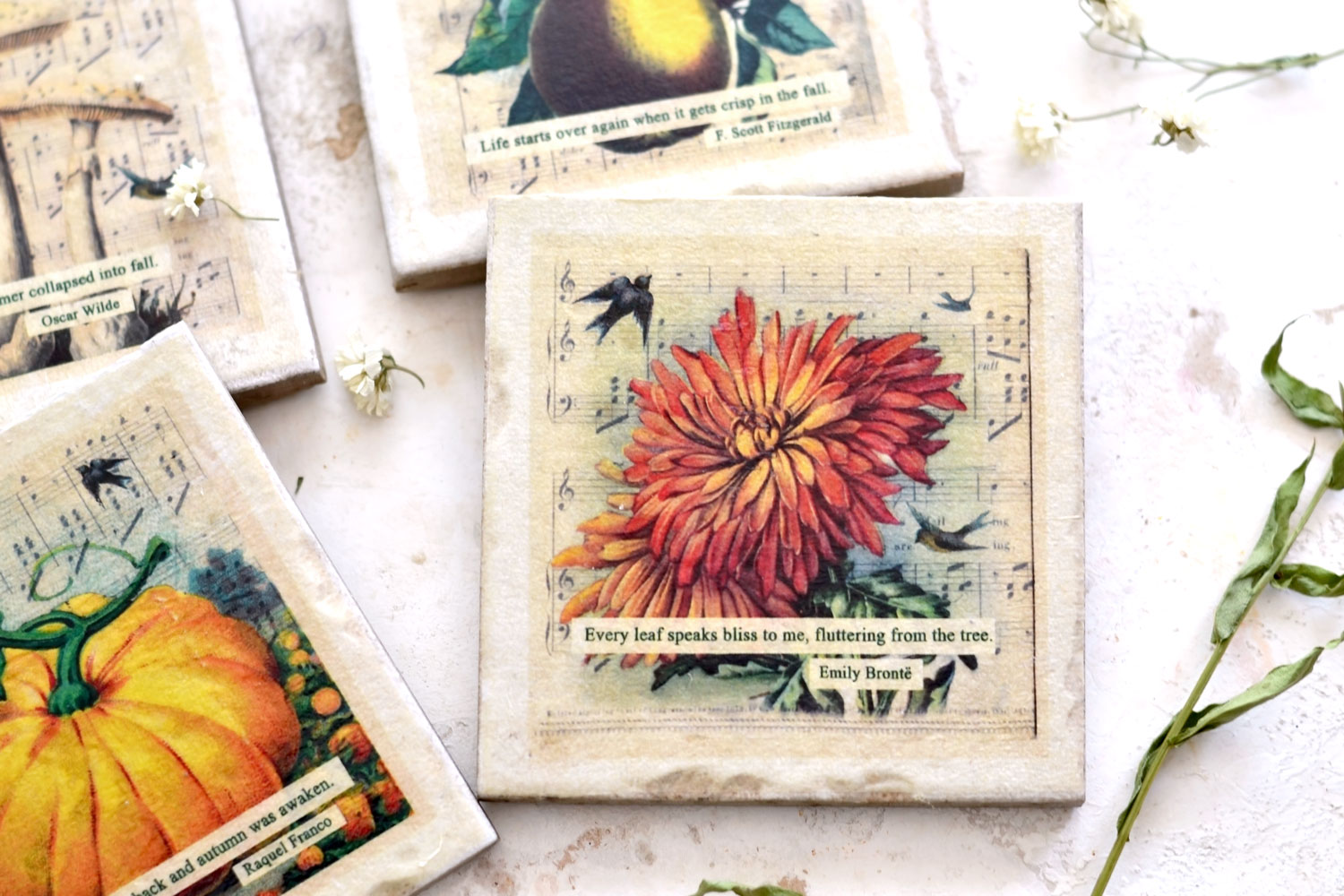 Each design looks like a ceramic tile because I wanted to give you the chance to use them on any surface. I've also included a cream faded background around the designs, just in case you decide you want to wrap your tissue paper around the sides of your tiles while making the coasters.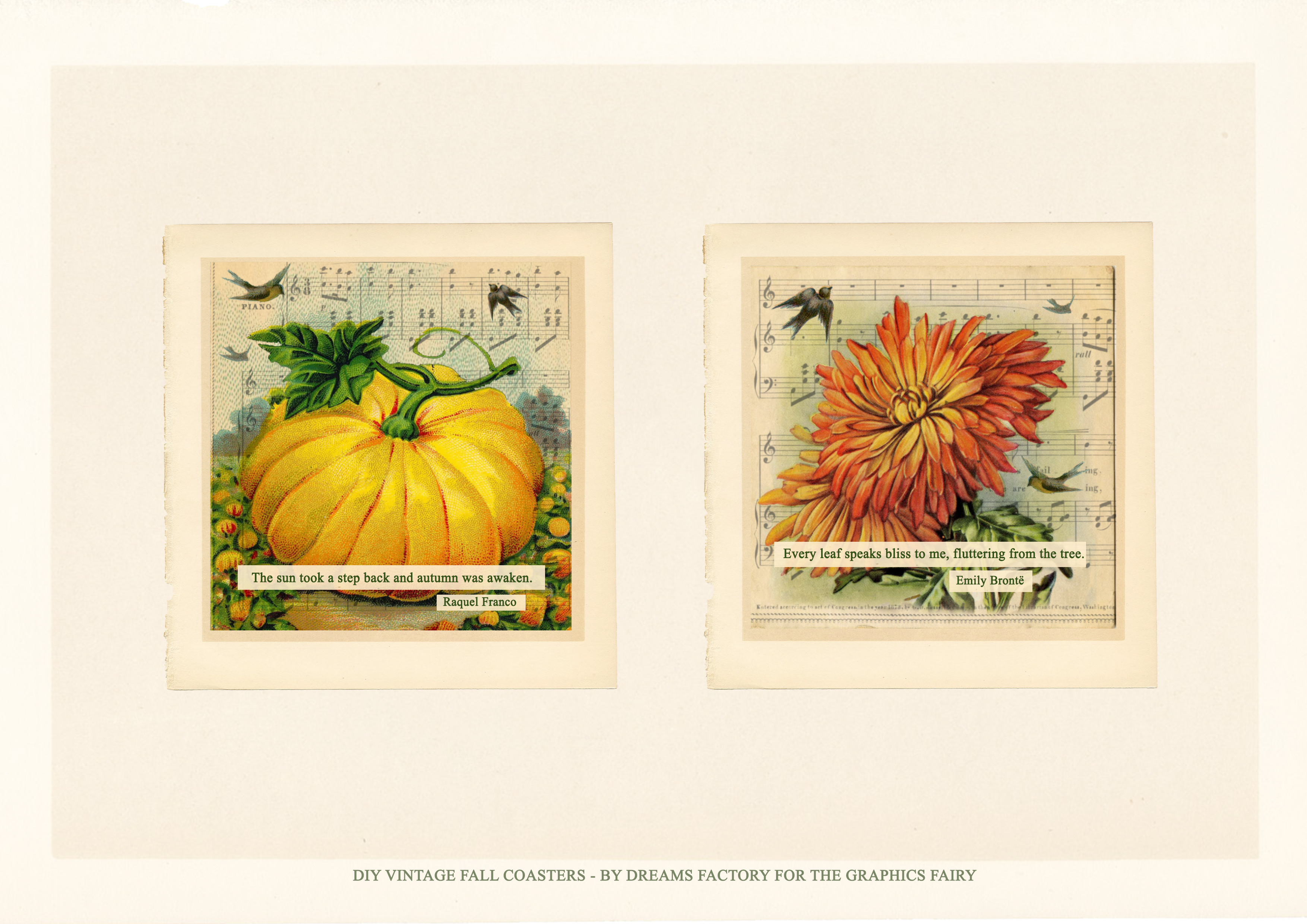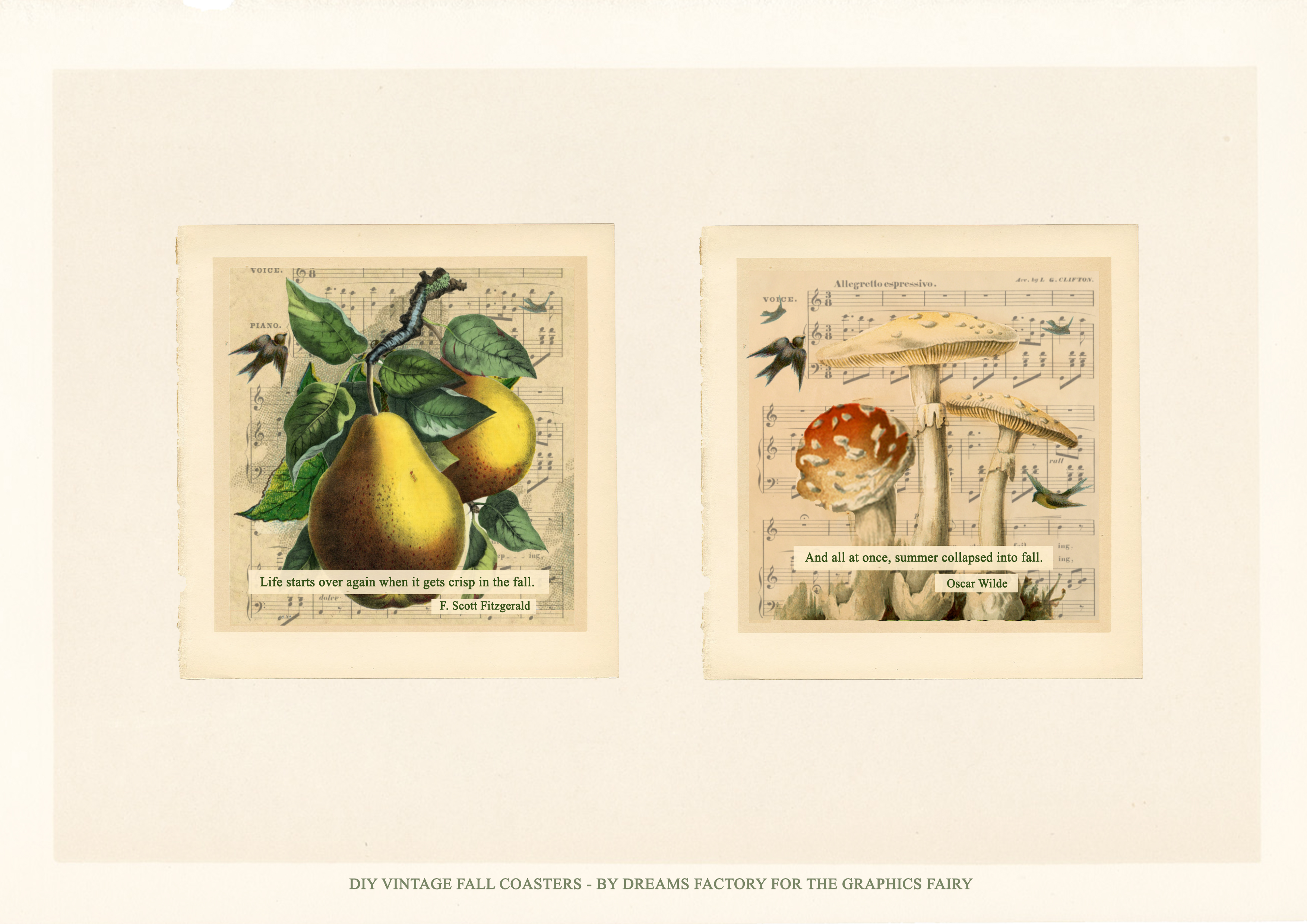 DIY FALL COASTERS SUPPLIES:
the lovely printables
tissue paper + paper tape + cardstock paper (for tissue paper printing)
4″x 4″ (10 x 10cm) ceramic, glass or wood tiles
felt adhesive circles
Acrylic Sealer Spray
Autumn Coasters Tutorial: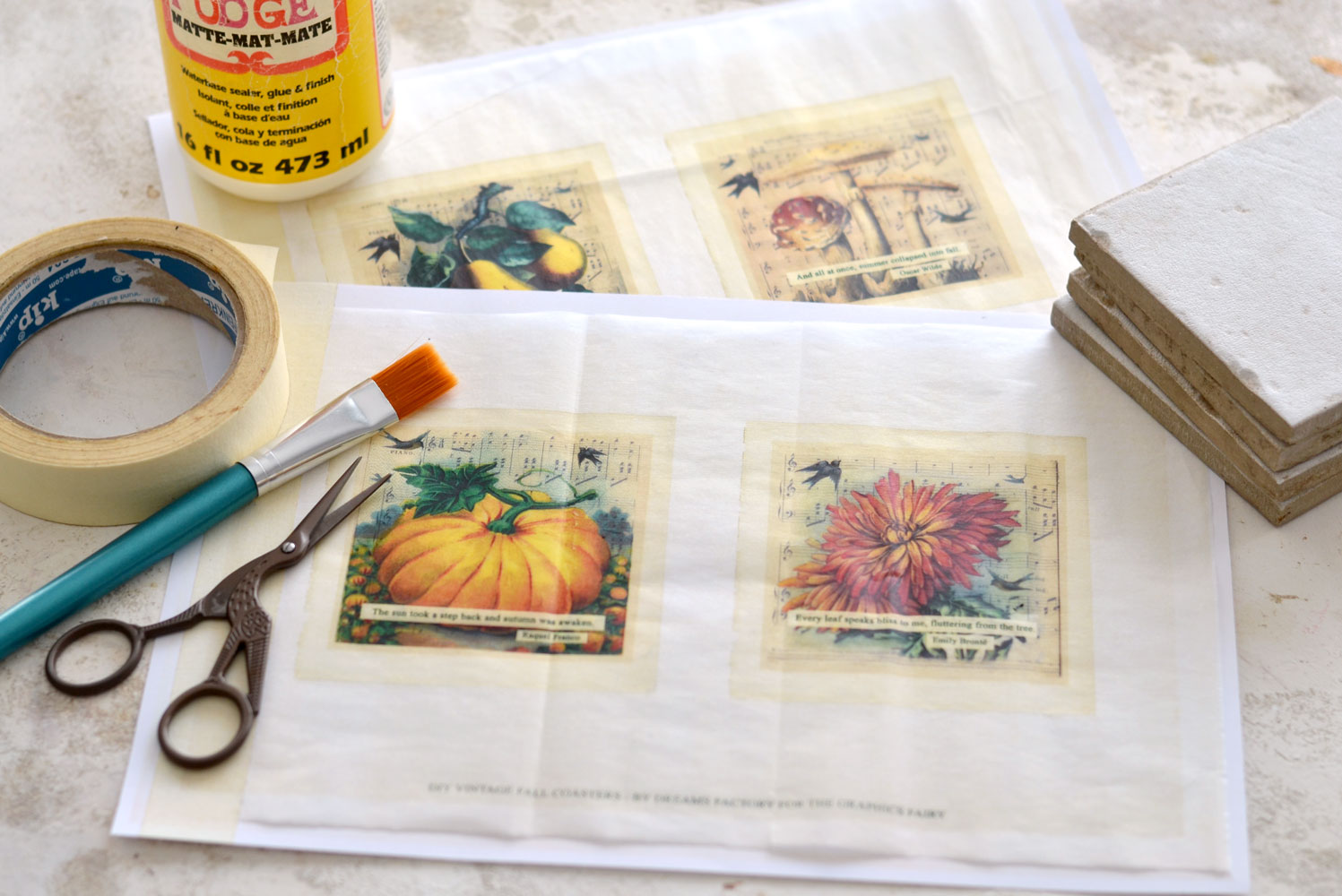 1. Start by printing your designs on two pieces of tissue paper. You can see how my images looked after printing in the image above, while the tissue paper was still attached to the cardstock paper base.
If you want to wrap the tissue paper around the sides of your tiles use the extra cream background and cut it a little bit larger.
If you want the design to have the size of your tiles, use a pair of scissors to cut each design to size. Measure and cut some more if needed, the design should have the same size – it's ok if it's a little bit smaller also.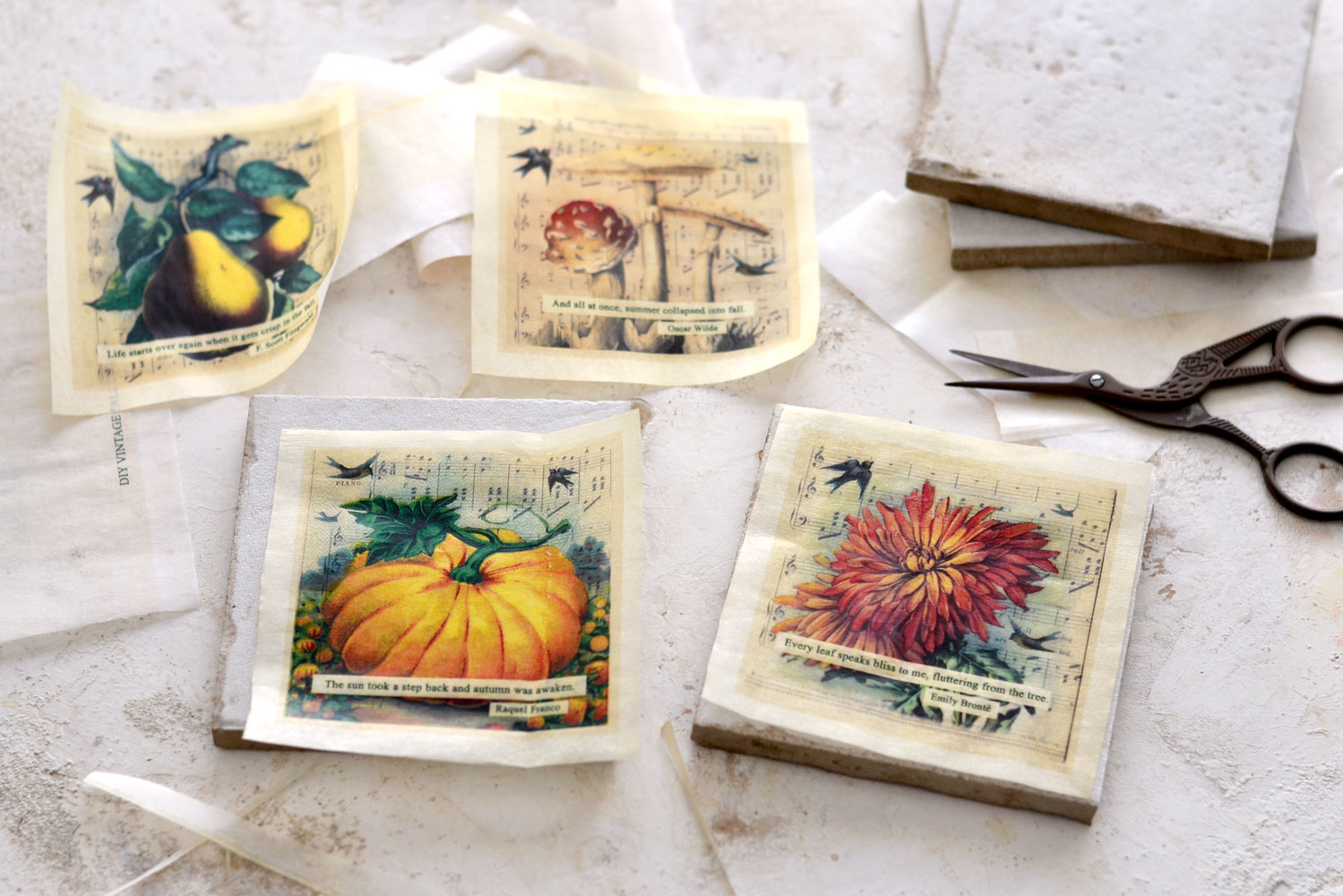 You can use ceramic or glass tiles, but you could also use wood pieces cut to size (if you want to paint and distress the wood first, check this tutorial here). I've used some Italian ceramic tiles that I've been keeping since we decorated our kitchen. The tiles have a chic distressed finish and were the perfect choice for this project! I was a little bit concerned that the tissue paper might not adhere to the distressed textured areas, but everything worked perfectly!
2. Apply a thin layer of Mod Podge all over the surface of the tile. It should be a thin but uniform layer without any brush strokes.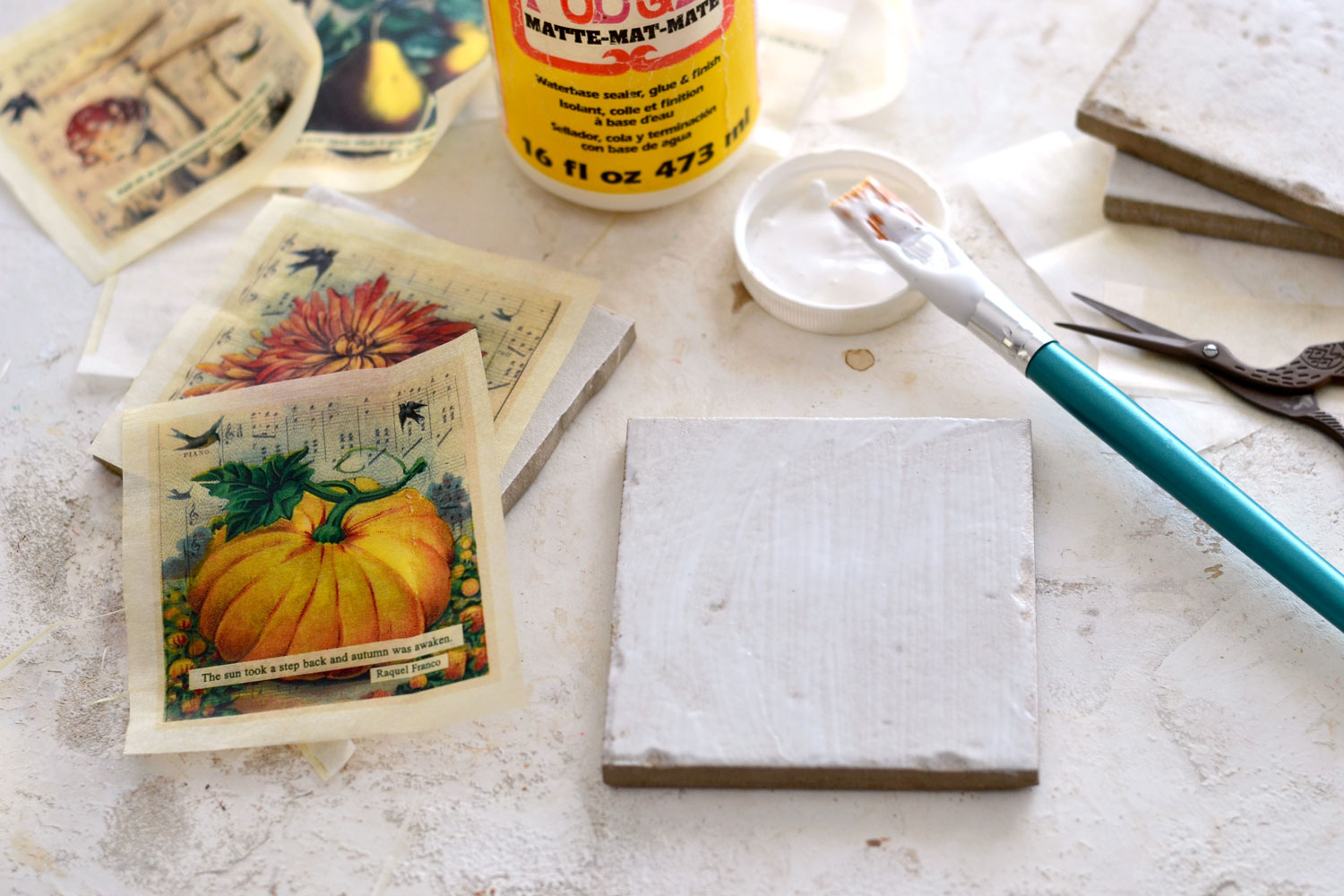 3. Place your design on top of the tile starting from one corner – I found it easier to position the tissue paper this way. Use your fingers to gently smooth the surface and remove any air bubbles starting from the middle and going towards the exterior. Try not to rub the surface but rather press while gently sliding your finger over it.
You can also apply another Mod Podge layer on top, then use your brush to gently smooth the surface. This proved to be a little bit trickier because the underneath glue didn't have the chance to completely dry and the tissue paper wrinkled.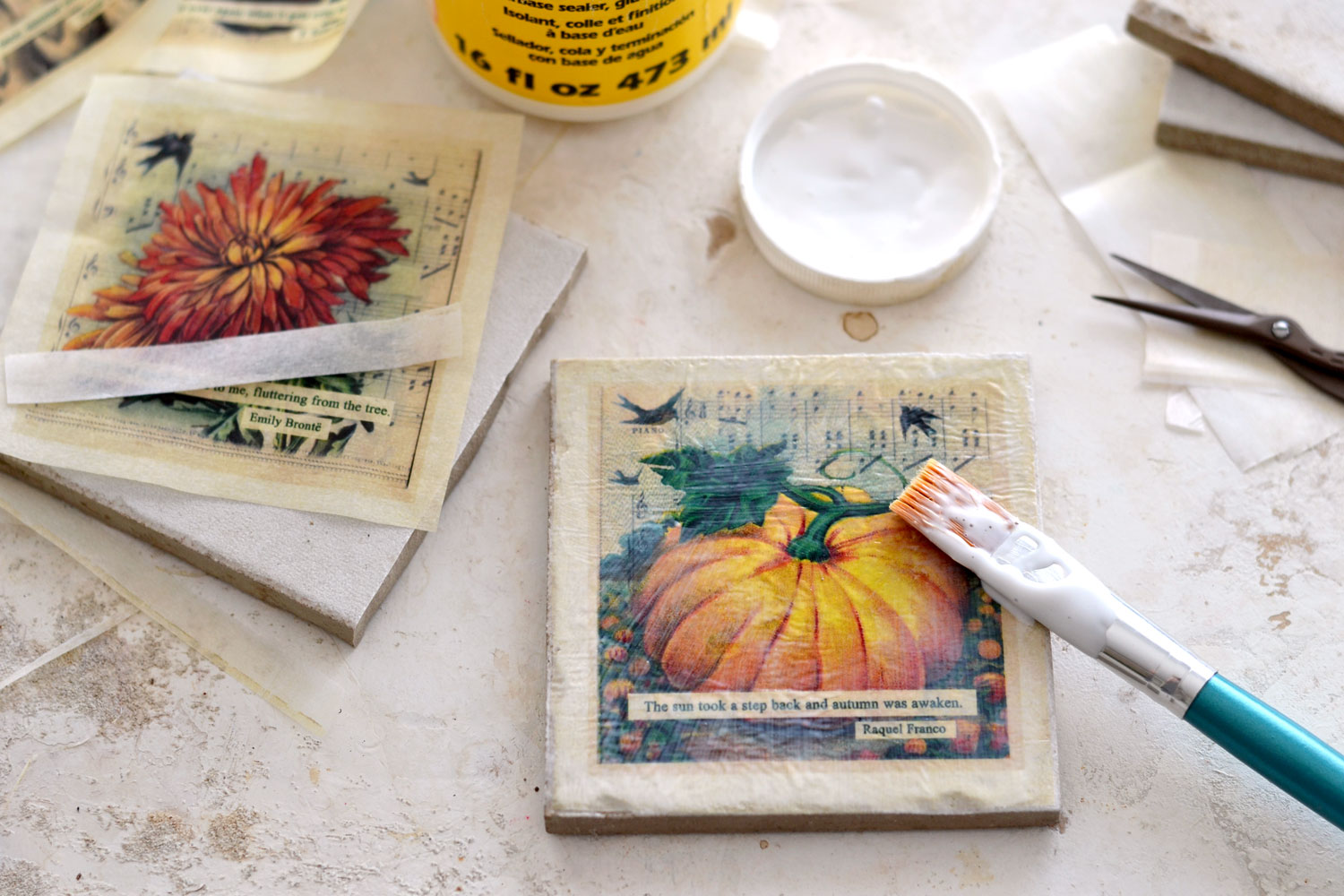 So for the next coaster, I've decided to use another approach – I applied the glue on the tile, placed the image on top and let everything dry completely. I liked this version so much better because I was able to remove most of the wrinkles on the tissue paper.
And only after drying, I brushed a coat of Mod Podge on top.
Should you seal your DIY Coasters? Yes, I think it provides better protection to the project. After drying again, I sprayed a uniform layer of acrylic spray sealer to further protect the surface.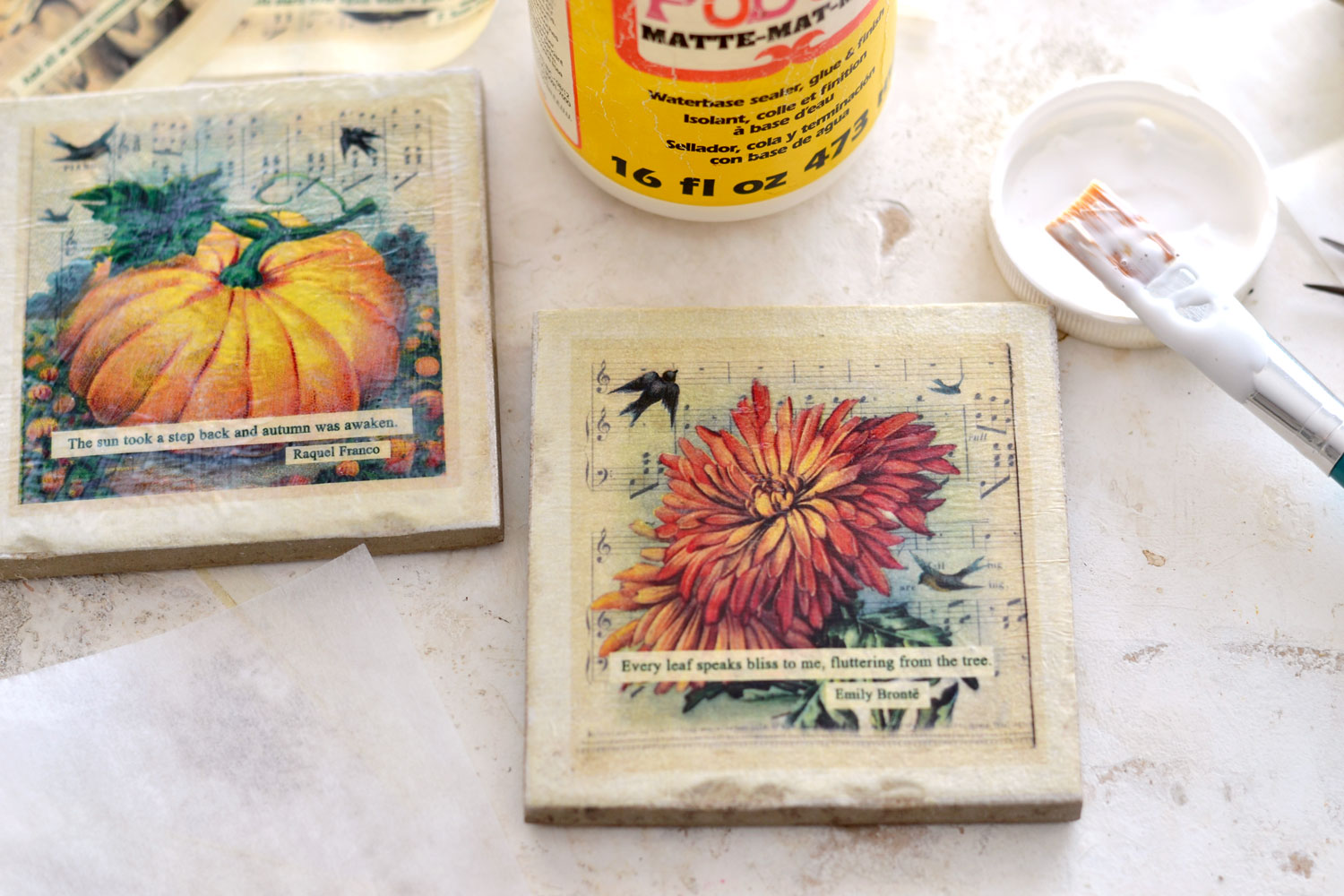 4. If the back of your tiles are textured, it would be best to use some felt to protect your surface afterwards. You can use scrap pieces of felt and glue them using double sided-tape or felt adhesive circles (I had an old bag from Ikea – they are called Fixa, but I'm not sure if they still carry them). If you can't find adhesive felt you can attach with a glue gun.
As you can see, my ceramic tiles were extremely textured. I had to cut the felt circles in half so they would match, then randomly place them here and there as I could. I flipped the tiles over a few times to test their balance on the table. Another option would be to use Cork coasters backings.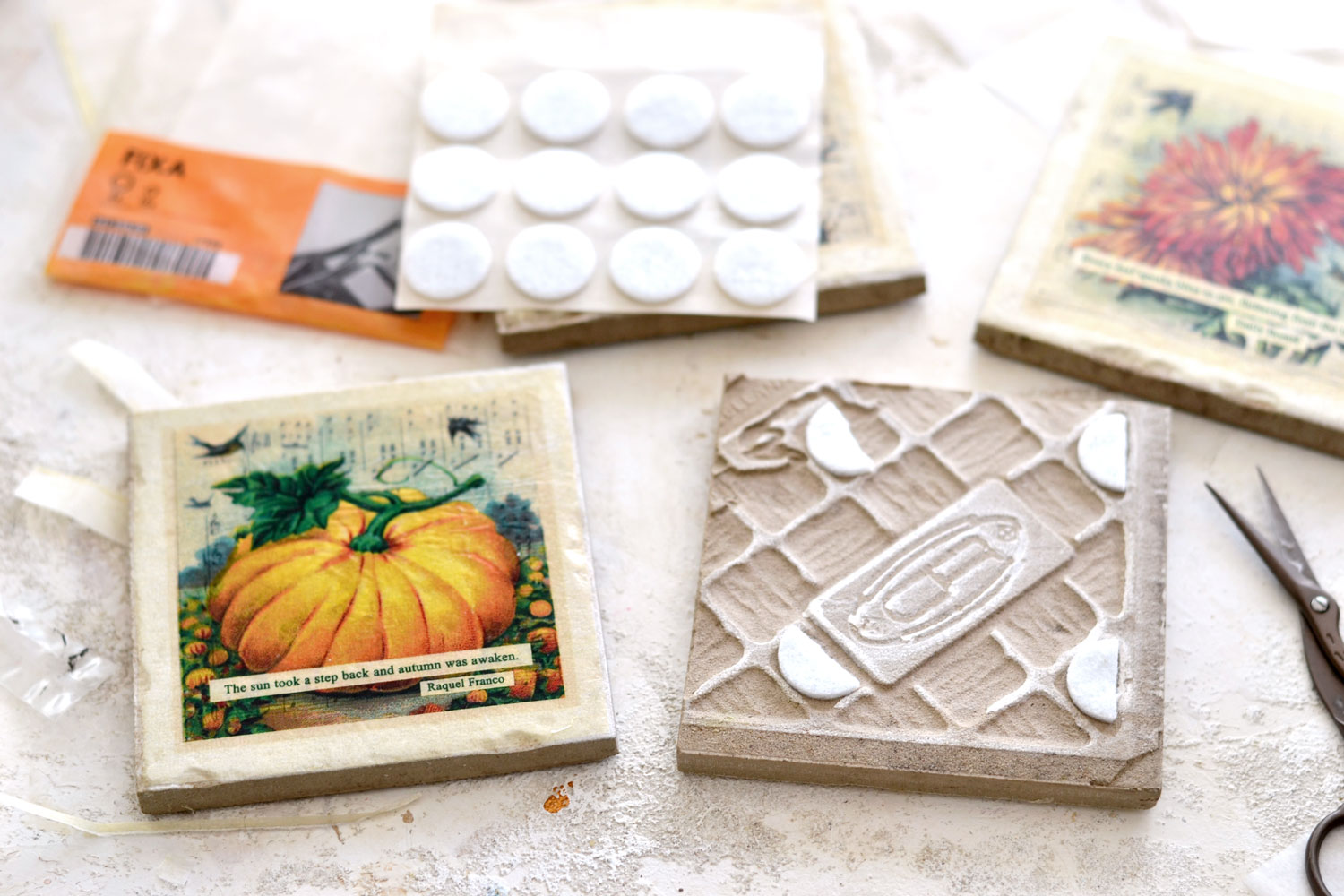 P.S. Don't throw away the leftover pieces of tissue paper, they can be stamped and used on other projects! Just make sure you're using archival ink, then decoupage or collage the scrap pieces where you want!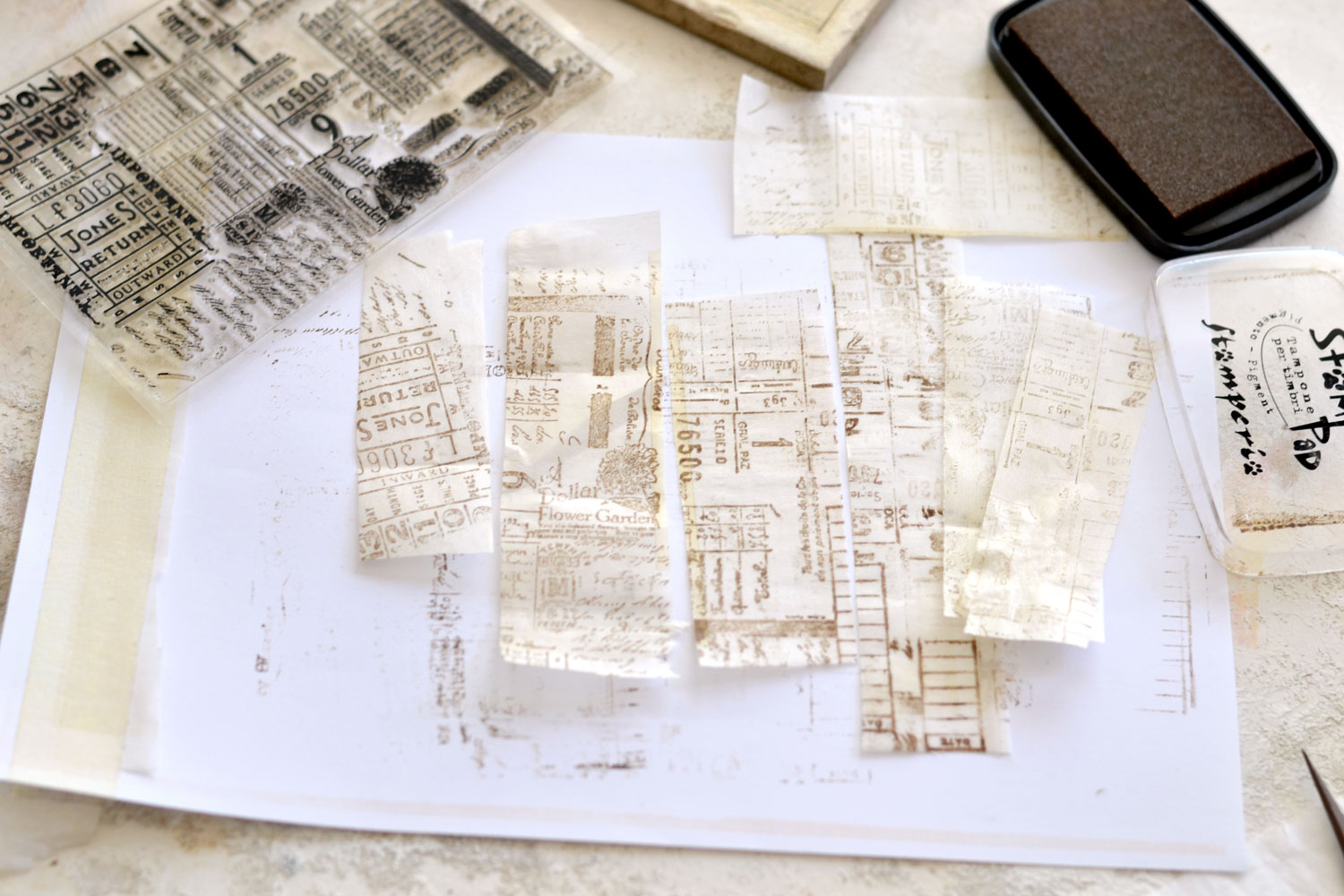 This is how my gorgeous DIY Fall Coasters turned out, each piece is truly unique!
I really love the sheerness tissue paper brings to any decorated piece, especially when you also have a lovely distressed surface that is showing from underneath!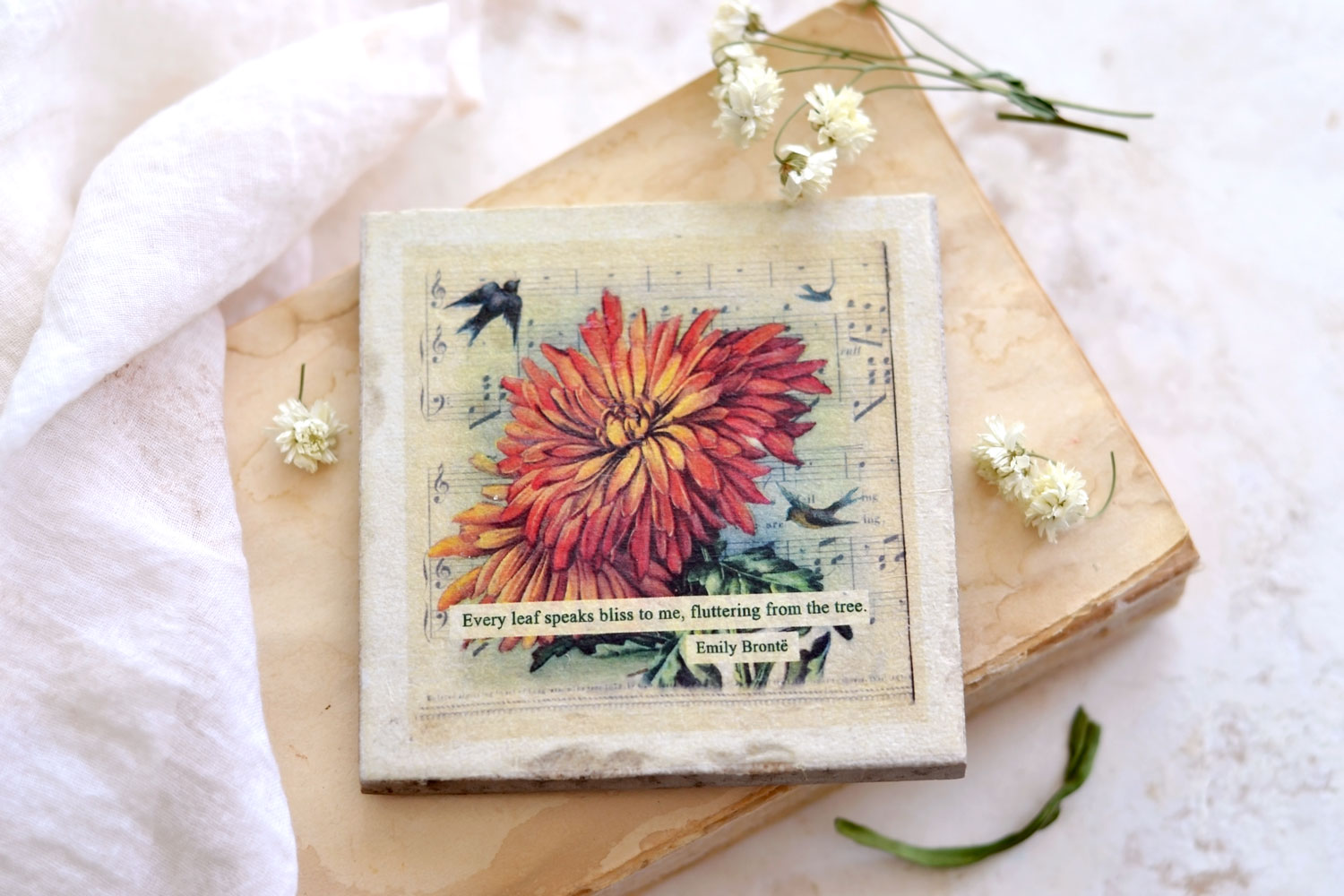 If you keep in mind and take some extra care while gluing the tissue paper on top, you will barely see the edges after drying. It's really amazing how the tissue paper almost 'melts' into the surface and creates such a beautiful finish! But don't worry if everything is not perfect, a few small imperfections here and there will only add more charm to your vintage image.
The layer of acrylic sealer spray that we added earlier will protect the surface of the tile coasters. You will be able to wipe them using a clean or damp cloth, but they won't be dishwasher safe.
If you have dishwasher-safe Mod Podge around you can try it – if you do, please come back to let us know in the comments how it goes.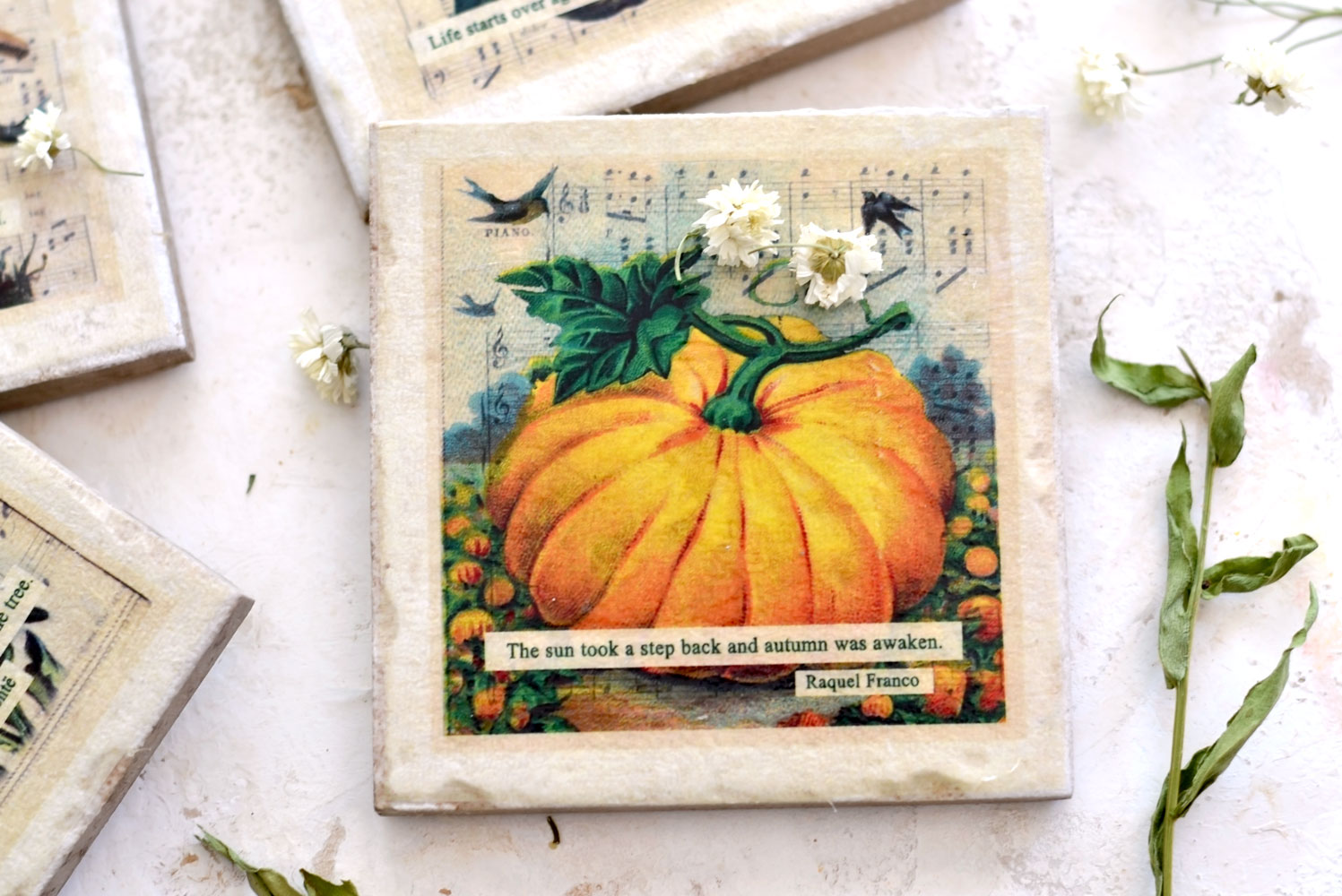 Integrate your new DIY Fall Coasters into all your cozy moments this fall, whether it's for 'me' moments or family gatherings, we could all benefit from these beauties.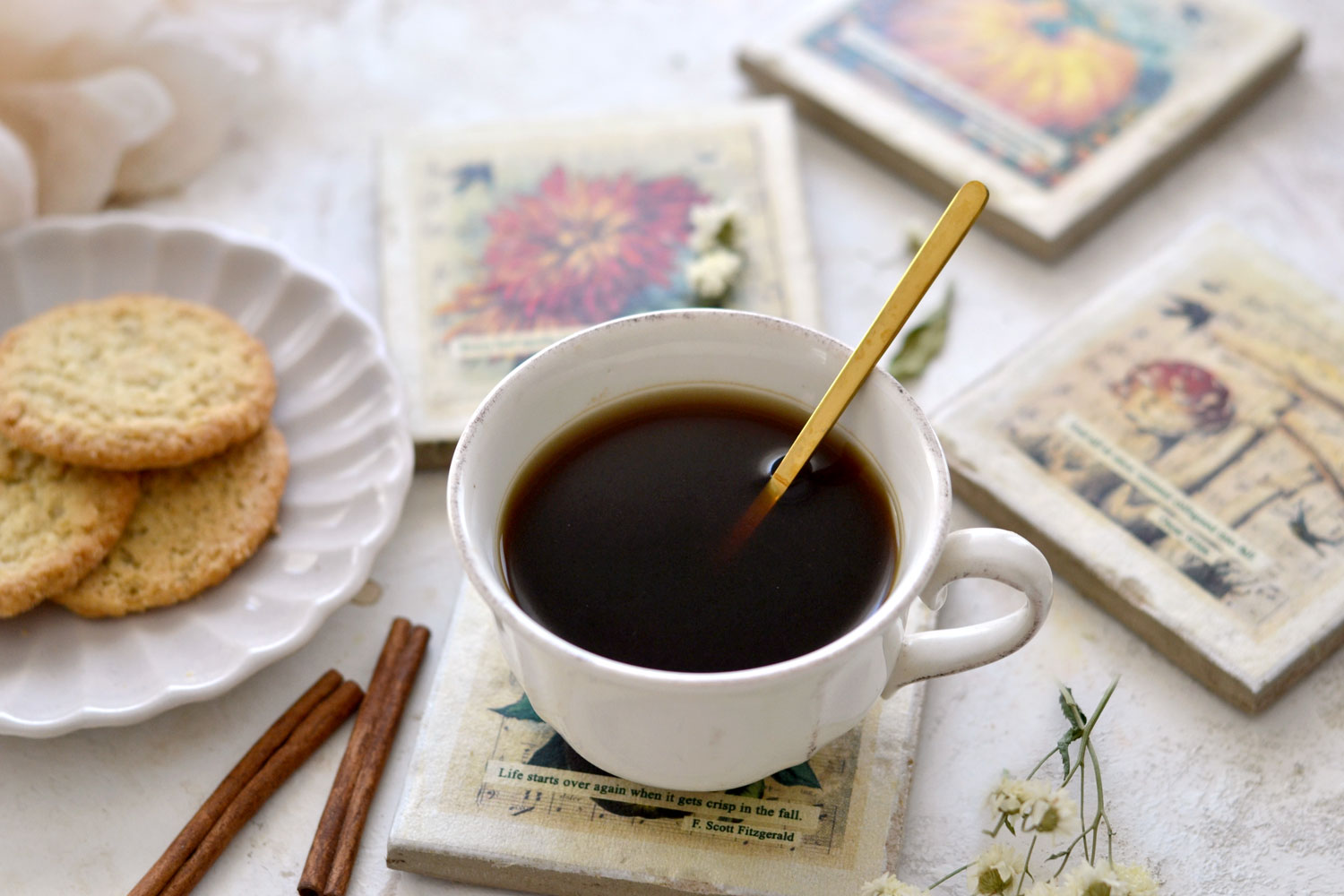 You can stack the coasters when you are not using them or even better, you can use them around your kitchen (or your home) as chic decorative pieces for your Home Decor. They also look great in a living room … perhaps on your end tables or coffee table. You can also include other seasonal items like pumpkins or cinnamon sticks, leaves, dried flowers or small branches to create lovely vignettes. Other decorative items like vintage books, small statues or candles would also look great.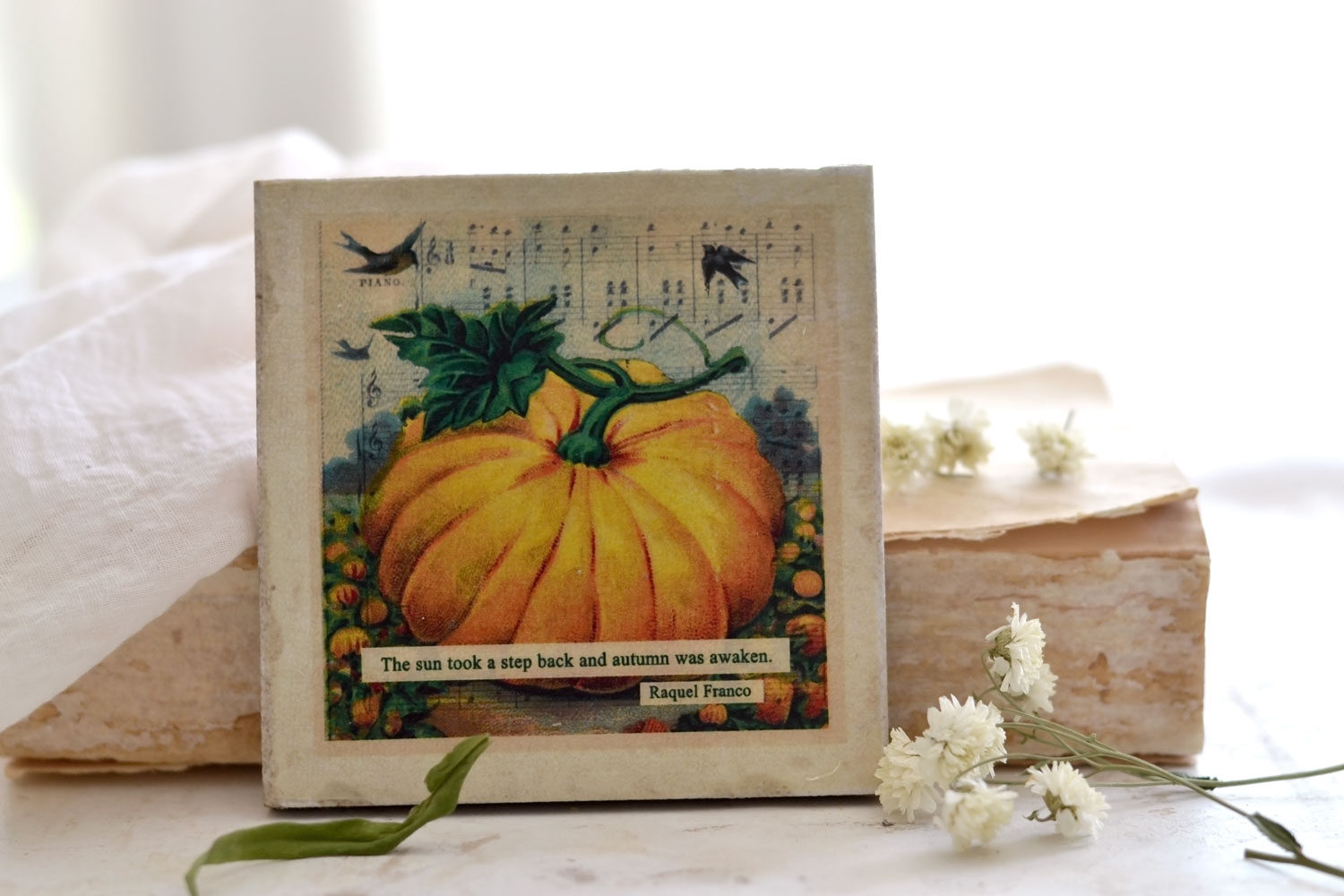 I hope you enjoyed making these simple Autumn Coasters. And of course, these beauties will make the perfect gift for any special birthday or anniversary, so I hope you will give them a try! You can use some twine or ribbon to bring even more oomph to this unique handmade gift. They would also make great Crafts to Sell at a Crafts Fair or Church Bazaar!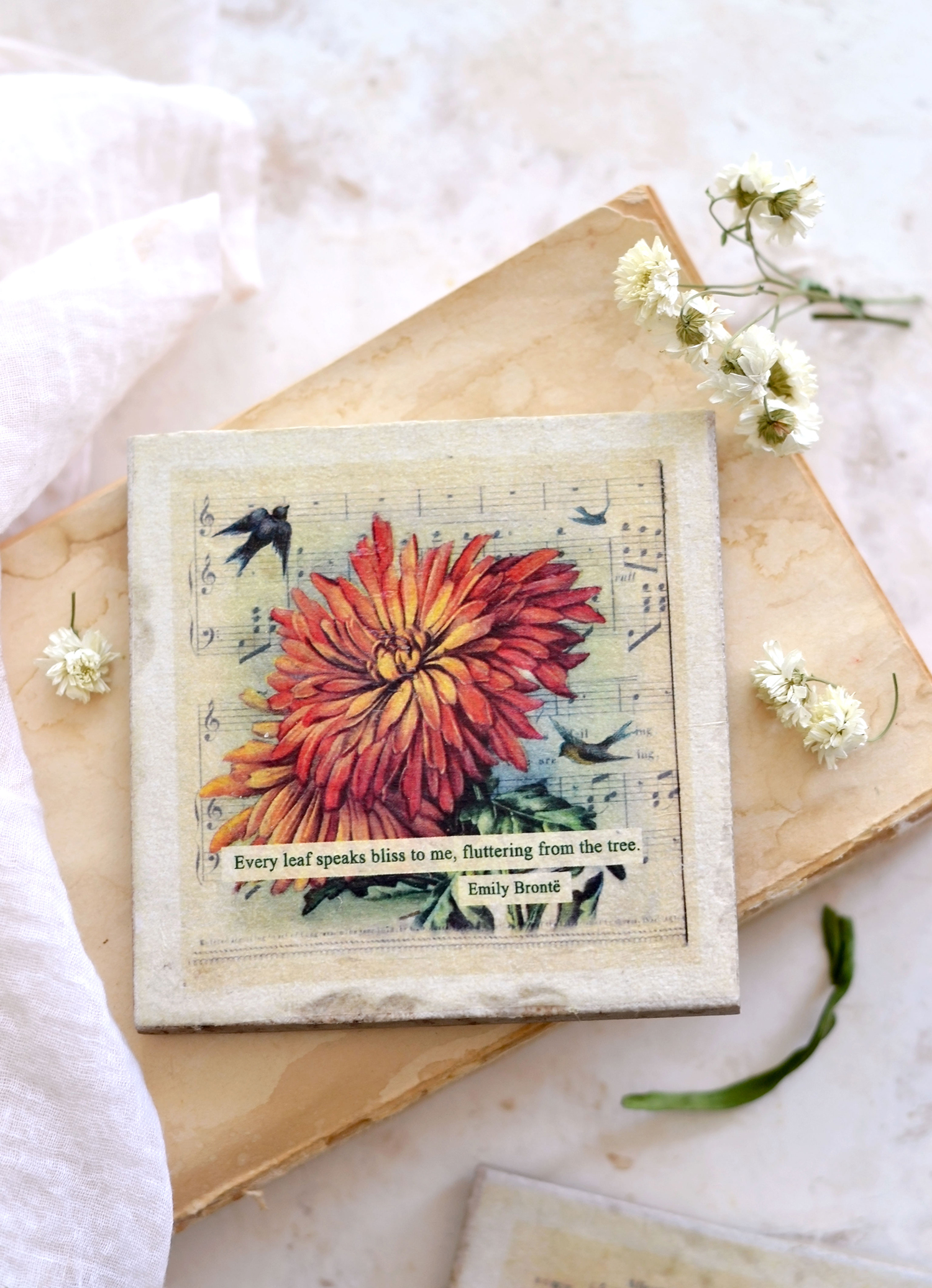 We have another DIY Coaster Projects HERE and for more Fall Crafts for Adults be sure and check out these adorable Twine Pumpkins HERE.
Happy crafting
Diana / Dreams Factory