Citra Solv Transfer Method
This weeks project was inspired by antique European grain sacks! These are so all the rage right now, but quite pricey for the real deal, I thought it would be fun to create a project that simulated the motif, and then use it on some kitchen towels. I also made some matching placemats as well. Both of these were made using a fun transfer technique using a cleaning product called Citra-solv!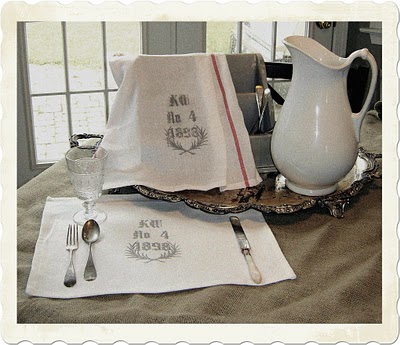 Grain Sack Printables

Click HERE for the Front Facing Grain Sack Printable
This is the design motif that I used for the project. Yes, those are my initials, but really when you buy the antique ones you get somebody elses initials anyway, right?! Keep in mind that we will actually need to use a mirror image of the pattern for this project.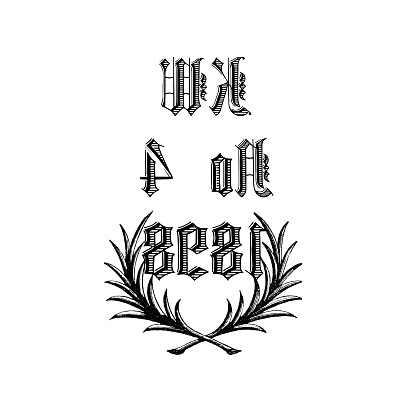 Click HERE for the PDF of the Reversed Printable of the Grain Sack 
This is the version that you will need for this project.
I've included a supply list and instructions below:
Citra Solv Transfer Method Supply List:
1) Solid Color Fabric Kitchen Towels – I like the ones at Ikea, because they have red stripes and also, because they are super cheap! (Just keep in mind that the tighter the weave on the fabric the better. Loose weave fabrics just don't work well, as the pattern will bleed. Sorry ladies, but I doubt burlap would work for this!)
2)Citra-solv – This product comes in Lavender or Orange, I found mine at my local Health food store.
3) Photocopy of the download – Take you printed PDF to your local copy place and have a photocopy made. Not all black and white copiers work, it must be a toner based image. I made some copies at Staples and they did not work, but the ones that I copied at my local grocery store did. All of the big box copy places use laser, so don't try any of them, you want to find an older machine, so try your local privately owned printer shop, library, bank etc. And test it first to make sure it works!
4)Paintbrush
5)Painters tape or pins
6)An Iron
7)Also- an old metal spoon, a glass jar, an old towel, some newspaper and some rubber gloves.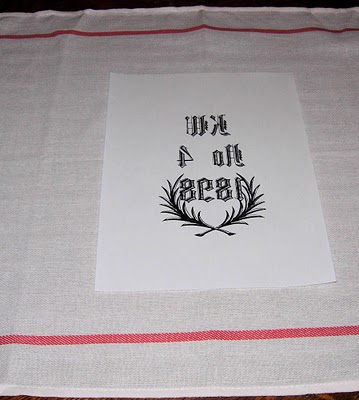 Step 1: Print the PDF, make sure you usethe mirror image version found HERE. Next take it to your local photocopy place, and have a toner based copy made.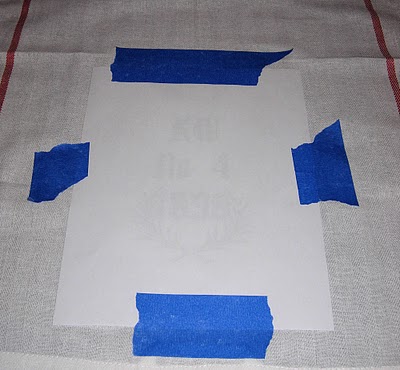 Step 2: Position your copy face down on the towel and then tape or pin your image into place.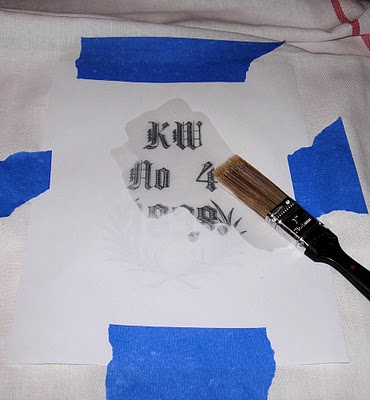 Step 3: Lay some newspaper onto your work surface (use a fairly thick stack of newspaper, you want to be able to have a little give under your fabric) and put your fabric on top of the newspaper. Put on your rubber gloves (The bottle says to protect your skin) and pour some Citra-solv into your glass jar. (Careful, it will come out quickly!) Then use your paintbrush to lightly apply the Citra-Solv. You want to get the paper wet, but don't over soak it, or your print will bleed. (you may want to open a window, as there are fumes involved. They are pleasant, but strong. The bottle does not say they are harmful but, still… use caution!)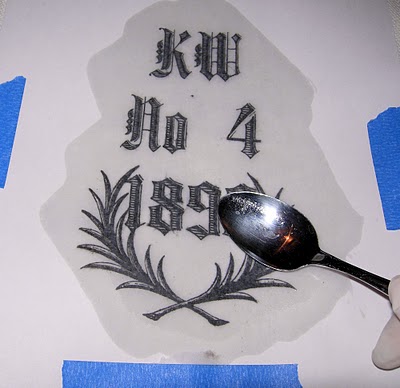 Step 4: Use the back of your spoon to burnish the design. Make sure you burnish the whole design, it doesn't take super long, maybe 2-4 minutes to get a good burnish. Oh and
don't peek!! if you peek you will not be able to get everything lined back up exactly, and you will have a big blur! Better to practice on some scrap fabric first to get the hang of it, then to peek! As soon as your done burnishing you can take the paper off and then wait for your fabric to dry.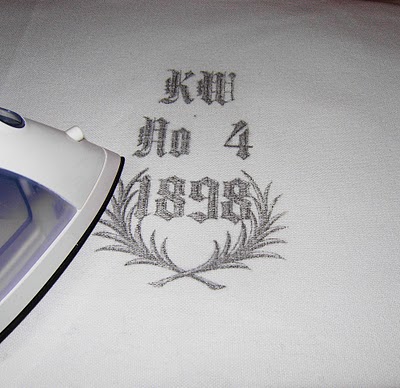 Step 5: After your image is dry, lay the old towel down on your ironing board (so you don't get citra-solv smell on it) and then iron the image to release the trapped citra-solv.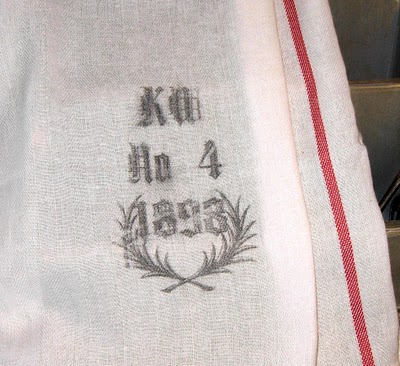 That's it! You can see the design on the towels is not perfect, that's because the weave was a little to loose in this fabric. And well… also because there was a bit of a crease in the newspaper under my towel, when I was burnishing. Personally, I like the rustique look of it all and think it makes it look older.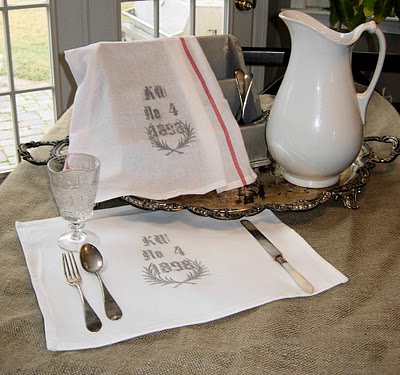 The placemat had a tighter weave and came out picture perfect. It might be fun to tea dye your towels too for even more of an old world look. From what I understand the image is permanent and will not wash out. It's also super soft and no shiny sheen, very natural looking! I hope you enjoyed this fun transfer technique!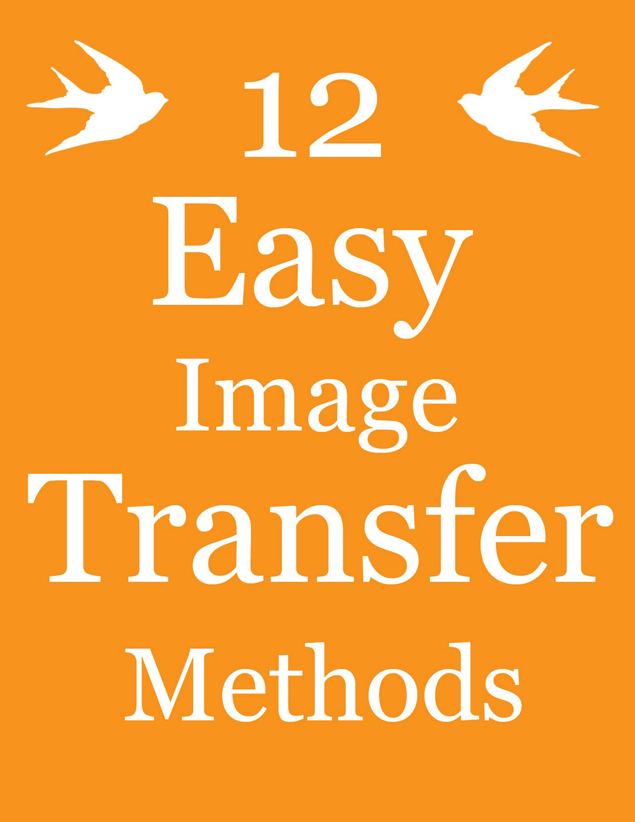 I hope you enjoyed this Citra Solv Transfer Method and the Grain Sack Printables. Be sure and check out my 12 Easy Transfer Methods post for more fun ways to transfer images onto nearly every surface imaginable!
Want more Printable options for your Towels? Check out my selection of Free European Inspired Printables, that are perfect for your DIY Projects!
P.S. … many thanks to Jane from Outside of the Crayon Box for turning me on to this technique!
Hello! Are you new to The Graphics Fairy?
Welcome, I'm so glad you're here! Browse around to find thousands of Stock Images that you can use in your projects or designs! I post new Vintage images every day, as well as projects and DIY's too!