DIY Honeycomb Coasters
Hello creative friends! I'm Diana from Dreams Factory and today we will be making some charming DIY Honeycomb Coasters, that would be just perfect for entertaining …but also they would make a fantastic homemade gift! I think these would be wonderful as a hostess gift or for Christmas or Birthdays. They would make a lovely housewarming present too. And they would go beautifully with these French Bee Tags.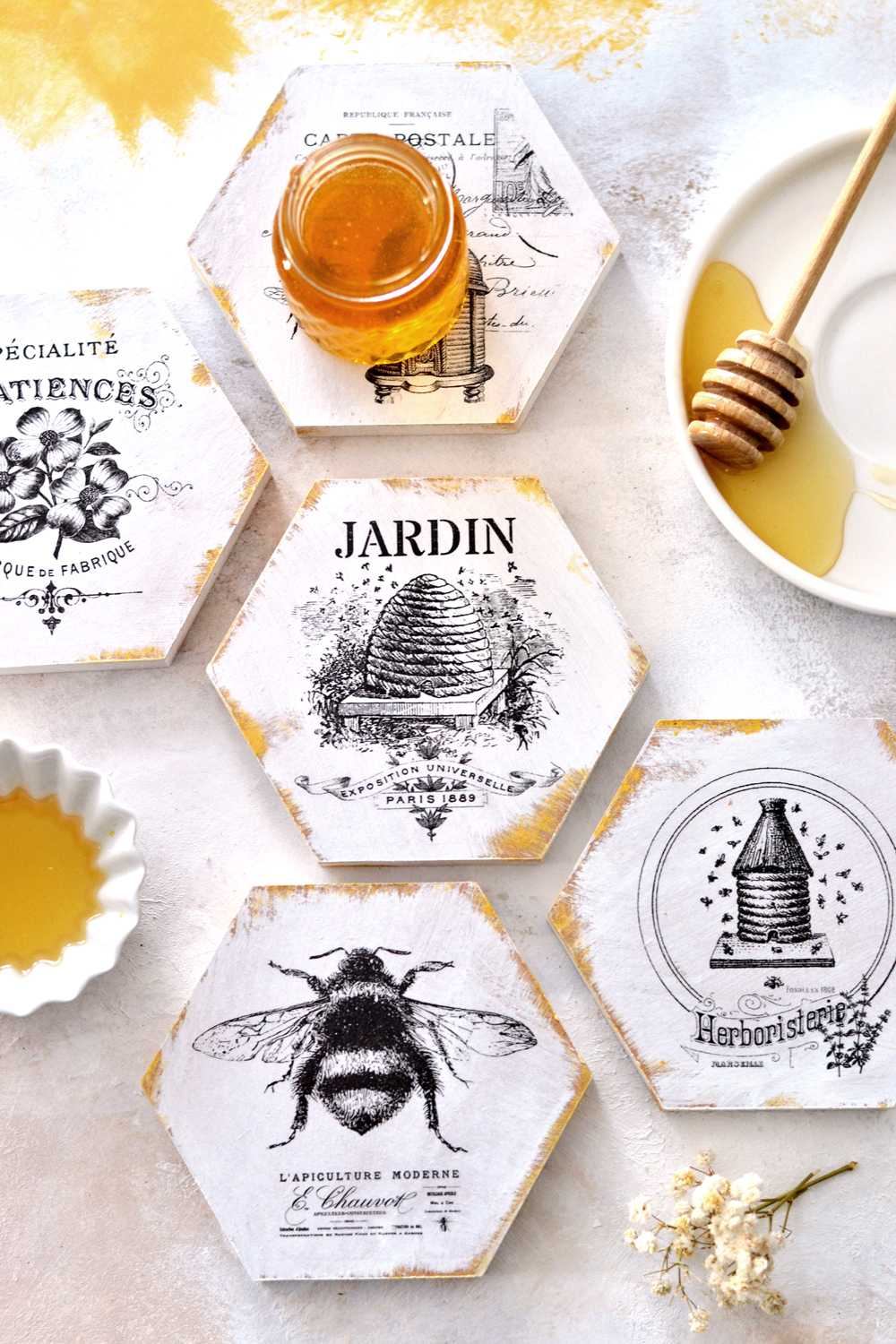 I will be showing you:
1. how to cut the hexagonal shapes that we will need to create the honeycomb coasters
2. how to quickly paint and faux distress the coasters with white and gold acrylic paint, for a more authentic look
3. how to decorate the coasters with these 'très chic' French graphics that I made for this project
4. how to protect your work so you can enjoy these beauties forever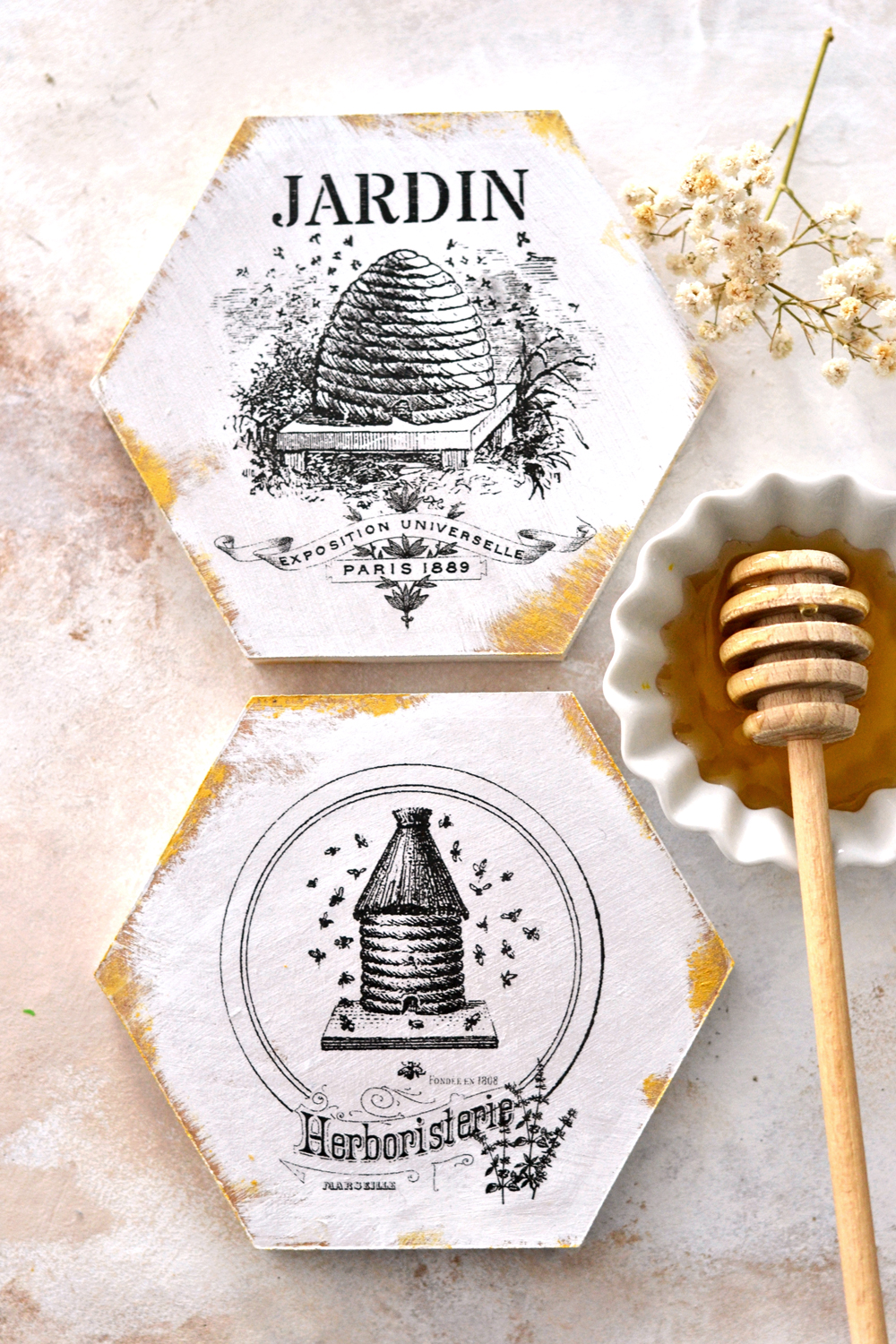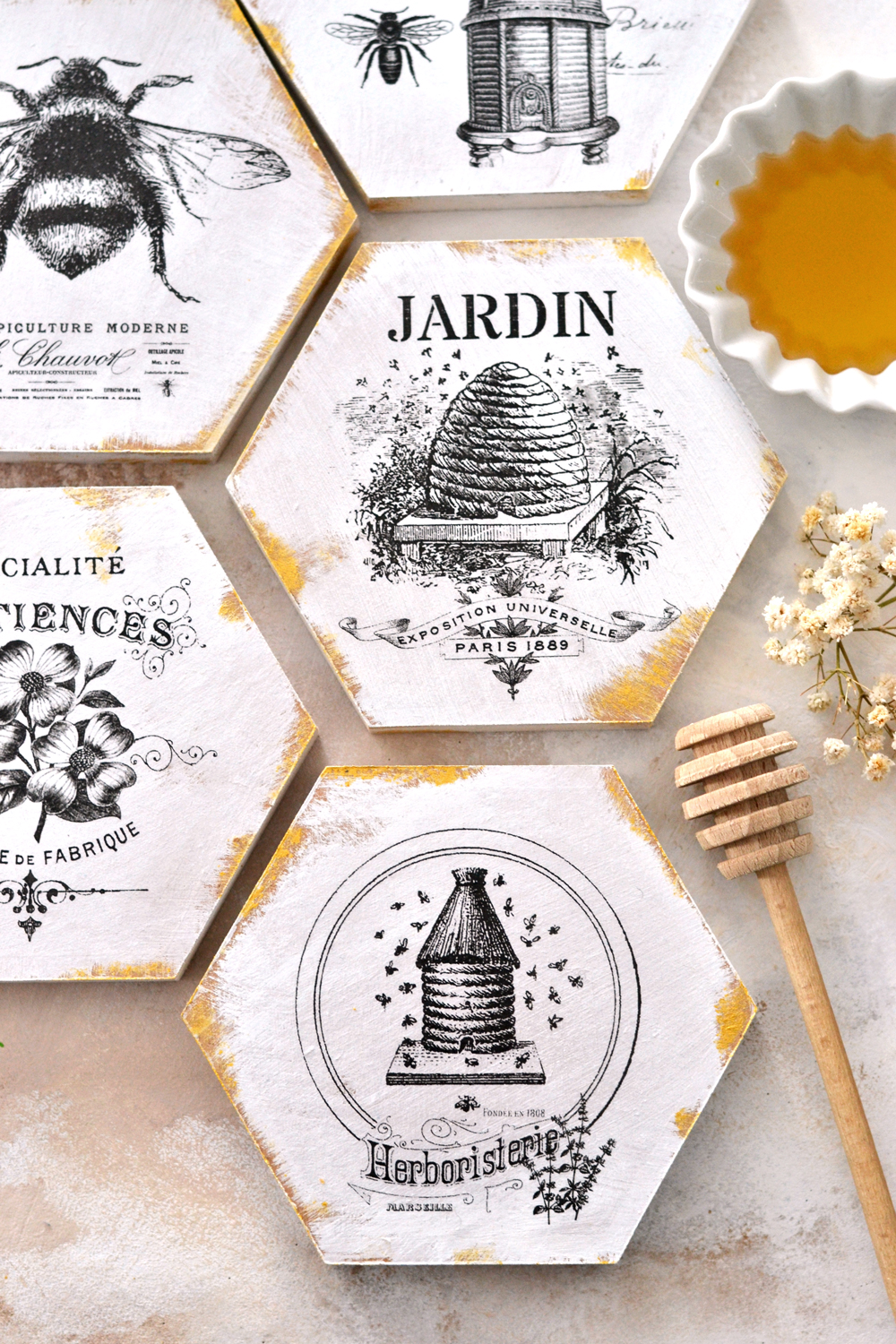 As always, I'm sharing the French graphics that I designed for this project using images from The Graphics Fairy –  you will be able to create 5 beautiful DIY Honeycomb Coasters. I only had enough space on my page to add 5 honeycomb French graphics and I initially created the project having this number in mind. But if you are dreaming of a perfect set of six, I added a few other individual elements that you can combine to create the 6th element … I mean coaster.
Free Printable for DIY Honeycomb Coaster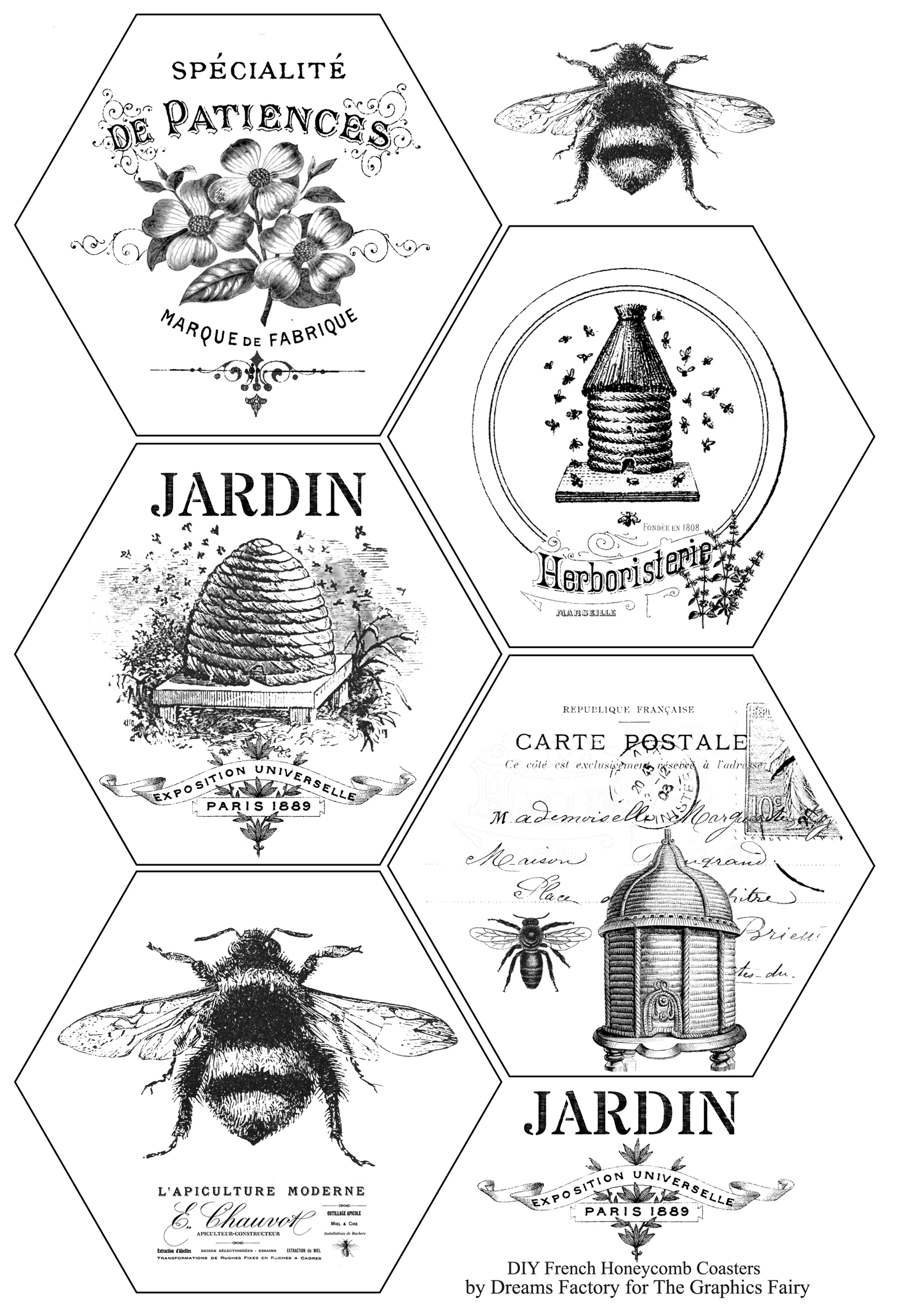 —-> Click HERE to Download the Full Size Printable PDF <—-
How to make the DIY French Honeycomb Coasters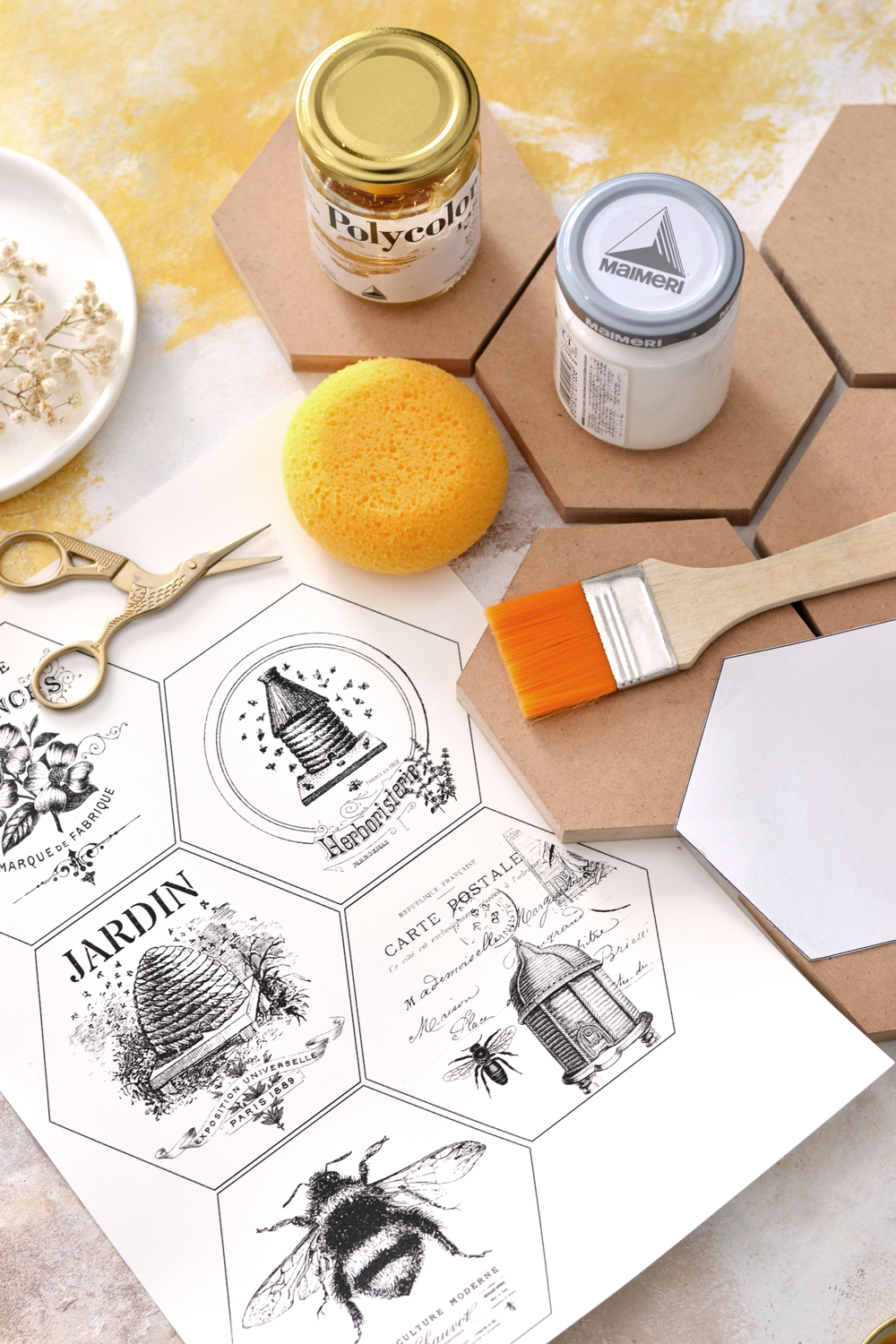 Supplies for DIY Honeycomb Coasters:
For creating the hexagon coasters 
hardboard (HDF – Hight Density Fiberboard) OR MDF (Medium Density Fiberboard) OR any other scrap wood
hexagon template (download here)
a pencil
top handle jig saw OR table saw
120 or 180 grit sand paper
For painting & faux distressing the coasters
For decorating the coasters with the beautiful French graphics
For sealing the coasters
How to create & cut the hexagon coasters 
1 . Let's start by creating the honeycomb shapes first! You will find a printable with a simple hexagon shape in the supply list, you can just print it on cardstock paper and use your scissors to cut the shape outside its black border. Use this shape as your template and trace 5 (or 6) hexagons on wood using a pencil. I used MDF, but you can use any scrap wood you have around.
2. Use a top handle jig saw to cut all the 5 (or 6) coasters. Mr. Dreamy helped me with this part … jig saws are not really my thing. Then use sand paper if needed, to sand the edges until smooth.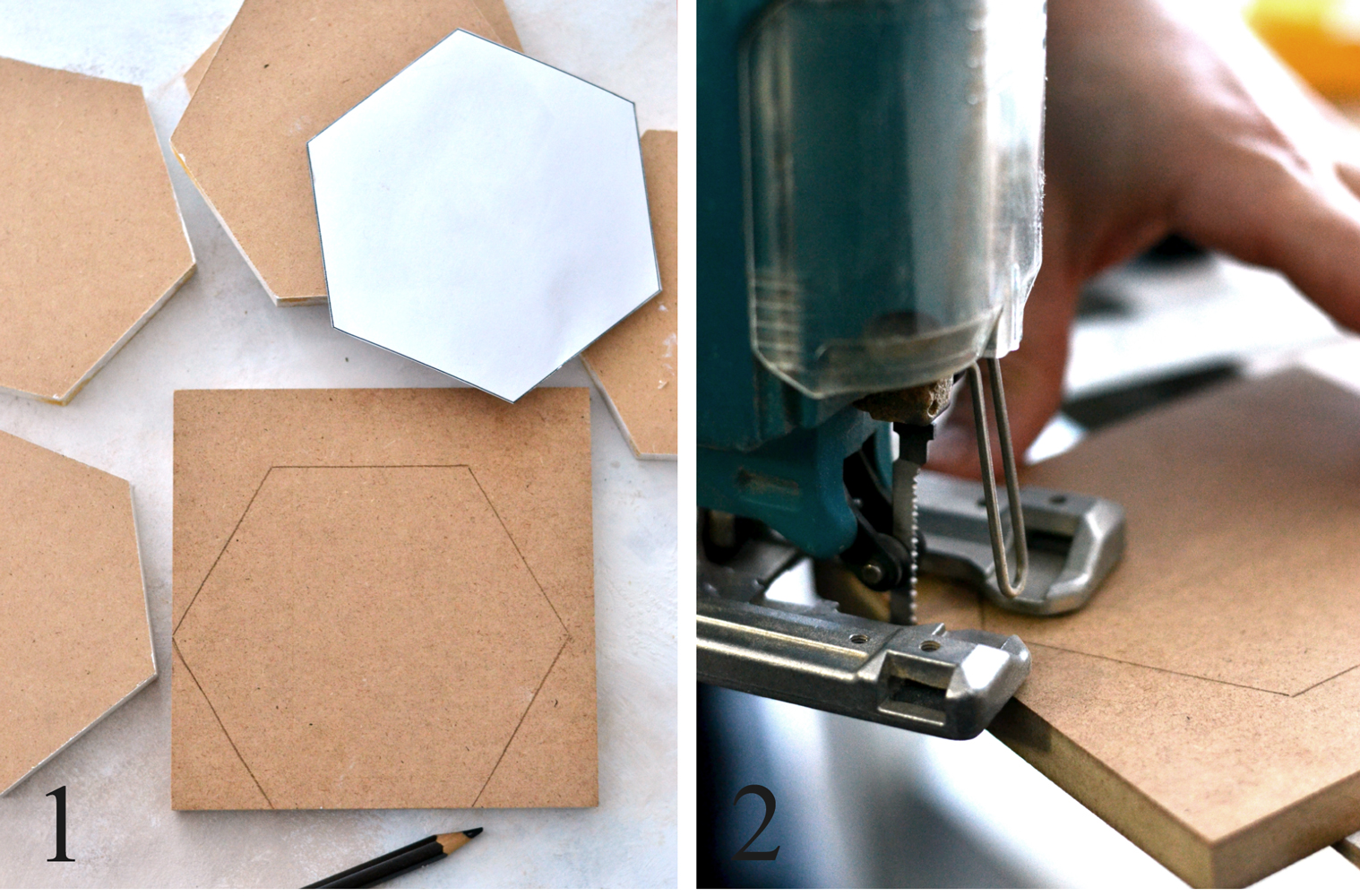 How to paint & faux distress the hexagon coasters 
3-4. I decided to dry brush my coasters to create a faux distressed finish. Just keep in mind that when dry brushing a surface you will only need a small amount of paint and no water! So I used a little bit of white acrylic paint and a large brush and starting from the middle of each coaster, I began brushing outwards. I didn't completely cover the surface of the coasters and I tried to create a faux distressed finish, especially on the edges. I didn't follow a pattern, I just tried to leave smaller or larger areas unpainted to give the coasters a more worn and distressed look. Because I used such a small amount of white paint, the coasters dried super fast and I could quickly move on to the next step.
5-6. I knew gold would be able to accentuate the whole honeycomb idea I envisioned, so I used a little bit of gold acrylic paint and a small brush (you can also use a sponge) to add gilded accents here and there. Again, I used only a small amount of paint and no water and I dry brushed the areas I left unpainted earlier. You can choose to completely cover these areas with gold or you can just add subtle highlights, it's all up to you! Let the paint dry completely before moving on.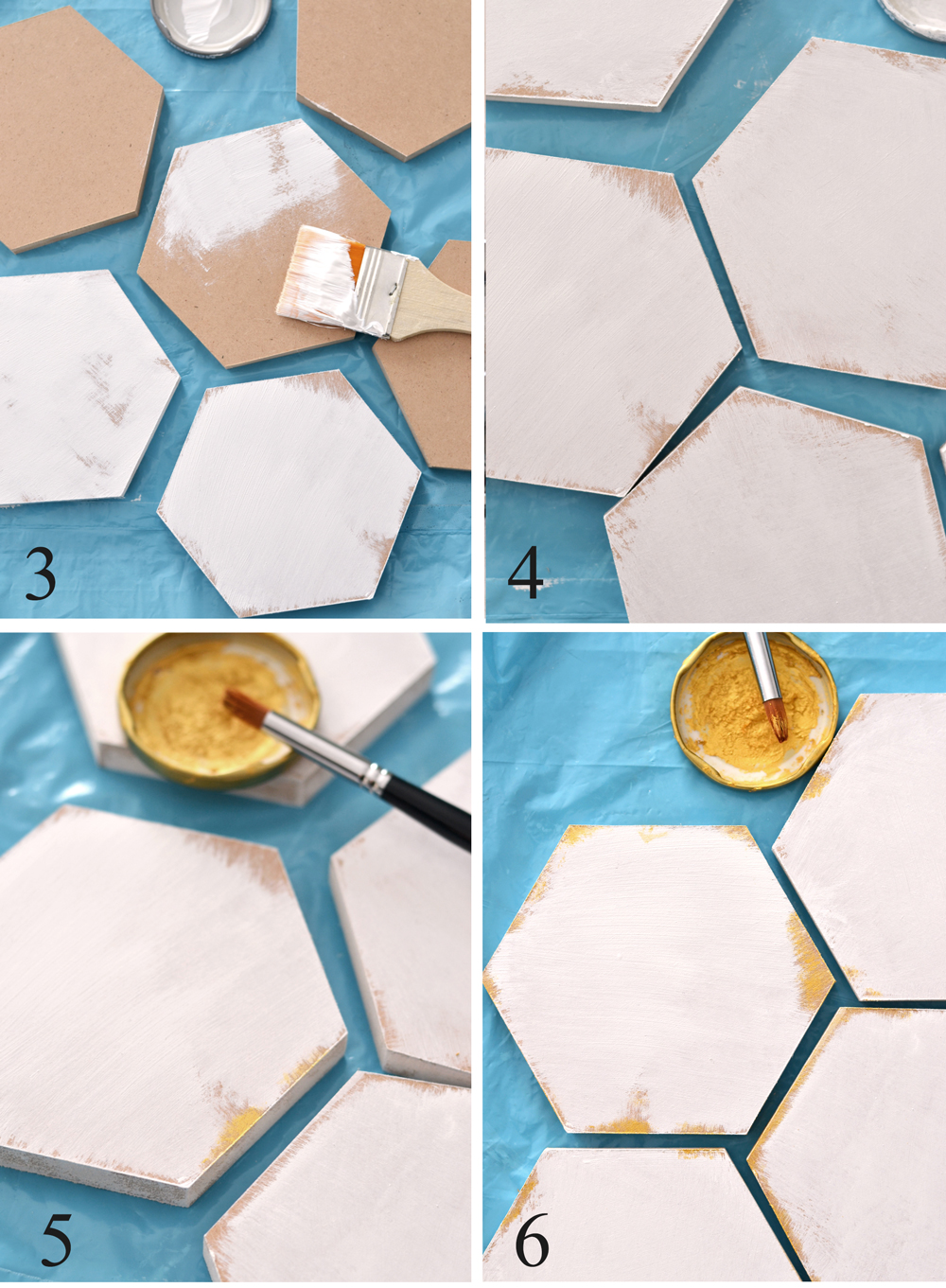 How to decorate the coasters with the beautiful French graphics
NOTE: The following instructions are suitable for waterslide decal paper created for and printed using a laserjet printer. The steps might be different if using an inkjet printer, just follow the instructions that came with your decals if using an inkjet printer!
7. Print the French graphics on waterslide decal paper. Use your scissors to cut all the images and completely remove their black borders.
8. Add a the decal paper into a bowl with water and wait for a few seconds.
9. Use your fingers to drop a little bit of water on the surface of the coaster, remove the decal from the water and add it on the coaster.
10. Try to center the decal as much as you can, then remove the white paper from its back by slowly gliding it on one side.
11. If the decal is not perfectly centered, you will still be able to gently move it around at this stage (but only if you added enough water). Center the decal, gently remove all the excess water using paper towels … and admire your first French honeycomb coaster!
12. Follow the same steps to decorate all the coasters and let them dry for about 1/2 – 1 hour  .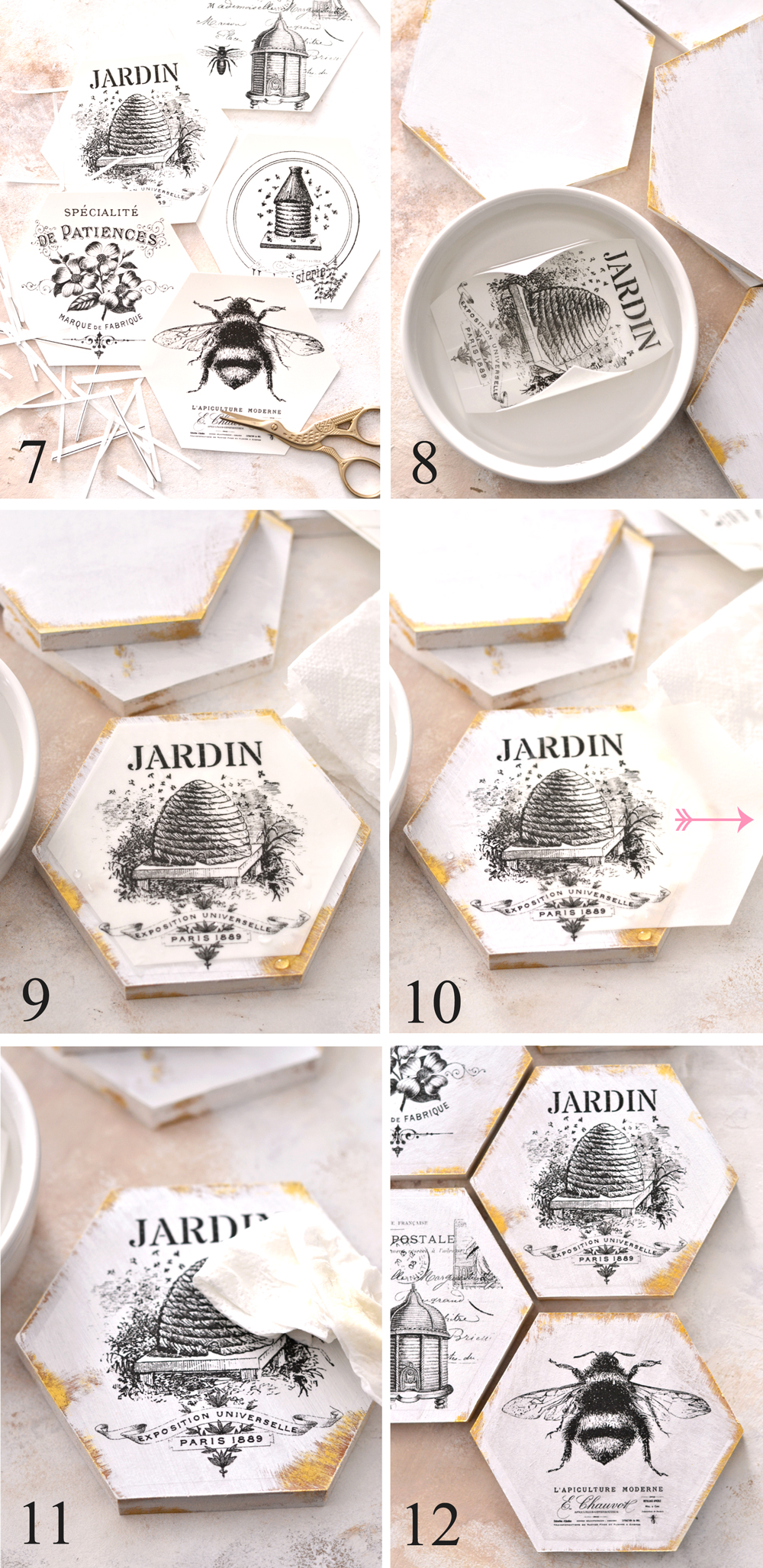 NOTE: If you can't find decals where you live and still want to try this project, you can use cardstock paper to print the French graphics (instead of decals) and just use Mod Podge to adhere the images to the coasters. Your images will be a little more 'visible' and won't 'blend' in as much as the decals would, but I think this could be a really good alternative!
13-14. To finish the coasters you will need to add one or two coats of sealer. You can choose either a matte or a glossy acrylic spray (use it in a well ventilated area or even outside) or a water-based sealer. I went for the water-based sealer and simply brushed two coats on top and on the sides of my new DIY Honeycomb Coasters (letting the first coat dry before adding the next one). This step is really important if you want to be able to use and enjoy your coasters … foreva'.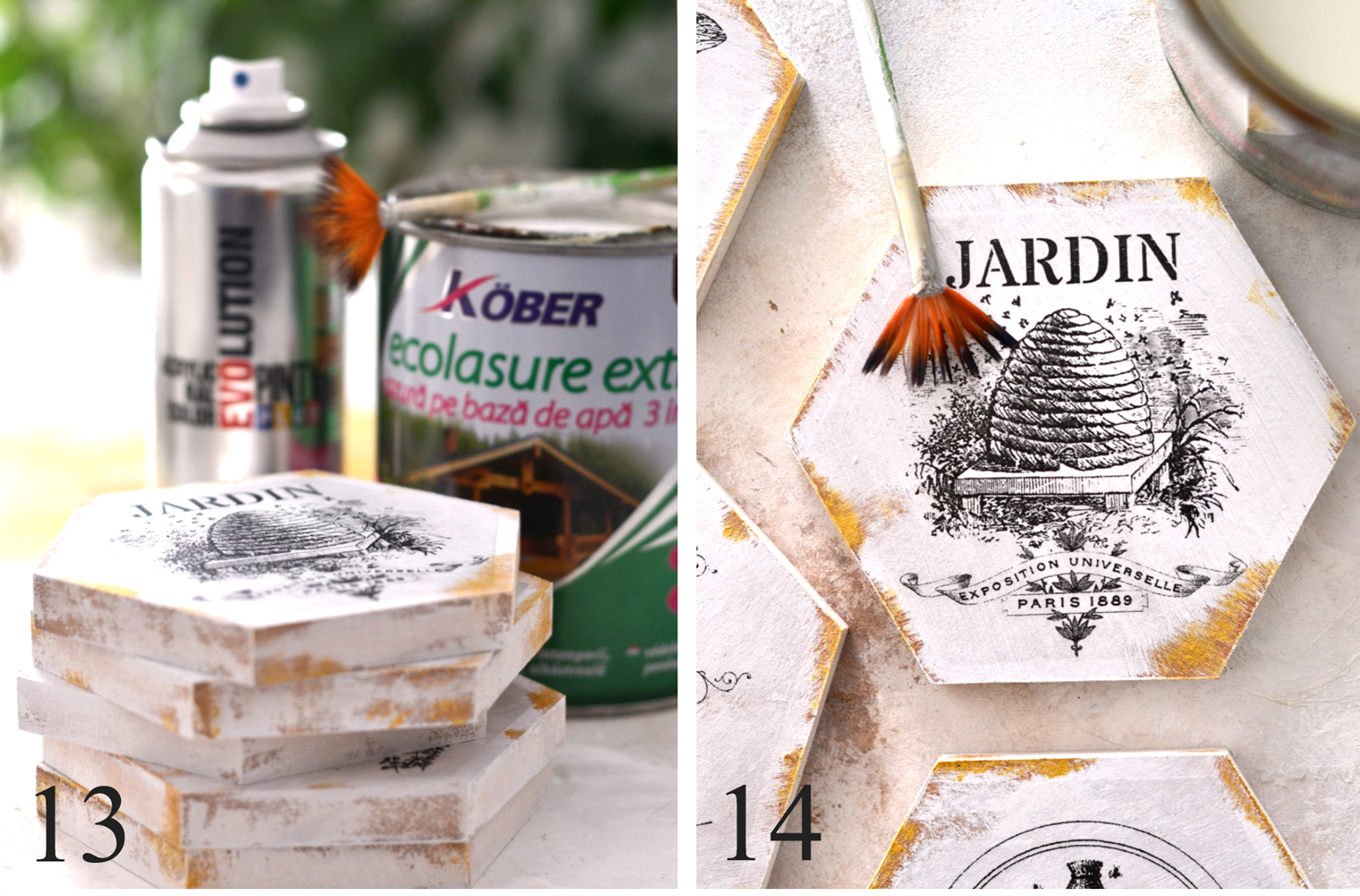 That's it! Pretty simple … and pretty amazing, right?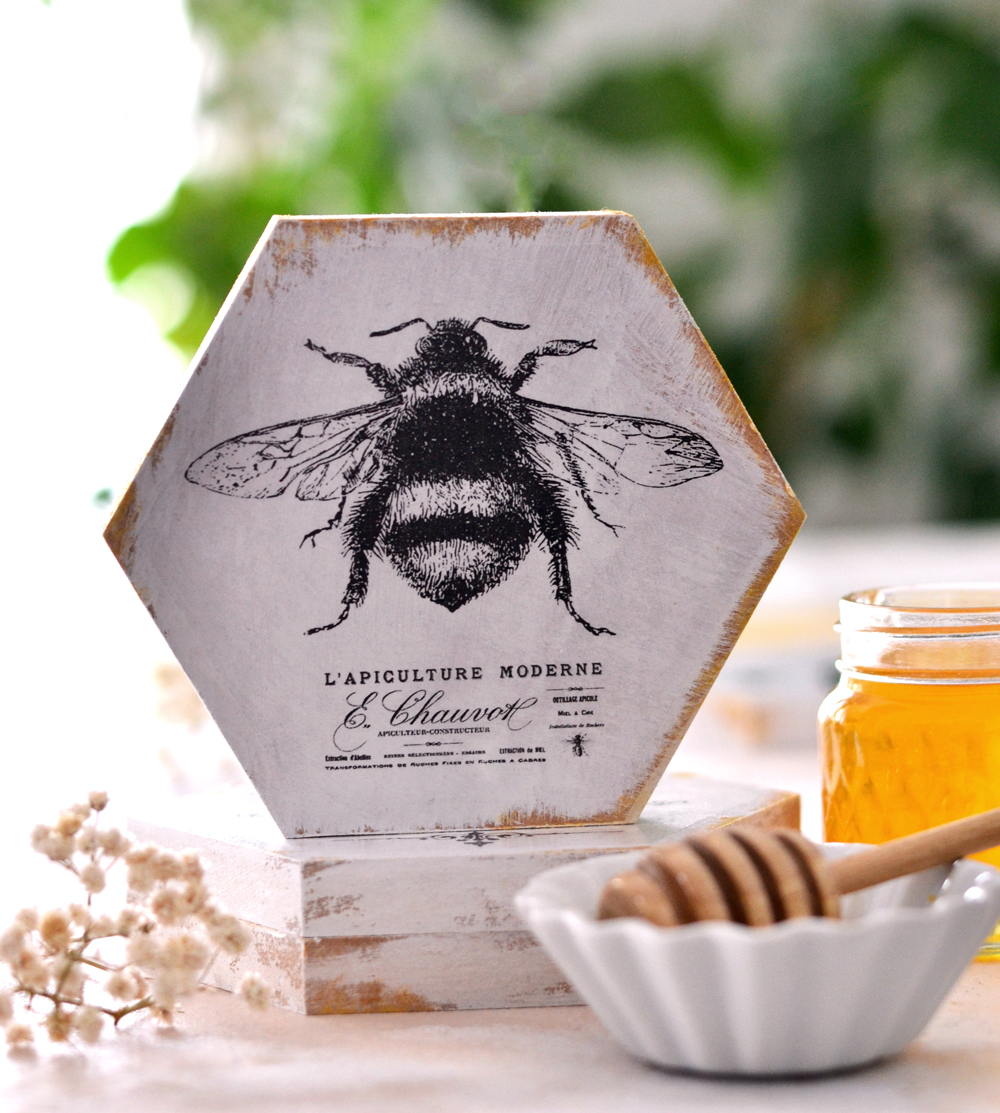 I'm really happy with how these coasters turned out and I believe the waterslide decal paper played a huge role in creating this beautiful look. More exactly – the transparency of the decals and how they sort of blended in. I was able to faux distress the coasters as much as I wanted and I simply added the decals on top of that beauty!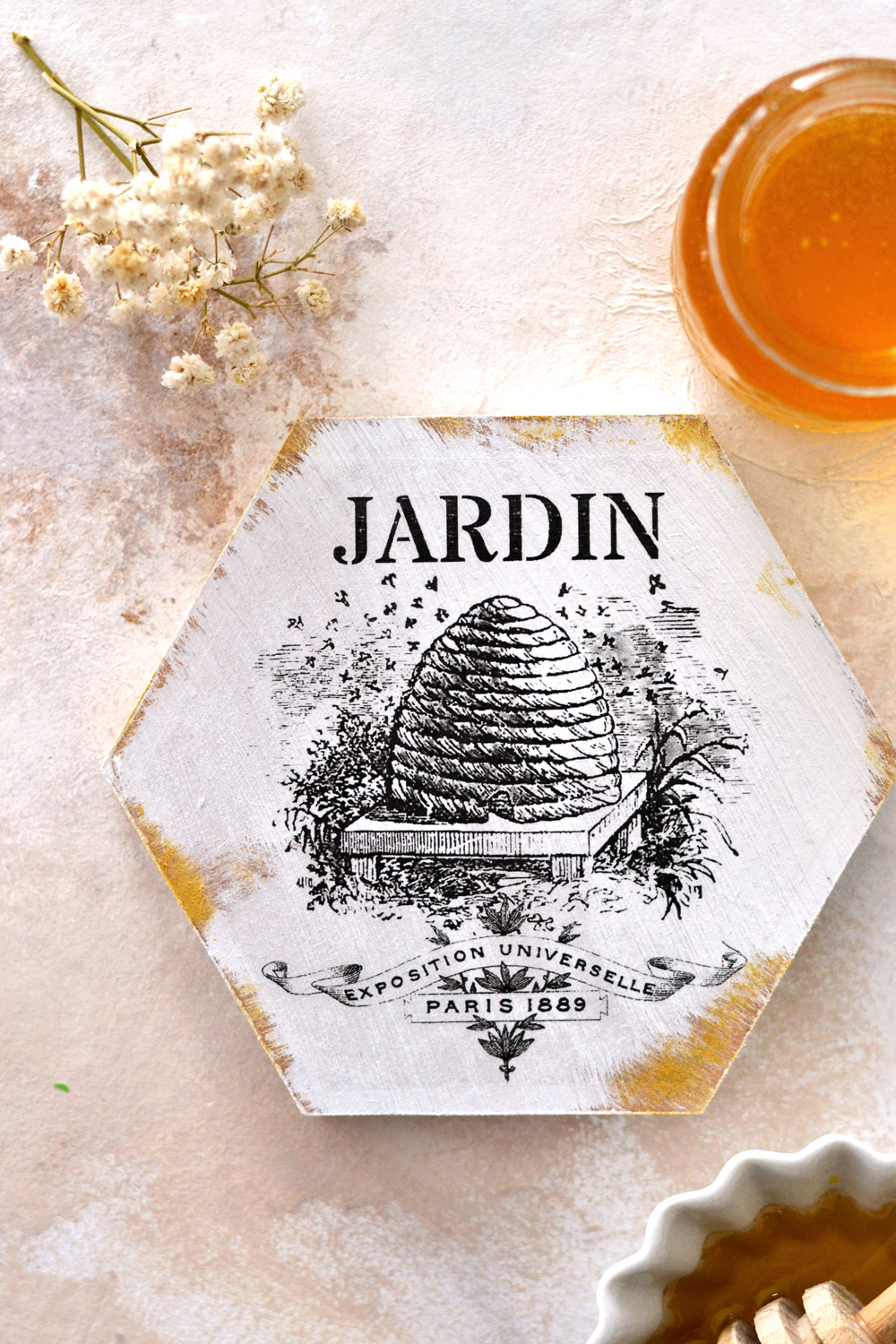 Your DIY Honeycomb Coasters are now ready for spending good quality time with all your friends and family!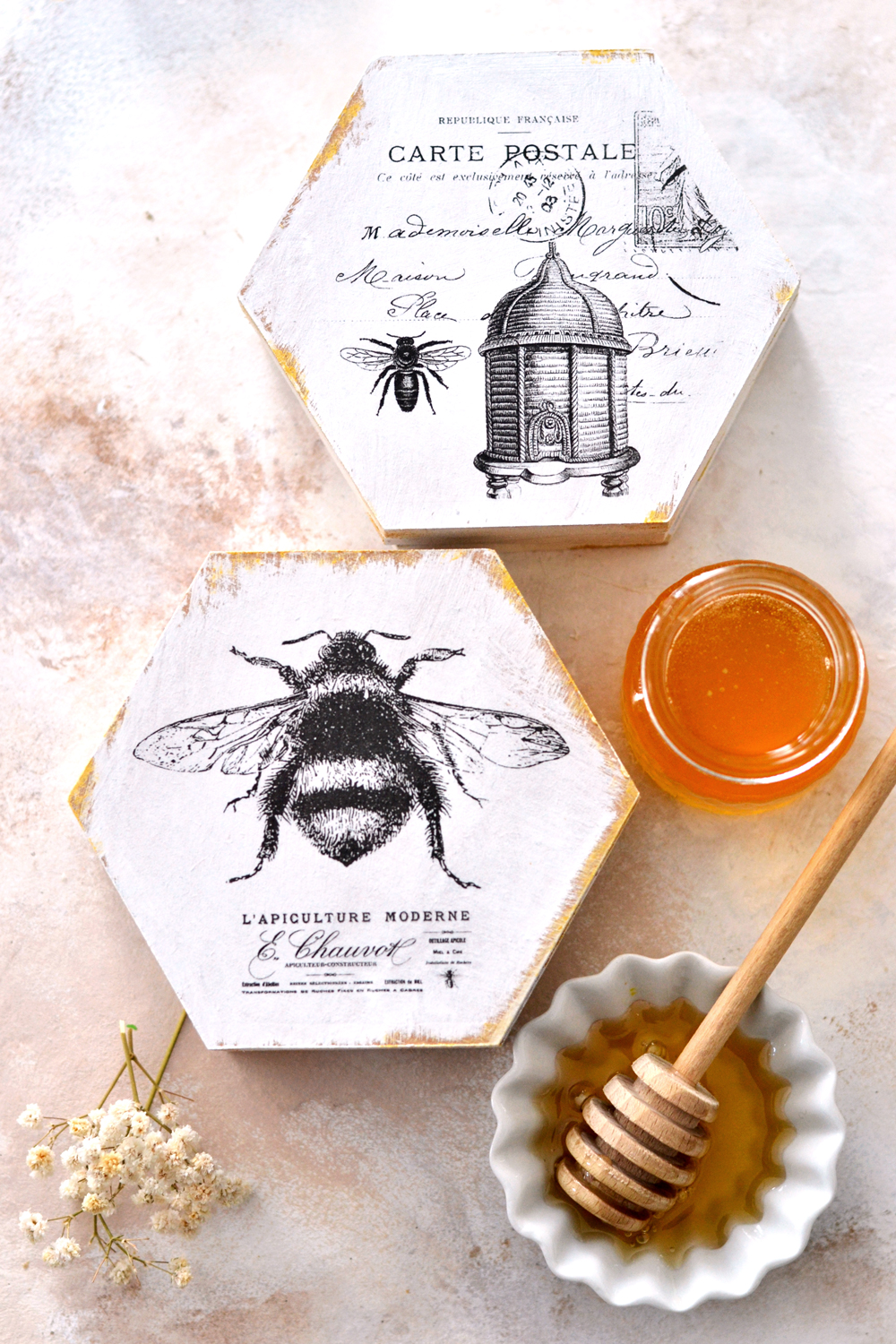 They can be stacked and quickly used when needed!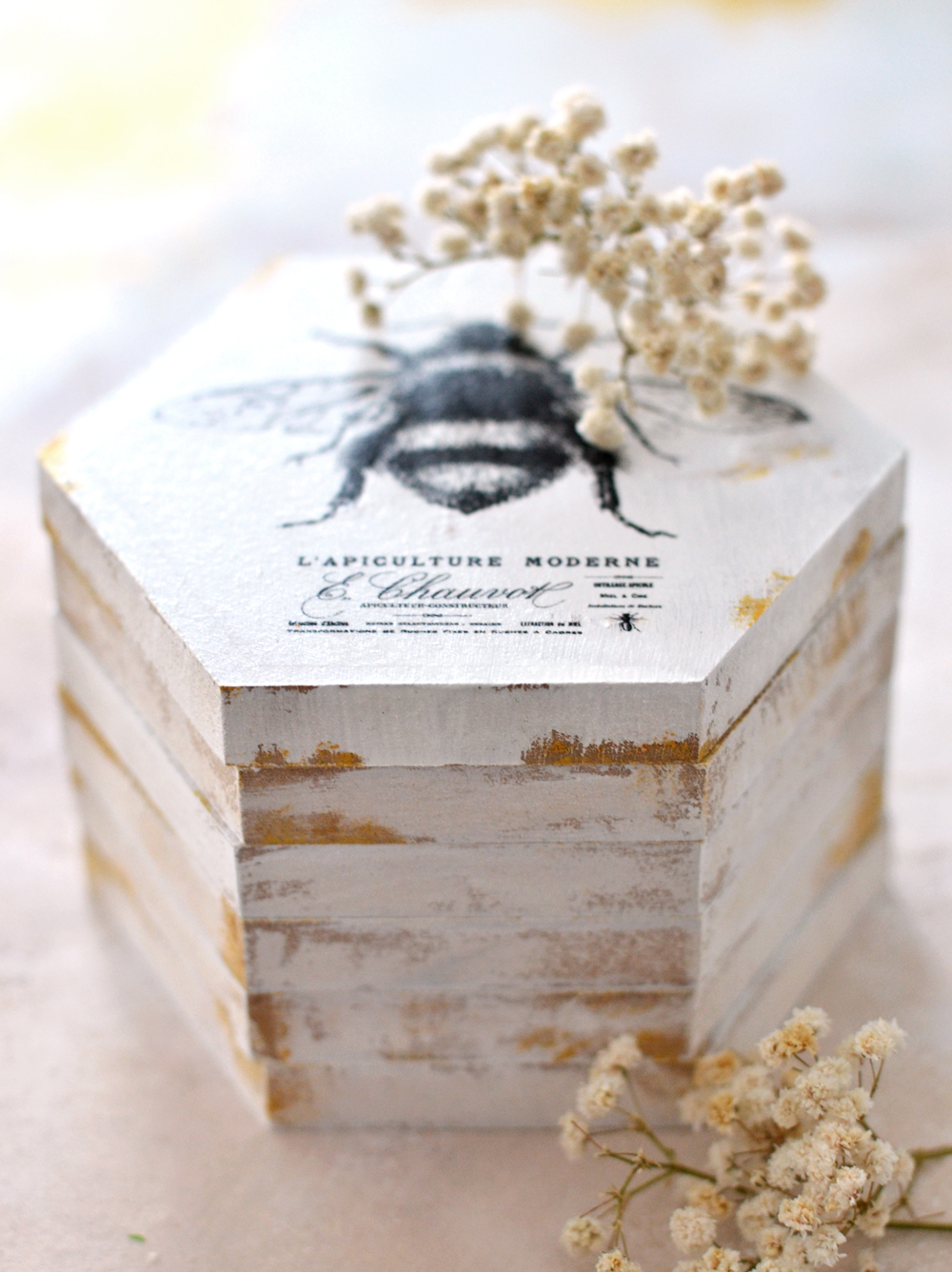 They will make a beautiful setting for your spring or summer table whether you use them for indoor or outdoor entertaining and can be easily paired with different sized glasses, even jars or small bottles.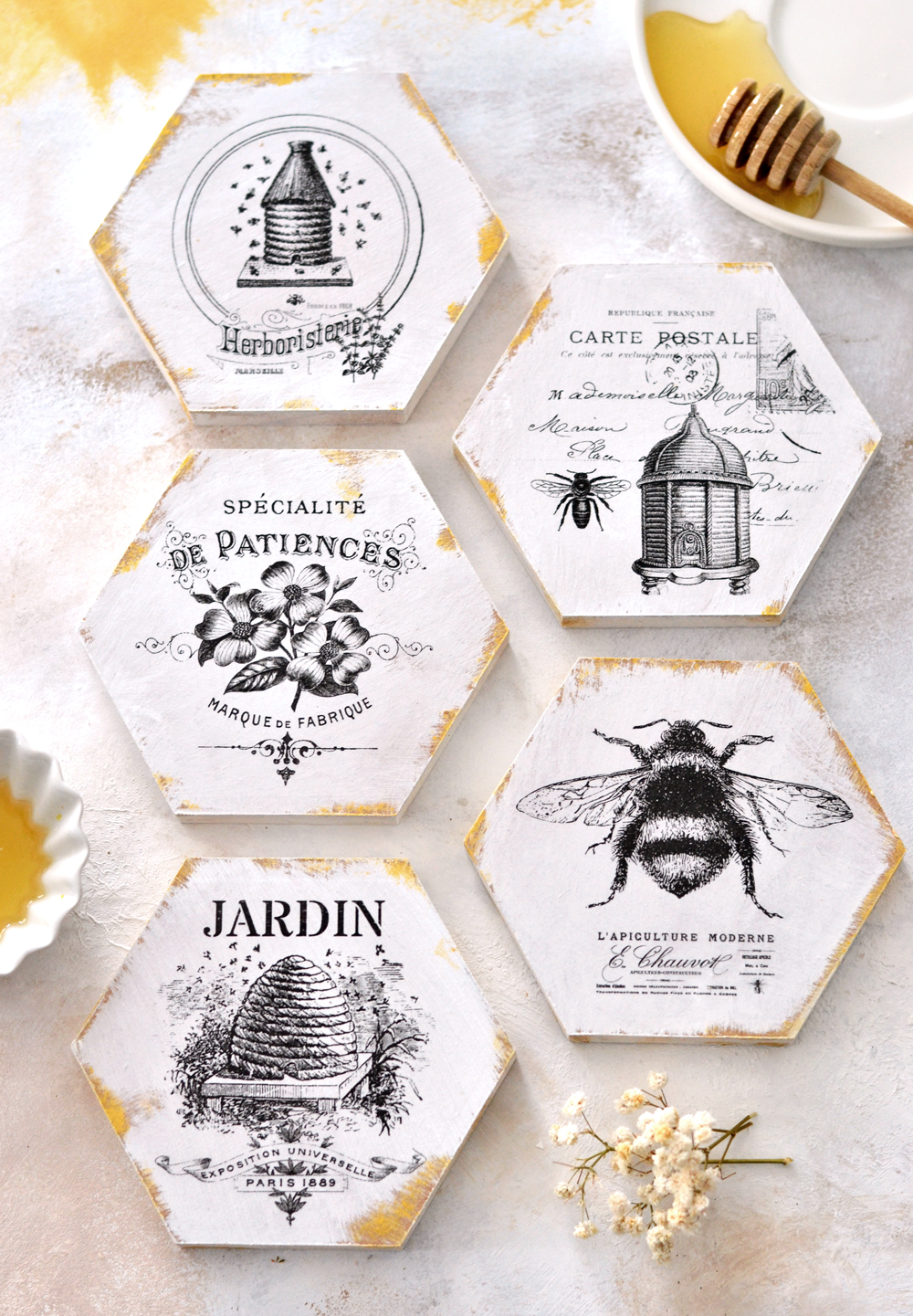 Maybe with a delicious honey lemonade infused with some fresh mint?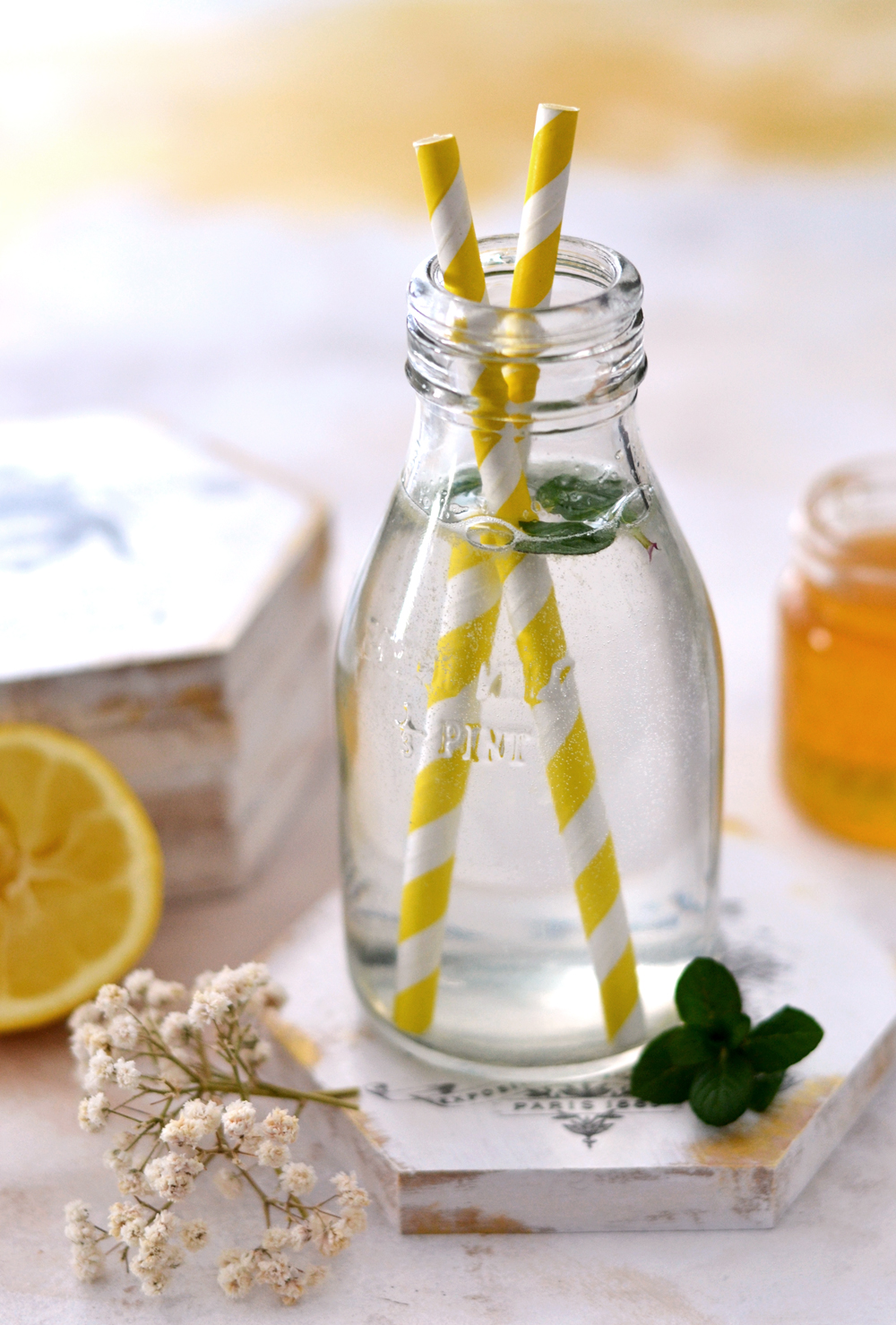 They would also make such amazing gifts for your friends! Just pack them with a small jar of honey and a cute honey dipper and you'll have an original gift ready in no time! A handmade gift can be quite unique and much more meaningful than any other expensive gifts, don't you think?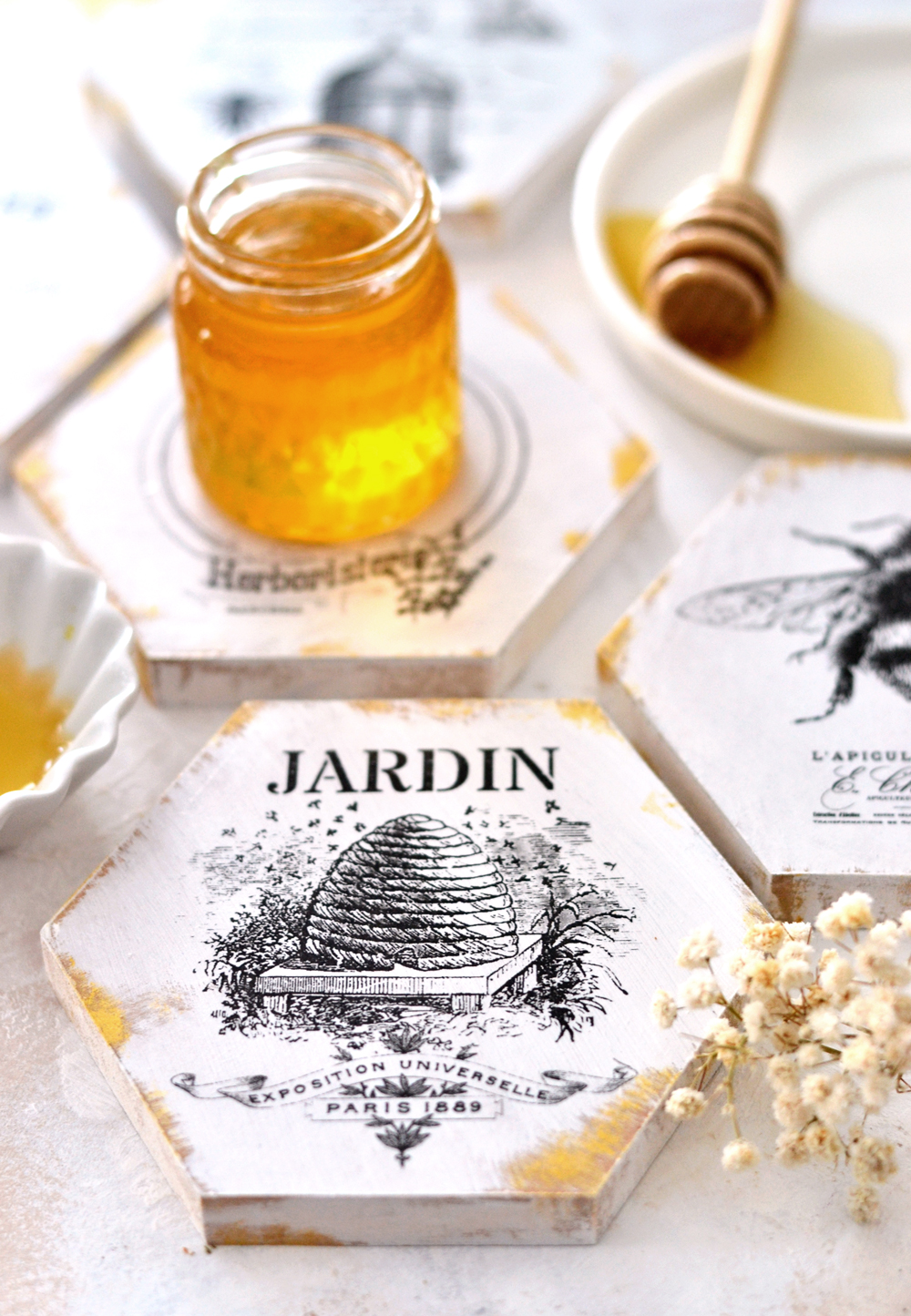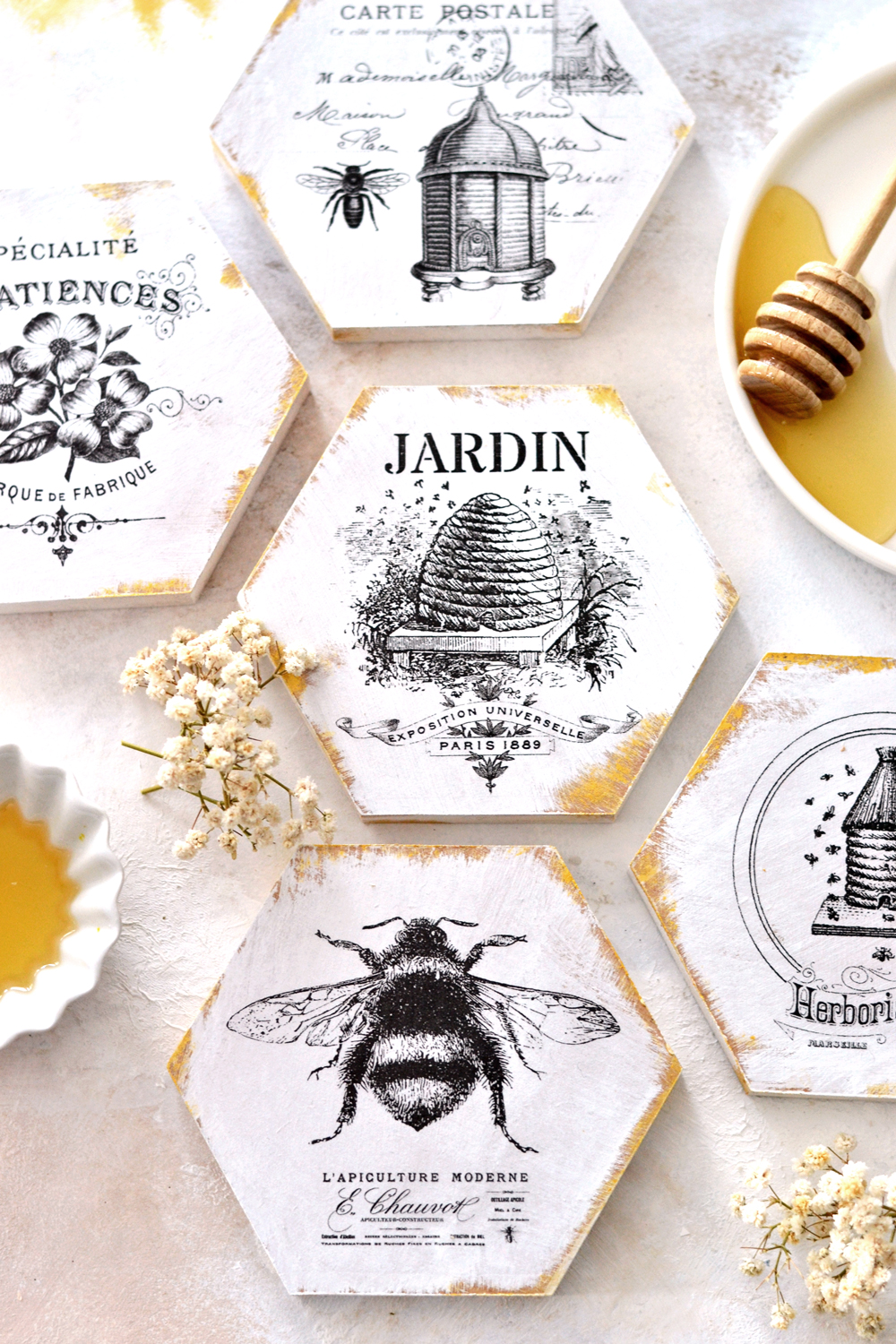 I really hope you will give this project a try, the DIY French Honeycomb Coasters would be such a great addition to your home … or to your friends' homes! You may also like DIY Picture Coasters HERE.
Have fun creating,
Diana / Dreams Factory