DIY Wedding Card Box
Hello Graphics Fairy friends! I'm Diana from Dreams Factory and I'm happy to be here again to share another DIY project with you! Today I will show you how to make a beautiful Vintage style DIY Wedding Card Box that can be turned into the perfect handmade gift for your friends or family members who are getting married! To make the box special and quite unique I will show you a fun way of decorating it using two MDF plaques that will be placed on top and on the back. Then we will be using acrylics to paint and lightly distress the box and some tissue paper to decorate it with our lovely design. I hope you get lots of inspiration from this pretty project!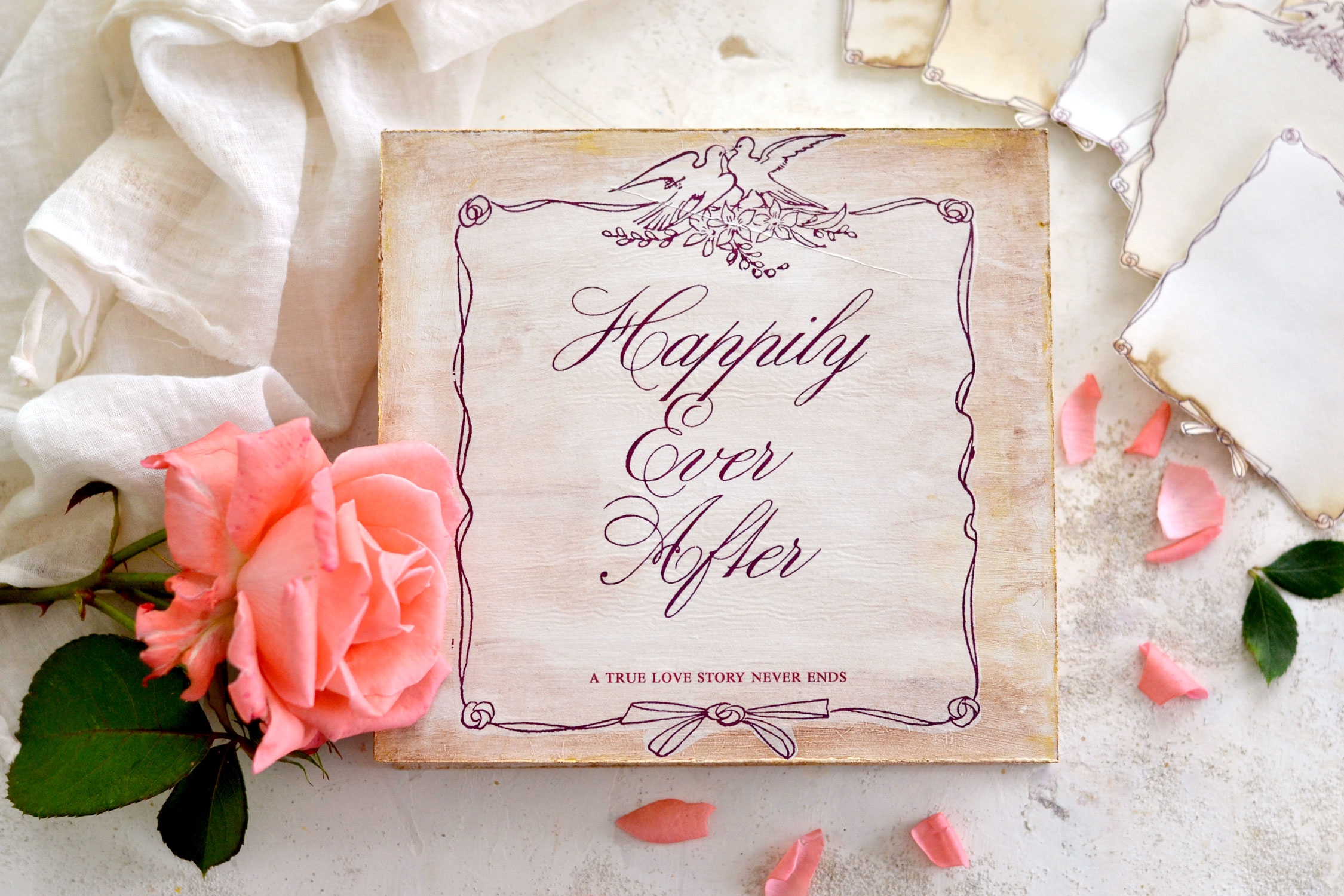 As a surprise, I'm also sharing these absolutely adorable wedding advice cards, I thought it would be fun to have these beauties ready for printing. They are the perfect match for our wedding card holder and can be used as they are or can be further embellished to your own liking for your guests to use.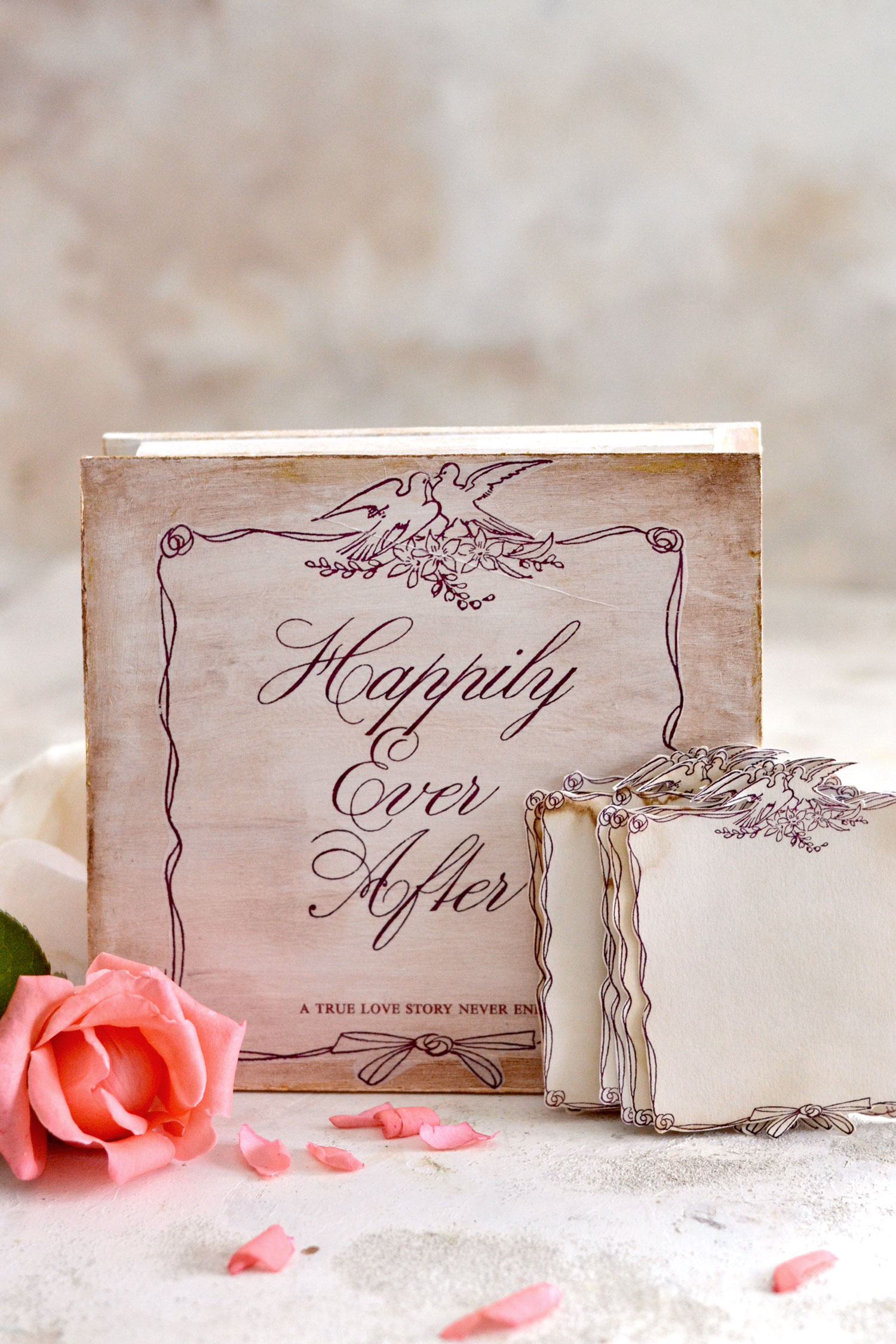 The design for the box comes in 4 different sizes, just to be sure you'll find the right one so you can perfectly match it with your box and decorate it. I used this beautiful charming frame with the kissing doves and I extracted the Happily Ever After calligraphy writing from an alphabet image from The Graphics Fairy.
I had a square box in mind while designing the printable, but I think you could make this work while also using a box that has a slightly rectangular shape. My choice of color was this beautiful dark purple, but if you want, you can print this in black using the black-and-white settings on your printer. I did leave a little bit of extra white space on top of the designs for the box, just in case you'll use the tissue paper technique to print them (you'll find more details in the post). This is the perfect accessory for your big day and I'm sure your guests will enjoy adding their well wishes to it.
Printables: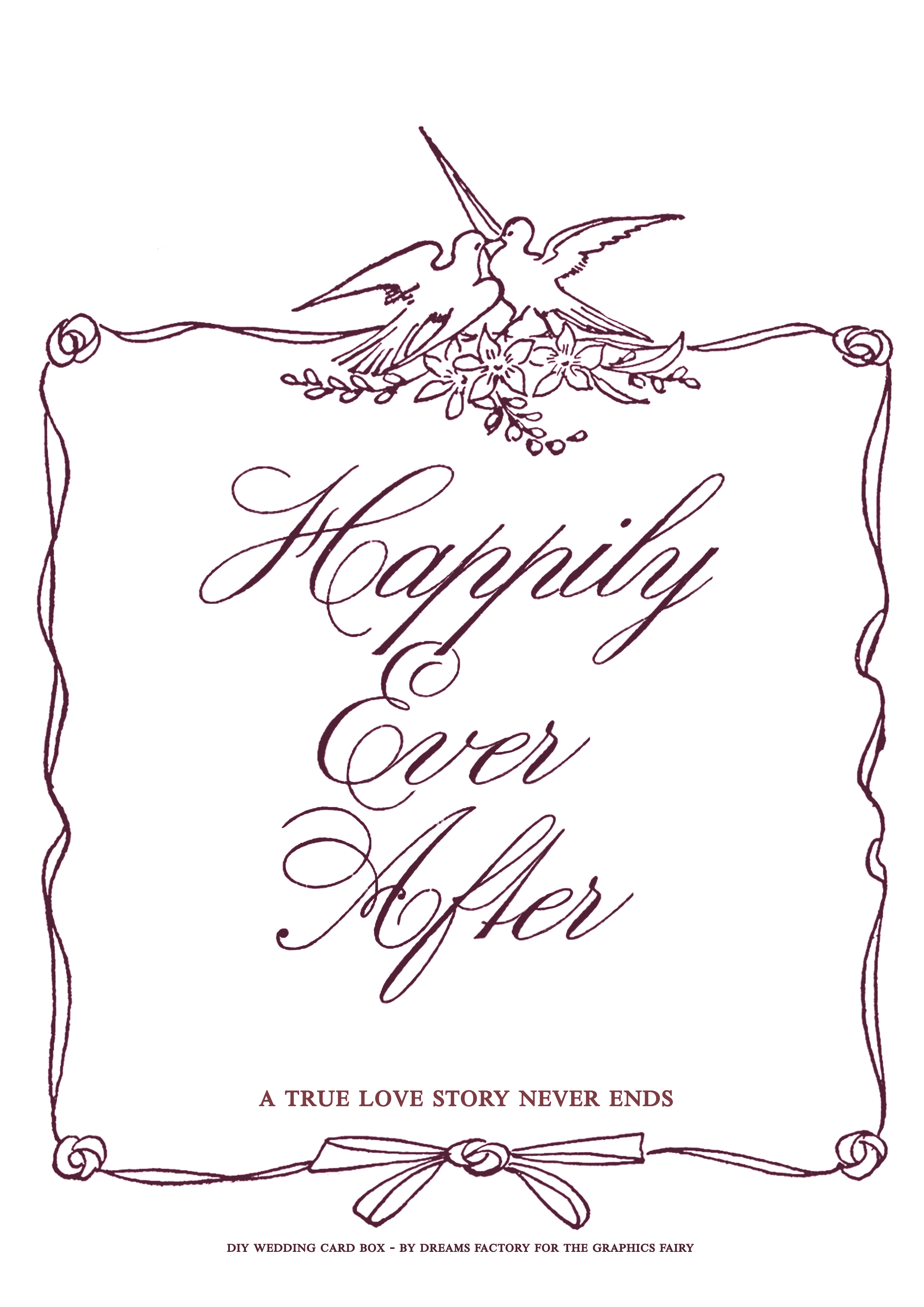 —> Click here to download the full size PDF  of the wedding box design – large <—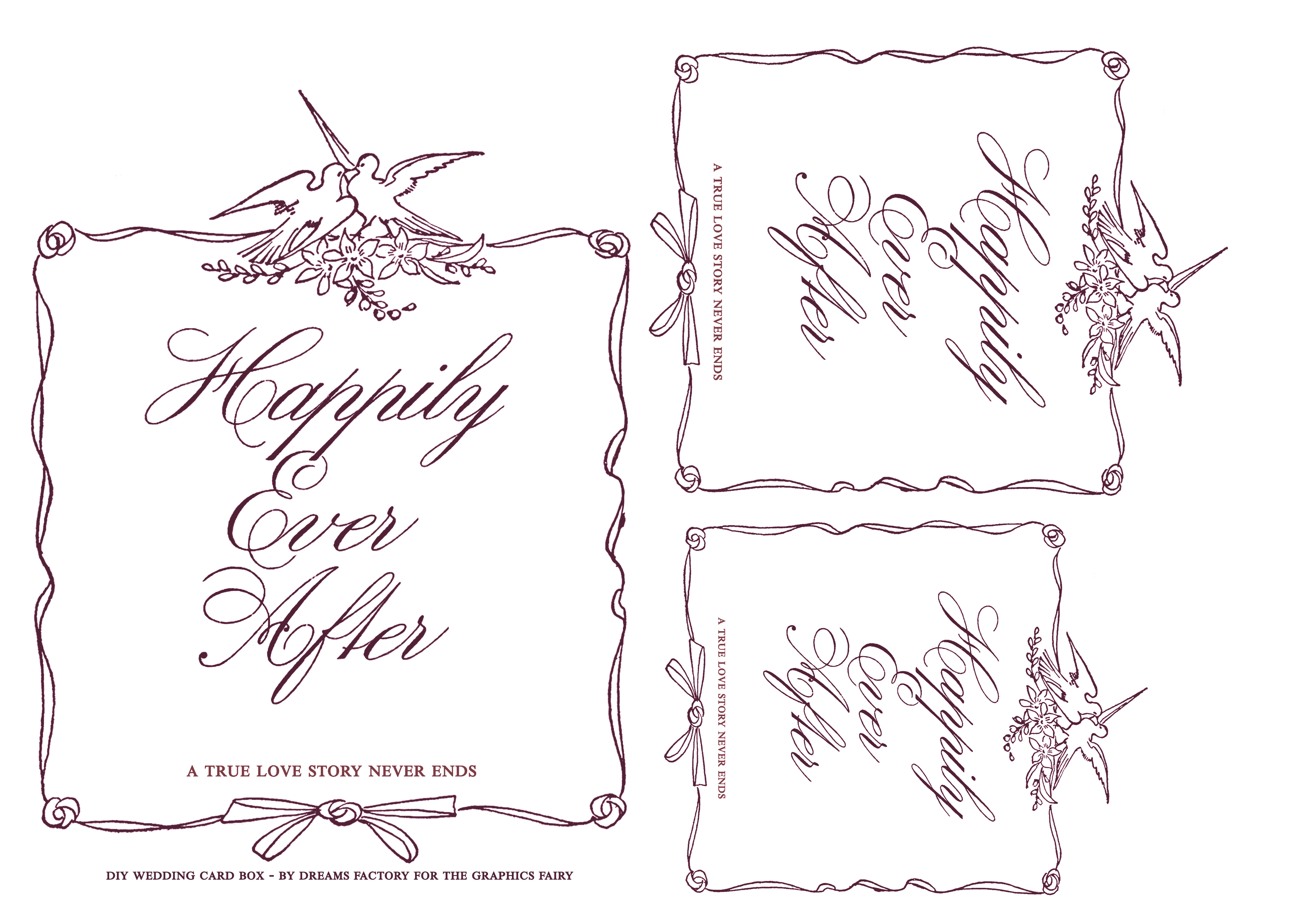 —> Click here to download the full size PDF  of the wedding box design – medium+small <—
And here are the matching advice cards, you can print these as many times as you want!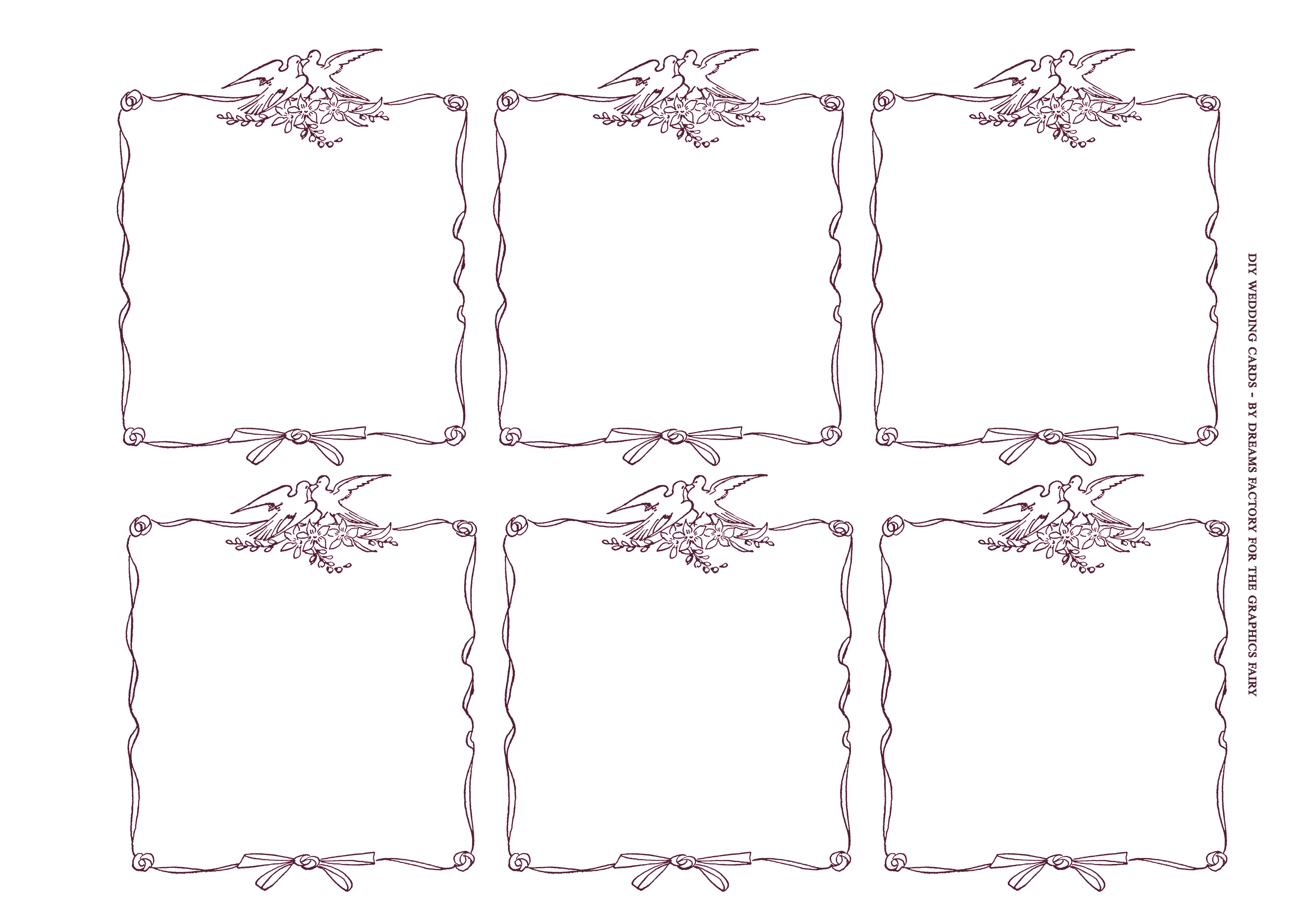 —> Click here to download the full size PDF  of the wedding advice cards <—
Supplies for DIY Wedding Card Box:
tissue paper + paper tape + cardstock paper – for printing the design for the box
cardstock paper – for printing the advice cards
square box with hinges
MDF (I used the 0.3 cm / 0.10 inches width)
top handle jigsaw (and appropriate protective gear) – for cutting the plaques
ruler
wood glue
Mod Podge
acrylic paint (I used white as my base, then brown and gold for distressing)
small spray bottle filled with water
small mixing palettes (I used a small plate)
paper towels
brushes
Tutorial: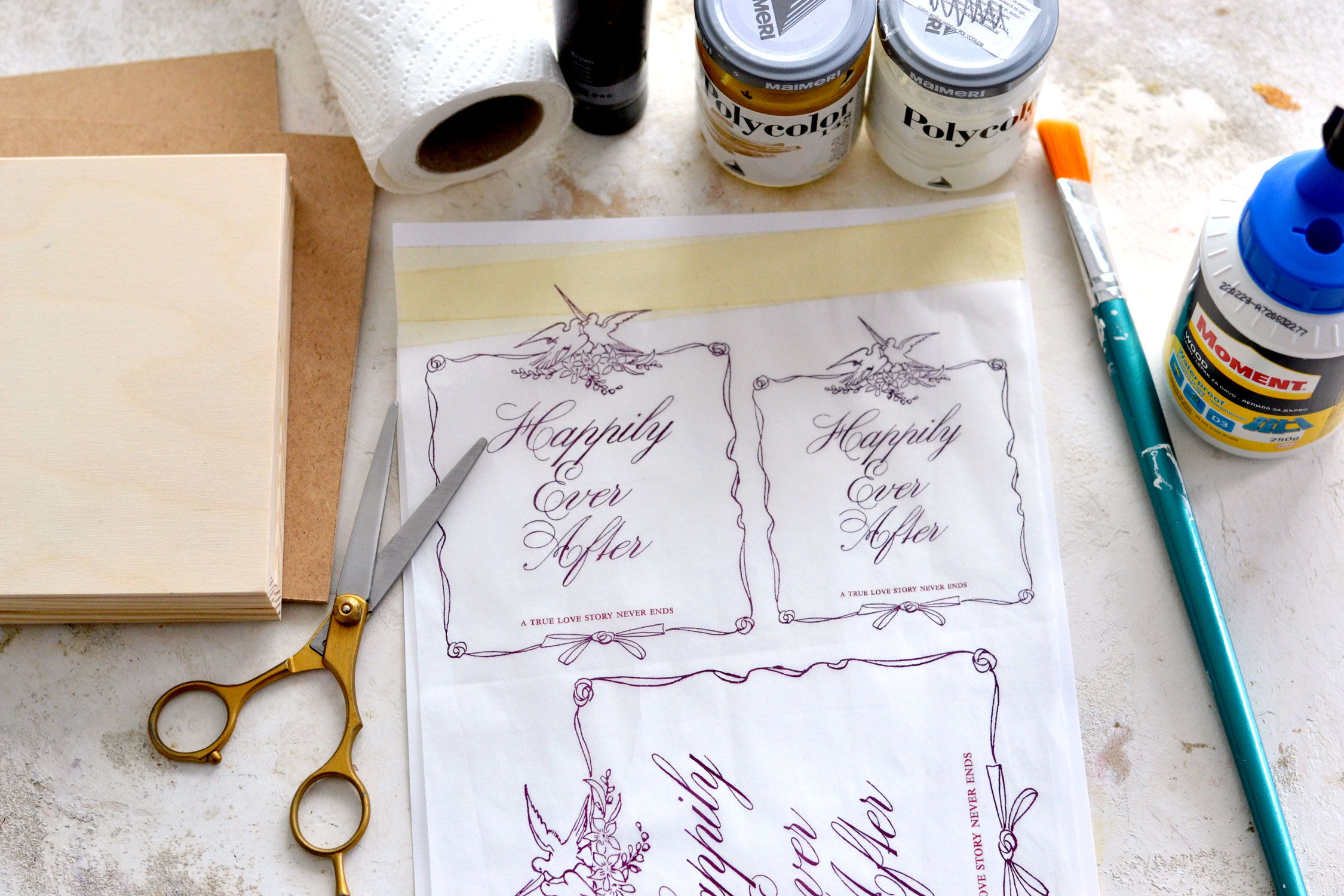 To cut the MDF plaques (plywood may also work) you'll need to measure your box first. Take your measurements and add a little bit of extra space on all the sides, except for one (we will align this one with the back of the box). You can make a few tests with a piece of paper placed on top just to determine how much extra space you will like to add – I added 1 cm on each side (except for the back).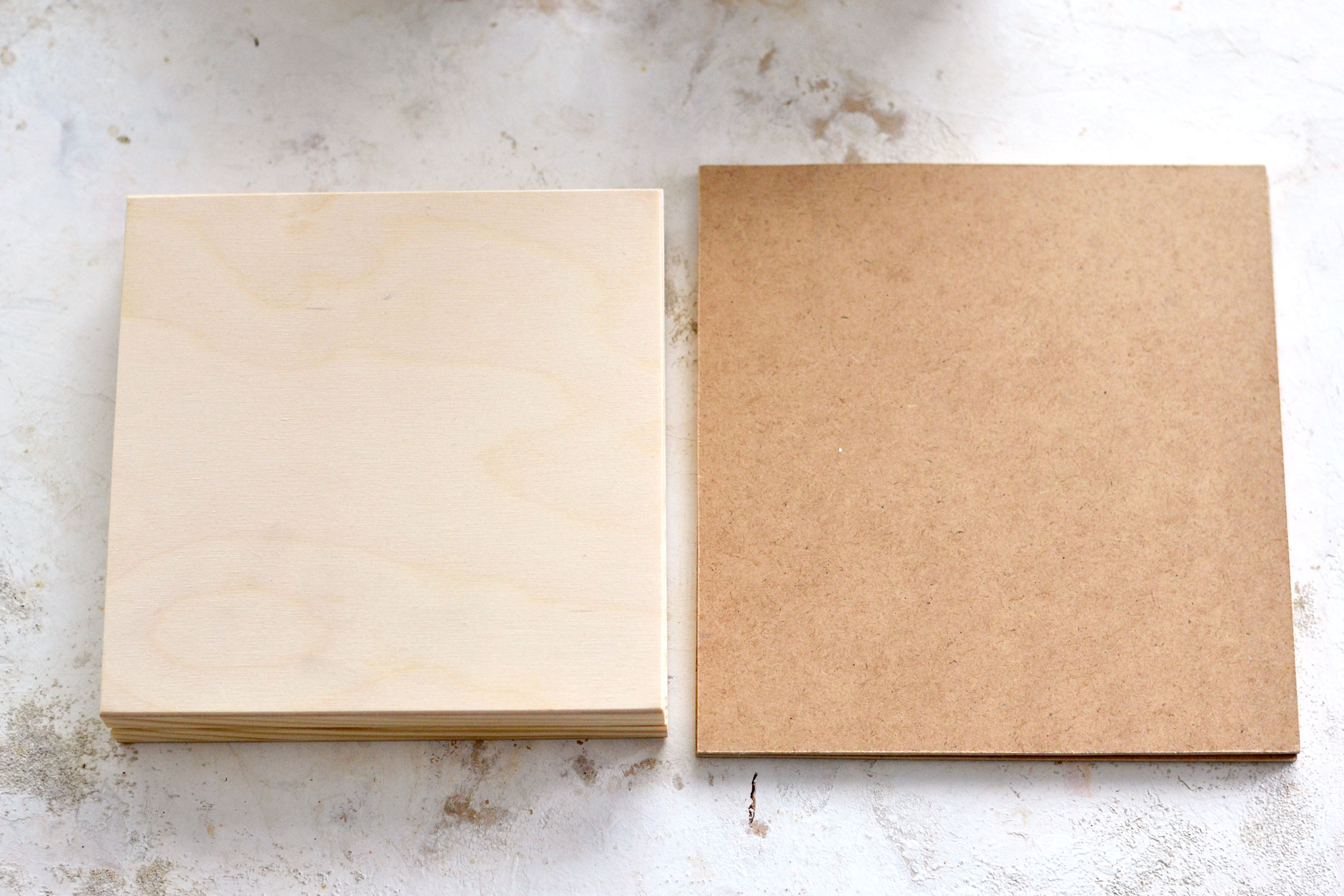 When you have determined your size, use a top-handle jig saw to cut 2 identical plaques. You can better see in the image below how a plaque should look if we place the box on top – we have that extra space on all sides, except for the back, where the plaque is aligned with the box.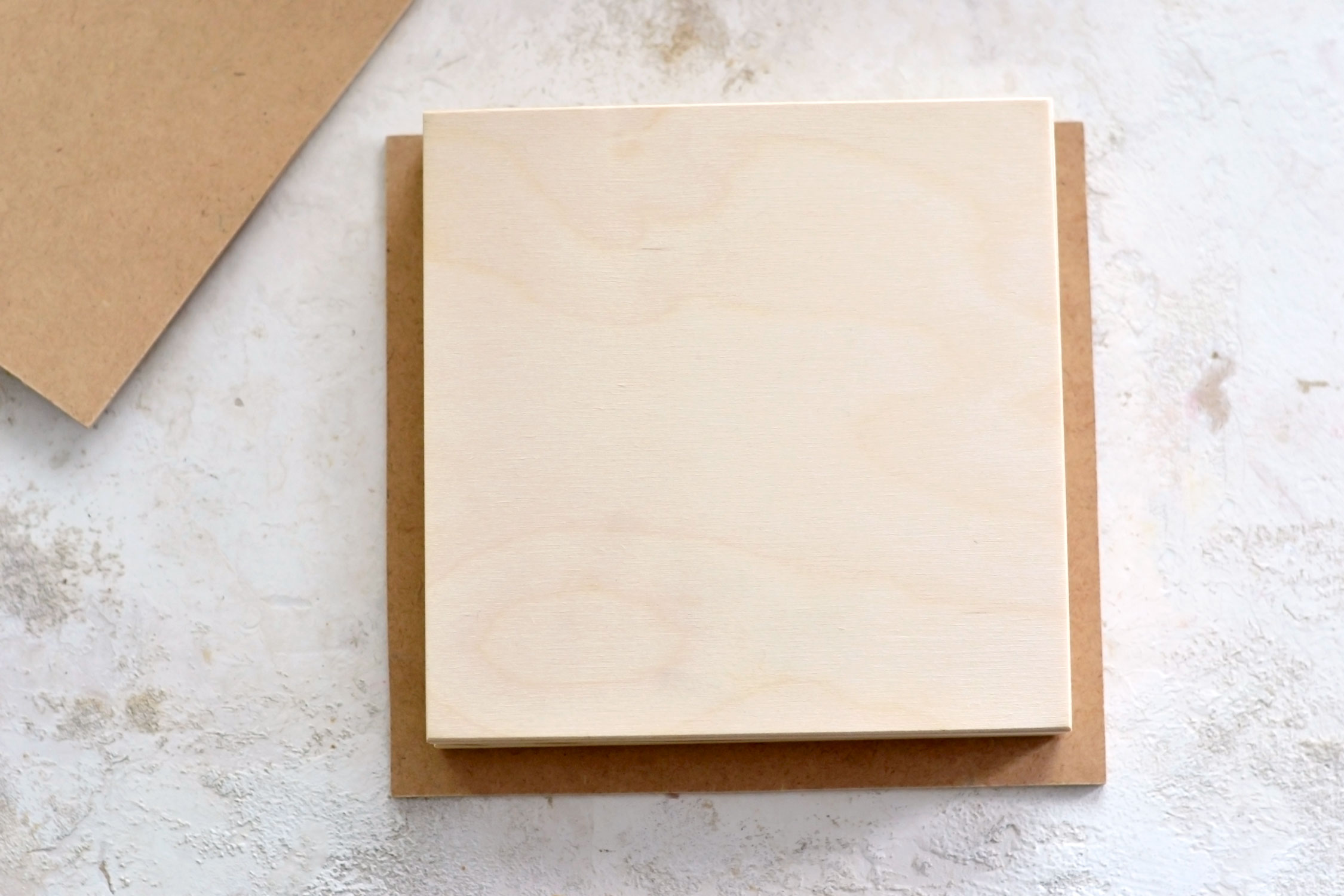 Use wood glue to glue one of the plaques on the back and one on top, then let the glue dry completely before moving on to the next step.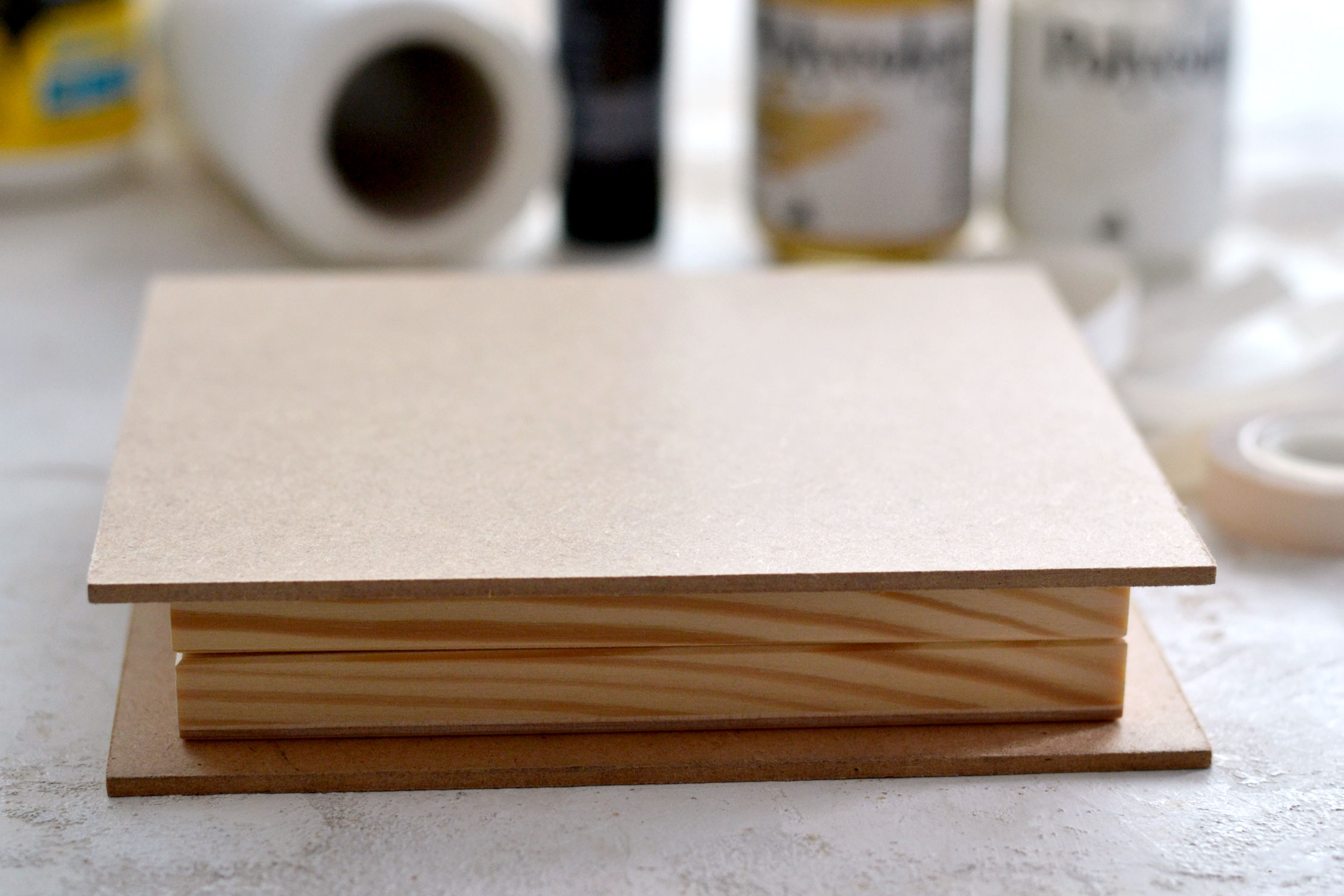 Use white acrylic paint and a brush to paint the box. I had to apply two layers to get a complete coverage and I let each layer dry before applying the next one.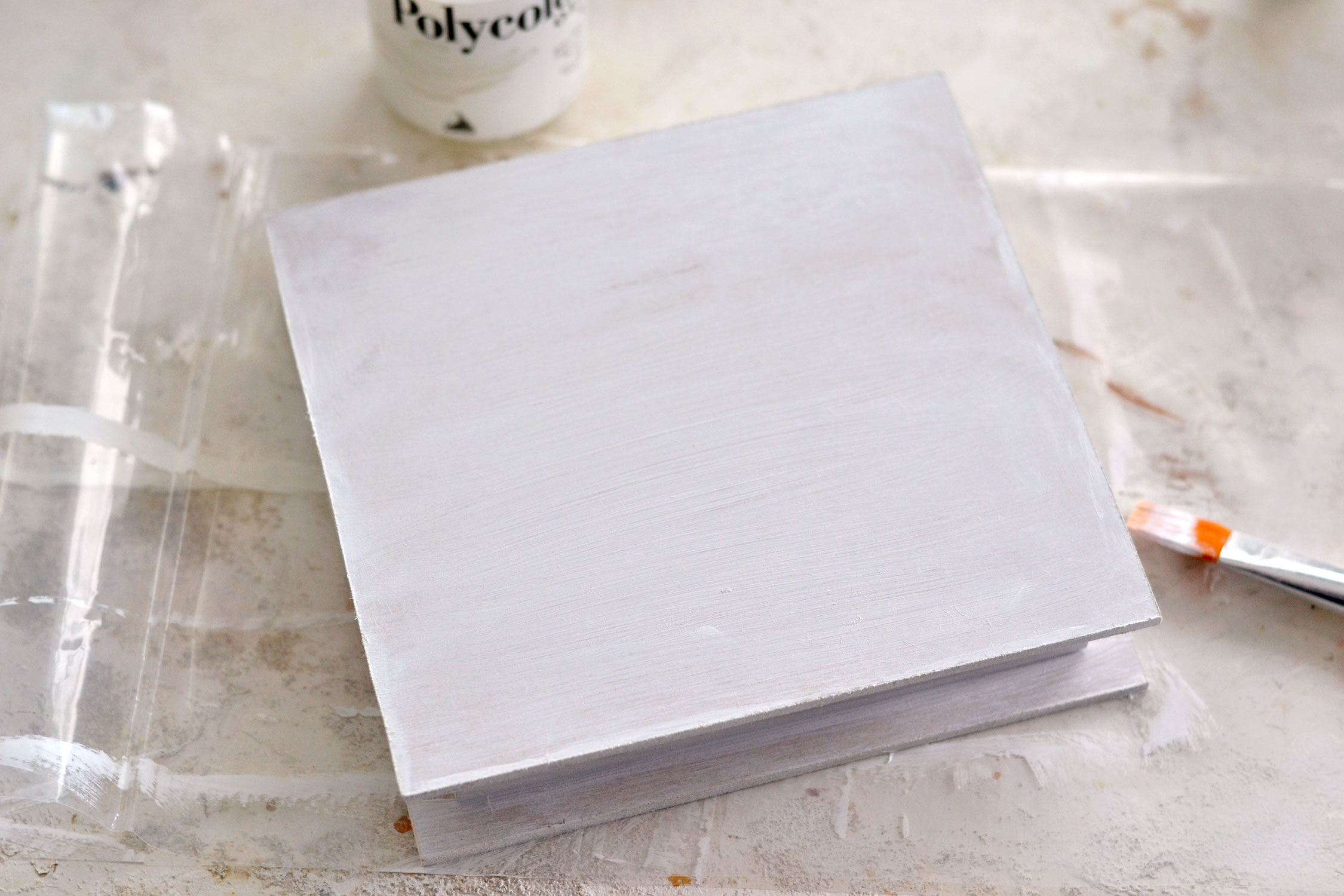 If your box stays open on its own you can also paint the inside of the box at this stage, then let everything dry completely.
P.S. Make sure you don't add too much paint on the parts that are actually overlapping when closing the box, we still want to close it afterward.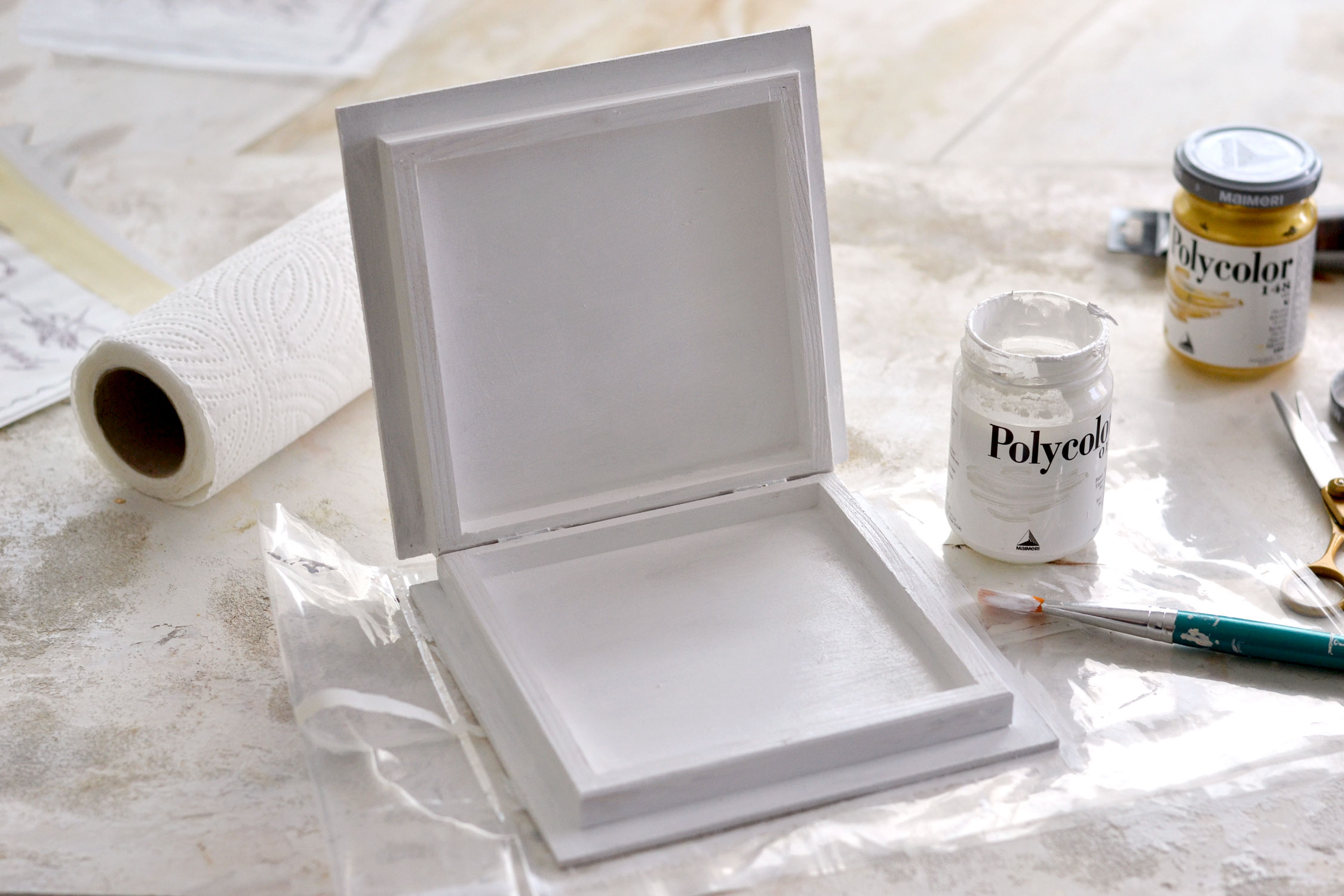 This next part is really fun, I love using paper towels instead of brushes to give a painted object a lovely distressed look! Things will get messy if using this technique, but the final results are really beautiful so I would say it is well worth it. I usually place a small amount of brown and some gold acrylic paint on a small plate (my improvised palette) and I add a few mists of water using a spray bottle. You can also spray your box with water, but don't add too much water, you just want it slightly damp. I dipped my paper towel in the paint, while also taking some of that water and started 'brushing' the edges of the box with the paint. I added a little bit more brown paint on the edges, then I lightly went toward the middle using less paint, trying to create some sort of a 'vignette' effect. You can use two paper towels – one that has more brown paint and one that has less. If you add too much paint in one area, it will be easy to wipe the excess off using a paper towel with a little bit of water. You can then add the gold paint on the edges using the same technique, but your fingers might come in handy for this part too, especially if you want to add a touch more paint in one area.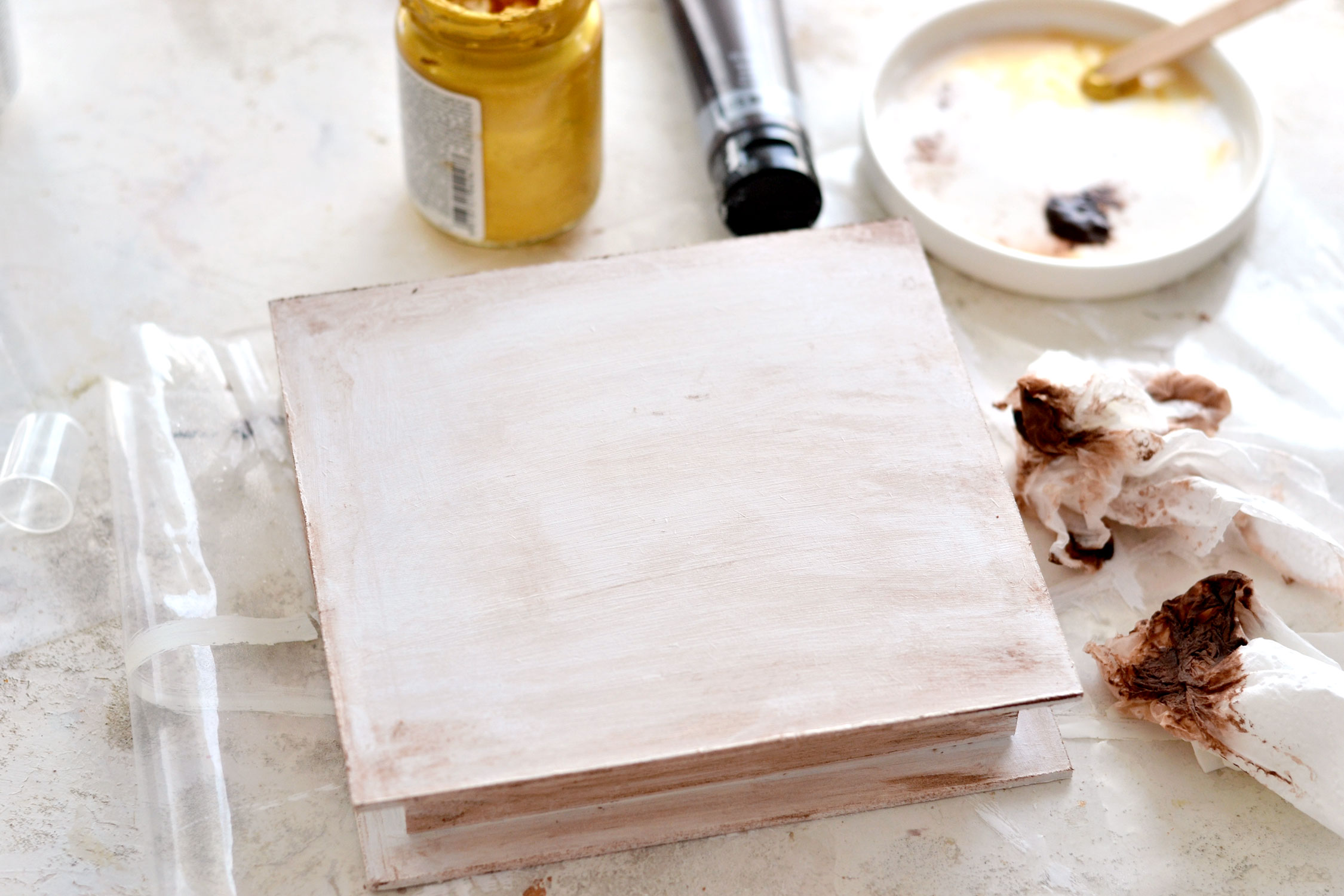 This will create a perfectly imperfect distressing effect that looks more organic than using a regular brush. You can paint the inside of the rustic wedding card box using the same method if you want then let it open to dry once again.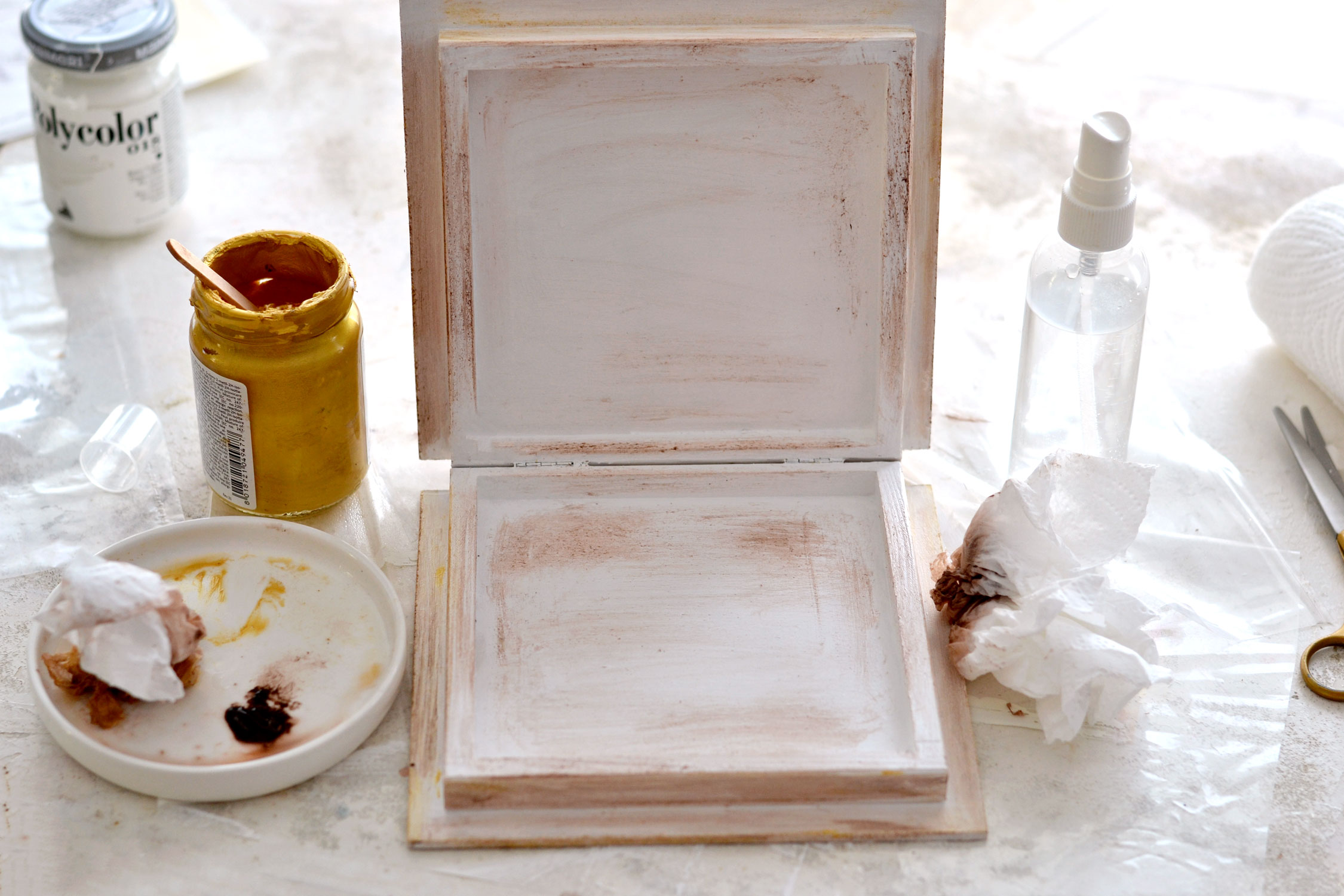 I used tissue paper to print the design, but you can try other ways of transferring the image if you prefer. I usually use a piece of cardstock paper as my base then I attach a smaller piece of tissue paper on top using paper tape. This works great for me and my printer, maybe you have a different technique for printing your preferred designs on tissue paper.
OK, it works most of the time, but sometimes the design goes a little bit over the paper tape and doesn't actually get printed on the tissue paper. Especially if someone (that's me) accidentally misaligns the paper tape and needs to place a second one to actually hold the tissue paper. But that's OK, I was only needing the other 2 designs that printed almost perfectly!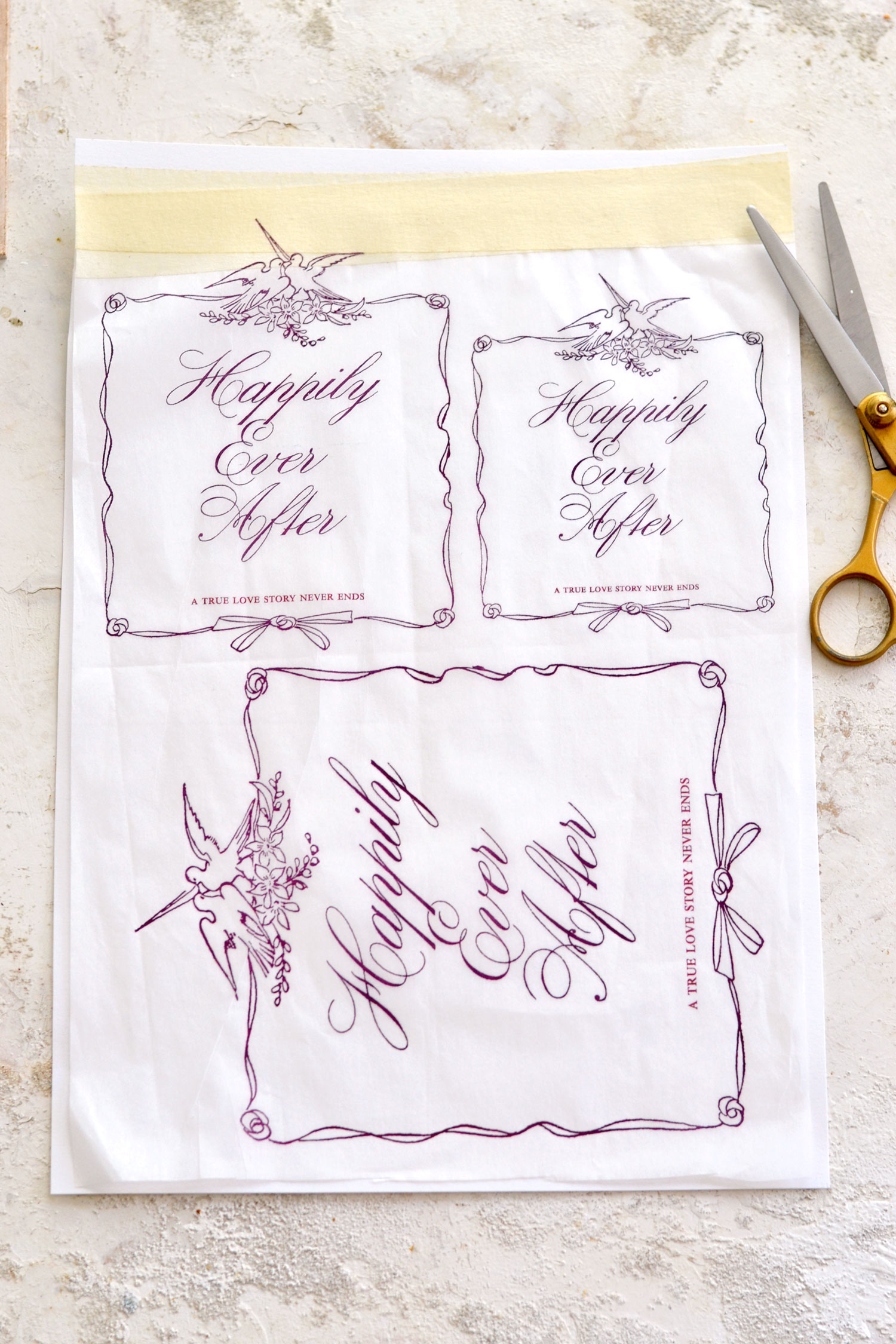 Gently peel off the tissue paper from the cardstock, then cut the designs using your scissors and try to remove as much of the excess white tissue paper as you can. I wanted to use the larger design on the front and the smaller one on the inside.
I started with the inside this time. I placed the box on my table, then I brushed a thin layer of Mod Podge using a brush. I gently placed the lower part of the tissue design on the box, then I gradually pressed it with my fingers and worked my way up until all the paper was glued. Try to keep your fingers free of glue while pressing down the design so you don't accidentally lift up the tissue paper.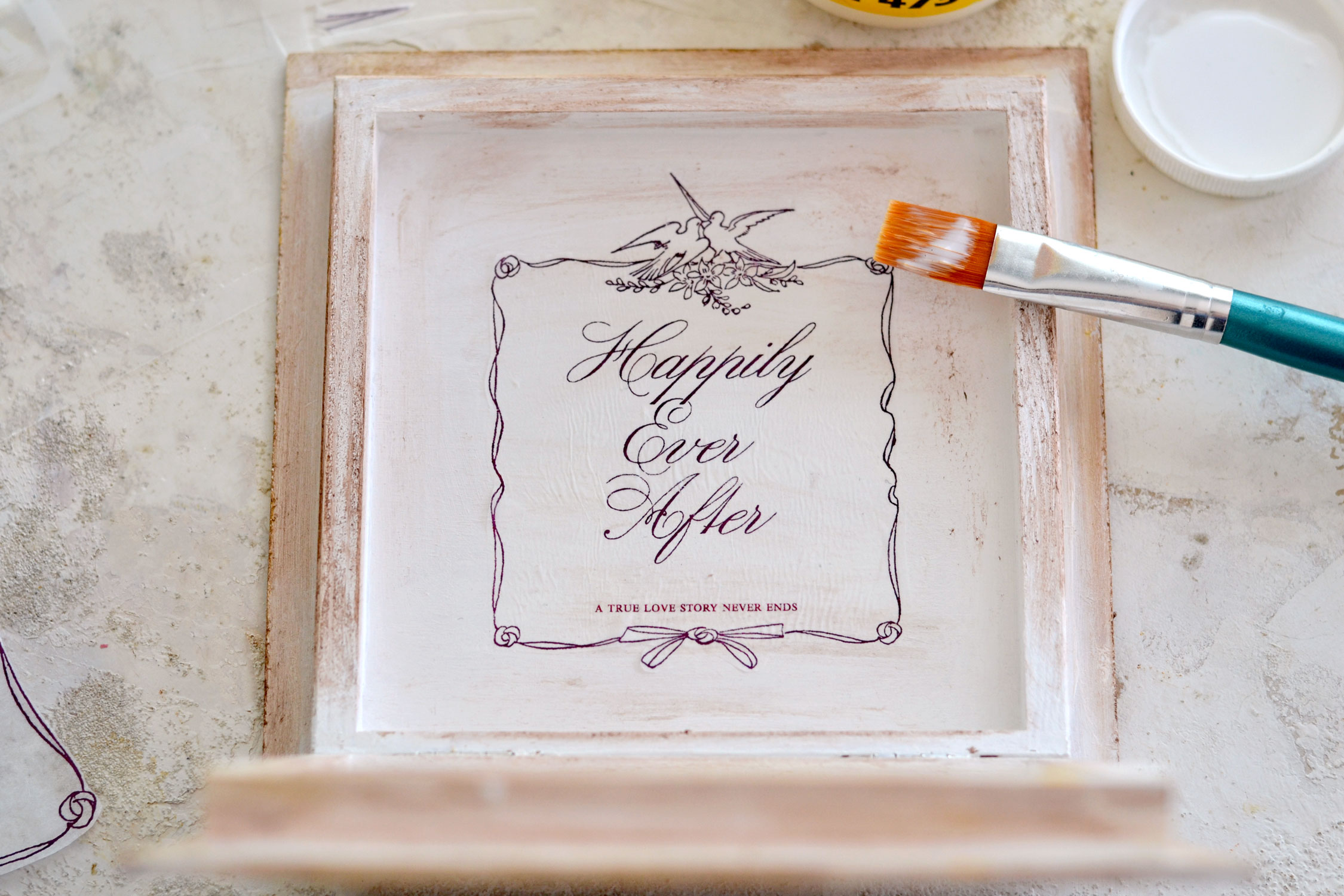 I had to cut the top wing of one of the birds so that the design that I chose would perfectly fit my box on the outside, but that was OK, it looked beautiful anyway! I found that the amount of glue that you add to the box prior to actually applying the tissue paper really matters, you need to find the perfect balance to make it uniform.
P.S. It would be best to sandwich a plastic bag between the bottom part and the lid of your box just to make sure these two parts don't stick to each other while applying the design.
As an optional step, you can add another layer of Mod Podge on top of the design to seal it, it would be best to do this after the layer underneath has dried completely.
You can use a matte spray sealer to finish both the inside and the outside of the box. You can spray the sealer on the whole surface of the box, not only on the design, just make sure you apply it in a well-ventilated area or even outside.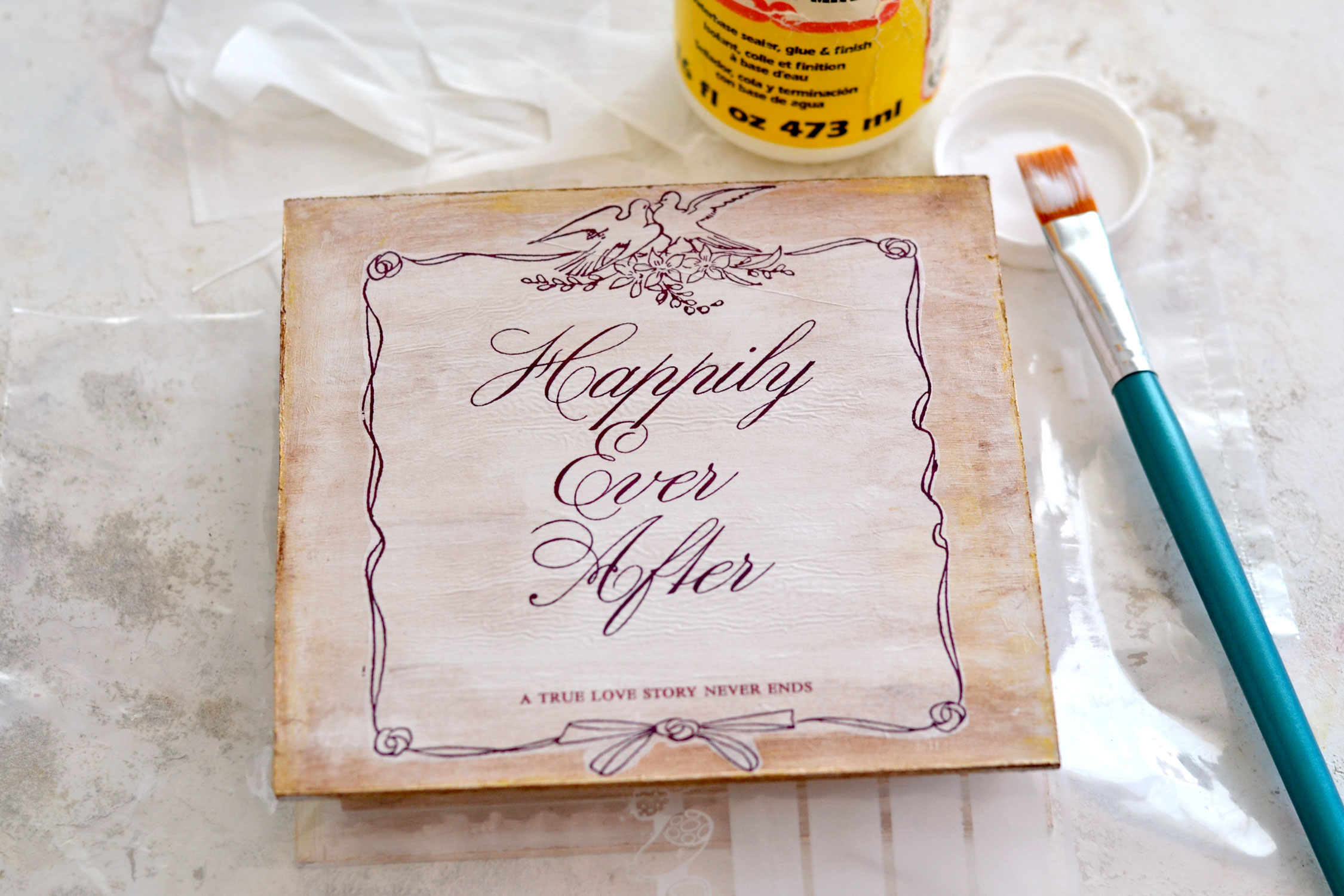 Don't forget to also print and cut your wedding cards! The initial design also had the top wing of the right bird in, but as I was cutting them I noticed that wing was really getting all the cards to stick together so I decided to get rid of it to make things easier for you. I would say that the cardstock you use is really important, especially if you are planning on lightly distressing them with coffee, as I did. If you prefer, you can also use watercolors to make them match the wedding's color scheme. You might need to place the cards between the pages of a book after drying if staining or coloring them in any way.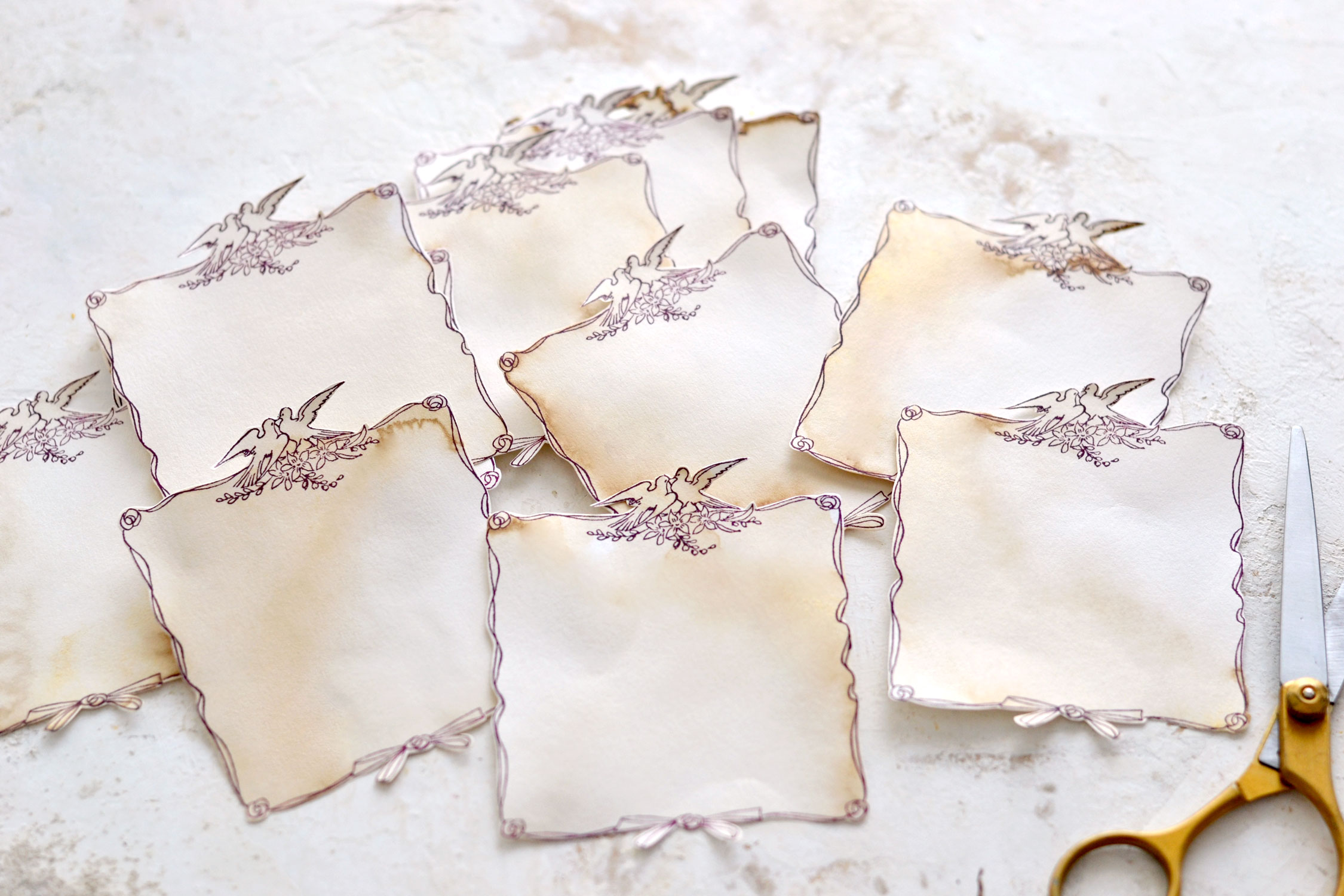 I used a lovely cream cardstock to print the cards, they look really beautiful with the wood card box!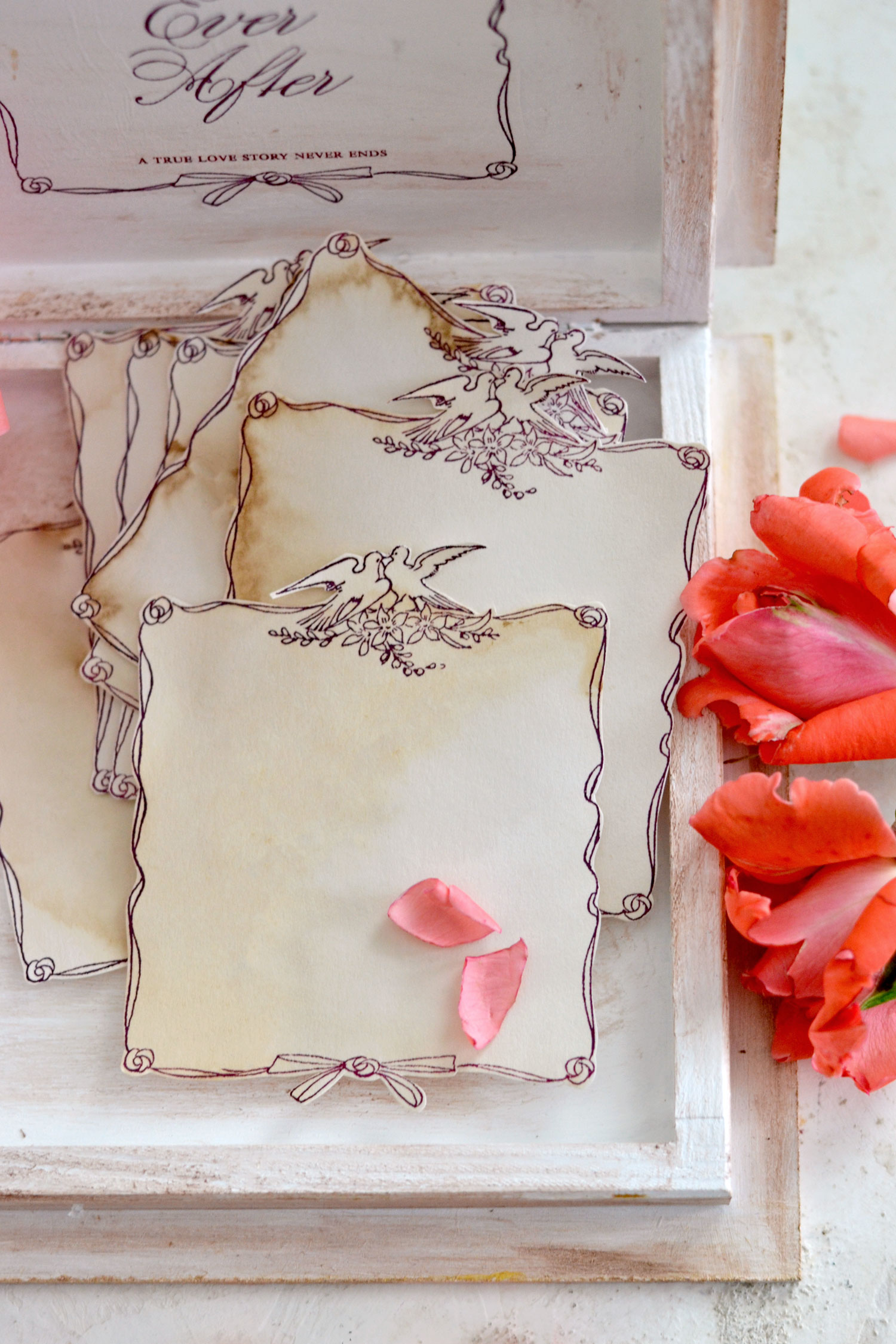 The final results are absolutely gorgeous, I adore the look tissue paper usually creates! Its sheerness and delicacy always manage to surprise you while bringing so much charm to our beautifully decorated box. It makes a beautiful keepsake for remembering your Wedding day don't you think?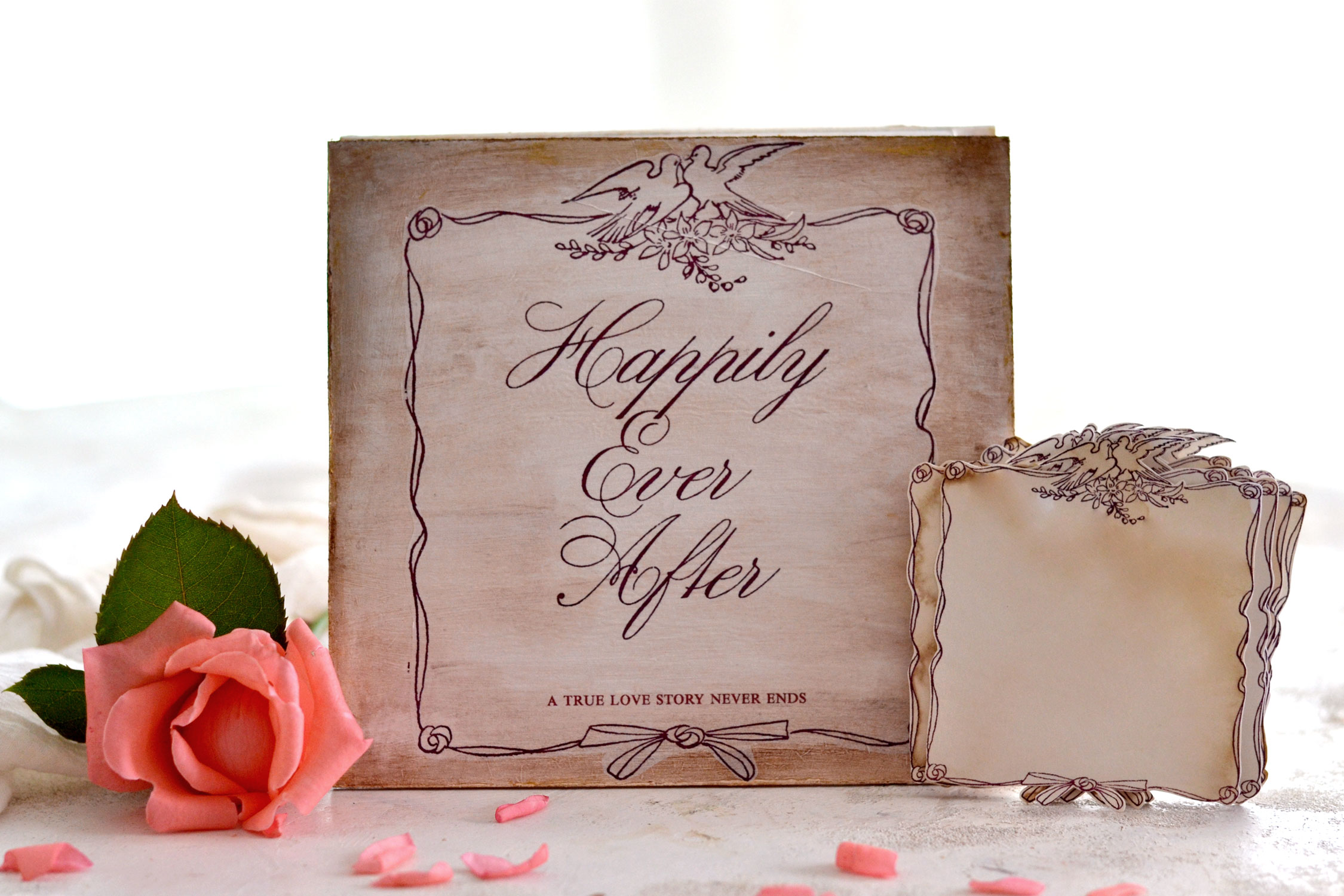 Even the edges of our wooden card box look really beautiful, it's so amazing how we managed to create this whimsical finish without too much effort on our part … while actually using paper towels! Your keepsake box will look lovely greeting your wedding guests on your gift table along side the wedding gifts, or wherever you care to place it.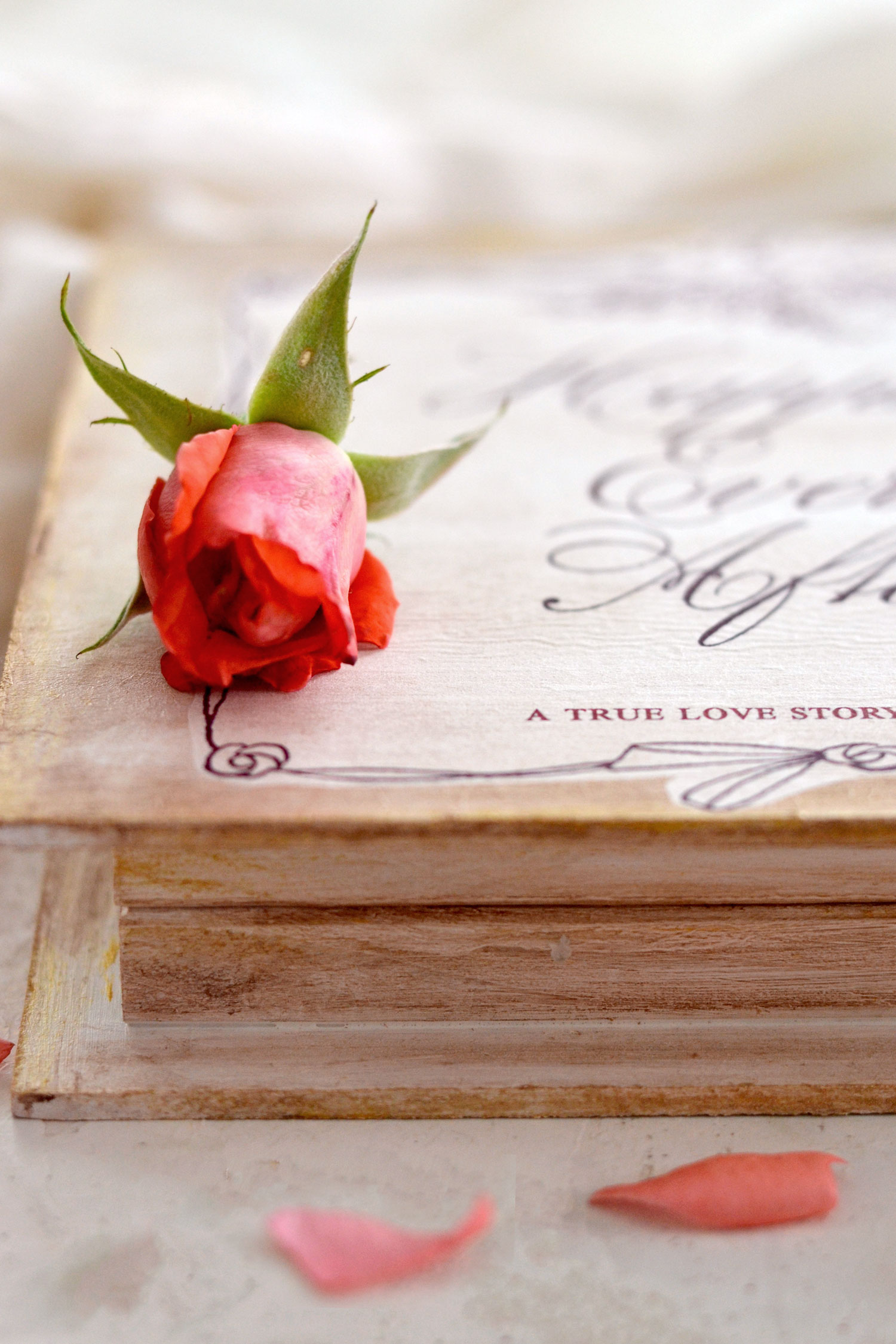 I'm not sure if you noticed but I intentionally left a little bit of white space right under the Happily Ever After calligraphy writing, so you can add a personal touch and insert the name of the happy couple that is getting married! You can use an editing program like Photoshop or even Canva to further personalize the design and add the first and last names there if you want.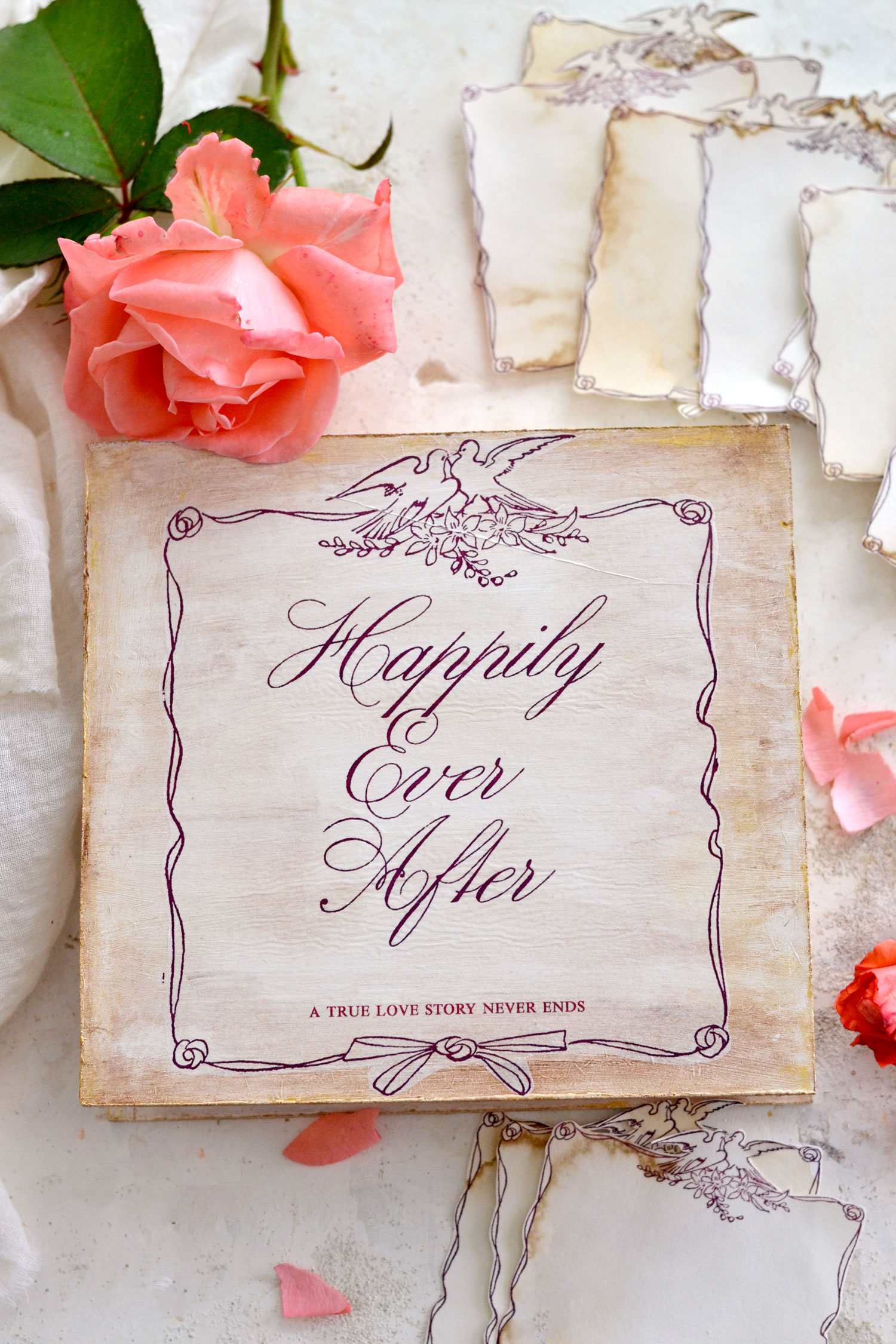 I would use a simple all-caps font to make the names stand out, especially since all-caps fonts work really well if mixed in with a little bit of calligraphy. I used the well-known Times New Roman for the A TRUE LOVE STORY NEVER ENDS writing at the bottom, you can choose to use it to also write the names if you prefer.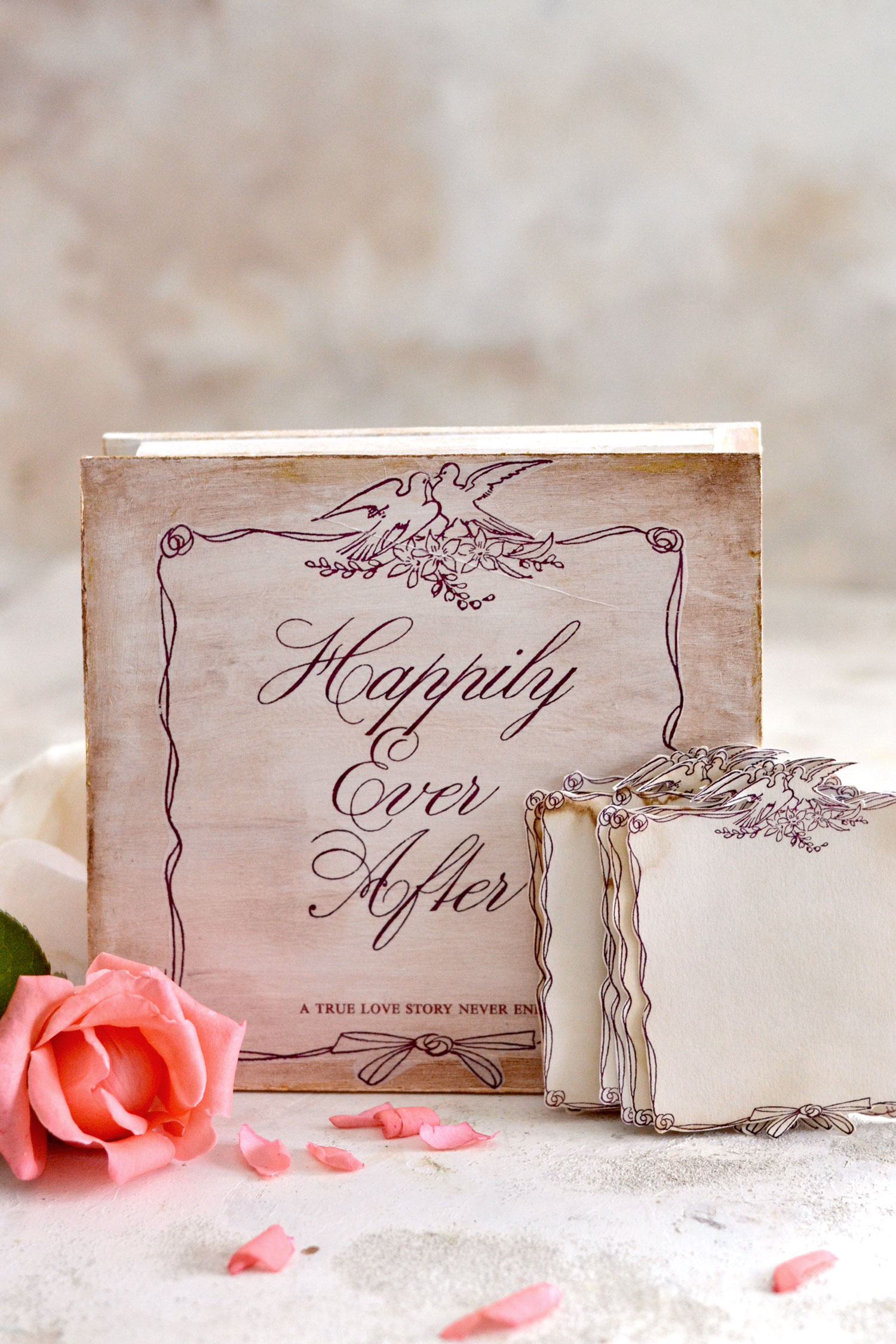 I hope you will love this post box project and decide to give it a try, make one of these beauties for yourself or for your friends or family members for their wedding reception. It will make the perfect handmade wedding keepsakes that can be cherished for years to come! Plus when you make it yourself it's one less thing that you have to purchase.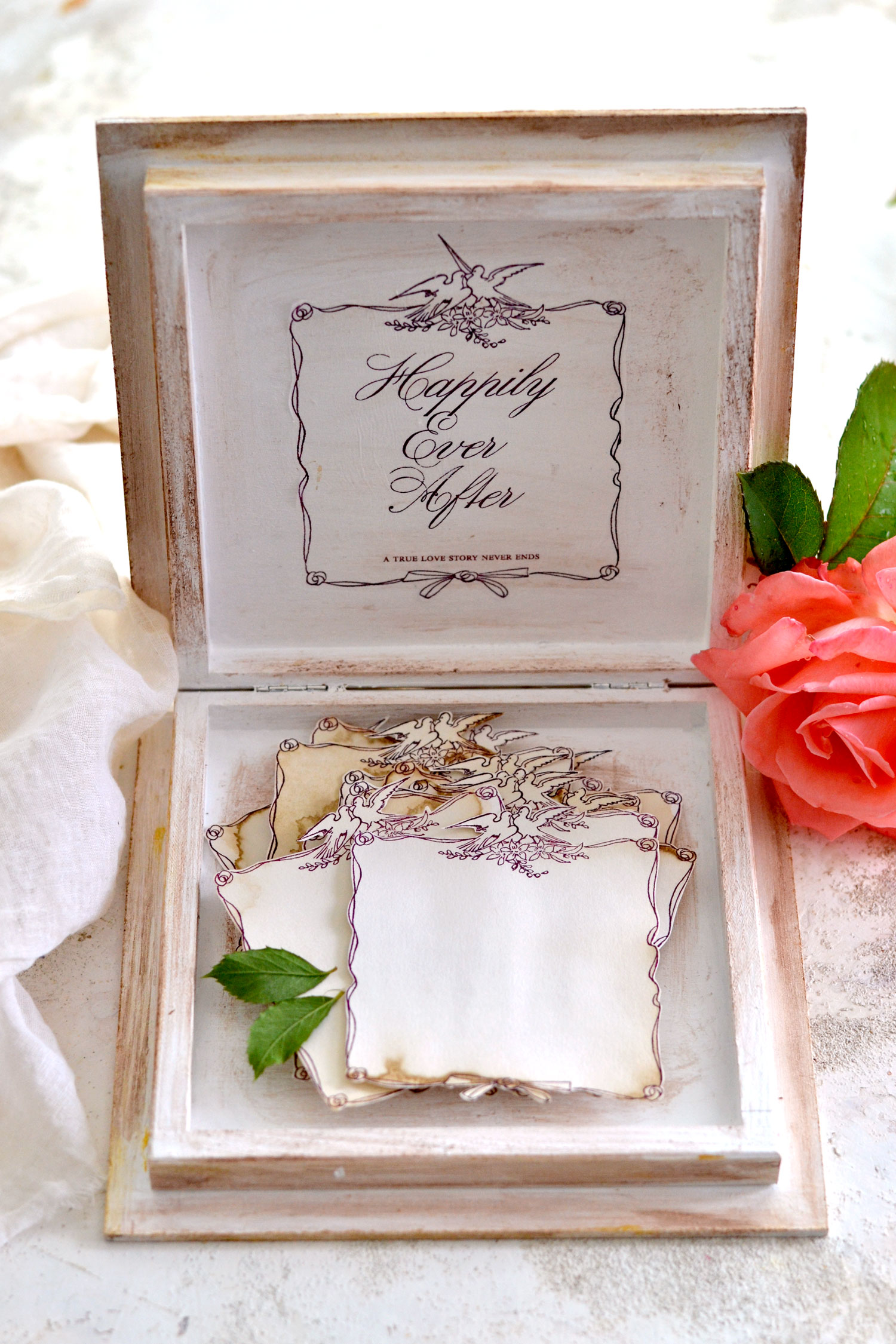 You might also like the DIY Wedding Decor Sign project from HERE and the Printable Wedding Thank you Cards HERE. 
Happy crafting,
Diana / Dreams Factory