Best Printers for Crafting
I'm updating this Best Printers for Crafting post,  as it's become very difficult to find the Epson Pigment Ink Printers that I have used, and loved, for many years. As far as I can tell, they don't seem to be making them anymore. I've asked Diana to jump in today and help us to explore the world of Laser Printers, as I believe this is the way to go now if you enjoy making crafts with your printer. I've not been able to find any inkjet printers that have the water resistant ink like my old Epson has, so I will hang on to it until it no longer works and then I will replace with laser. Now I will let Diana explore this subject with you….. Hello Graphics Fairy friends! I'm Diana from Dreams Factory and I'm really happy to be here once again for another one of our creative get-togethers! Today we are mixing things up a little bit and we are talking about my experience in the DIY crafting world with my faithful laserjet printer. I will walk you through a few of the most important things you need to know and what to consider if you are thinking about buying a craft printer for yourself. I will also like to share a few ideas and examples from my projects on how you can use your printed graphics or images and how you can alter the images afterward. This way you'll be able to make the purchase according to your needs and benefit the most from your printer.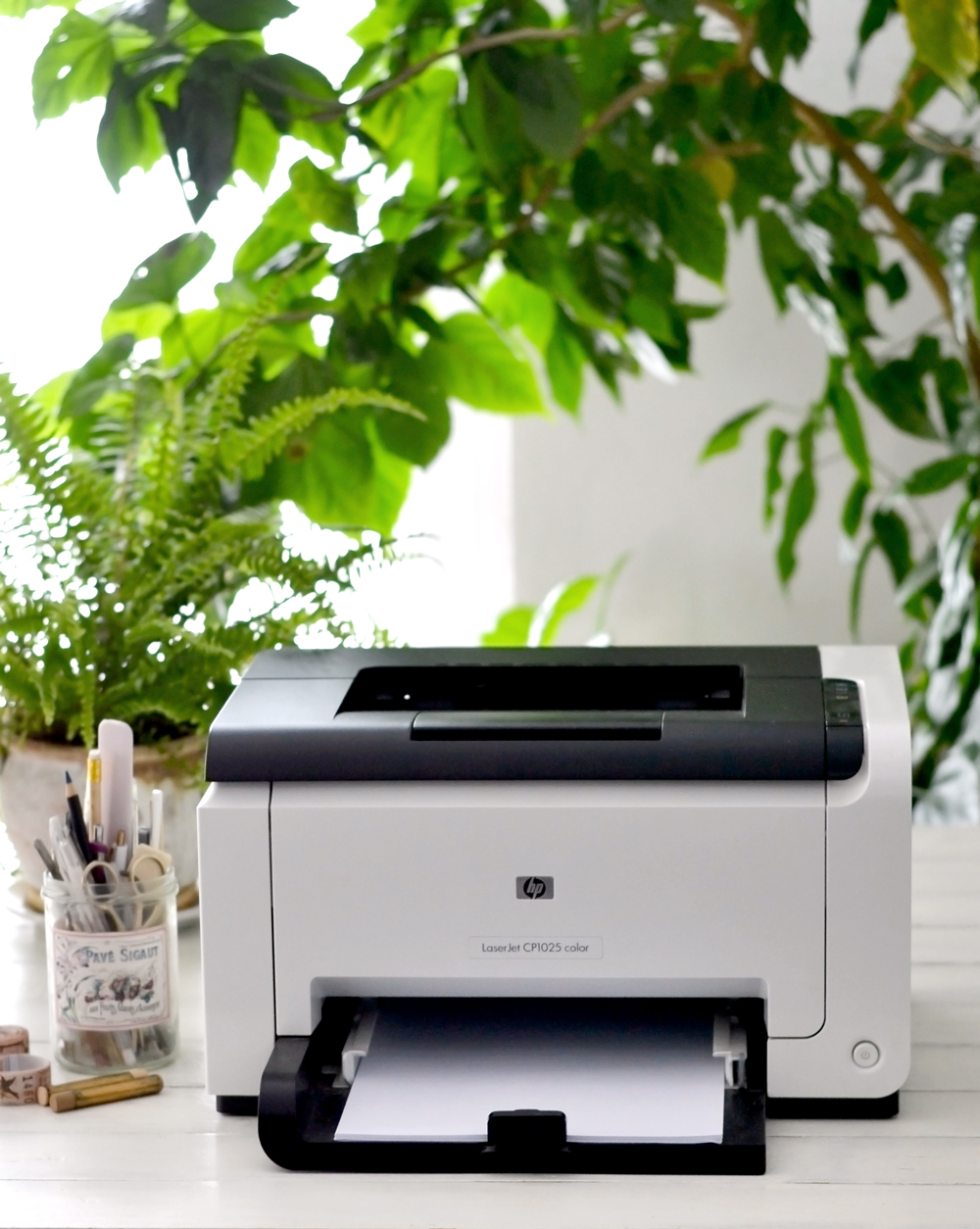 I know printers can be annoying sometimes, but if you manage to find the perfect one for you, it can easily become your best friend!;) My adventure with my laserjet printer started almost 10 years ago when I started my own handmade business and my DIY blog. Before that period I've only used an inkjet printer for regular non-craft related everyday printing. I learned more and more about waterslide decal paper transfers and decided to use them exclusively to decorate our handmade items. Waterslide decal is a special type of paper with a 190 gsm thickness that requires a laserjet printer for printing so I started looking for the perfect printer for me with this value in mind. The high thickness of the paper, which was a crucial factor, actually turned out to be more difficult to find than I would have thought, but I managed to find this HP 1025 laserjet printer online and we definitely became best friends! Friends with good and bad times, moods and inexplicable tempers, but now, while looking back, I would say it was definitely THE BEST option for my needs. And just like friends do, we still rely on each other (mostly me, haha) and I've used it exclusively for all the handmade decorations and the DIY projects that I've shared for the past 10 years. It might be a little obsolete considering how quickly technology is evolving these days, but the oldest friends are supposed to be the best, right?;)
Laserjet printers are reliable and produce the greatest results. They are consistent, giving you final printed text and images that are crisp, vibrant and beautiful, no matter the type of paper you are using. You are able to alter the paper after printing, which in my books is a big plus because you are able to get creative on your own terms!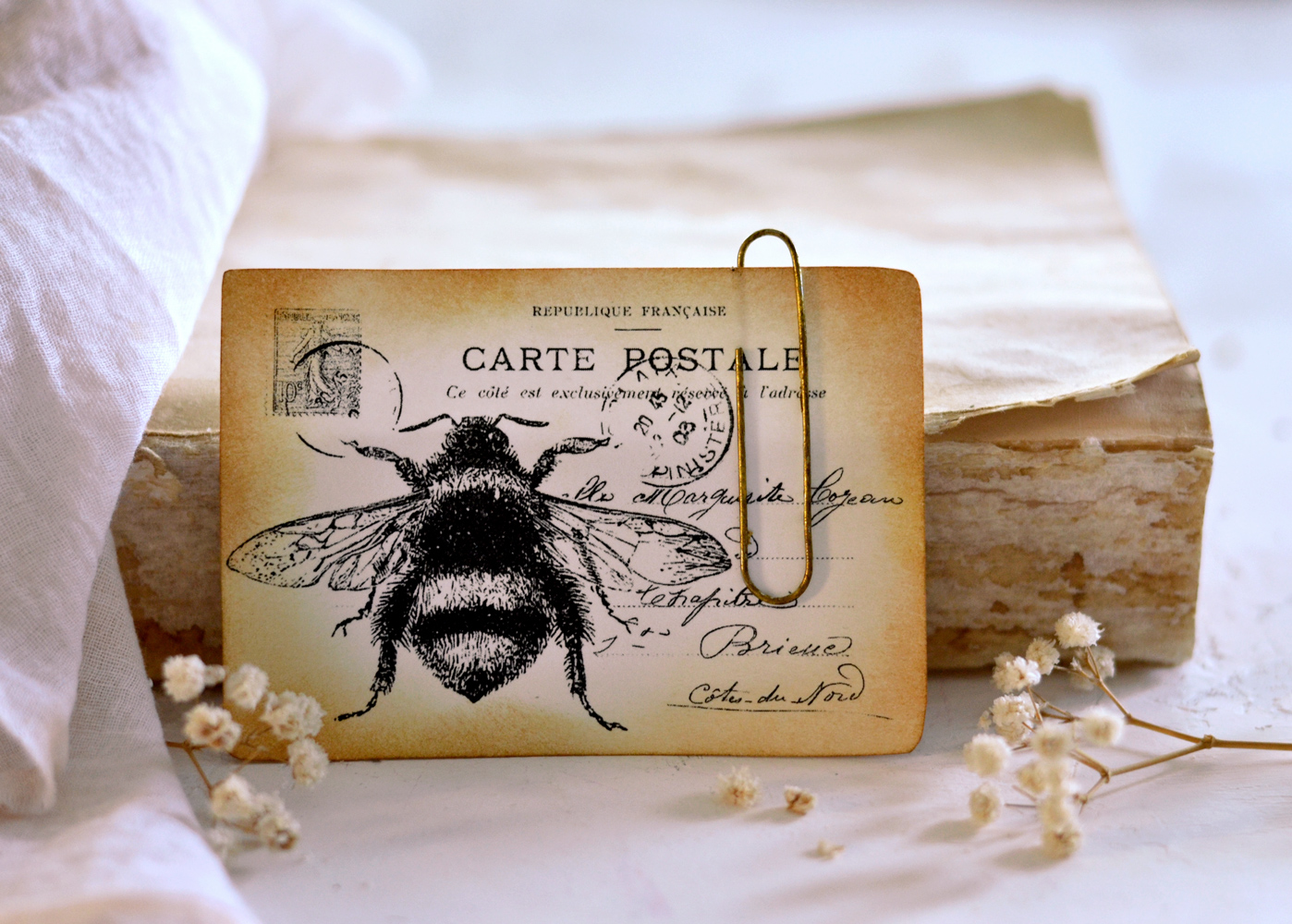 DIY Vintage French Bee Postcards
– black and white print on cardstock paper (180 gsm) altered with distress inks –
Here are a few things you need to consider before buying or switching to a high quality printer.
WHAT'S MY INITIAL BUDGET?
Let's start with the budget, which is always the key point in making a purchase. Your budget will definitely dictate the terms of your purchase, so depending on your needs, you might need to dig a little deeper into your pocket.
WHAT ARE THE COSTS FOR THE CARTRIDGE REPLACEMENTS AFTERWARDS?
Colored laserjet printers have 4 cartridges with 4 colors – black, cyan, yellow, magenta – and rely on these colors for all printing. You will find the corresponding color buttons on one side of your printer and when a specific color is low, that colored button will flicker. One thing I didn't know back in the days while buying my printer is that original cartridges can be quite expensive! If you are mainly using your laserjet printer for everyday printing, you might be able to fit the original replacements into your budget. But if you are printing on a medium-larger scale, you might find yourself looking for an alternative solution, like I did! I was lucky enough to find a local company in my area that is specialized in producing compatible laserjet cartridges – they have the option of filling or replacing your old cartridge with a compatible one and I've been using their services ever since! These days I've seen similar companies popping up everywhere, so I'm guessing it won't be hard to find one close by or even online.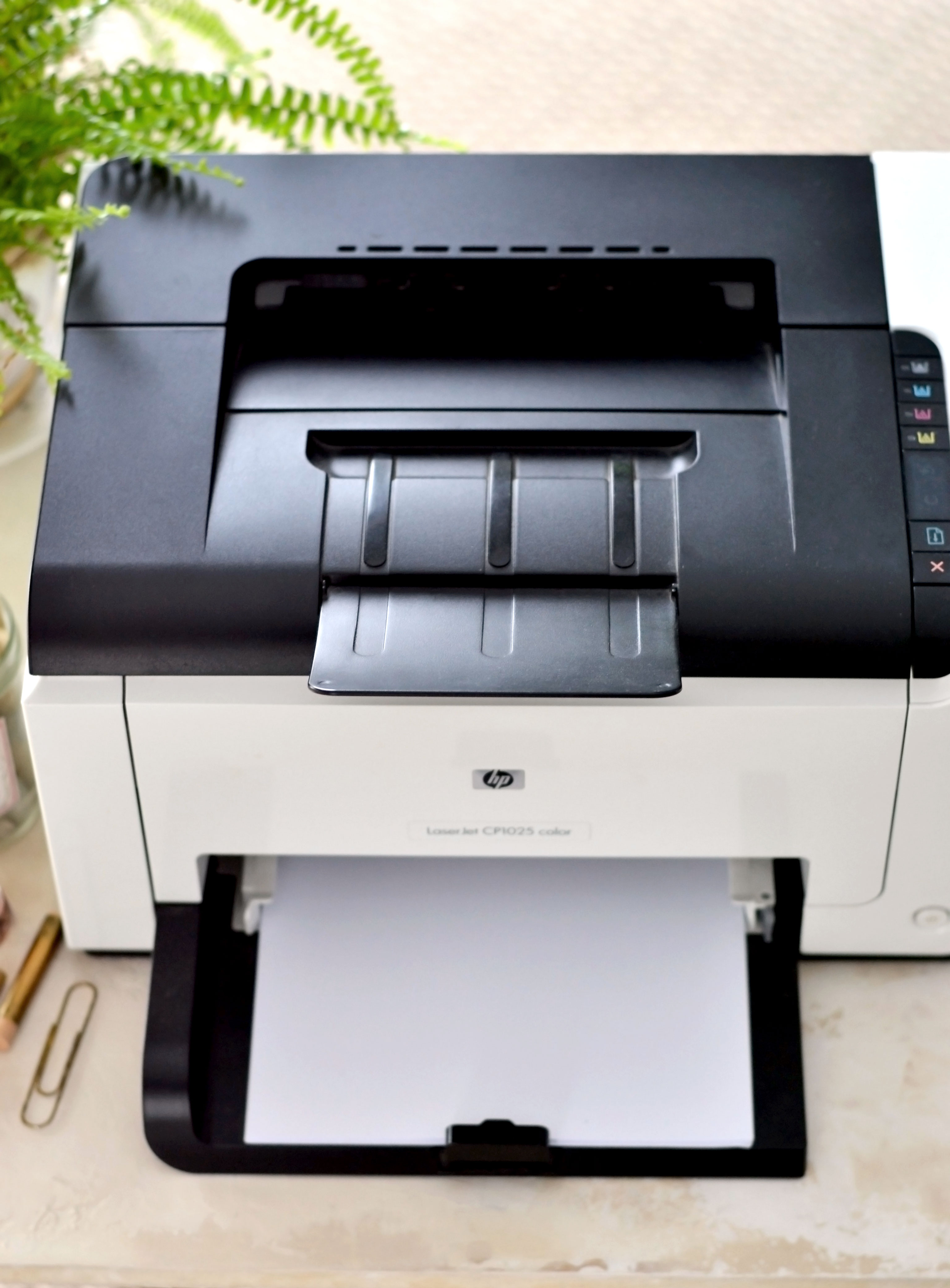 BLACK AND WHITE OR COLORED LASERJET PRINTER?
Depending on your needs, one of the very first questions you need to ask yourself is whether you need a black and white or a colored laserjet printer, when shopping around for a craft printer. If you'll be printing exclusively black and white images or text, a black and white laserjet printer would be the choice for you. They are a little bit less expensive, so cost-wise, that might be a better option. If you are planning on printing colored images or text, you'll need a colored laserjet printer. Keep in mind that you can print a black and white image using a colored printer if you want to, but you cannot print a colored image on a black and white printer!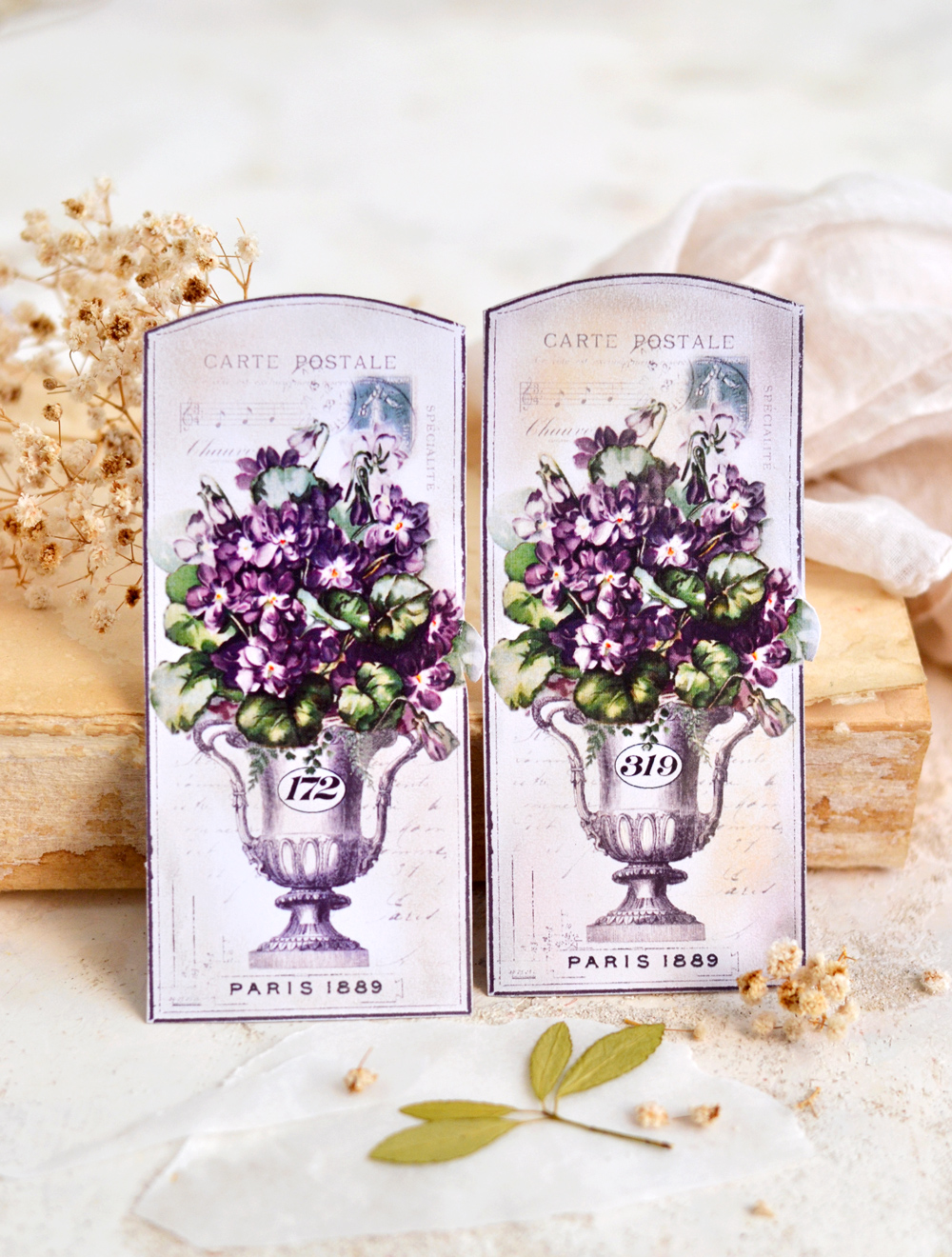 DIY French Violet Tags
– colored print on cardstock paper (180 gsm) painted with eye shadow –
DO I NEED A SCANNER ON MY PRINTER?
If you are an aspiring artist that beautifully paints or draws, you might need your future laserjet printer to also have a scanner to scan your work. Or maybe you adore vintage images or ephemera and love raiding flea markets in search of old books that you can scan. In this case, you might need to consider an All-in-One laserjet printer with a scanner, which is usually a little bit more expensive than a regular one.
WIRELESS PRINTING?
When I purchased my printer wireless printing was not really a thing. I had a long period of time when I used my desktop computer to design my graphics and print my projects so a cable plugged printing was OK. Nowadays I'm mainly using my laptop and would have loved to have the WI-FI option available. There are a few other pieces of equipment that you can purchase to make this wireless thing happen, but it would be best to have this option built-in right from the start, if possible.
WHAT DO I NEED MY LASERJET PRINTER FOR?
It would be ideal if you already knew the specifics of your prints (like me with the 190 gsm waterslide decal paper), but if not, try to imagine all the situations when you might need a laserjet printer and include all the range for those prints. For example, if you are thinking about using your new laserjet printer for printing mainly your DIY projects and keeping it for personal use, you don't need to invest in a too expensive printer and can opt for a smaller one. If you are planning on selling your prints or your finished projects on a larger scale, you might need to dig deeper in your pocket and invest in a larger one. If the latter is the case, you will also need to consider if this is cost-effective.
WHAT TYPE OF PAPER CAN I USE WITH A LASERJET PRINTER?
The type of paper you will be using should be an important question to ask yourself.
As I mentioned before, I knew I needed a laserjet printer that could print a 190 gsm type of paper, so I looked for something in that range. My printer can print anything between 60 to 220 gsm, you'll usually find these details listed on the specification page while buying the product.
I've listed a few of my favorite types of paper below, these are definitely the ones that I love using the most: tracing paper (absolutely love its sheerness – about 70 gsm), cardstock paper (I'm currently loving the all media cardstock from Seawhite of Brighton – about 220 gsm), cream sketching paper (about 110 gsm, can be thinner or thicker), regular paper (70-90 gsm) and waterslide decal paper (190 gsm). I also love using white or clear sticker paper!
(Paper samples for the best printers for crafting)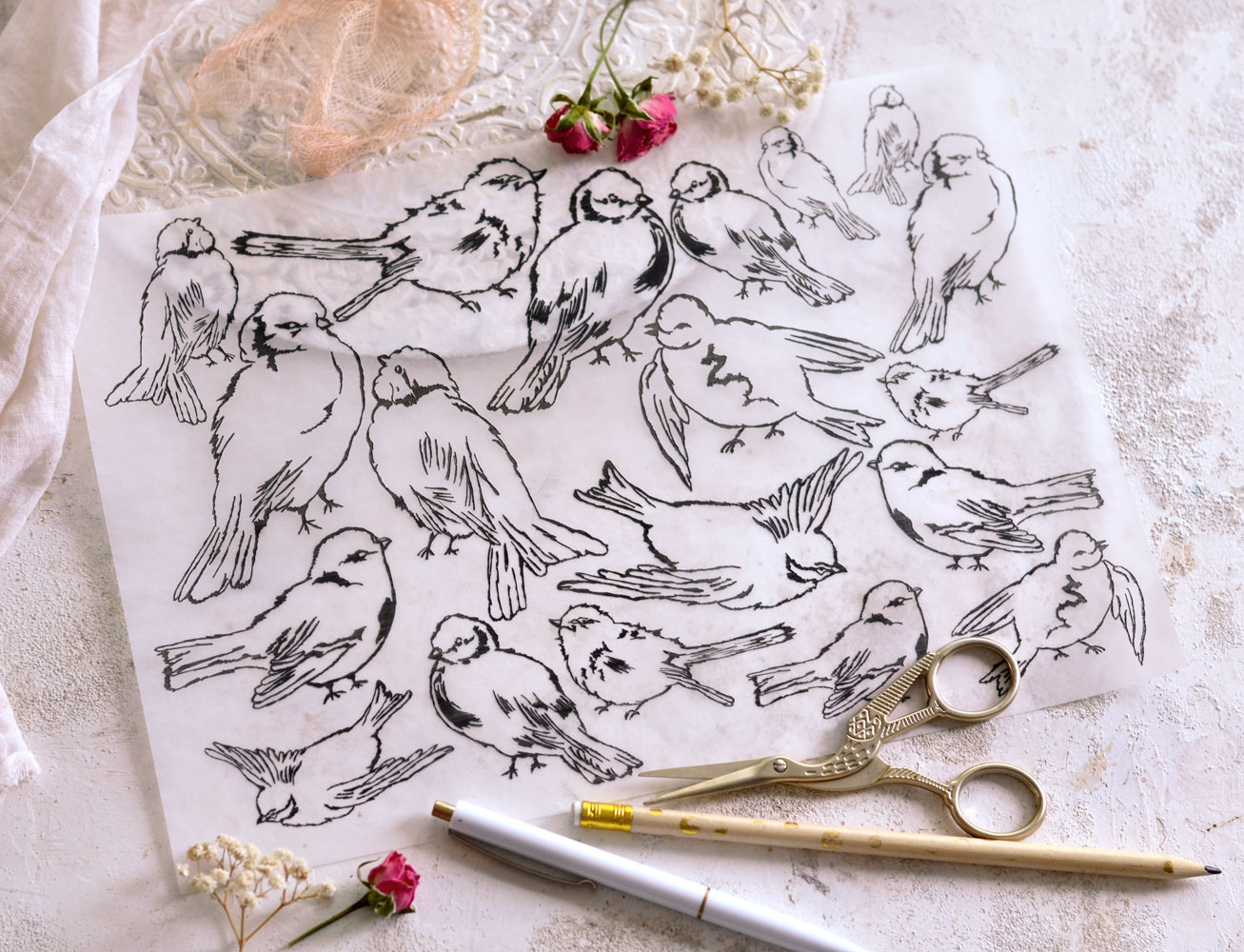 Tracing Paper Birds
– black and white print on tracing paper (70 gsm)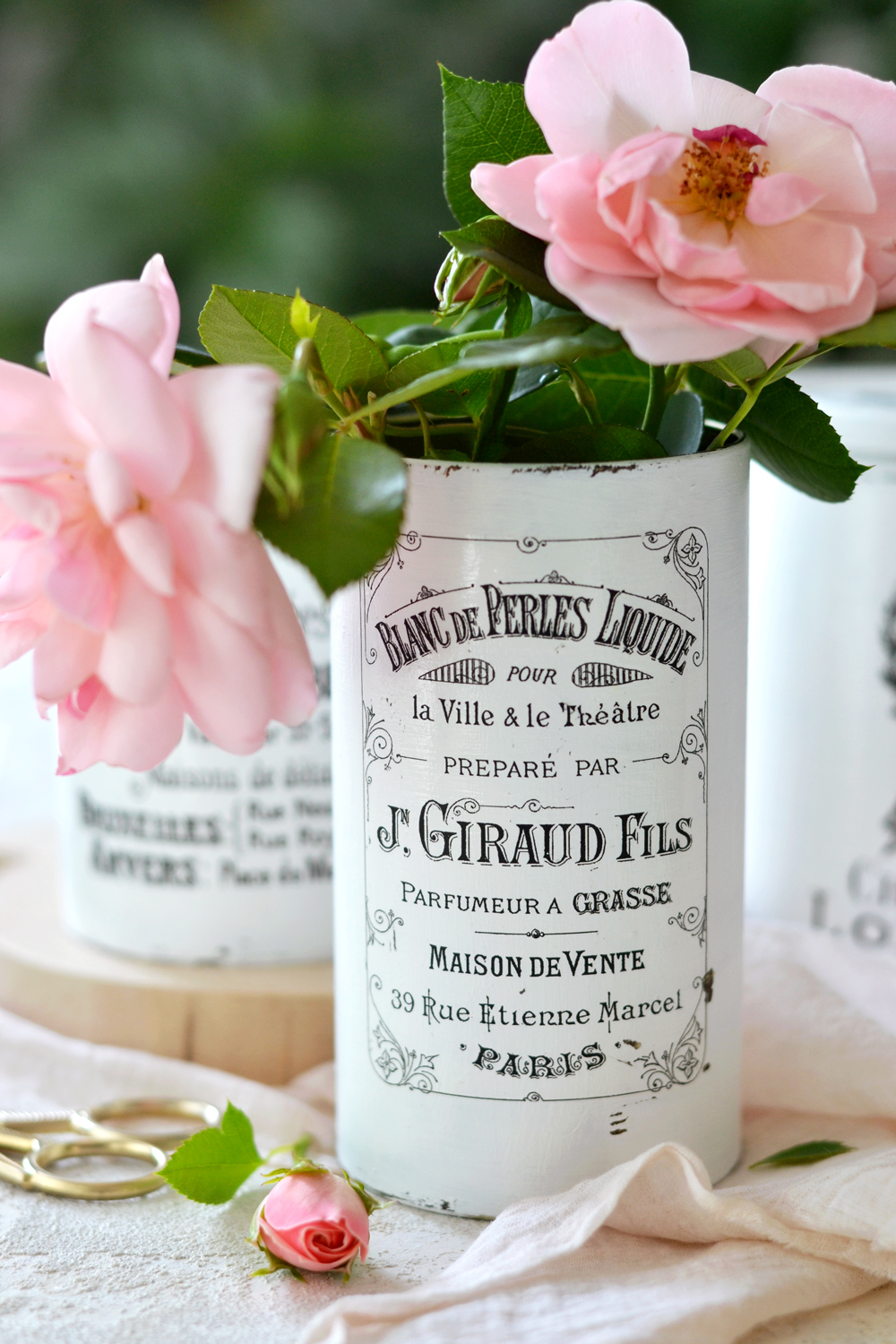 DIY French Recycled Containers
– black & white print on decal paper (190 gsm) –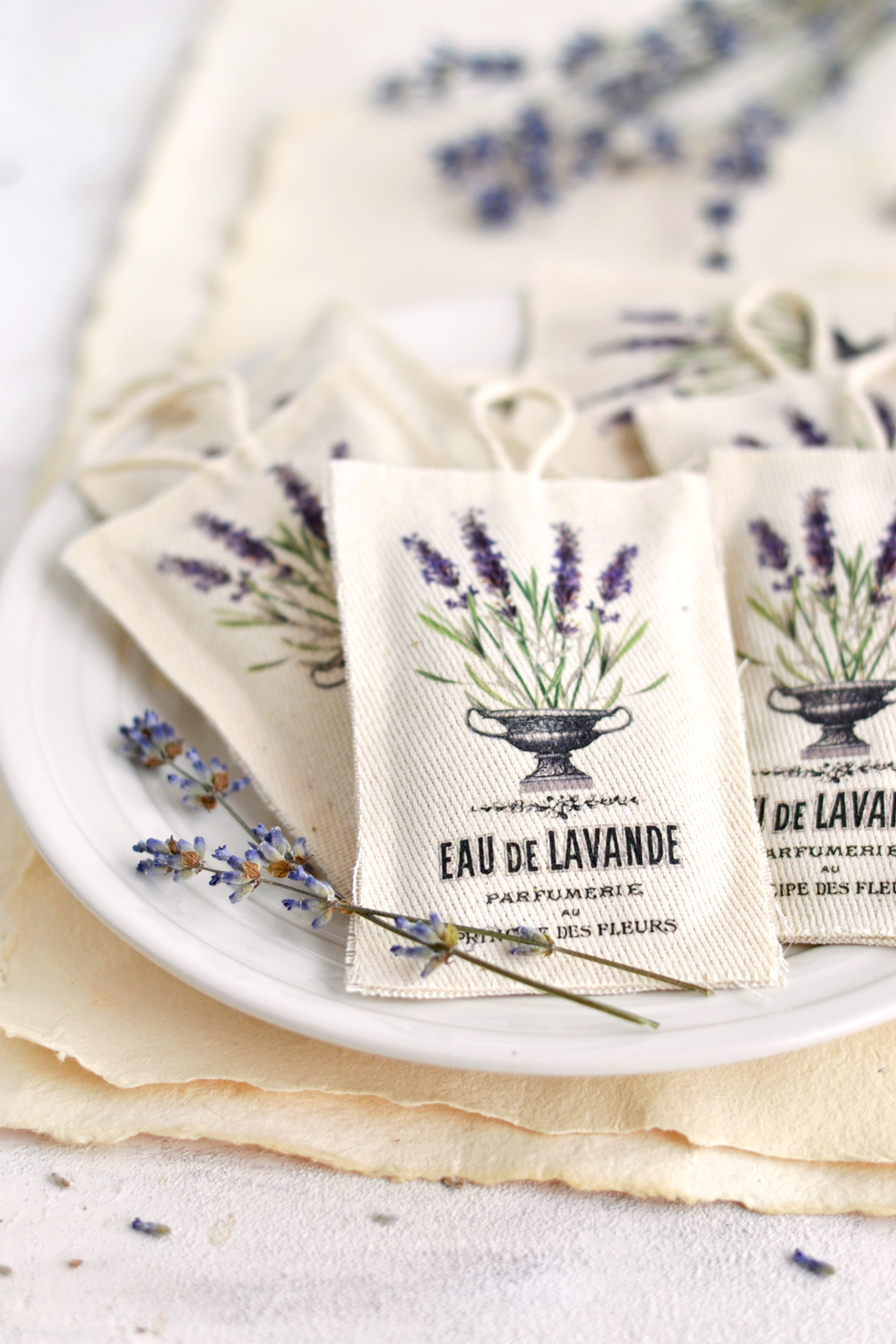 DIY No-Sew Lavender Sachets
– a mix of black & white / colored print on iron-on paper, applied to fabric –
BEST PRINTERS FOR CRAFTING: HOW TO PROPERLY USE YOUR PRINTER?
Make sure you install the drivers for your printer before using it and keep everything updated afterwards. If you are regularly using a specific type of paper, set your default printing to match that paper or choose what you need when you need it.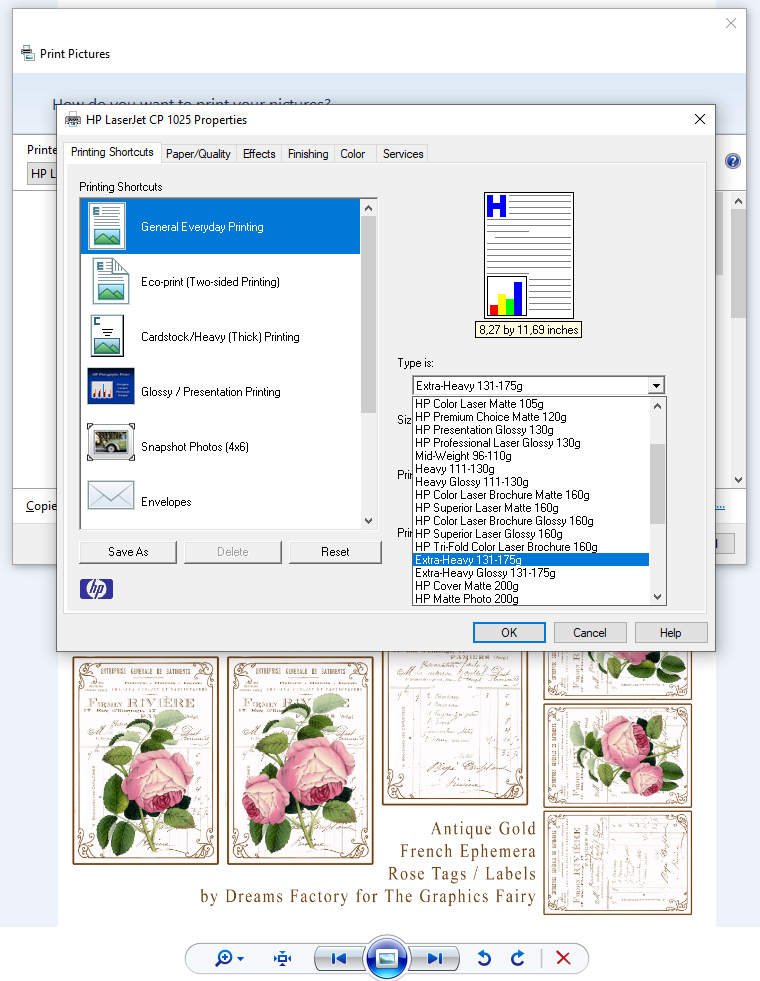 WHAT CAN GO WRONG WITH MY LASERJET PRINTER?
Except for the occasional paper jams, you shouldn't have any big issues with your laserjet printer. I had to replace the imaging drum unit at some point, but other than that, everything else went smoothly. If you notice your colors are starting to look a little bit off when printing, make sure you check your cartridge levels, one or two colors that are going low might cause this issue.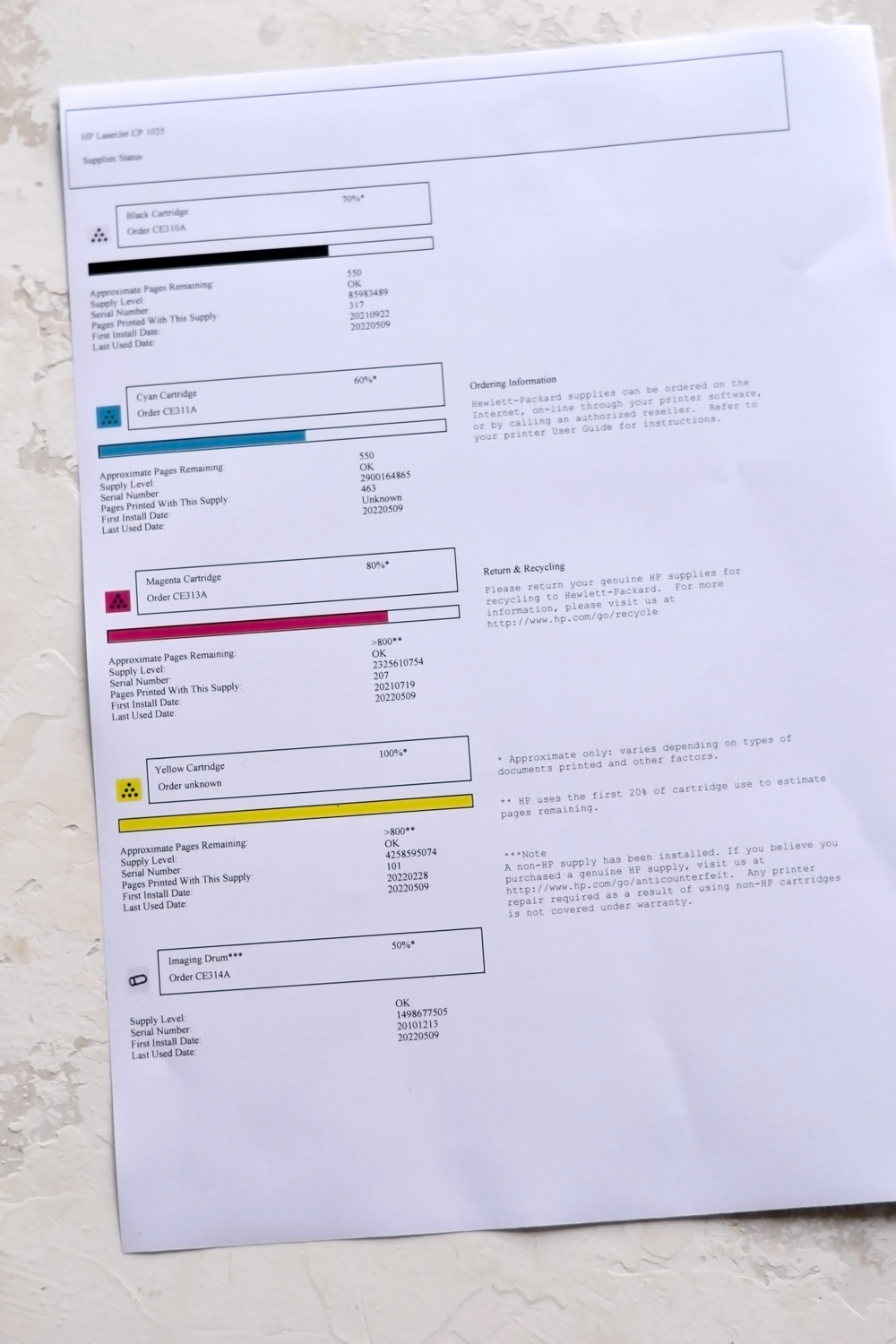 CAN I ALTER AND DISTRESS THE PAPER AFTERWARDS?
So you dream to have a laserjet printer, but what you can actually do with the printed images afterward? I'm listing this question here because for me it's really important to be able to alter or distress the paper after printing! YES, this is one of the wonders of laserjet printing, you can perform all sorts of mixed media techniques on your printed paper without hurting the printed image or text. This thing right here might even be the turning point for you in wanting to buy a laserjet printer, after stumbling upon so many (of my) beautiful DIY projects that use a laserjet printer!;) I know many of you don't have a laserjet printer and I know how frustrating can get not to be able to get creative on your own terms. I feel you! A laserjet printer will scratch that frustration off and will allow you to play around and experiment as you want. It will basically open up so many new worlds and exciting possibilities for your crafting projects! They really are the best printers for crafting.
I love using watercolors, DIY spray inks, mini distress inks, highly diluted acrylic paint, avocado or coffee dyes, there are so many ways of getting creative after printing your images!
Project ideas created with the Best Printers for Crafting: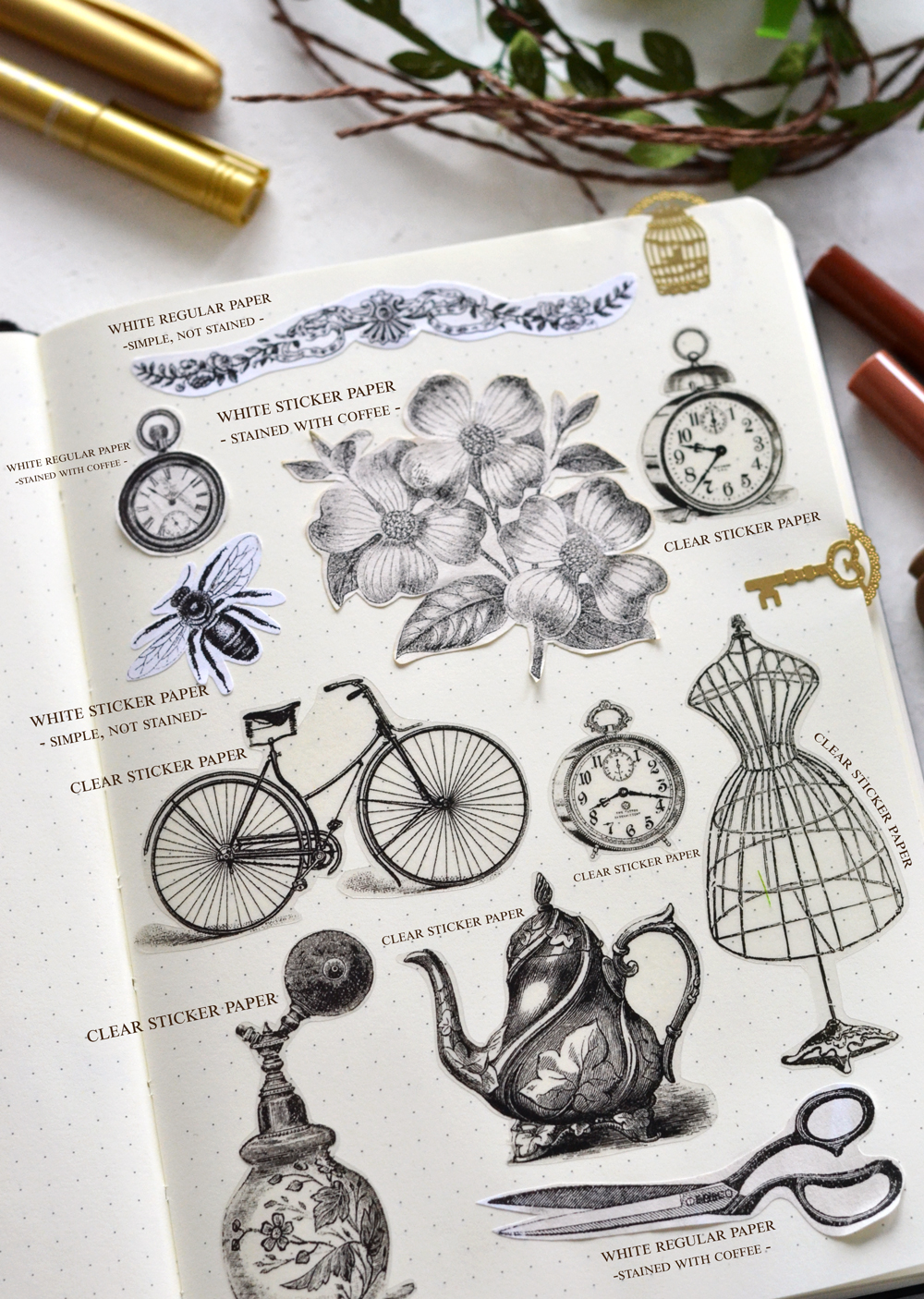 How to make vintage stickers
– black & white print on different types of paper –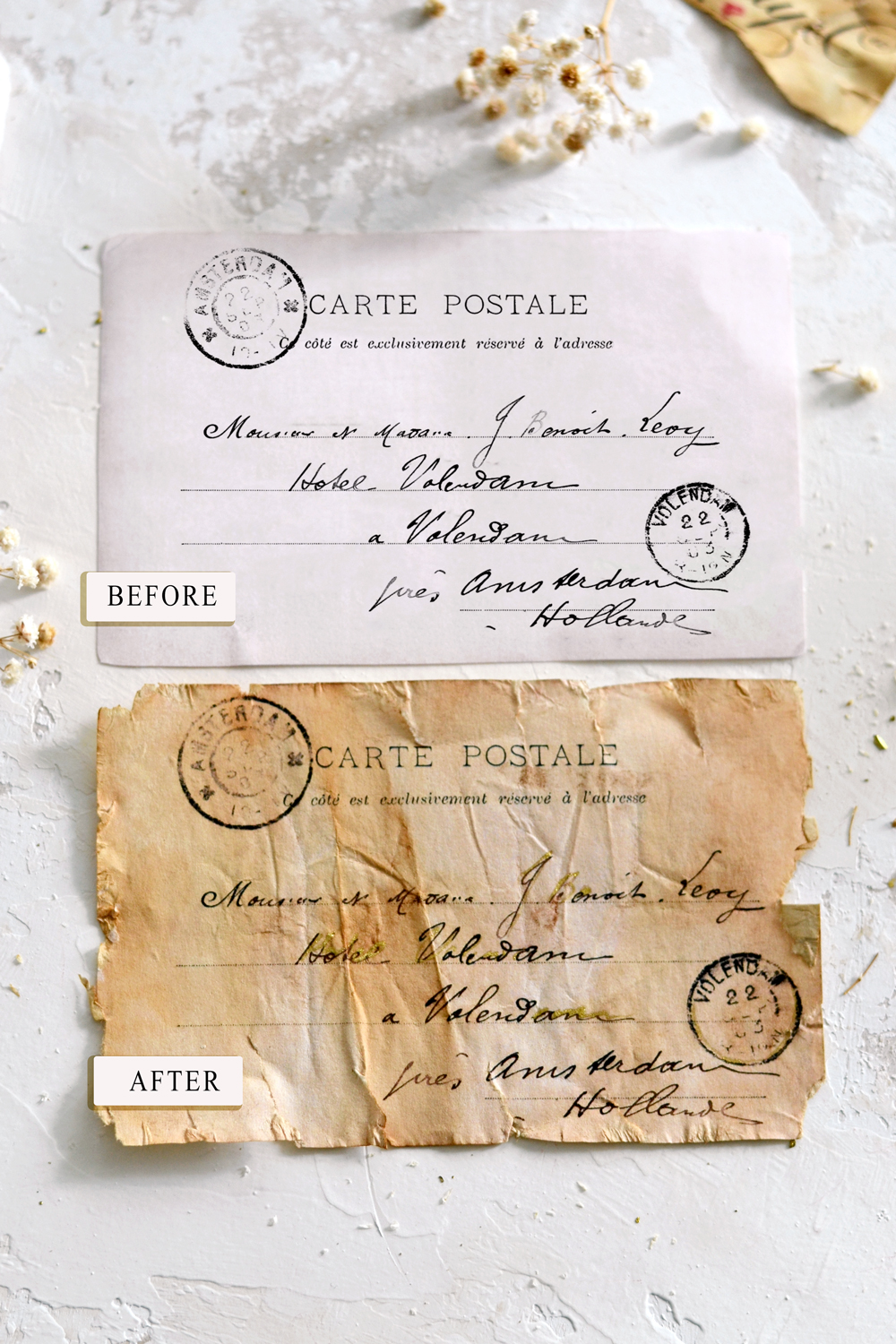 How to make ephemera
– black & white print on regular paper  (90 gsm) distressed with coffee
As an experiment, I even tried altering the paper before printing. There are a few things you need to consider if doing this so you don't damage your printer in any way, but it can be done! And the final results are absolutely amazing!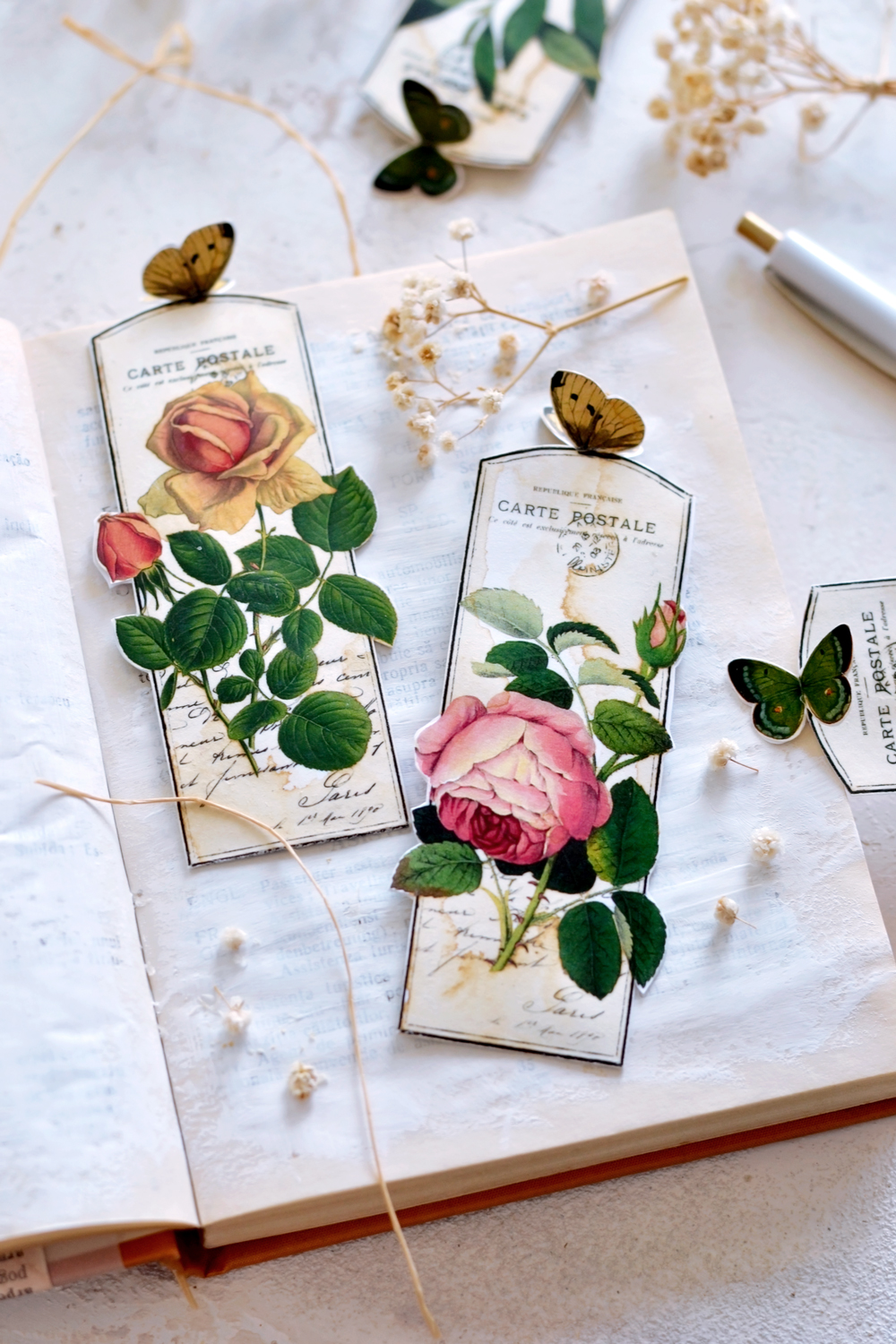 DIY Butterfly Bookmarks
– colored print on cardstock paper (180 gsm), distressed with coffee
One amazing thing that you can do exclusively with your laserjet printer is to apply metallic gold foil using a laminator! I've tried this technique a few times already because I'm in love with gold foiling everything and got the most stunning results! You just need to print your laserjet image, feed it through your laminator with your gold foil, then peel it off and watch the magic happen! It's pretty amazing, the gold foil adds a new dimension of gorgeousness!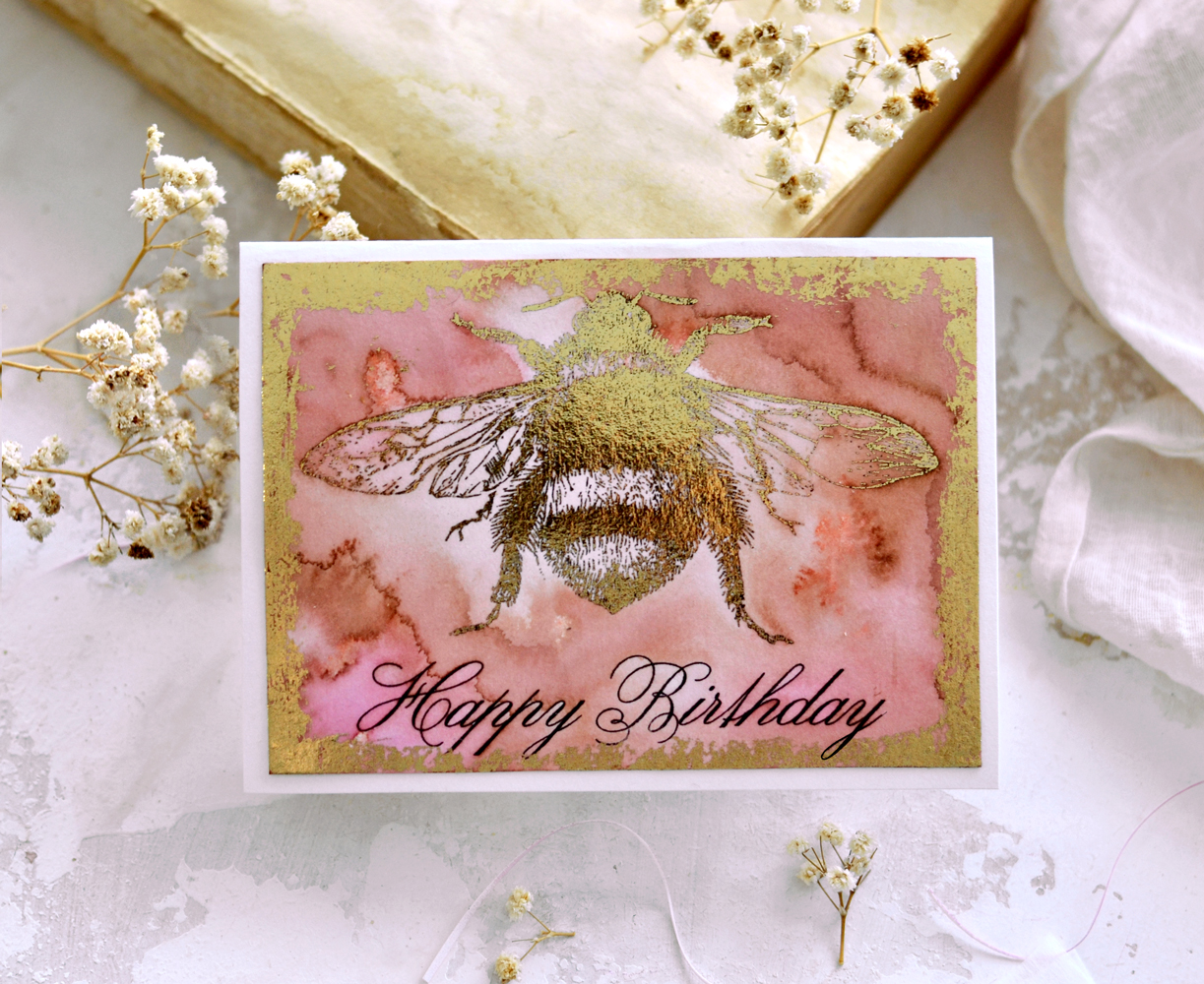 DIY Birthday Cards
– black & white print on cardstock paper (220 gsm) altered with spray inks and gold foiled
WHERE TO BUY YOUR LASERJET PRINTER?
There are lots of online options available, here are a few suggestions from Amazon:
HP LaserJet Pro CP1025 (the one I have) 
HP LaserJet Pro M404n Monochrome Printer
Brother HL-L3210CW Compact Digital Color Printer
Brother HL-L3230CDW Compact Digital Color Printer 
That's it for today, I hope all you found my best printers for crafting post useful! As you can see, there are a few things to consider, but depending on your needs as a crafter, your new laserjet printer can accompany you on your creative journey and even become your best friend! Surrounding yourself with plants and French recycled jars might even help with the printing process!;)
If you have any questions, feel free to leave them below.
Happy crafting,
Diana | Dreams Factory