We're so excited to announce another Design Team Call! We know our readers are bursting with creative talent, so we are excited to bring some new people on board as creative team members for our Premium Membership Site! We're looking for someone that loves to make Junk Journals using vintage images. If you are into creating Junk Journals then we want to hear from you. (And if you also sell them on Etsy, this will be a win/win for all!)We only have 2 opening on this team as we have 2 people from past teams that are returning! The Deadline to apply is August 27th 2020.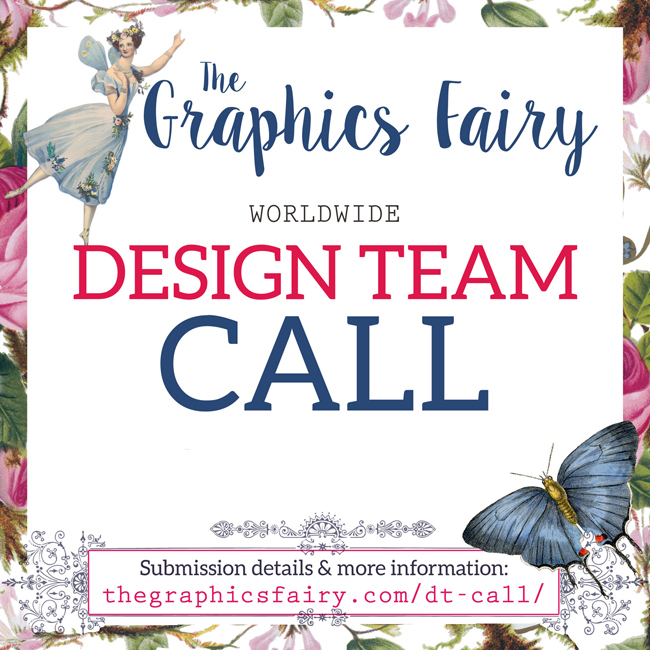 What we are looking for from you:
1 blog post per month, with 7-10 large good quality photographs of your Junk Journal. (This will go on our blog, you can send us the text and photos and we will put the post together for you)

We would be looking to see you create a Junk Journal each month, using a minimum of 5 images, or printables, from our Membership site. 

We would like for you to create a Video, giving a tour of your Junk Journal (and talking about how the images came from our Premium site etc), that we would place on our YouTube channel, or yours. (We alternate months)

We would like for you to promote your project on your social media channels. (You do NOT need to have a large following!)

We would need you to be able to meet your deadline each month. 🙂
Here's what we would offer you:
A free annual membership to our Premium site ($79 value). Our site is crammed full of gorgeous images and over 3,000 amazing printables!

We will promote your project on our social media channels and to our email subscribers. We have a large following on Pinterest and Facebook, and we have a very large email list as well.

Your post will go on The Graphics Fairy blog, where we also have a large following. 😉

We will link your Etsy shop/Site in our post (You may of course sell the Journal that you make, in your Etsy shop). You may direct people to your Etsy shop within your video as well, and to your YouTube channel.

We would add you to our Design Team Channel on Slack, so that you can contact us with questions whenever you like and chat with the other team members as well. Our past teams have really enjoyed this perk, and it's been so lovely to see all the encouragement and support via the private chat room. 
This will be a 6 month term starting in September-ish, but there may be an opportunity to stay longer if you desire.
*Also, there may be additional opportunities for a paid position as a crafting instructor, if slots open up on our Premium Site. 
Interested? Here's how to Apply:
Send us an email at

[email protected]

 and tell us why you would be a good fit for The Graphics Fairy Premium Design team.
Put Design Team Call in the Subject Line

Include your name and country

Include a link to your YouTube channel, or send a link to a sample video that you created of your work.

Send good quality photos, or a link, to 3-5 of your creative projects. 

Include links to other places where we may view your work, Instagram, Facebook etc, if you have them.

List any other Design Team's that you are on now, if applicable.

Tell us about magazine publications that you have been in or creative classes that you have taught, if applicable.
Feedback from our Current Team:
All of our current team members told us that 1)their Etsy sales are up as a result of the exposure from being on the team, 2) that they have gained additional followers to their social media channels 3) and that they learned new skills from the content offered in the Membership site.
"Working on The Graphics Fairy Design Team has been invaluable to me. I have learned so much. I am so grateful to be able to work with the graphics fairies : Karen, Emily and Lisa. Three creative, kind and encouraging women who work hard to curate and design amazing images for artists and crafters to use. My fellow design team members are not only crazy talented, but they are also fabulous humans who I am lucky to have as part of my little virtual design team family. Also, on my YouTube analytics my top external source for view minutes is from The Graphics Fairy!" Lynne Morgado
"When I decided to apply for the Graphics Design Team Premium Membership  site I had very little hope that I would be selected for the sheer volume  of the people who would have applied. So when I received the email that I was selected I was over the moon! I love the Graphics Fairy website and I feel truly honoured to be a member of their team. Everyone received me with
so much kindness and love. Any questions I may have had were answered immediately and with great patience. Emily, Karen and Lisa are the nicest people I have ever worked with. The Design Team and the Crafting Team of people are also extremely supportive and friendly. This is a very happy place for me, where I do what I am passionate about whilst feeling safe and supported."
Anna Hollingworth
Deadline is August 27th 2020. 
Please read the instructions thoroughly before applying.  We are excited to see your creative work!