We're so excited to announce another Design Team Call! We know our readers are bursting with creative talent, so we are excited to bring some new people on board as creative team members for our Premium Membership Site! We're looking for someone that loves to make Junk Journals using vintage images. If you are into creating Junk Journals then we want to hear from you. (And if you also sell them on Etsy, this will be a win/win for all!) This time we have openings for 3 people on this team. Woohoo!  The Deadline to apply is Monday July 24th.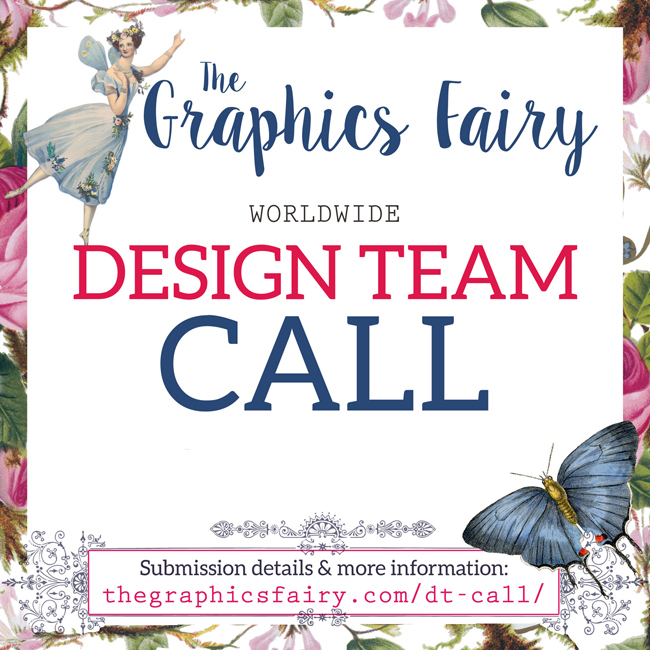 What we are looking for from you:
1 Junk Journal every other month. (3 Journals total during the 6 month term)

 7-10 large good quality photographs of your Junk Journal and a write up about your journal. (This will go on our blog, you can send us the text and photos and we will use that info to create a post about your journal)

We would be looking to see you create your Junk Journals using a minimum of 10 images, or printables, from our Membership site. 

We would like for you to create a Video, giving a tour of your Junk Journal (and talking about how the images came from our Premium site etc), that we would place on our YouTube channel, or yours. (We alternate months, but if you don't have a large following we can host on our channel every month)

We would like for you to promote your project on your social media channels. (You do NOT need to have a large following!)

We would need you to be able to meet your deadlines. 
Here's what we would offer you:
A free annual membership to our Premium site ($99 value). Our site is crammed full of gorgeous images and nearly 5,000 amazing printables!

We will promote your project on our social media channels and to our email subscribers. We have a large following on Pinterest and Facebook, and a growing community on YouTube and Instagram. We have a large email list as well.

Your post will go on The Graphics Fairy blog, where we also have a large following. 

We will link your Etsy shop/Site in our post (You may of course sell the Journals that you make, in your Etsy shop). You may direct people to your Etsy shop within your video as well, and to your YouTube channel.

We would add you to our Design Team Channel on Slack, so that you can contact us with questions whenever you like and chat with the other team members as well. Our past teams have really enjoyed this perk, and it's been so lovely to see all the encouragement and support via the private chat room!
This will be a 6 month term starting in September, but there may be an opportunity to stay longer if you desire.
*Also, there may be additional opportunities for a paid position as a crafting instructor, if slots open up on our Premium Site. 
Interested? Here's how to Apply:
Send us an email at

[email protected]

 and tell us why you would be a good fit for The Graphics Fairy Premium Design team.
Put Design Team Call in the Subject Line

Include your name and country

Include a link to your YouTube channel, or send a link to a sample video that you created of your work. (Applications without at least one link to a video will not be considered. Sorry, but we must see the quality of your videos in order to make our decision)

Send good quality photos, or a link, to 3-5 of your creative projects. 

Include links to other places where we may view your work, Instagram, Facebook etc, if you have them.

List any other Design Team's that you are on now, if applicable.

Tell us about magazine publications that you have been in or creative classes that you have taught, if applicable.
Feedback from past Design Team Members:
Past team members  have told us that:
Their Etsy sales were up as a result of the exposure from being on the team
 They gained additional followers to their social media channels
 They learned new skills from the content offered in the Membership site
"The Graphics Fairy design team has been a truly great experience for me. I have grown so much as an artist and I am so appreciative of how professional and supportive the team is. I really loved their imagery and the chance to challenge myself creatively… all the while growing my YouTube following at the same time. I am also a member of their Craft Team, which is a paid position through the membership site. Once you join you may have other opportunities that become available to participate in. The Graphics Fairy team has great skill at selecting journal artists that suit their imagery so don't fret if you feel like you don't have enough of a following… of if you don't feel confident. I didn't get picked the first time I applied. I really encourage you to apply and put yourself out there creatively. You will be happy you tried!"
Heather Naggy  Ruby & Pearl XO
"When I heard about the opportunity to be a design team member for the Graphics Fairy, I was rather daunted as I'd never done anything like it before. I was over the moon when I was selected and immediately felt right at ease. Karen, Emily and Lisa were so welcoming, kind and supportive, as were the other design team members…it really is a joy to be part of the team. Having the wider exposure that the Graphics Fairy has given me has boosted my confidence enormously and also my Etsy sales!"
Jane Chipp Willow Blue Vintage
"Working on The Graphics Fairy Design Team has been invaluable to me. I have learned so much. I am so grateful to be able to work with the graphics fairies : Karen, Emily and Lisa. Three creative, kind and encouraging women who work hard to curate and design amazing images for artists and crafters to use. My fellow design team members are not only crazy talented, but they are also fabulous humans who I am lucky to have as part of my little virtual design team family. Also, on my YouTube analytics my top external source for view minutes is from The Graphics Fairy!" Lynne Morgado Mockingbird and Main
"When I decided to apply for the Graphics Design Team Premium Membership  site I had very little hope that I would be selected for the sheer volume  of the people who would have applied. So when I received the email that I was selected I was over the moon! I love the Graphics Fairy website and I feel truly honoured to be a member of their team. Everyone received me with
so much kindness and love. Any questions I may have had were answered immediately and with great patience. Emily, Karen and Lisa are the nicest people I have ever worked with. The Design Team and the Crafting Team of people are also extremely supportive and friendly. This is a very happy place for me, where I do what I am passionate about whilst feeling safe and supported."
Anna Hollingworth Leximbue Journals
"I have had a wonderful experience working on the Design Team! You have complete artistic freedom to choose your subjects and designs for your journals. Any technology issues you might encounter in creating your video and post are quickly addressed by Emily and Lisa with kindness and understanding. If you have any doubts about applying for The Graphics Fairy Design Team Call, put them aside and go for it! I am a former English teacher with no formal art training except YouTube videos. I waited until the last minute to apply because I thought it was doubtful that I would make the team, and I didn't with the initial August pick. But in February, Karen emailed me offering me a single slot that had recently opened on the team. You never know how things might work out if you just go for it."
Julie August Birdsong
Deadline is Monday July 24th 2023. 
Please read the instructions thoroughly before applying.  We are excited to see your creative work!