Our First Online Painting Class with Colleen Jorgensen, Opens today Friday May 11th! This brand new eCourse,  is a beginners Acrylic Painting Class … Painting Tulips with Acrylics!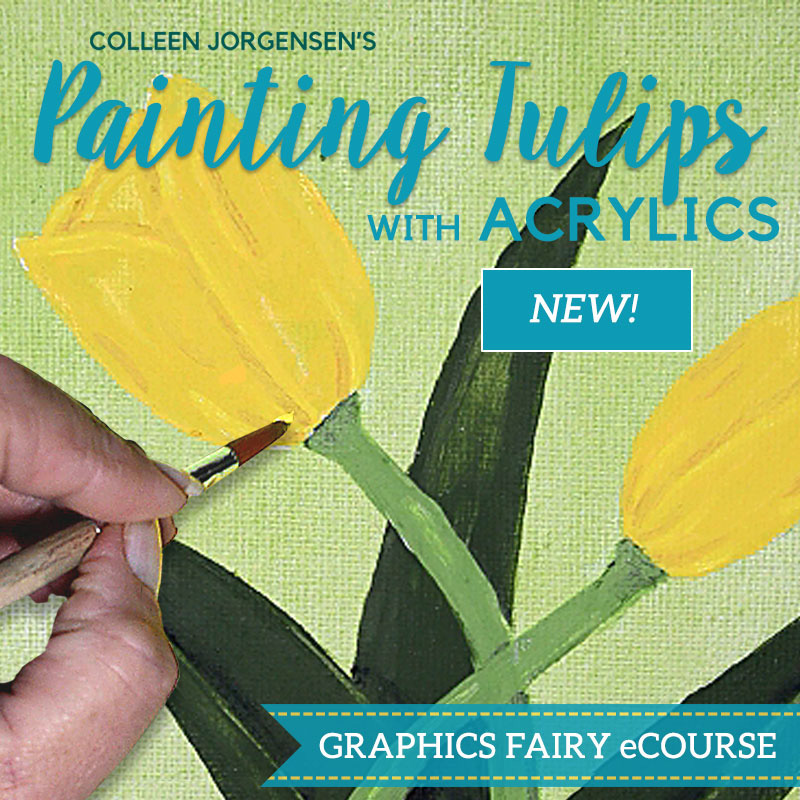 This is a fun, and easy, 3 1/2 Hour Course with Colleen Jorgensen! Colleen will teach you her favorite layering Paint Technique so that you can get started painting some pretty Florals right away, without leaving your home!

We will be offering discounted pricing for a limited time only on this course! You must register before 10 PM (Eastern Time) on Wednesday May 16th to get the discounted pricing of only $29! After that the price goes up to $39.
Would you like to see a preview of the Course Introduction? Just watch the video, linked below, as Colleen discusses what's in store for the Class!

Here's what Colleen wants you to know about this Course:
In this course, you will learn how to apply my layering method to your projects, while perfecting your skills, including:
* how to trace a pattern on a surface
* how to prepare the canvas background, including glazing
* how to layer color to achieve highlights and shadows
* how to properly base coat and top coat a painting
* how to use color to add depth to your painting
To demonstrate these techniques, I have prepared a project for us to work through, step-by-step. You will be amazed how this process can help you achieve gorgeous, lifelike results for your art.
This method and course is completely approachable for the beginning painter. I love that the investment in art supplies for this course is very minimal compared to other painting techniques or artistic pursuits. You will need an 11″x14″ canvas, a minimum of two or three different size brushes, and a few decorative acrylic paints, which cost around $2 each. I stress using a limited number of colors for our sample project; you will not need to purchase expensive tube acrylics, or buy a large variety of colors.
Some Feedback from her Past Students:
After taking Colleen's classes I can now paint anything I want! Her layering process makes it so easy and I love my new hobby! ~ Joy E.
I was a total beginner before taking Colleen's class, but she was incredibly helpful to all of us. Now I am able to paint all kinds of paintings after only a few classes! ~ Penny J.
I had experience but I found this Colleen's layering method really fun and I now use it whenever I paint with acrylics. ~ Jean R.

We've also got some free Bonuses over on our Ecourse site, that Colleen created to share with our readers! She's created a mini Video Paint Lesson so that you can learn how to paint a Butterfly and a tiny Bee and more! You can find the Free Bonuses HERE. 
xoxo