Free Form Artistic Junk Journal
Hey guys, I'm introducing another one of our fabulous Junk Journal Design Team Members today! Allow me to introduce Kelly Boler, from Book and Paper Arts. She has a marvelous artsy style that I think you will fall in love with! So now you have met the whole team, and I will let Kelly take it from here in her own words …
Hi, I am Kelly Boler of Book and Paper Arts. Originally from Mississippi, I have made my home in Wales for several years and I am lucky enough to have an art studio where I can make big messes and only clean them up when I want to. (It is pretty great!)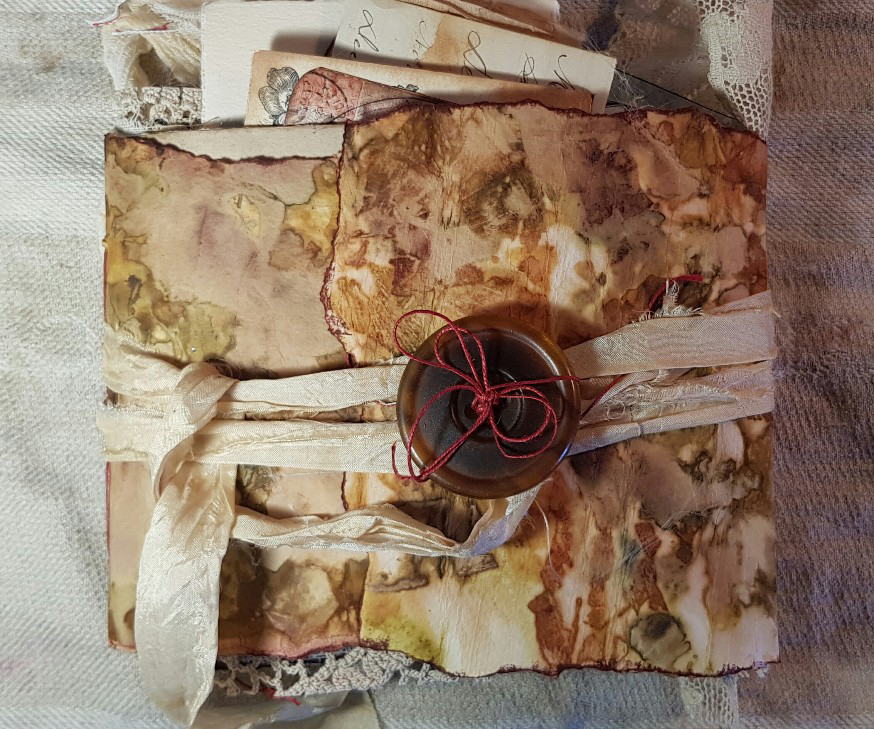 My first junk journal for the Design Team of The Graphics Fairy is kind of wild and free form. The cover is made from plant-dyed paper using purple and yellow onion skins and it closes with a vintage, celluloid button and tea-dyed sari silk. While there are so many great images available on The Graphics Fairy for free, I really went
to town with some of the features on the Premium Membership Site where there are tons of pre-formed pockets, envelopes, cards, and the like. One of my favorite things is the printable washi tape.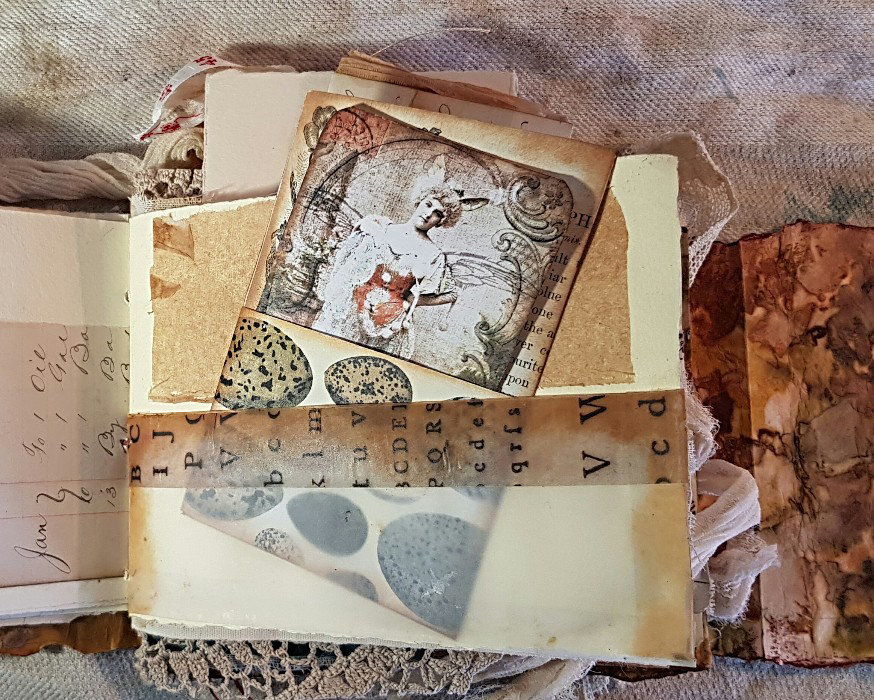 While you can print it on sticky paper directly, I really love the effect of printing it on tracing paper and using an adhesive to attach it to my pages, as I have done to make a border for the pocket, also made of tracing paper. As it is translucent, you can see some of the detail of the pocket inside made from a Vintage Journaling Card and Pocket. Inside of this is a French Journaling Card.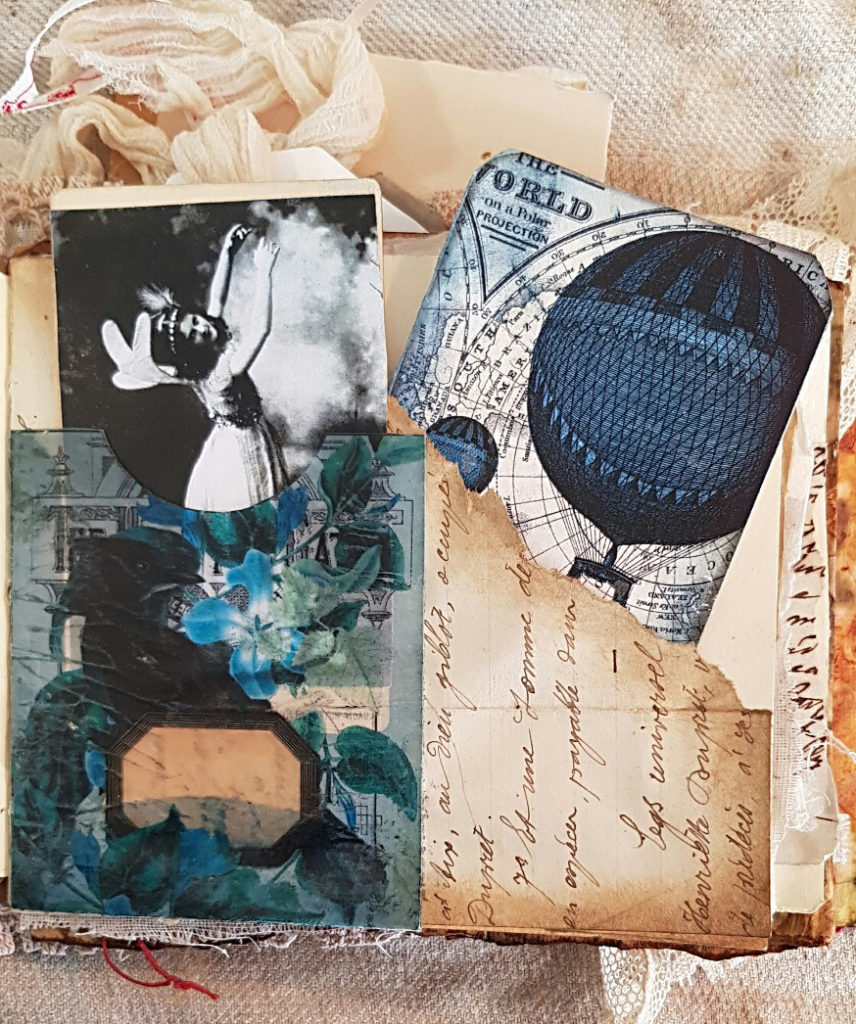 On another page I have used a "library card" pocket, again on tracing paper. Nearby I have tucked in a tiny accordion book for journaling with covers made from the Steampunk Balloon and Airship collage cards.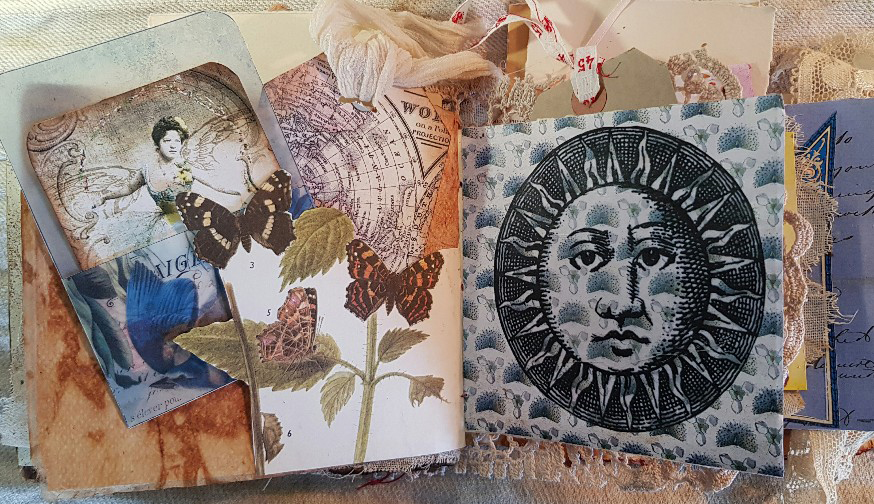 The rather mysterious face of the sun is one of many celestial images available and (yet again!) I printed it on tracing paper so that when it was glued over the peacock pattern from the Bird Watcher's Bliss selection, all of the layers are revealed. Pocket made from a field guide to butterflies and filled with tag from TGF Premium Members Site, which has a wealth of preshaped tags, pockets, envelopes, and boxes. You can see from this pocket that it had pre-made tabs that you only have to cut out and glue down and hey, presto, instant pocket. This image that seems to be from a celestial map was printed onto tracing paper and glued over a page of tiny peacocks. There are several of these wallpaper type pages on TGF and you can see how well they lend themselves to the layering technique here. One of the reasons I use this transparent paper so often is that I am rubbish at image transfers and this gives me a
similar effect without the heartache.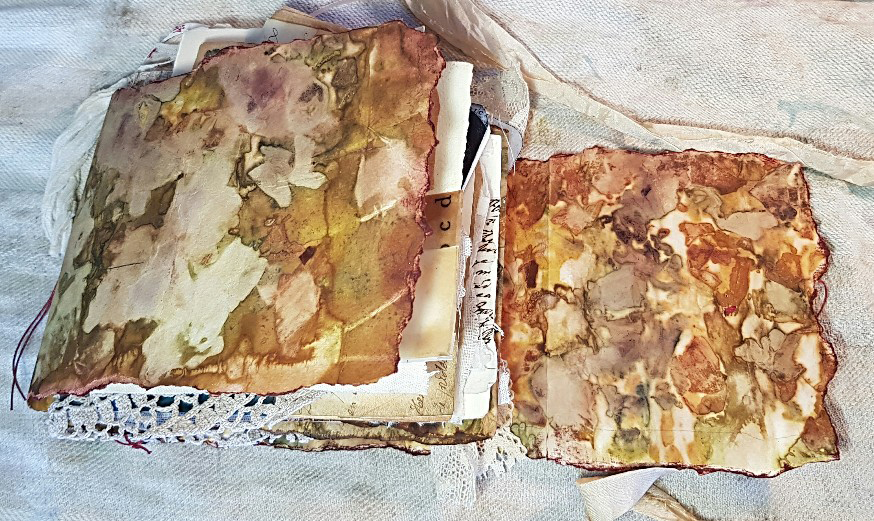 Plant-dyed papers made by steaming yellow and purple onion skins onto a heavy art paper. It is closed with a vintage celluloid button and tea dyed sari silk. While the theme here is also free form, I did have in mind a pilgrimage and a journey when laying it out.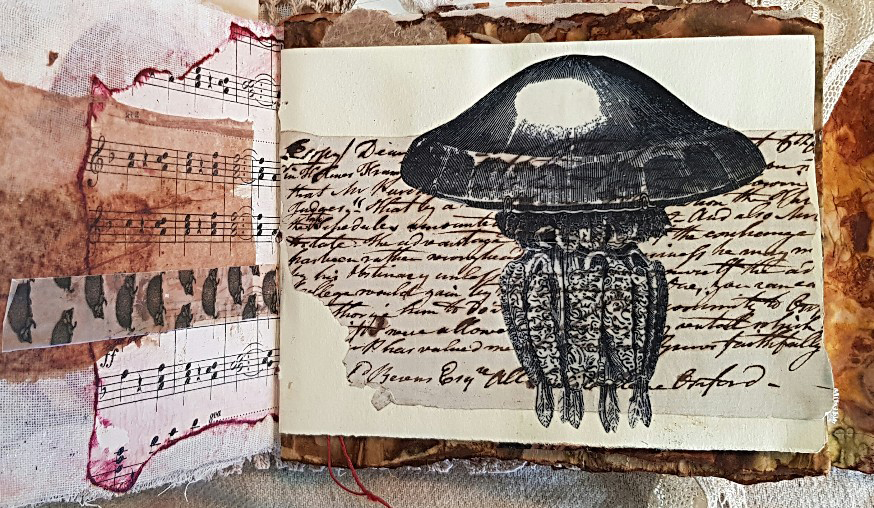 This is part of a bag that came with Royal Irish Linen Thread. Lady from the local flea market who holds stuff like this for me. I added a jellyfish because I am insanely attracted to them and to me they represent something about my own journey and pilgrimage so there you go. I have layered it over a handwritten letter found in a barn and it has the mouse teethmarks to prove it. The centrepiece is a handwritten quote on Tim Holtz wax craft paper that is apparently no longer made and I am hoarding every last piece I have. Tim Holtz, if you're listening….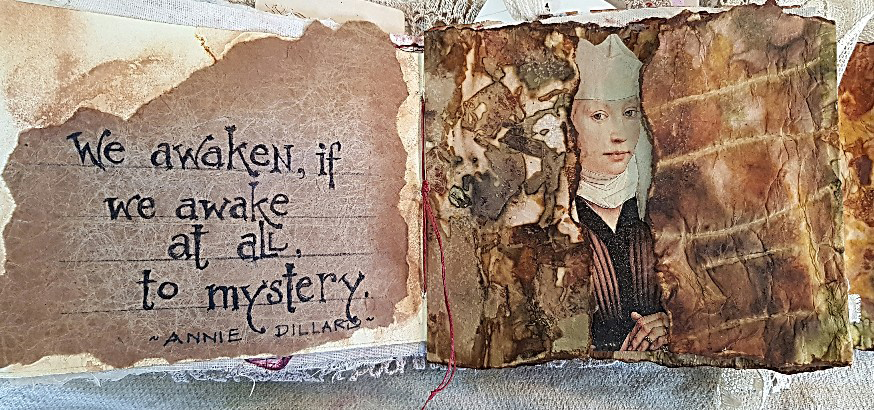 Next to this is a kind of makeshift triptych made from more onion skin-dyed paper. More faux washi tape, this one with hedgehogs, and if you aren't madly in love with hedgehog washi tape, then what is wrong with you.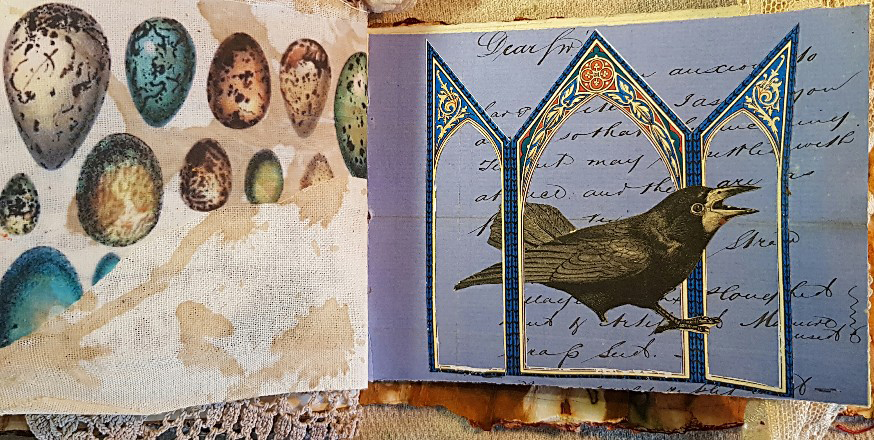 Another pocket and note cards. Birds eggs that suggest something both airborne and earthbound at the same time. And I added my own crow to the blank triptych frame that is part of the religions and holiday selection at TGF.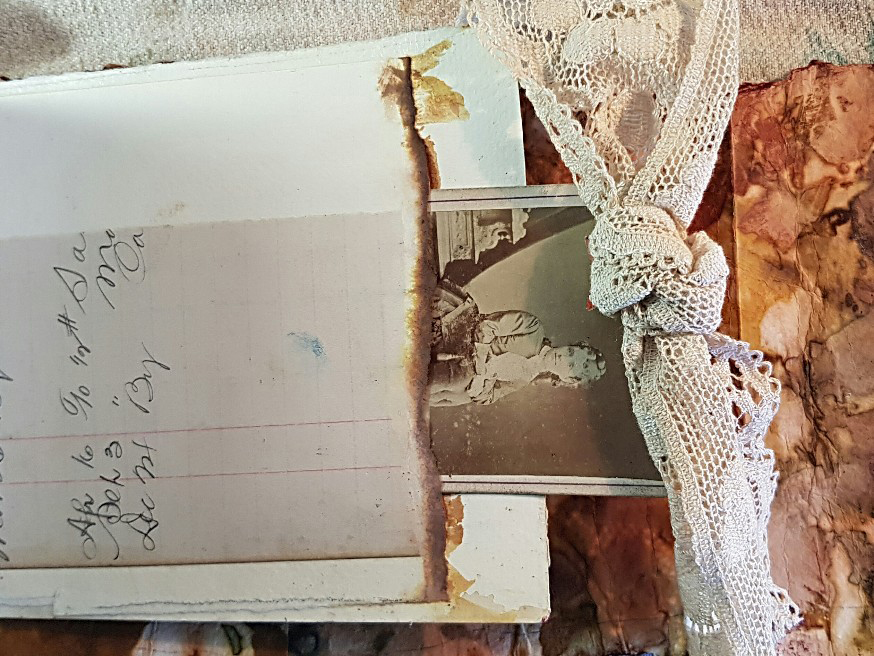 And finally, one last pocket with a carte de visite and some vintage, machine made lace.
To see a video flip-through of this journal, go to my youtube channel at:
This journal is for sale on my online shop at:
https://bookandpaperarts.com/shop2-2/
And please feel free to follow more of my book art on Instagram under the name
bookandpaperarts.
Finally, for a free tutorial on how to make onion skin papers, go to:
https://bookandpaperarts.com/plant-dyed-ecoprint-paper-with-onion-skins/
Kelly