112 Junk Journal Ideas!
You are going to be blown away with this enormous collection of over 100 Junk Journal Ideas! Do you struggle with coming up with ideas for your own Journals? Well, problem solved, in this blog post we have collected more than 100 ideas and themes that represent unlimited possibilities for your Handmade Junk Journals.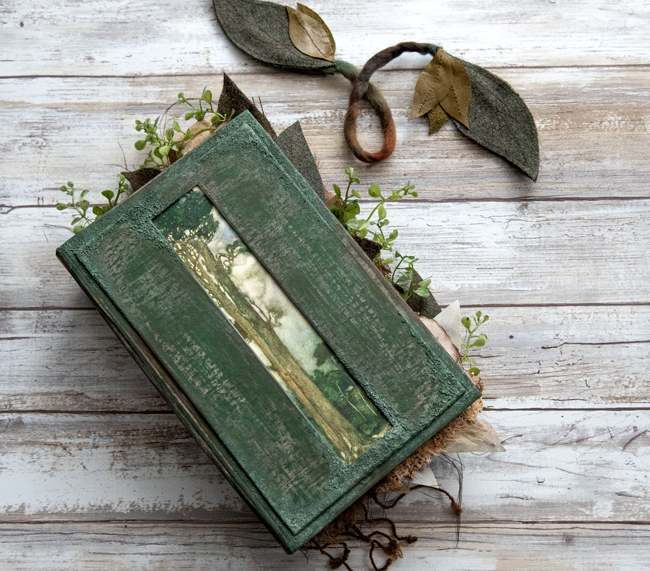 Forest Lore Junk Journal by Nik the Booksmith
The unique journals featured below are bursting with wonderful Vintage Inspiration. Our hope is that you are challenged and inspired to create some of your own Handmade books and journals. Many of these themes also exist as Bundles on our Premium Membership site, so if you are looking for a specific theme for your journals, that's a great place to start! After checking out these gorgeous handmade books, you'll be ready to grab your glue stick, cardstock, paper scraps and more and make your own!
We hope you enjoy our 100+ Junk Journal Ideas! Here we go…
Junk Journals by Theme
There is a little bit of everything from Nature, Home and Family, Holidays, Seasons, Places, Mythical and Mystical, Color themes, and so much more! We've even included examples, when possible, of some of the beautiful artistic journals that our fabulous Design Team Members have created over the years. Each of the designers have their own style and brings a special expertise to the projects.
Nature Theme Ideas

1- Botanicals  Botanical Junk Journal   This delightful journal would be a wonderful place to document the changing seasons in your garden! Inspired by the many floral, bird, butterfly, and garden images, this junk journal is a bit grungy and a bit shabby chic!
2- Bees  Ode to the Bee   The inspiration for this journal is the humble, yet essential, honey bee. As a special inclusion, there are some antique-looking seed packets filled with seeds from the garden. I think they add a personal touch to this journal! The Beekeeper's Journal   A beautifully constructed fabric journal cover over a vintage Reader's Digest book. Learn how to create fabric graphic prints for the front cover and inside pages.
3- Naturalist   Naturalist's Junk Journal This journal is all about insects; and who doesn't love bugs?? It is a standard size Traveler's Notebook inspired by the images from the Entomologist's Field Guide. The journal has the look and feel of a beloved and well traveled book.
4-  Dragonflies & Butterflies  Butterfly Art Journal See how postcards, frames, labels, and flowers help fill the the blank spaces of an empty junk journal. Mix and match is the motto of this stunning, chunky folio structure – adding a pocket here, a "flip" page there.
5-Birds-  Softcover Traveler's Junk Journal   Our feathered friends are always a popular theme! This is a Flora and Fauna theme junk journal loaded with birds, botanicals, butterflies, and maybe a few bugs. Learn about 5 hole pamphlet stitch and exposed stitching.
6-  English Garden English Garden Junk Journal The two junk journals featured here are re-imagining tiny, wee books. The incredible books were inspired by Regency Period England with perhaps a little Victorian Era thrown in. The journals have a slightly darker, richer color scheme with pops of color to lighten the mood.
7- Flowers  Floral Junk Journal  See how using an old book cover and sewing through the spine is a simple way of creating a hardcover journal. A variety of the floral images that are printed in different sizes are used as journaling cards, book pages, and more.
8-  Fruit and Vegetables
9- Garden Planner
10-  Leaves
11- Herbs

(Watch the Video of this Gorgeous Forest Lore Journal Above)
12-  Woodland This stunning Forest Lore themed book, pictured in the photo above, will whisk you away into a dreamy nature world!
13– Mystical Forest  Nature Botanical Healer Amelie of the Forest Junk Journal This is a Nature and Botanical themed soft cover journal that belongs to a woman who lives at the edge of the forest in a modest cottage. With a grateful heart and a reverent soul she learns from and uses the elements of nature in her world to help those who come to her in need. She would call herself a healer while others might call her a witch. (But a good witch!)
14 – Celestial/Astronomy Mini Celestial Junk Journal This is an adorable mini journal filled with astronomical and celestial moon images! In keeping with the vintage style, the images inside are unusual, mystical, and fun.
15- Animals/Wildlife
Era's and Time Period Themes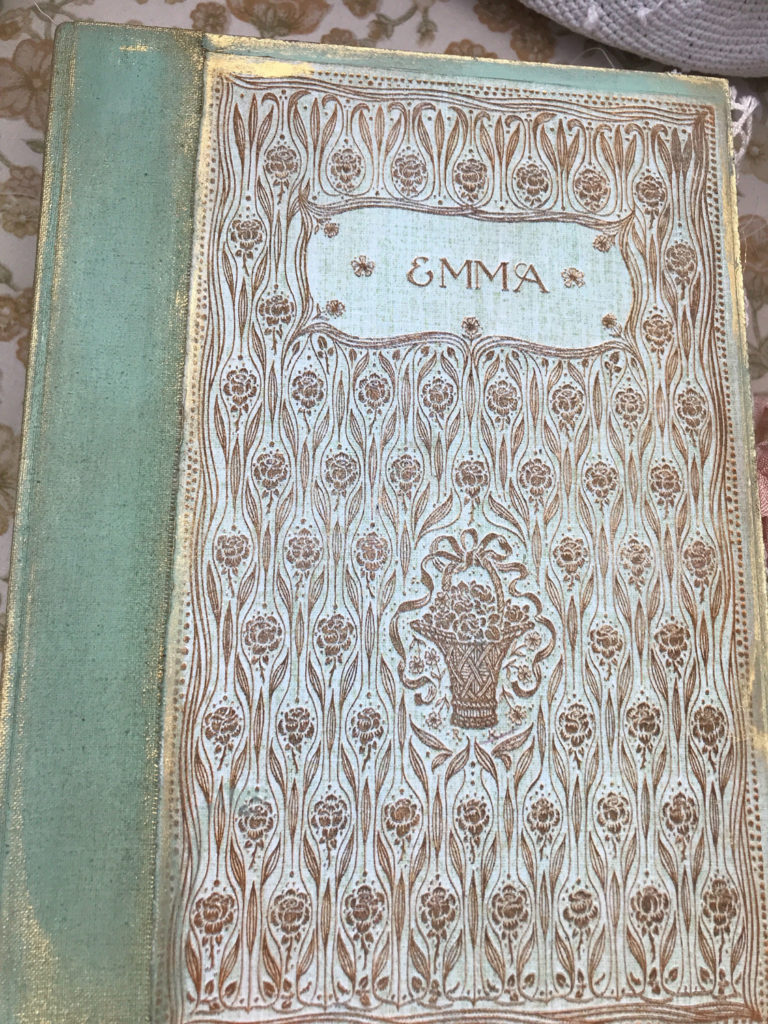 Regency Period "Emma" Junk Journal by Anna from Leximbue Journals
16- Regency  Regency Period Traveler's Notebook  Emma adorns the cover of this elegant junk journal. This book has layered images with vintage lace and postcard printables. Tuck something away in a hidden belly band as shown.
17- Medieval
18- Victorian  Victorian Christmas Keepsake Junk Journal  Create a keepsake Christmas journal where all of those wonderful holiday memories can be recorded. There are lots of pattern, texture, sparkle, and trim in this one.
19-  Edwardian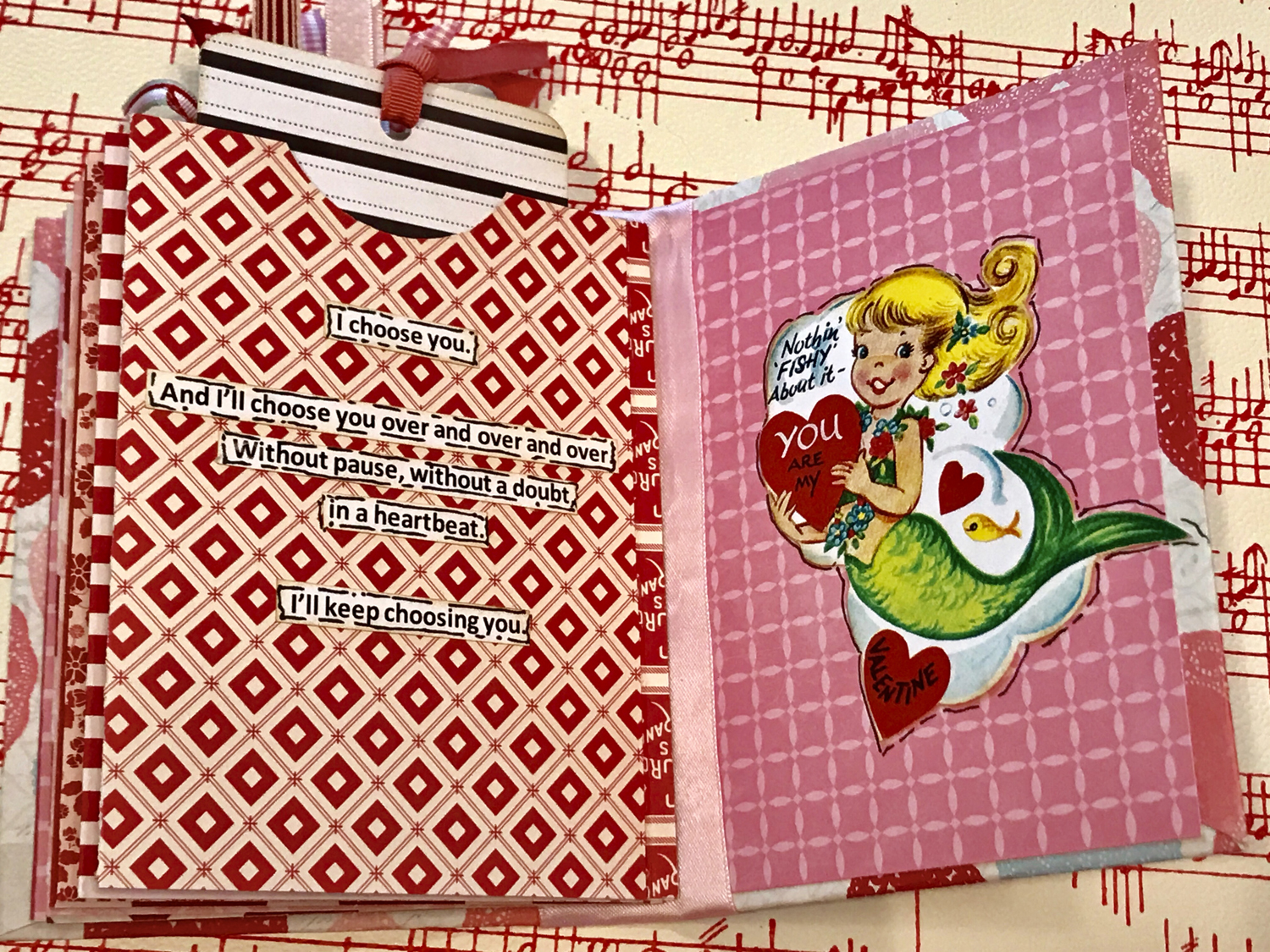 20- Retro -50s-60s  Pocket Junk Journal Here is a fun project that you can whip up in an afternoon. Filled with old fashioned, Retro Valentines!
21- Art Nouveau/ Art Deco
22-  Roaring 20s and Fabulous 40s
Travel and Places Junk Journal Ideas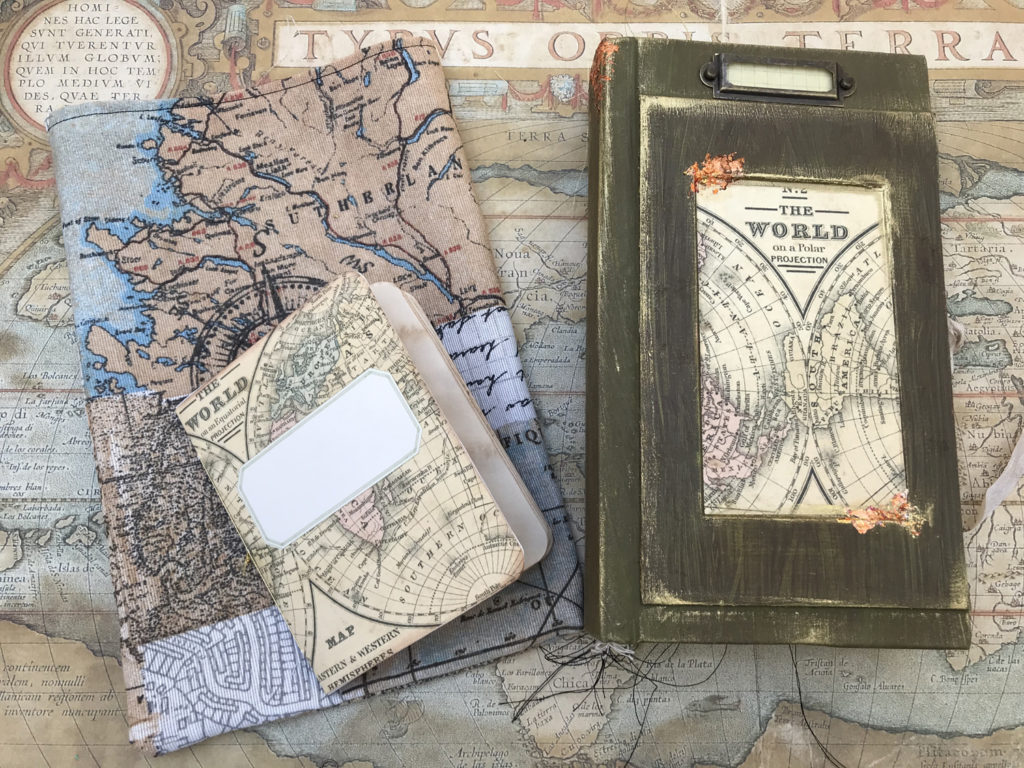 Constant Traveler Junk Journal by Anna from Leximbue Journals
23-World Traveler Create a travel Journal around your recent vacation or make one for a some place in the world that you have always wanted to visit! Constant Traveler Junk Journal  Constant Traveler is a journal dedicated to the passion of discovery and exploration. It is filled with old world maps, memorabilia, ticket stubs and ephemera with a nostalgic rustic theme running throughout.
24-Asia Madam Wong's Diary Junk Journal  Learn how to incorporate digital stamps into a journal. This yesteryear's journal was inspired by a few letters, Circa 1970, which was found while thrifting a few months back. Lovingly written by a son to his mother, Madam Marion Wong, this one is so touching.
25-  City
26-  Country/Farm
27-  Tropical Vacation
28-  Railway Tour
29- African Safari
30- Monuments/Attractions
31- Hot Air Balloon Trip
32-Bicycle Tour
33- Camping/Parks
Ocean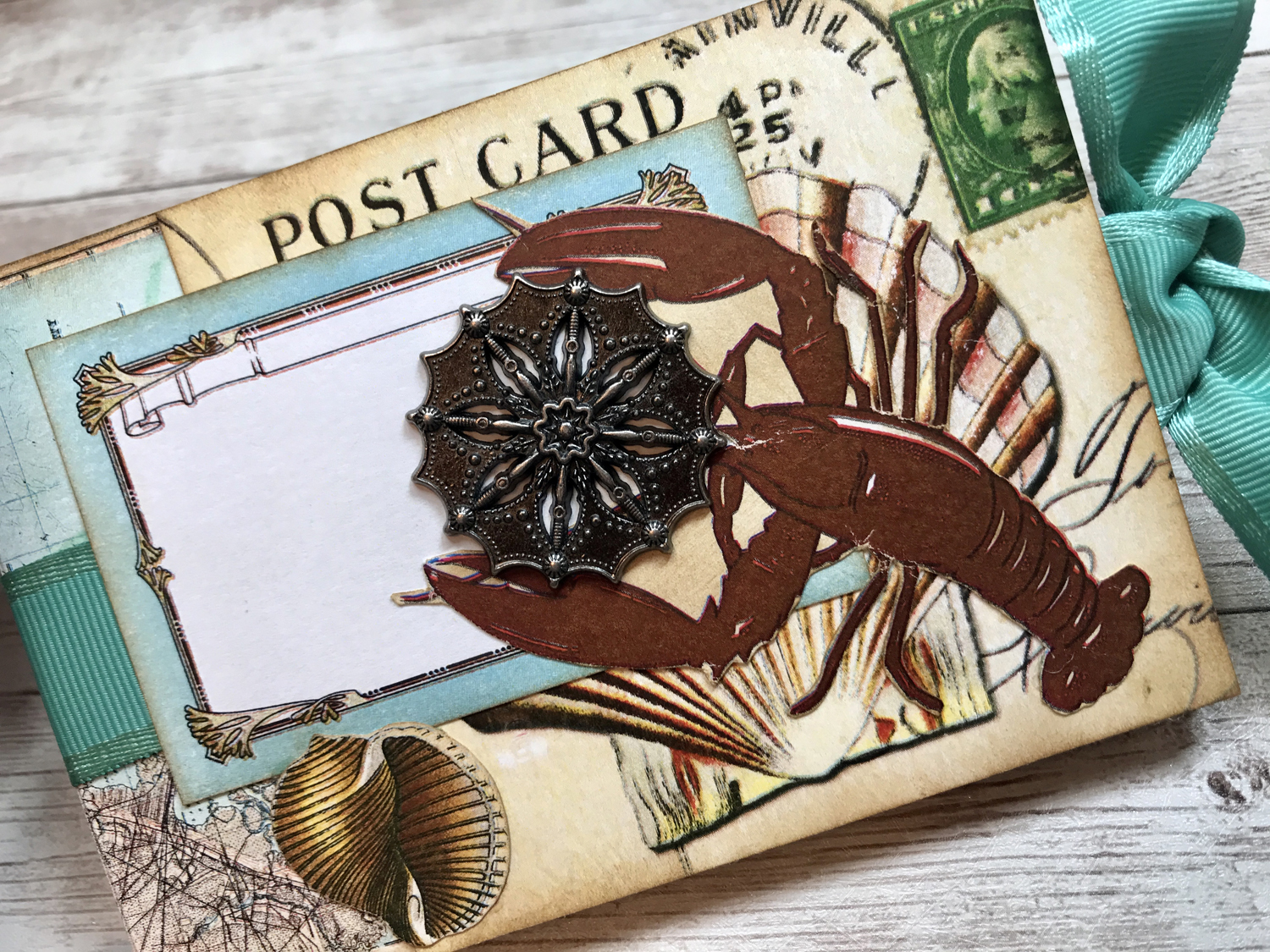 34- Seaside Holiday  Seashore Junk Journal  This fun junk journal is an ode to those days gone by… happy days of summers past. See the rich colors of seashells mixed with vintage bathing beauties in their modest bathing suits. Filled with souvenir postcards as well.
35- Nautical/Lighthouse
36- Seashells
37- Sea Creatures
38- Bathing Beauties
Book and Movie Inspired Ideas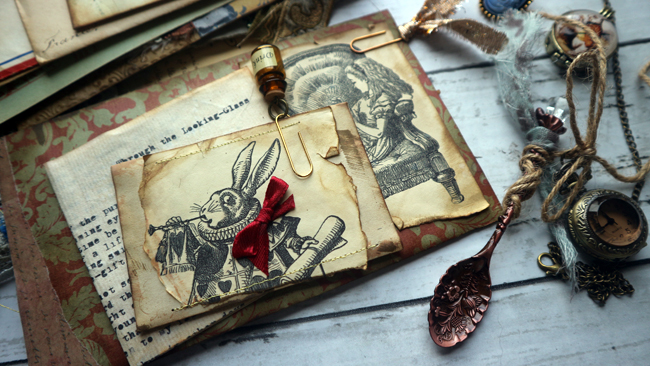 Alice in Wonderland Journal by Sheena from Luna Rozu
39- Alice in Wonderland Alice Junk Journal   See this cool Alice in Wonderland Junk Journal project that is titled "To My Sister–An Alice In Wonderland Envelope Collection." It is a deconstructed junk journal containing envelopes filled with beautiful printed ephemera. The final recipient can journal on the back of them.
40- Jane Austen Emma Junk Journal  This journal and mini idea notebook that complements it are dedicated to the wonderful novel, 'Emma' by Jane Austen. It is what one would have expected her private journal to look like. Following the story line, the pages reflect Emma's thought process and planning for various occasions such as tea parties, balls, dinners, and picnics. There is plenty of space for journaling, documenting, and mixed media art.
41- Shakespeare Shakespearean Ladies & Tattered Lace   See how to create a journal with a beautiful, feminine style, along with a vintage, well loved look. This one has pockets with lots of removable journaling ephemera and and a couple of mini journals.
42- The Aeronauts
43- Downton Abbey 
44- Anne of Green Gables
45 – Fairy Tales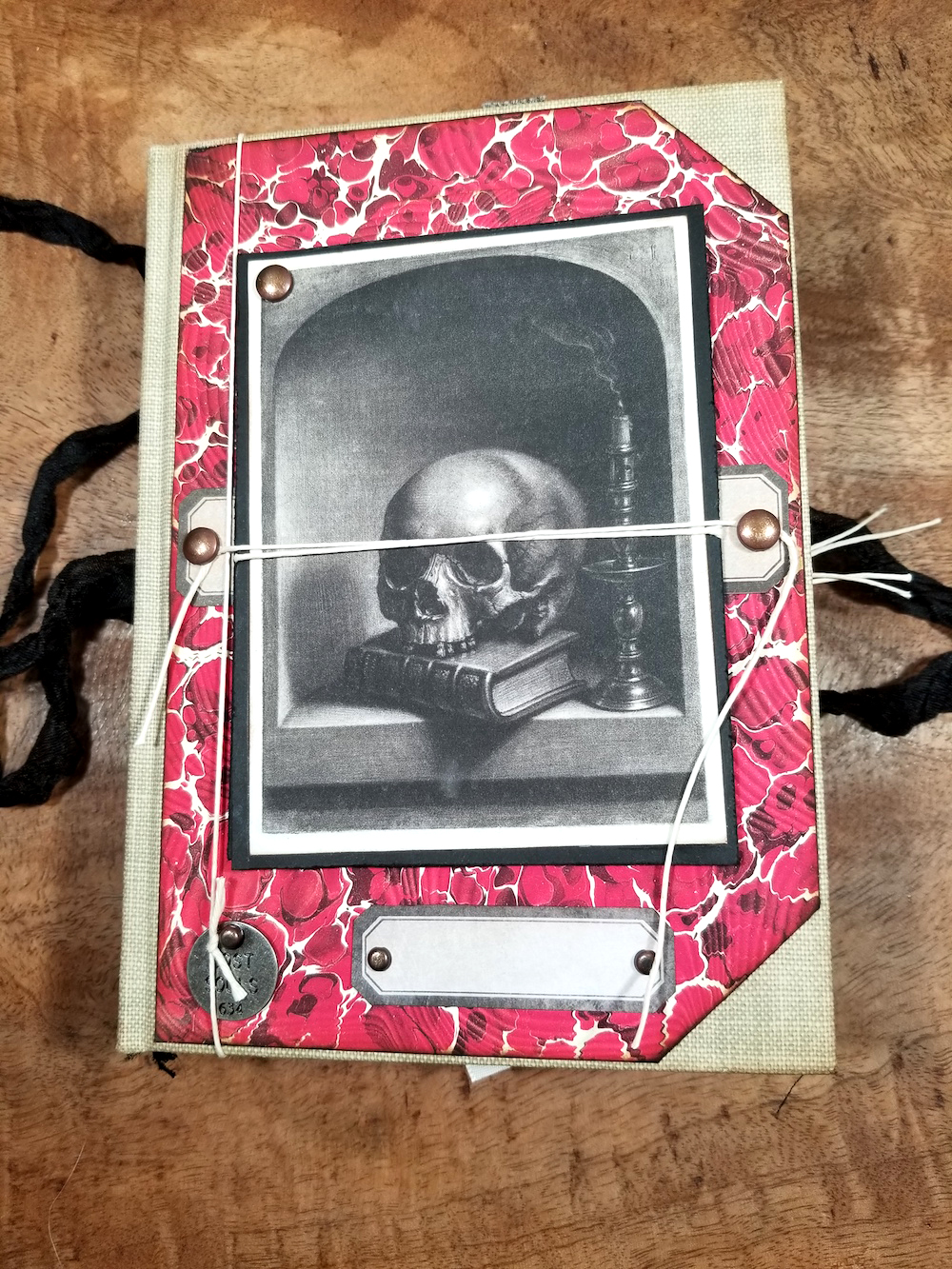 46 – Historical Figures This Edgar Allan Poe Handmade Book, has a chilling gothic vibe to it! It has a marvelous marbled paper cover with a spooky skull on it.
47- Bookworm/Poet
Holiday Themes Junk Journal Ideas

Halloween Junk Journal by Robin Dudley Howes
48-Valentine's Day  Vintage Valentine Junk Journal This journal is chock full of adorable vintage images and journaling cards. Filled with printed ephemera pictures and pretty florals, it is an A6 sized journal.
49- Easter
50- Halloween  Halloween Junk Journal See how one darling image can inspire an entire junk journal. This is a journal for a witch who collects bugs and likes to sew. What a fun and crafty witch!
51-Christmas  'Deconstructed' Christmas Junk Journal   See how to create a deconstructed junk journal in the form of a mini envelope collection. Beautiful patterns are inside of the pre-designed envelopes. Simply print, trim, and embellish away with lace, buttons, pins, charms, stamps,and even white gesso!
52- New Years Vintage Traveler's Celebration Junk Journal With a brand new year in mind, this journal includes things that remind one of New Year celebrations: lots of sparkle, food, and music! The cover is finished with antique gold Rub n' Buff added to the edges for more sparkle.
53-  Thanksgiving Day
54-  4th of July / Patriotic
55- St Patrick's Day
56- Mardi Gras
57 – Any Holiday you and your family celebrate!
Seasonal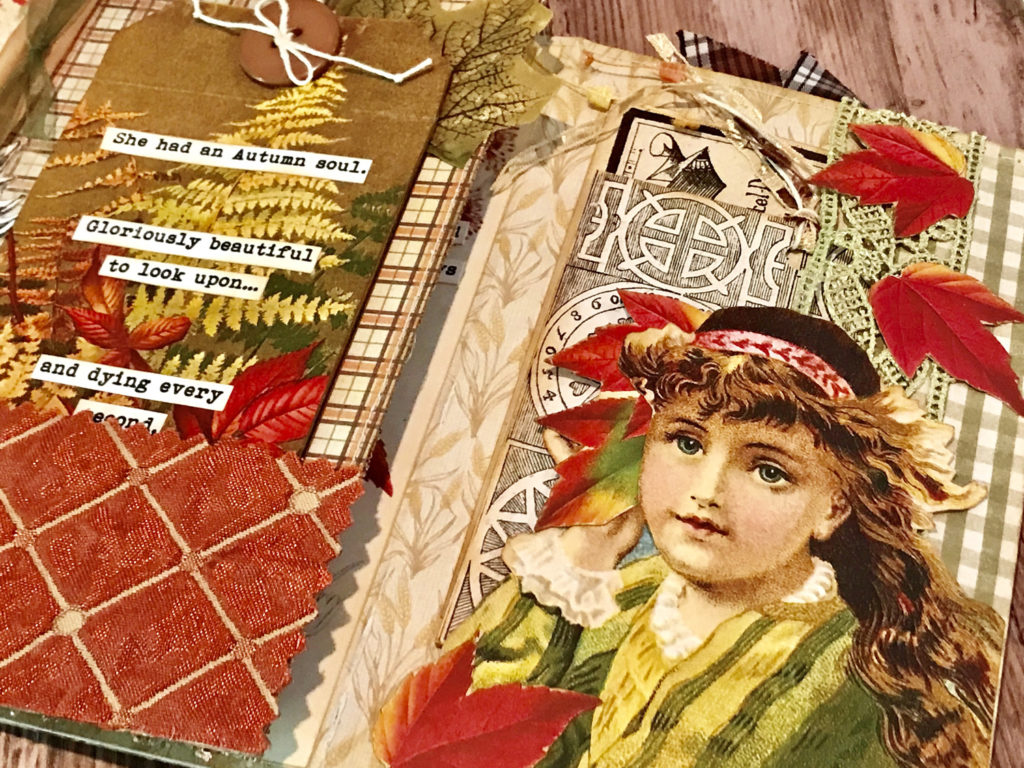 Fall Colors Junk Journal by Terri Kolte
58-  Spring Junk Journal    Created from a pre-made journal at the scrapbook store, this beauty has pockets created from Wedding Ephemera filled with little bundles of journal blocks and ATCs paper-clipped together. There are also some fabulous blank journal blocks and numerous faux Floral Postage stamps throughout the pages.
59-  Fall Junk Journal  A little junk journal I made celebrating all things Fall. Learn to make images work for YOU. If you need it altered in some way – do it! Take your scissors and make some adjustments. It's only paper.
60-  Winter Junk Journal  Simple and sweet! The journal structure was primarily built by folding different sizes of pretty papers in half for enhancement. Machine stitching for interest on the elements is delightful!
61- Summer 
62- Mermaids  Shabby Mermaid Junk Journal   Who doesn't love vintage style mermaids and ocean themes? This marvelous junk journal looks like it was an ancient and beloved heirloom. An old book makes a perfect foundation for this journal. Shimmers of the Oceanside Junk Journal  This is an Ocean Blues Ephemera Journal that is all about mermaids! The book has a nostalgic rustic feeling that is sure to captivate.
63-Fortune Teller Fortune Teller See an abundance of sari fabrics used to embellish the journal pages of a traveler's notebook. Additionally, enjoy learning about how to include an envelope collection in your junk journals.
64-  Angels
65- Dragons
66-  Unicorns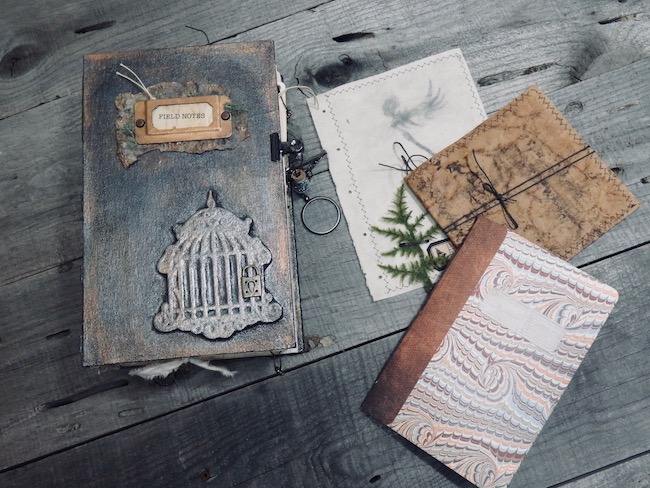 67- Fairies The Dark Fairy Junk Journal Here we have gothic journal that tells the story of a Victorian gentleman searching for answers to explain his daughter's strange behavior. His search leads him to the existence of Fairies!
68- Elves and Gnomes
Color Inspiration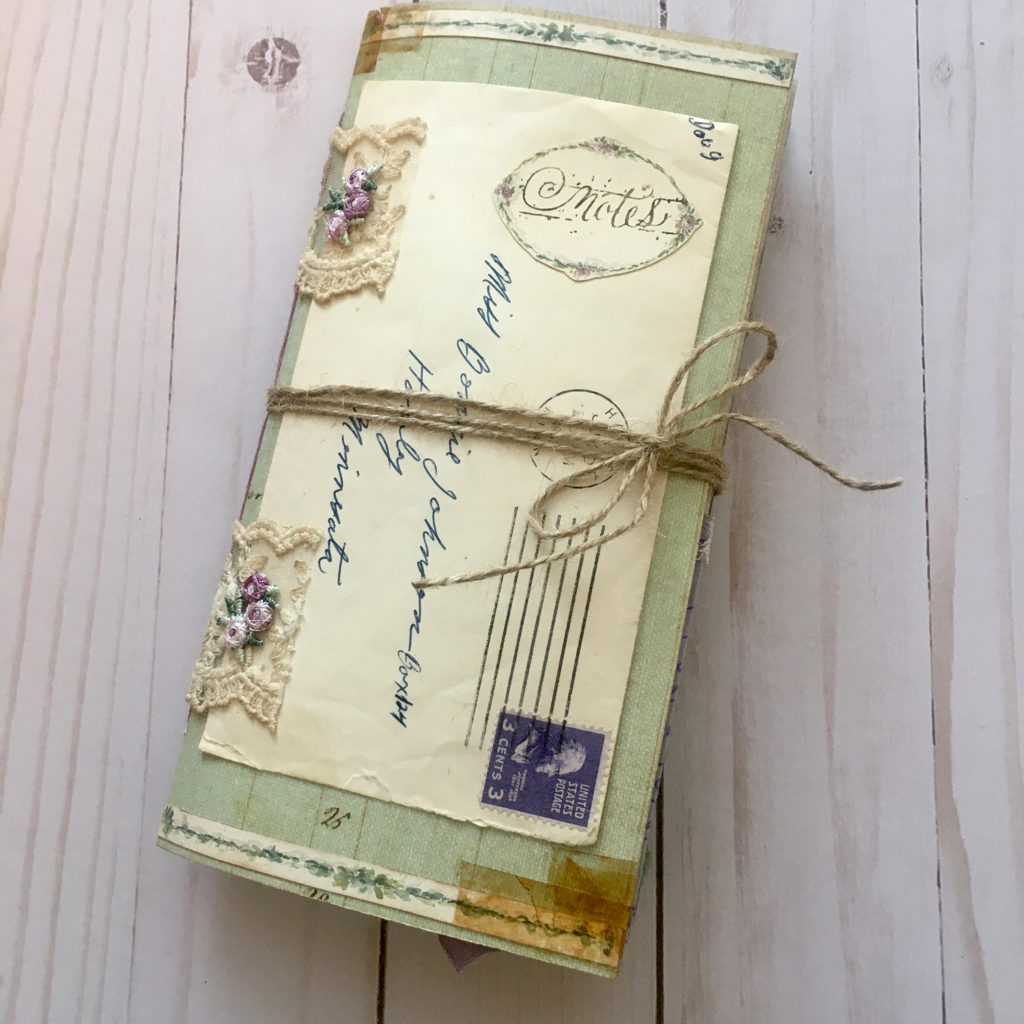 Pastel Colors Junk Journal by Beth of Beth's Journal Boutique
69- Pastels Pastel Junk Journal    See how to use file folders in your junk journaling. This book includes florals and butterflies in lavender, green, turquoise, and pink.
70- Sepia Springtime Vintage Junk Journal Oh, how we love Vintage and Sepia. This book has a variety of dreamy sepia-toned papers in different sizes and even includes a kraft envelope and pockets. Check out a mini booklet inside a pocket. It is another great way to add more space to a journal.
71–  Patina White Steampunk Junk Journal  See how a found binder, stark white watercolor paper, and postcard images are combined to create this fun and colorful junk journal. White backgrounds are beautiful!
72-Grungy  Eclectic Travelers Notebook   Learn how to create that grungy look in your junk journals with this ephemera filled beauty. Plus a nice tip for creating authentic looking ephemera pieces.
73- Color Combos  Traveler's Notebook Junk Journal Insert   A color scheme of turquoise, burgundy, cream, and a bit of gold in this charming little journal. Learn how to rust as well.
74-  Nature Inspired Junk Journal   Images in Fall-themed colors – yellow, brown, dark green, and deep red fill this charming journal. Filled with an endless variety of ephemera are the numerous tuck spots and pockets.
75-  Rainbow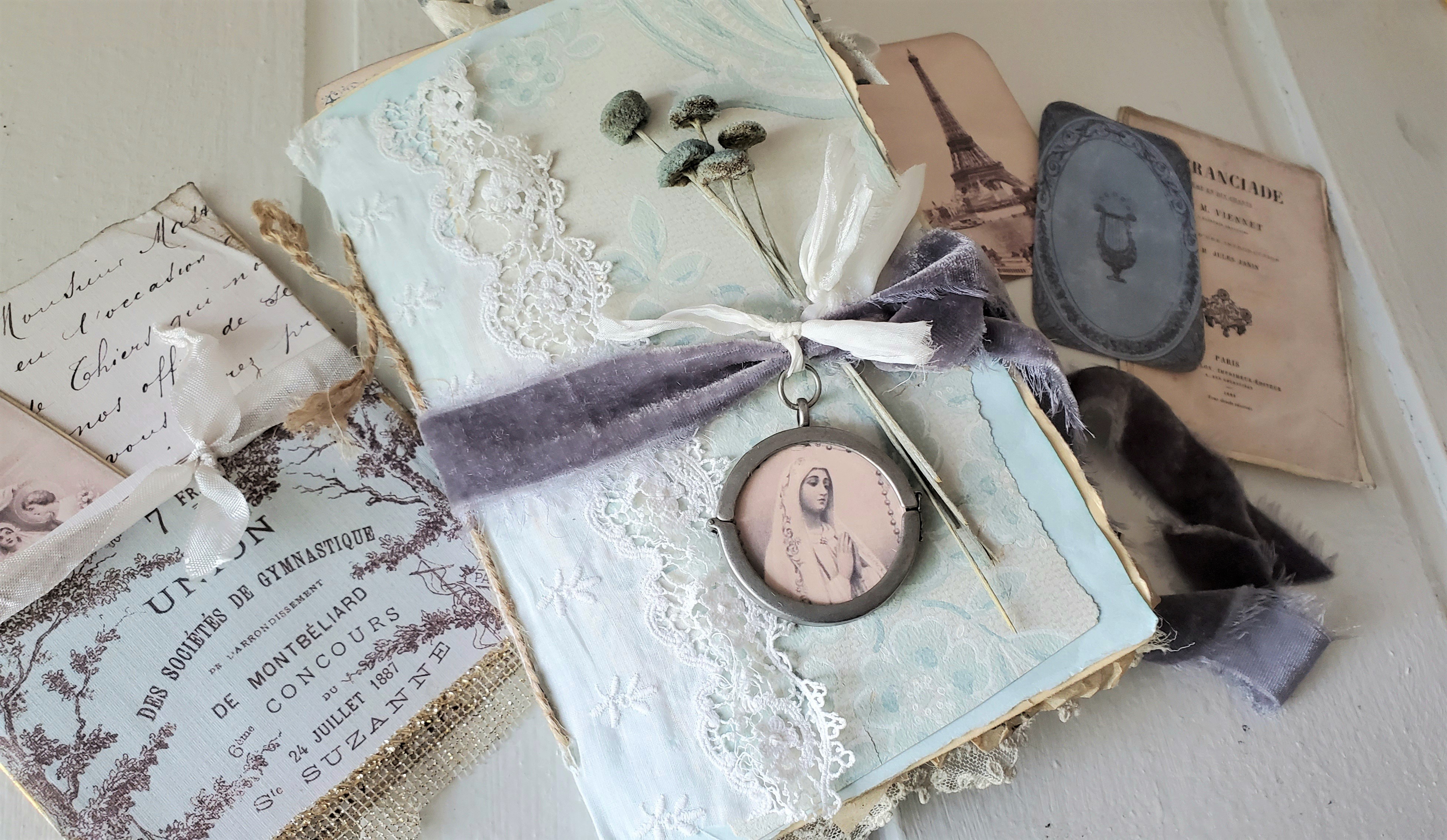 76-  Monochromatic Pick one predominate color and repeat it through out your book to create an elegant look. Heather Naggy's French Blue Junk Journal is a perfect example of this type of theme!
77-  Black and White
78- Metallics
Home and Family Junk Journal Ideas

Farmhouse Junk Journal by Cheryl
79- Farmhouse  The Farmhouse Journal   Learn how to repurpose a vintage book cover with an antique grain sack. Just so you don't lose your place while journaling there is a sari silk bookmark at the spine with a flat antique key dangling on the end. So many gorgeous junk journal pages in this one!
80- Cooking Retro Kitchen Junk Journal   A super fun, retro kitchen themed memory book would be a great place to keep recipes, but could also be used for grocery lists or even a food journal. Filled with vintage cookbook pages, recipes, and ephemera, this one is so fun.
81- Party  Tea Party Junk Journal  You're never too old for a tea party. This traveler's notebook insert with a bit of a 'tea' theme is bright and cheerful. Come, let us have some tea and continue to talk about all things happy!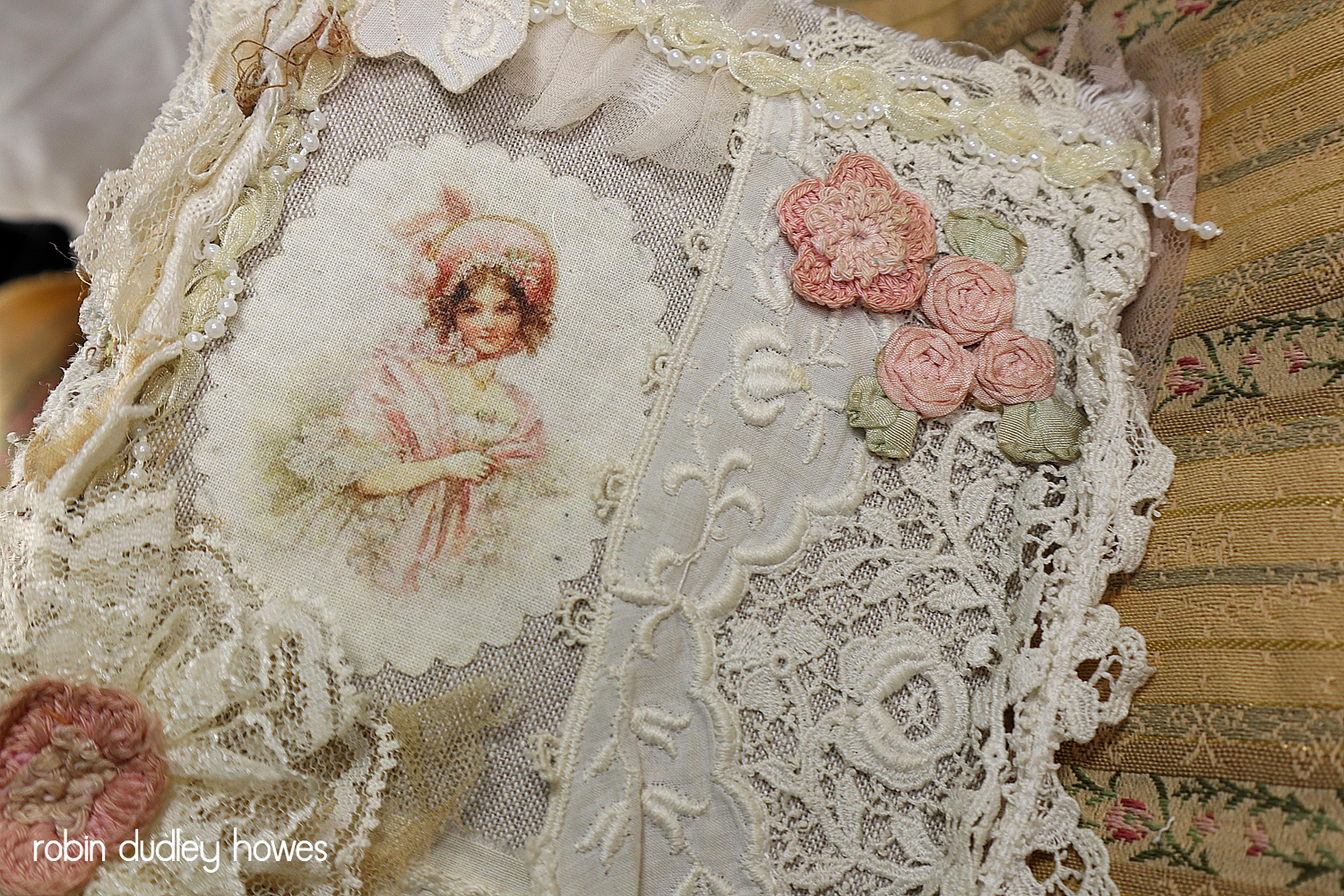 82- Sewing  Seamstress Junk Journal   Paper and textiles sprinkled with The Graphics Fairy images. The theme for this journal is sewing related. I love having a book or some designated box to house my craft supplies, so with that in mind I decided to focus on all things sewing for this project.
83-Keepsake Diary  Real Life Junk Journal    This ever so practical Real Life Junk Journal is just perfect to throw in your tote bag for casual notes and lists and keeping track of tickets and receipts! Look through this flexible junk journal that can be created as the owner needs it to be. Made from everyday paper and some printed images that make me smile, it is a real JUNK journal for a Real life.
84- Foodie  Food Diary Junk Journal   This book has a food theme with lots of space for writing and drawing about your favorite meals. Even if you don't draw, you can make notes about a special meal in a restaurant, a lunch with friends, your favorite foods, a dish you would like to try, or something you enjoy making yourself – with a recipe and ingredients.
85- Family Member Nana's Garden Junk Journal   An ode to Grandmother's Garden is a great idea. Open the journal and it will be immediately evident that it is a splendid tuck book housed in a flip out pocket. It stores photographs of Nana's daughter Catherine and her granddaughter Emily…two greatest gifts to the world, aside from her wonderful flowers.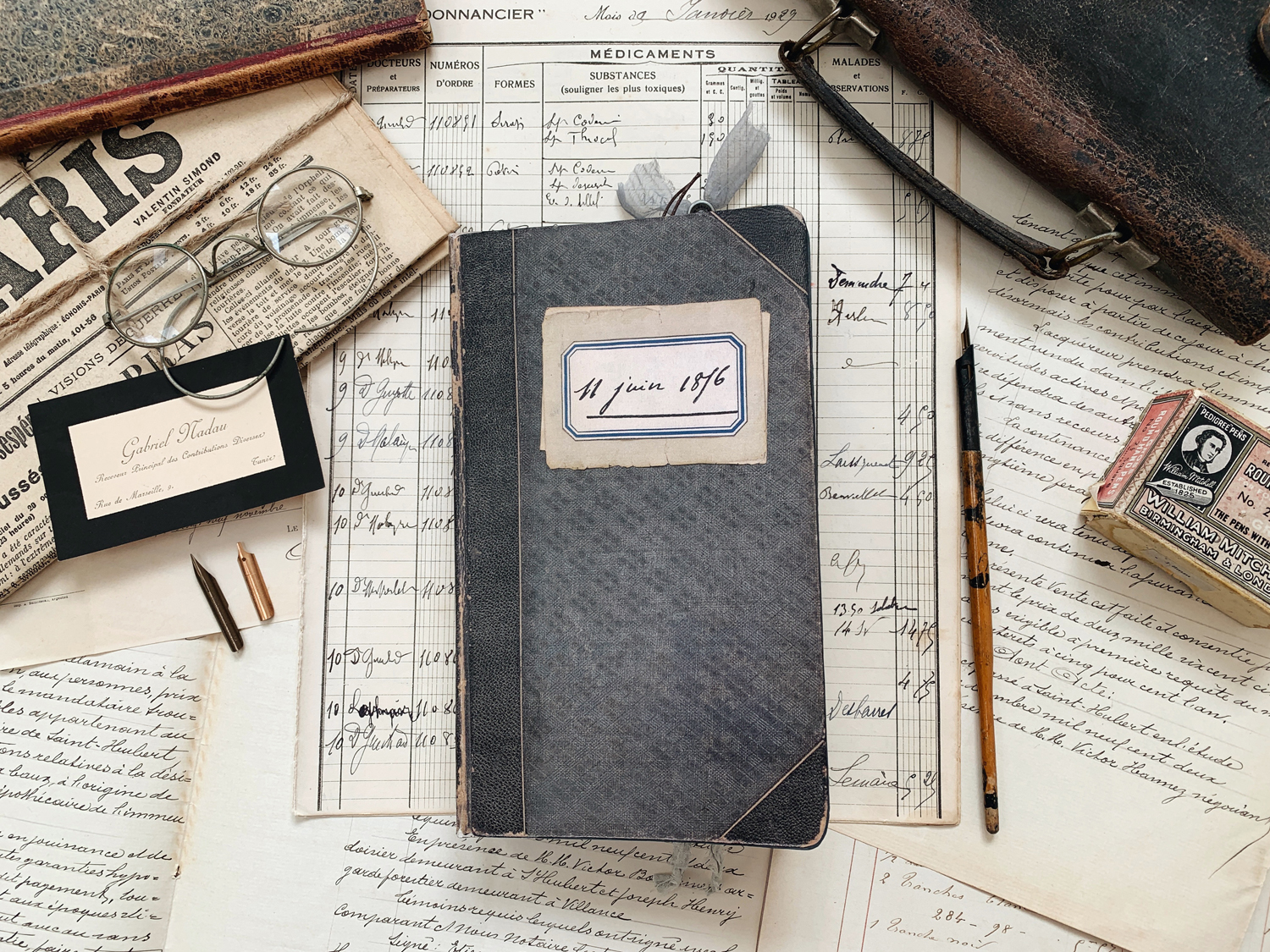 86-  Masculine A Gentleman's Journal     If you would like the challenge of attempting a masculine junk journal, this 'how to' is for you. No pastels or delicate florals here. The classic look and darker color tones result from the richly-toned design papers.
87-  Sweets/Bakery
88-  Genealogy/Family Tree/Heritage
89-  Family Traditions
90- Children and Babies
91- Pets
Other – Even More Ideas!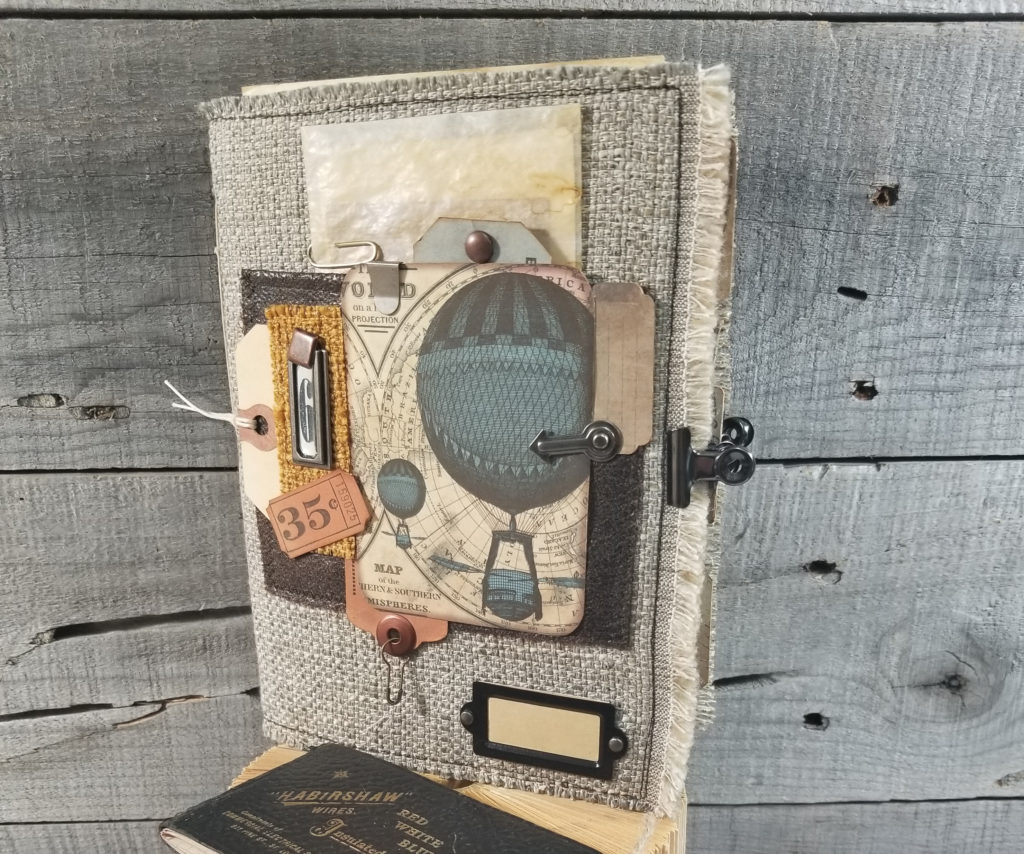 Steampunk Junk Journal by Lynne from Mockingbird and Main
92- Steampunk  Steampunk Inventors Junk Journal   This interactive journal with moving parts and secret pockets is called 'The Inventor's Guild.' It belongs to the leader of a group of inventors. Loads of metal embellishments both on the cover and throughout the journal really add to the Steampunk look!
93- Theater  Theatre Hardcover Junk Journal    See this entertaining Hardcover Junk Journal with just under 150 pages and three signatures. It is fascinating, entertaining, fantastical, magical, ethereal and so much more…
94- Architecture  Urban Structures Junk Journal   Urban Structures reflects old time vintage architectural styles. It is rustic and weathered looking, but also sturdy for everyday use. The coffee and tea dyed pages are just perfection.
95- Circus
96 – Bohemian  Bohemian Love Song Junk Journal See how a large folder with a pocket is used to house this journal. There is something mysterious and enigmatic about the folk lore of Romani's that has always fascinated me, albeit a romanticized version.
97- Music
98- Ballet/Dance
99- Artistic
100- Religion/Spiritual
101- Science
102- Dreams
103- Hobbies
104- Shabby Style  French Shabby Style Art Journal   See layers and layers of yummy ephemera and texture in this 50 page beauty. Hand dyed papers using coffee and avocado skins, vintage and antique papers, altered envelopes, vintage lace, bags, and accordion folded pages are also included.
105- Country/Prim Style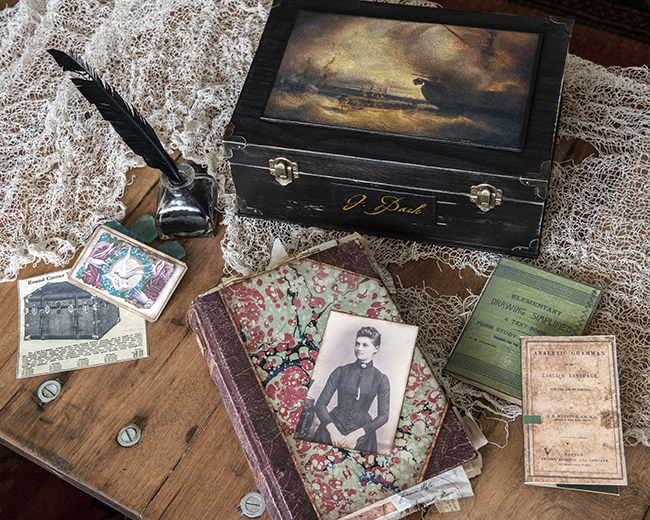 106- Pirates Pirate Diary Junk Journal   Ahoy Maties!! You will adore seeing how this concept pirate diary junk journal housed in a handcrafted, black lacquered box decorated with a crackled oil painting of a maritime scene, brass corners and a nameplate was created.
107- Clocks
108- Lace Ladies Keepsake Junk Journal  Lots to see and learn with this book filled with lace. Adding vintage floral wallpaper on the inside front and back covers, as well as in a few spots in the journal for pockets and pages, has enhanced the antique, time worn look of this journal.
109- Castles/Manors
110- Coffee or Tea
111- Script/Typography
112- Prints and Patterns
We hope you enjoyed these 100+ Junk Journal Ideas … now pick a theme and start creating!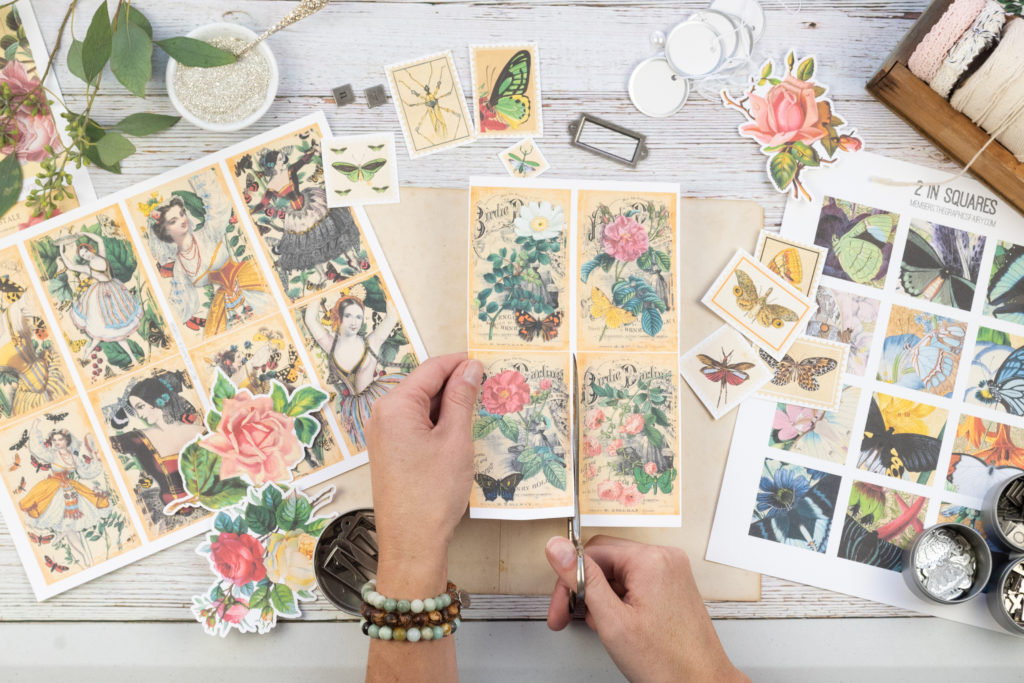 Did you know that we have
over 4,500 Printables on our Premium Site?
So many Print Ready options for your Journals, including
Journal Pages, Journaling Cards, Pockets, Papers
, Collage Sheets and more, all for one low price! And
Video Tutorials for making your own Junk Journals
! You can
learn more about our Premium Membership HERE.
Hello! Are you new to The Graphics Fairy?
Welcome, I'm so glad you're here! Browse around to find
thousands of Stock Images
that you can use in your projects or designs! I post new Vintage images every day, as well as projects and DIY's too! Need more info about my site? Try my
FAQ
page.