Hi there, it's Heather from Thicketworks!
This post may contain affiliate links which won't change your price but will share some commission, you can find our
privacy policy here
.
I'm thrilled that Heirloom Traditions Paint has provided the products for this project, and has sponsored this post! It's so satisfying to find an unloved piece of furniture, lug it home, and transform it into a piece of home decor that you love. I'm always on the look-out for new transfer techniques, and the Heirloom Traditions line of Chalk Type Paints, 1Gel Transfer Medium and Finishes made it easy to transform this little brown orphan into a 'gilded' beauty. It's obvious that many of you love to transform furniture too, judging by the gorgeous Reader Projects you submit to The Graphics Fairy!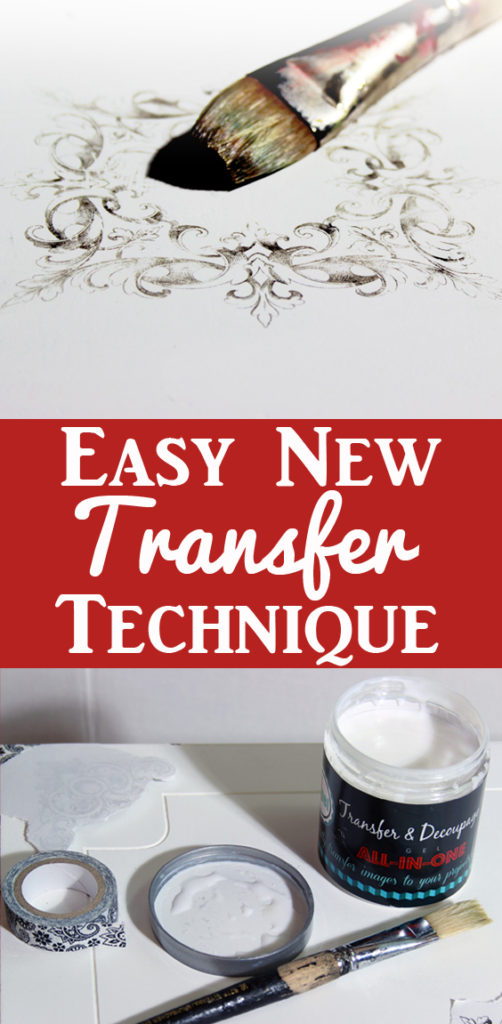 Now, I love me some chalk type paints, and aged patinas are my passion, so it's no surprise that I was itching to get my hands on these inspiring tools. Throw in Heirloom Traditions 1Gel, a great new image transfer medium, and I'd say that's a recipe for awesome!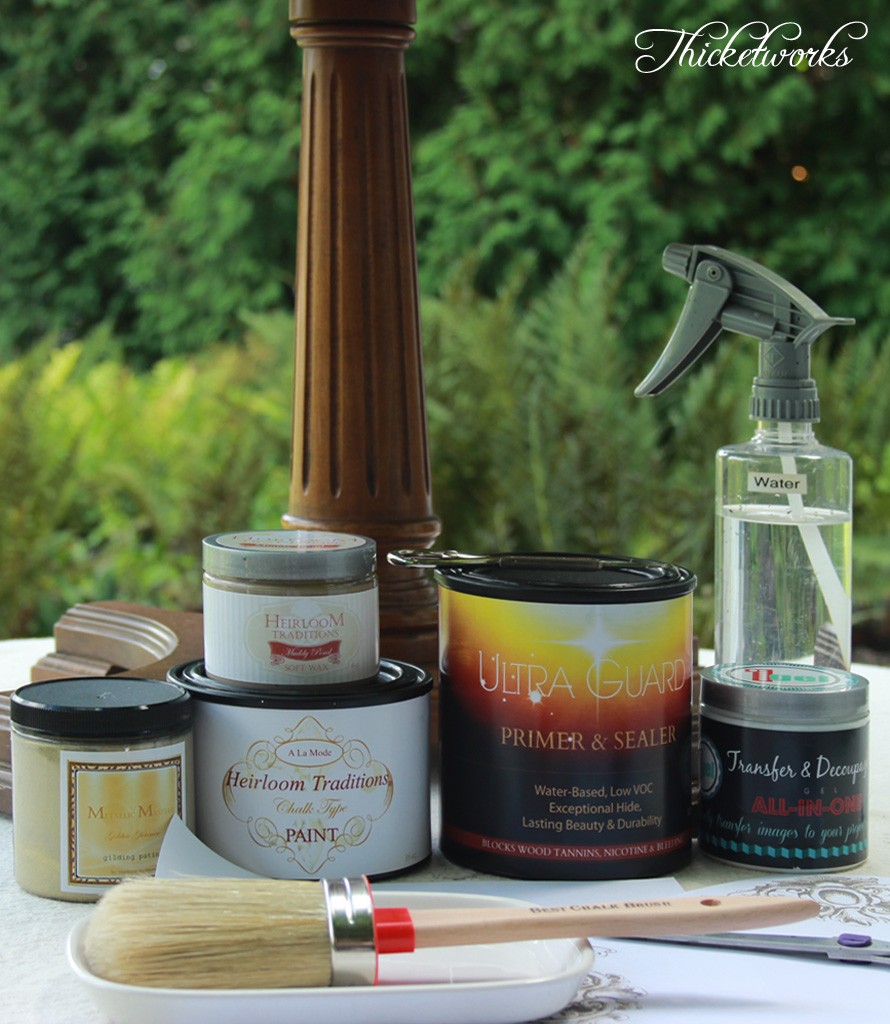 Today I'm going to be exploring some of the infinite ways that Heirloom Traditions products can help create gorgeous painted and decorated furniture. The central transfer motif for this table is this Spectacular Scroll Frame from the lovely The Graphics Fairy free offerings. The corner ornaments are part of the Graphics Fairy Premium Membership Frame Fragments Bundle.
Here's a list of what I'll be using to perform this metamorphosis:
One little orphaned occasional table
Inkjet images printed on standard printer paper
Washi or low-tack tape
A lint-free rag (I use old t-shirts), for burnishing the wax finish
A Micro-fiber towel, for wiping away paper fibers
A variety of smaller paint brushes
Sanding Sponge
Optional: electric sander / 220 grit sandpaper + safety gear
Fine gauge steel wool
Spray bottle of water
Here's a mug shot of my victim subject:
I like the neoclassical feel of this piece…it's got good bones, but the stain is scratched and patchy. We're gonna take care of that, right quick.
1) Give the surface a quick wipe-down to remove any dust. Even though it's not usually necessary to prime the surface of objects painted with Heirloom Traditions Chalk Type Paints, I'm going to err on the side of caution. Priming with HTP Ultra Guard Primer & Sealer will prevent any tannins or stain from bleeding through the paint. I chose to use two coats of primer, due to the intensity of the original stain. I chose not to sand or fill any of the dings and gouges on the tabletop, as I like the sense of history that these marks evoke.
Apply two coats of Ultra Guard, allowing about an hour between coats.
I prime the undersides of my furniture pieces first, which is why our friendly table is perched on its head…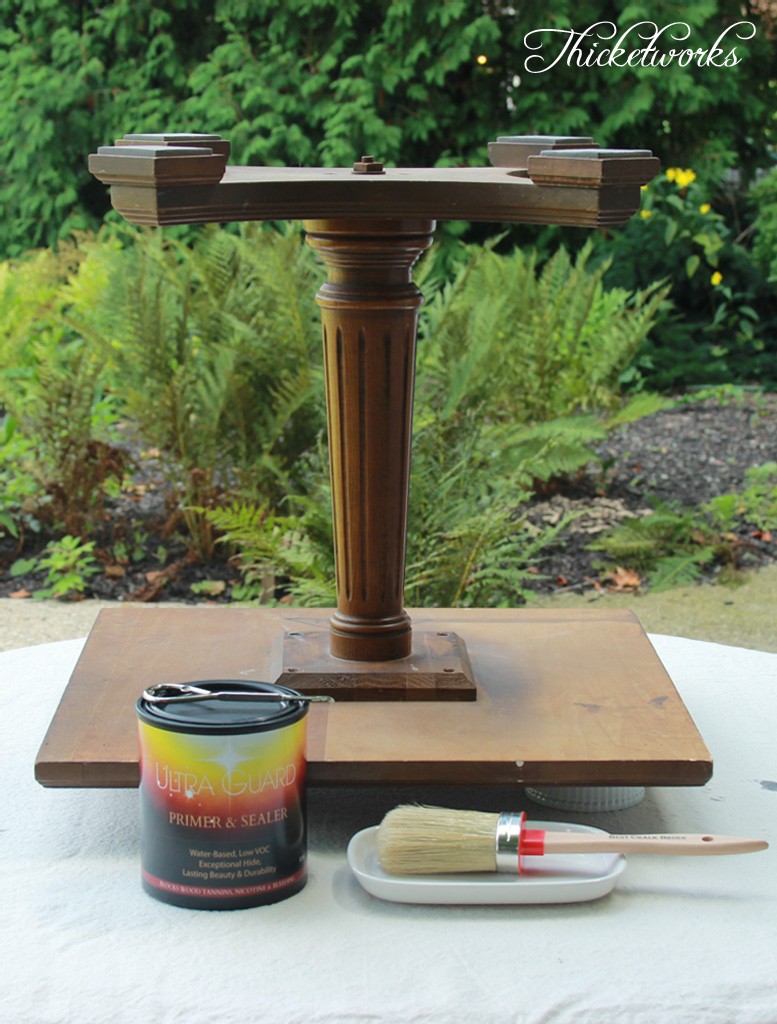 2) Once the double-coat of Ultra Guard Primer has dried completely, (I let mine cure overnight, but you can paint in an hour) sand the surface until it feels smooth, using either a sanding block with a fine grit, or an electric sander. I use a DeWALT Random Orbital Sander, with 220 grit sanding pads. It fits my hand well, and doesn't require a great deal of strength…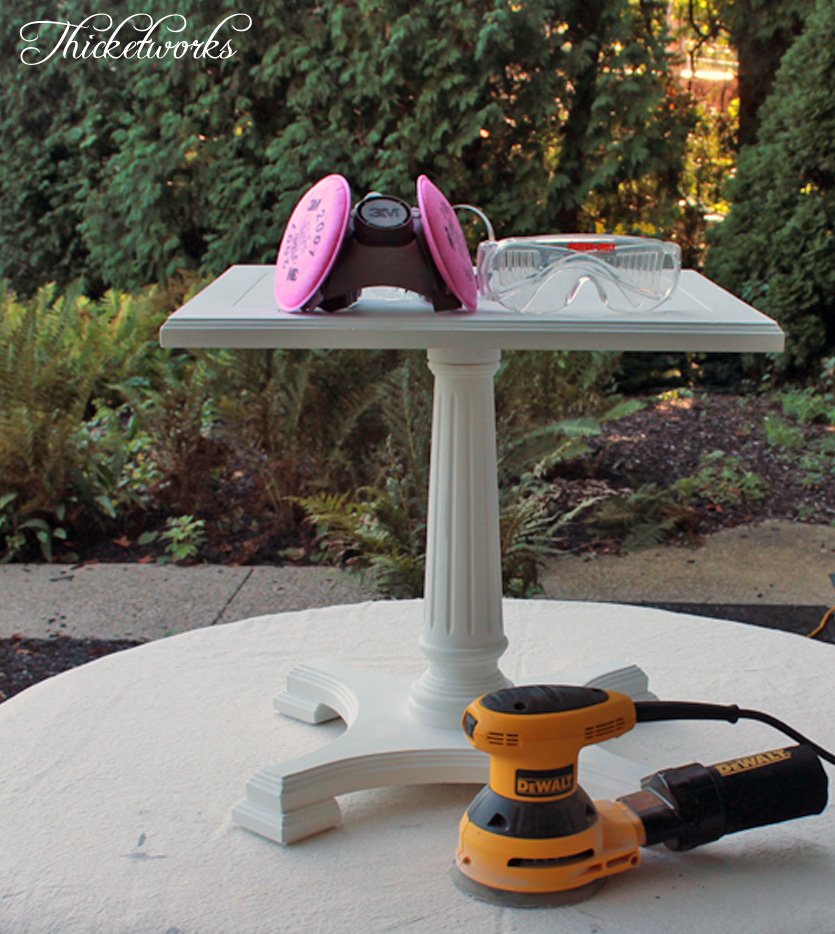 3) Follow the sanding with a quick wipe-down with a damp rag to remove any dust.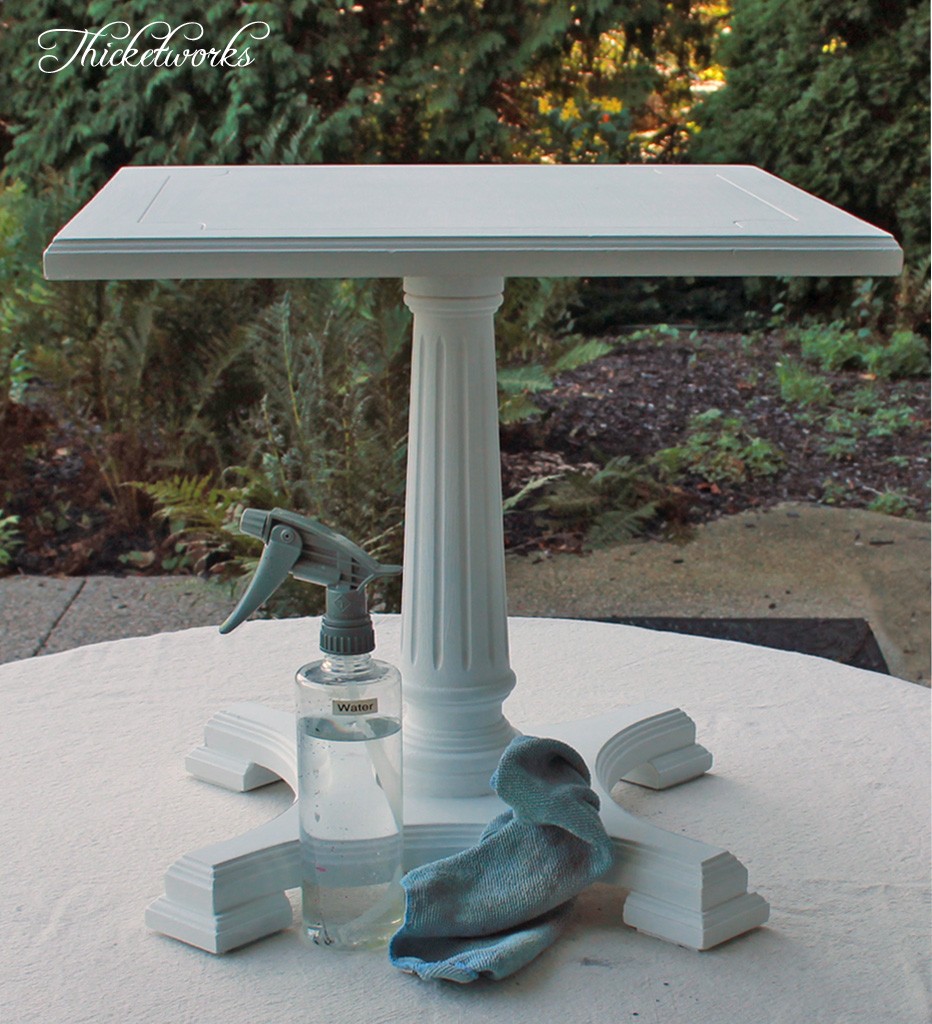 4) Now, it's time to apply the first coat of Heirloom Traditions "A La Mode" Chalk Type Paint. Since this is my first time using this paint, I thought I'd share my impressions. Firstly, the paint has a velvety smooth flow, not too heavy, but not thin either. This particular color is an elegant white, with excellent 'hide' properties. I really like that the paint can has a 'pop-on' style lid – no need to find the mallet to close it. Nice touch. Also, I really couldn't detect any odor – low VOC's.
5) Once the first coat is dry, sand lightly again to smooth any 'gritty" feel – wipe down. Then, a second coat of the lovely Heirloom Traditions "A La Mode" Chalk Type Paint smooths right on.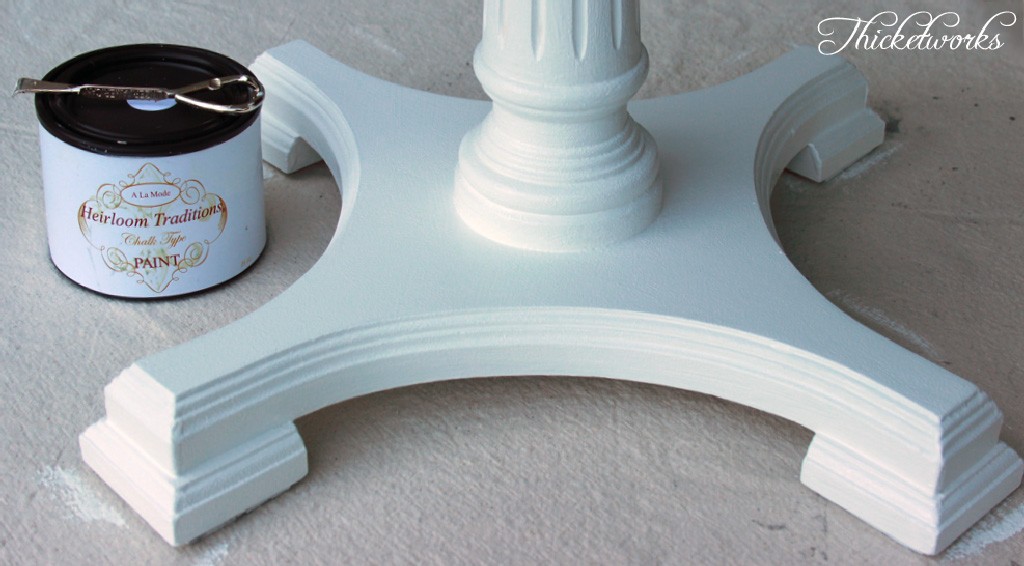 6) Allow the second coat of paint to dry thoroughly. Sand for smoothness, and distress the finish with sandpaper, if you like that sort of thing (I do). Note: I was pleasantly surprised at the quality of the finish once I had sanded it – smooth and silky.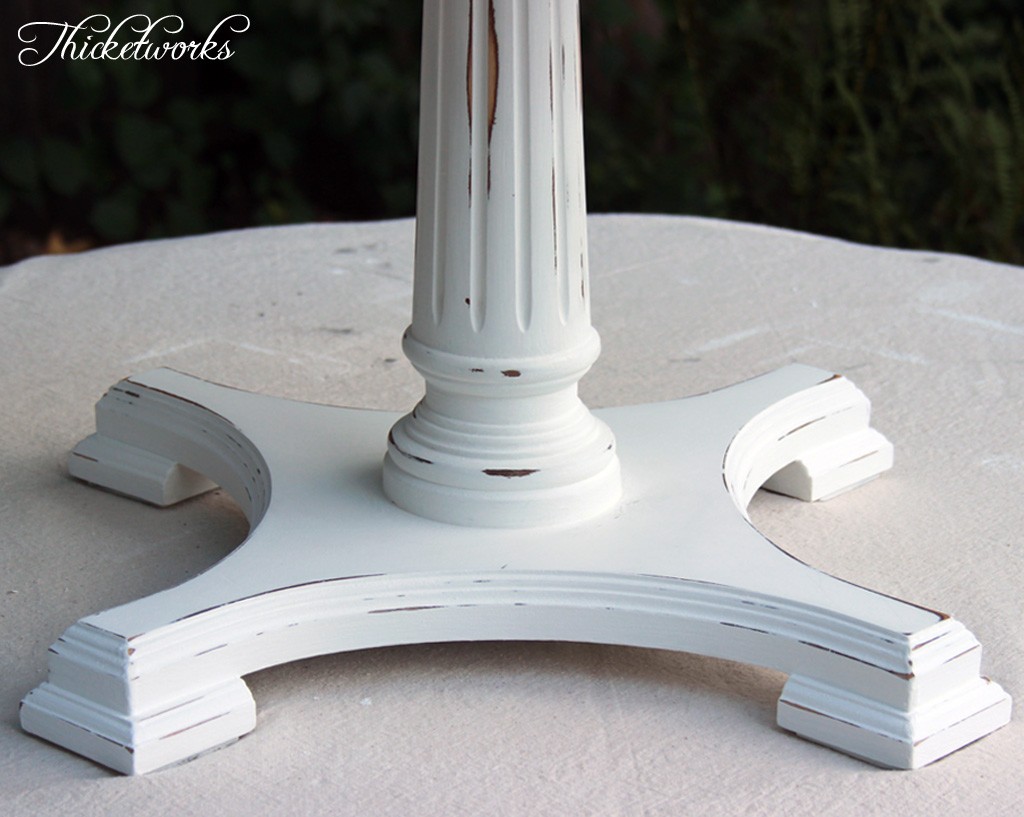 1Gel-Instant Transfer Medium & Decoupage process for inkjet prints:
This is a great time to print out your chosen images, and play with the design possibilities…if you want to go all crazy and incorporate large-scale graphics, try the simple & free service over at Blockposters. Don't forget to reverse any images that include text.
7) I like to give the surface to which I'll be transferring my images a light sanding with a 600 grit paper, then wipe down with a damp cloth to remove any dust. This just ensures a smooth surface for the transfer to bind to. Again, the sanded surface of this paint is super smooth and almost glassy. Perfect for transfers.
One of the cool things about 1Gel Transfer Medium is that it works on laser or inkjet prints! This is going to save me some money – toner is expensive…and I'm cheap. I've printed the images onto copy paper, using an Epson XP-410 inkjet printer, and selected a dark brown ink color, rather than black.
If you're a penny-pincher like me, and you sometimes buy the generic ink for your printer, be warned that it will not play nicely with this process. Do yourself a favor and invest in the name-brand ink for your printer. Don't ask how I know…
To minimize the amount of paper removal after the image has been transferred, I tear carefully around the edge of each print. Tearing, rather than cutting, will minimize any harsh line left by the edge of the paper. No matter how careful you are, a few paper fibers seem to always remain, and can leave an unsightly halo 'round your image.
Position your chosen graphics where you want them to appear on the finished piece: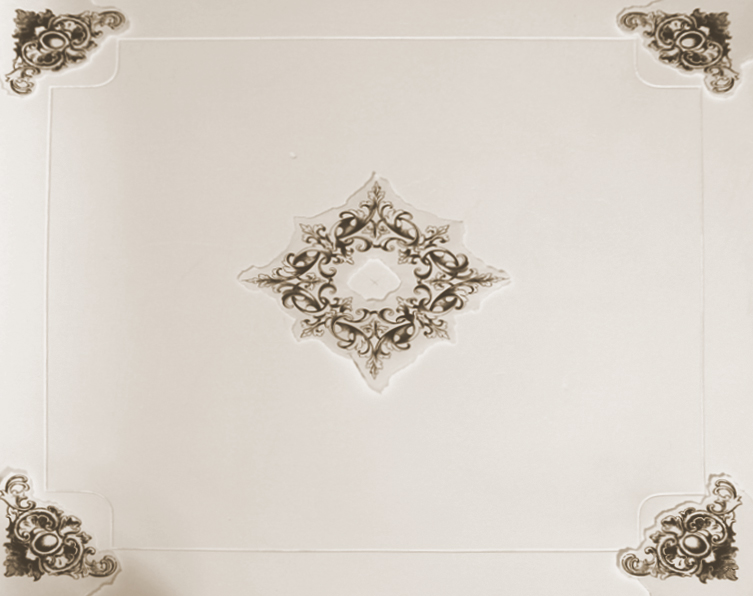 6) Now it's time to break out the Heirloom Traditions 1Gel-Instant Transfer Medium & Decoupage!
7) Gently tape a single point of each of your images to the surface of the piece, face down. I like to tape them so that they can fold up like little flaps, allowing for precision placement, and minimal smearing.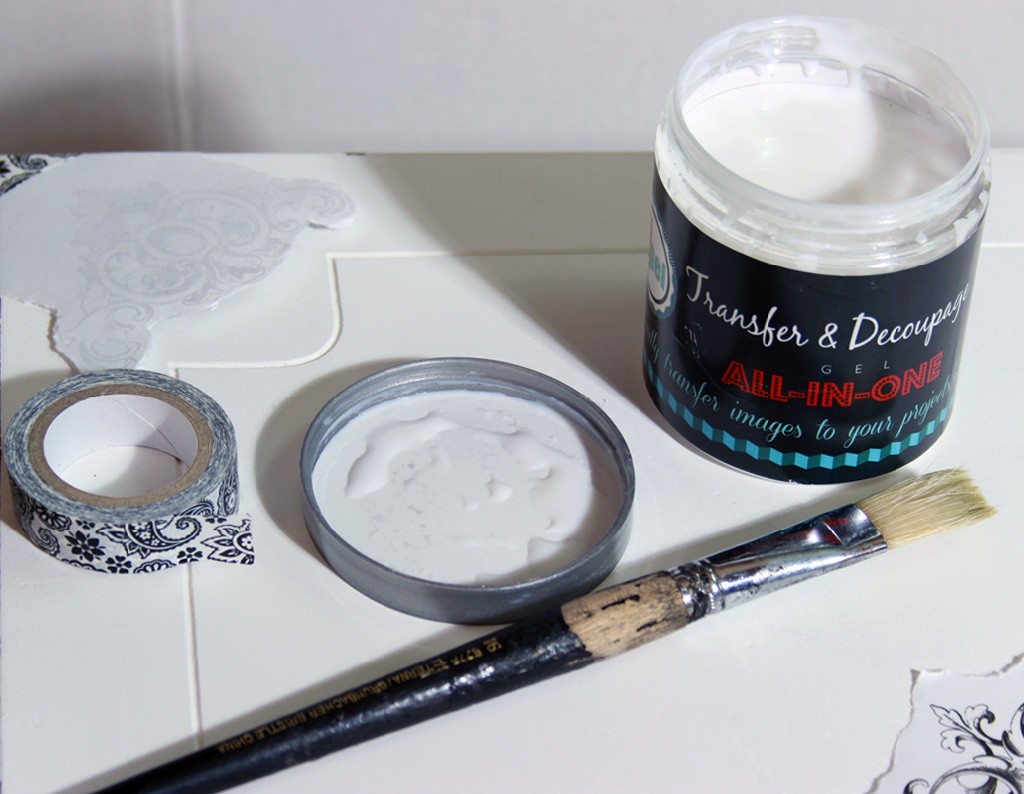 8) Now, I know the directions state to coat the image with 1Gel, but I thought I'd try something different. In this case, it made more sense for the 1Gel to be applied directly to the tabletop, and to then carefully press the images onto the damp surface. Each one was gently smoothed with fingertips, to ensure solid contact between the surfaces.
Allow the images to dry thoroughly. I forced myself to do something else for an hour (even though it was hard to wait!).
9) Once the 1Gel has dried completely, spray the paper with water, and when you can see the image appear through the translucent layers of fibers, gently begin to roll away successive layers with your fingertips. Here's what it looks like at the beginning of the paper-removal process: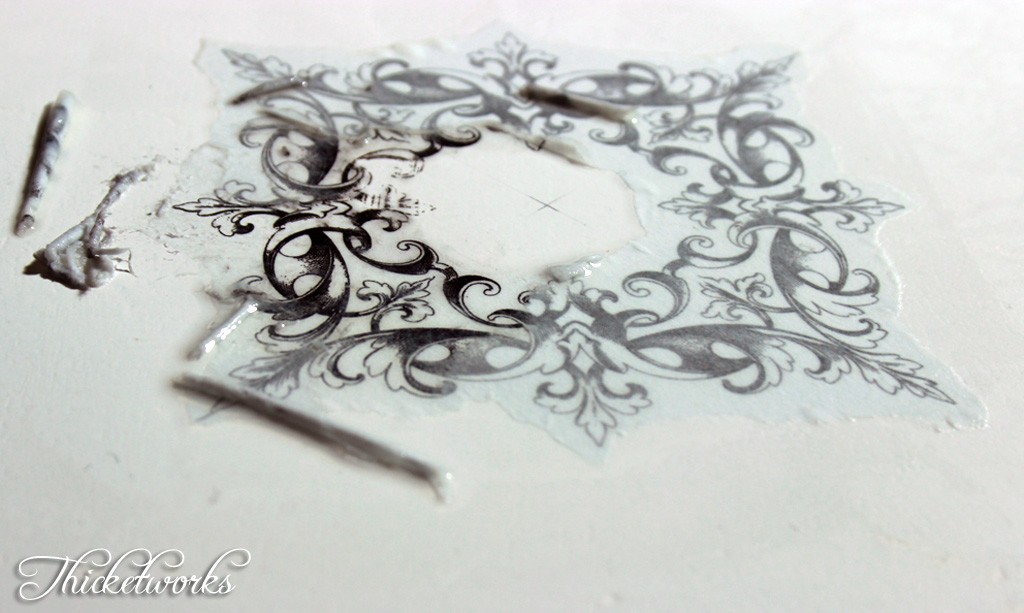 10) For those of you who are familiar with this process, you know it takes time and patience. It's a matter of spraying, rubbing, wiping away the debris, repeating. The gentle application of a damp micro-fiber rag can help with the final layers. Finally, once all the paper fibers have been detached due to your saintly patience, the result is worth it: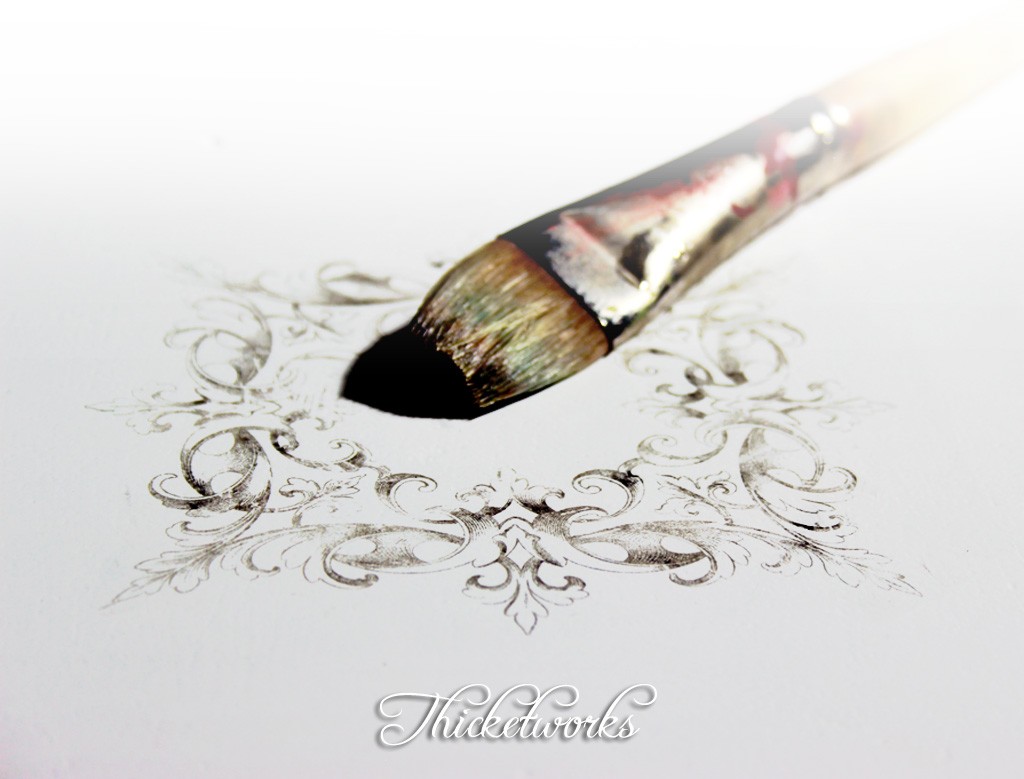 This is just the kind of weathered and antique vibe that I love…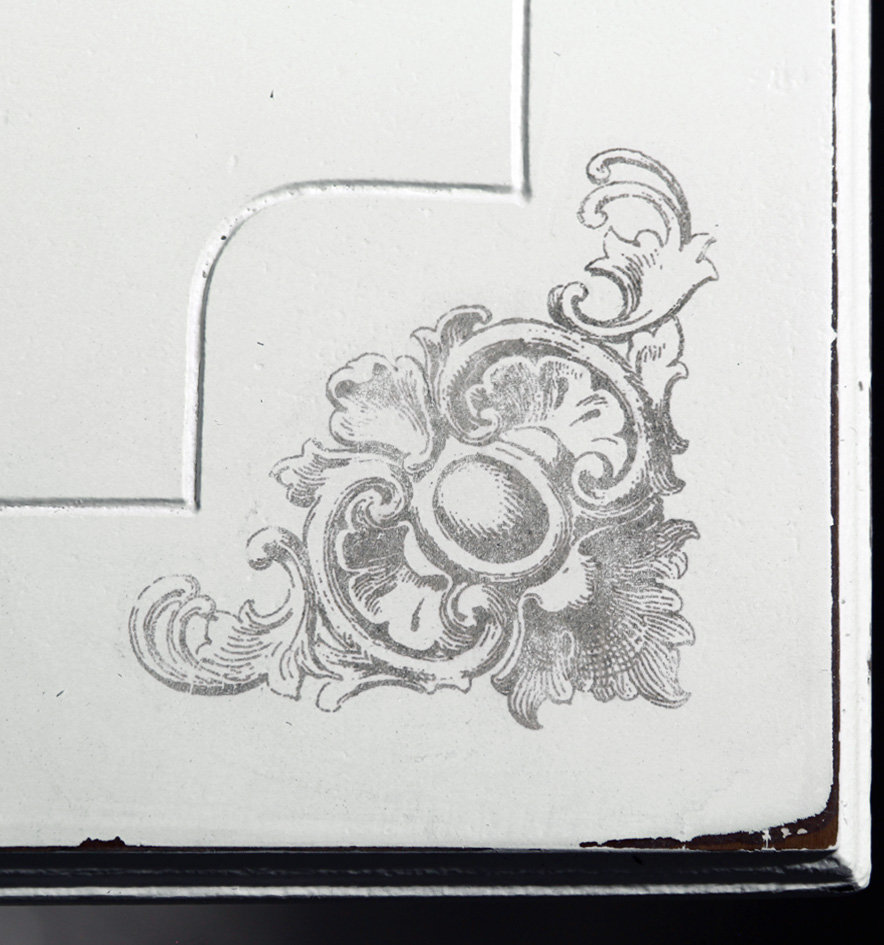 11) Once your transfer is complete, allow the surface to dry completely. Then, apply a layer of 1Gel directly over the top of the image to seal and protect it. For those of you who have relied on Mod Podge for this step in the past, I think you'll be pleased at the very smooth, non-sticky feel of this top coat.
12) Because I could still see a faint halo around each image once the top coat of 1Gel had cured, I gently smoothed the surface in little circular motions with a fine gauge steel wool. This took care of the problem, and left the surface even silkier to the touch.
Note: I tested Heirloom Traditions 1Gel using a Laser Jet print, an Ink Jet print and a copy made at the local Staples. Here are the results: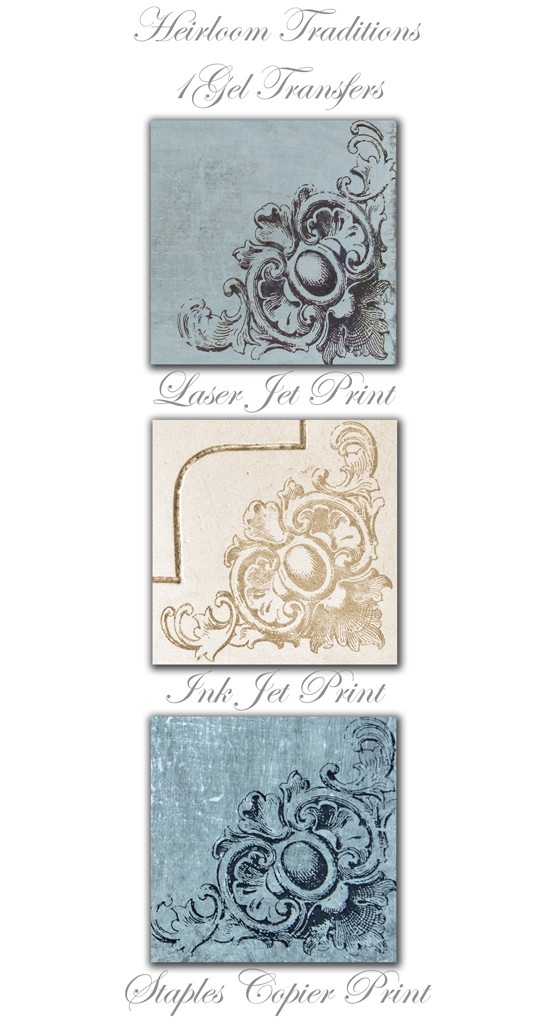 13) Now we get to break into the Heirloom Traditions Muddy Pond Wax…it is such a lovely fawn color.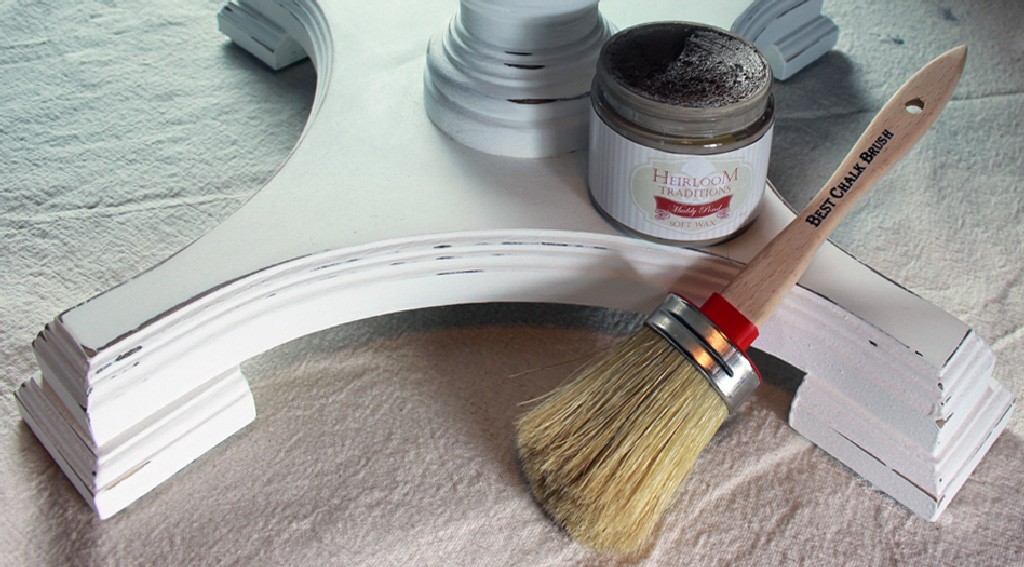 Using the Heirloom Traditions Best Chalk Brush, pick up a generous amount of wax and stroke it onto the flat surfaces. Use a swirling motion to get the wax into all the nooks & crannies…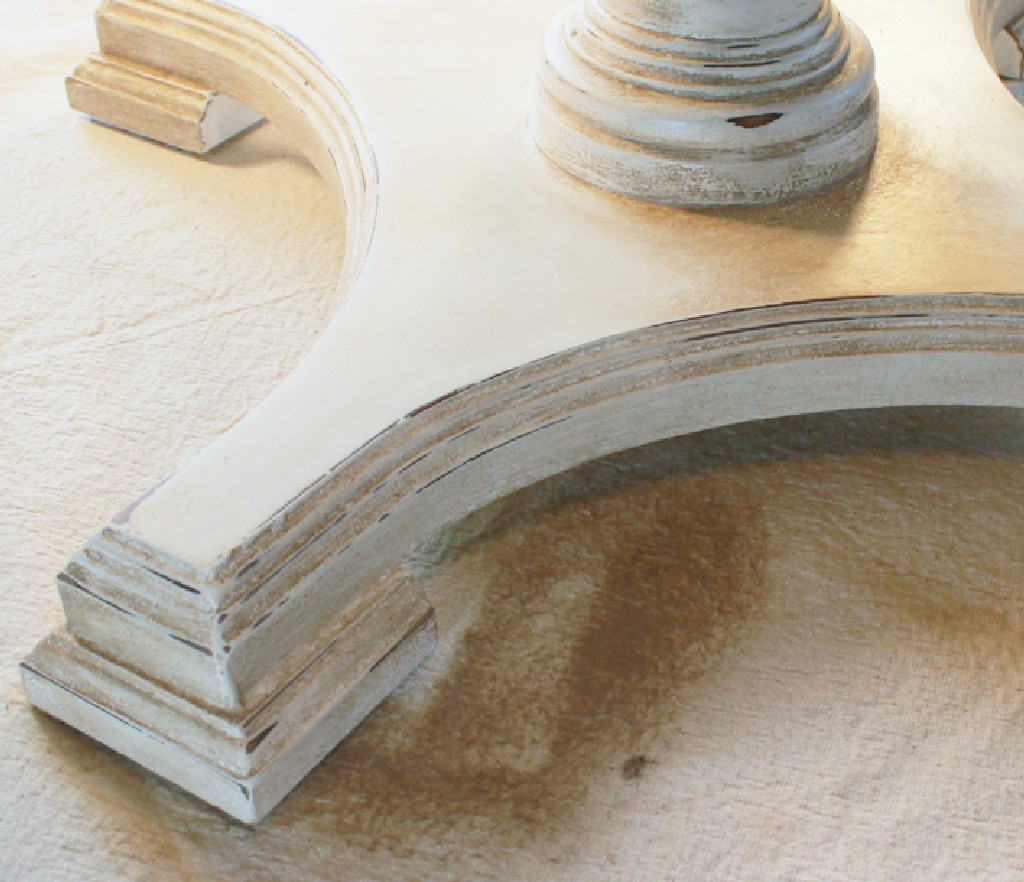 It's easiest to work in sections, so that the wiping-back process takes place while the wax is still quite moist. Use a lint free cloth for this step. Old white T-shirts are perfect.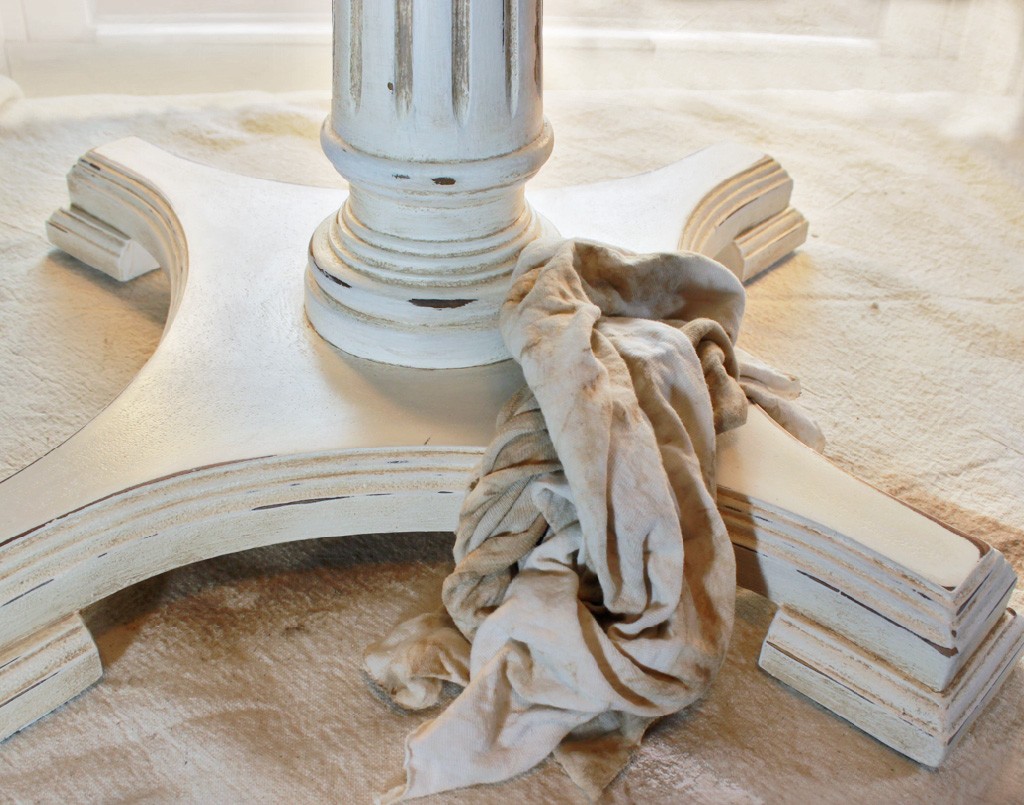 14) The final step is to add a soft metallic sheen to the entire piece, using Heirloom Traditions Metallic Masters Gilding Patina in 'Golden Glimmer'. This gives a translucent finish, which must be seen in person to fully appreciate. I applied this with a soft, wide brush, which had been moistened with water. I then selectively wiped it back, removing most of the product from the flat surfaces, but allowing it to collect in all the little profiles. It adds a subtle and elegant gleam to all the surfaces…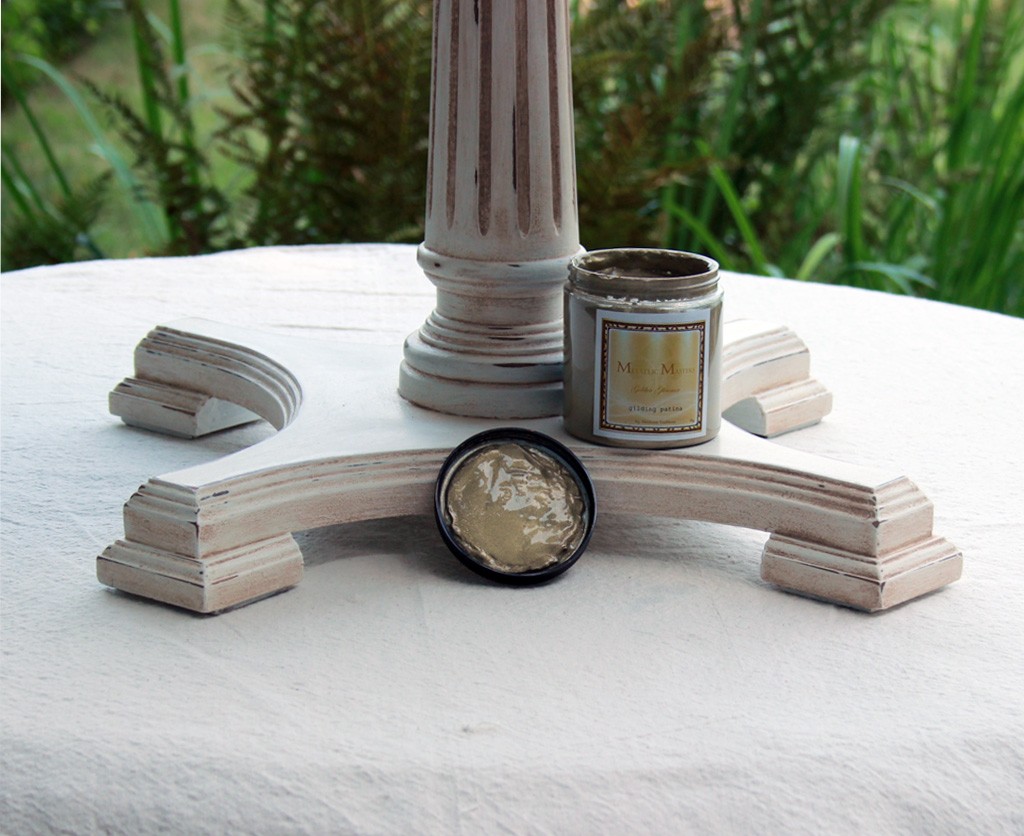 The soft golden gleam is just yummy…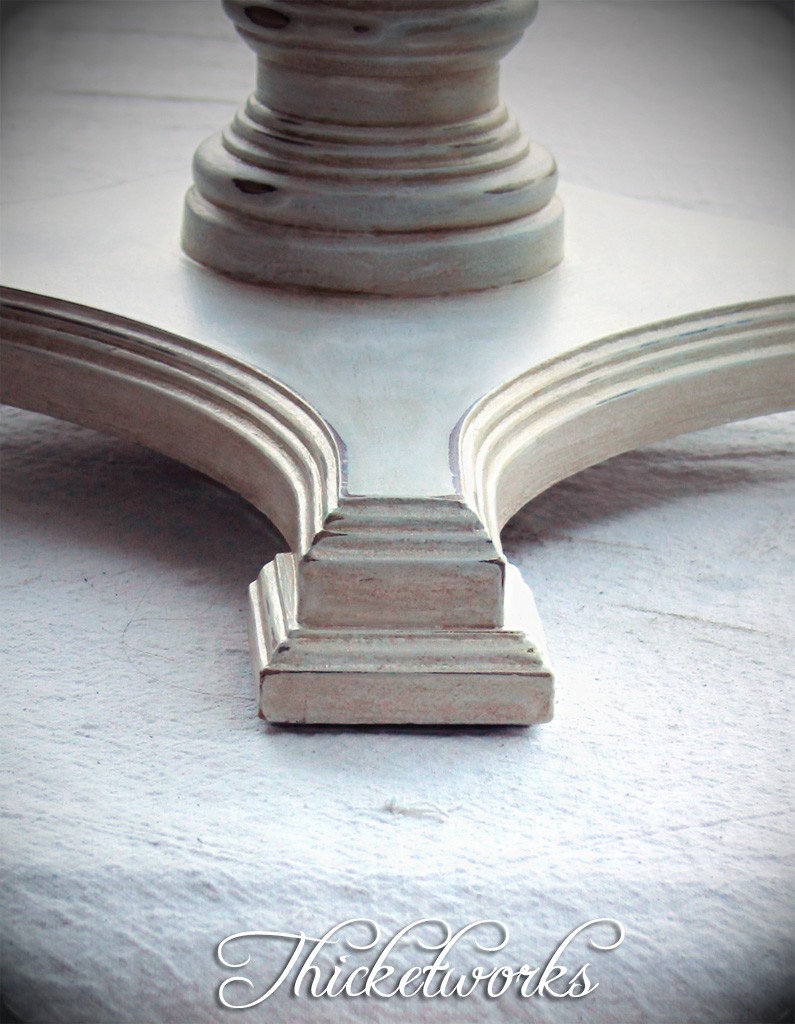 The gold gets caught in all the crevices, leaving a beautifully gentle shimmer, which my camera just couldn't adequately capture: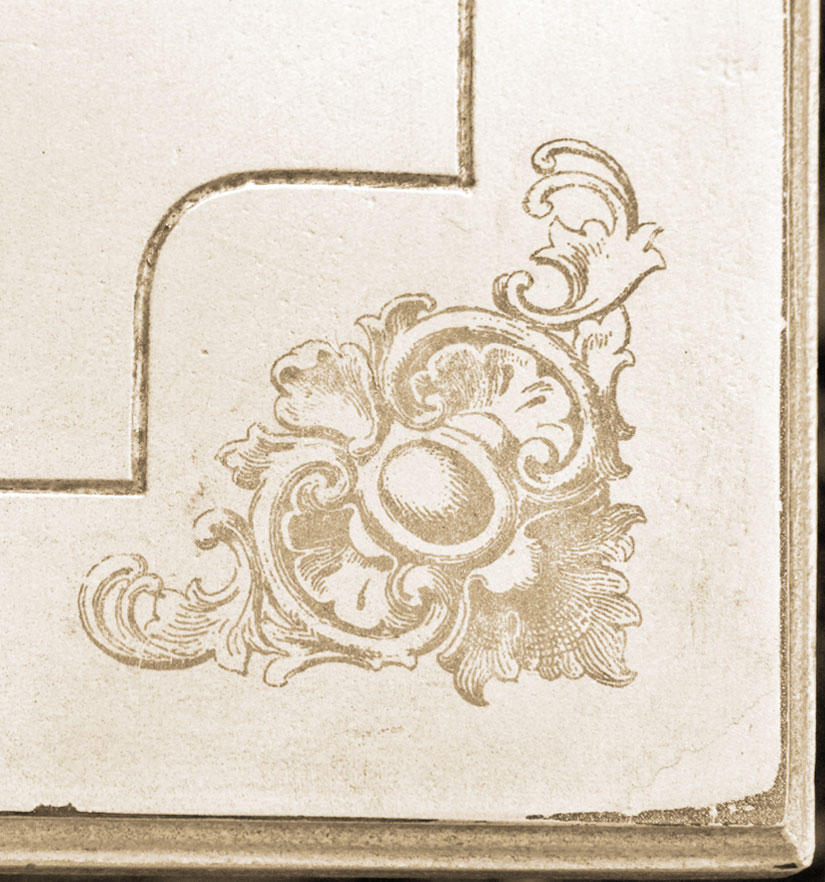 And here is our finished piece, delightfully aged, yet glowing with that soft gold.
It will be hard to let this one go!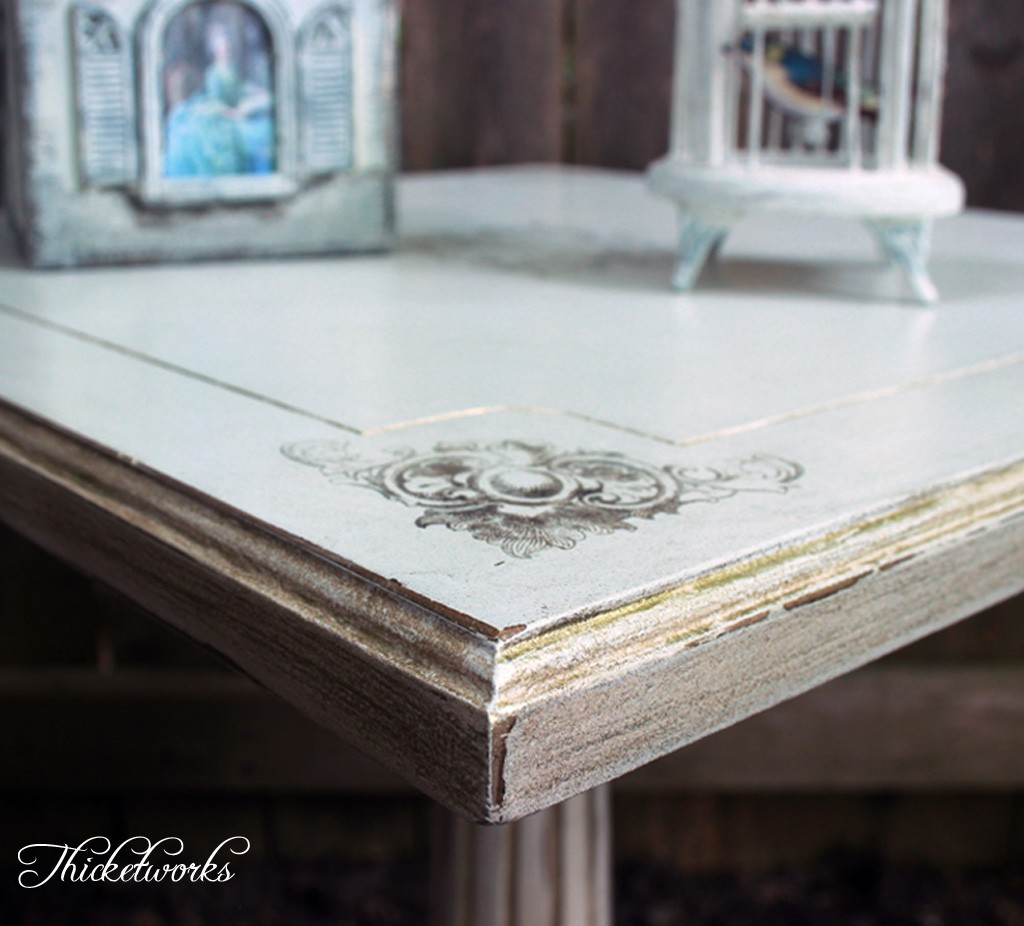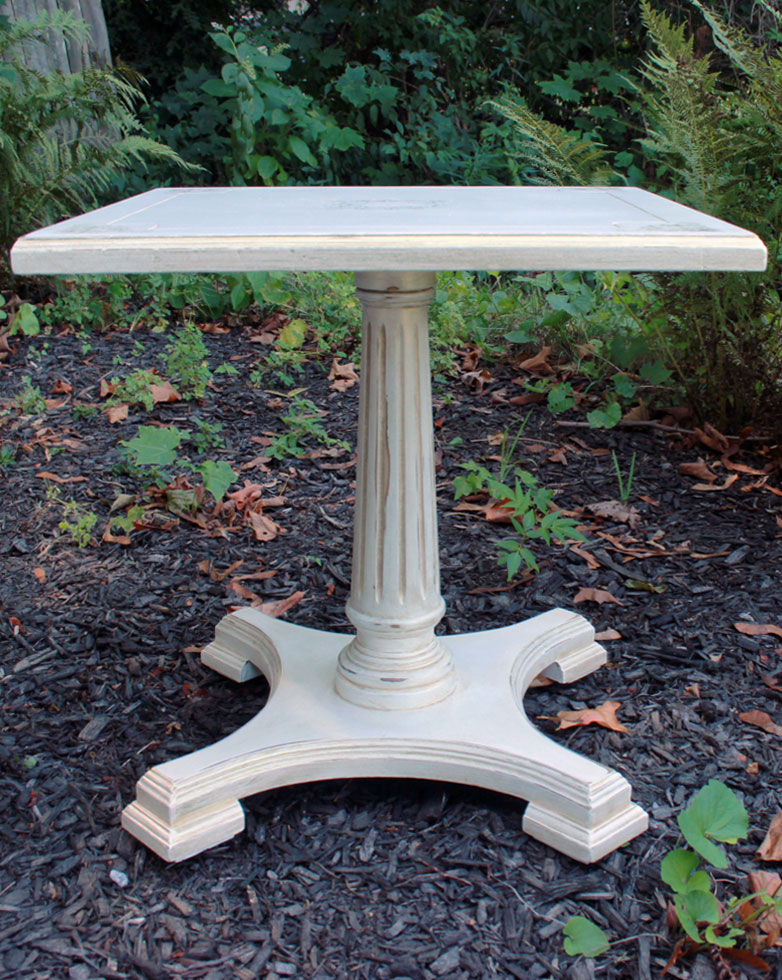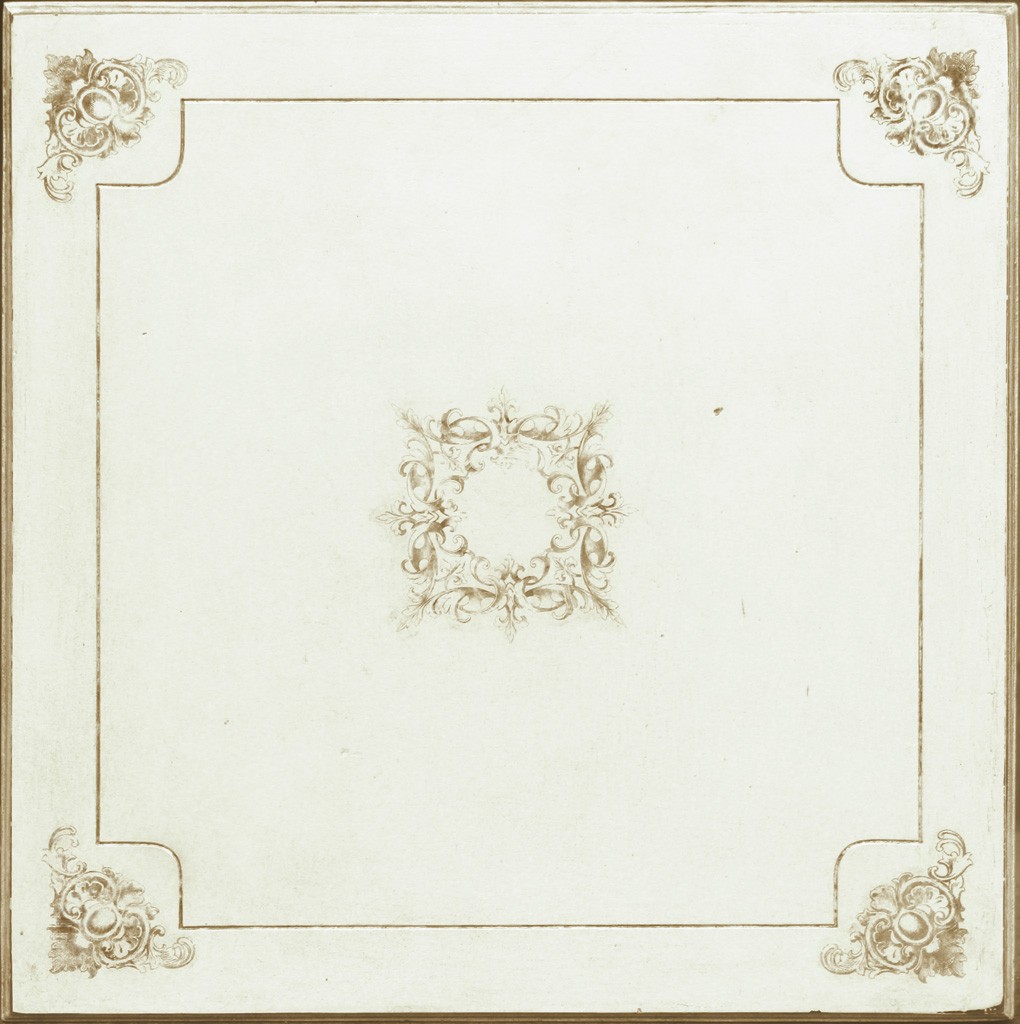 Thank you so much for walking through this process with me. I loved using these excellent quality products, and am so glad I had an opportunity to share the experience with you.
For more information on Heirloom Traditions Products, please visit www.heirloomtraditionspaint.com
*Full Disclosure: Heirloom Traditions supplied their products to be used in this project, and they sponsored this post – however, I supplied the elbow grease, rescued furniture, design concept, and opinions! All of which reflect my own point of view, regardless of affiliation…
That's all for now – I look forward to exploring more possibilities with Heirloom Traditions products, and sharing the results with you.
For more transformational fun, stop by Thicketworks to say 'Hi'!
Take Care,
Heather