How to Make Popsicle Stick Bracelets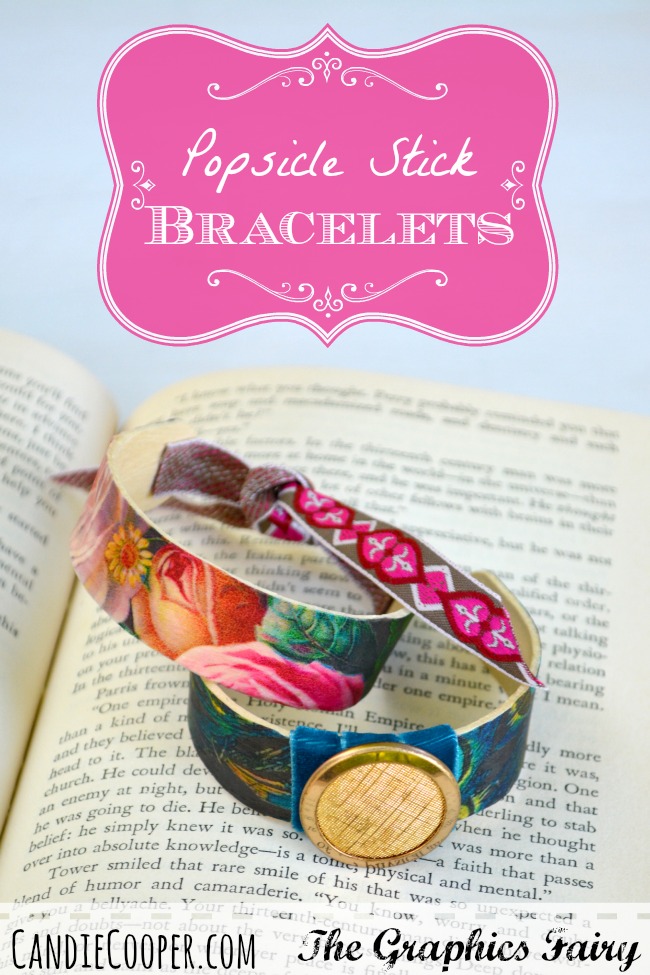 This post may contain affiliate links which won't change your price but will share some commission, you can find our
privacy policy here
.
Hello there!  It's Candie from CandieCooper.com.  I hope you're having a great week!
If you've hung around the Pinterest-sphere for any amount of time, chances are you've seen folks making bracelets from craft sticks.  Karen and I thought it would be fun to make some a la Graphics Fairy style, using some of the pretty images found on the site.  Here's how to make them: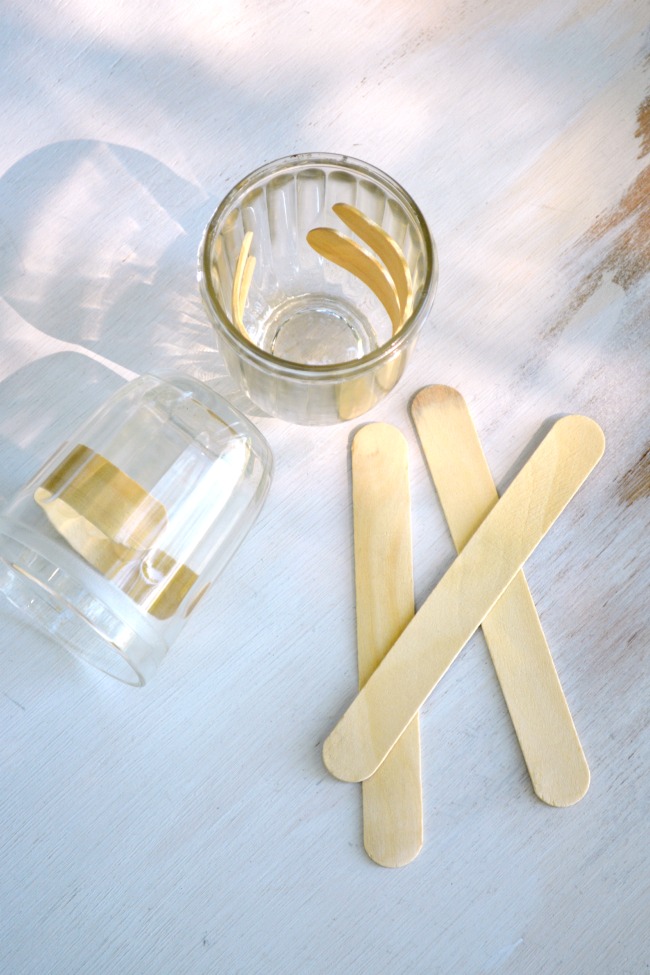 First, grab some popsicle stick/craft sticks/tongue depressors at the craft store.  Bring a pot of water to boil and drop in the sticks.  To be on the safe side, boil more sticks than you need in case some split, crack etc…  Boil for 5 minutes, turn off the pot and let them soak in the hot water for 30 minutes.
Gently roll the stick around and into a glass or jelly jar to dry.  If your sticks aren't bending easily, bring the water back up to a boil and repeat the process.
Let the sticks dry for a day.  I actually dried mine overnight and then, because they were in a heat safe container, put them in the oven at 200 degrees for an hour to finish drying them.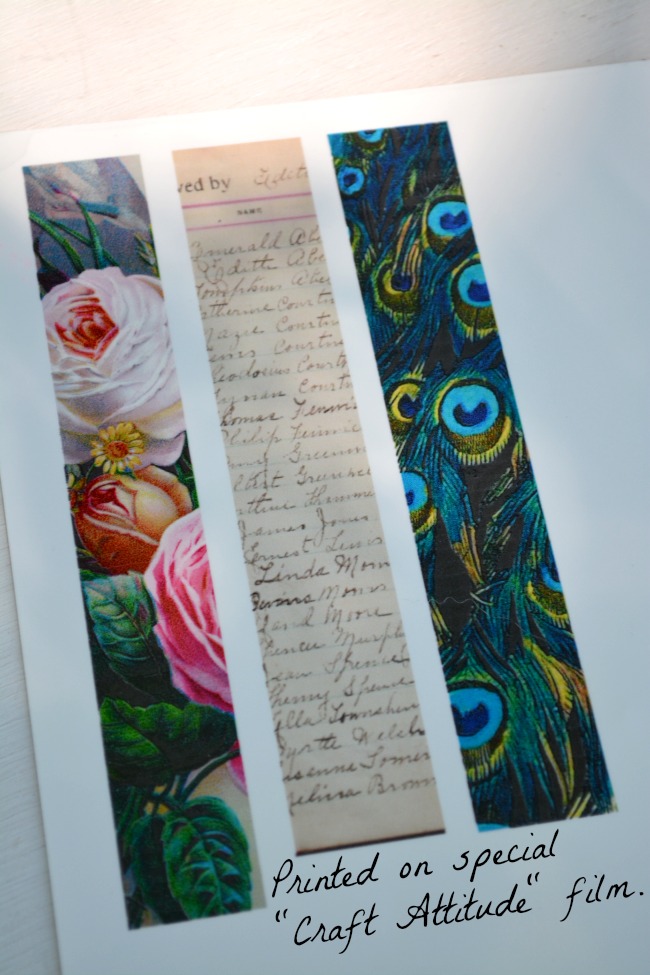 Remember that magical film, Craft Attitude?  I printed my graphics onto that so the wood surface would show through on the bracelets.  I used an ATC background, flower, and peacock and then cropped them down, enlarged, and so on to get just the right section for the bracelet using Word.  See the categories to the right to pick some of your favorite images.
Paint a layer of Mod Podge onto the wood bracelet and put the printed side of the image down.  Smooth out and leave to dry.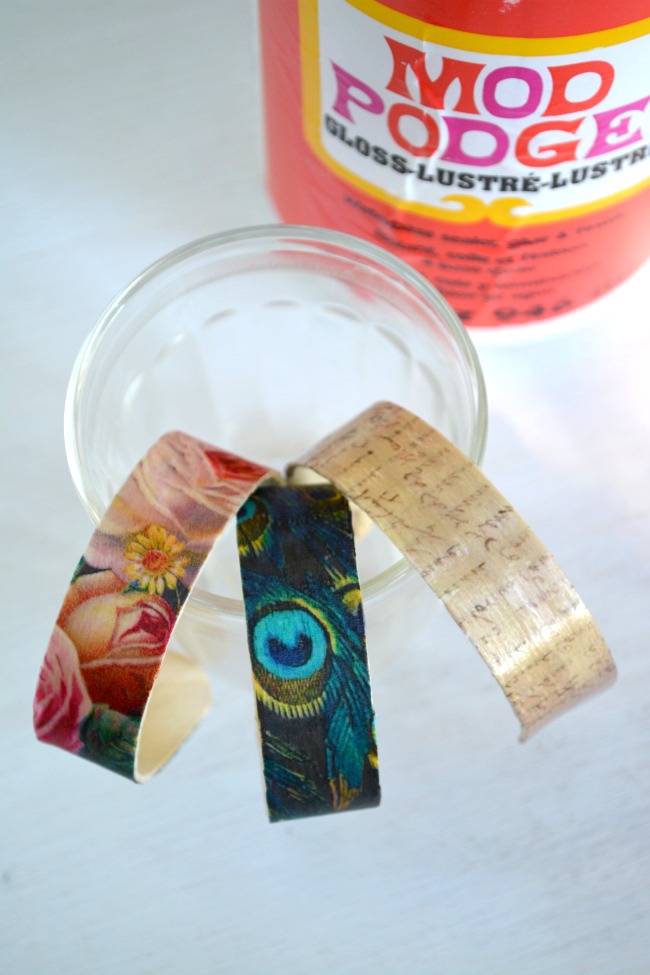 Trim away the excess film.  Optionally, you can seal the CA film with Mod Podge (see bracelet on far right).  This is key if you want to add flat back crystals and other embellishments.  You can also seal with Matte Mod Podge if you like the flat look better.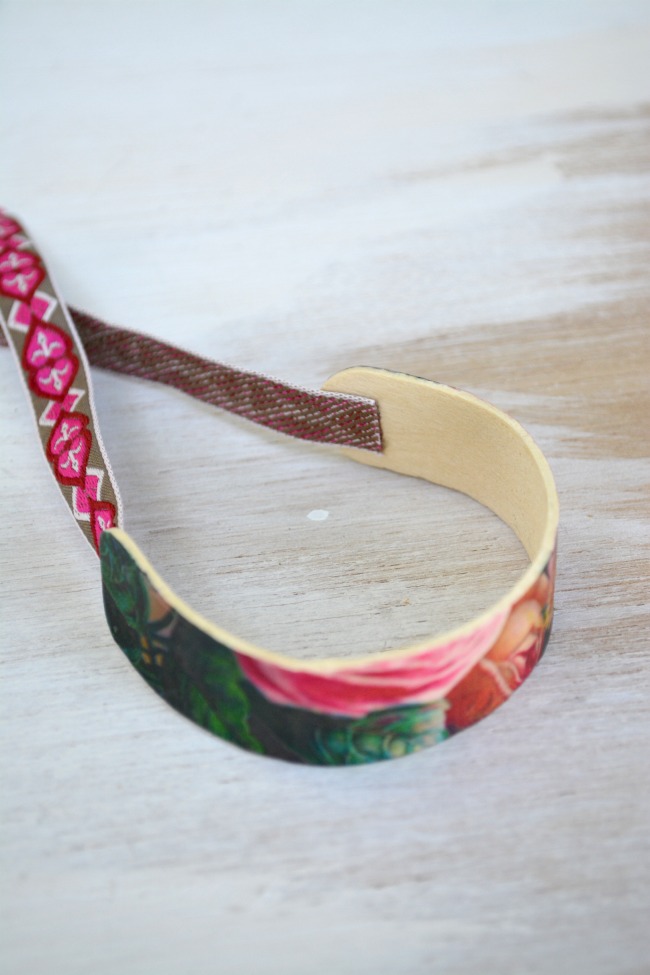 Because the openings in the bracelets can sometimes be wide, it's good to add a closure like this ribbon.  Not to mention it adds an extra touch of sass!  I simply hot glued the ribbon to the inside and cut it so I could tie it in a loose knot.  A bow also looks sweet.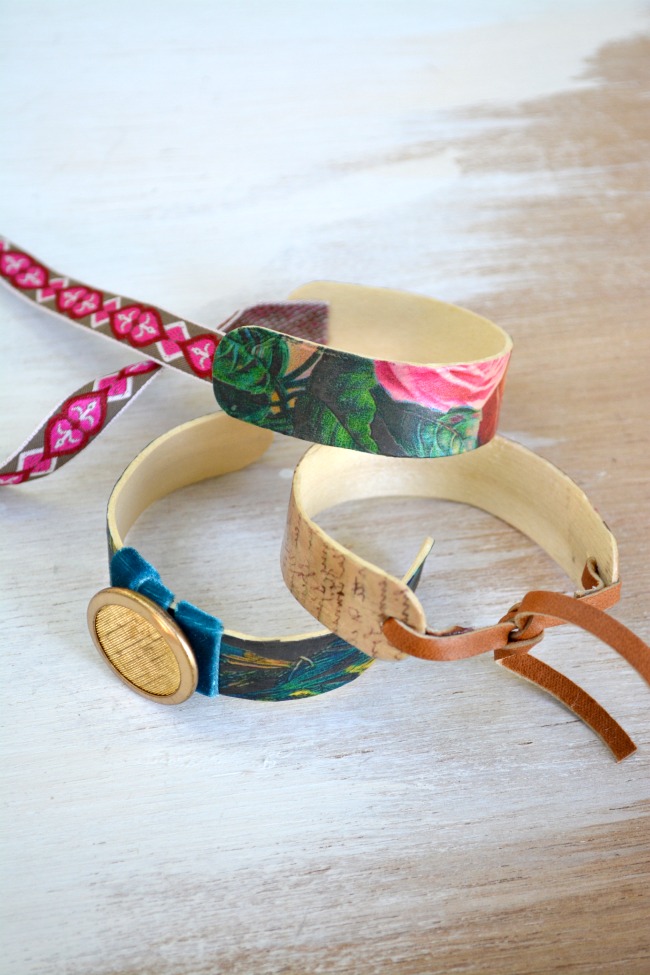 If you have a drill handy, you can drill holes in the stick before adding the image.  Leather looks good with more rustic images.  And just for fun, you can embellish the tops of the bracelets with ribbons and buttons if you like.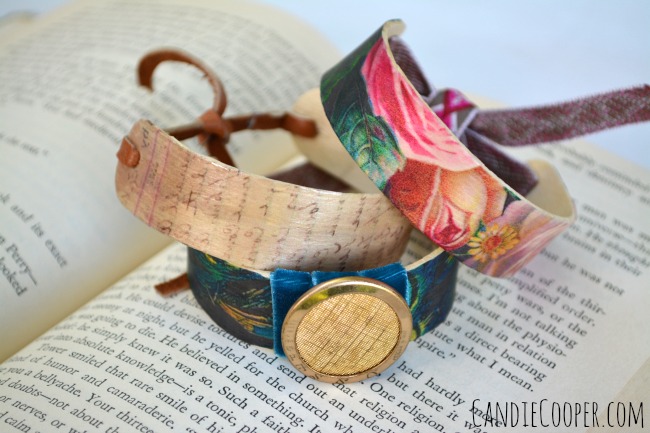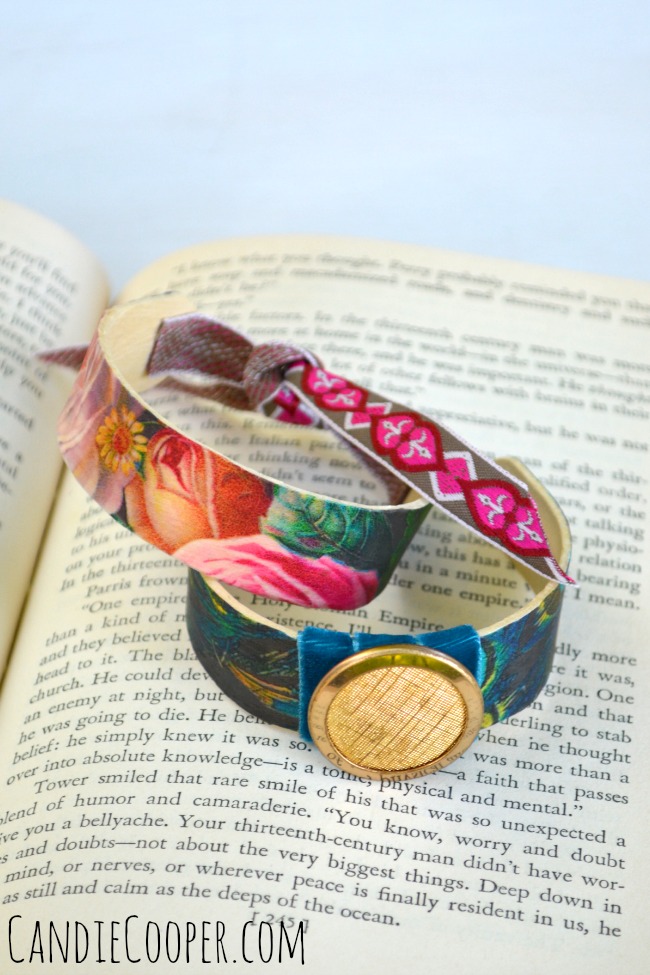 The flower one is so my favorite!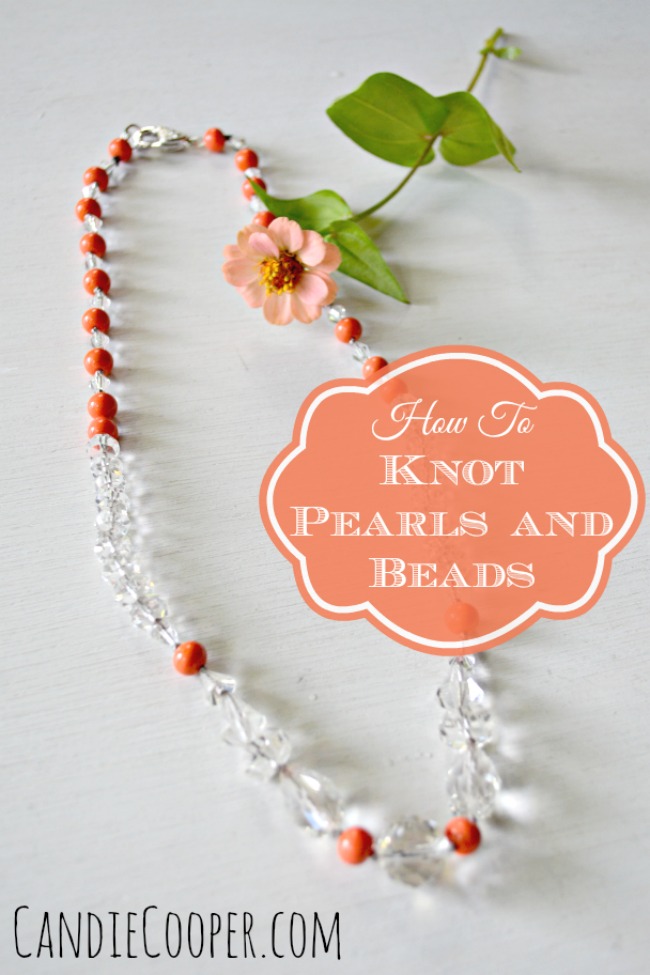 Since I feel like I'm in pretty good company on loving all things vintage, may I share with you a tutorial I recently did on my blog?  It's all about knotting antique bead necklaces!  Like the one's from your great-grandma you've been hanging on to.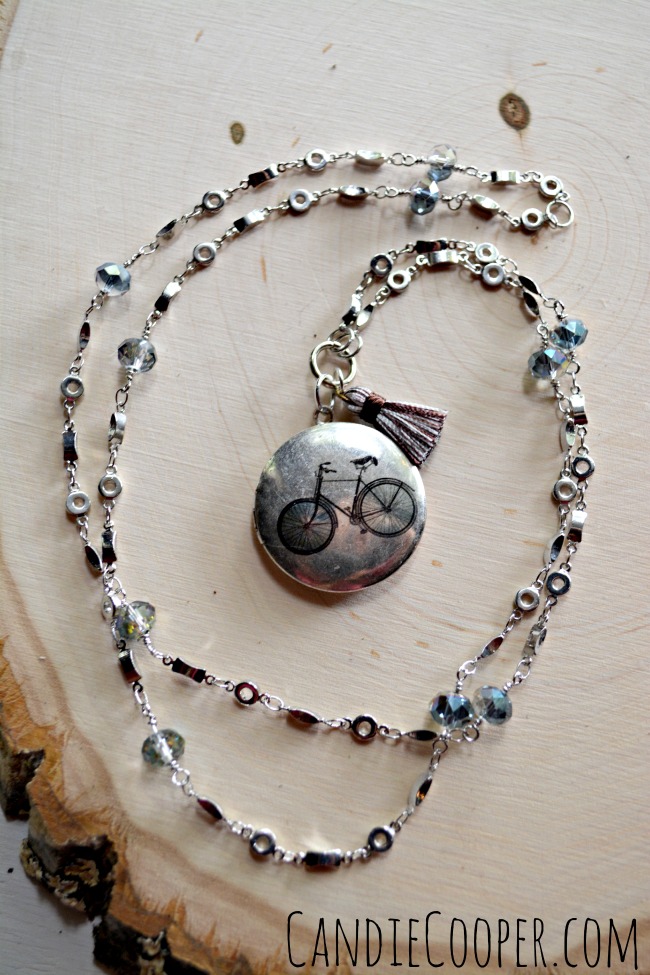 Here's a really easy beginner project that would make a fun gift idea!  You could easily find a blank locket and decoupage your own image from the Graphics Fairy site to it.
All the Best!