Memory Album Junk Journal
Hey everyone.  Terri Kolte, one of our amazing Junk Journal Design Team Members, created a gorgeous  Memory Album Junk Journal for us this week! As you know, we feature one new Junk Journal project each week created by one of our creative team of artists. Our Design Team Members select from the 100's of Vintage Image Bundles on our Premium Membership Site, for their creations, in order to show you beautiful ways to use those images. We hope you will be totally inspired by this series!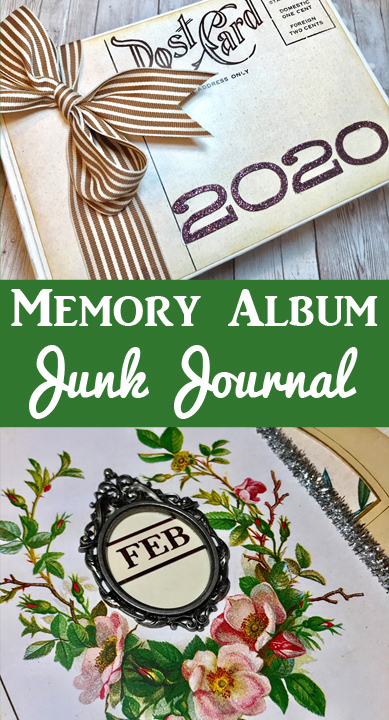 Please make sure you check out the video tour at the bottom of the page…please scroll all the way down to see it. Are you ready to be inspired? I will step out of the way and let Terri  tell you all about her fabulous project…
Hi there! It's Terri, from The Gypsy Magpie. Today I'm really excited to share a journal that I created for The Graphics Fairy using images I pulled from the Premium Member site. In thinking about the coming year I wanted to create a place to gather and document some of my memories for 2020. I also knew that to successfully complete this project would require some type of system that would make it easy for me to collect photos & notes plus little pieces of ephemera. I had to be honest about my commitments and felt that if it took me more than an hour or two at the end of each month to put everything together it was never going to happen. I think I've come up with something that can perfectly fill that bill!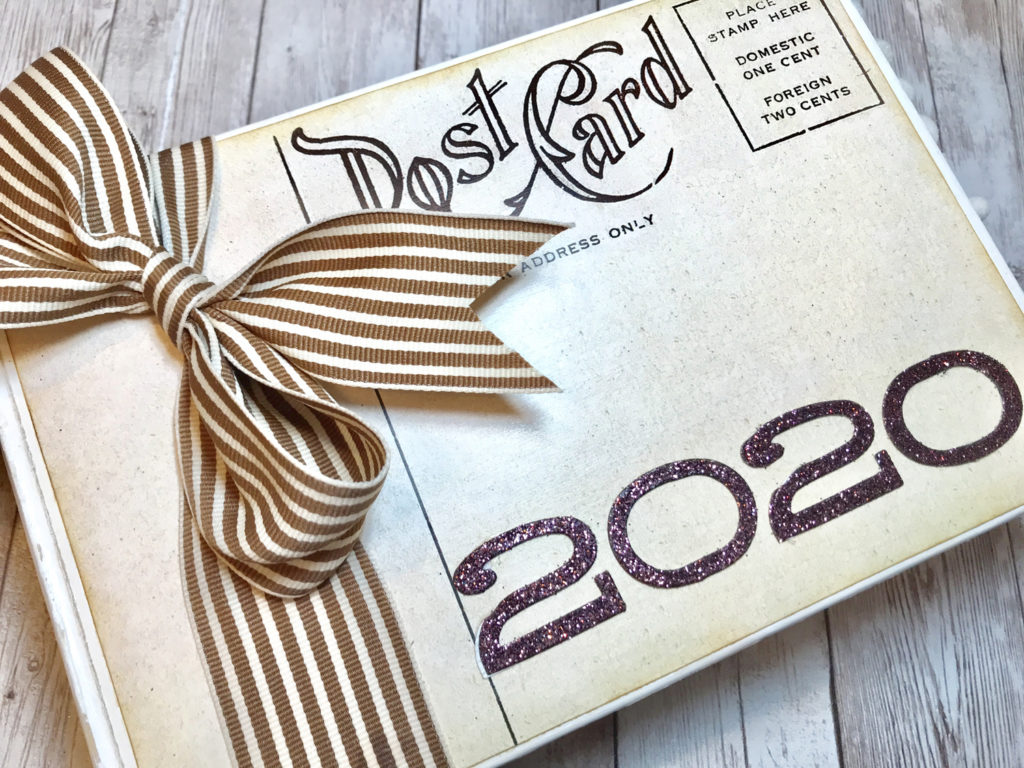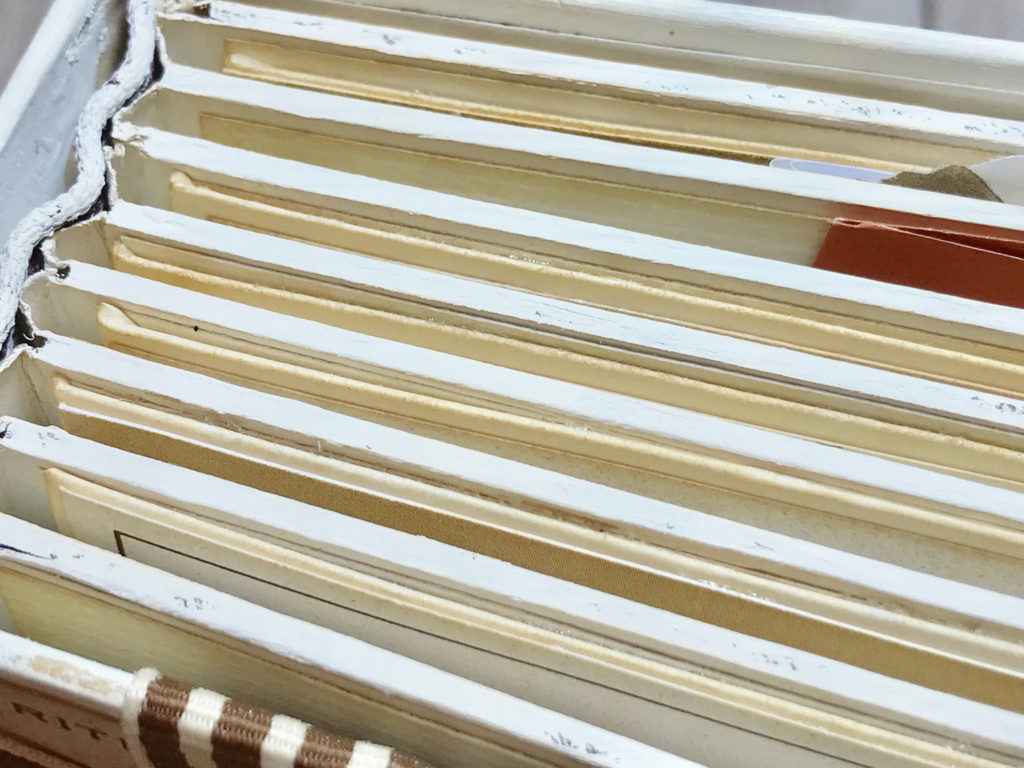 This entire project was put together pretty much from a single bundle on the Premium Member site- the Antique Album Pages- and a chipboard book from Prima (Hardware Memories line by Frank Garcia). I've used these books before- they come in many sizes- and every time I do, I love the result. The pages are a very rigid hardboard which can stand up to mixed media. The best part of the book structure is that it's built with a ¼" space between the pages to accommodate thicker embellishments that typically won't allow a book to close properly. I painted the edges of the pages and the spine with an antique white chalk paint. While everything was drying, I found the perfect image of a postcard that would become the cover, located on the Premium Member site in the Vintage Postcard bundle. The image was printed, trimmed to size and adhered to the outside cover with collage medium, while sheet music was used for the inside covers. When the covers were dry I found that a pretty ribbon and some die cut numbers were all the embellishment needed for the look I wanted. The other thing that I'm really excited about it putting my family name & address on the front cover, using this giant postcard the way it was intended.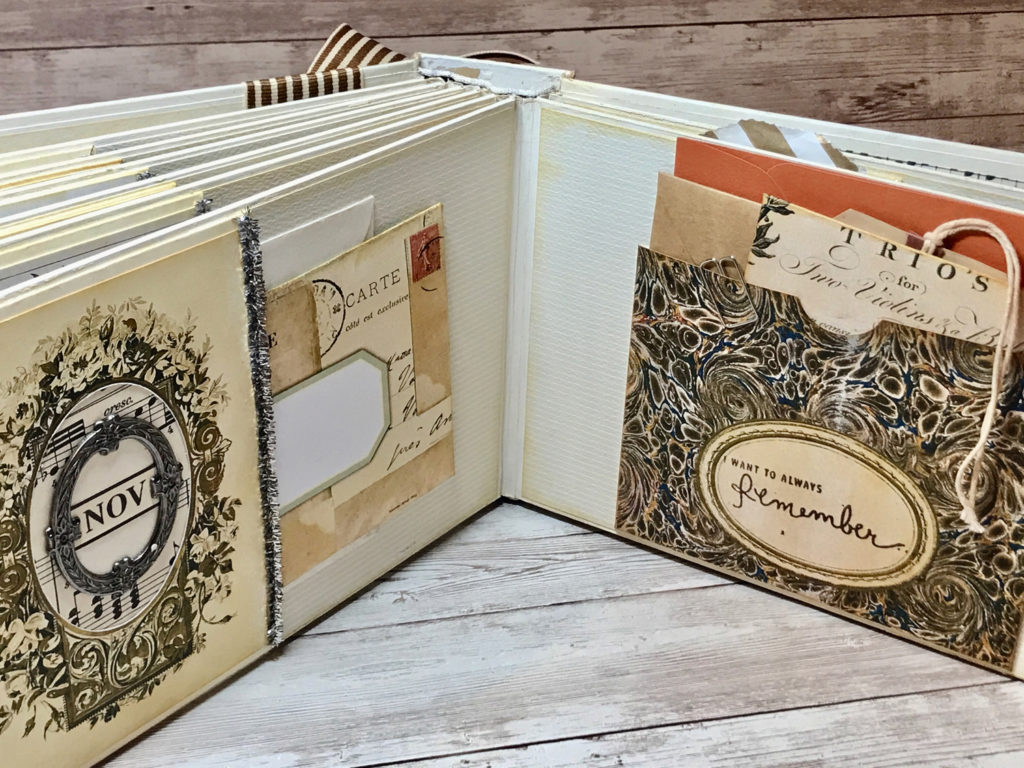 Throughout the book I have included several pockets that were created from various printable envelopes, also from the Premium site. The envelope printables came from Collaged Ephemera, Angelic Envelopes and Nostalgic Christmas, as well as a couple different CD covers. The last bundle I pulled from was to print a tag with the numeral 1 from Antique Ephemera. Instead of folding the envelopes as they were designed, I selected them for their design and cut the main panel to use as the front of a pocket. A score board helped put a 1/2" crease along both sides and the bottom edge. I used a circle punch to notch the top of the pocket, allowing easier removal of items tucked inside. These pockets will be nice for tiny journals or bundles of photos.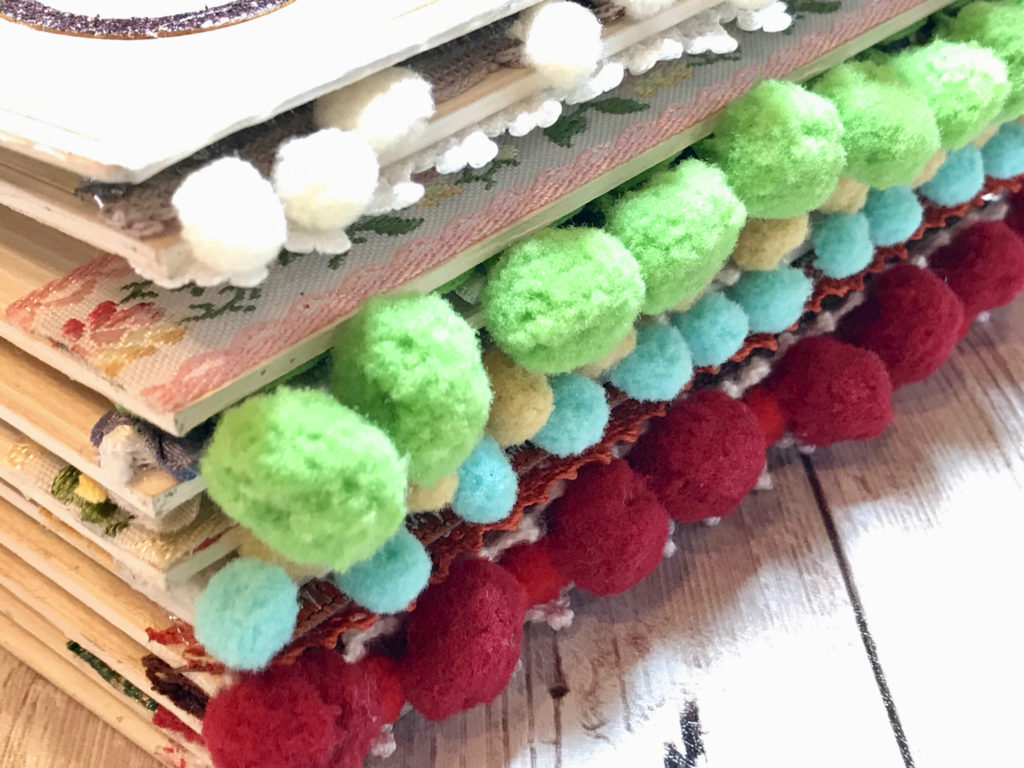 The monthly pages are very basic- a neutral paper covers the chipboard page; a pocket with photo frame is embellished with trims and chenille stem.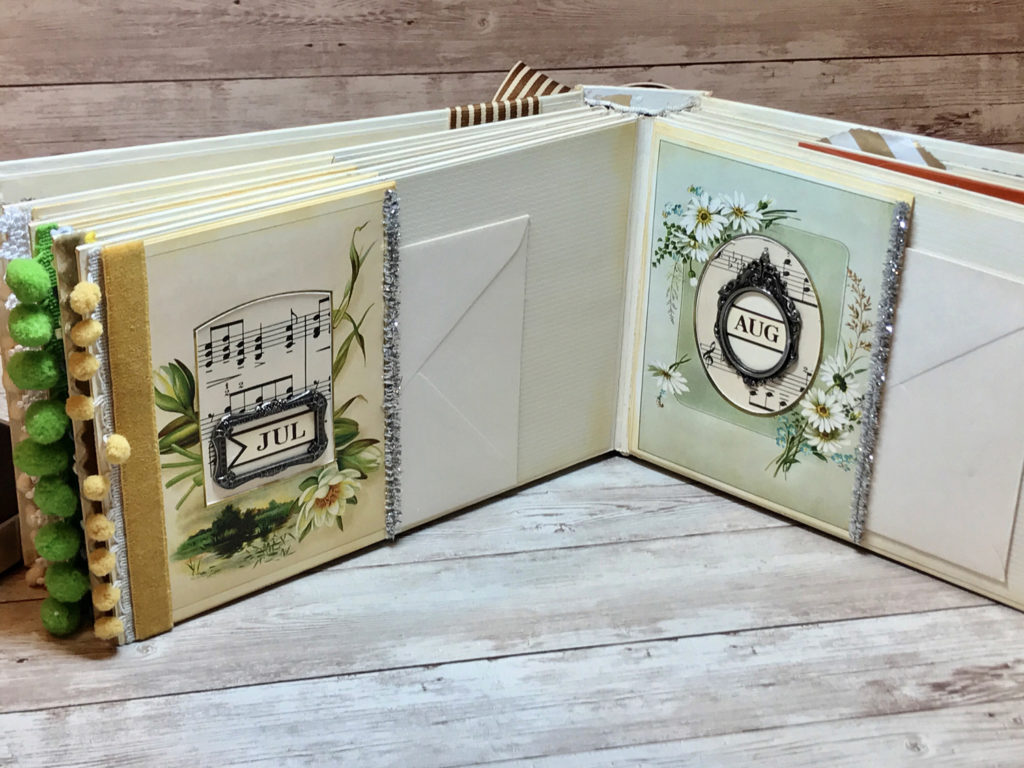 I used photo frames from the Antique Album Pages bundle for this. Oh, what goodness awaits in that bundle! It's full of beautiful floral frames as well as a couple basic photo mats that I use regularly in my journals. They are perfect chameleons that let me dress them up with fussy cut or stamped images and I find myself constantly reaching for them. I have even given them a very sheer "wash" of acrylic paint or gesso when I want to alter their color.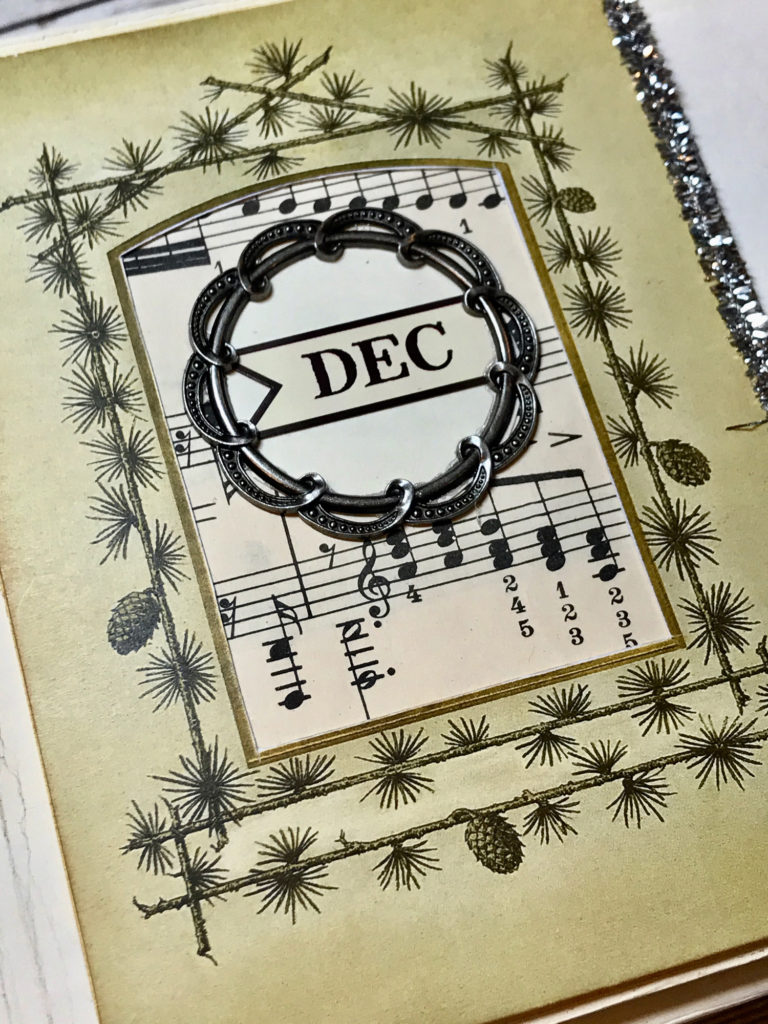 Instead of filling the floral frame with an actual photo, I decided to slip some vintage sheet music behind each one, adding a metal frame over some stickers with the months. The completed photo frame was then attached to a simple card stock pocket I created to fit the page.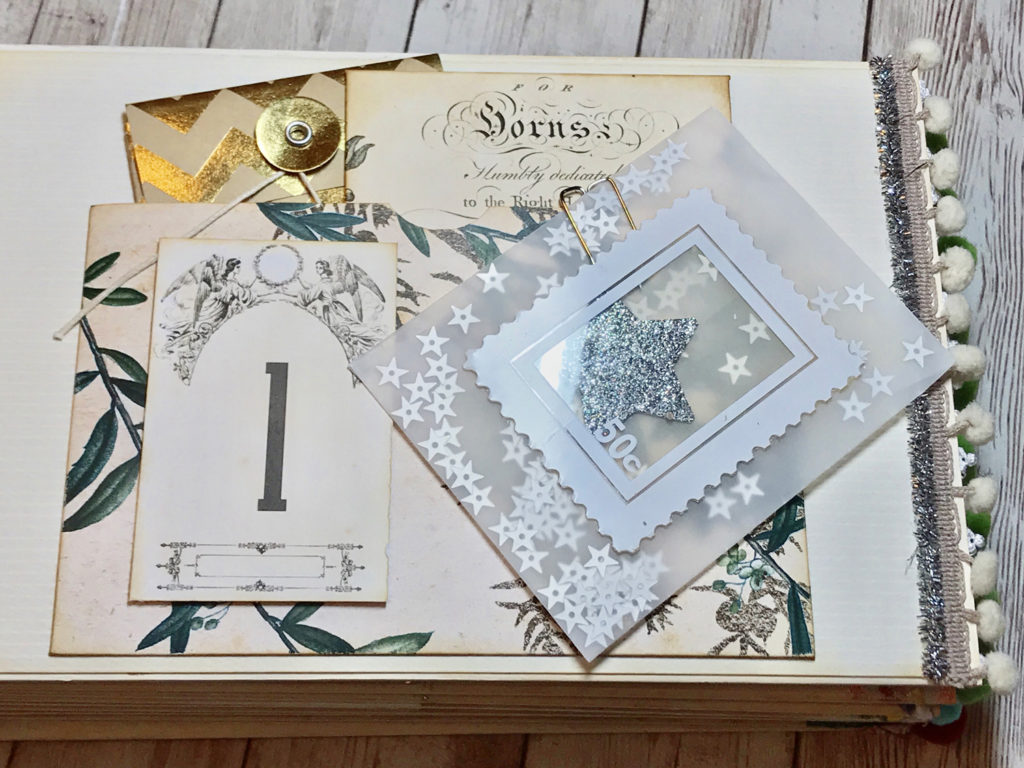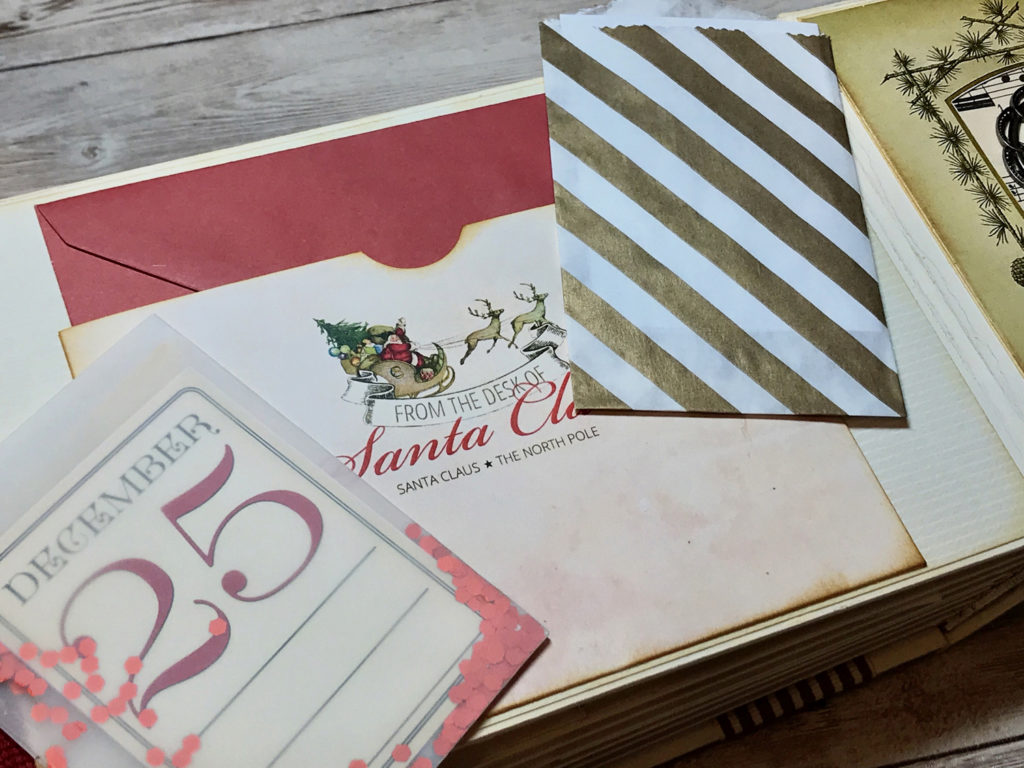 I am uncertain as to whether I'll slip a small 'journal-style' bundle of pages into each pocket or not, as I'm afraid the bulk may end up being prohibitive. Instead, I may use envelopes for each month to collect the photos and notes, perhaps also tucking in a little tag or trading card.
My goal is to keep this project SIMPLE so that I'm likely to keep current with it and have a lovely completed memento at the end of next year!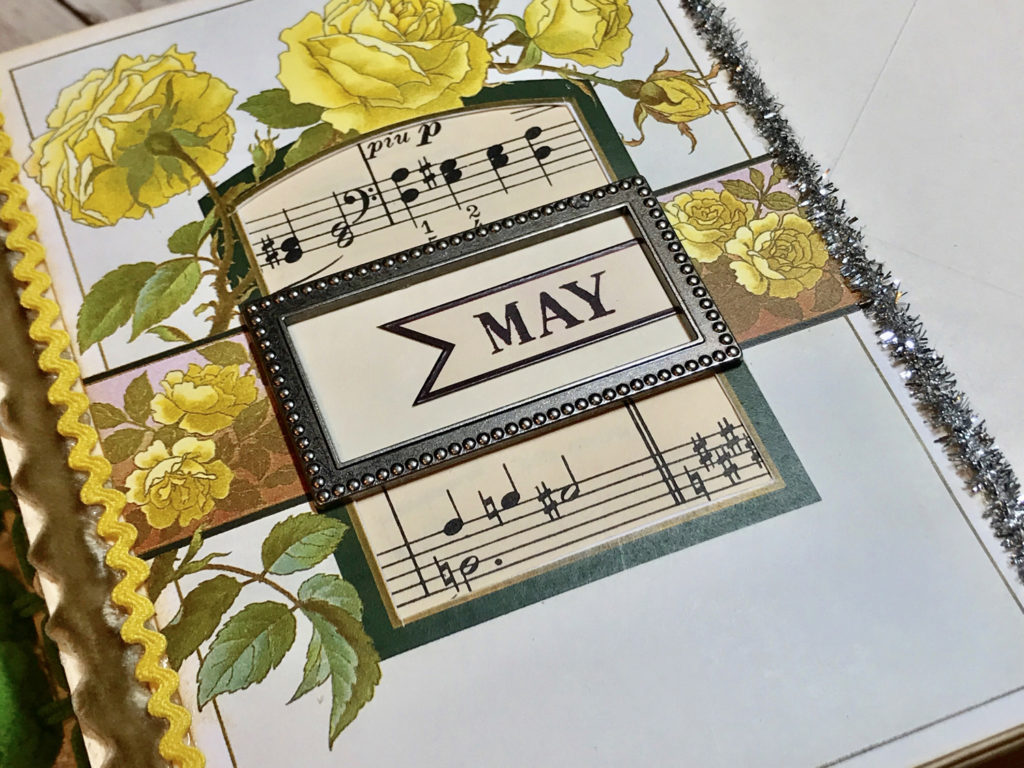 I'm sure I'll be making more of this style journal. Think of the possibilities for a perpetual birthday book, adding to it with each passing year. Or maybe a book of gratitude, filled with the special things that your family celebrates each year at Thanksgiving- right down to the recipes that make it yours. I'm pretty sure I'd like to do the same thing for trips to the wine country that we love to take with friends- adding a page whenever that special weekend pops up. I could envision some labels and tasting notes tucked in along with photos and business cards from restaurant or other places we visit.
Even the menus from our picnics! The wheels are turning in my brain…
Some of the TGF Premium Bundles used in this project, from The Graphics Fairy Premium Membership Site:
Antique Album Pages
Vintage Postcard Bundle
Collaged Ephemera
Angelic Envelopes
Antique Ephemera
Nostalgic Christmas
To see a video tour of my 2020 Memory Album Junk Journal Design Team project, please watch below:

Happy crafting~
Happy holidays to you…
Terri from The Gypsy Magpie
Hello! Are you new to The Graphics Fairy?
Welcome. I'm so glad you're here! Browse around to find thousands of Stock Images that you can use in your projects or designs! I post new Vintage images every day, as well as projects and DIY's too! Need more info about my site? Try my FAQ