Art Alchemy Metallique Wax Tutorial
Metallique Wax – A Deliciously Rich Finishing Option. Hello my Fabulous Graphics Fairy Friends! It's Heather from Thicketworks. And oh, boy, do I have something special to share with you today! A few weeks ago, I 'bit the bullet' and ordered a TON of Art Alchemy Waxes. Today, we'll be exploring just six of the Metallique Wax Colors in this tutorial – there are MORE available! See, I'm deeply committed to testing these things out for us. (Okay, maybe I'm just a Supply Hoarder!) Regardless of the motivation, I think you'll enjoy  this Art Alchemy Metallique Wax Tutorial, and seeing what the Metallique Waxes can do for your Mixed Media Art work. So, without further ado, let's get messy!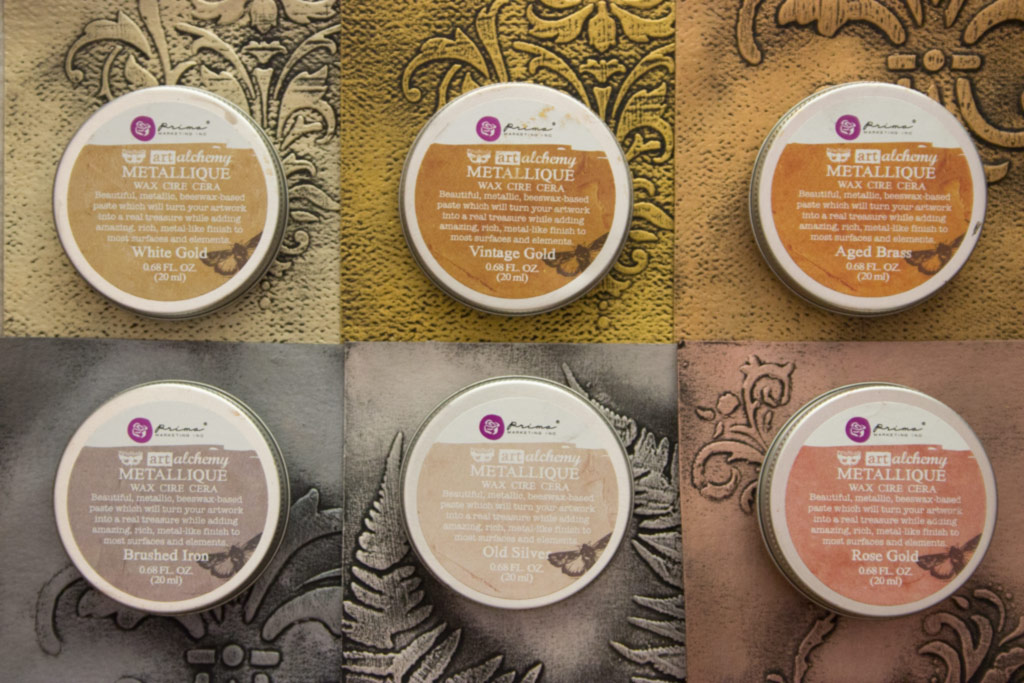 If you'd like to play with these delightful waxes, here's what you'll need:
Supplies:
A non porous work surface (think glazed ceramic tile, non-stick craft mat, parchment paper, etc)
Black Gesso or Acrylic Craft Paint of your choosing
A paint brush + container of water (to apply the Gesso or Paint)
Rubbing Alcohol & a Soft Cloth  (to clean your fingertips)
How to use Metallique Wax:
The most intense effects are possible over a matte black finish. Here, I'm priming a series of cardstock panels with Black Gesso.
A raised stencil design has been added to each panel with Joint Compound. (You can learn this simple technique by clicking HERE.)
The Joint Compound has dried completely, but remains flexible (I love that)
(This Mini Ferns Stencil is a joy to work with)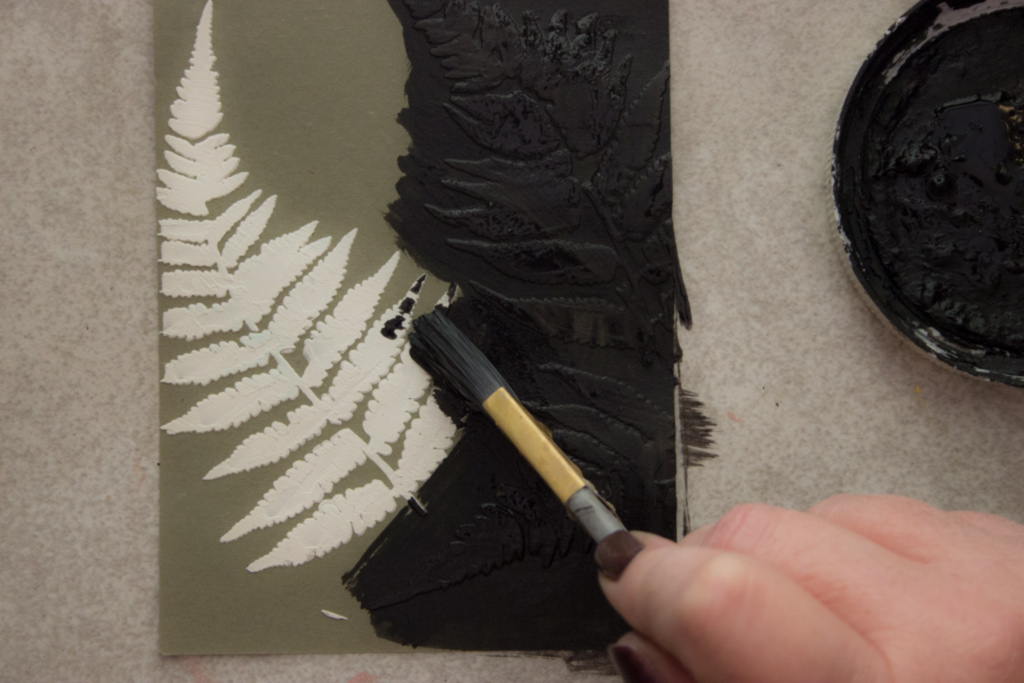 Once the Gesso has dried, it's time to experiment with Art Alchemy-Metallique Wax-Old Silver.
The very first thing you need to know?
It has a light and pleasant scent! An unexpected and welcome quality…
Secondly, the wax has the smoothest consistency of any wax-based finish that I've tried.
You just pick a bit up with a fingertip, then apply it to your surface.
Although the tins are TINY, I found that a little bit goes an extremely long way.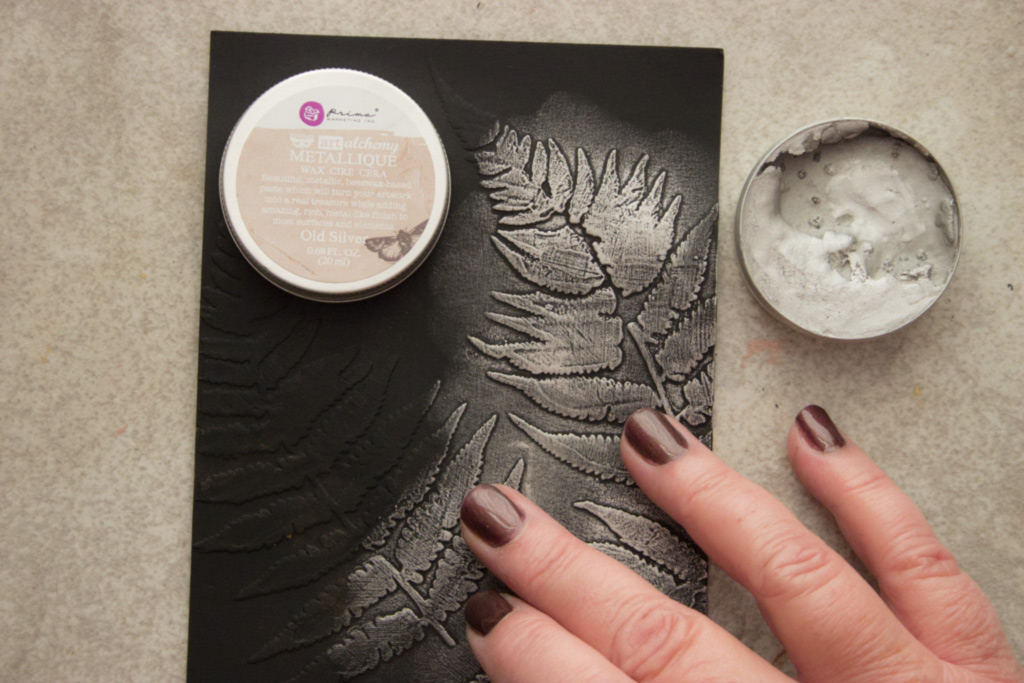 Wow! The rich finish of Old Silver can run the gamut from distressed to highly polished, depending on the intensity of the application:
Art Alchemy-Metallique Wax-Rose Gold really does mimic the warm and feminine look of its namesake: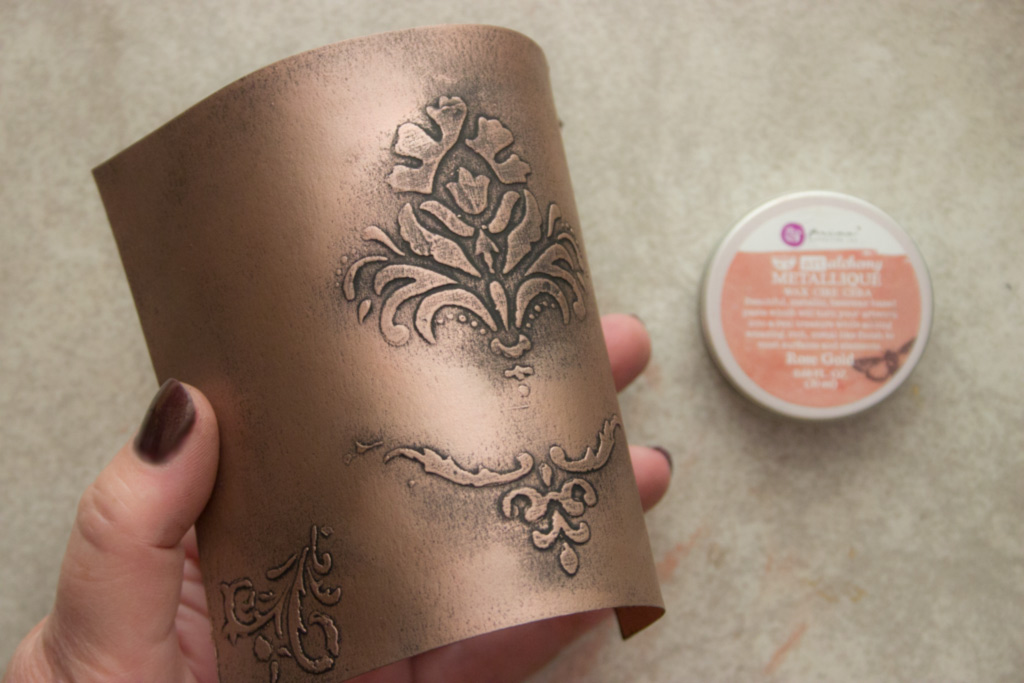 Art Alchemy-Metallique Wax-Vintage Gold has a deep tint, with a hint of green undertones.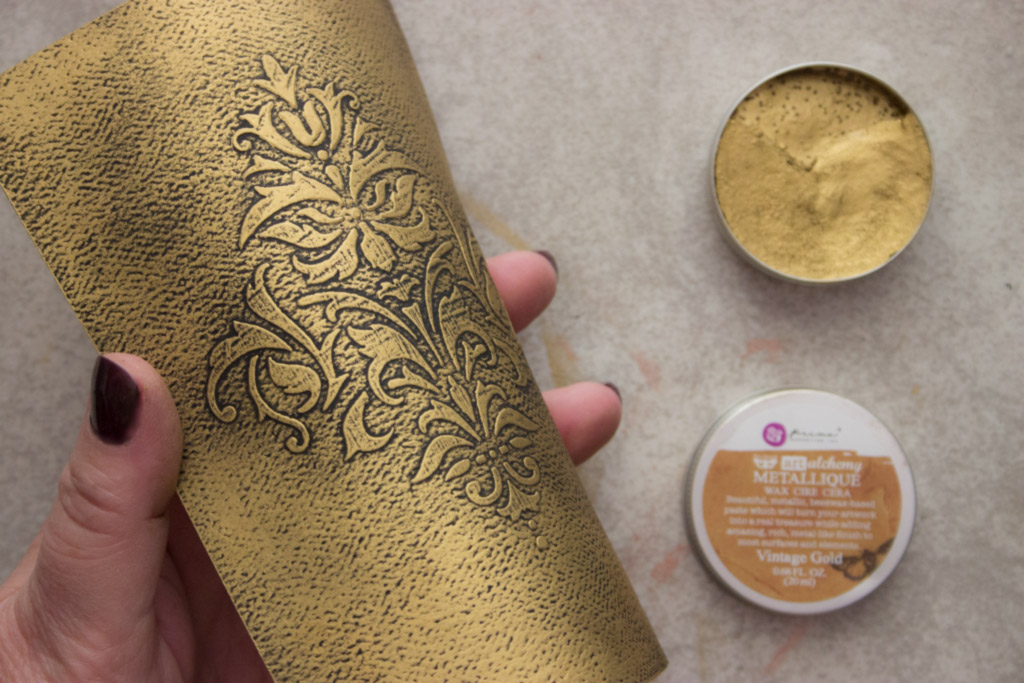 I was not expecting to 'like' the Art Alchemy-Metallique Wax-White Gold – but it's perfect for times when you want a warm 'silvery' effect.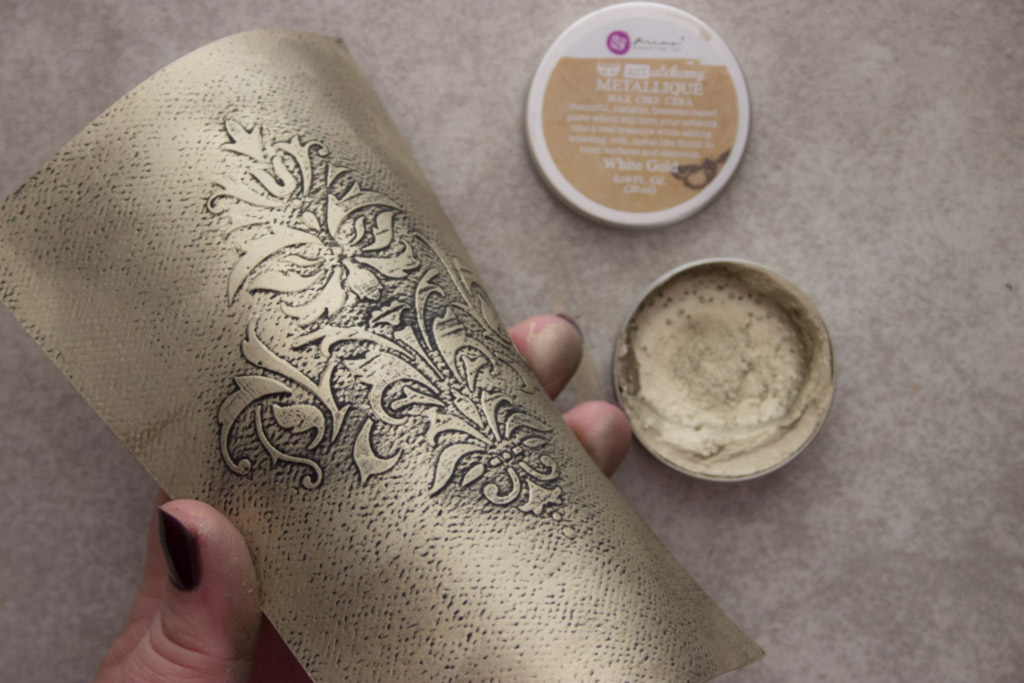 Oh, yeah. THIS is my favorite: Art Alchemy-Metallique Wax-Aged Brass – when you need a deep, rich golden tone? This is the one.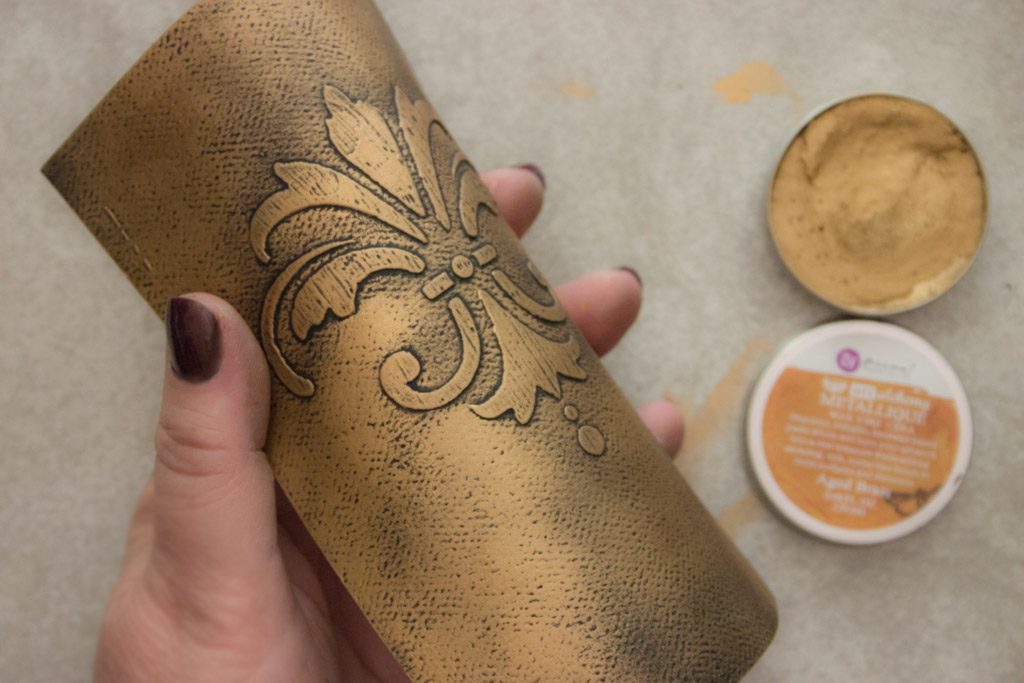 Running a close second in my 'personal favorites' lineup – Art Alchemy-Metallique Wax-Brushed Iron.
There is a very substantial 'gunmetal' feeling to this one.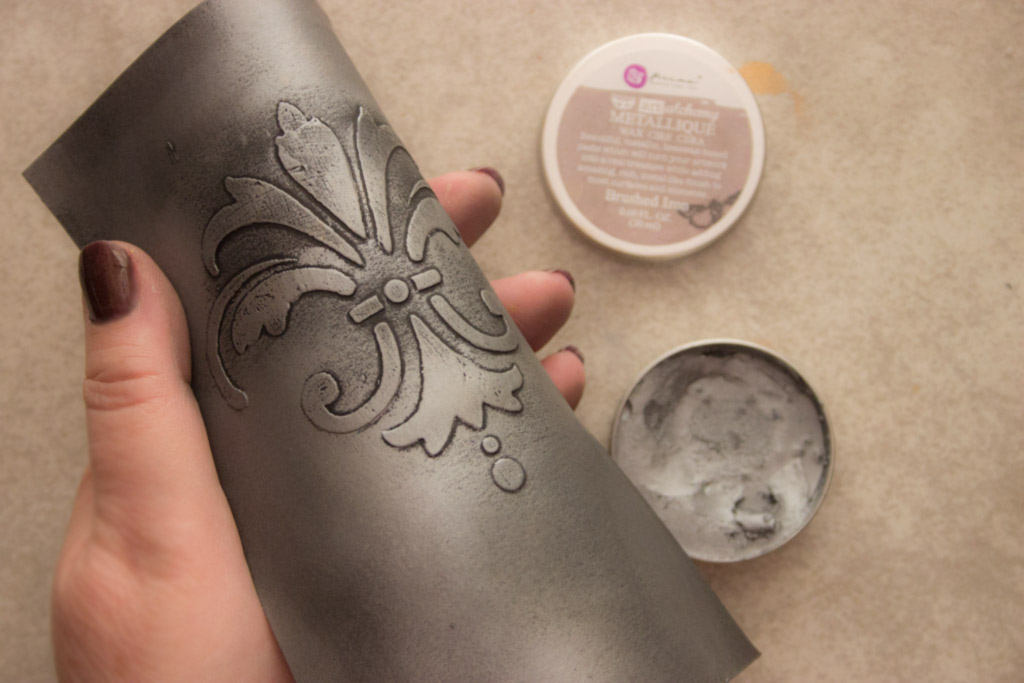 So, now that you've seen what Metallique Wax can do for cardstock, let's see how it performs on a heavily textured surface, shall we?
I prepared a highly complex and detailed Mixed Media Assemblage for this test – so, let's see what happens when we add ALL SIX of the waxes!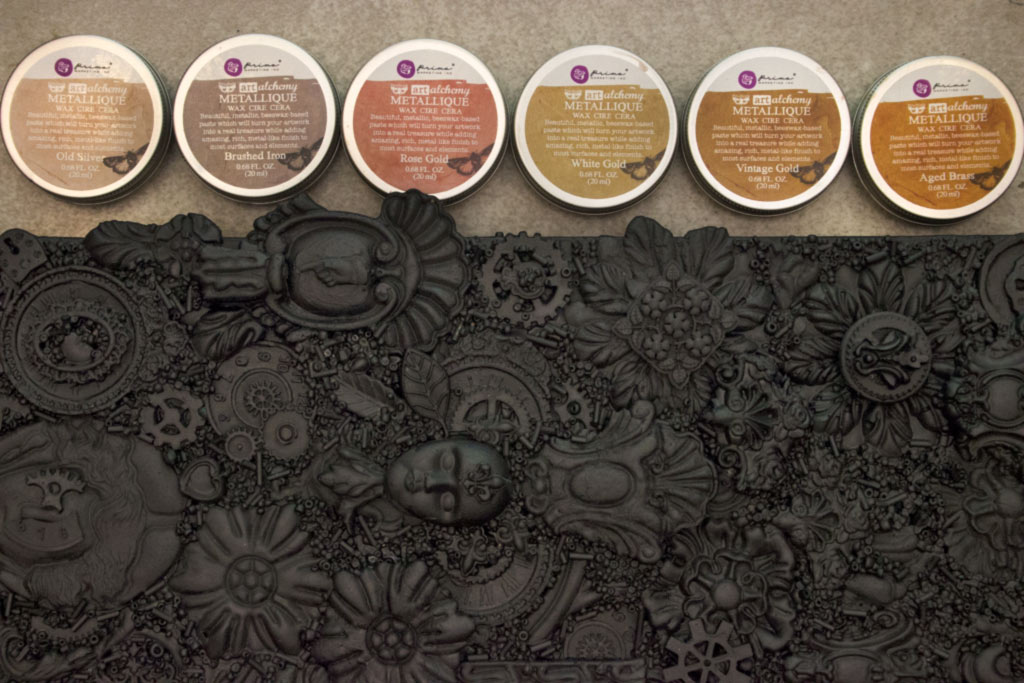 Naturally, the transformation HAD to begin with Aged Brass!
Just LOOK at how creamy that is!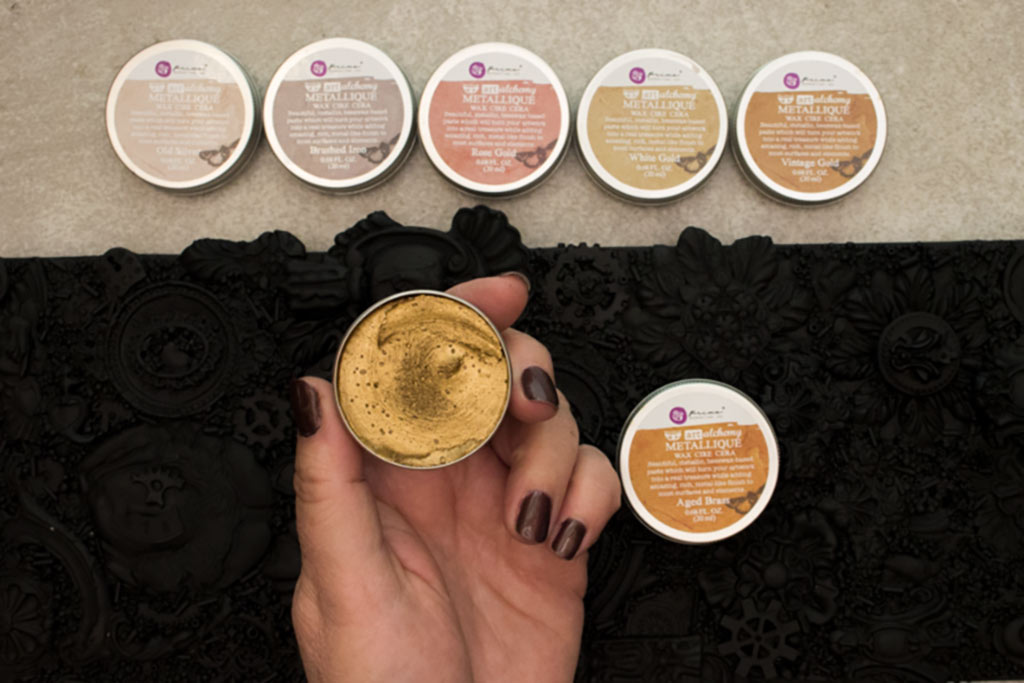 Next thing you know, a Riot of Metallique Wax colors are being added over the surface!
They blend really well when freshly applied.
Once they dry completely (a couple of hours) they are permanent.
They will not reactivate with water.
Even Rubbing Alcohol will not damage the finish, unless rubbed with QUITE a lot of force.
BONUS!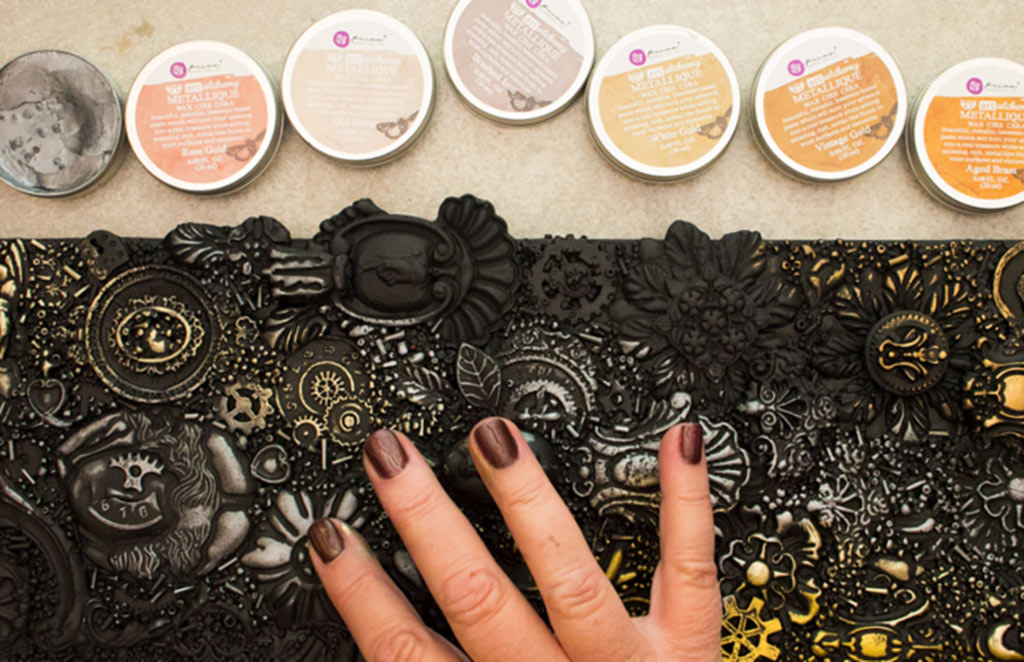 It's easy to highlight a focal element by adding an intense application to just that item…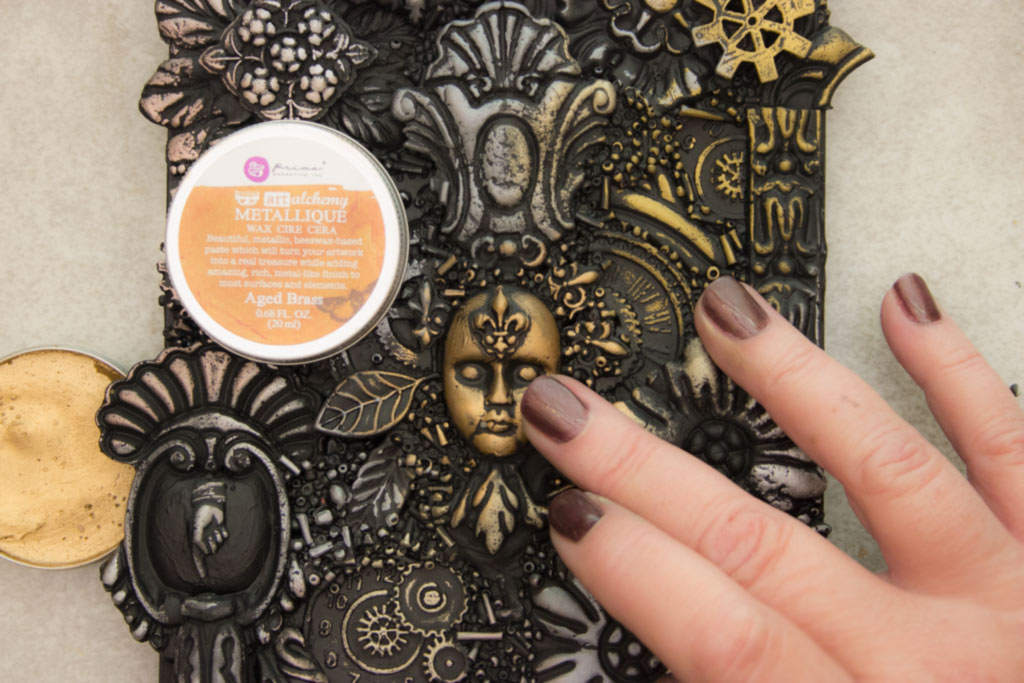 Honestly? The application of the Metallique Waxes to this entire piece took less than 10 minutes!
Even though Six Distinct Colors have been used, they blend so beautifully that the overall impression is harmonious.
I love that.
Variety + Harmony = Yum!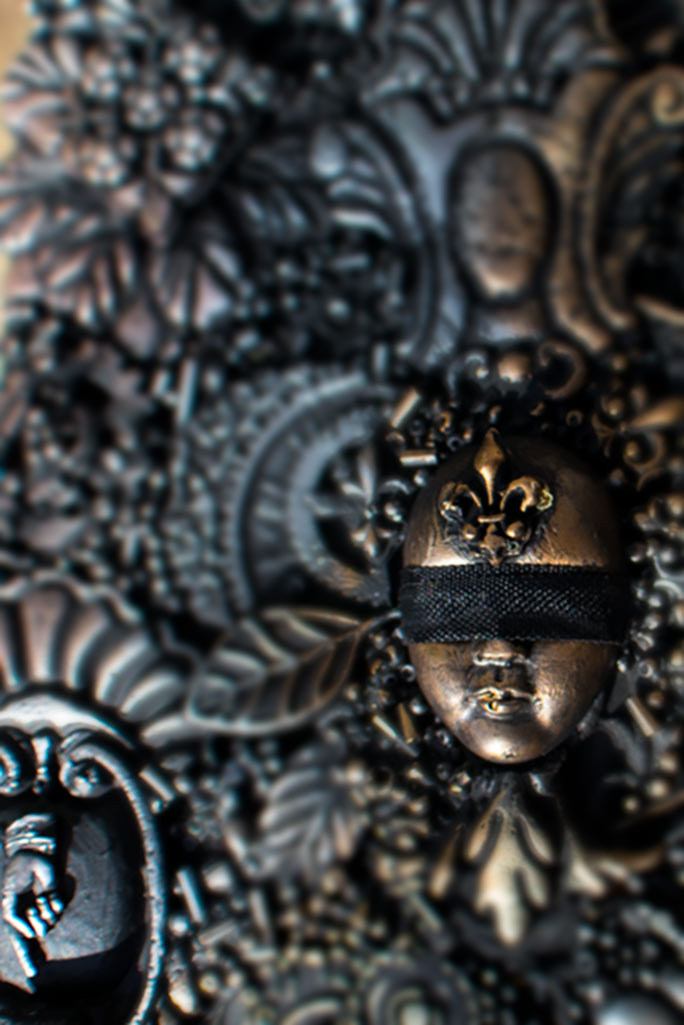 The intensity of the "shine-factor" really impresses me.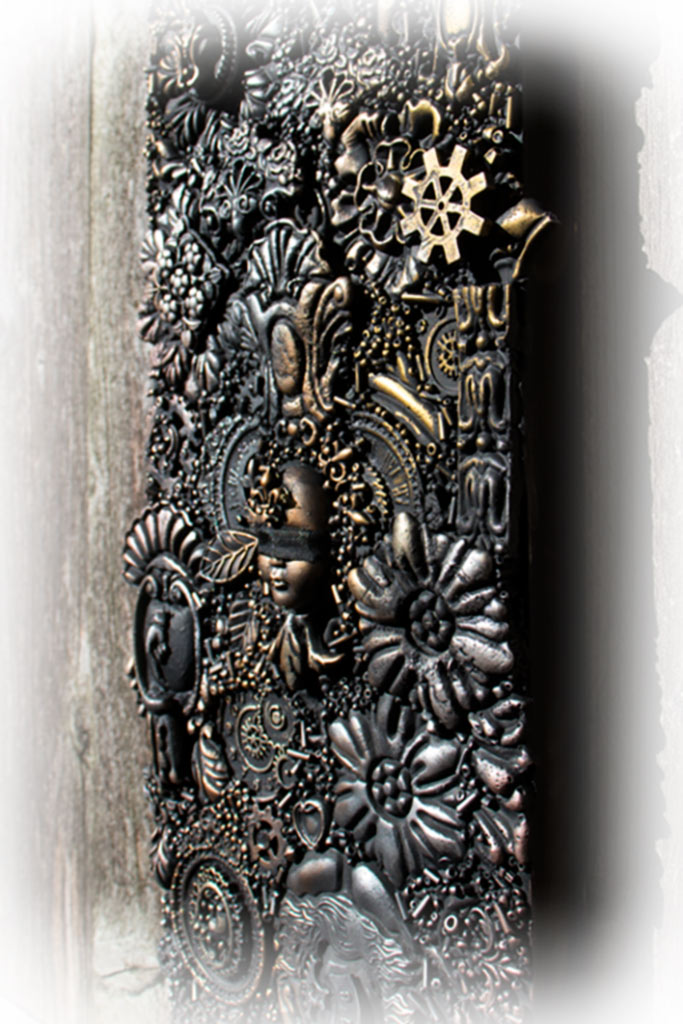 Just a few swipes with a fingertip.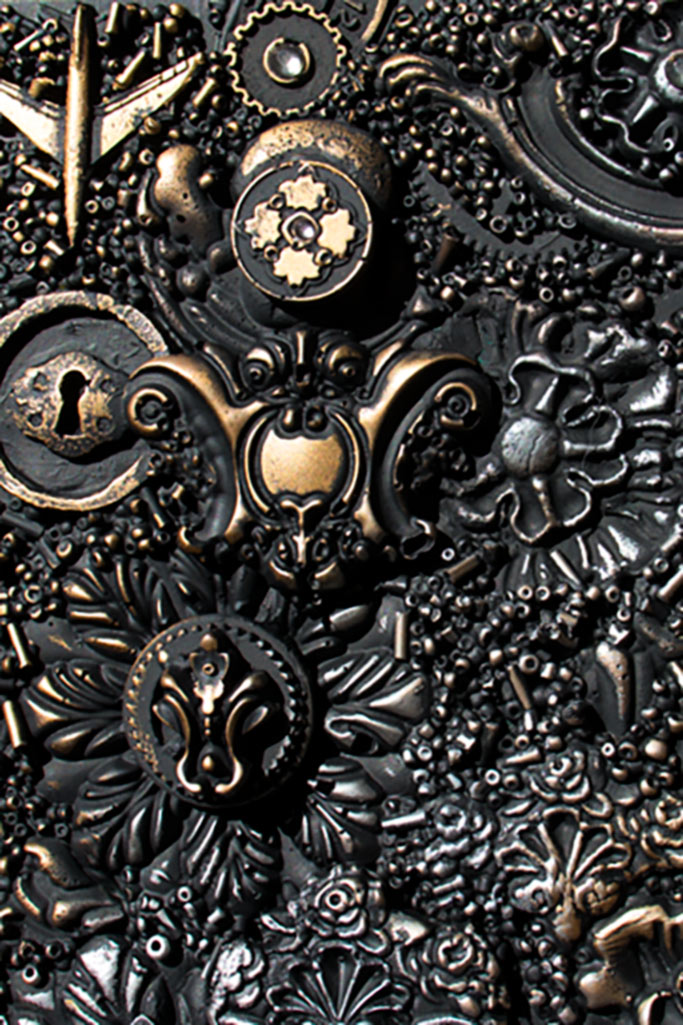 One ALMOST feels guilty for achieving this richness with so little effort.
Almost.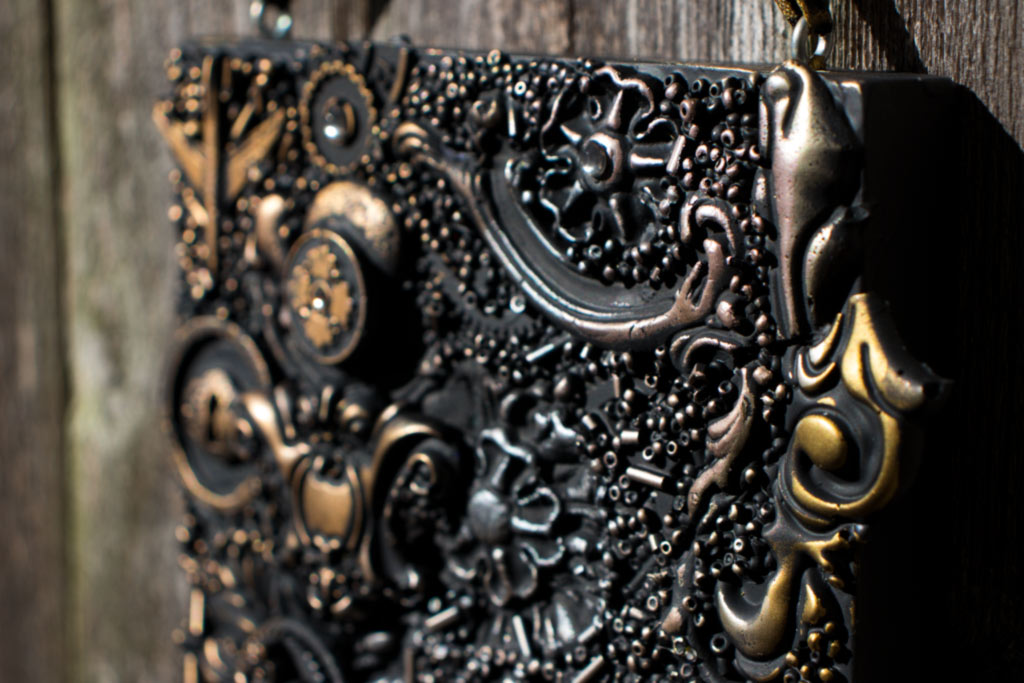 Brushed Iron – I love you. Perfect for an Industrial Vibe…
Now, as someone who has enjoyed Inka Gold for many, many years, I have this to say:
The shine, coverage, ease of application and permanent quality of the finish (not to mention the lovely scent!) has completely taken me by surprise.
In a good way.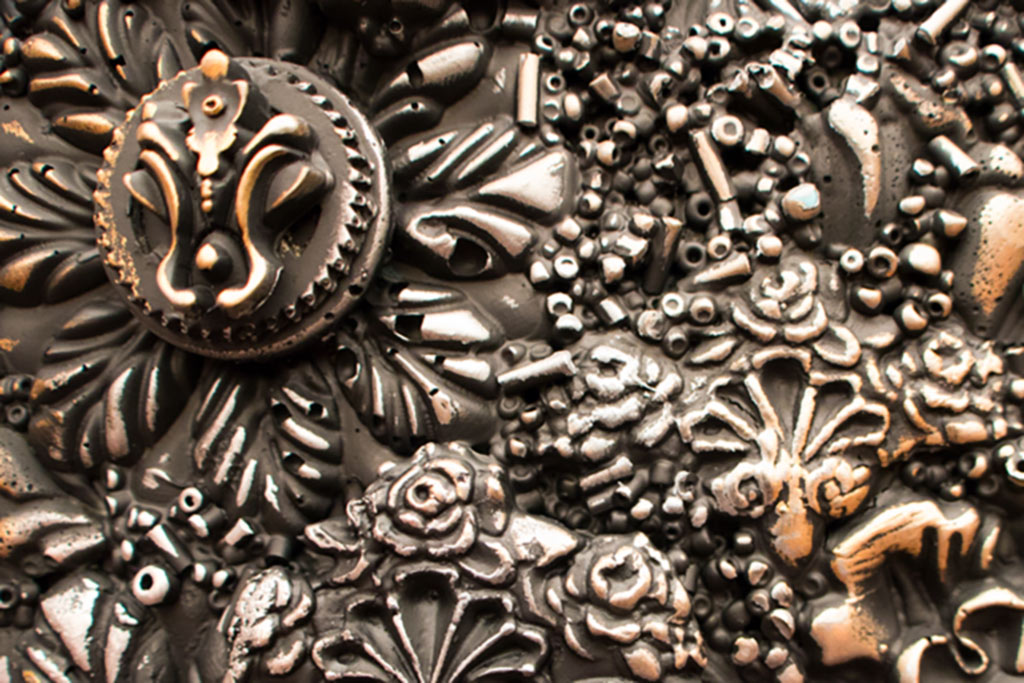 Subtle or Bold.
Gently Blended or Starkly Delineated.
It depends on how you apply it.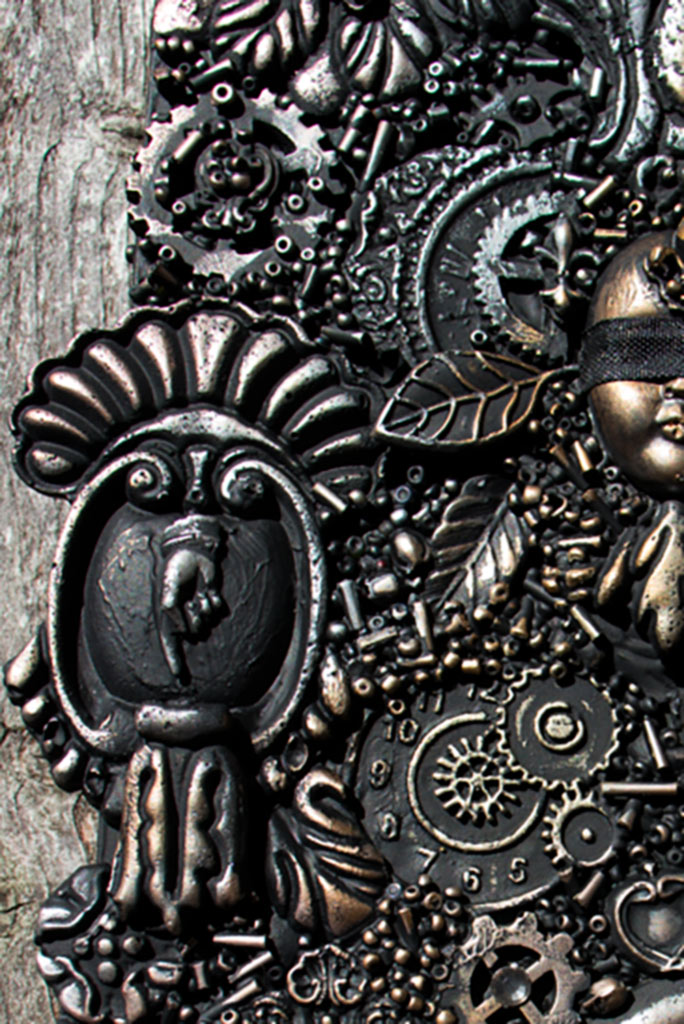 All six colors work beautifully together on what could have been a chaotic mess…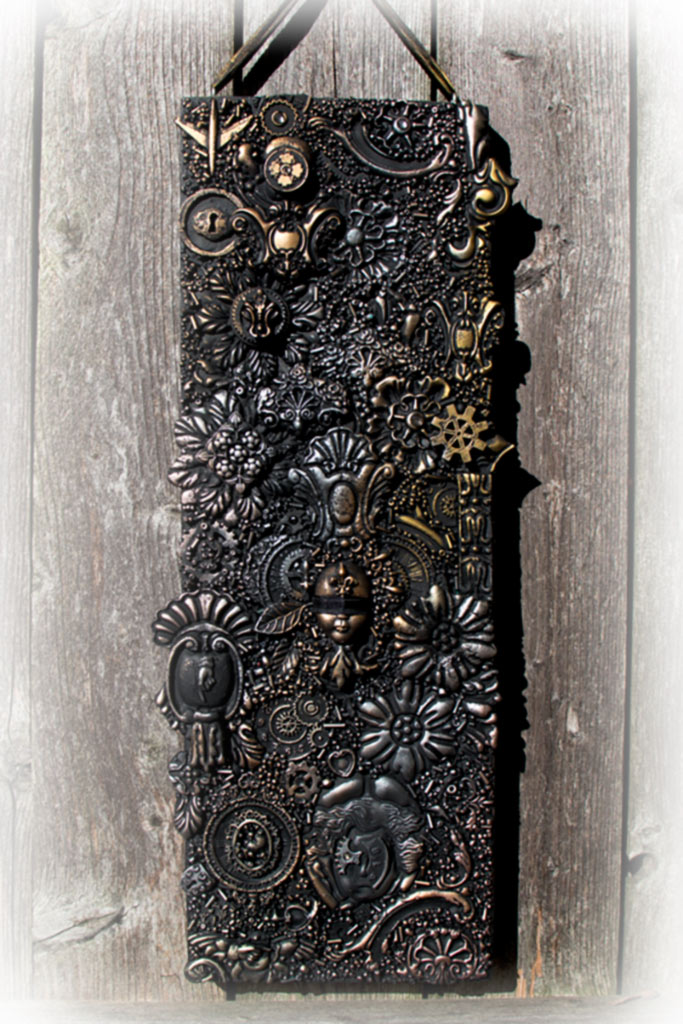 And there we have it.
A fantastic solution for those times you need rich metallic shimmer and shine!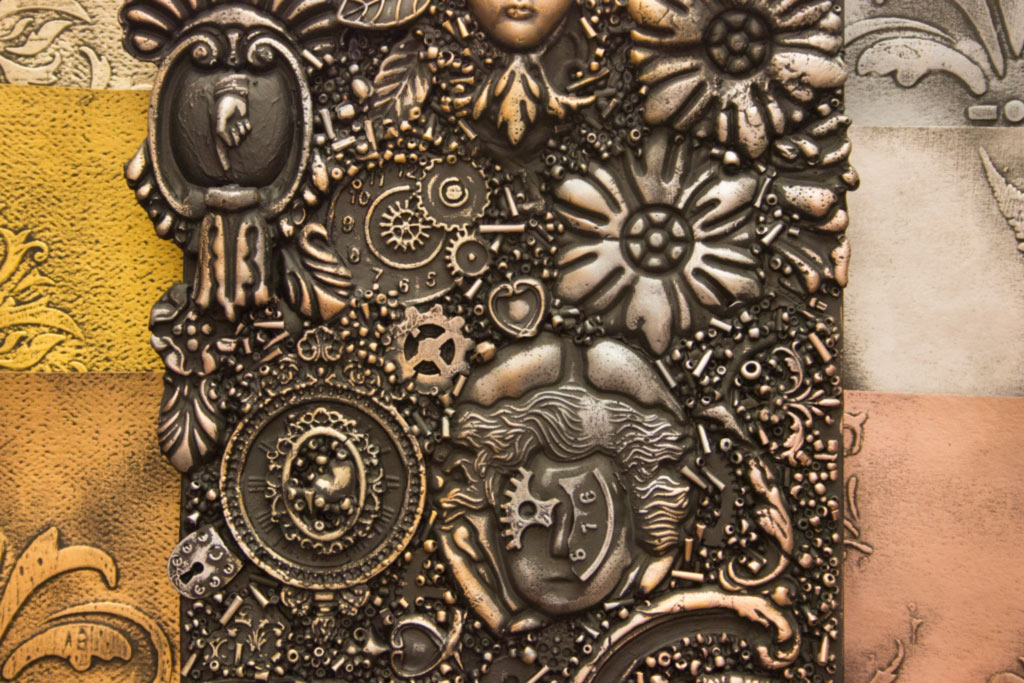 Thank you for visiting The Graphics Fairy today! I hope that if you have an opportunity to work with Metallique Wax you'll fall in love, like I have.
Until next time,
Heather ♥
I hope to see you at both the Thicketworks YouTube Channel  and Thicketworks Blog – we'll have us some Messy FUN!
---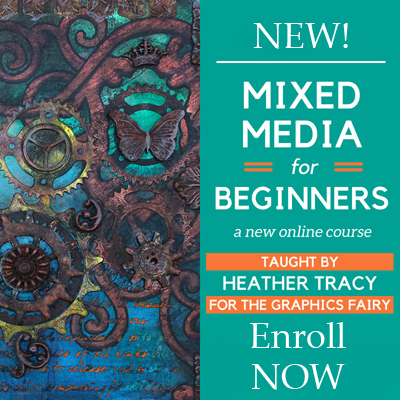 Our students have SO much fun in the Mixed Media for Beginners online course…