9 Natural History Bee Prints
Today we have a wonderful collection of Natural History Bee Prints! Do you have a favorite winged creature? Maybe your favorite is the Bee. If so, then this collection will be perfect for you! In it, I'm offering some gorgeous Antique prints of Bees that are sure to brighten up any room in your house or office. Bees are one of the most important creatures on earth, and they deserve all the love we can give them!
Old Bee Engravings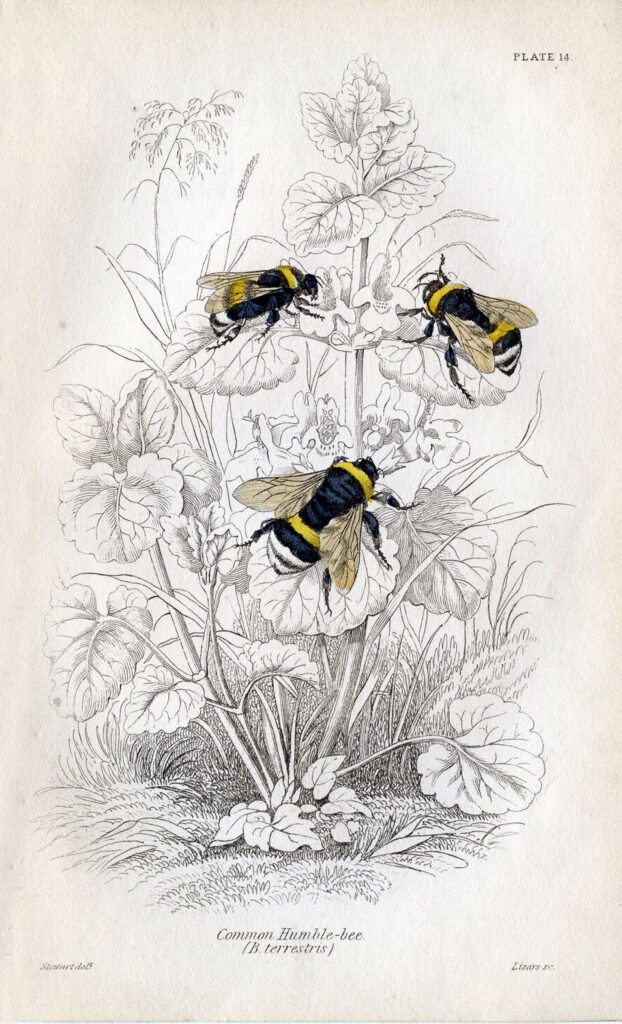 Click on Image to Enlarge and Save to your computer
This is an amazing early print of three large Bumble Bees! It is Plate 14 from one of my favorite books – a very old, circa 1860 Natural History Book. Notice the caption is for "Common Humble Bee." The white background is yummy with aged areas. Of course this would be fabulous just framed, but I think it would be wonderful to use this in a garden themed project.
Vintage Natural History Bee Prints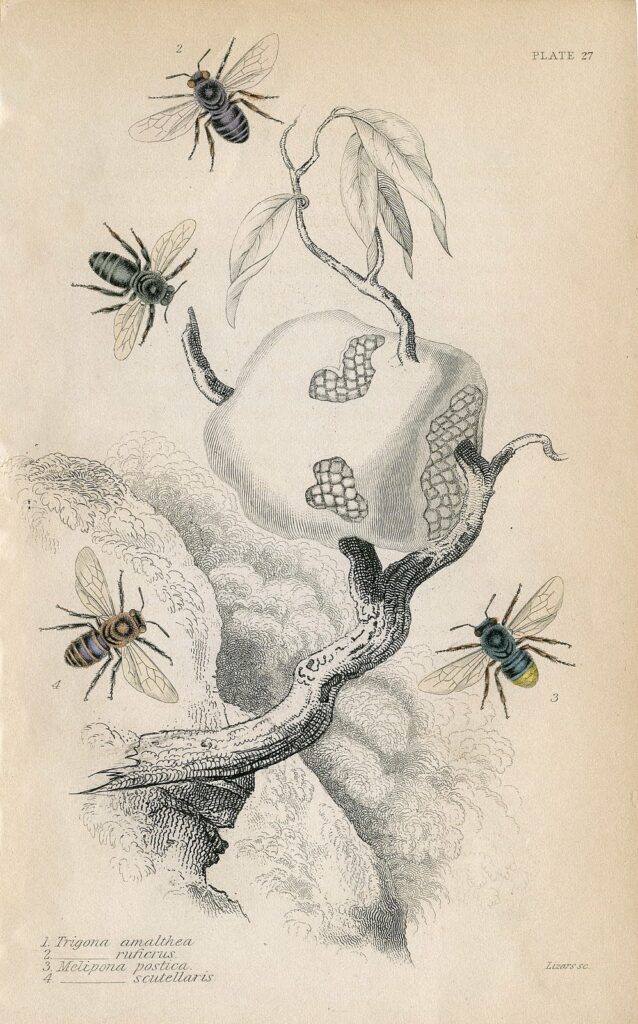 Click HERE for the Full Size Printable PDF of the Hive on a Branch
Here we have a circa 1840's antique Natural History Bees Print. Above is a full size printable of Plate 27. There is a hive on a branch, and you can see parts of the honeycomb in this drawing. There are four beautiful creatures in this printable – 'Trigona Amalthea,' 'Trigona Ruficrus,' 'Melipona Postica,' and 'Melipona Scutellaris.' According to some research, they are Stingless Bees from South America. Fascinating!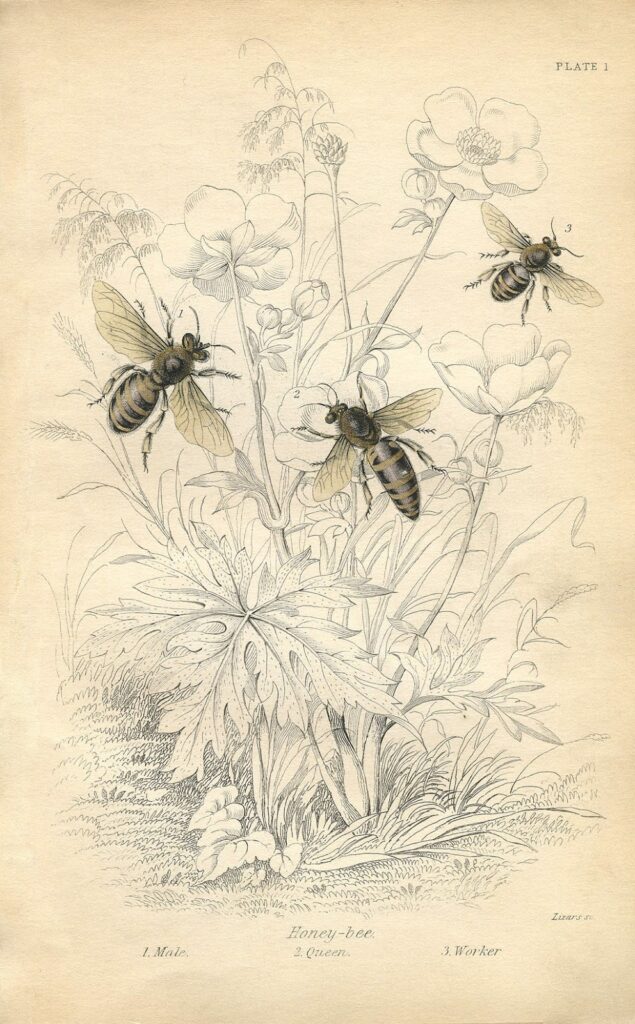 As you can see, this delightful print shows three Honey Bees all buzzing around some pretty flowers! They are are similar in color, with dark bodies and tan wings. The Male is the largest on the left. The Worker is the smallest on the right. The Queen is in the middle and has very small wings compared to the size of her body. I love the contrast of the black and creamy white background with the colorful winged creatures. Lovely!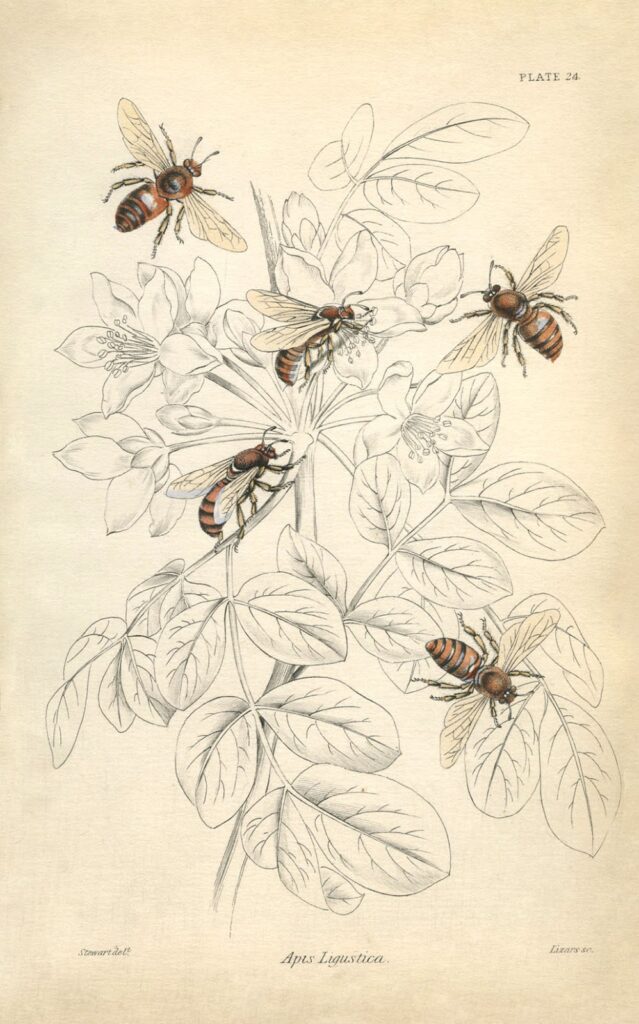 Click HERE for the Printable PDF of the 5 Bees
I just love old Bee images and truly enjoy sharing them with you! This is another one from an 1840 Bee Book in my collection. There's something about the combination of the colorful Bees along with the simple black and white engraving of the plant that really speaks to me! I've included a high resolution printable for you. I hope you can use them for your Handmade Projects!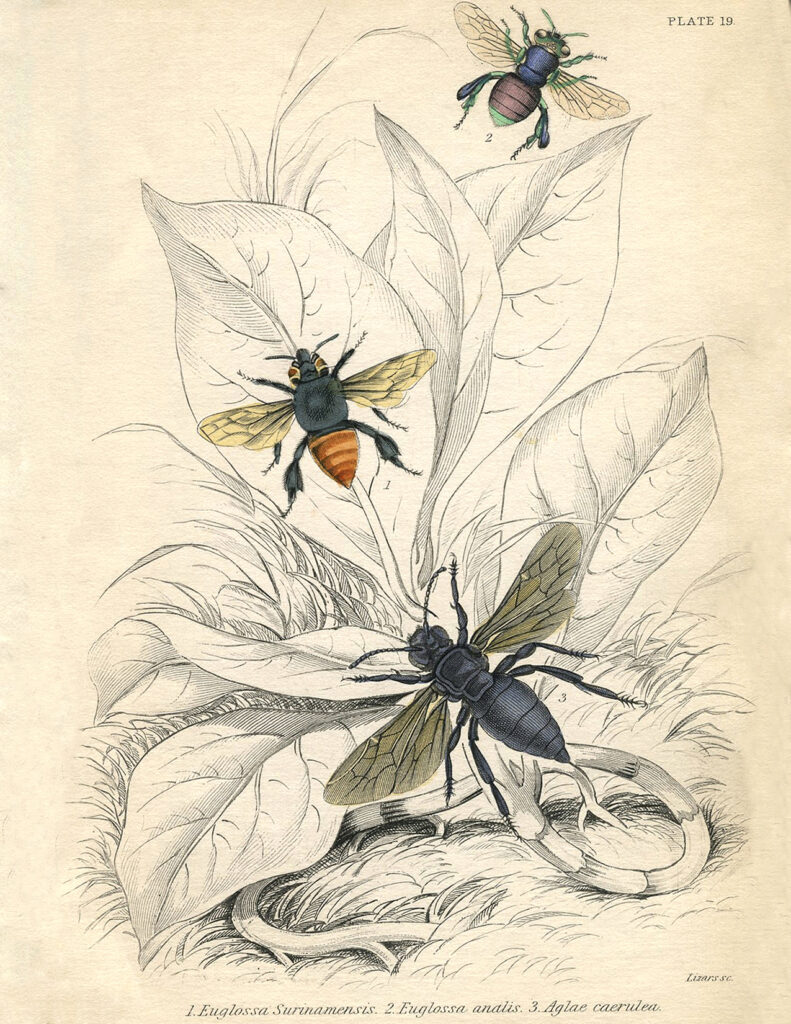 Click HERE for the Full Size Printable of the 3 Bees on Leaves
Above is a fabulous Vintage Printable Bees Print! This print also comes from a Circa 1840 Natural History Bees Book. There are three beautiful Bees with very scientific names! I looked up 'Euglossa,'which is in the legend below the drawing. Apparently these guys are also known as Orchid Bees. I love the rustic style of this print and the creamy monochromatic background! This would look fabulous mixed in with your Spring or Summer Decor, perhaps under a glass cloche or behind the panes of an old window!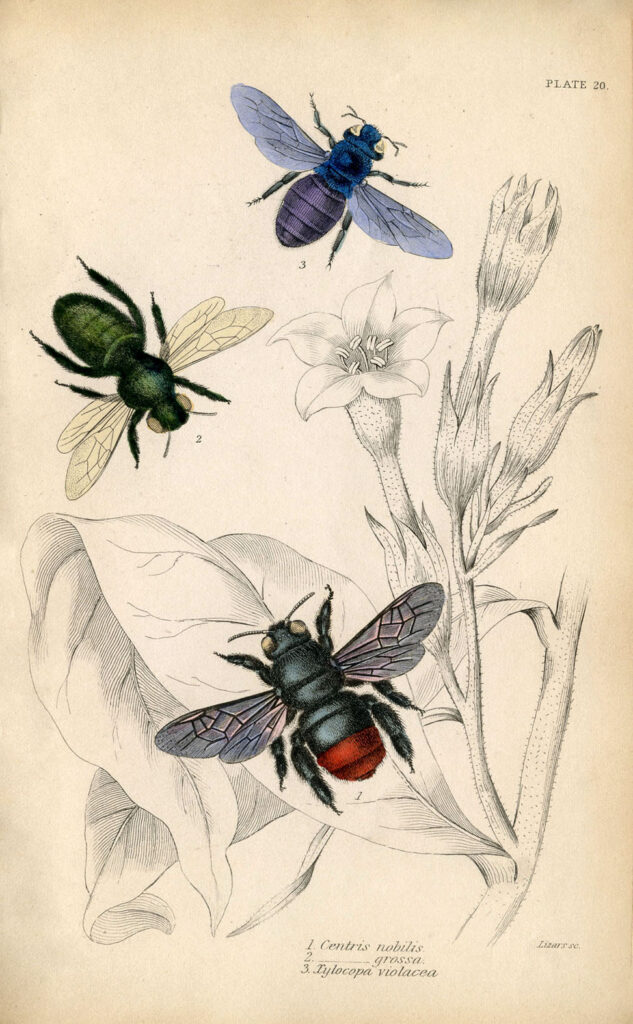 This gorgeous Bee Print comes from one of the 1840's Natural History books in my collection! I've provided you with a full size Instant Art Print of Plate 20! I just love this one!! There are three different Bees shown here. Each one is colored so beautifully! The top one has blue and purple colors, and is almost iridescent. It is a Carpenter Bee named 'Xylocopa Violacea.' The middle one with green body and yellow wings is known as 'Centris Grossa.' I've removed the large red and green one, called 'Centris Nobilis,' from the background. You will find him in a section below.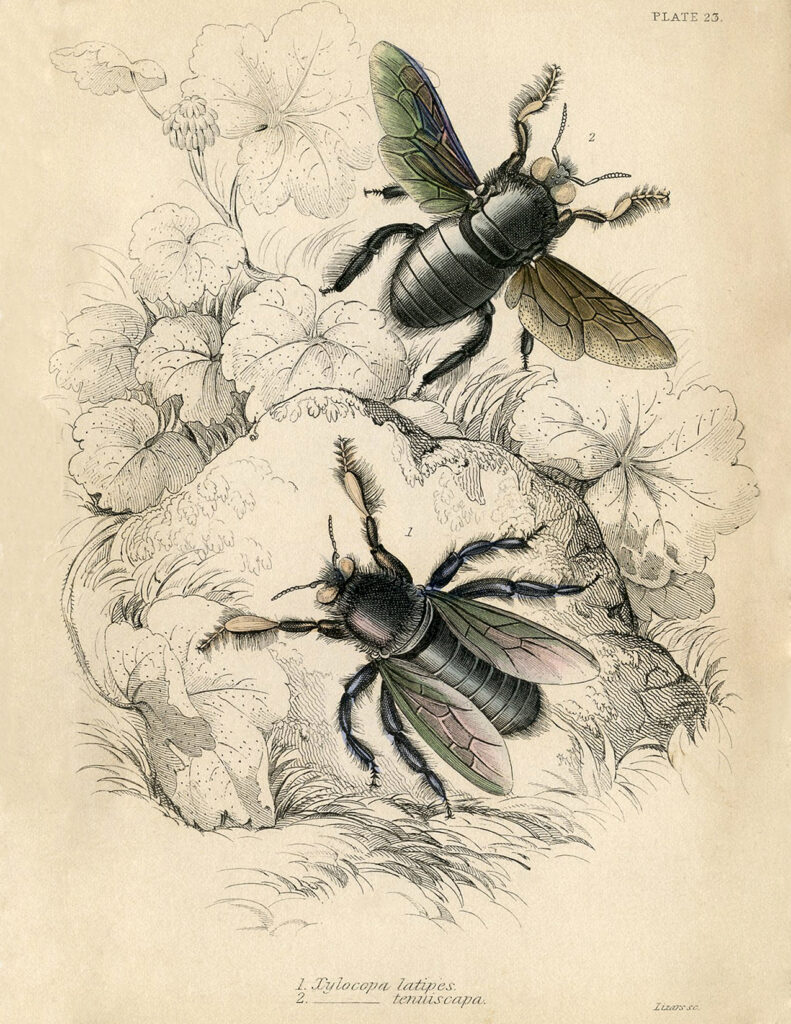 Click HERE for the Full Size Printable of the Carpenter Bees
Here we have a wonderful Natural History Printable Bees Print!! It is Plate 23, also from the Natural History Bees Book. Featured are two Bees that are apparently types of a Carpenter Bee. The top one is called 'Xylocopa Latipis' and has green and gold wings. The bottom fellow is called 'Xylocopa Tinuiscapa.' He has green and pink colored wings. WOW! The rustic style of this print with its creamy background is just amazing.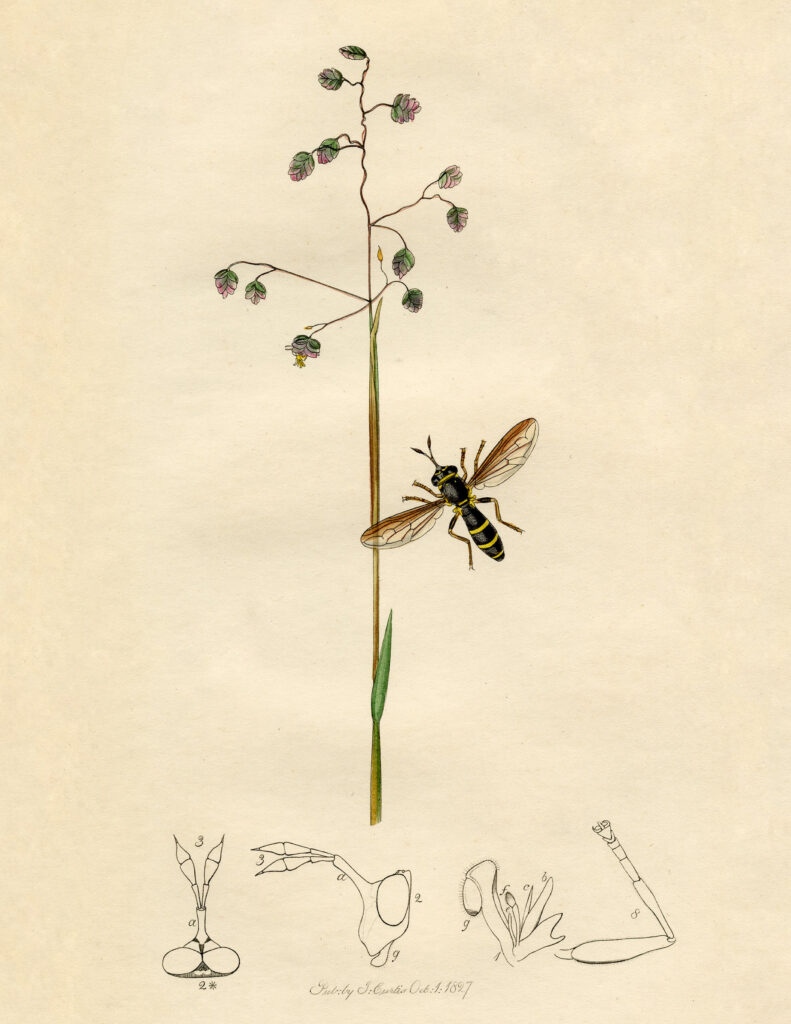 Click HERE for the Full Size Printable
Featured above is a splendid Vintage Natural History Insect Print! Presented is a marvelous black and yellow Winged Insect on a delicate plant. This print comes from a Circa 1862 British Entomology Book, but the date of the drawing is 1827. Make sure you click on it to see all of the gorgeous detail!
Natural History Bee Prints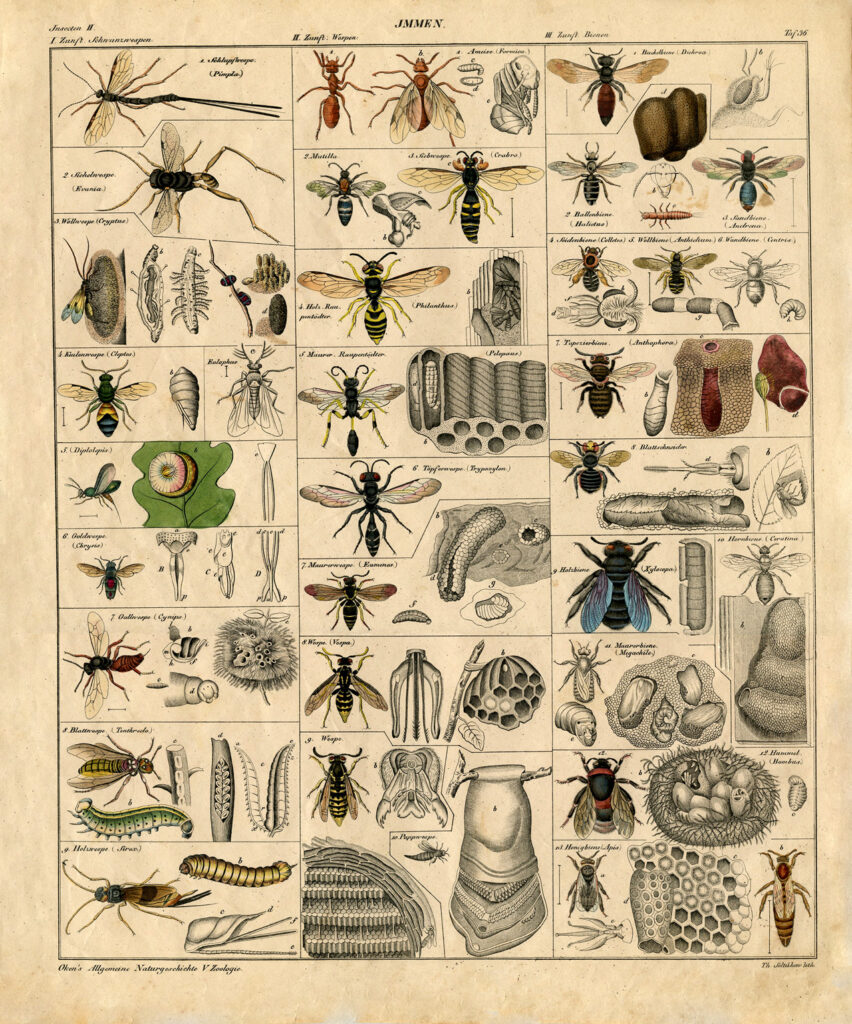 Click HERE for the Full Size Printable PDF of the Insect Print
Pictured above is a fabulous Circa 1843 Natural History Print! The print shows various types of Insects, especially Bees and Wasps along with their nests and hives. I've created a High Resolution Instant Art print that you can download, print, and frame.
I hope you enjoyed this fabulous curated collection of Natural History Bee Prints! You might also like our 15 Bee Images – Honey and Bumble HERE!
Hello! Are you new to The Graphics Fairy?
Welcome, I'm so glad you're here! Browse around to find 
thousands of Stock Images
 that you can use in your projects or designs! I post new Vintage images every day, as well as projects and DIY's too! Need more info about my site? Try my 
FAQ
 page.