25 Printable Paper Dolls
Today we have a beautiful collection of Vintage Printable Paper Dolls! We all know that paper dolls are a classic toy. There's something so magical about the simplicity of them, and today we're bringing it back with with these darling printable paper dolls!
These are great fun to do with the kiddos, but also they can be embellished with lace and fabric and whatever else you might want to add… and then placed in your Junk Journals or Collages. I've also had readers over the years that have told me that they take these to nursing homes, and that the residents really enjoy cutting these out and playing with them.
Interchangeable Printable Paper Doll Ladies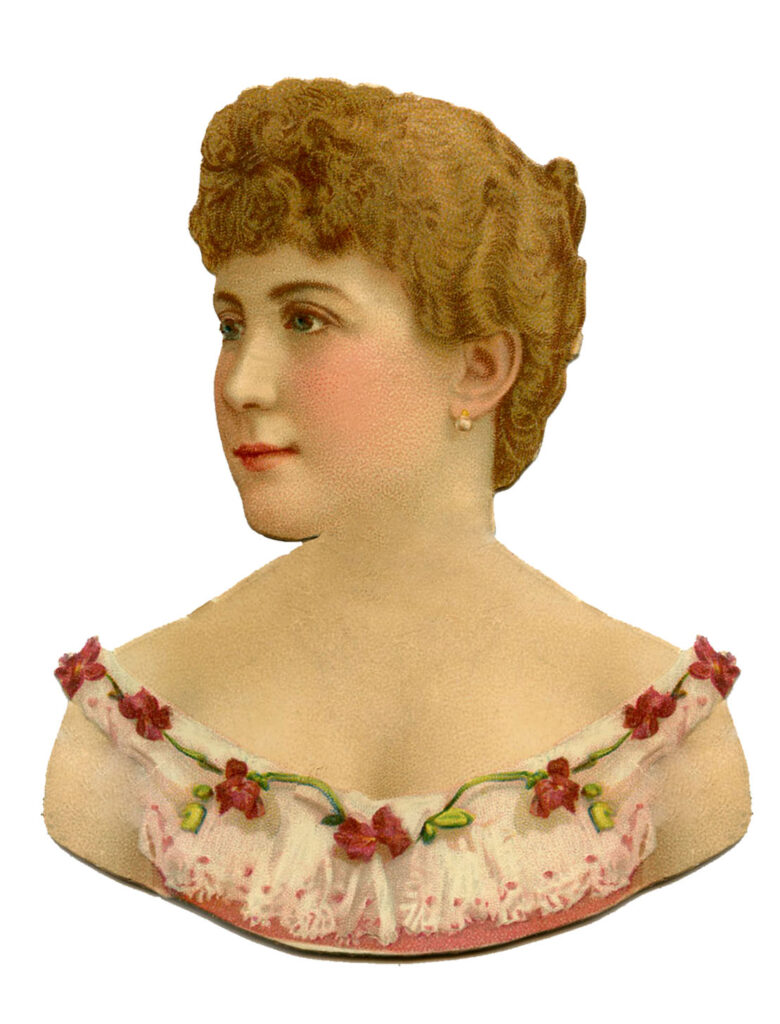 To start off this collection we have a beautiful vintage paper doll bust. You will notice that she is wearing the same blouse as the Pierrot doll below. This is a three – quarter headshot of a beautiful woman wearing a lace top with red roses on a vine around the top. (Grab the Arms and Legs from the next doll in this post to use for this lady as well!)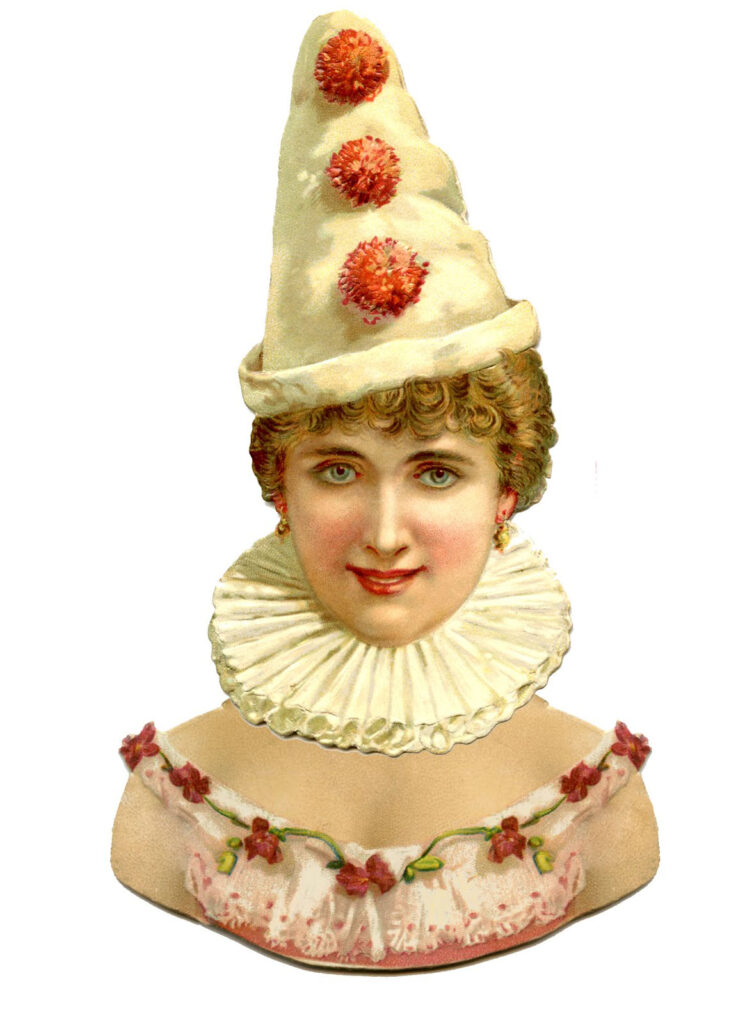 Click HERE for the Full Size Printable PDF of the Clown Lady Doll Head
Click HERE for the Full Size Printable PDF of the Clown Lady Doll Arms and Legs
Here's something fun and quirky for you to play with! Shown is a Victorian Paper Doll head and shoulders of a Pierrot Clown Lady. The head is in the first printable link above and the arms and legs are in the second link. You can cut out the parts and assemble her with brads, then use your imagination to make her some pretty outfits! I think she would work well in a Circus setting! Fun for both kids and grown ups!
Vintage Paper Dolls Scraps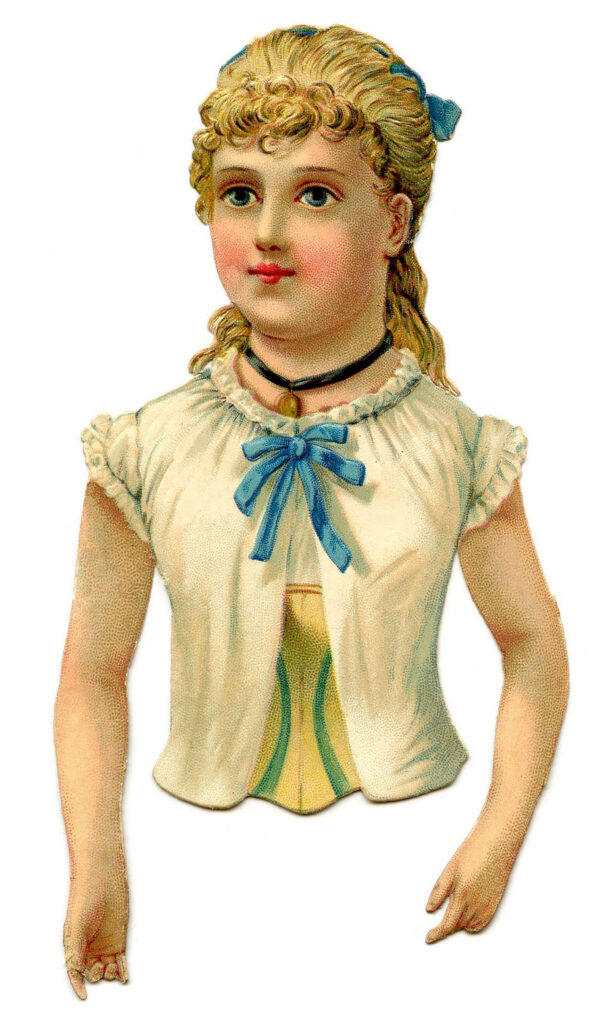 Here we have a beautiful Victorian Scrap Girl. She is an antique Die Cut Scrap Piece. Wouldn't she make such a fun Paper doll? I could see her with a pretty fabric skirt attached to the bottom of her bodice. Lots of possibilities here, and I'm sure you guys will come up with many more ideas!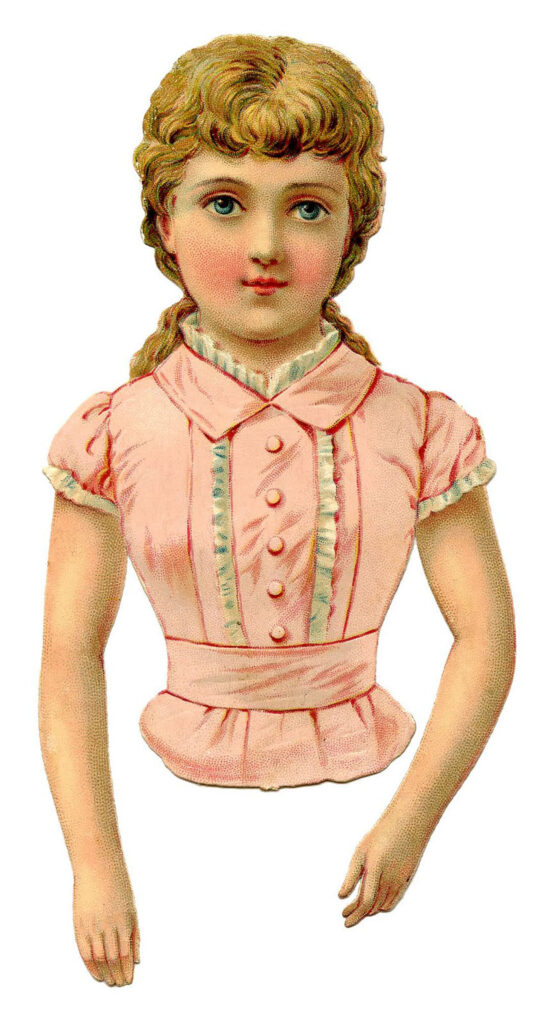 Here's another lovely little Victorian lady, or at least half of one!! This is a sweet faced girl dressed in a ruffled pink blouse. I could see her with a pink tulle tutu. These are so much fun for collage, but also would work well as a little Paper doll by simply adding a paper or fabric skirt!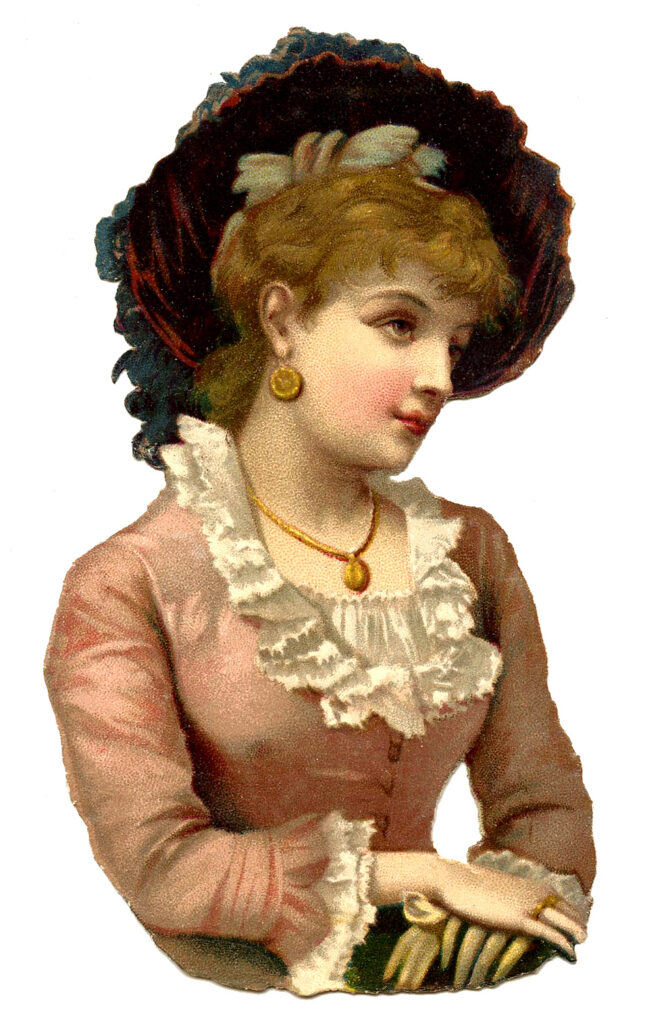 Here is a lovely half scrap doll. This lady is wearing a ruffled bodice and Velvet hat. She just needs a tissue paper skirt and she is ready to go!
Printable Paper Dolls Children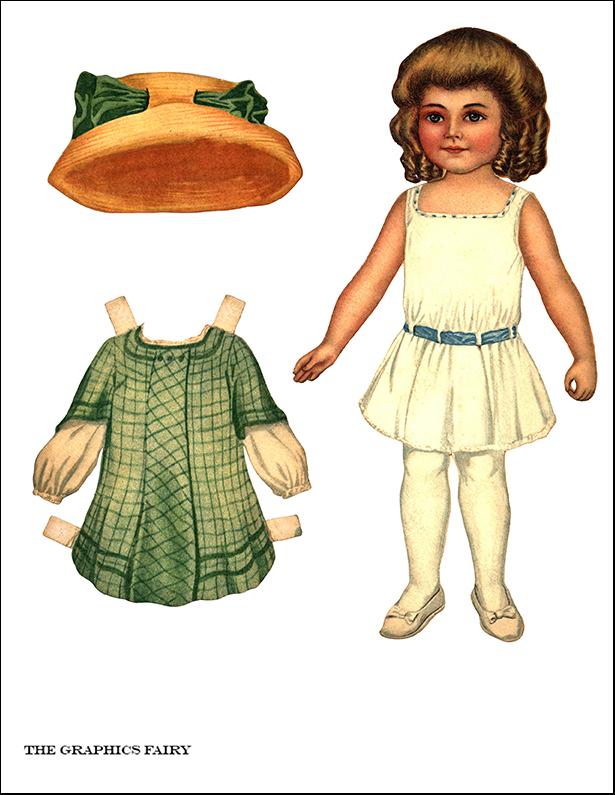 Click HERE for the Full Size Printable PDF of the Doll and the Green Dress
Here is the latest addition to this collection. Isn't she sweet?! This adorable Printable Paper Doll, comes with 3 pretty Dresses, 2 big Hats and a Coat. You will find the second page below.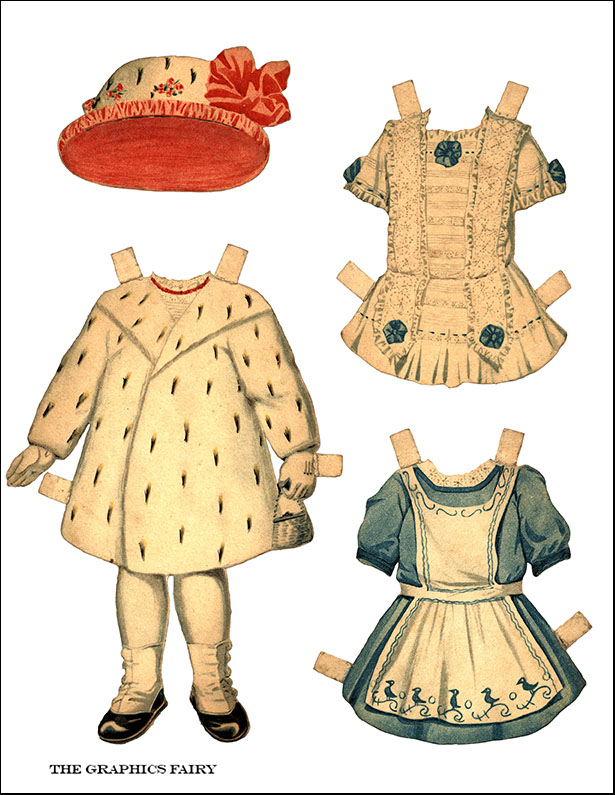 Click HERE for the Full Size Printable of the rest of her Clothing
I can just imagine a little girl having hours of fun with this one changing her out with all of the different outfits!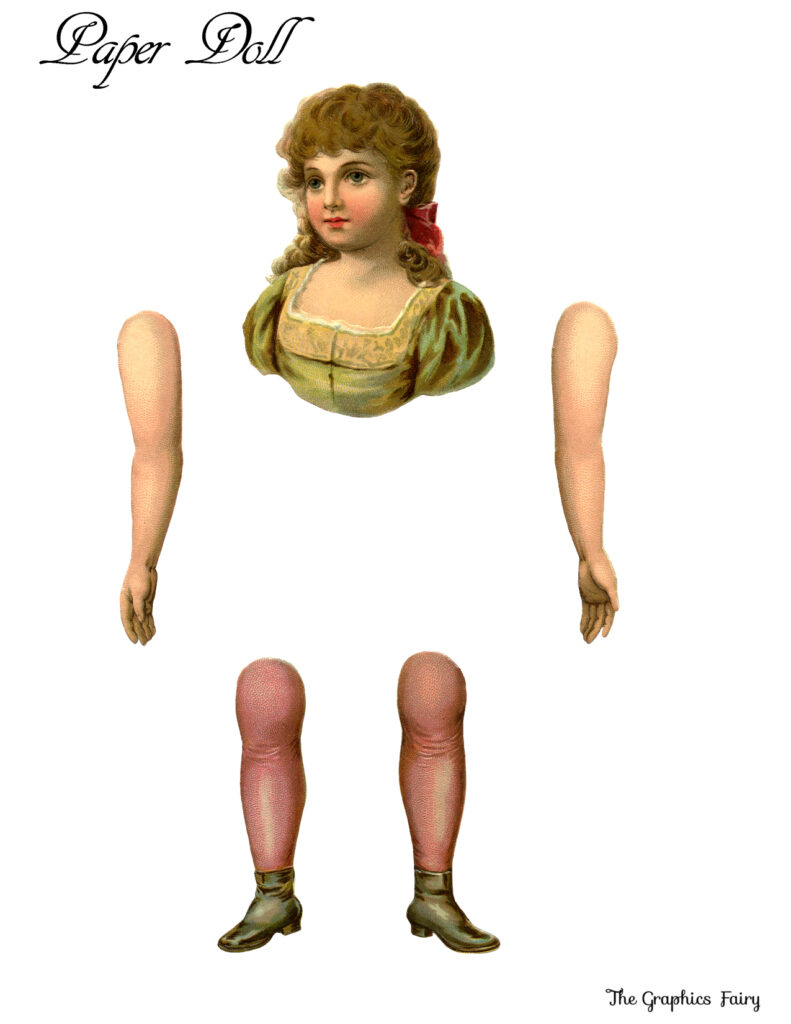 Click HERE for the Full Size Printable
This is a darling Vintage Paper Doll Girl Printable! Isn't she lovely?! I got lucky and was able to locate several different antique Paper dolls, including both girls and boys! Shown above is a precious little girl wearing a green bodice, red stockings, and a red bow in her hair. This is the sort of doll requiring a little skirt to be made in order to complete it. You can use fabric, crepe paper, tissue paper, cotton batting, or whatever you like! A fun activity for kids or adults! See her sister and brother below.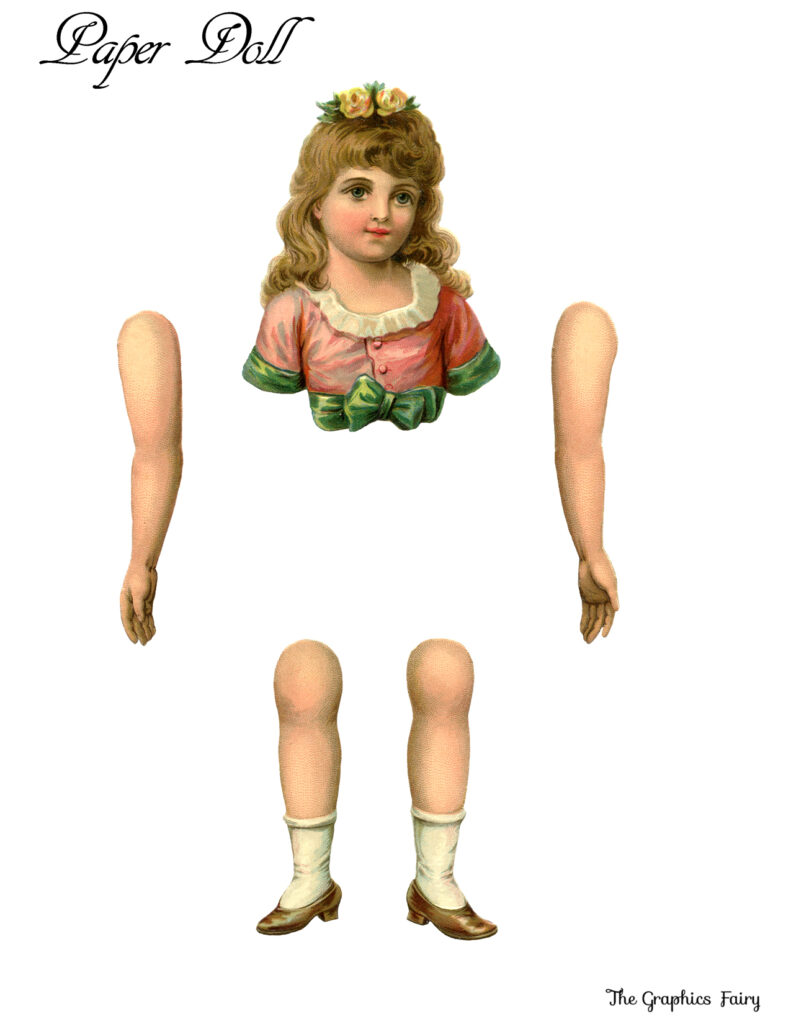 Click HERE for the Full Size Printable
Above is another sweet Vintage Printable Paper Doll! She is a cute little Girl with blonde curly hair plus a pretty pink and green dress. All you need to do is create a little skirt for her. How fun!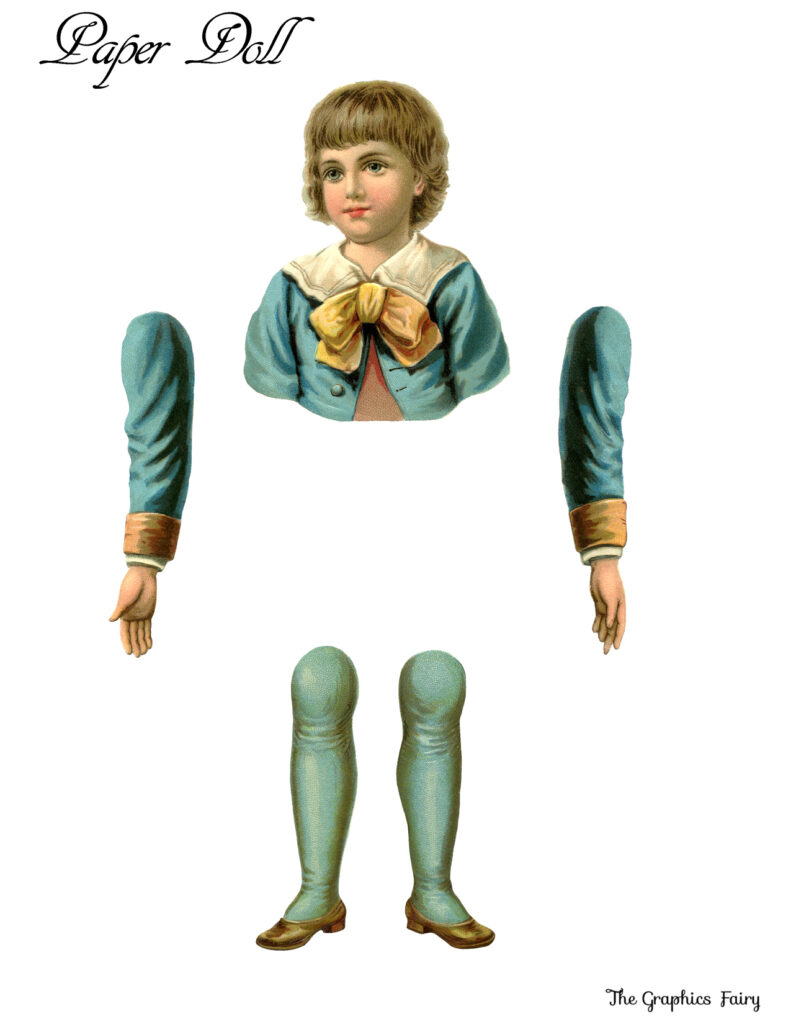 Click HERE for the Full Size Printable
Here is the handsome Vintage Printable Paper Doll Boy, probably the brother to the little girls above!! Our darling little boy is wearing a pretty aqua blue suit. He just needs some trousers! He looks like Little Boy Blue to me!
Nursery Rhyme & Fairy Tales Paper Dolls

Click HERE for the full size printable PDF
How fun is this?!! This cute antique postcard also doubles as a Paper doll. The three costumes included are Little Miss Muffet, Mother Goose, and Princess Goldilocks. Each costume has its own hat and there is even a little stand for the doll. You could mail this to a few of your favorite kiddos, or use as a gift tag for a special little (or big) girl!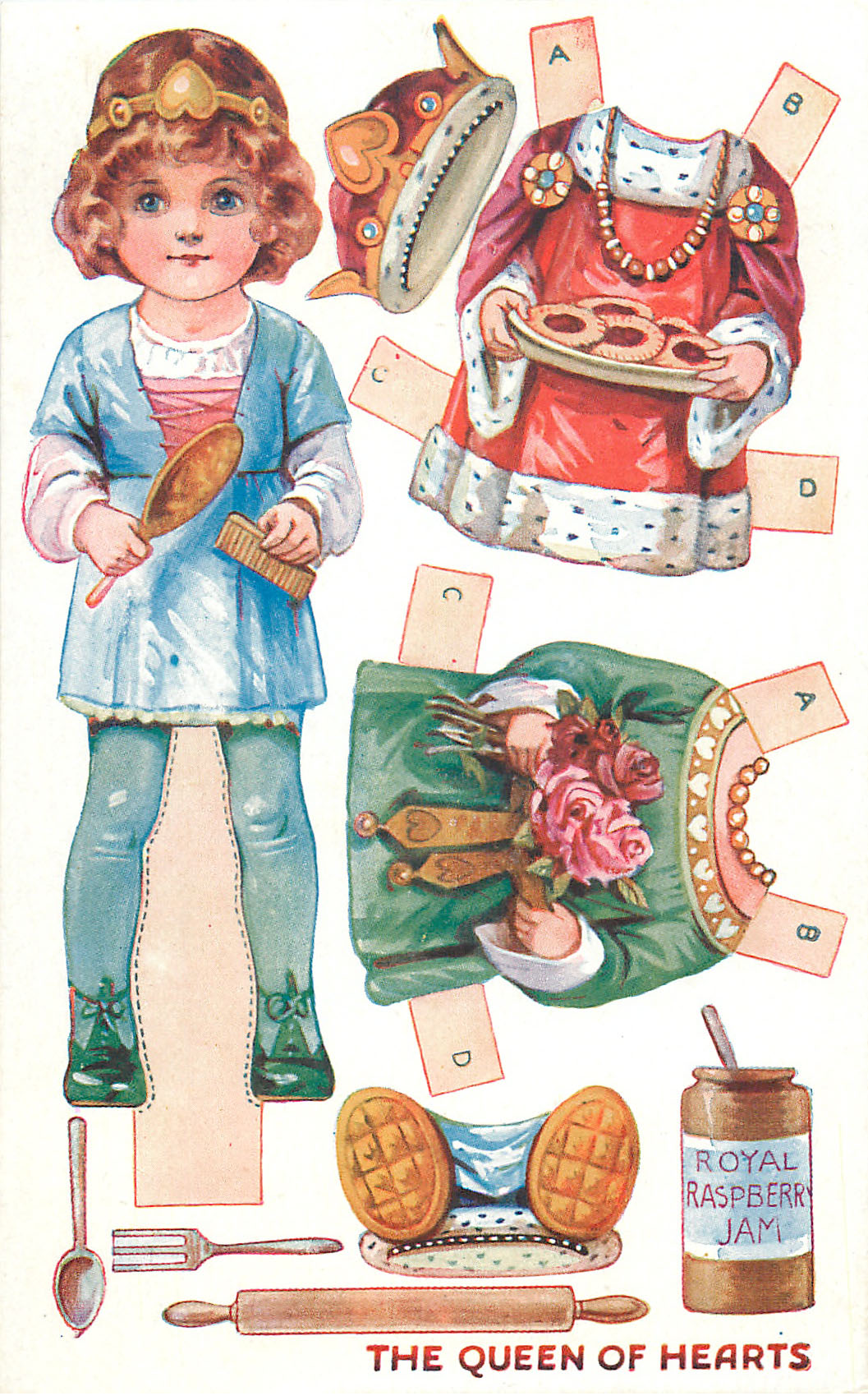 Here is the latest addition to this collection. This is another one of these fun postcard dolls! This one is "The Queen of Hearts". She has a couple of outfits, some baking supplies and her own royal crown!
Mini Paper Doll Girl and Dog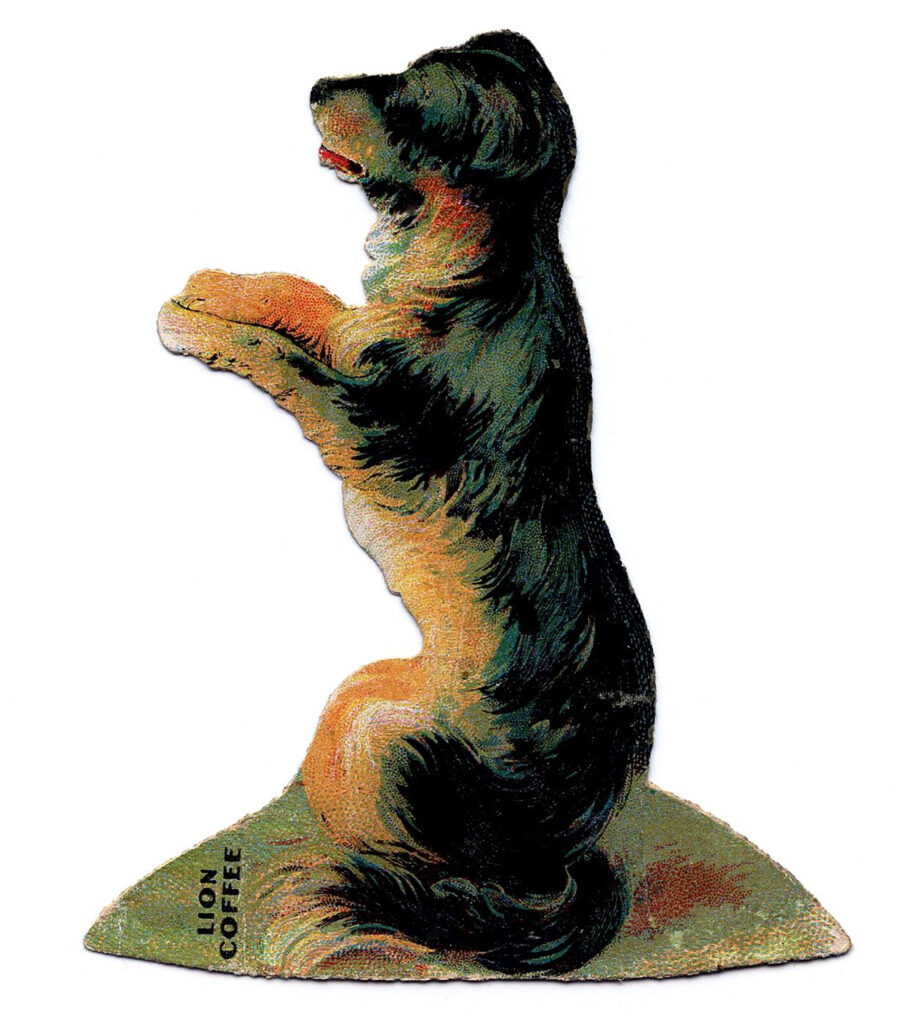 Click HERE for the Full Size Printable PDF of the Girl with Dog Doll
Above is an adorable Kids Printable, although I know a few adults that might like to play with this one too! This is a darling Mini Paper doll, circa 1894! I'm including a precious little dog as well. Both pieces were advertising bits for two separate Coffee companies. The full size printable will give you both pieces on one page so that you can print them out together.
Vintage Christmas Printable Paper Dolls
Click HERE to download the Free Printable PDF for Christmas Paper Doll 1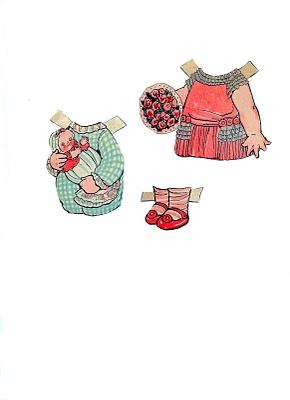 Click HERE to download the Free Printable PDF of Christmas Paper Doll 2
Featured above is an adorable Vintage Paper Doll Set with a Christmas theme! What a cute Dolly this one is, and just look at all of her outfits!! She has a red Christmas coat, complete with a tree and basket of goodies, some fun stripped pajamas with a bright red stocking ready to be hung on the mantle in the first PDF. There are two additional cute little frocks with matching shoes and socks in the second printable. How fun!!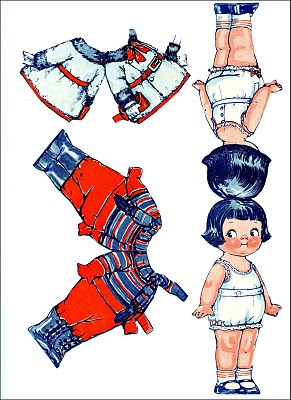 Click HERE to get the Full Size Printable PDF of the 1rst Page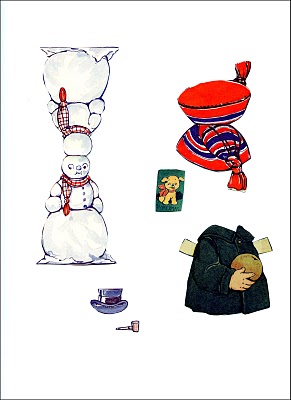 Click HERE for the Full Size Printable PDF of the 2nd Page
Here is one more set of Printable Christmas Paper dolls for you, or perhaps your young ones! This one has the cutest googly eyes!! The doll is formatted a little differently in that she is two – sided, and so are her outfits! Cool. You actually have a front and back for this sweet little gal. She also comes with a darling Snowman who has his own accessories of a hat and corn cob pipe. Hats for the doll are also shown in the image with the Snowman. The hats can be cut and placed on their heads. The snowman's mouth can also be cut open, and the little pipe can be placed inside. Sooo fun!
Antique Paper Doll Sets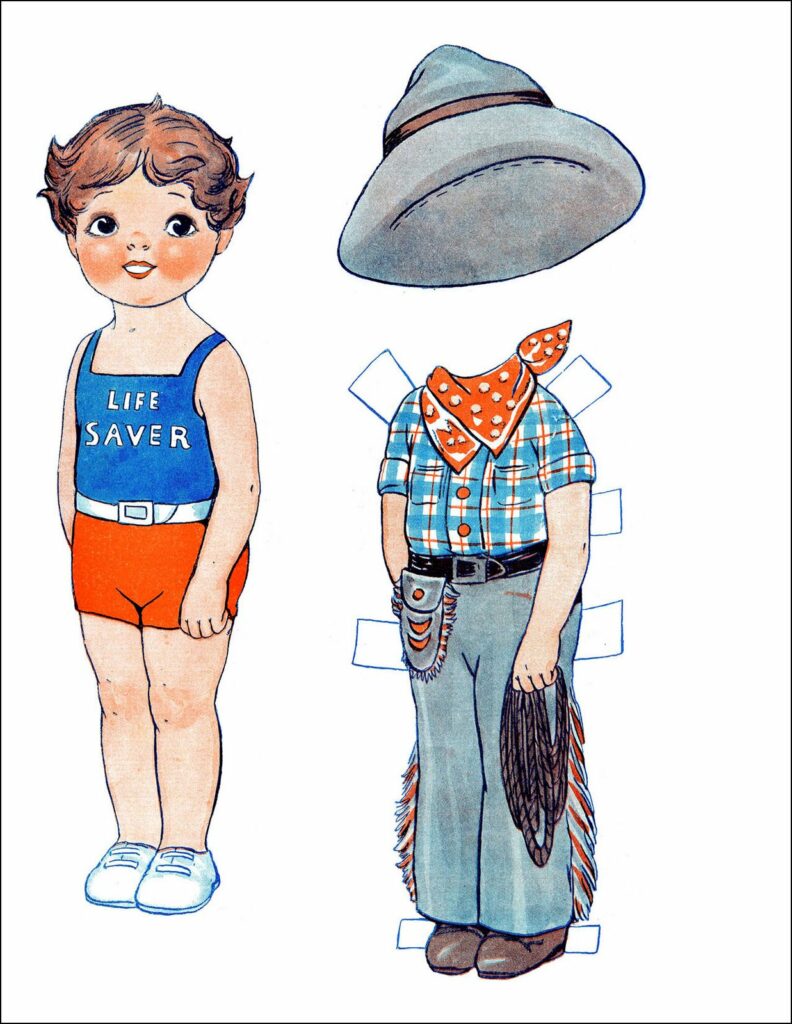 Click HERE for the Full Size Printable of the Cowboy Paper doll 
Above is a darling vintage little Cowboy Paper Doll Printable! This is one of the old Dolly Dingles. Included is a cute Cowboy costume! I'm not entirely sure about the date on this one. I only purchased the one page, so I don't have the whole magazine. I was told by the seller that it is 1920's, but I can't say for sure. You may want to stick to personal use with this one to be safe.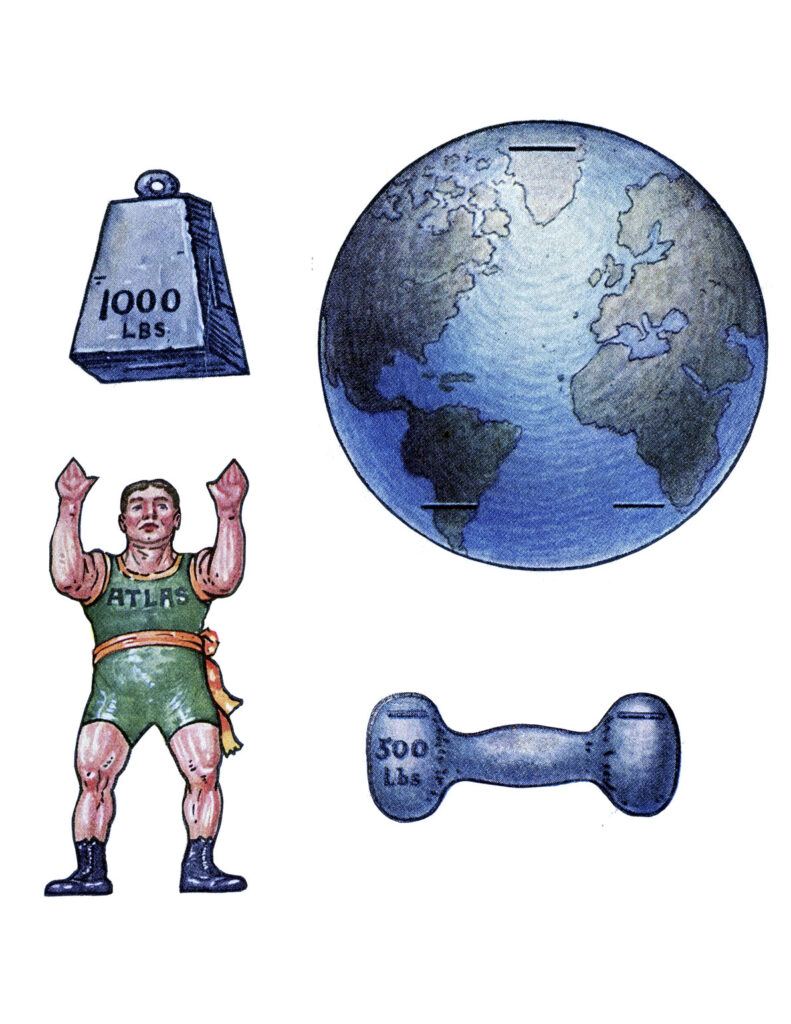 Click HERE for the Full Size Printable of the Strong Man Paper Doll
This is a wonderful early 1900's Circus Paper Doll! I don't have the whole set, but I do have a number of pieces from the Sideshow, including this adorable Strong Man! I've created a printable for you, which includes the Strong Man, the World, a Dumbbell, and a Barbell. You can cut them out and decide which one he should hold up! Fun!
Vintage Paper Dolls Scottish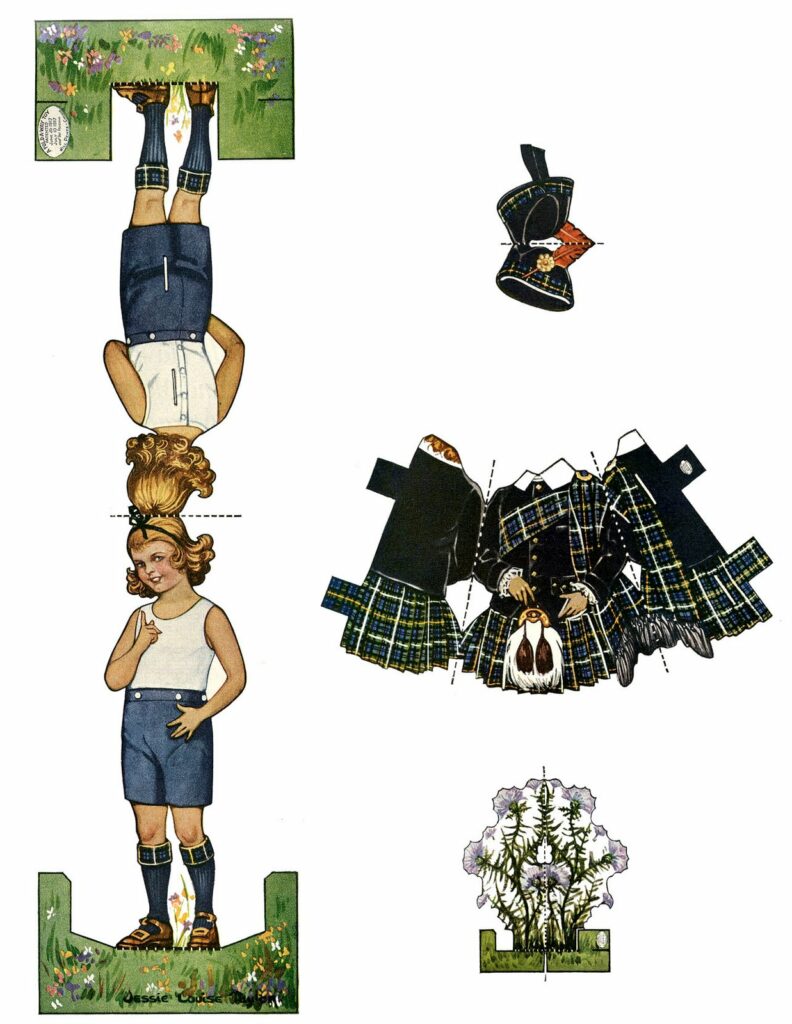 Click HERE for the full size Printable PDF
This darling little Paper doll comes from a 1922 Ladies magazine, although she was patented a bit earlier in 1917. She's a double sided Scottish girl, and comes with a darling Tartan Plaid Kilt, a matching hat, and even some Thistles! This one is also fun for both children or adults to play with. I've included a high res printable PDF so that you can just print and play! She has a twin brother as well, posted just below.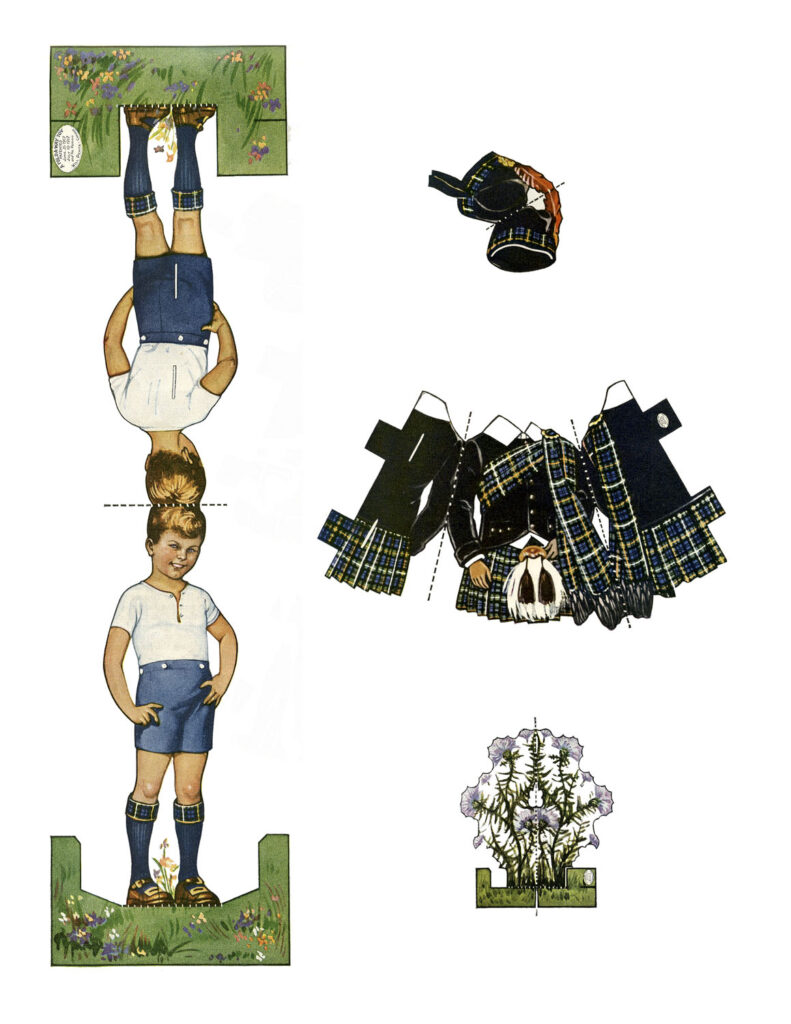 Click HERE for the full size Printable PDF
Displayed above is the twin brother of the girl above. The double sided Boy comes with a Kilt in Tartan Plaid, a matching hat, and some Thistles as well! The high res printable PDF for this handsome young lad is available by clicking the link above!
Nursery Rhyme Paper Dolls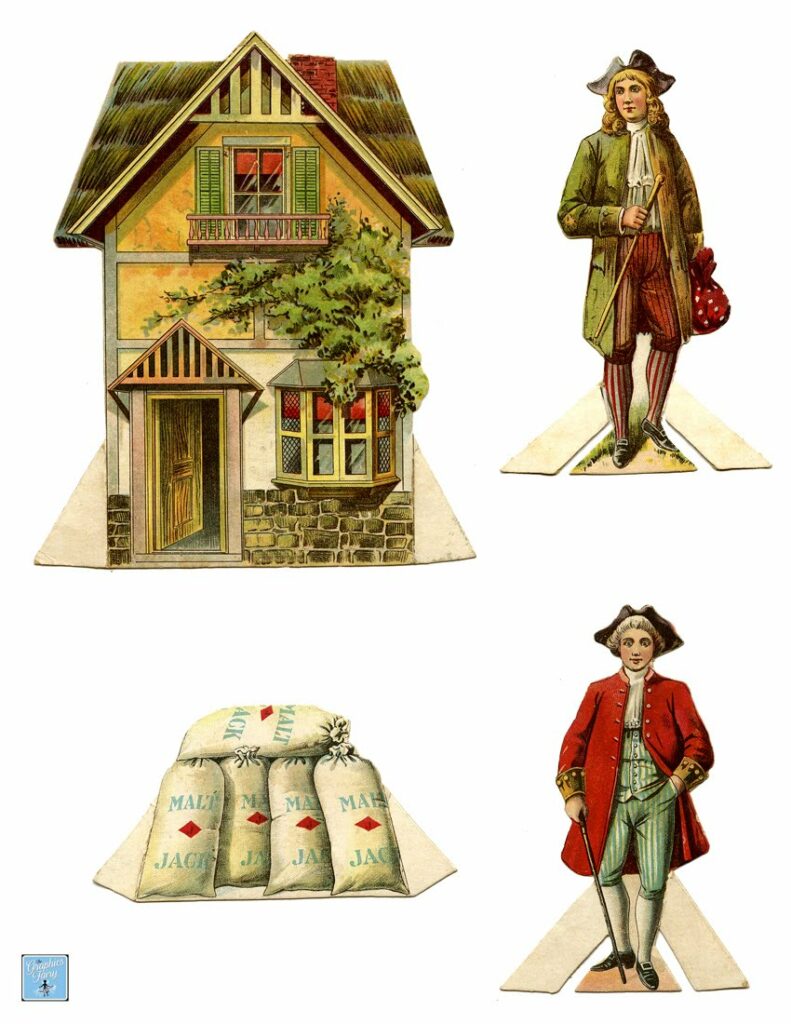 Click HERE for the Full Size Printable PDF of Page 1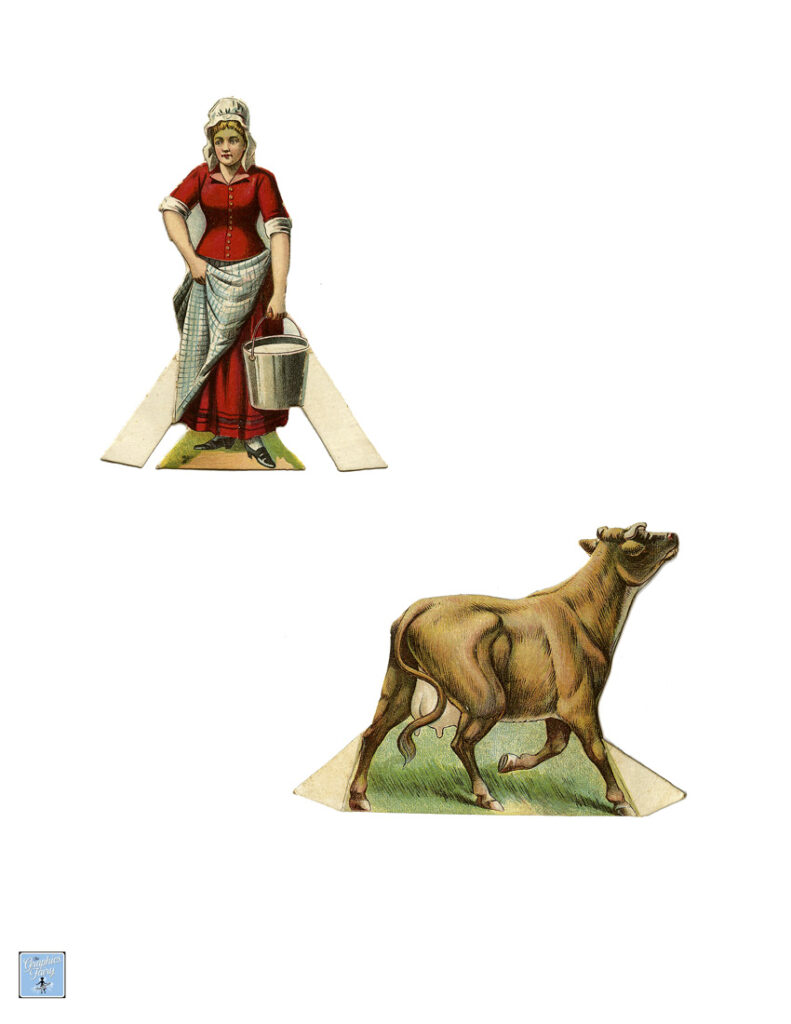 I think this one is so cute!!! Here we have an antique set of Paper dolls, with the theme of the nursery rhyme 'The House that Jack Built.' It's not complete I'm afraid, but many of the main characters are present, including Jack (in the green jacket), the House, the Man, the Malt, the Maiden, and the Cow. I'm placing this in the Vintage Kids Printable section, but adults can play with them too!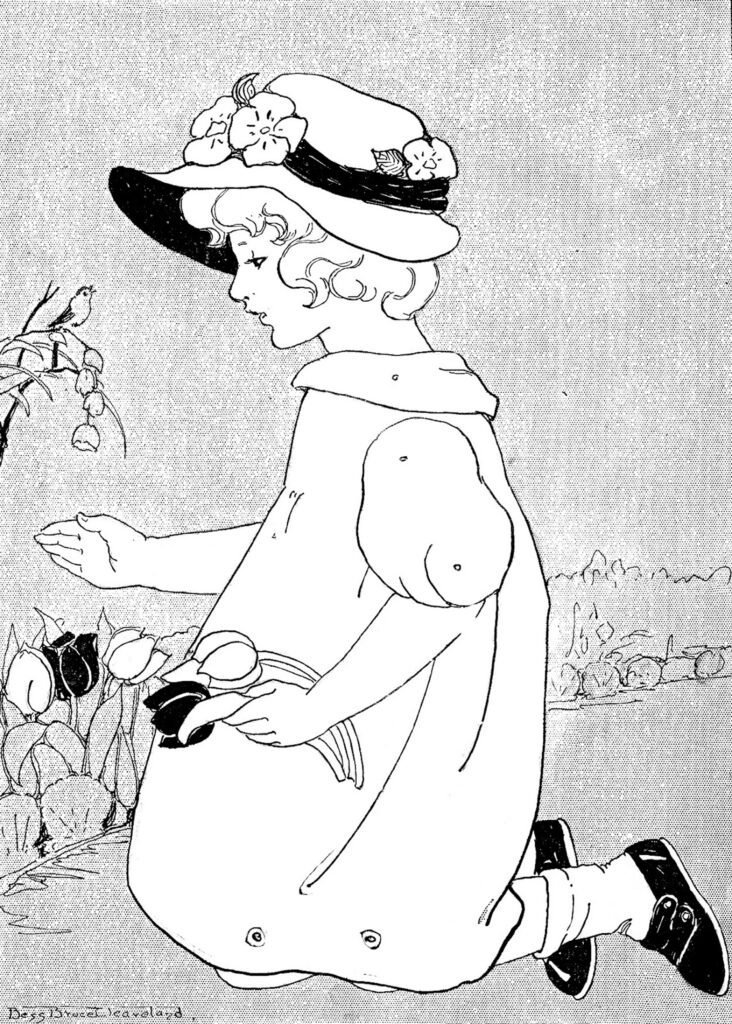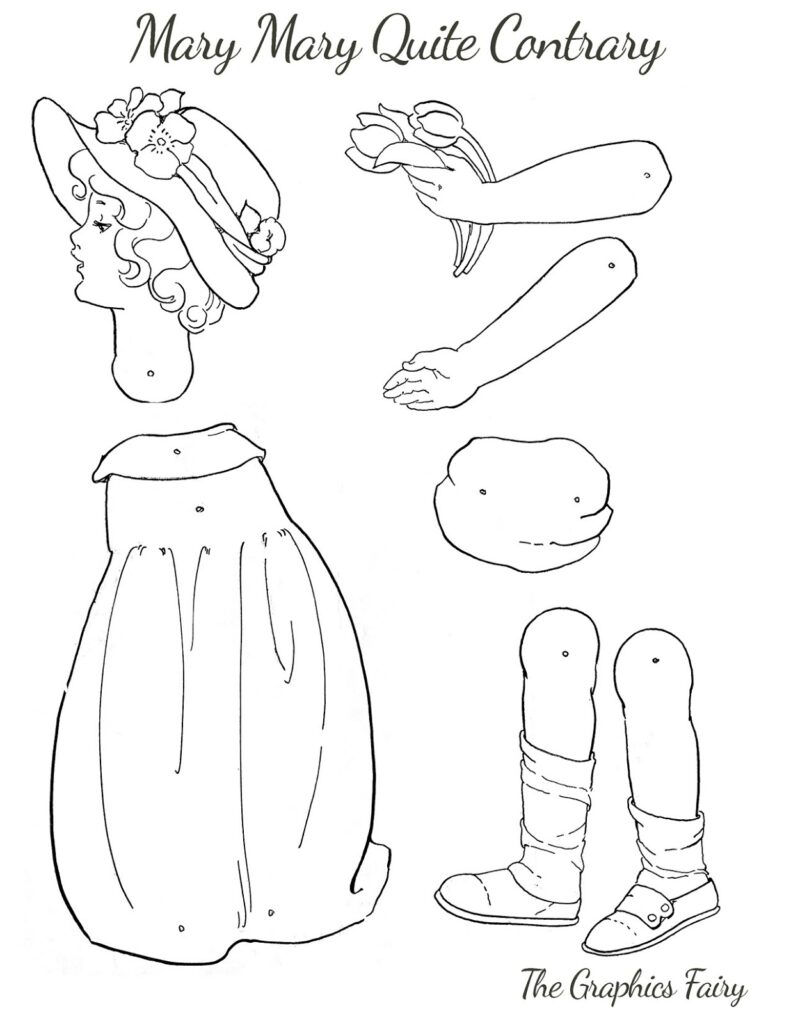 Click HERE for the Printable PDF  of Mary Mary
I adore this Printable Jointed Paper Doll from a 1920's Jointed Toy Book! I've had this book for a while now, but the pages were all scribbled up by some excited child, and it takes a whole lot of work to clean this up! This little Doll is 'Mary, Mary, Quite Contrary' from the Old Nursery Rhyme. You can print this out, add some color, cut, and then assemble as shown in the image at the top of the page. You will probably want to use some brads to attach everything, so that all the pieces will move.
Cut and Color Thanksgiving Printable Paper Dolls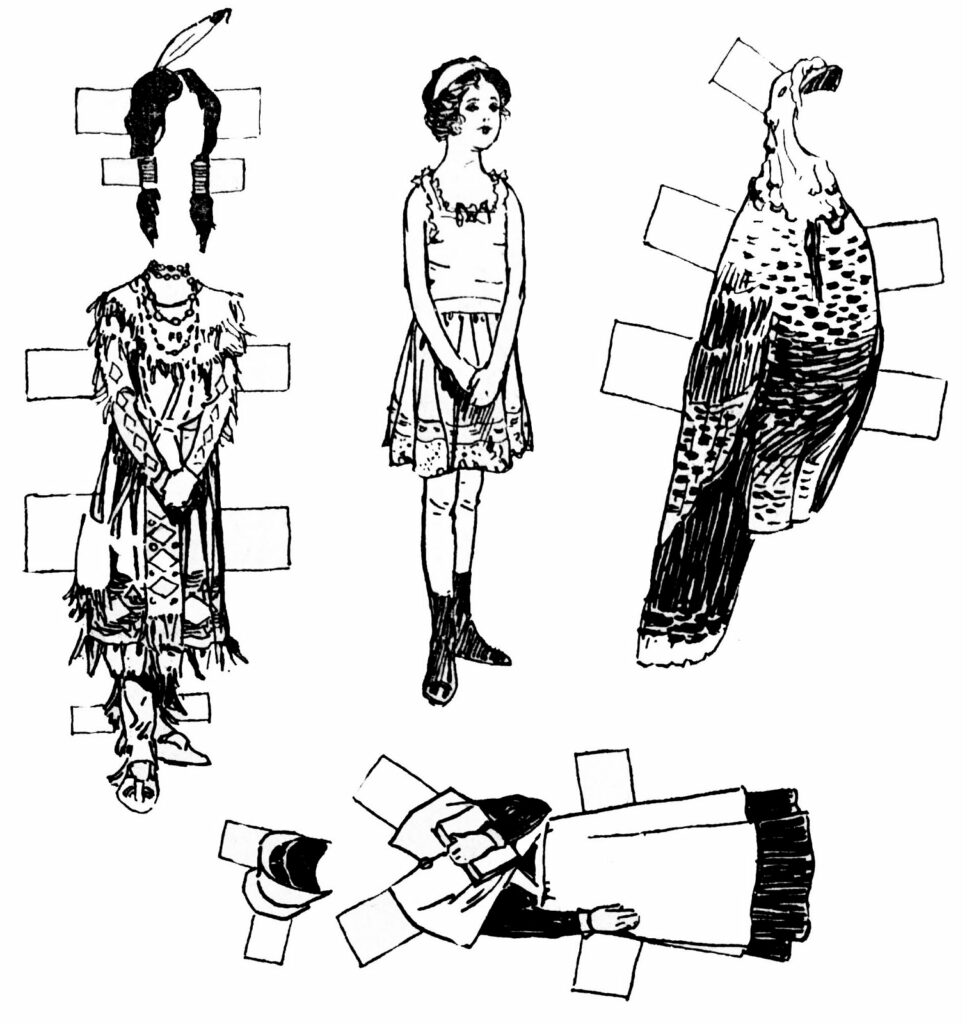 Click HERE for the full size Printable PDF of the Thanksgiving Doll
This is a sweet Thanksgiving Paper Doll Costume Set. It comes from an old newspaper from the early 1900's. This little girl has three outfits perfect for Thanksgiving. They including a Native American costume, a Pilgrim costume, and there is even a Turkey costume!!! Cut out and color all of the pieces for hours of fun! I would suggest printing this out twice; once with cardstock, so that the doll is on a firmer paper, and once with regular paper, for the outfits.
I hope you enjoyed this fun curated collection of Printable Paper Dolls! You might also like our splendid collection of 20 Retro Dolls of the World HERE!
Hello! Are you new to The Graphics Fairy?
Welcome, I'm so glad you're here! Browse around to find 
thousands of Stock Images
 that you can use in your projects or designs! I post new Vintage images every day, as well as projects and DIY's too! Need more info about my site? Try my 
FAQ
 page.