Seashore Junk Journal
Hey guys, once again one of our fabulous Junk Journal Design Team Members, Terri Kolte, has created a fabulous junk journal for us. As you know, we are featuring one new Junk Journal each week created by our team of talented artists. Our goal is that you be totally inspired by this series! Terri created a fun Seashore Junk Journal! Be sure to check out the video tour at the bottom of the page…you need to scroll all the way down to see it. Are you ready to be inspired? 
And now I will let Terri tell you about her project in her own words…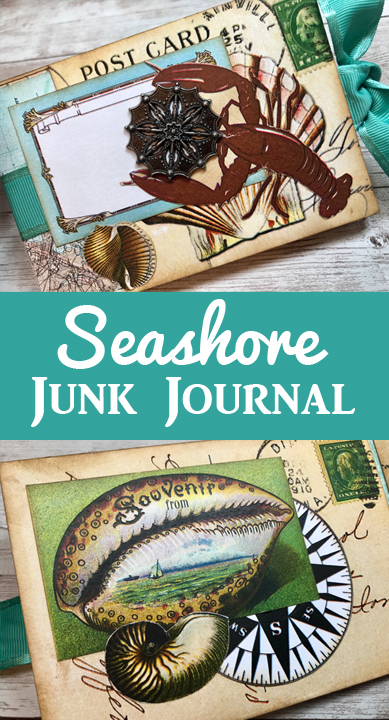 Now that the weather is warming up, visions of the sea shore are dancing in my head! Not the crowded shoreline that I'm used to but the happy days of summers past, with the rich colors of the seashells mixed with vintage beauties in their modest bathing suits. This junk journal is my ode to those days gone by.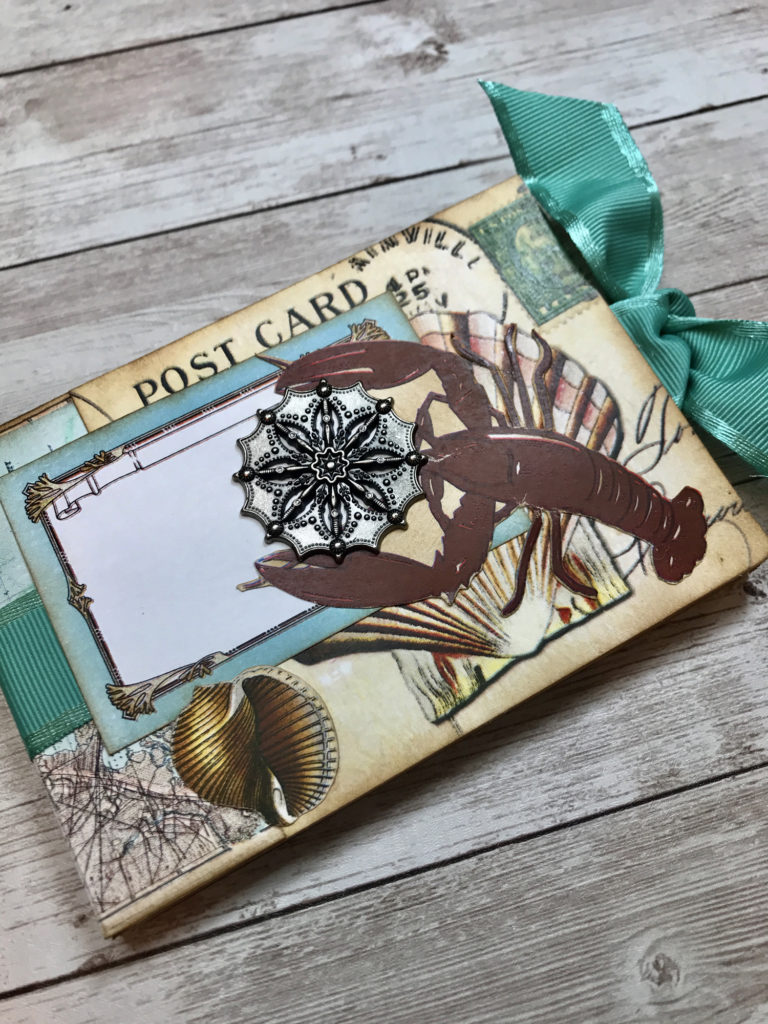 Two bundles from the Premium Member site offered all the color I was looking for- Seaside Holiday and She Sells Seashells. Vintage Postcards provided an appropriate base for each of the pages- it was totally plausible some beach goers would send off a postcard or two from their summertime destination, sharing their adventures with friends far away.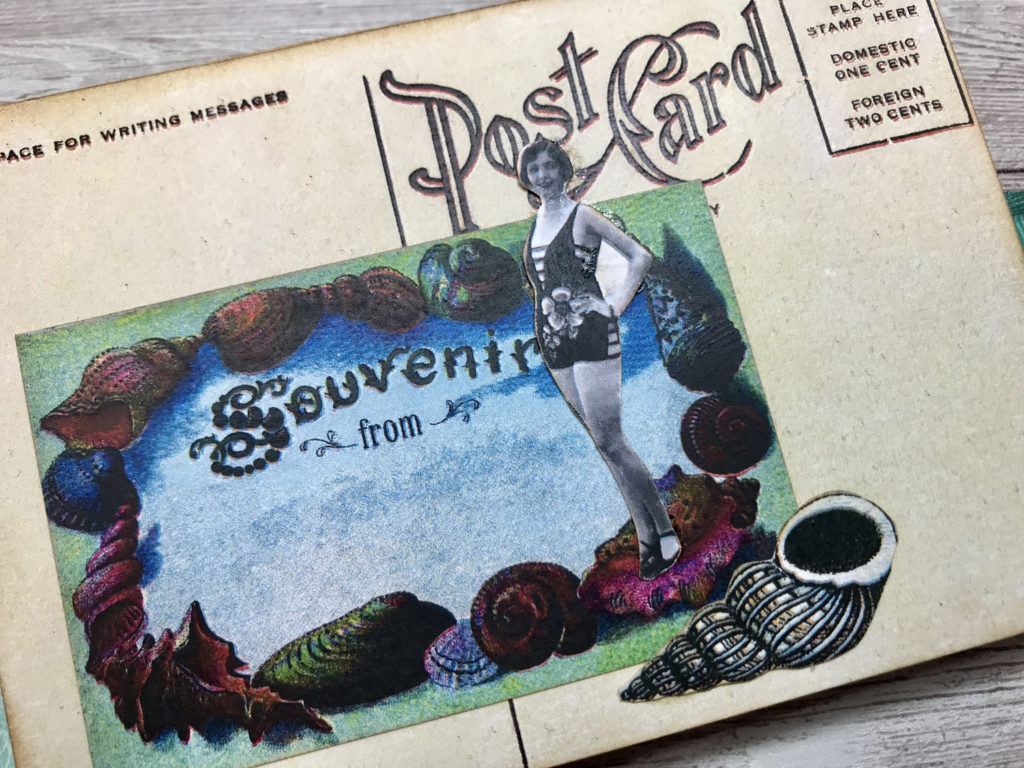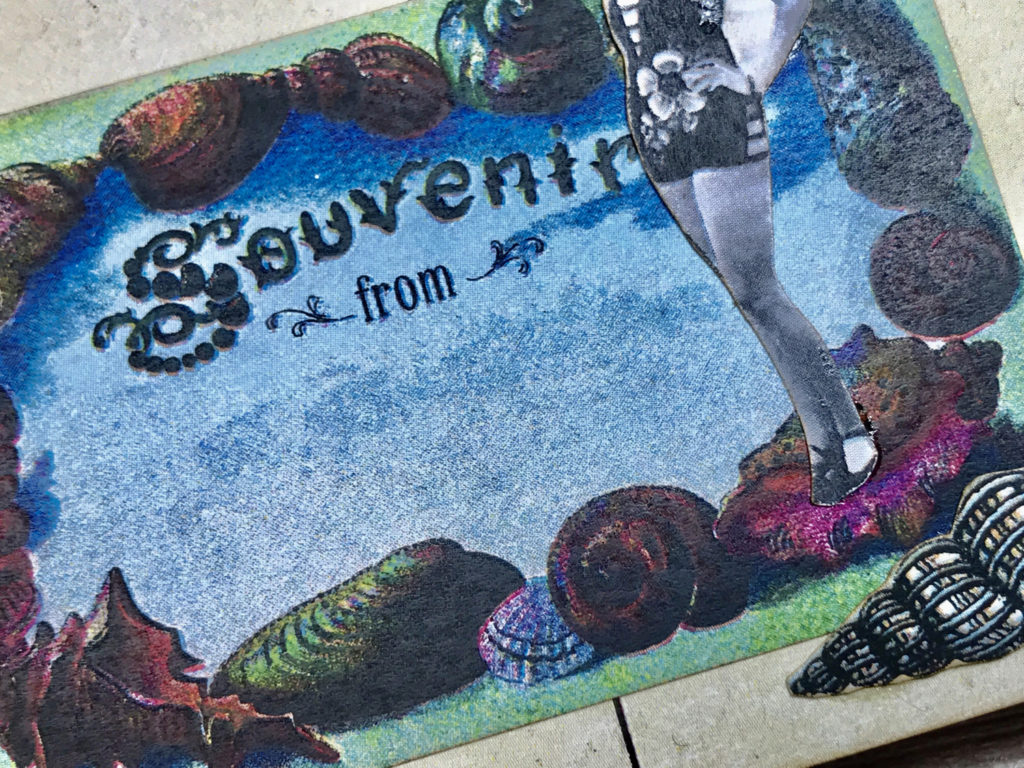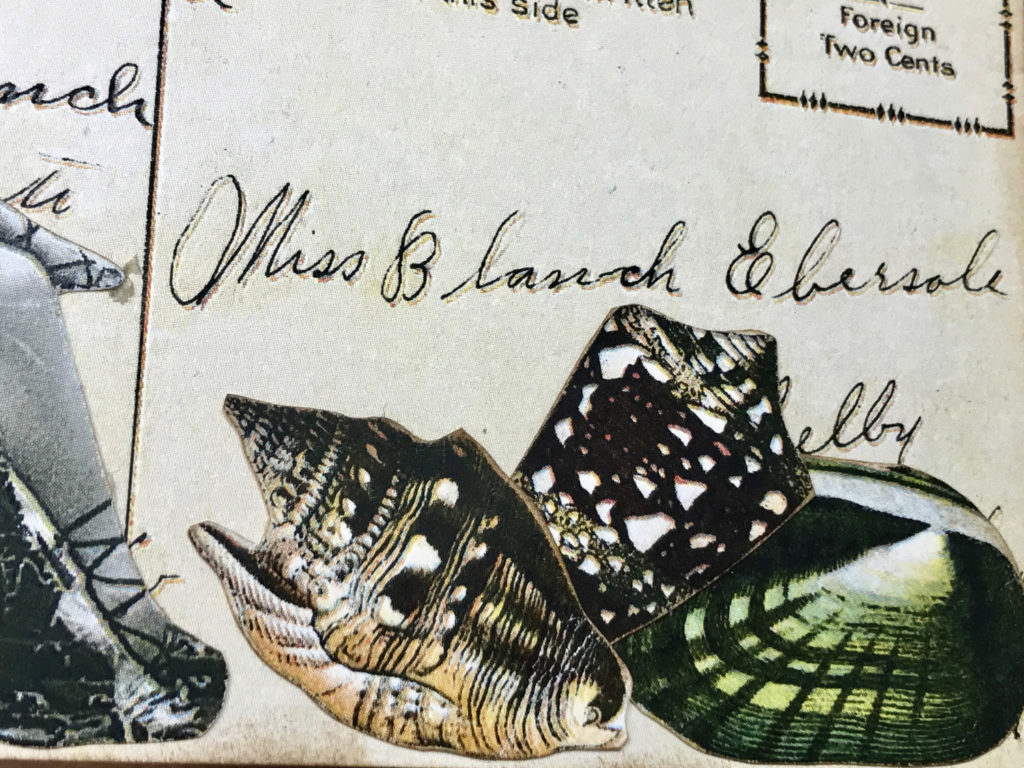 I also used a few black & white images of beach girls from my stash but you can use whatever you have on hand. Search through the other bundles for images- there are plenty of b&w and it creates a really nice contrast with all the other colorful elements. If you're fortunate enough to have some images of yourself or family, try photo copying them in b&w! Now THAT would be a real treasure.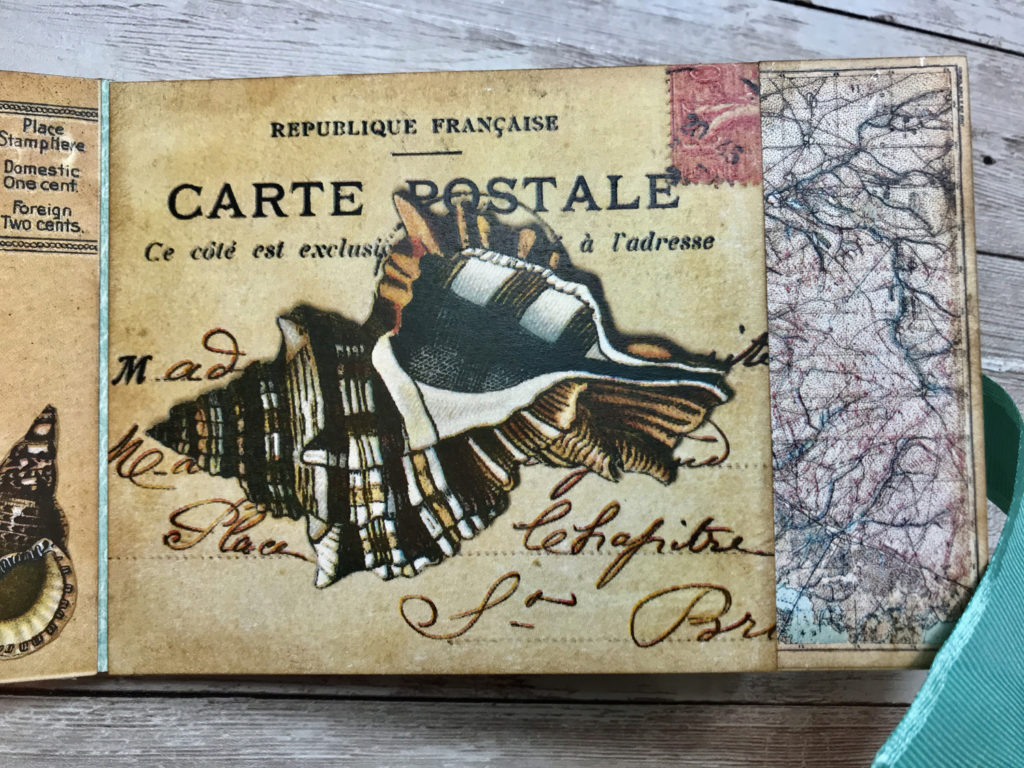 I wanted to keep things small- as close to the size an actual postcard would be- so I chose 3 1/2" x 5" as the printed size for each postcard. A delicate touch with Distress Ink on the edges was all they needed to look like the real thing.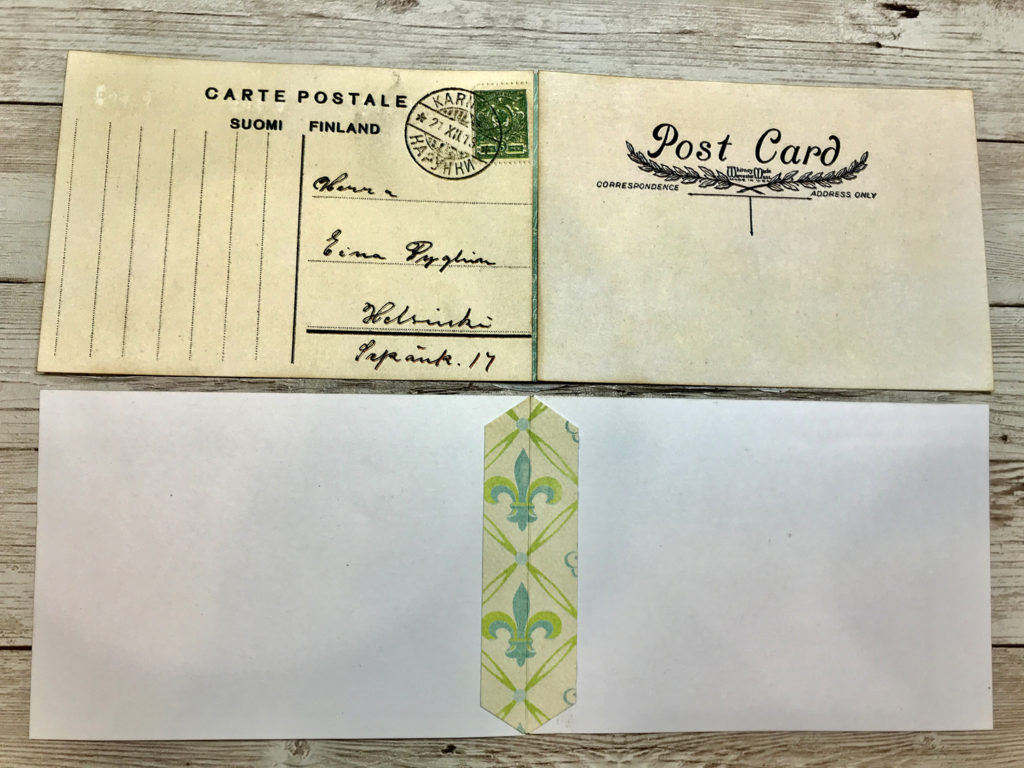 To attach the pages together, I used an old trick… small folded strips of paper that could attach 2 postcards together while remaining invisible from the front. I cut my strips 1" x 3 1/2", folded them in half length-wise and glued them to the back of two postcards placed side-by-side. This makes a two-page spread when you look at them. Repeat as many times as you'd like.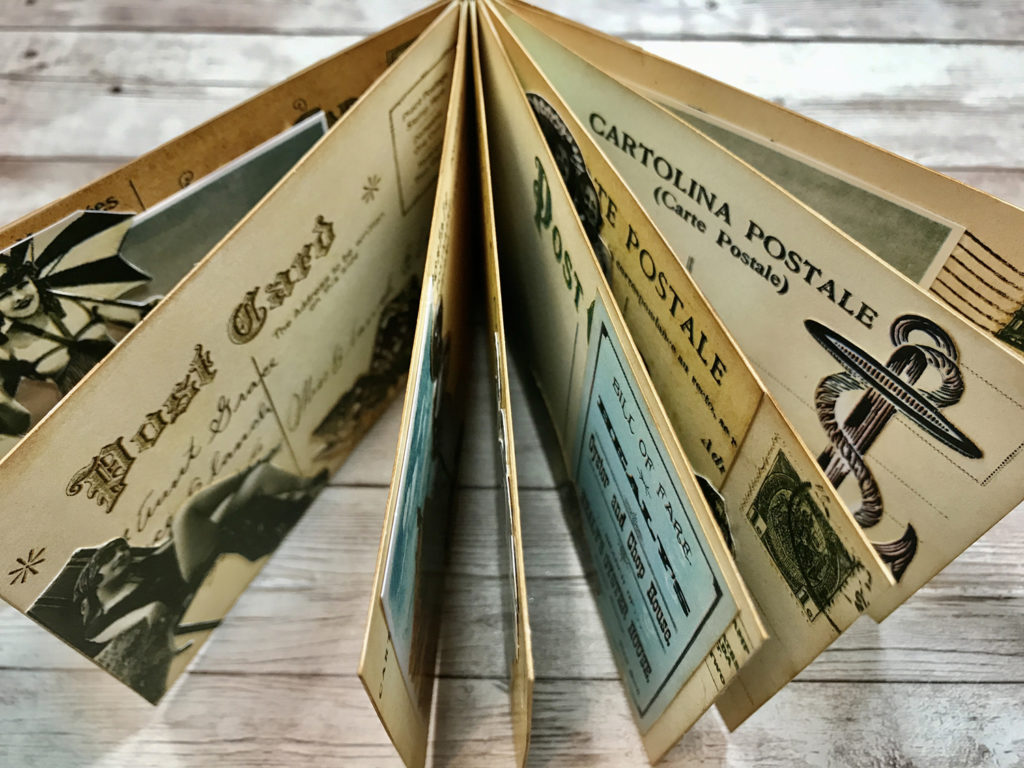 Once you have all your two-page spreads, begin attaching them together- wrong side of the postcard on the right to the to wrong side of another pair's left side. Repeat with a third pair. Continue until you have your book assembled- all you have to do is make sure you line them up neatly. This makes quick work of the book's "structure".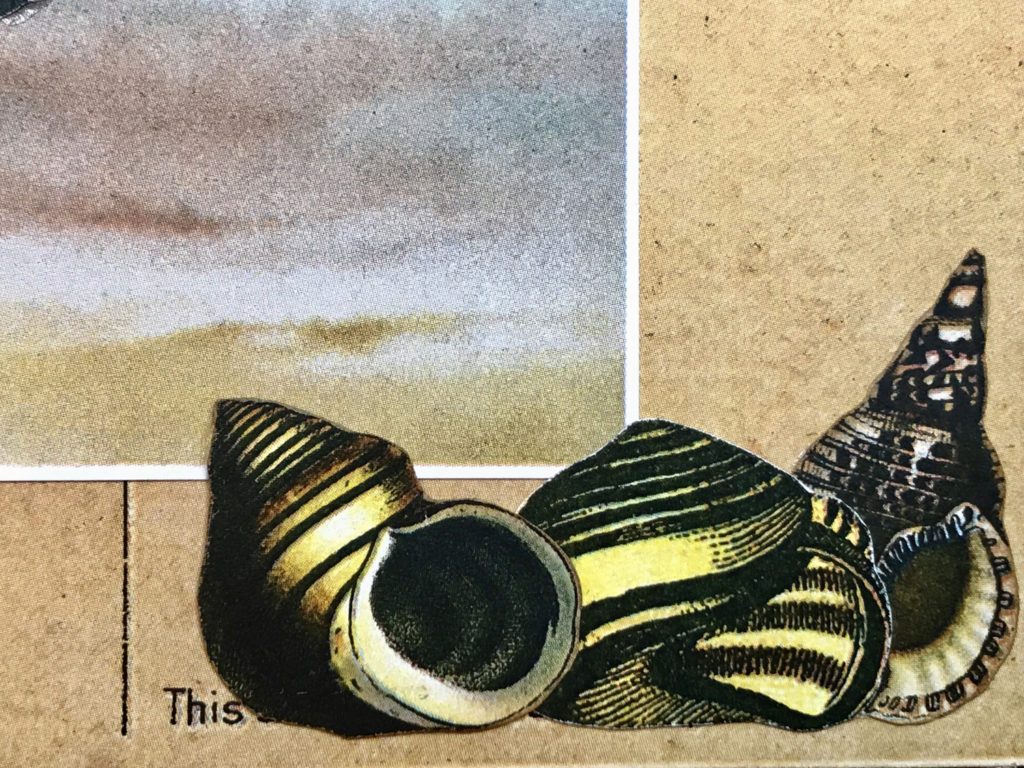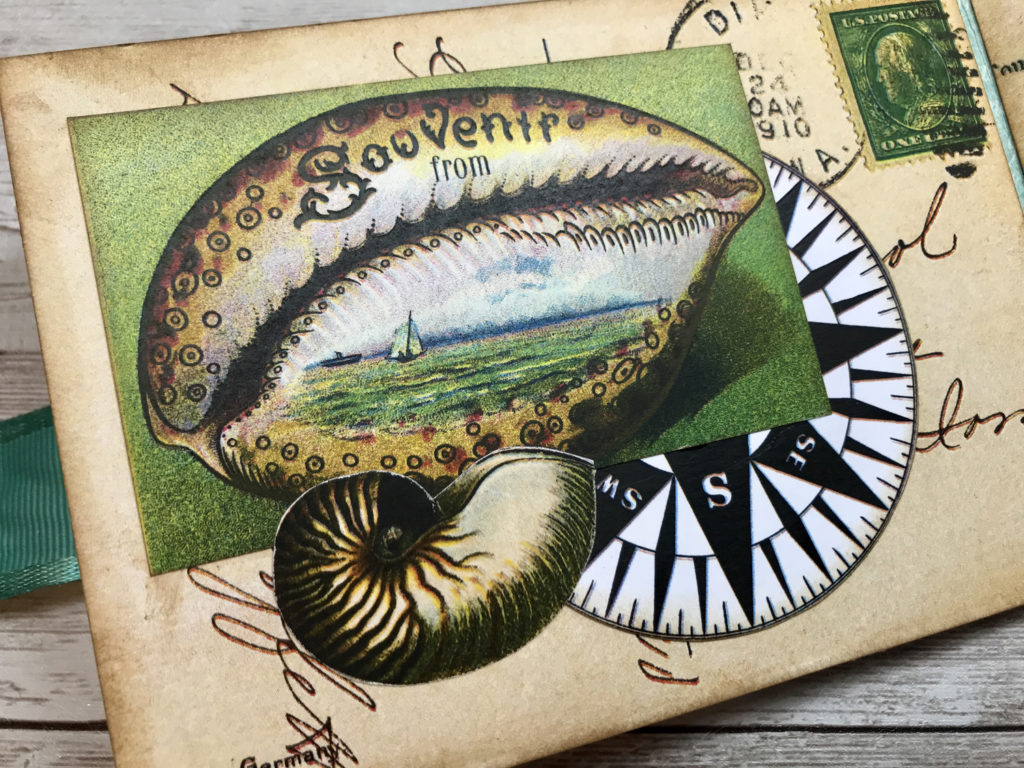 Embellish with seashells, fussy cut from prints. The watercolor images are lovely used as a background, layering shells and beach girls over the top. All ocean projects deserve a compass rose somewhere- mine is peaking out from under a souvenir postcard and a single shell.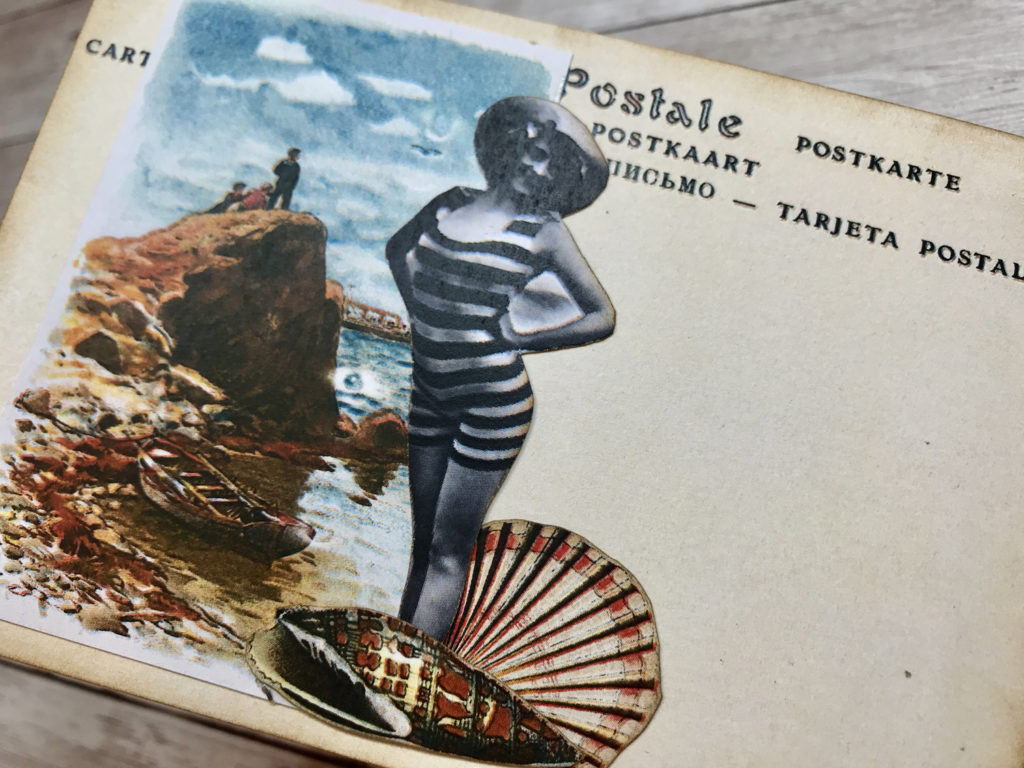 Don't worry if you find blank spaces remaining on your postcard bases- this is perfect for tiny snippets of journaling, a favorite quote or two, small photos (2" x 2"?). It is what gives your journal YOUR personality.
When the pages are complete, measure the width of your little book's spine- that measurement is important. Cut a strip of paper (I used a map printed from East Coast Maps) to use to cover the entire spine. I cut mine 3 1/2" x 2 1/4". I scored mine at the 1" mark and again at 1 1/4" (my spine was 1/4"). Glue onto the front and back covers. It was at this point I glued a ribbon onto my cover, allowing enough on the ends to tie into a loose knot. Complete your covers with additional images (mine were the square Coastal coaster collages PDF)- gluing right over the top of your ribbon. Embellish as much or as little as you'd like with additional seashells, blank labels or sea creatures.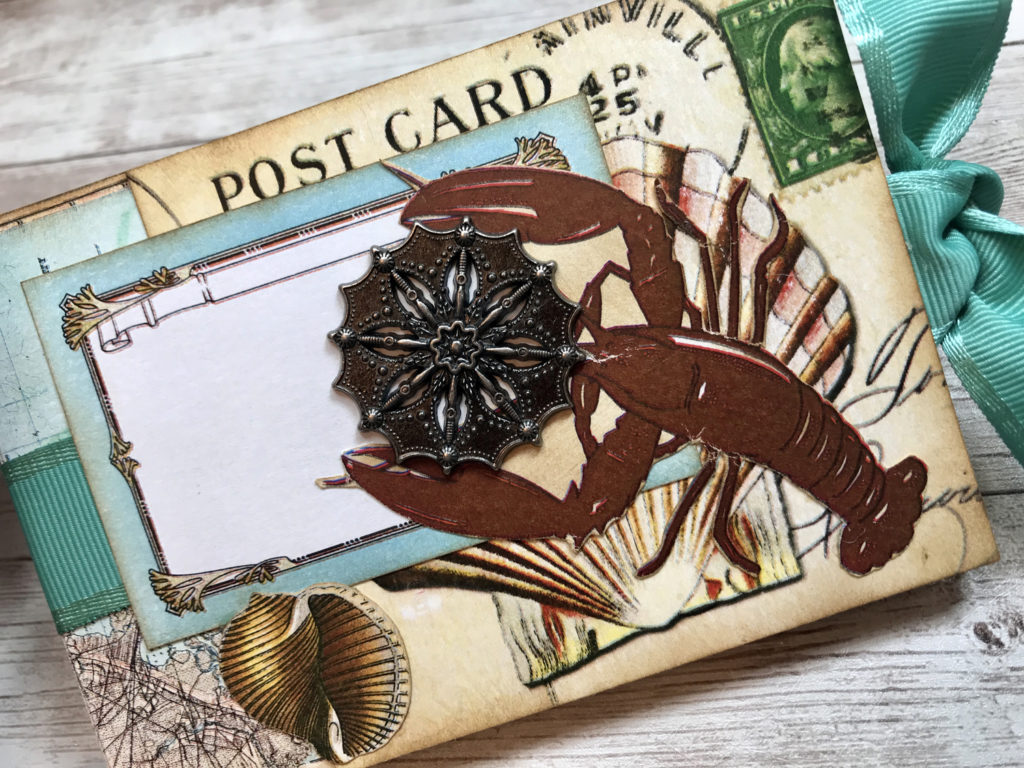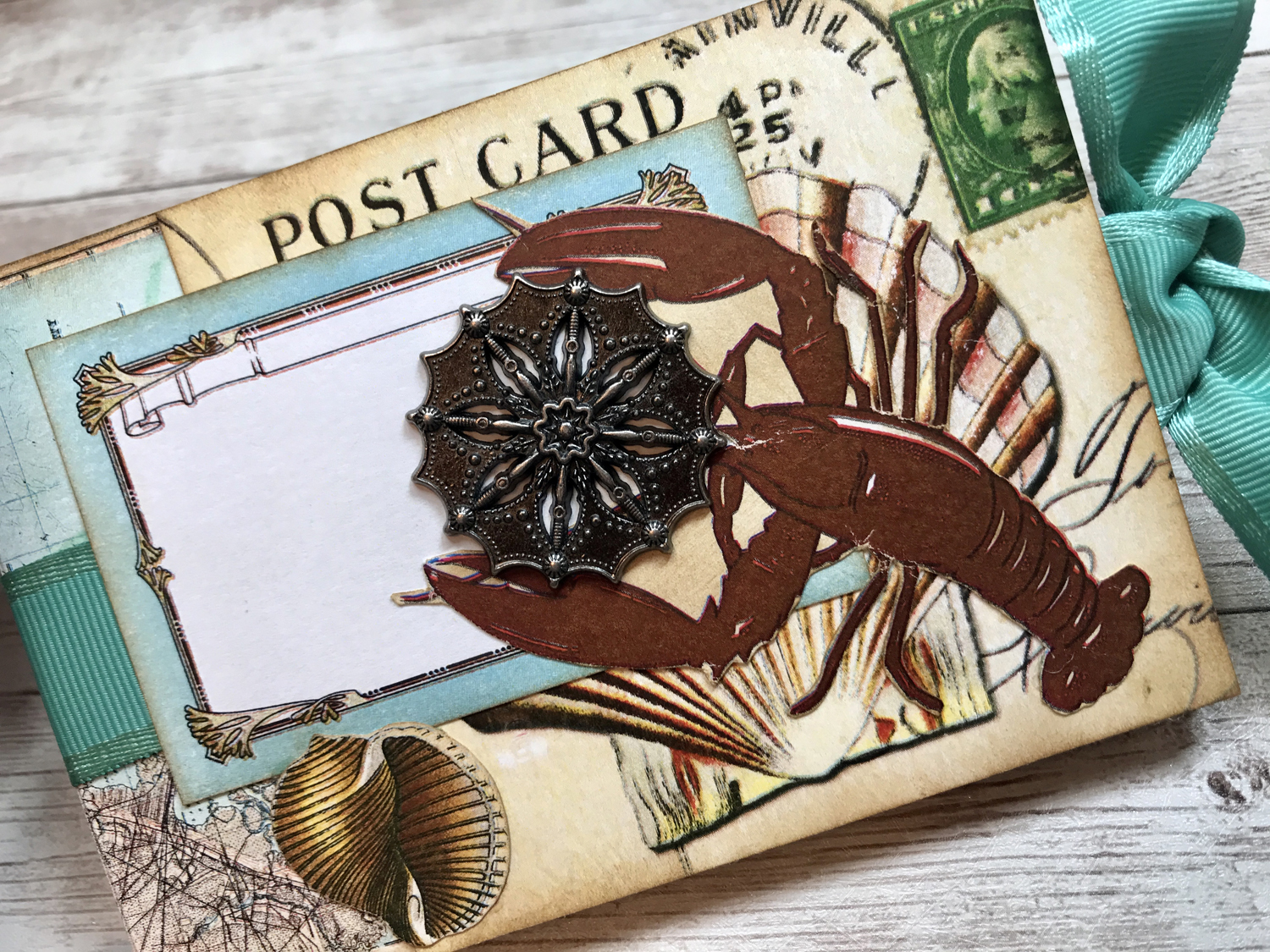 I couldn't resist the final touch of the metal embellishment between the lobster's claws- it made me smile!
I hope you enjoy this little souvenir from the shore. This technique will work for any size page you want, just follow the same steps and you can make something quite diminutive up to a full Travelers Notebook size- or even larger. Your imagination is the only limit.
The Premium Membership Bundles used in this project:
Seaside Holiday
She Sells Seashells
Vintage Postcards
East Coast Maps
Seashore Junk Journal Video Flip Tour:
To see a flip-through of Terri's Seashore Junk Journal, check out the video below:
Happy summer days to you- and Happy Crafting-
xo Terri
You can find me on my website:  The Gypsy Magpie or IG: @thegypsymagpie  to stay up to date with my latest projects. In the meantime, have a great week everyone!
Hello! Are you new to The Graphics Fairy? Welcome, I'm so glad you're here! Browse around to find thousands of Stock Images that you can use in your projects or designs! Need more info about my site? Try my FAQ page.