My Experience on The Carol Duval Show
Hi TGF readers, I'm posting something a little different today. Karen had asked me to write about the time that I was on The Carol Duvall Craft TV show. A show was beloved by so many of us crafters. It was a long time ago, but here is what I remember about that experience. I hope you enjoy it!
Once upon a time, needing a focused direction as well as income, I unleashed my 'gifts' unto the world so to speak. WINK! Flipping the tedium of my every day comfort zone inside an isolated studio, I said to myself… "Put yourself out there Rebecca!" I daringly took action, picked up the phone, and dialed a number that would catapult my life on more than a few captivating, beguiling, and oh so fulfilling creative journeys. One fascinating pathway led my naïve crafty self to The Carol Duval Show, as they say, back in the day!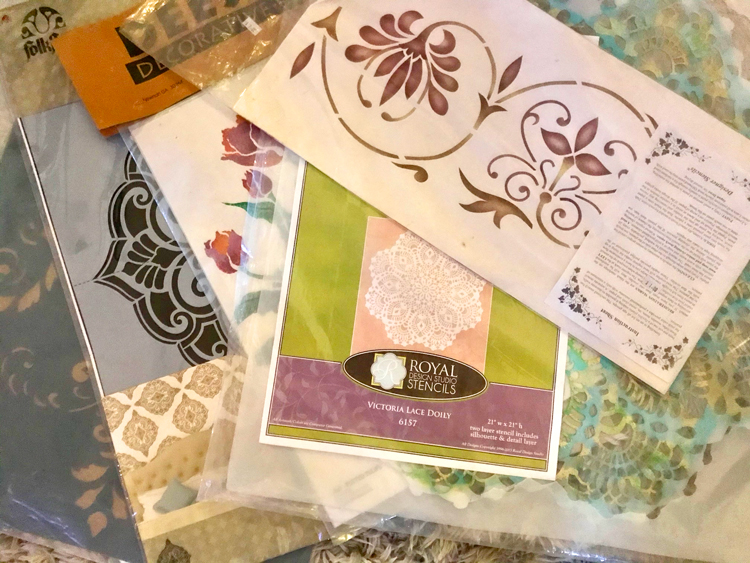 Being on The Carol Duval Show
So how did I end up on show? I was the editor of a major craft industry magazine called The Artistic Stenciler. One day, I received a call from a producer of The Carol Duvall Show. I didn't even try to keep my cool. You mean 'The" Carol Duvall – the "Queen of Crafts"??? The Holy Grail of craft shows??? They wanted to interview me and film the SALI (Stencil Artisans League, Inc.) 1998 Convention. We filmed it on location in Valley Forge, PA. I acted as show navigator and was interviewed about SALI's history and current events. They included footage of me teaching one of my classes as well. Below is the only photo I have from my appearance at that event.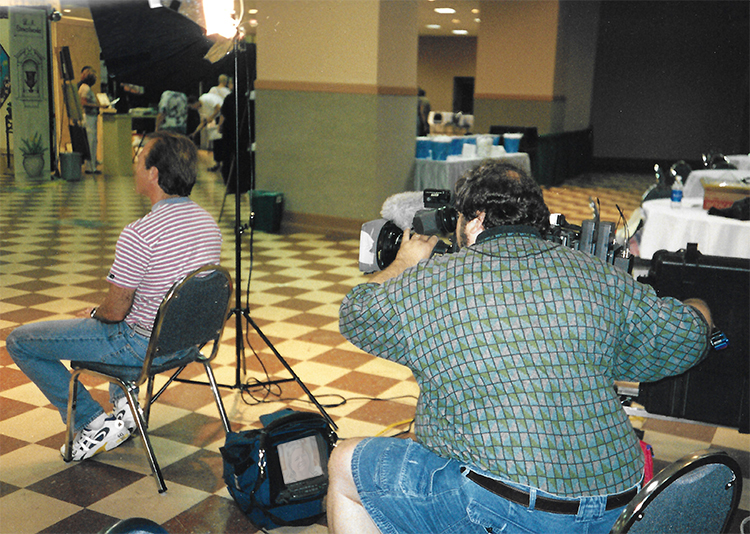 I also filmed a stenciling segment to be used later on the show. The Craft Queen did a lot of remote filming, and you might remember the show visiting artists at their home studios. It was a crazy experience that took about three days to film. My demo was taped at one of the vendor's booths. It was truly a Lights… Camera…. Action experience without much rehearsal except for simple blocking. I had to make the project three times, trying to duplicate hand movements and positioning as close as possible each time. That was a lot of pressure. The convention episode aired about a month later and my segment aired a few months later.
I was asked to come to Burbank, CA to do a stenciling segment the following year. Stenciling walls was very hot then. Here's the thing: I was not a stenciler so much as a decorative artist/painter. My specialty was murals, trompe l'oeil marble (below), and fine faux finishing. When Carol found out that I had written a book that was considered the bible of the faux and decorative painting industry, she asked me to film a business segment as well. Carol and her staff were warm and encouraging. They helped me prepare with a good plan for sharing my project in the best possible way. Producers and assistants talked me through the process and what I would need to bring with me. I was told what colors would work best with my project. I was asked not to wear white or huge, loud jewelry.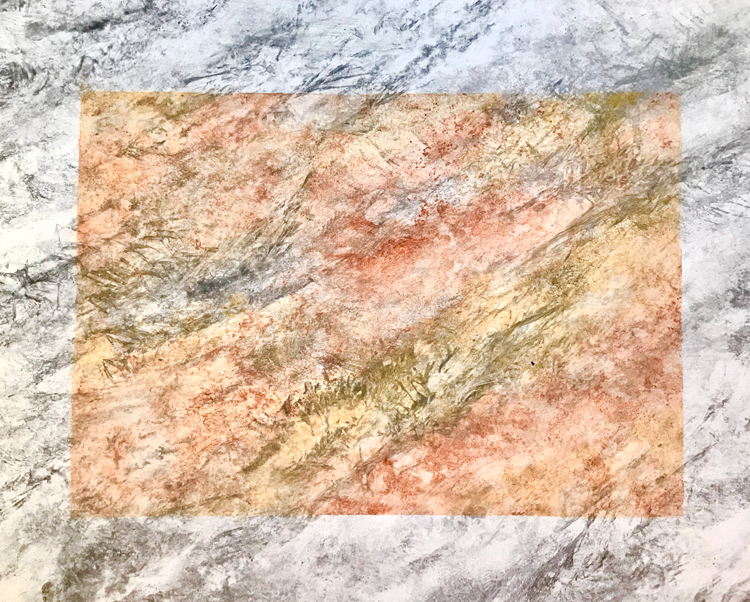 To select what I would demonstrate on was a multiple phone call and fax thing. I would talk to the producer about some ideas and send pictures. They would okay the one and let me know why they thought it would show best. They took into consideration how quickly I could do it, if it was easy enough for viewers to duplicate, how many steps and products, etc. It took a lot of prep work to even select a finish to do. I was told to make additional samples for the show to give the viewers more ideas.
I stayed with my son, who lives in the Temecula area, about 1-1/2 hours from Burbank. At the time I had studios in Atlanta, Amelia Island, Florida, and San Diego, CA. My son's wife Susie, who was my west coast assistant, drove me to Burbank early one day. We found the studio in what I thought to be more of a residential area. I think it was called Media City. It was a white stucco building with gray door. There were several shows filmed there.
I was really excited to see my name hanging on a dressing room door. It said, "The Carol Duvall Show welcomes Rebecca Parsons!" There were two other welcome signs for guests on the door as well. The dressing room had a faux finish on the walls. It was yellowish and peach colors and was fairly well executed! I remember that the furnishings were just normal chairs and tables and there were some silk plants.
This is where my memory gets a little fuzzy.Despite my fear of being found out as an imposter, I said yes to many TV invitations in the 1990s and 2000s. Throughout that decade, I appeared on several other HGTV, DIY, and TLC shows, along with some PBS crafting and art shows. Some of them have very similar formats and filming procedures. So I may have some of them confused. It was 20ish years ago. All the photos shown here were created for TV shows.
Susie and I came the day before taping to organize all my step outs and products on my table. The stage manager was a tremendous help, and the one I turned to for answers to my numerous silly questions. I had to make several copies of each step before going. I was always so afraid I might forget or mess something up on camera and not have another. I had to make it once for the filming and had to explain each step coherently.
It is fun to have directors and producers… sometimes. They also helped tape off product names that did not sponsor my segment or me. There was so much to remember. The hair and makeup person was good at her job because she made me look presentable for TV. (I am not much for makeup.) My one regret is about pictures of the experiences. I only used disposable cameras at the time and totally forgot to bring one with me.
I first met Carol on the set just before rehearsal. I remember doing a lot of blocking. This step first. Reach here for that. Don't do that!!! They were just filming my segment and no other guests were around who I saw. The process ran very much like clockwork. The staff was very professional and pretty talented crafters themselves. Carol was just as she appeared on screen. Warm, friendly, and a little quirky… just like me. I recall we laughed a lot. In between takes there was a little time to chat with Carol. She always had great advice about holding the brush like this or placing the project like that. No scripts or teleprompter for me! However, there was a teleprompter girl who must have typed 300 words per minute!
Filming was akin to jumping out of an airplane by choice and discovering your parachute does not work. Yep… heart constricted, a strangled dry throat, lightheadedly gasping to breathe dense, thick air. That's what it feels like the first time you experience craft television. I say 'experience' because time and space becomes fully in the sensory. Blindingly bright lights. What seems like fifty people talking at once. Palms damp. Panic. A boom mic on a long pole just above your head. Then complete silence: "Five, four, three, two…" the director holds up one finger and you are on the air! GULP!
I felt the intensity of flat out ego terror as Carol began to speak in her lighthearted voice. My inner mean girl was telling me I was going to mess up. But I was mentally running through my 'rehearsed to death tutorial steps,' trying to smile and look comfortable… when it suddenly popped into mind that I might be better off in that relaxed isolation of my tiny home studio. Horrors!! What was I thinking? A nervous giggle escaped from the depths of my soul at just the right moment. It calmed my shaky hands and somehow helped me come across as "fun and friendly," as the director would tell me later. (NOTE: I tend to laugh when I am nervous to the max or injured, often at inappropriate times.)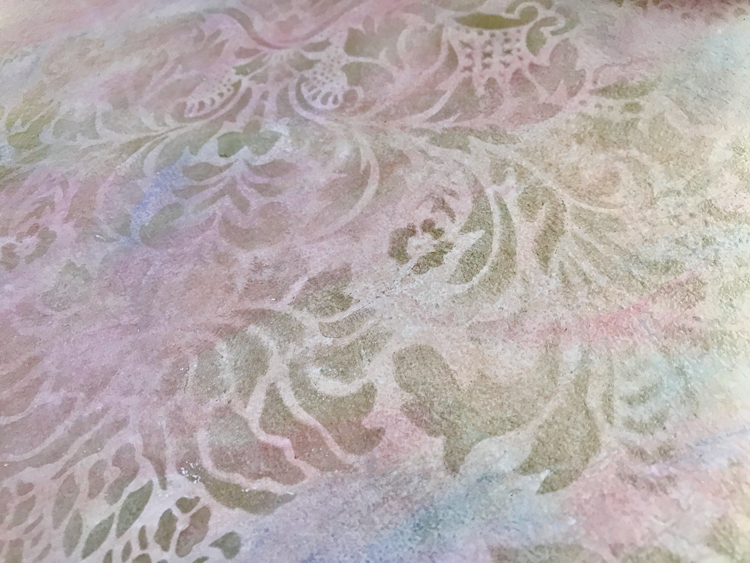 I demoed on the show a damask pattern stencil effect over a soft faux finish like the one pictured above. I say 'believe' because I made things like this on most of my filming in the late 1990s. I evolved into more intricate, but doable, finishes for the home and DIY viewers as my appearances, and the years, progressed.
With each of my Craft Television Experiences I, hopefully, learned and grew. As a result, not only did I love and enjoy being on camera, but became reasonably good at it! This blog post stemmed from a comment on a recent tutorial mentioning that my videos reminded them of "a Carol Duval Craft segment." Been there. Done that! WINK!
Once, as I was traveling back home from California, Mary O'Neill from Hot Potatoes, and a regular guest on the show, sat beside me on the plane. We shared stories and laughs about filming disasters and Carol. Carol didn't know much about the finer points of stenciling when I met her. She was pretty much a fully loaded brush, ducks and hearts stenciler when I came on. Afterward, she had a much different view of the fine art of stenciling. Ha Ha!
One of the things I will never forget is the time when the camera ran out of film in the midst of taping the segment. (Yes, this was way before digital!) When the cameraman returned, the director wanted me to place my hands in the 'exact' place they were in when the film ran out! WHAAAAAT? I learned to pay strict attention or visually memorize my spacial orientation pretty quickly. Additionally, I learned that two plus hours of filming resulted in only a three to five minute segment! This craft TV experience taught me what was important to show versus what was fluff. That serves me well today in making craft tutorial videos for myself and for The Graphics Fairy Premium Membership Site! I digress…
When it was a wrap, I experienced a deep sadness that it was over. My 15 minutes of crafty fame were finished. (I might have a tendency to be a tad melodramatic if you ask my family!) But not to worry – a higher, wider, and more enticing pull of being on camera had worked itself into my core. I loved being on television and wanted to do more! I just kept picking up my phone.
My life has been a wild and wondrous creative journey filled with an extended array of provocative, stimulating events and mostly endearing people. Lest this begin to sound like the dubious crescendo, I am pondering the next craft video that I am about to film for Karen and Emily. I hope that my 'jumping beyond my comfort zone' life lessons are apparent on my videos!
I hope you enjoyed this behind the scenes peek into The Carol Duvall Show. As I write this, the sunlight peaceably filters through the palm and banana trees outside my windows on Amelia Island. I hope that you were modestly entertained by strolling out of my comfortable sandbox with this mellowing/maturing crafter!! When I am not exploring new and old Techniques for Mixed Media in my Graphics Fairy sandbox, I also create Photoshop Elements tutorials and craft project videos over on The Graphics Fairy Premium Membership site. You can find even more of my books, junk journals, mixed media art, classes, and whimsical shenanigans on Rebecca E Parsons Dot Com.