It's Thursday so that means it's request day here at TGF!
Here's what I found for you this week: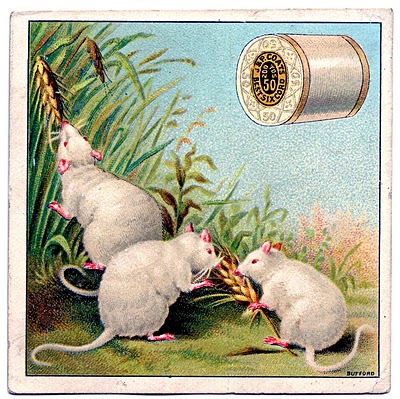 I had two requests for mice last week, one from Hotdog and the other from an Anonymous reader. I actually scanned this one months ago and totally forgot about it. These are 3 busy White field Mice, shown on an antique Thread Trade Card.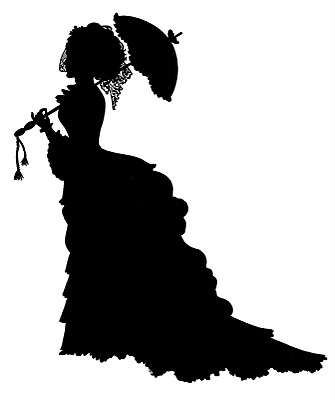 Quite some time ago, Anna had requested a Crinoline lady. I didn't even know what that was until she kindly explained it to me! This one is a Silhouette that I found at an antique mall just last week. I'm a little bit nervous about sharing this one, as far as copyright goes. This image was cut out of something, and I have no info as to the age or source of the image. I'm guessing it's from around the 1920's, but that's just a guess. Use caution with this one, it might be best to stick to personal use for this image. If anyone knows the source of this image, please let me know!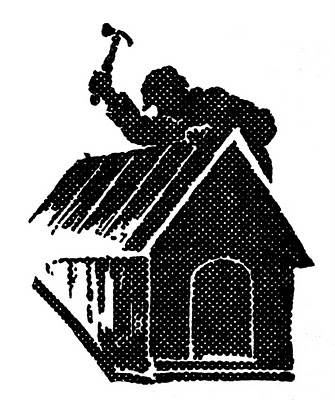 Jenna was looking for a Shed graphic. I have to admit when I found this one this morning in an antique magazine I thought it was just the thing. The image was teeny tiny so I scanned it and blew it up, and then after seeing the larger size, I'm thinking it looks more like a Doghouse. Rats! Yes, I do need glasses, thank you very much! Anyway, perhaps she can still use it.
APaperBear was wishing for a Monkey Drawing image. This one comes from an early Natural History book.
And lastly Diane was searching for a Falcon graphic. This one is a "Bengal Falcon" it was the only one that I could find and comes from the same book as the Monkey above.
Well, that's all for this week. Do you have a request for an image? If so please leave it here in the comments section of my Request Day post, and then check back on Thursday to see if I found your requested image (Sorry but I can't fill every request, I usually pick a few each week). Each week I go back and check under my Thursday posts to find what your looking for, it's so much easier for me that way. I'm afraid I'm a very disorganized Fairy, so please, please please Do Not email requests to me, I most likely will loose it if you do. So sorry but I'm a complete mess when it comes to email! I'm afraid they're just aren't enough hours in the day to answer them all, and then I feel horribly guilty.
P.S. Don't forget to use the search box here on my blog, you might find that the image you want is already here!
Share