4 Vintage Horseshoe Images
This is a fun little collection of Vintage Horseshoe Images. A horseshoe is a U-shaped metal piece that is placed on a horse's hoof. It is usually used to protect the hoof from wear and tear, and to help the horse walk more easily on hard surfaces. This U shaped design has also been used for many years as a symbol of good luck and good fortune. It's been a tradition to hang these metal objects above doorways to bring good luck and prosperity to the home. I have always heard that you need to hang it with the U pointing up to keep the Good Luck in, but I'm not sure when that started as many of these older images show them pointing downward. Anyway, these are a popular motif these days in weddings, as who wouldn't want to start their marriage off with a little extra luck and prosperity! They also work really well in a Barn Wedding theme. You could use these Horseshoe graphics for Invitations, for Table Numbers, Save the date cards and more. I hope you enjoy this charming collection!
Color Horseshoe Graphics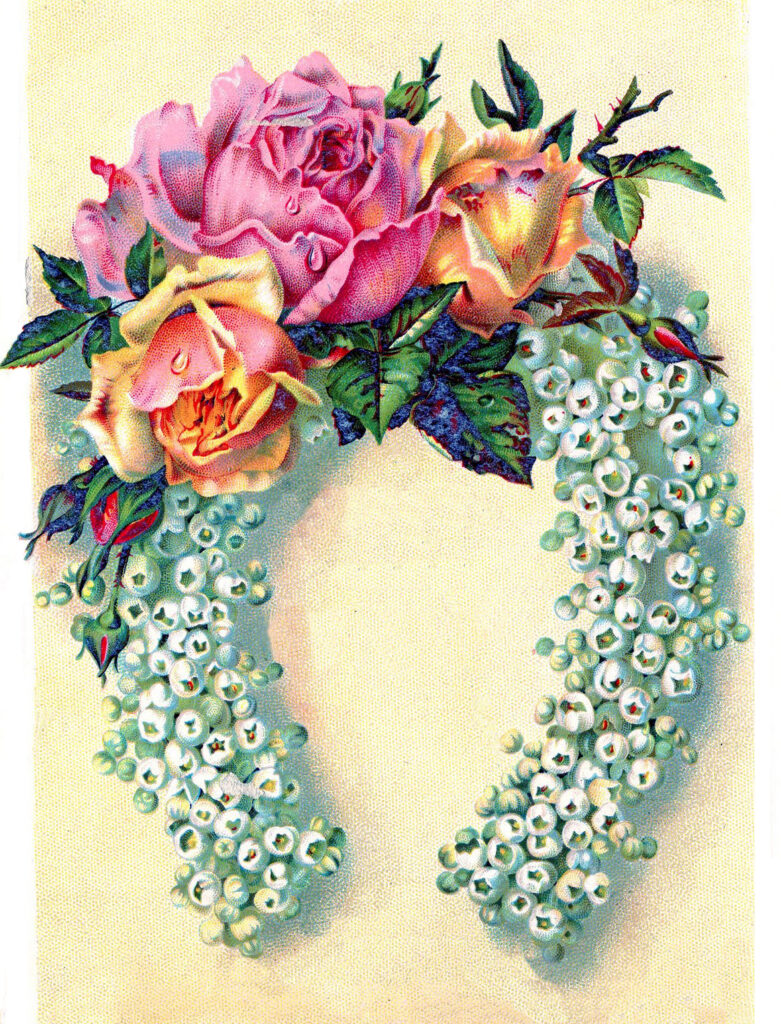 This is the latest addition to this collection. Isn't this gorgeous?! I could definitely see this one used for Wedding Designs. Here we see a beautiful Floral version, with loads of delicate white flowers … Lily of the Valley perhaps? And stunning pink and yellow Roses.
Black and White Horseshoe Images

This is a fancy Vintage Horseshoe Image! This was scanned from a rare Antique Printer's book that dates to around Circa 1880′s. The Horseshoe is hung by a big pretty Bow and has the words "Good Luck" imprinted along the top of it. There's a little plain white card tucked into the center. This would have been used as an Advertising piece and the text for the Ad would have been written on the white card. I thought you could use it for something fun and write your own text on it. This would make cute "Save the Date" cards for a Wedding!
This is an old black and white Illustration of a classic metal Horseshoe. This one is from a rare early 1900's Printer's book. This one is going in the right direction to keep the luck in!
This next Horseshoe Image is a Printer Ornaments from an 1880's book! These little doodads, as I like to call them, were often used to illustrate the ends of chapters in old books, but they are so charming I'm sure you will find lots of uses for them in your art! The graphic shows a horseshoe wrapped with floral vines and topped with a bow.