26 Best Crown Clipart Images!
This post seems quite fitting after the recent Coronation ceremony for King Charles! This is an extensive collection of wonderful Crown pictures and we threw in a few Crown Themed projects for some extra inspiration as well. You'll find those towards the bottom of this post. This is a great collection of some of our most beautiful Regal pictures, some that are even sized perfectly for you to use in Transfer Projects, as these royal beauties looks fabulous on all kinds of Home Decor items and Accessories. Many of these were scanned from an Antique 1840's European Encyclopedia in my collection. I have updated some of the images to make sure that all of the pictures are high resolution.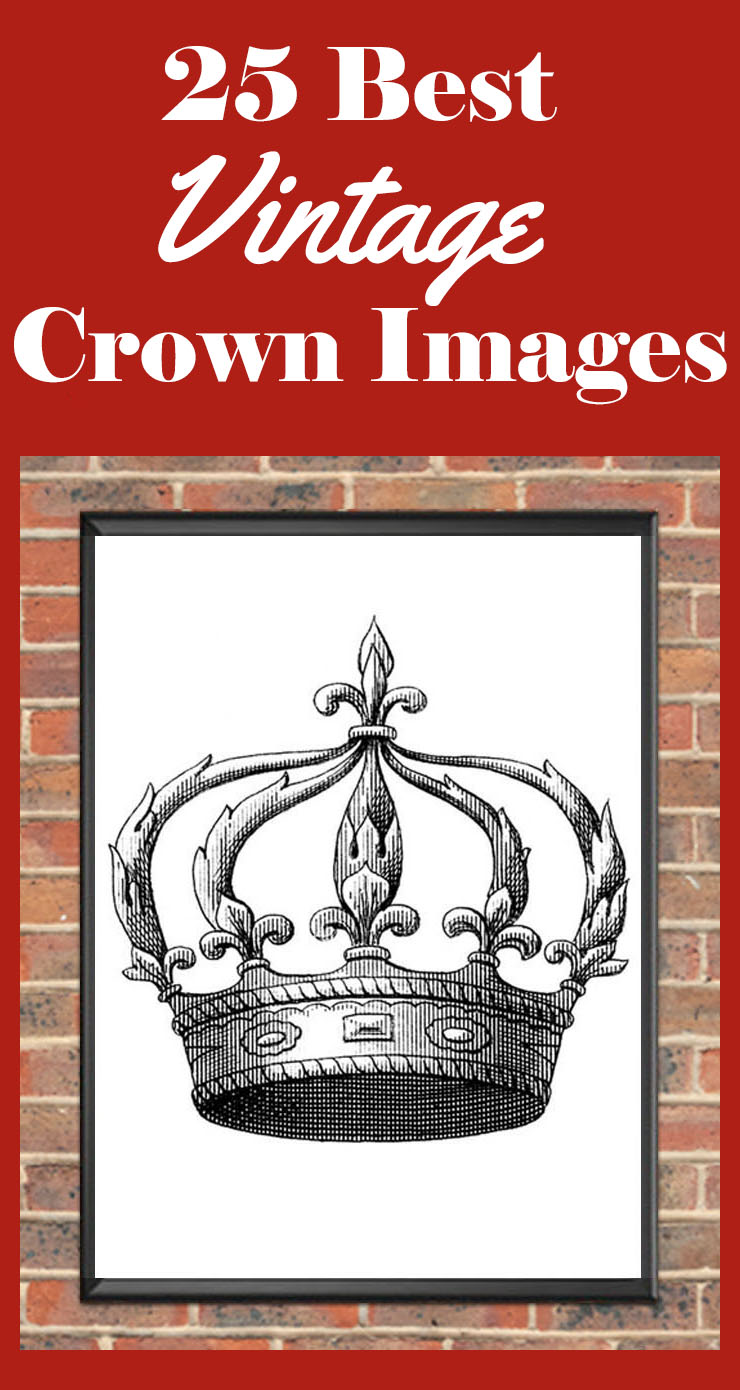 Black and White Crown Clipart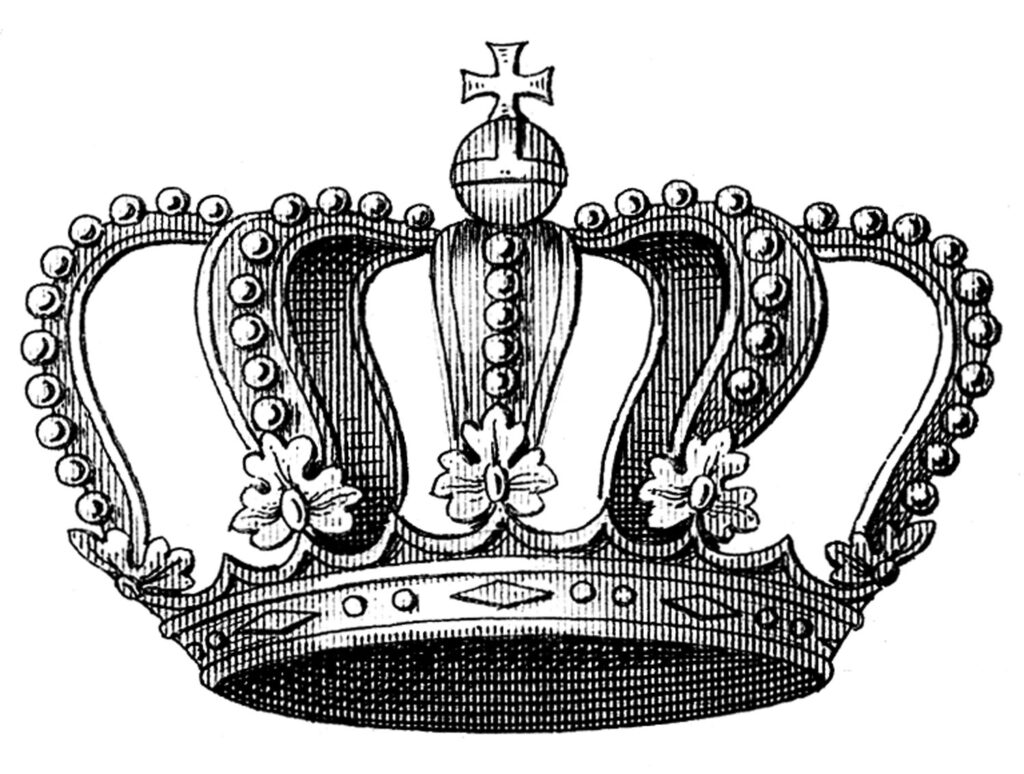 Click HERE for the Transfer Printable Version of this Image
This is one of the fabulous old clipart crowns that I scanned from an 1840's European Encyclopedia! This one looks similar to some of the others, but it actually is a little different and I think it's quite pretty. It works so well in many different DIY projects, I have seen it used on everything from furniture, to pillows, to coasters and more. I love the all the ornate details on this one.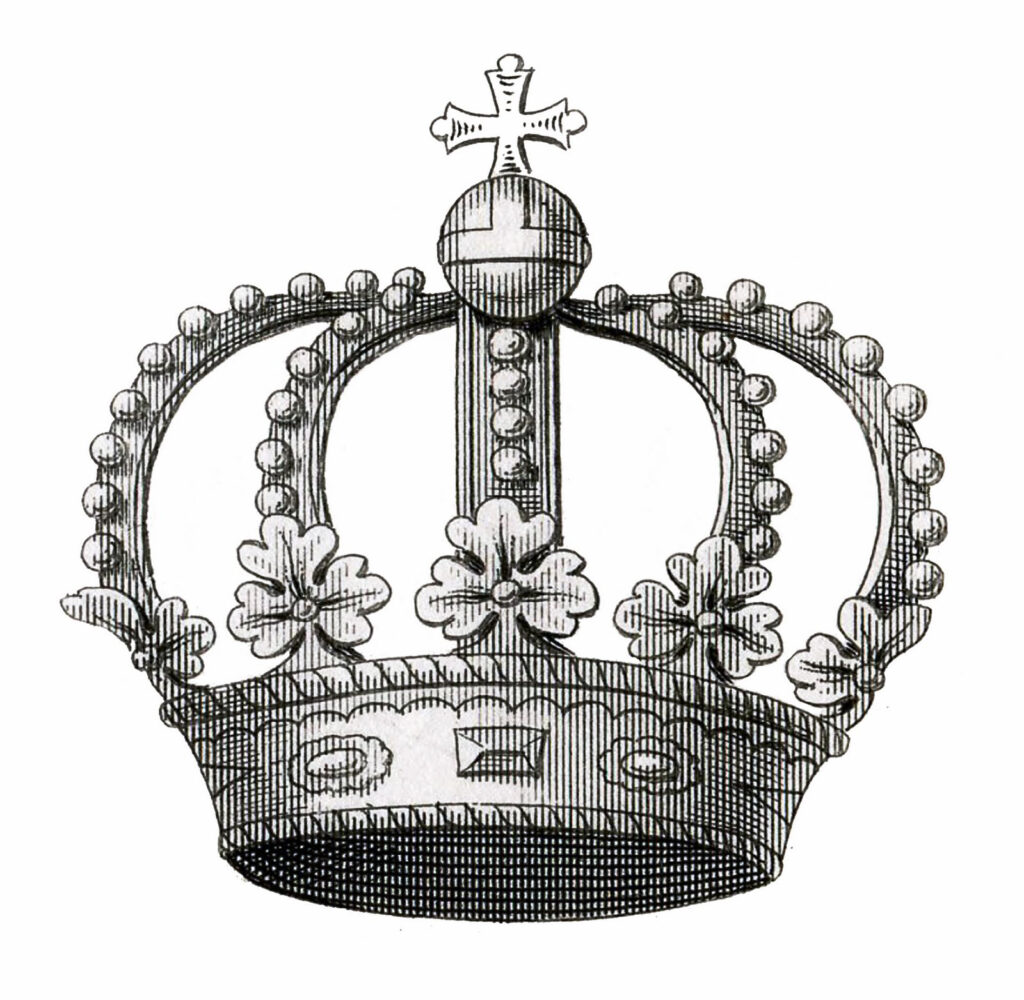 And here's another. See what I mean? It's similar to the one above, as the details are very much like the one above, but as you can see the shape is a little different. This one is taller, so the dimensions may work better for you depending on the project.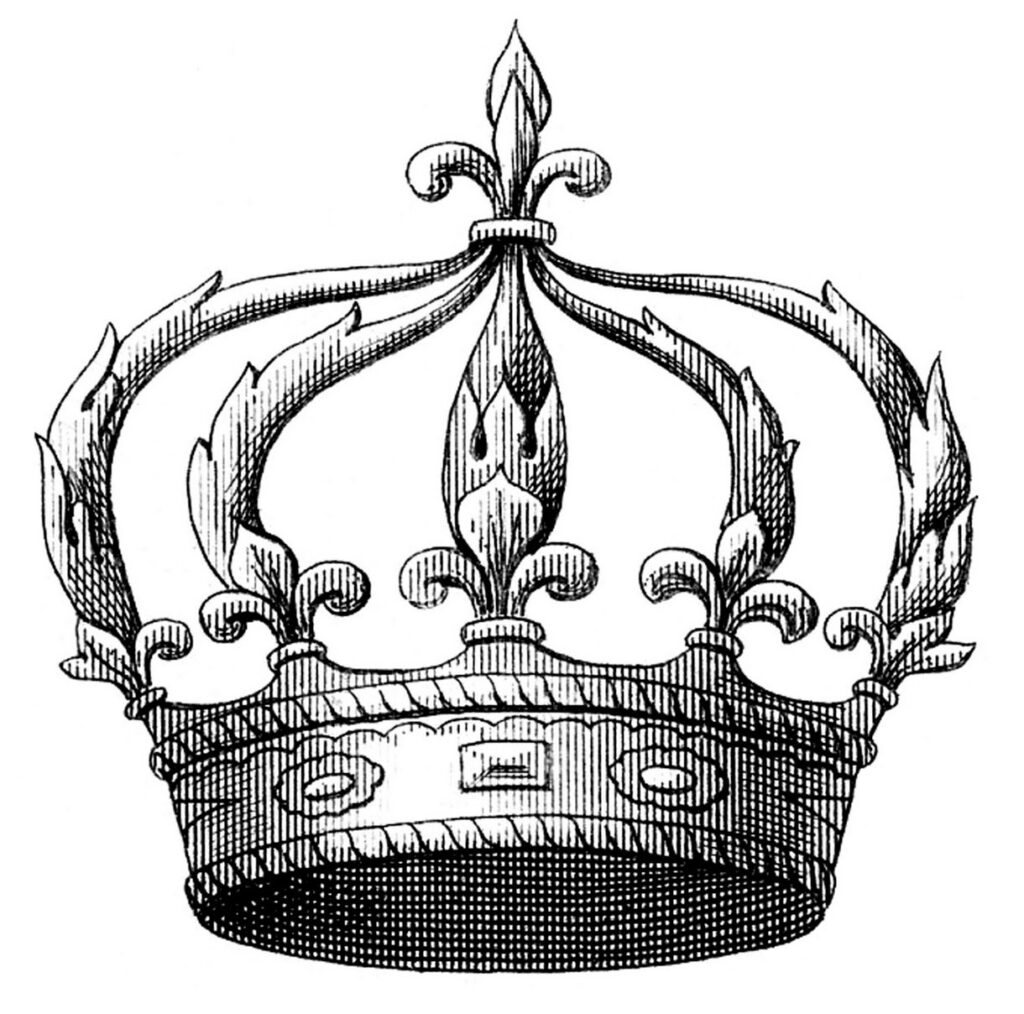 Click HERE for the Transfer Printable Version of this Image
This is a beautiful 1840's Fleur de Lis Crown. This is another gorgeous specimen and an old favorite of mine, as it looks so French to me. This one has some wonderful Fleur de Lis designs all around it, as well as on the top. There is also a Transfer Printable version included, in the link above, it is sized appropriately for Iron-on Transfers. You can make any number of DIY projects, including Towels, Pillows, Placemats etc. The possibilities are endless!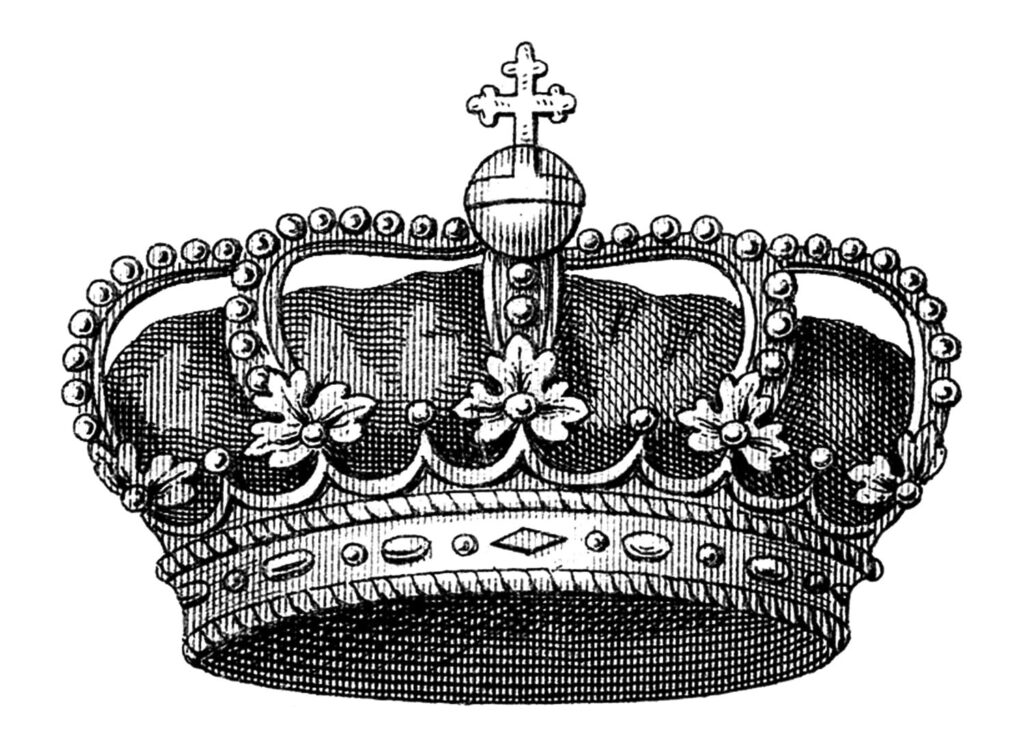 Another fabulous old public domain crown download from the same 1840's European Encyclopedia! This crown appears to have fabric on the inside, (velvet I would imagine); it's very regal looking!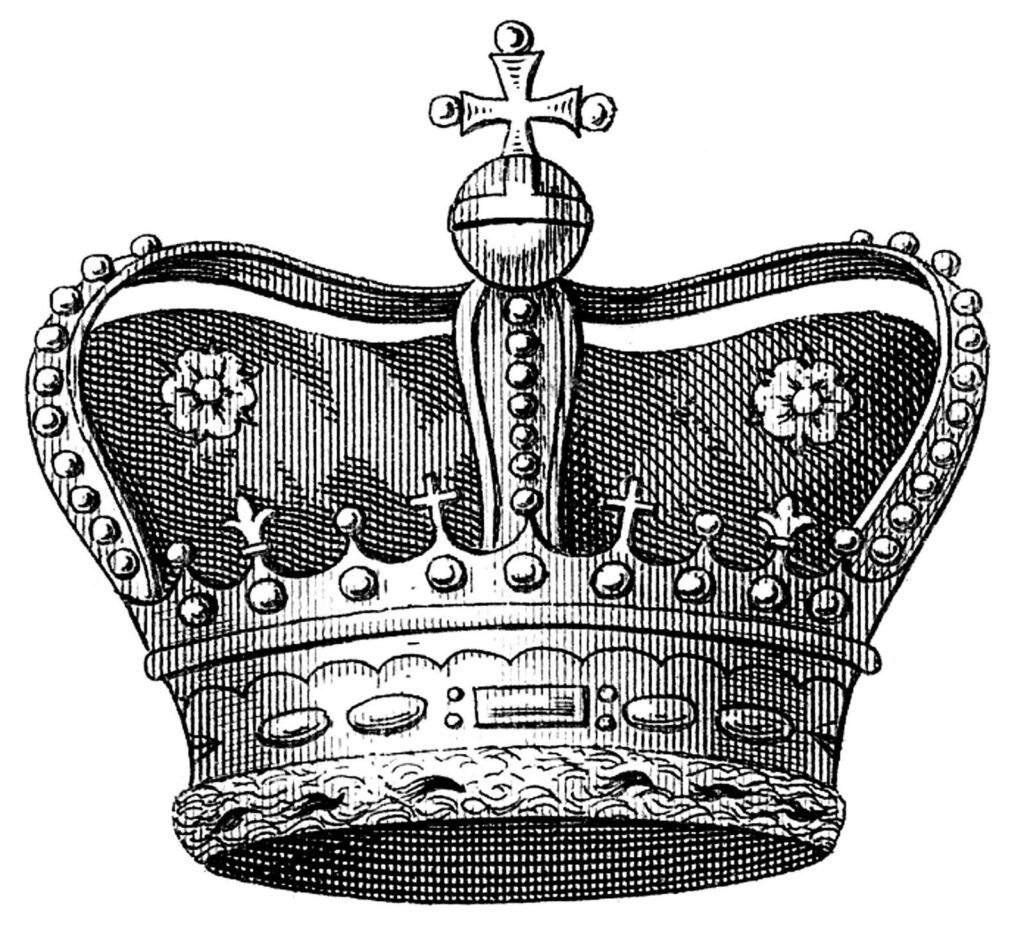 Another wonderful option from the same source! This one appears to have fabric on the inside, (also velvet I would imagine), and fur trimmed around the base. Very regal looking! You can use this in your home decorating or DIY projects, like towels, pillows, tote bags etc.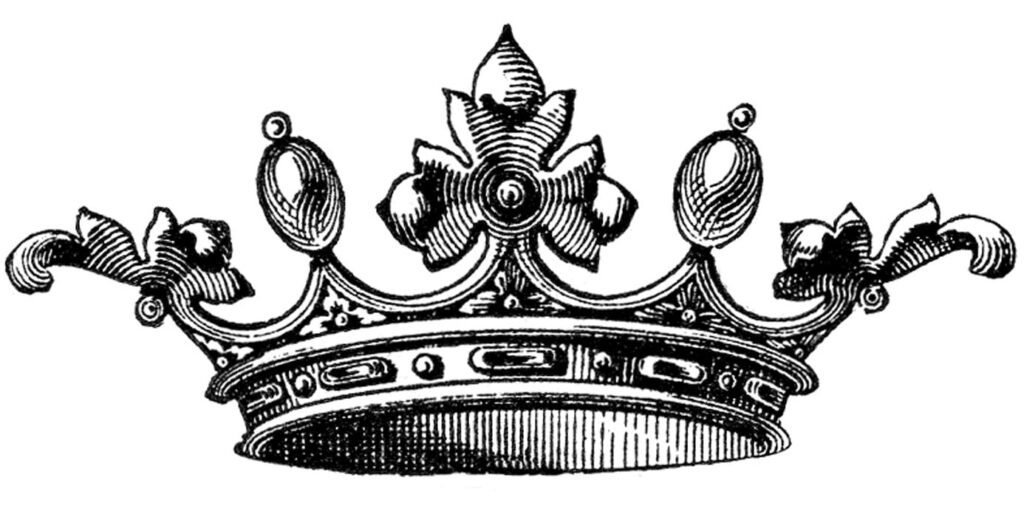 This wonderful regal Image comes from an Antique Jewelry Catalog, which dates to around 1870's – 1880's. The Crown is quite ornate, with 2 sort of egg shaped Jewels on the top. So fancy and fun!!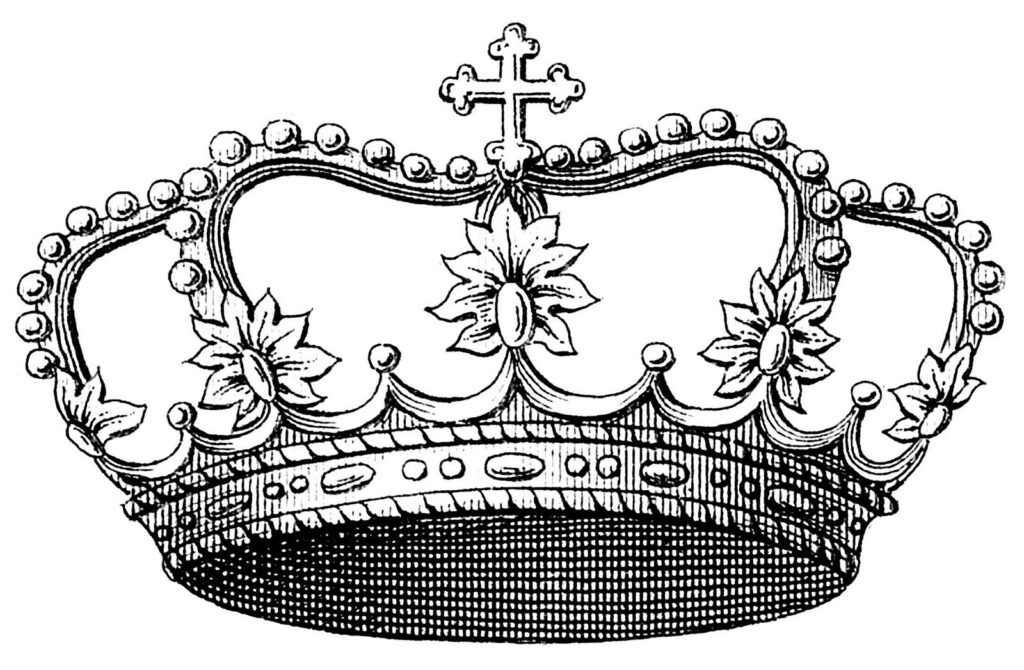 Click HERE for the Transfer Printable Version of this Image
Another fabulous beauty from the 1840's European Encyclopedia! I'm calling this one a princess crown because it's more delicate than some of the others, and the shape and the flowery embellishments look feminine to me. But that's just my take on it!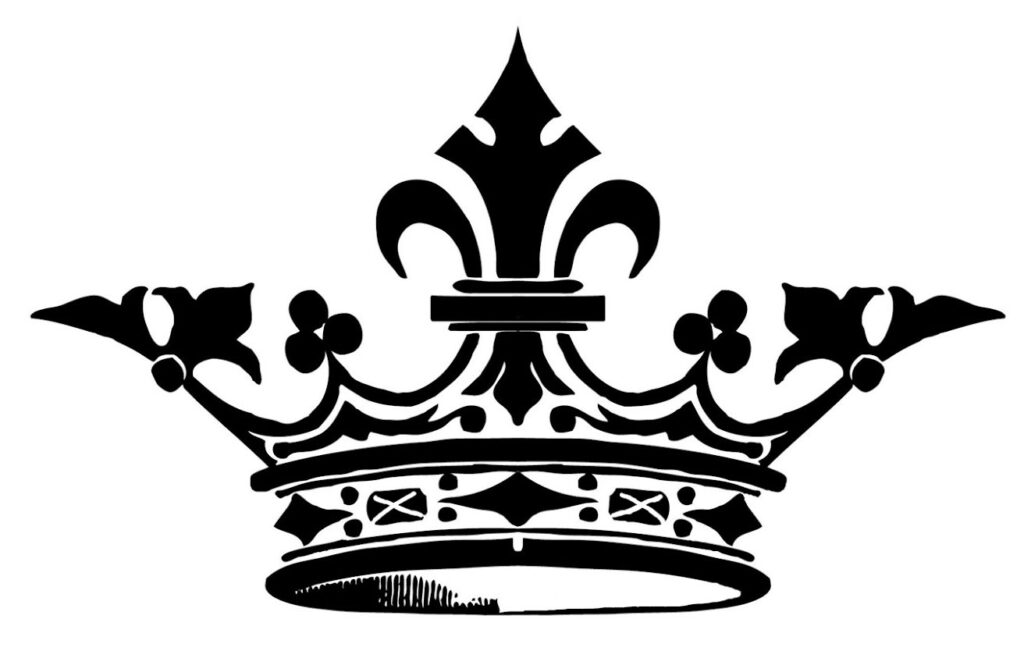 Click HERE for the Transfer Printable Version of this Image
 Antique Silhouette Crowns are not easy to come by! This is a wonderful Silhouette was scanned from an 1860's Book. This one also includes a PDF High Resolution printable, just click on the link above to download it. I think this would look fab on Linen or Burlap, and is great for Flour Sack projects too! Of course you can use this for any of your DIY projects, like pillows, towels, signs, table runners and gorgeous on furniture pieces!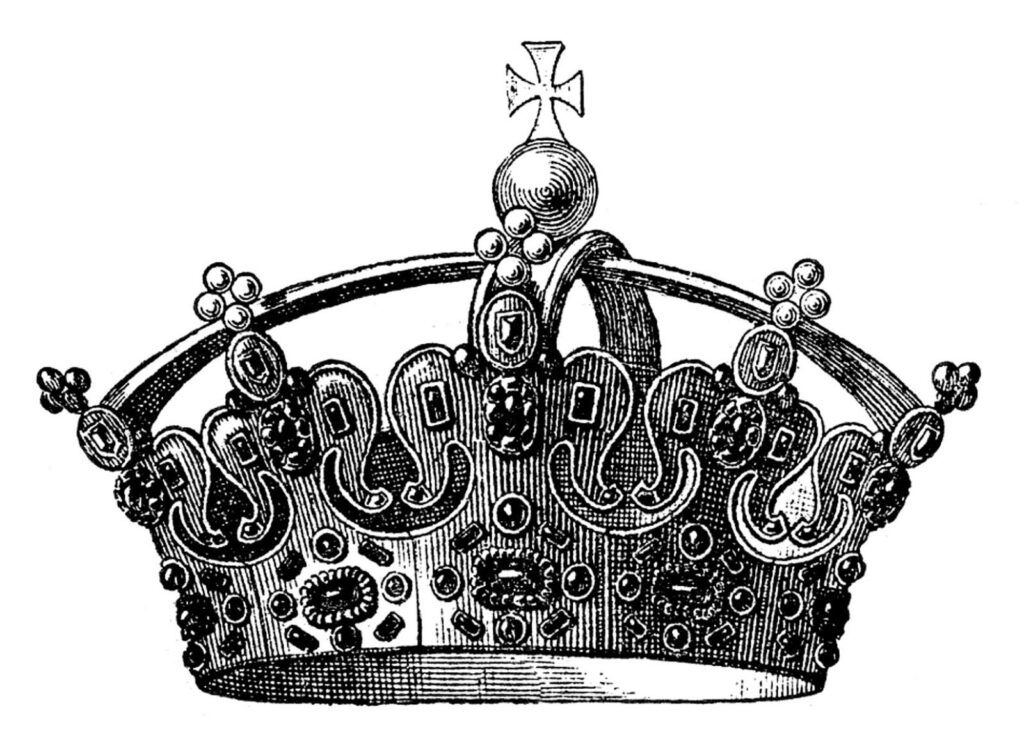 Another fabulous Crown Clipart from an Antique Book! This one is loaded with Jewels and has a Cross on the top … how fancy. I bet this one was quite heavy to wear as well with all of those precious stones encrusted all over it. I wonder what kinds of stones they used on this?
 This is a fabulous Vintage Crown Image, Circa 1873  from London! This is another one that has Fleur de Lis going around it and a Cross on the top. There's something sort of cute and quirky about this one, perhaps because the illustration is a bit more primitive looking than some of the others. I think this would be cute to use on Invitations for a Birthday Party!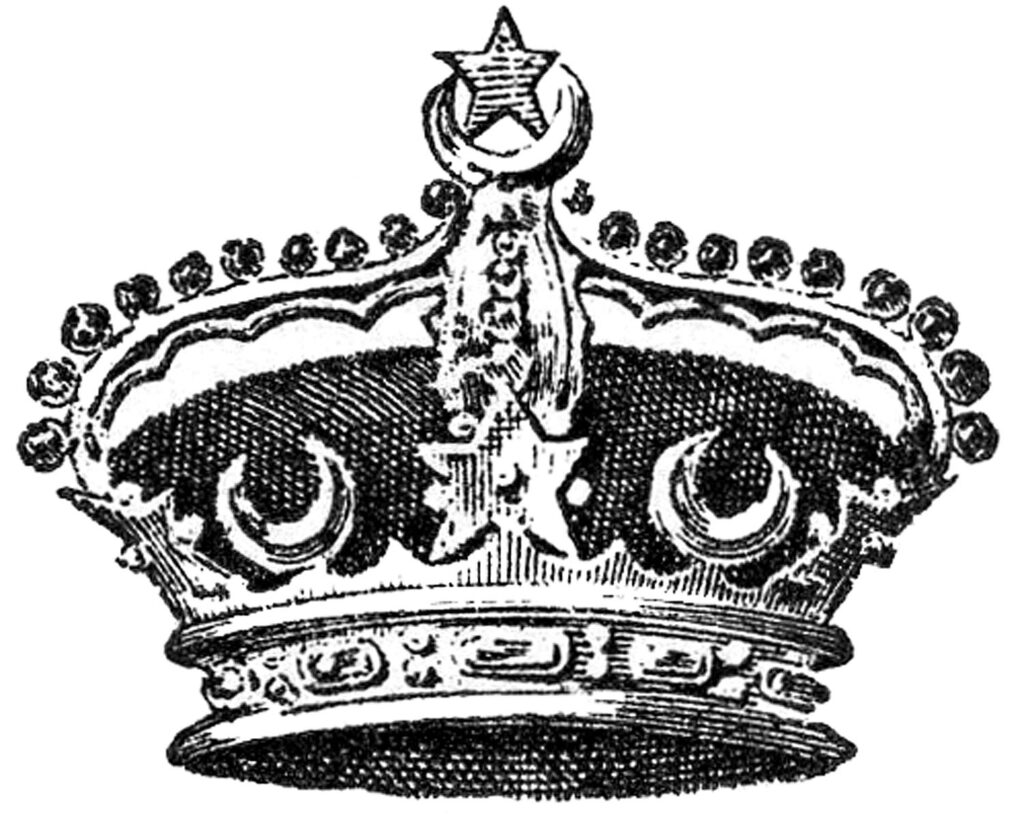 This one is from an 1880's Jewelry Catalog and was actually a part of a monogram. I've altered it to include just the Crown, without the letters. I think this one is so interesting with the crescent moons and stars on it, and the lovely beaded trim. I believe this one may possibly be Turkish?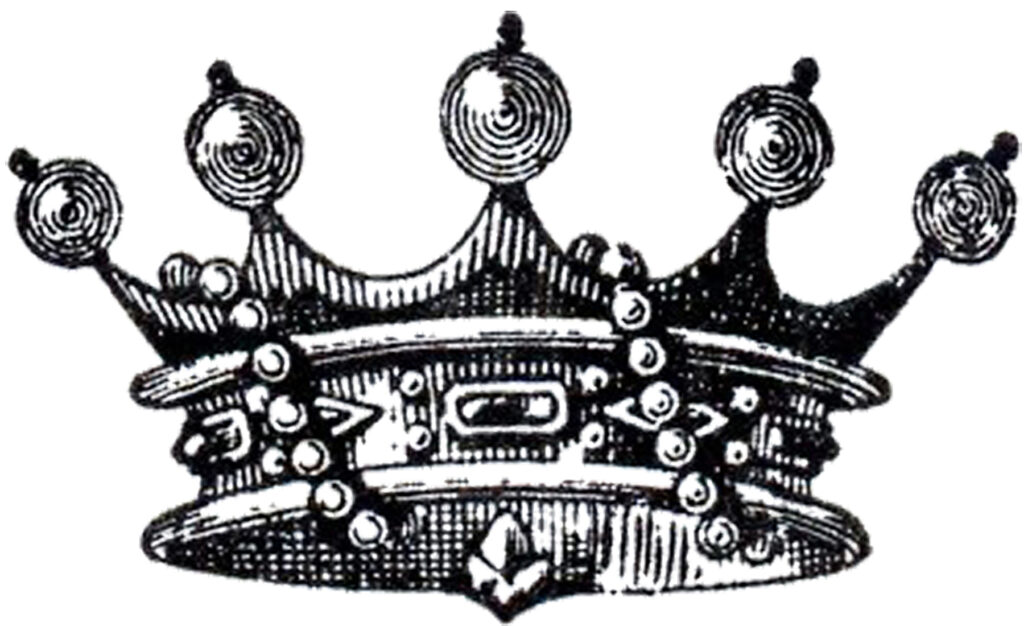 This royal topper appears to have a strand of Pearls wrapped all around it. It's from the same jewelry catalog as the one above it.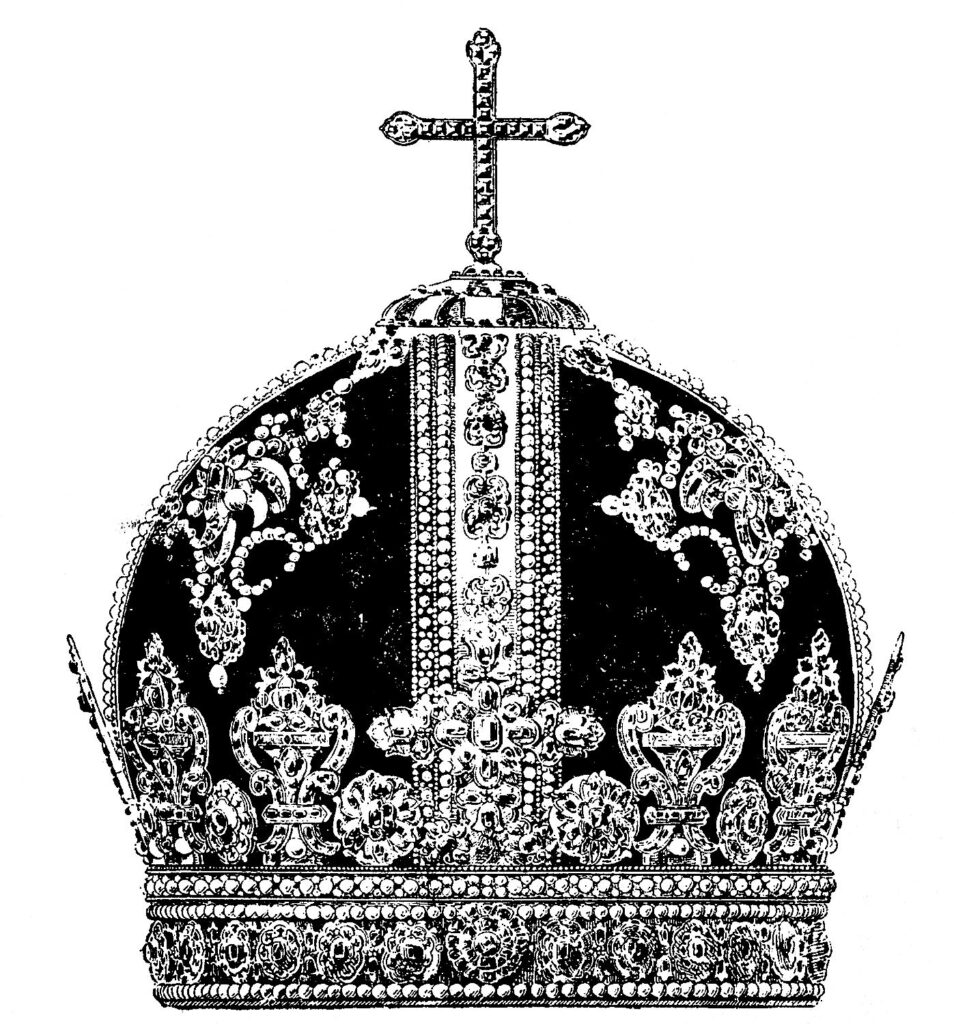 This is a wonderful ornate Russian crown, from an antique Design book, such gorgeous details on this piece!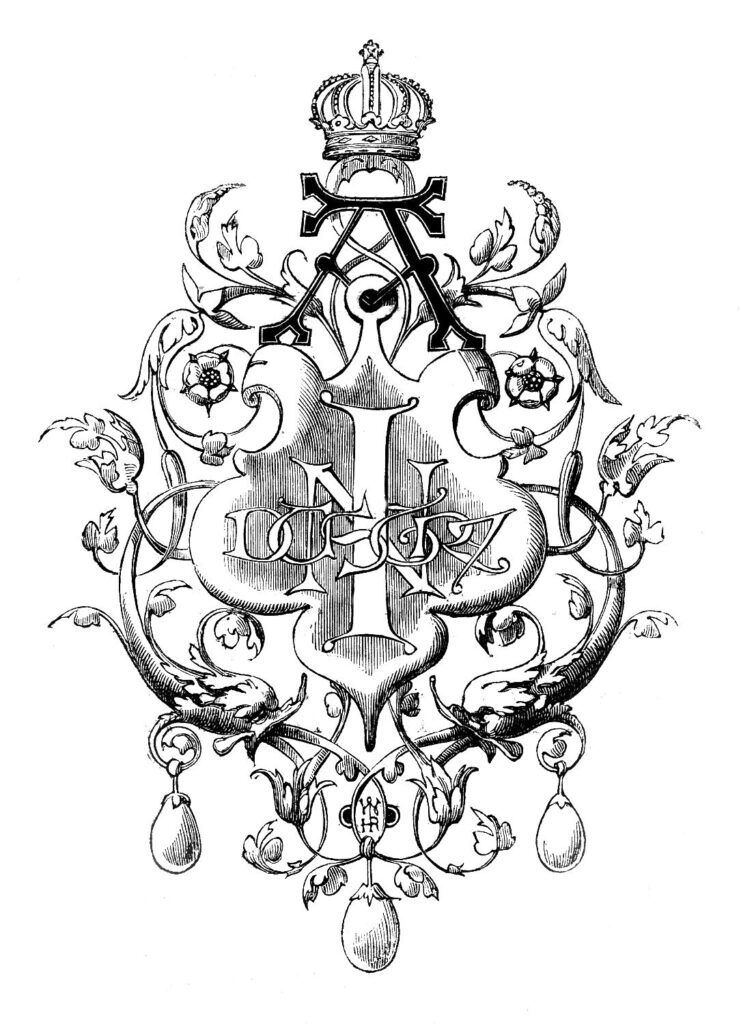 This is an antique printers ornament from an 1850's book. This ornate piece has a cute little crown on the top and some lovely tear drop jewels on the bottom.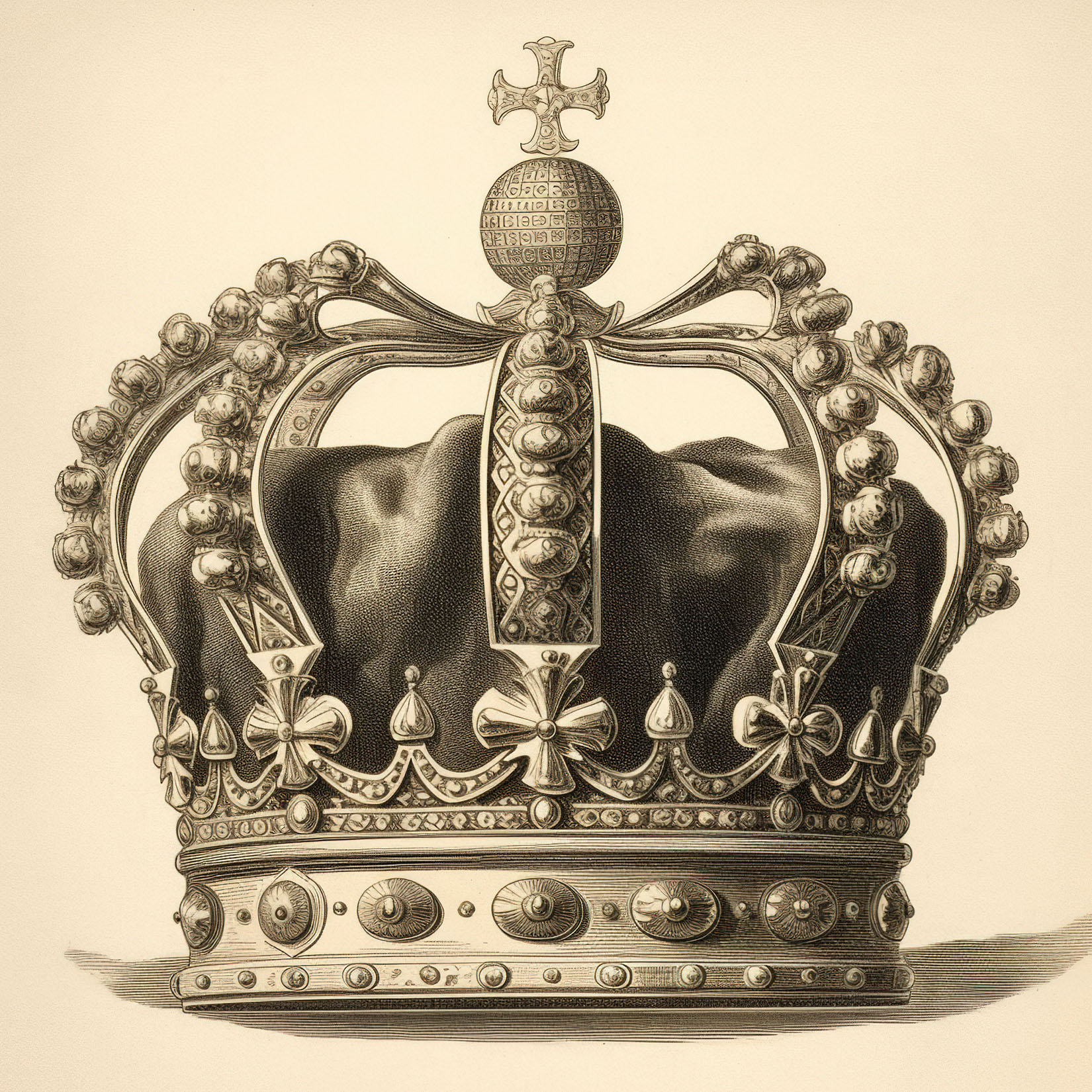 Here is the latest addition to this collection. This lovely royal accessory is similar to some of the others on this page, but it's all done in sepia tones. Very nice!
Tiara Clip Art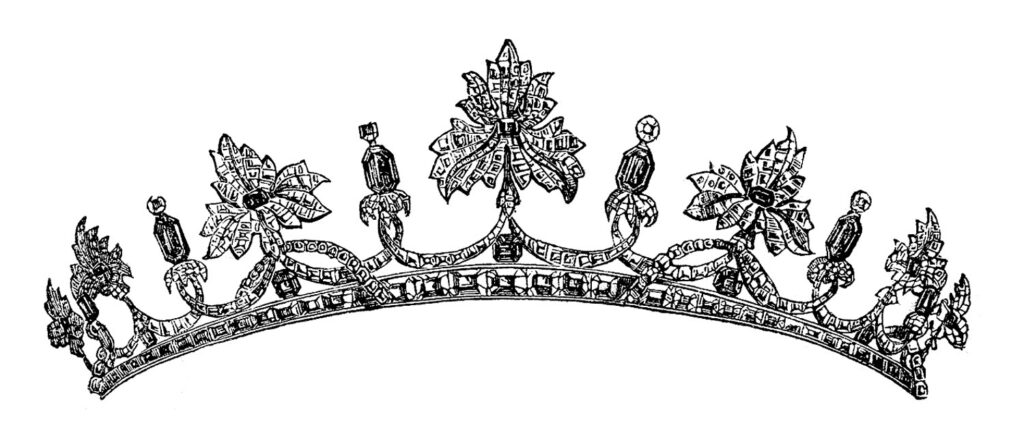 This fabulous engraved vintage Tiara image comes from an 1851 London Catalog. This one actually belonged to the Queen of Spain. I can only imagine how sparkly it must be in person!
Single Color Crown Clipart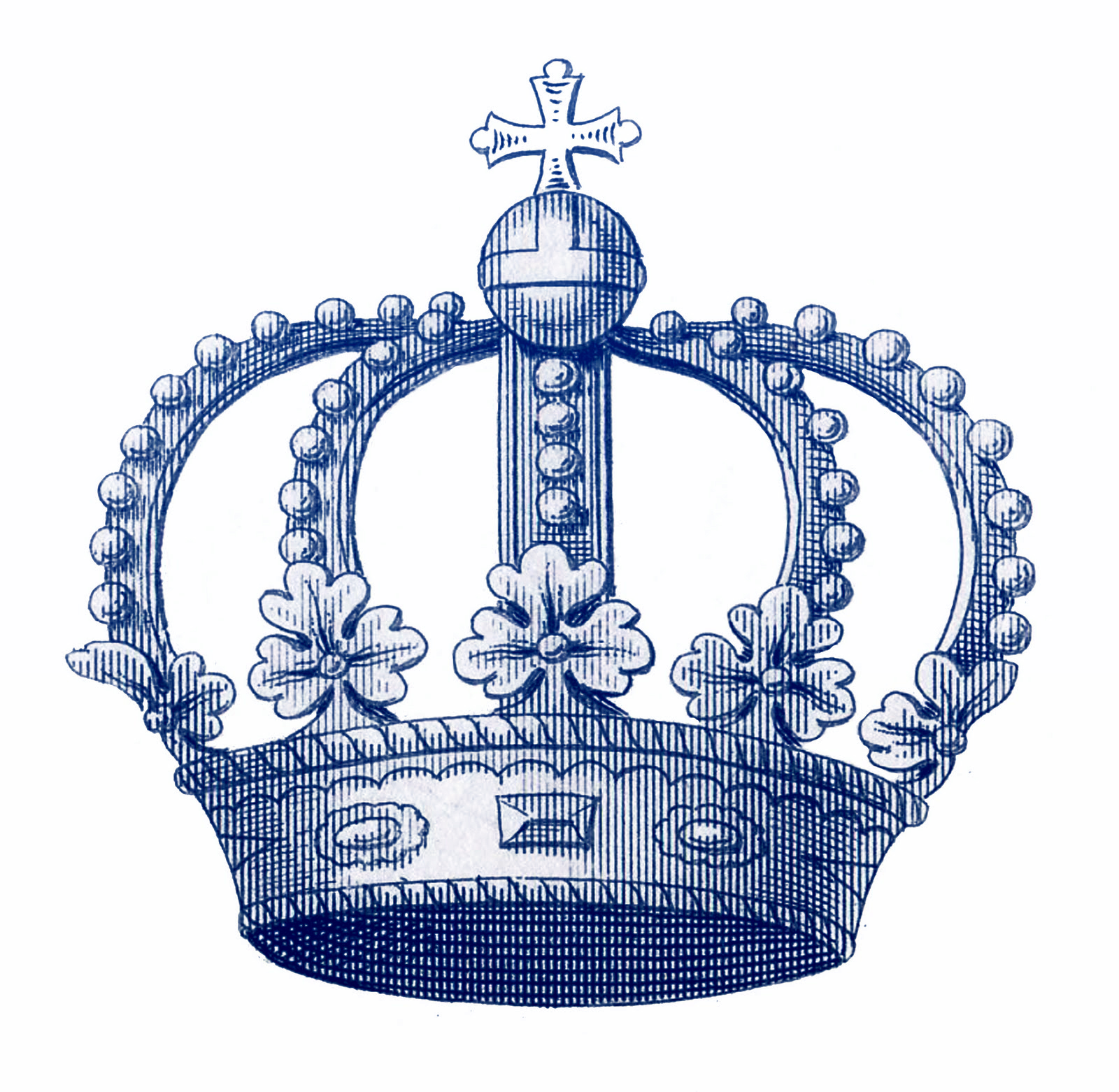 I've taken one of the more popular pictures from above and made a dark blue version of it for you, to use in your projects.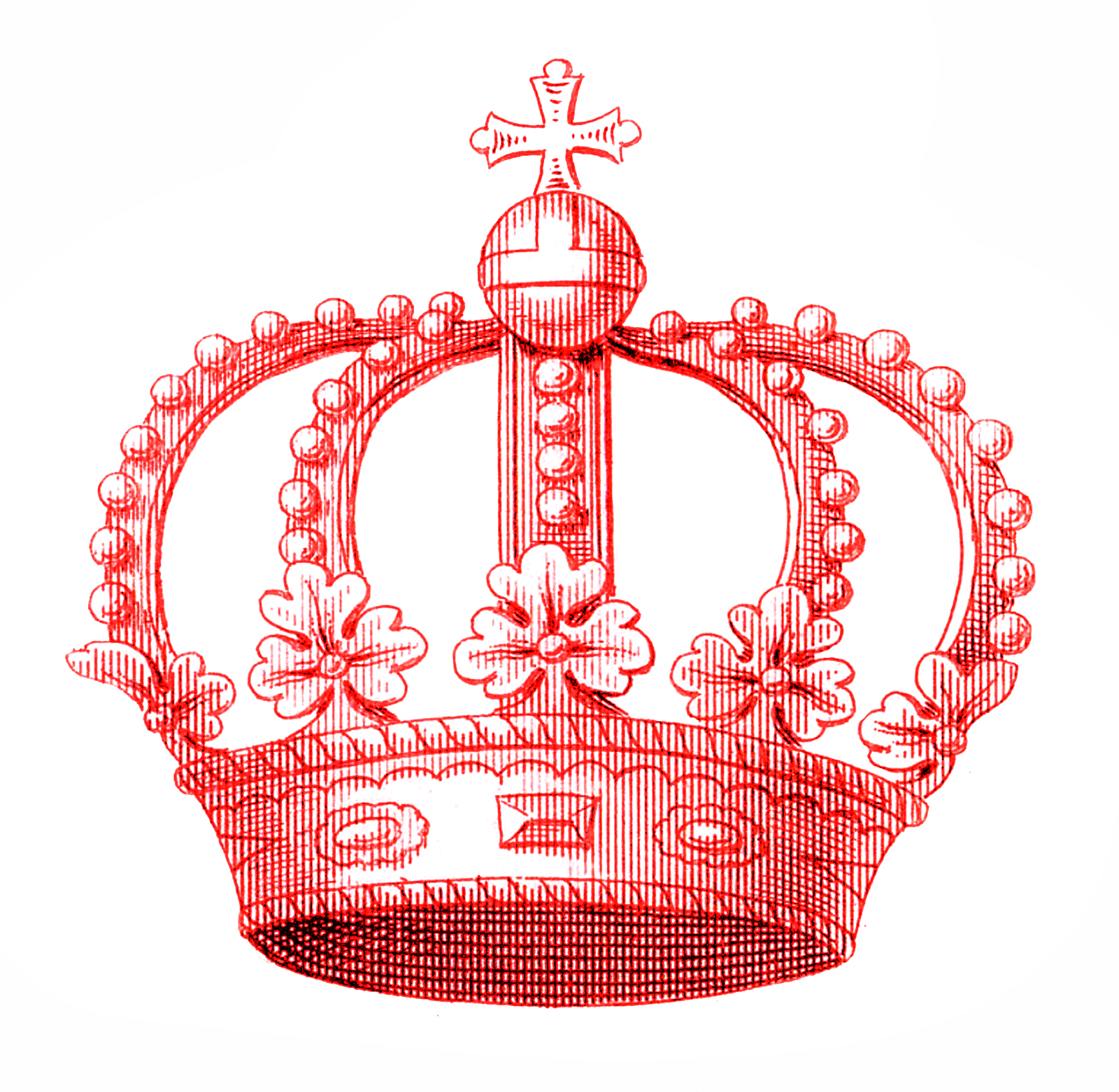 And here we have the same Crown clipart picture only this time I've created it in Red.
Full Color Crown Images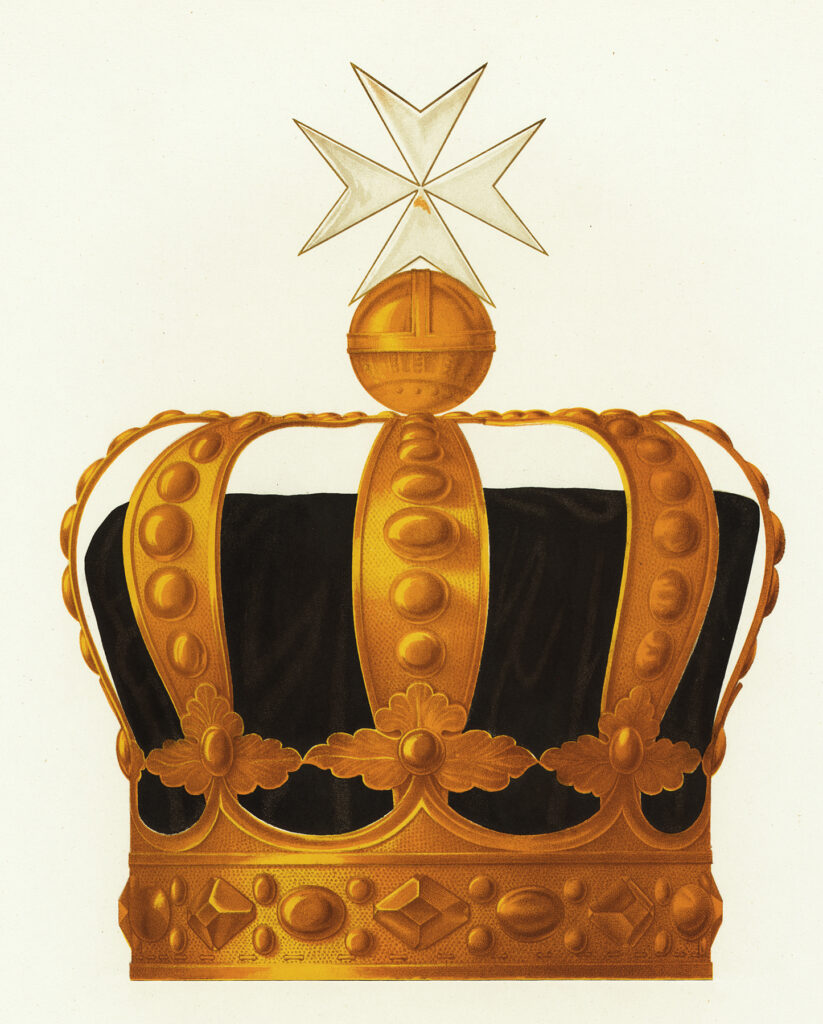 This is fabulous picture with gorgeous, vibrant colors! The Crown appears to have a dark velvet lining and there are lots of beautiful ornamental details on the gold metal of the base. So nice to use in your Royal Mixed Media, Graphic Design or Decoupage Projects!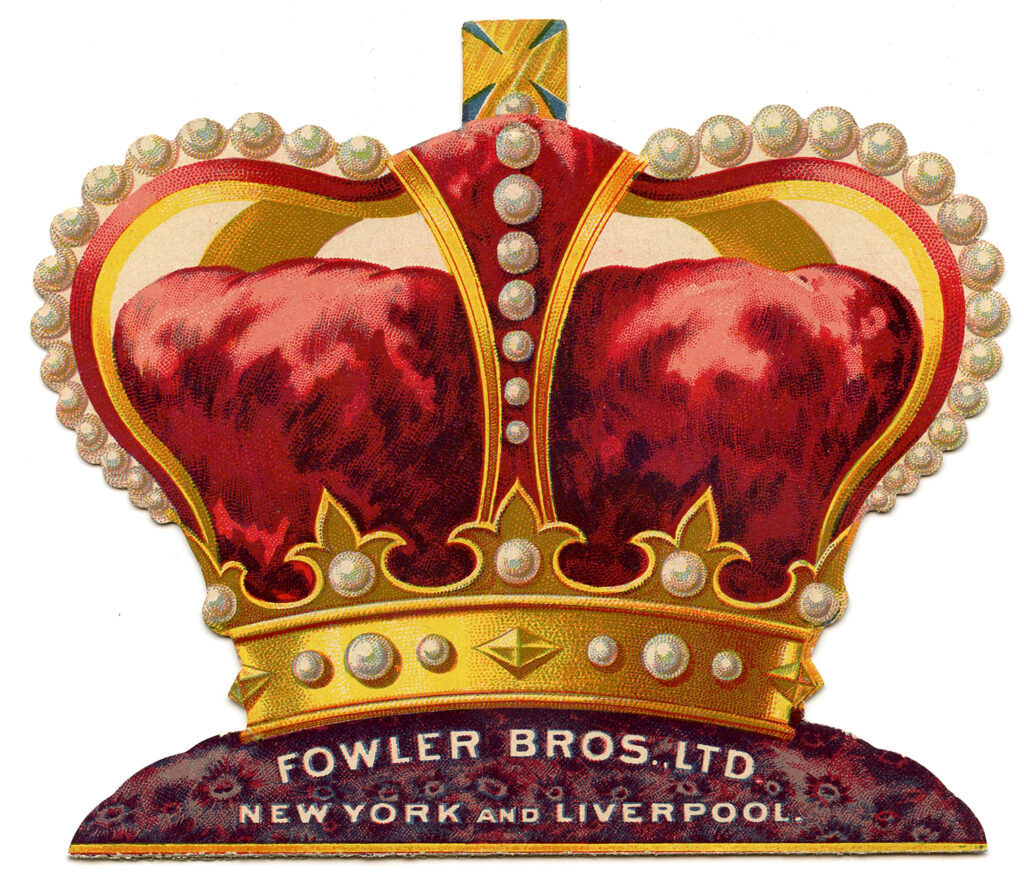 This is a wonderful antique Advertising piece! This piece was made for the Royal Agricultural Show in Liverpool, England in 1892! The front of the piece is a marvelous Colorful Crown loaded with Pearls!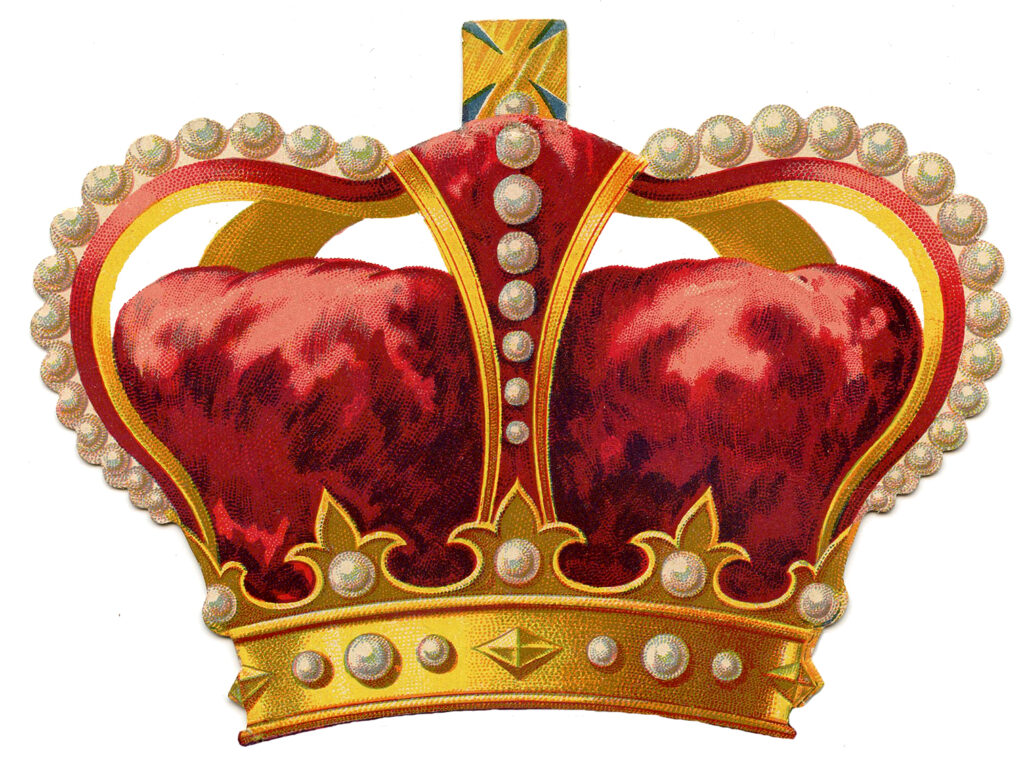 This is a second version with the advertisement removed, to give you some other options.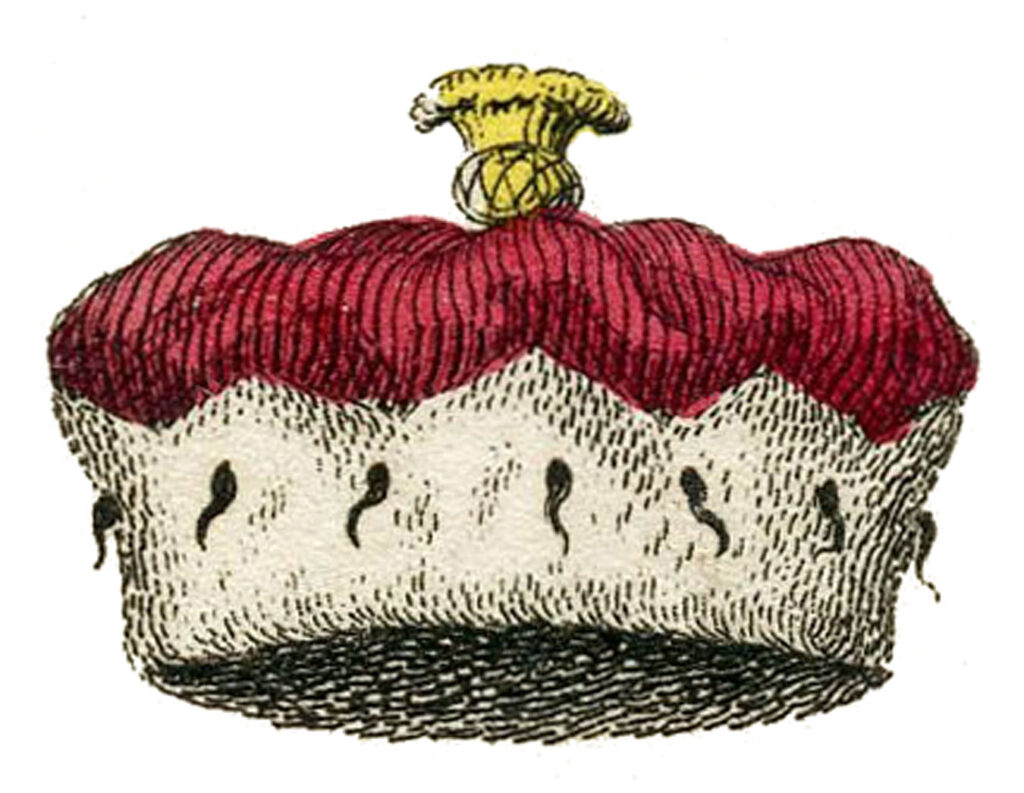 This is a Colorful Crowns from an 1809 Heraldry book! This one is made of Red Velvet and trimmed in Fur!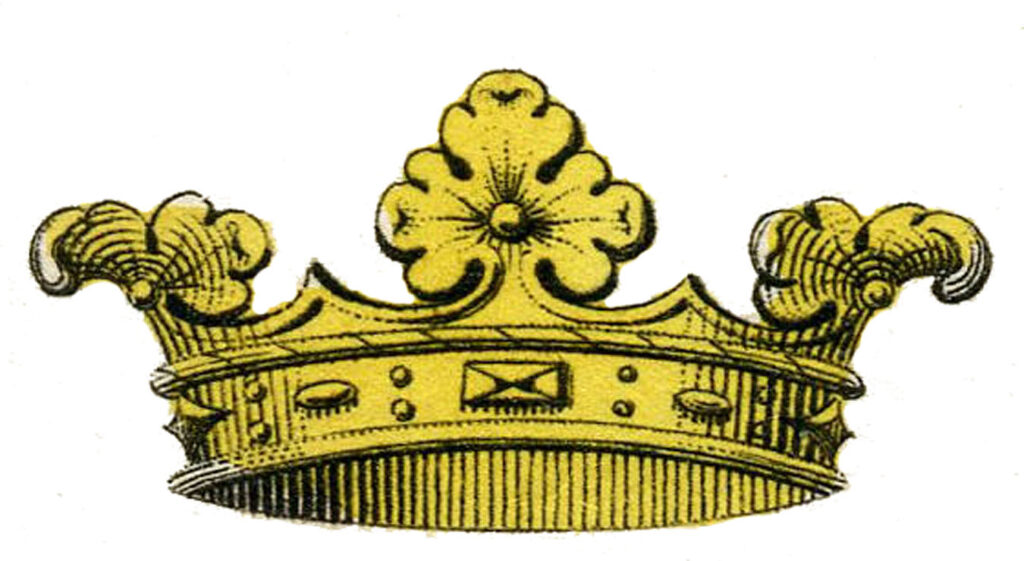 This one is from the same book as the one above it. It's a shiny Gold Crown with 3 Ornaments along the top of it.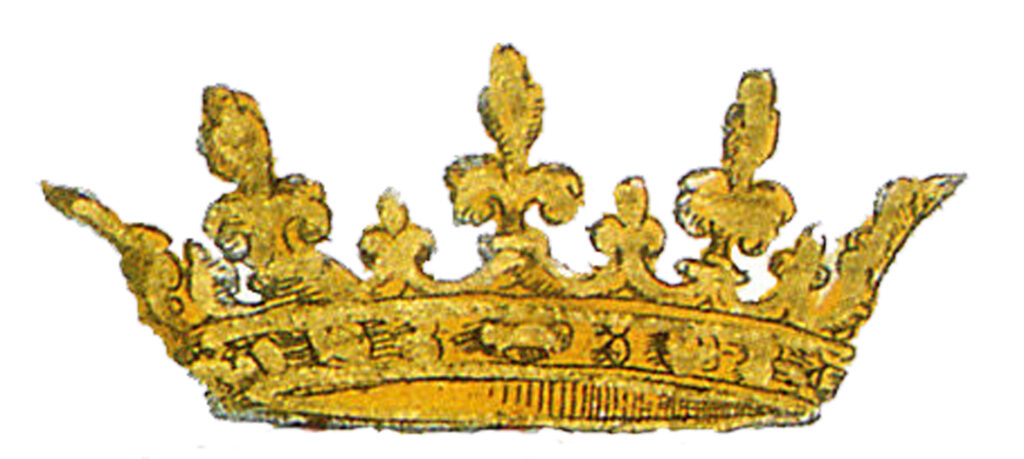 This is a wonderful antique graphic image of a golden King's crown in color. I like the hand drawn rustic nature of this little image.

This cute Crown Medal or Badge, comes from an Antique Dictionary. I thought this was really fun, and I loved the Red Ribbon!
Crowned Animal Images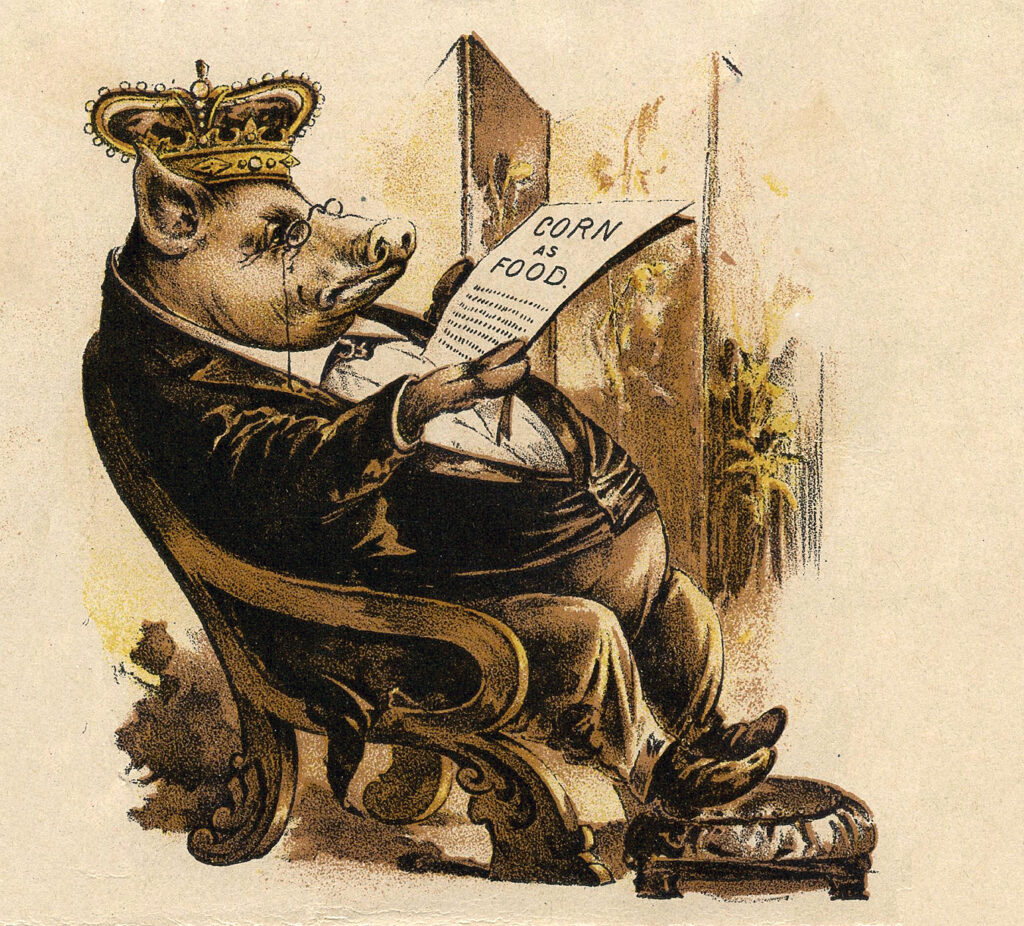 This is quite a comical image, showing a Pig King sitting in an his comfy chair. He has his feet up and he is reading the paper.
Fun Crown Projects
These fun Crown Image Projects are perfect to use in your next Fairy Craft Project! You can learn all of the FREE Techniques by clicking on the links below!
1) HIGH QUALITY IMAGE TRANSFERS ON FABRIC – EASY! Adding Graphics Fairy crowns and other fun images to all kinds of garments and fabric opens a world of possibilities. Just think: you can add large graphics to duvet covers, curtains, pillow cases…Oh my goodness. Very exciting!
2) MAKE SHRINKY DINK CHARMS – PARIS BRACELET PROJECT! Celebrate a love of all things French with some simple and easy-to-make jewelry pieces. If you would like to make some of these darling charms, this is a wonderful way to utilize your favorite Graphics Fairy crown images!
3) DIY FAUX METAL CROWNS! ELEGANT GRUNGE TECHNIQUE! Transform humble materials into Faux Treasures. If you'd like to convert a cereal box into an Ancient Relic with rusty, grungy goodness – check out this fun process!
I hope you enjoyed this Crown clipart set,  might also enjoy checking out our Queen Images HERE and our Queen Victoria Pictures HERE.
Hello! Are you new to The Graphics Fairy? Welcome, I'm so glad you're here! Browse around to find thousands of Stock Images that you can use in your projects or designs! I post new Vintage images every day, as well as projects and DIY's too! Need more info about my site? Try my FAQ page.
Save
Save