Resin plus Fabric Technique?
Sounds strange, I know.
But, it's so much fun printing Graphics Fairy images onto fabric that I've been searching for a way to take printed fabric to the next level.
Hence, this little experiment, which I'm thrilled to share with you!
---
The lovely folks at Susan Lenart Kazmer's Ice Resin supplied the resin for this project – Thanks, Ranger!
---
(this post contains affiliate links)
Hello, my Graphics Fairy friends! Heather from Thicketworks here with a very simple but interesting Resin plus Fabric technique.
I've used my "Resin-ated" Fabric to create a cute cuff, but you can do anything you like with this stuff!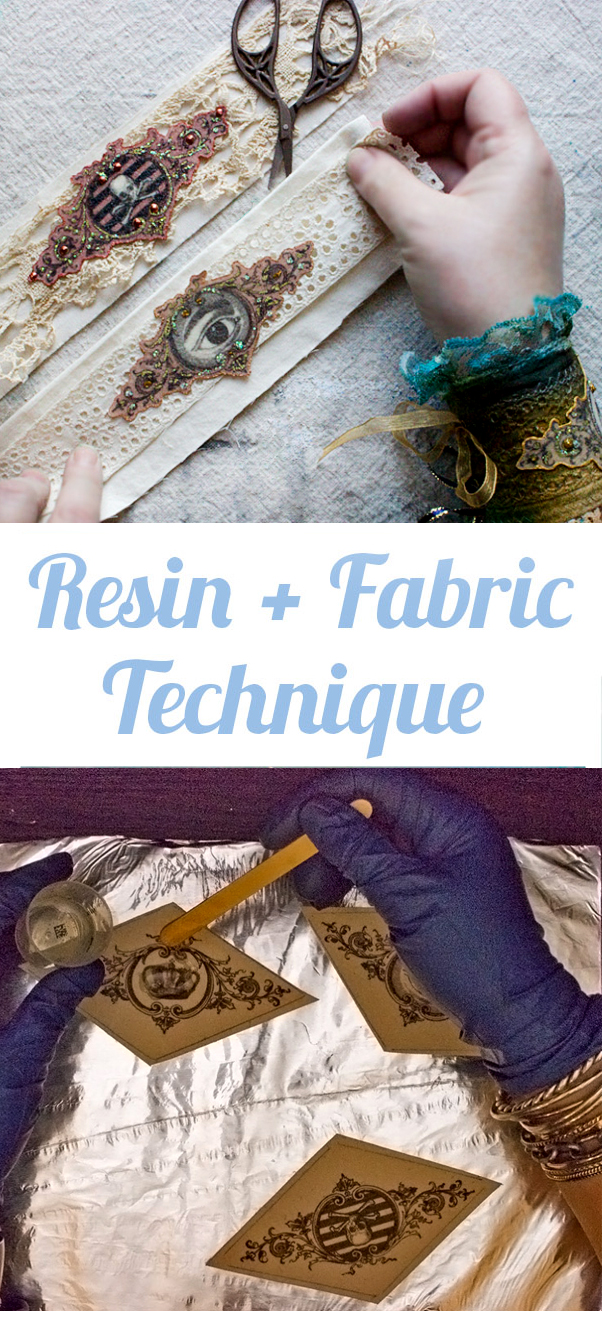 If you'd like to play along, you'll need some basic materials…
Supplies:
Ice Resin
Protective Gloves
A craft or Popsicle stick
Small disposable mixing cup
A flat piece of cardboard, covered with aluminum foil
A cover to protect the resin-coated fabric while it cures
Unbleached Muslin / freezer paper
An Iron
An Ink Jet Printer
Scissors
Optional:
Cuticle scissors for fussy cutting
Metallic Craft Paints
Black and White Craft Paint
Glitter Glue
Metallic Fine Tipped Marker
Aleene's Tack it Over and Over
Assorted Ribbons and fabric Trims
Crop-a-Dile + Eyelets

Because I can never leave well enough alone, I created a set of simple collaged elements for this experiment.
You can help yourself to a full sized PDF printable by clicking HERE: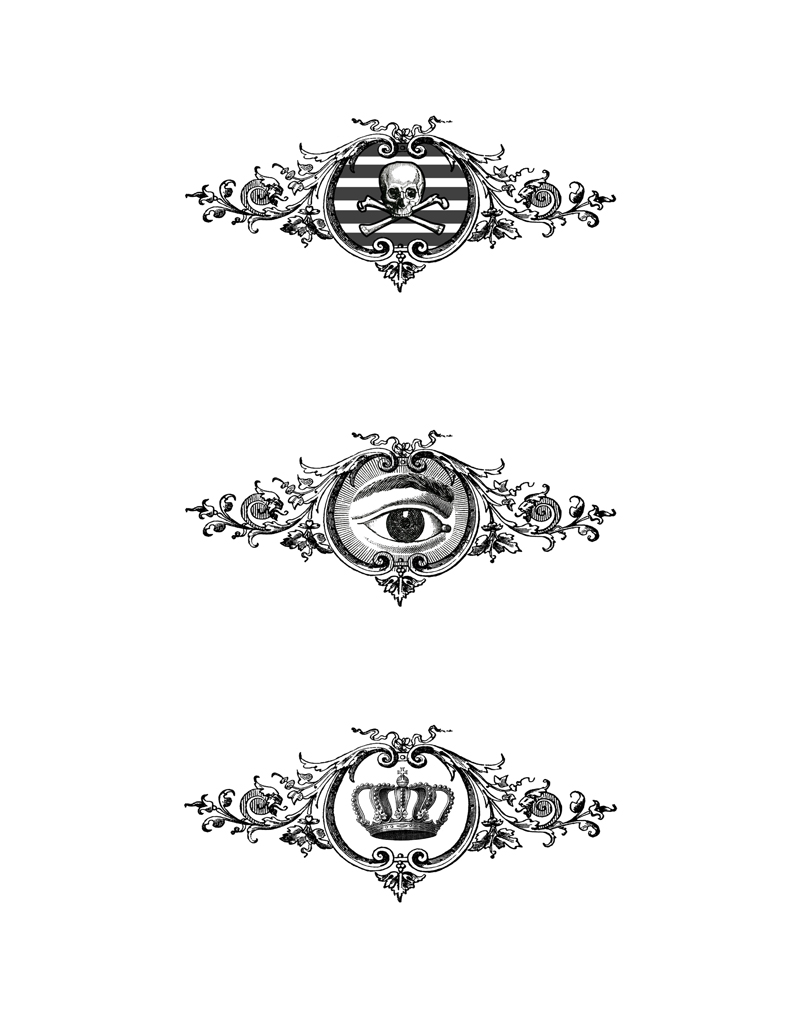 The source images used are these wonderful Graphics Fairy offerings:
Baroque Printers Ornament
Skull and Crossbones 
Watching Eye 
Beautiful Crown 
The basis of this project is printed fabric. If you haven't tried it before, you can learn all about it HERE:
Technique:
Print your motifs onto lightweight unbleached muslin. (I used the Freezer Paper Method, and did not remove the paper until the resin was completely cured)
Typically, the images will print in a slightly 'softer' version than if they were printed onto paper.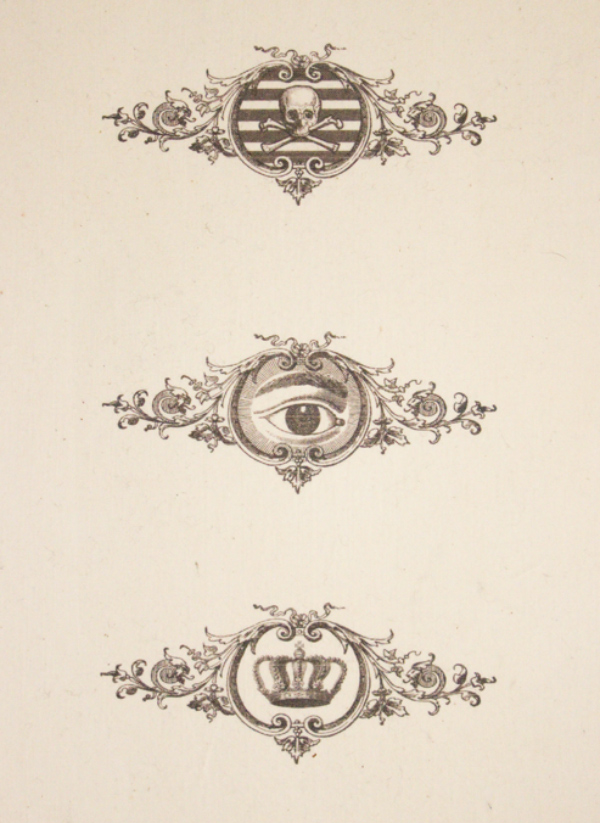 2. Cut around each motif, using a simple shape: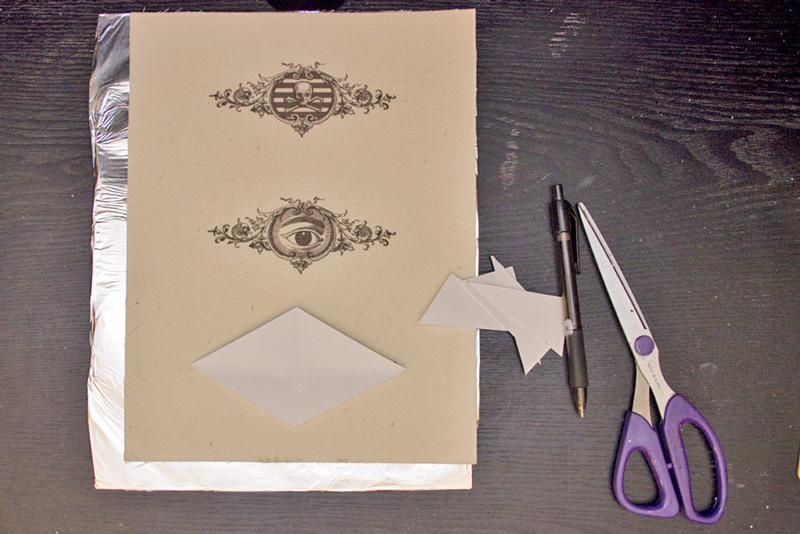 3. Place the motifs onto a protected work surface (such as cardboard coated with aluminum foil).
4. Put on your gloves and remove the reusable twist-off cap from the Ice Resin Plunger.
5. Gently squeeze the plunger to dispense equal amounts of the resin and catalyst into your mixing cup.
The plunger unit is so helpful – no measuring needed, and you can safely store what's left in the tubes for the next project!
Note: I apologize for the poor quality of the following images, I was working at night, and the lighting was inadequate!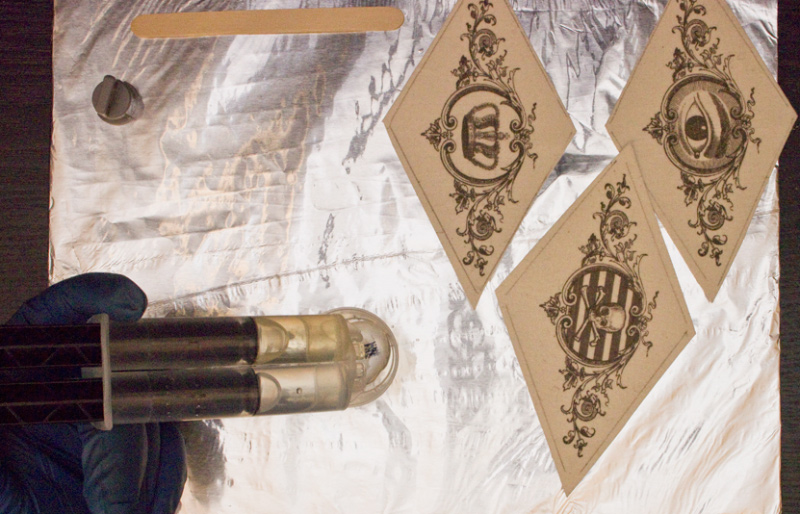 6. Gently use your craft stick to mix the resin with a folding motion for 2 minutes.
7. Carefully scrape the sides of the container to make sure you incorporate the two substances thoroughly.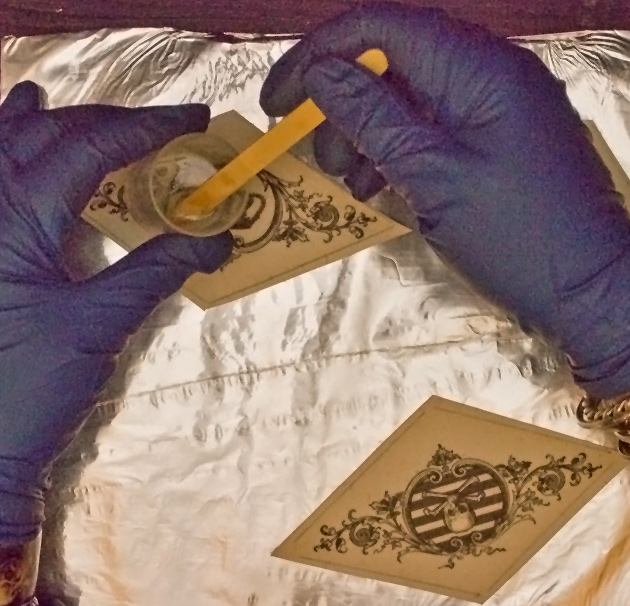 8. Allow the resin to rest for approximately five minutes, allowing any air bubbles to dissipate.
9. Pour your resin directly onto the surface of the fabric: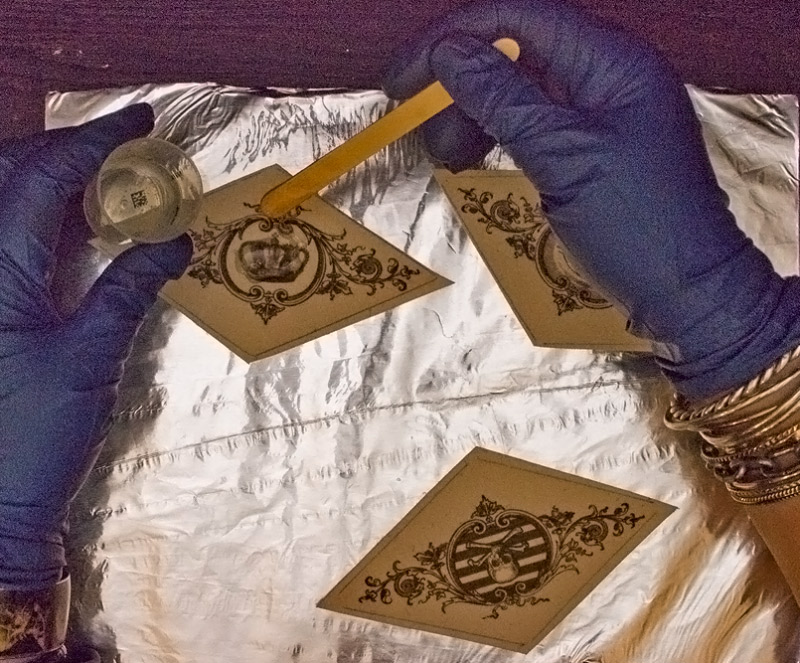 10. Gently smooth the resin over the entire surface, using the craft stick: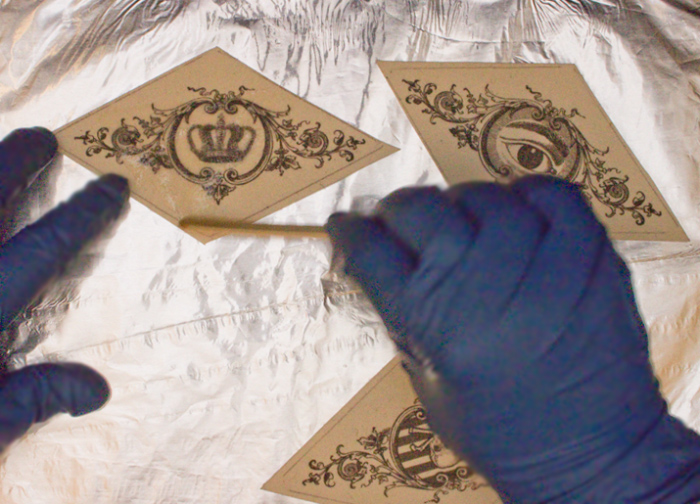 11. Cover the resin coated pieces of fabric with a lid of some type, to prevent dust from becoming embedded in the surface, and set aside to cure for 24 hours.
Note: It takes Ice Resin three days to fully cure. I began working with these after 24 hours, with no ill-effects.
The splotching that you see is a result of the resin contacting the freezer paper backing, and disappears when the paper is removed. The fabric has a slightly stiff, leathery feeling to it.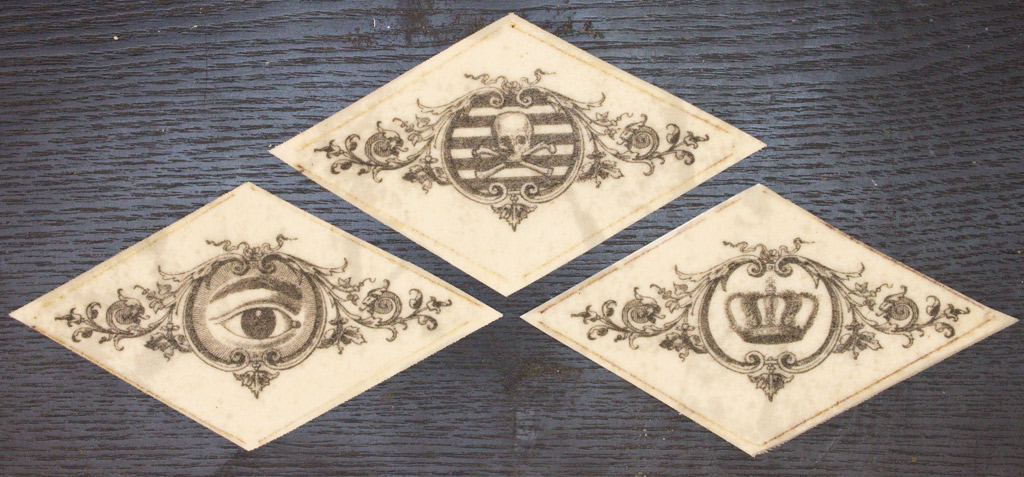 12. It's very easy to peel the fabric away from the paper backing:
13. Fussy cut around the perimeter of each motif, using cuticle scissors. The material cuts easily, with no fraying at all.
It has become beautifully translucent, like parchment paper, and has the feel and strength of thin leather.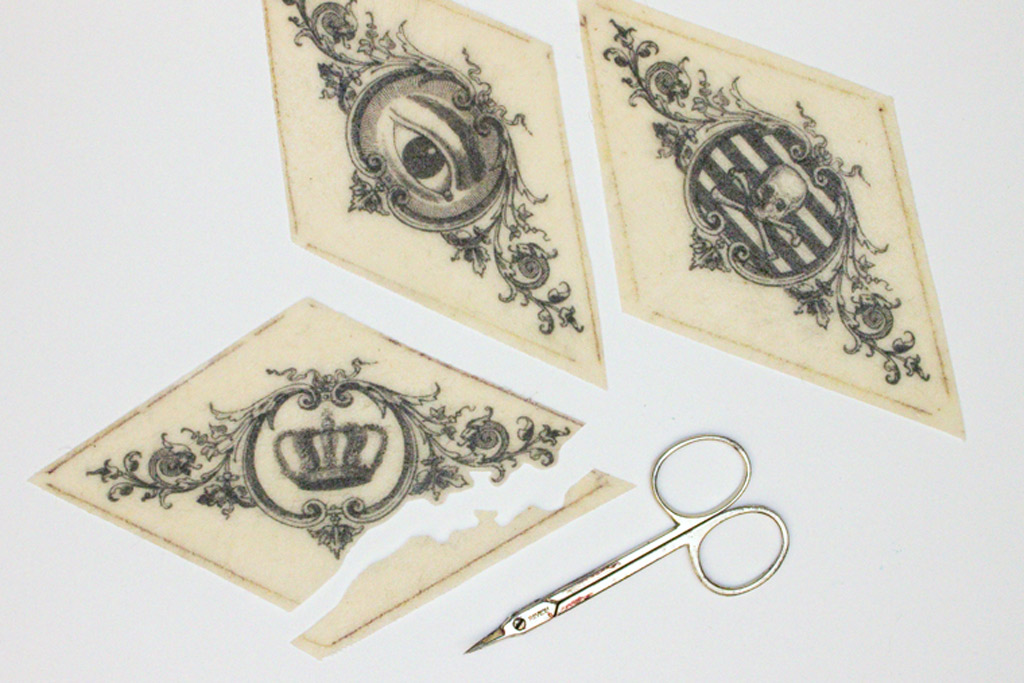 The results are lovely, as is. However, you can take it further if you wish. (I couldn't help myself)
14. If you so desire, you can utilize the translucence of the fabric by painting on the REVERSE side with craft paints: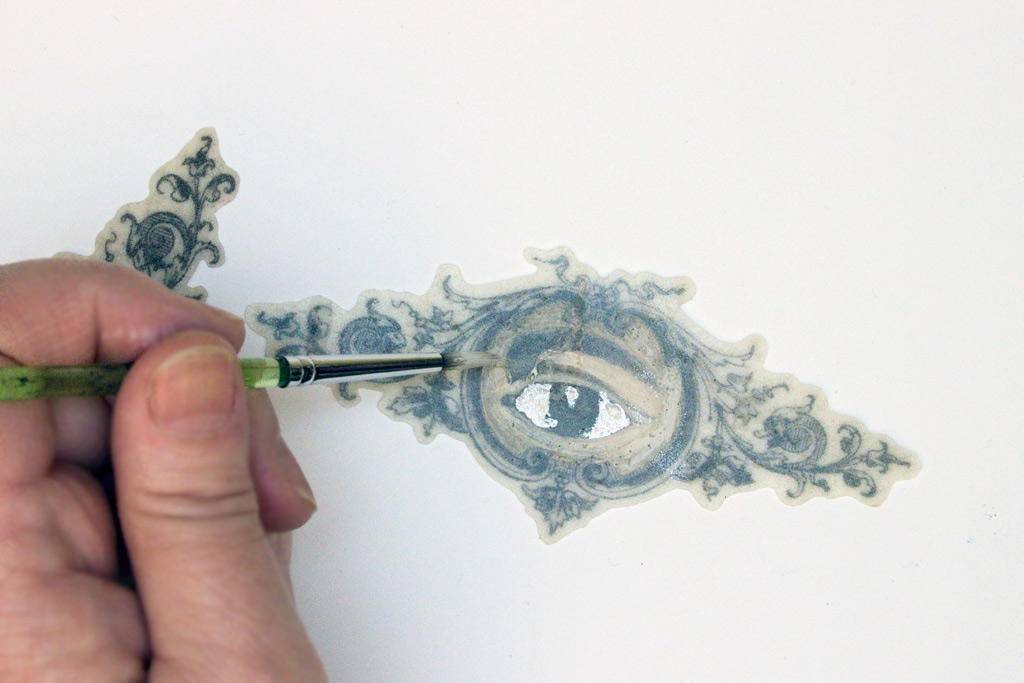 No need to be meticulous, as the pigments will be shining through the fabric, not exposed.
15. For the skull and crossbones,  emphasize the black and white areas and coat everything else with copper metallic paint: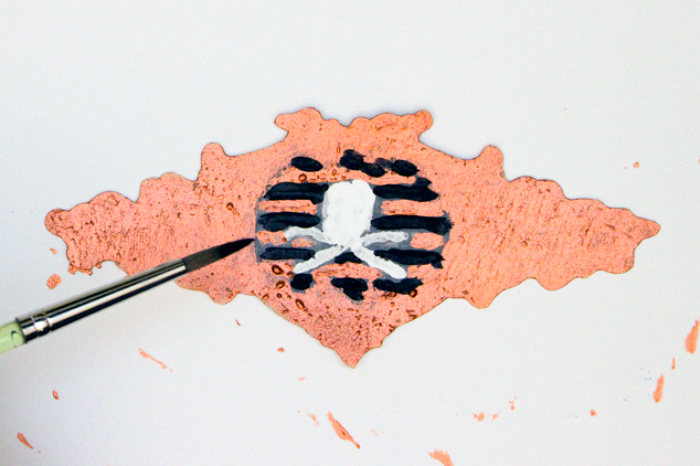 16. Once the craft paint has dried, you can flip it over and embellish the front. Add dots of glitter glue, and touches of metallic ink to the flourishes:
17. Add a thin margin of metallic paint to the edges of each motif, using a small artists brush.
The upper surface has a slightly grainy texture, which is very receptive to the paint and ink.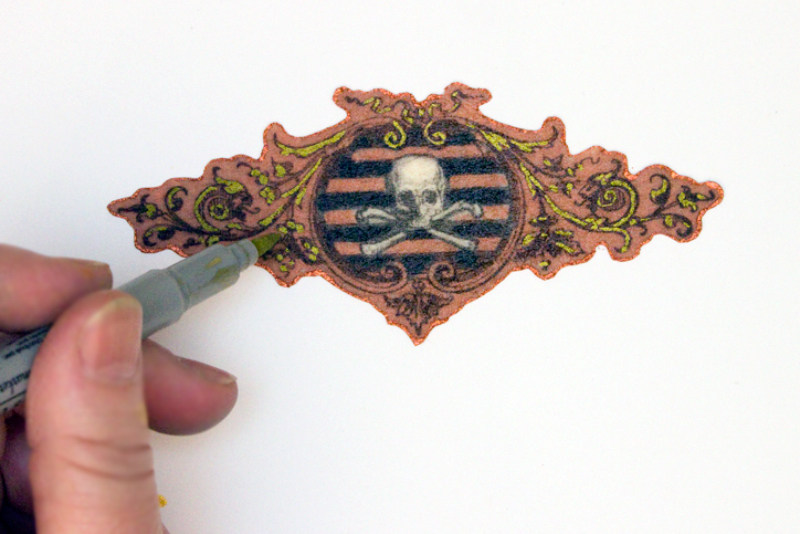 18. You can use Aleene's Tack it Over and Over to adhere the resin fabric over vintage lace and muslin strips to create fun cuff style bracelets: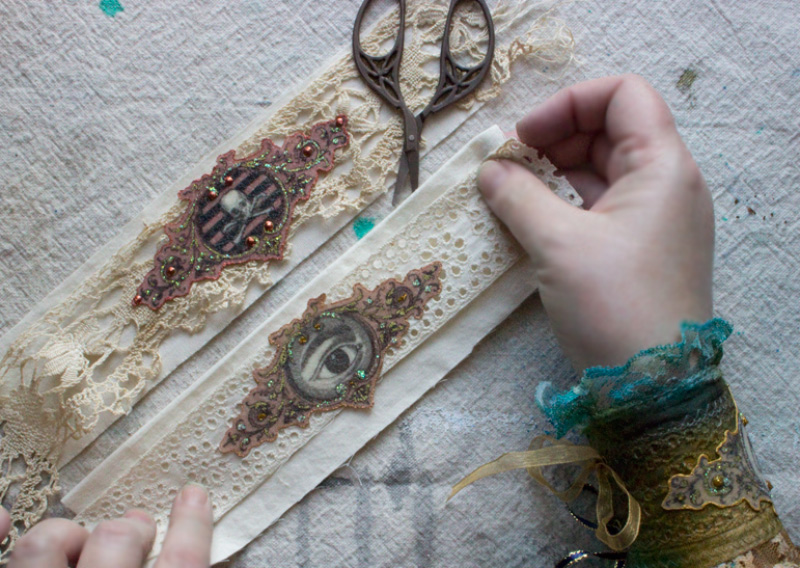 There are many different ways to use these lovely embellishments! Let your imagination run wild!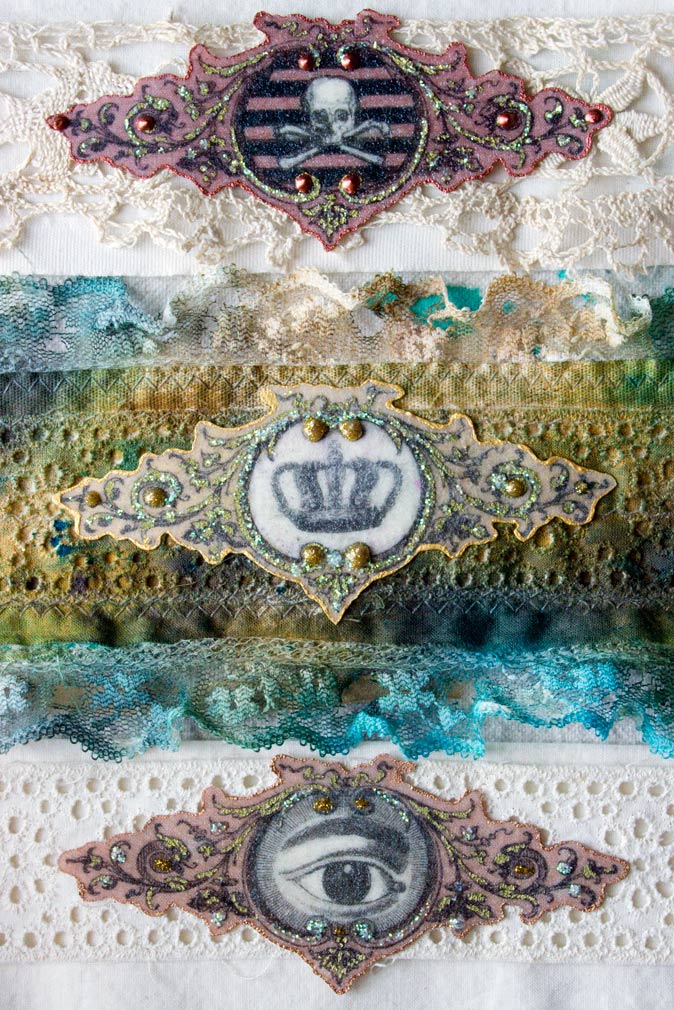 It's simple to add your little treasures to almost any surface…
With the addition of a few eyelets and ribbon scraps, you can create a lacy closure!
This would make a lovely gift for any princess in your life (or just for yourself!)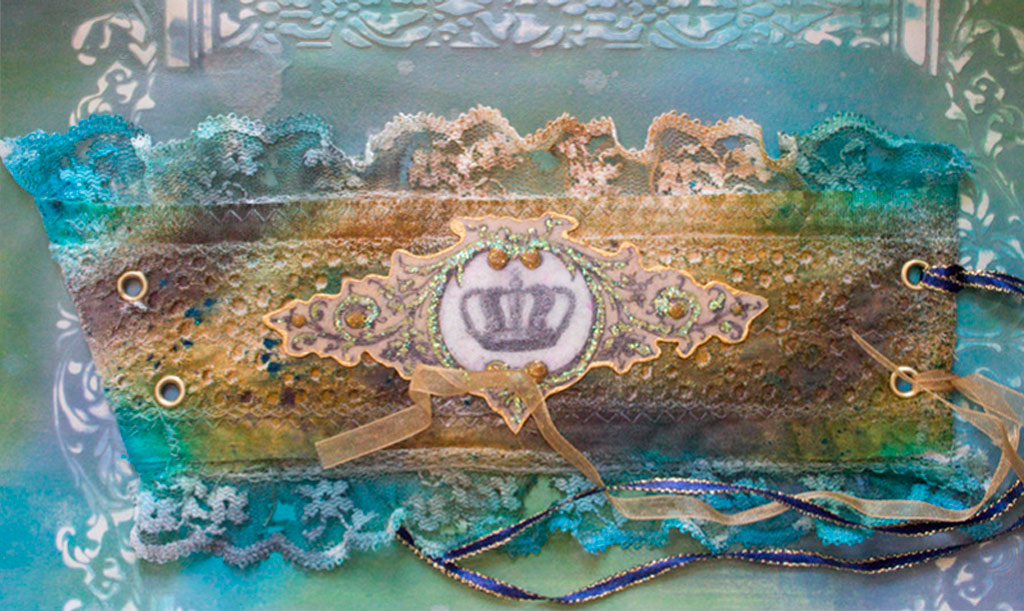 Thank you so much for visiting The Graphics Fairy today!
I hope you allow yourself to imagine ways to incorporate this simple Fabric plus Resin Technique into your own projects…
Stop by Thicketworks to pick up a few tips and tricks to enhance your creative life!
Take care,
Heather
You might also enjoy these projects:
     Easiest Faux Rust Technique EVER!                                                          Altering Tiny Birdhouses