25 Favorite Free Patriotic Images
July Fourth is fast approaching, so I thought I would choose a few favorite patriotic images from the archives to share with you.  
This collection includes some beautiful illustrations of Lady Liberty with flags, vintage patriotic photos, fun Uncle Sam images, lovely engravings with patriotic elements, eagles, and girls dressed up in patriotic attire.  These images are perfect for your Fourth of July or patriotic projects, including cards, tags, and digital art projects.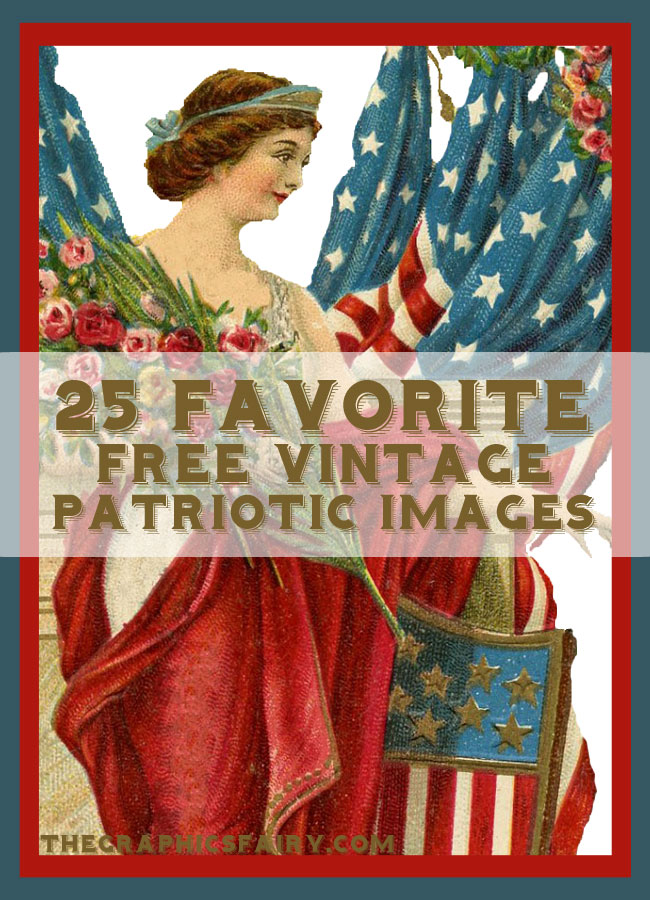 LADY LIBERTY IMAGES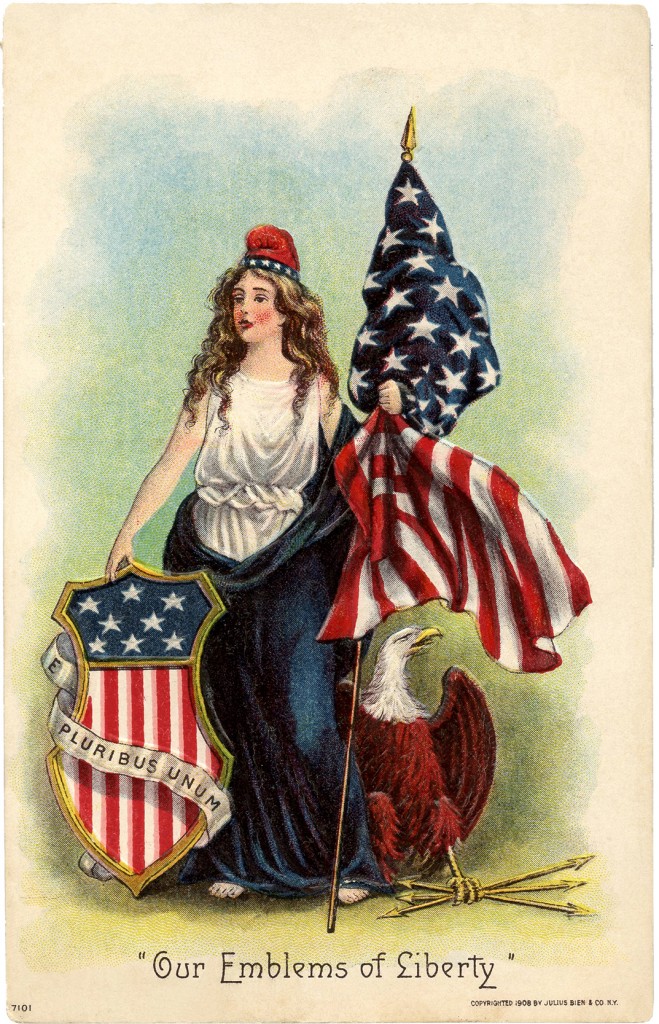 1.  Lady Liberty with Flag and Shield. This rosy-cheeked Lady Liberty is dressed in a red, white and blue costume. She's holding an American Flag and a Patriotic shield and her companion is a Bald Eagle holding arrows in his claw.
2.  Lady Liberty in Green Robe. An image of Lady Liberty seated with a green robe and holding a flag. She is holding out a wreath. This beautiful image is really a Memorial Day image, but works well for any patriotic projects.
3.  Lounging Lady Liberty. This pretty graphic shows an illustration of Lady Liberty in a white gown with a flag and eagle at her feet. She has a cute striped hat on as well.
4.  Lady Liberty Waving Flag. This antique image shows lady liberty against a sepia background. She is waving a flag, holding a sword, and wearing a blue skirt with stars. Lady Liberty has a red sash and hat on as well.
5.  Lady Liberty with Red Sash. This postcard features Lady Liberty with a pretty deep red sash. She is standing next to several flags, and a red, white, blue and gold shield is at her feet. She is placing roses at graves in honor of Memorial Day.
6.  Lady Liberty Standing on Grass. This nice image shows Lady Looking off in to the distance. She is wearing a flowing white gown and stands on a patch of grass. She is holding an oversize American flag in her hand.
VINTAGE PHOTOS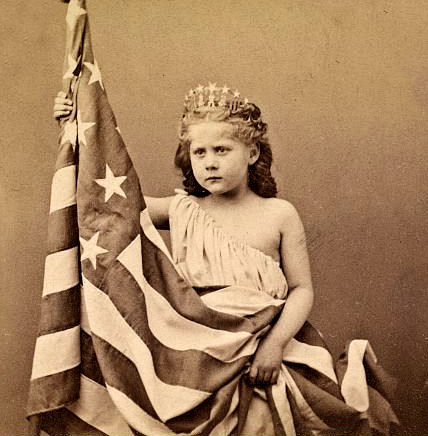 7.  Patriotic Girl with Flag. This old picture shows a young girl wearing a patriotic costume, including a crown and a large American flag. Such nice sepia tones on this one.
8.  Fourth of July Queen. This is a great old photo featuring a patriotic-looking Queen with stars on her dress, perhaps from a pageant, and the three cute sailor children surrounding her. The photo is in grayish blue tones.
9.  Women Sewing the Flag Photo. This photo from the public domain shows five older women sewing a large American flag draped across their laps. An overseer or nurse in all white standing behind them.
10.  Girl Holding Two Flags. This black and white photo is from an antique newspaper. A young girl in a ruffled dress is holding two American flags in her arms.
UNCLE SAM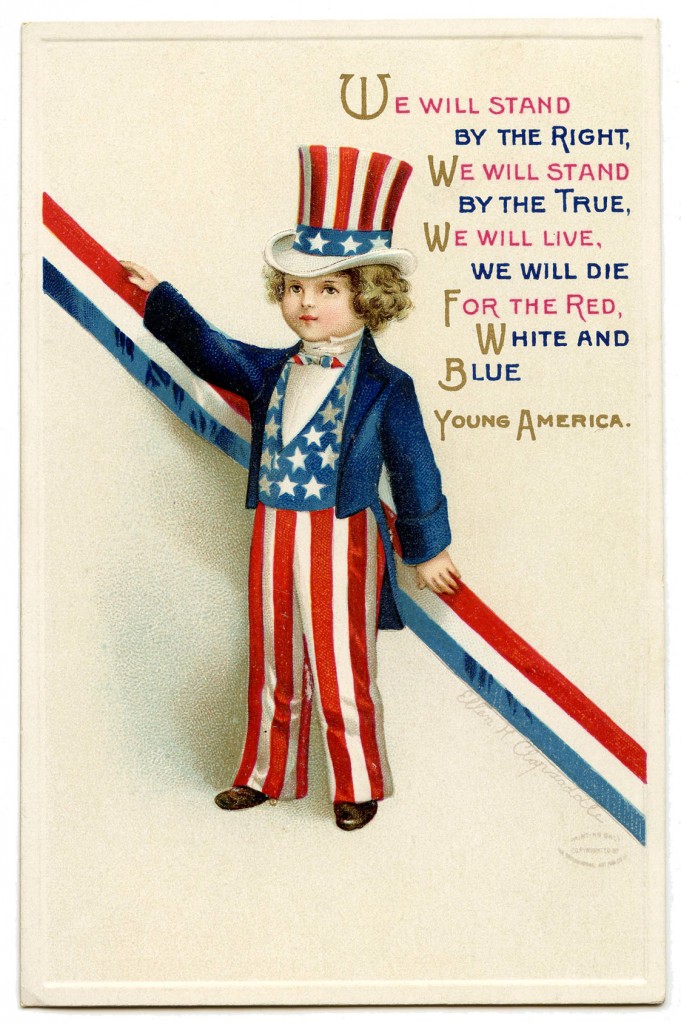 11.  Uncle Sam Child Post Card. This is an adorable Vintage Uncle Sam image is a postcard illustrated by Ellen Clapsaddle. The cute little boy is dressed like Uncle Sam, with a red, white and blue top hat, a vest done in stars and some striped pants.
12.  Uncle Sam Cartoon. This cute Uncle Sam image from an Antique Type book. He looks a bit cartoonish and the original version is the black and white. There is also a Red, White and Blue version too!
PATRIOTIC ENGRAVINGS & PRINTER'S ORNAMENTS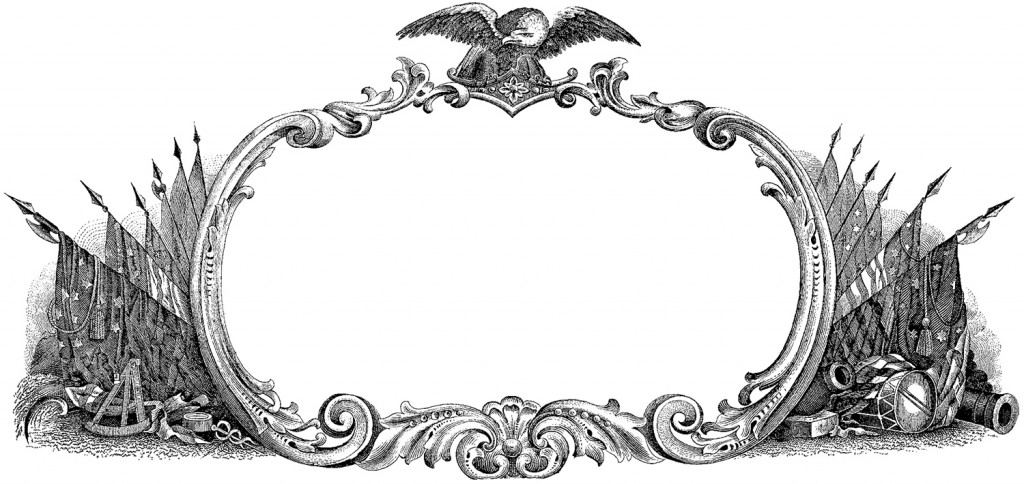 13.  Patriotic Label. This beautiful oval shaped black & white antique engraving is full of detail. The oval shaped frame has scrolls, flags on either side, and a lovely eagle perched on top.
14.  Liberty Bell Engraving. This is a lovely old detailed engraving of the Liberty Bell, crack and all. The image has its original sepia toned background.
15.  Patriotic Flag Banner. This image is from an 1880's rubber stamp catalog and shows an American flag with a banner wrapped around it. I've removed the text so you can add your own text to the banner.
16.  Ship with American Flags. This lovely boat is from an early Printer's book, Circa 1828. Such a gorgeous image with all the sails, American Flags, the choppy waves and the little Sailboat in the background.
17.  Patriotic Type Ornaments. This post has three red,white & blue images from an old type book. The first is the words July 4th, the second is a cannon, and the third looks to be a silhouette of George Washington on a horse.
18.  Lady Liberty Engraving. This cute Lady Liberty image is from an early 1900′s Typography book. She is sanding on a podium pointing upwards with a flag, and outfit with star details. The original is black and white, but I made a red, white and blue version for you too.
19.  Woman with Flag Engraving. This black and white engraving comes from an 1880's printer's book. The image shows a woman carrying an American Flag. She's wearing a crown on her head and is holding a wreath over her crown. A red, white and blue version is also included in the post.
EAGLES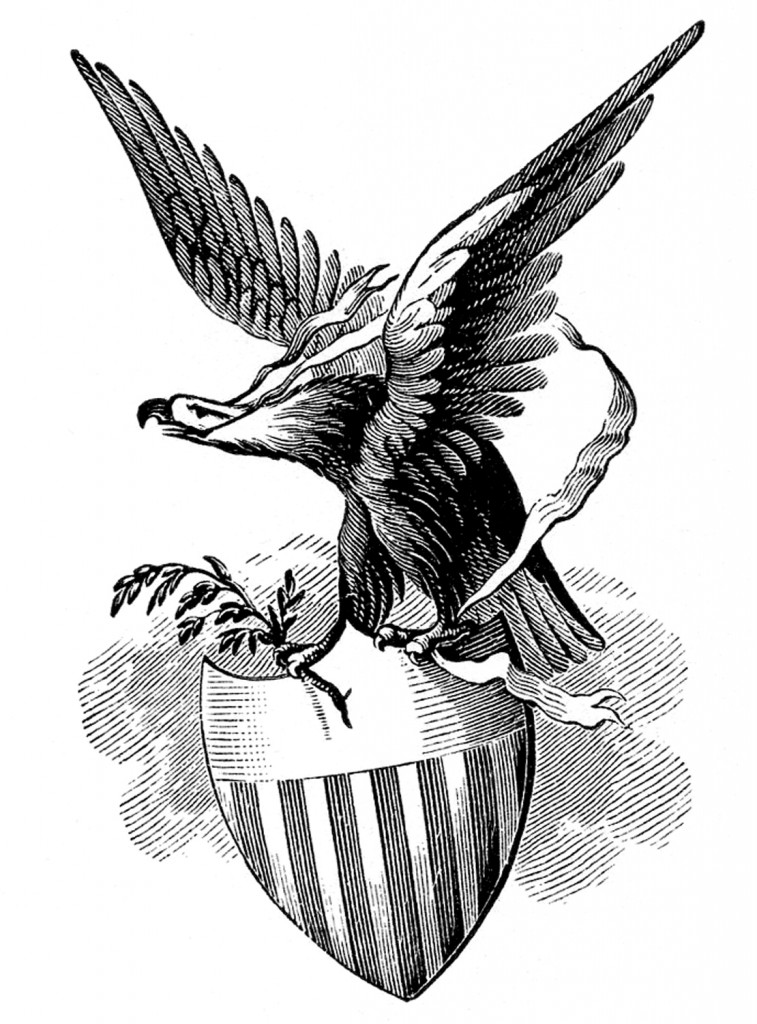 20.  Eagle with Shield. This black and white engraved image shows an eagle flying with a shield in his talons. This shield has stripes and some space for text if you'd like to add it.
21.  Spencerian Pen Flourished Eagle. This one is a lovely black and white pen flourished eagle with a pretty ribbon banner. I've included the original sepia tone image as well.
22.  Eagle with Nest Engraving. This engraving is of an Eagle on the edge of a nest with wings outstretched with two babies in the nest. There is the original black and white version, a navy version, and a brown version.
PATRIOTIC GIRLS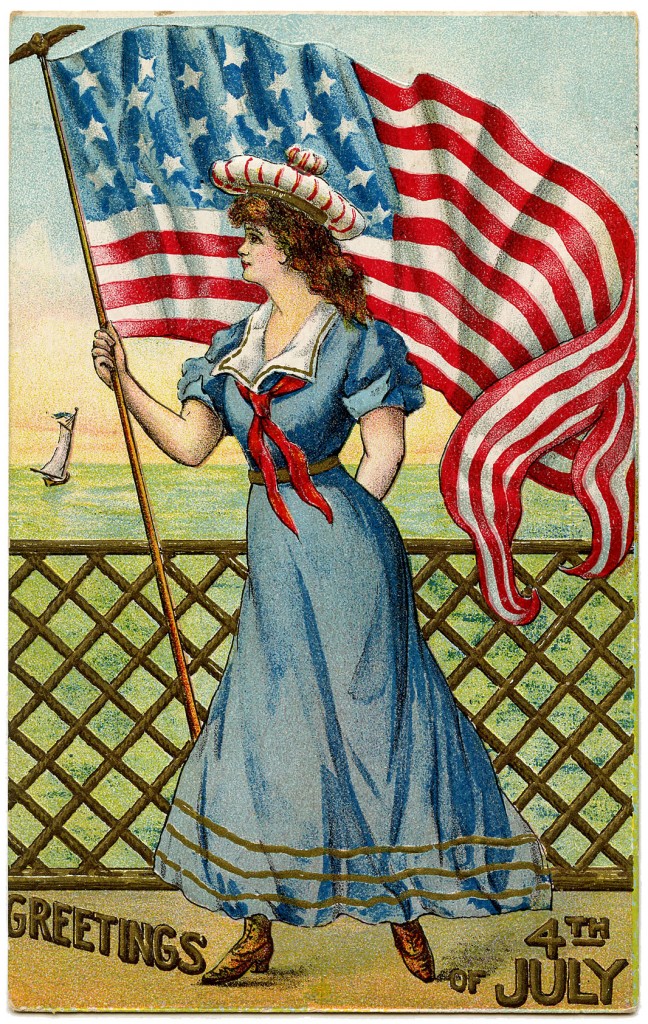 23.  Patriotic Sailor Girl. This 4th of July postcard is from 1908. It features as lovely girl dressed in a red, white and blue Sailor girl outfit. She's holding a large American Flag, that's waving with the breeze from the Sea. In the background, you can see the Ocean and a tiny Sailboat.
24.  Patriotic Girl with Cape. This charming postcard is by artist Ellen Clapsaddle. It shows an adorable little girl, dressed in red, white & blue, with a matching banner behind her. She is wearing a whimsical red hat and blue cape, with a little belt with star on it.
25.  Little Girl with Striped Skirt. This adorable little girl comes from a vintage postcard. She's wearing a lovely little dress with a red and white striped skirt and a blue and white stars bodice. There's even a matching striped bow on her head.
I hope you enjoy these, and please check out my archives for more patriotic images!
Hello! Are you new to The Graphics Fairy?
Welcome, I'm so glad you're here! Browse around to find 
thousands of Stock Images
 that you can use in your projects or designs! I post new Vintage images every day, as well as projects and DIY's too!  Need more info about my site? Try my 
FAQ
 page.