Bugs and Spiders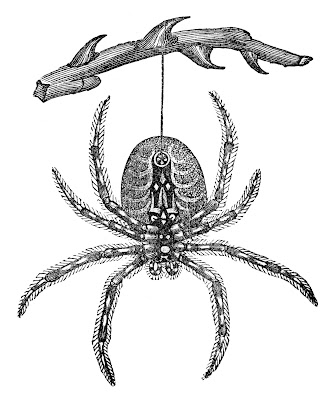 5) Dangling Spider & Spiderweb.  This post has not one, but two great spider images!  One is of a spider in the process of making a full spider web and the second is of a very detailed spider dangling from a thorny branch (above).  The full spider even has hair on his legs!
6) Death's Head Hawk Moth.  This moth's name says it all.  A creepy black and white etching of a moth with an unusual pattern and what looks like a skull on its back.
7) Orange and Black Bugs.  Three vintage images of black and orange beetles are perfect for Halloween projects.  I just love the unusual body shapes and patterns on these guys!
8) Hairy Tarantula.  This post has three wonderful Halloween images in black and white and also sepia tones.  These were originally from an old dictionary and include a hairy tarantula, a hanging bat (it looks like a fruit bat?), and a hissing copperhead snake.
9) Moth Book Plate.  This beautiful antique moth book plate features seven moths lined up in a row with beautiful calligraphy.  The moths are in coordinating beige, grey and cream tones.  This full size printable would be perfect for some instant Halloween art, and the moths are perfect for decoupage projects!
 Crows and Ravens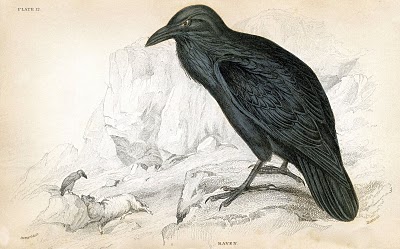 10) Serious Raven.  This antique natural history print of a raven looks very serious and angry.  Another raven in the background is ready to eat a sheep, but from the look of our angry raven, his friend wasn't sharing.  This is a classic looking hunched over raven pose that can be used so many ways.
11) Stretching Blackbird.  This is the least serious or threatening image we have in this category!  Taken from a children's encyclopedia, this blackbird is standing on a branch, stretching with his neck to the sky.
12) Vintage Crow.  This highly detailed, hand colored 1859 natural history print is of a standing crow tucking one leg under himself.
13) Raven Eating a Worm.  This raven is leaning over eating a tasty snack.  If you have image editing software, this raven could easily be  combined with other graphics like bones, and transformed to be eating an even more disgusting snack.
Creepy Photos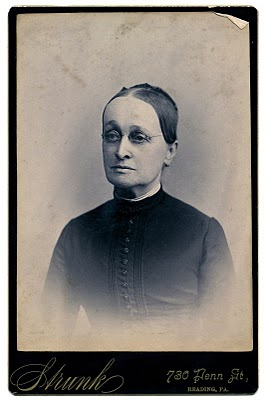 14) Serious Woman.  This old cabinet card from my collection features an older woman with glasses.  Her black buttoned up dress and hair have a very severe look, making her perfect for Halloween crafts.
15) Children in Costumes.  A black and white photo of a large group of children on a porch with their Halloween costumes on.  It looks like Little Bo Peep and cowboys were popular costumes around this time!
16) Witchy Woman.  This woman is either very serious or very sour.  Either way, she makes a great witchy woman for Halloween!  You can pair this photo with a witch hat or other clip art to dress her up for the holiday.
17) Cranky Boy.  This little boy with glasses is all dressed up and ready for his professional photo shoot, but looks like he'd really rather be outside playing.   He's giving the camera an "are you done yet?" look.
Pumpkins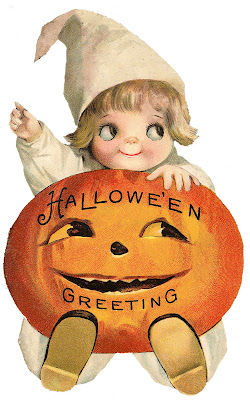 18) Googly Eyed Pumpkin Girl.  I just love this old postcard illustrated by Ellen Clapsaddle.  This wide-eyed child is decked out in her Halloween costume, sitting with a large happy pumpkin on her lap.
19) Pumpkin with Vine.  I originally posted this image back in 2007.  This realistic pumpkin was originally a children's game piece.  A bright orange, well formed pumpkin sits on the vine.
20) Plump Pumpkin.  This plump pumpkin scrap looks to be from the 1950's and is a view looking down (just like you came across it in the pumpkin patch).
21) Two Color Pumpkin.  This post includes two images of the same pumpkin is lying on its side, surrounded by vines and leaves.  I've included a black and white version and an orange and white version.  These two retro style images remind me a lot of linoleum block prints. These would be great for Thanksgiving projects as well!
Cats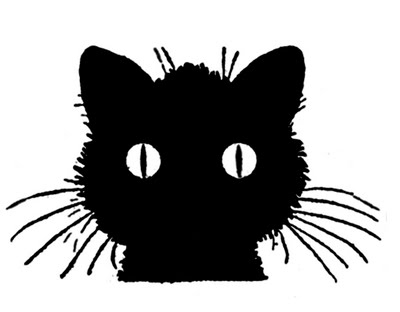 22) Cat Head Silhouette.  This image is from an old drawing book and features the head of a cat.  Only his long whiskers and white eyes can be seen against the all black silhouette.
23) Black Cat with Moon.  This one is from an old type book and has the silhouette of a black cat with big white eyes on a ledge with an arched back.  An orange moon is behind the cat.  I really like the unique looking border around this one.
24) Smiling Cat Silhouette.  This one is a vintage silhouette of a smiling cat with a big orange bow and glowing orange eyes.
25) Owl and Cat by the Moon.  This old Halloween postcard features several symbols of Halloween, an owl and black cat next to a witch's hat and broom by the moon.  The yellow moon is really set off by the bluish grey postcard background.
26) Young Witch with Black Cat.  This vintage postcard by Ellen Clapsaddle shows a happy young costumed witch with a white dress, red cape and red hat, holding her black cat, with a pumpkin tucked under her arms.
Witches
27) Happy Witch on a Pumpkin.  This lovely witch came from an old postcard.  She is sitting on an oversized pumpkin and squeezing her black cat.  She is smiling and dressed in an all red dress, cape, and shoes.  Her black pointy hat is adorned with a flowing red ribbon.
28) Pretty Witch with Cat.  This vintage newspaper image of a young witch holding a broom with her meowing black cat at her feet.  She wears a pointy hat and her hair is long and flowing.  A very pretty image!
29) Retro Witch Riding a Broom.  This 1940's witch is from and old printer's book.  The black and white image shows a smiling young witch with a pointy hat riding a broom in the moonlight.
30) Batty Costumed Ladies.  These ladies are not witches, but victorian ladies dressed in bat costumes!  Both ladies are wearing capes, large ears on their heads, and unique skirts.  These are really unique images for Halloween.
31) Witch Girl Postcard.  This full color image is of a young witch girl holding her black cat and broom.    She is wearing a red dress with a green cape, and her pointed black hat is adorned with red ribbons.  This image came from an antique Halloween postcard, but you can download the original postcard, just the girl, or just her hat for your projects.
Buildings, Landscapes & Accessories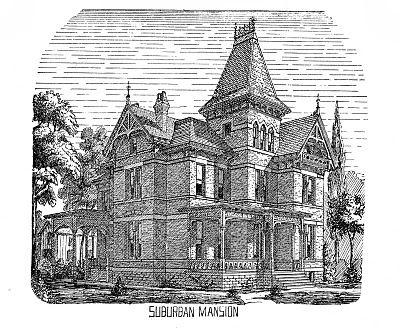 32) Victorian Houses.  These old black and white architectural drawings of Victorian homes, remind me of foreboding haunted houses.  These Victorian mansions could easily be modified and combined with other images to make them super spooky.
33) Ornate Iron Gate.   This black and white image came from an old hardware catalog and could easily be incorporated in to some spooky scenes.  The ornate iron gate could be adorned with some crow silhouettes or some spooky clouds and a moon.
34) Barren Tree.  This black line drawing of an old pear tree has lost all of its leaves.  I love the crooked lines of the many branches.  This one is perfect for your spooky scenes and designs that require a spooky barren tree.
35) Grouchy Moon Man.  This quarter moon image is bright yellow and was taken from an old Halloween postcard.  This moon man is not happy – his eyes, nose and mouth all seem to indicate that he's upset with something.  A great one for your Halloween projects!
36) Happy Moon Man.  This image has been one of your favorites since it was posted a few years ago.  This full moon has a face that is peering off to the side.  He is a light yellow with a friendly face, and was originally from a trade card.
Rats & Bats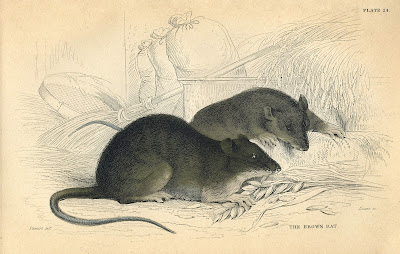 37) Realistic Rats.   This realistic antique hand colored image is of two rats that look like they've gotten in to a farmer's grain.  This full sized printable can be used as a great piece of instant art.
38) Front View Bat.  This black and white image is of a bat if viewed lying on it's back.  His wings are semi-extended and you can also see the detailed webbing between his back legs.
39) Flying Bat.  This realistic dark brown and black bat looks like he is swooping at night to catch bugs.  This post has both the original natural history image, complete with moon and castle ruins in the background, as well as an edited image of just the bat gliding through the air.
40) Hanging Bat.  This antique dictionary image is of what looks to be a hanging fruit bat.  He has large eyes and is hanging on tightly to a branch with semi-closed wings.
Creepy Labels & Ads

41) Red & White Poison Labels.  This post has two old red and white rectangular poison labels, one in English and one in Spanish.  Both feature a skull and crossbones, warning everyone to steer clear of the bottles these were on.
42) Aresenic Poison Label.  This vintage pharmacy label is for arsenic.  The old poison label includes a skull and crossbones and details of the original druggist as well as an antidote for poisoning.
43) Undertaker Ads.  I found three different undertaker and burial graphics in two different books.    All three feature a horse and carriage pulling a wagon with coffins.  Two of the ads include the name and address of the undertaker.
44) Owl Advertisement.  This vintage advertising scrap features a closeup of an owl head staring directly forward.  This brown owl has a bright blue neckband with an ad for Colburn's mustard.
Bones & Body Parts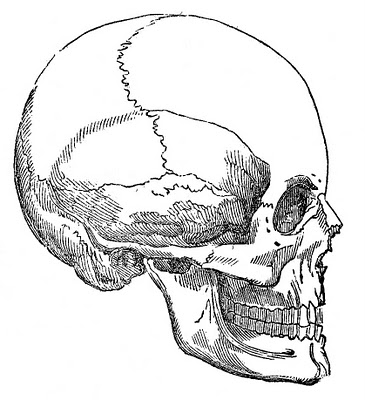 45) Skull Side View.   This one is of a skull from the side.  I've included both the original scan on a sepia background, and a black and white version.  This skull has no medical labels on it, and is a great classic side view image of a skull.
46) Skull and Leg Bones.  This great post has two full size black and white anatomical printables, one of a frontal view of a skull and the other of legs bones with a few different views.  The size and detail of these images makes them perfect for larger scale projects that require images of bones.
47) Skeletal Hand.  A wonderful full sized, detailed black an white scan of a skeletal hand.  The bony appendages have been labeled with their medical names.
48) Human Brain.  This black and white etching is from an 1870's encyclopedia.  There are two graphics in this post, the human brain is shown from a top view and from the side and both are labeled with their medical names.  I love these black and white images for instant art or for making creepy labels.
49) Spectacles with Eyes.  A great full color antique scrap image of blue eyes with spectacles.  This would work well as a mask for a creepy costume!
50) Boa Constrictor Skeleton.  This fantastically detailed snake skeleton is a black and white etching.  I just love how the boa constrictor's body is curved and coiled, showing the great details of its very flexible spine.  This snake would be great for Gothic style projects.
51) Eagle Talons.  This etching is a closeup view of an eagle foot and talons.  The scales and curved nails make it super-spooky.  This image would work well for witch's brew type projects.
52) Full Human and Ape Skeletons.  This antique medical image compares the bones of a complete human skeleton with those of an ape.  The images are in black and white and I've included the original sepia-toned scan as well for a vintage look.