This Antique Painted Furniture -Old World Silver Finish can add vintage sophistication to furniture projects!
Hello, my Graphics Fairy Friends!
It's Heather from Thicketworks, and I'm excited to share this fun and simple recipe for a glamorous Antique Painted Furniture Finish in Metallic Silver. I can't wait to share this technique with you!
---
The wonderful creative team at Heirloom Traditions Paint sponsored this post –
Thank you!
---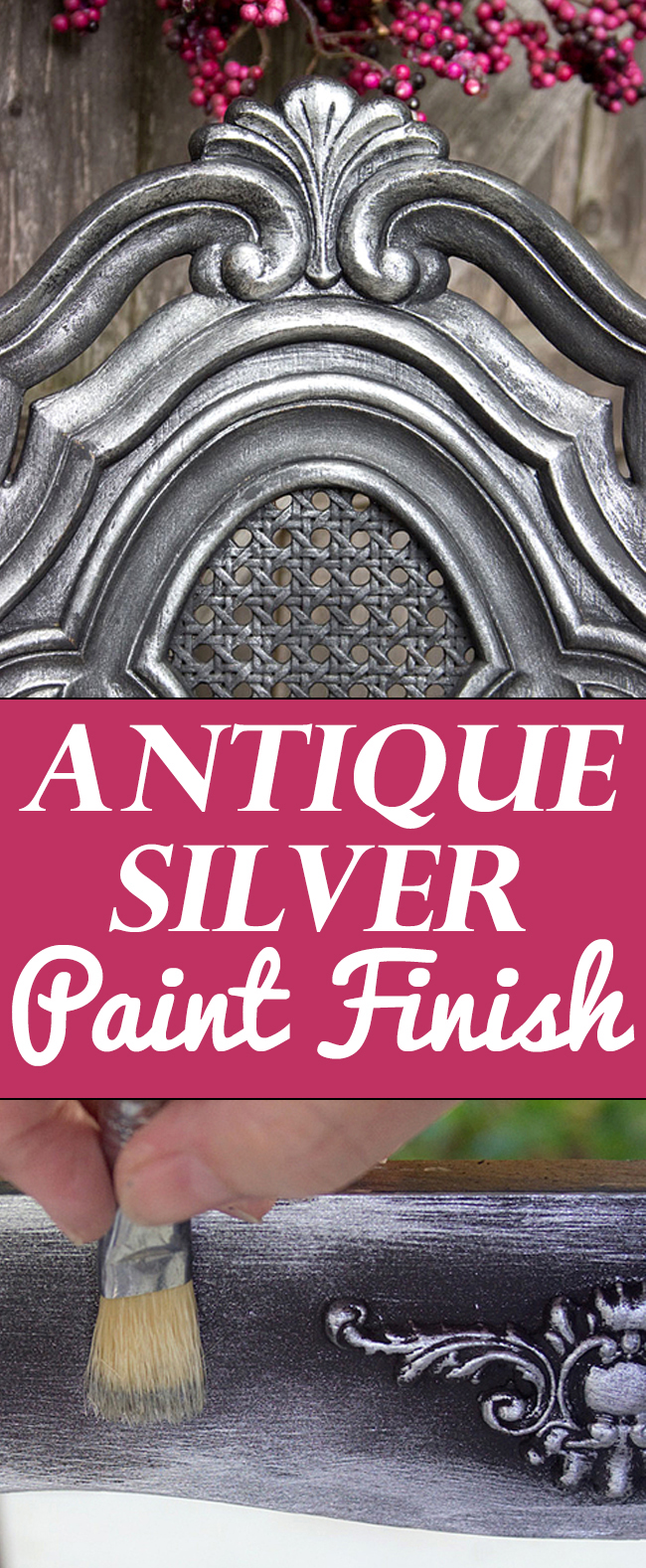 Frumpy. That's the word that sprang to mind when these plain and dated sisters caught my eye…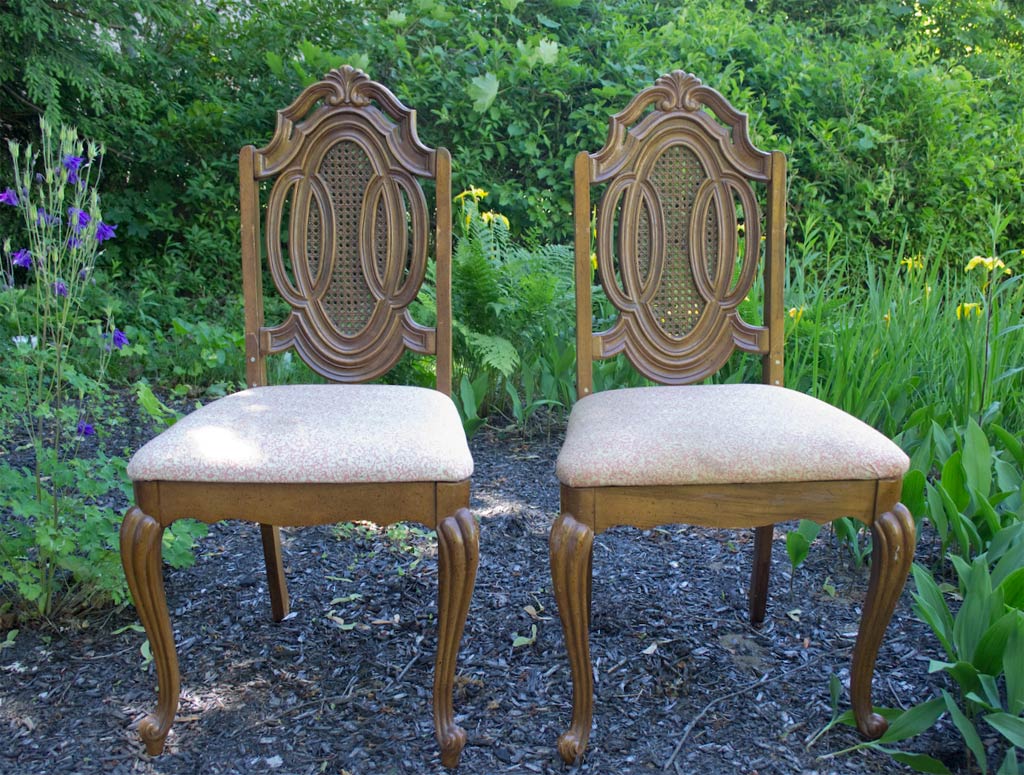 It was inevitable. My heartstrings were tugged, and there was NO way I was leaving them to pine away in that musty thrift store. Nope.
Join me as we conduct a bit of Furniture Therapy with these Frumpy and Flawed, but potentially Fabulous Vintage chairs!
As always, we're gonna need some STUFF!
Supplies:
Your favorite paint brushes, including a flat artists brush
A damp cloth
Containers for finishing products
Optional: furniture appliques
DIY Printed Decor Fabric to recover seats
---
Note: the furniture appliques were created using Iron Orchid Designs Vintage Decor Moulds. Patterned fabric created with Iron Orchid Designs Decor Stamps. 
---
How-To Create an "Antique" Silver Furniture Finish 
Do any necessary preparation: clean, remove old seat covers, add appliques.
Paint with 2 coats of Black Bean Chalk Type Paint, allowing the paint to dry thoroughly between coats: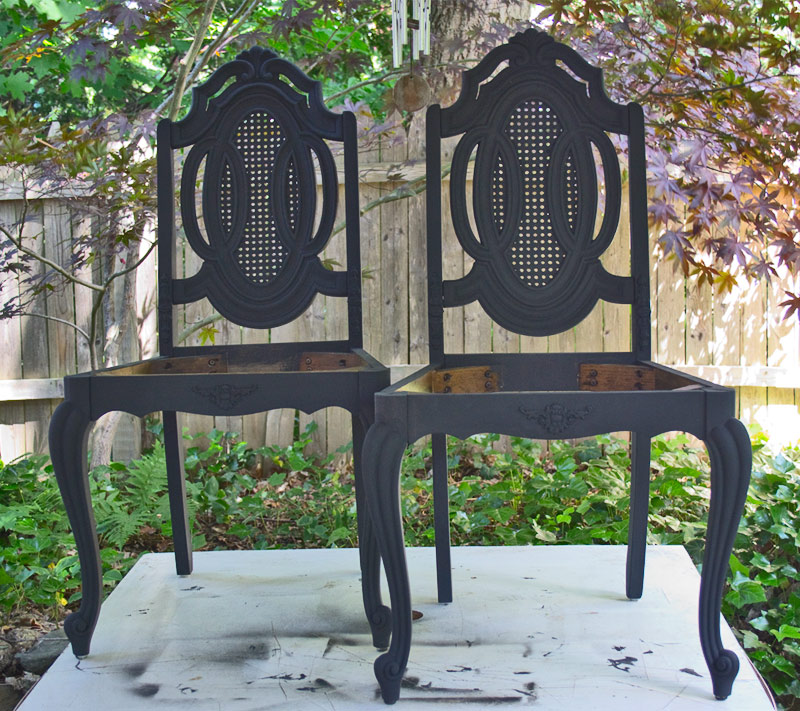 The charcoal finish of this paint never disappoints. Classic.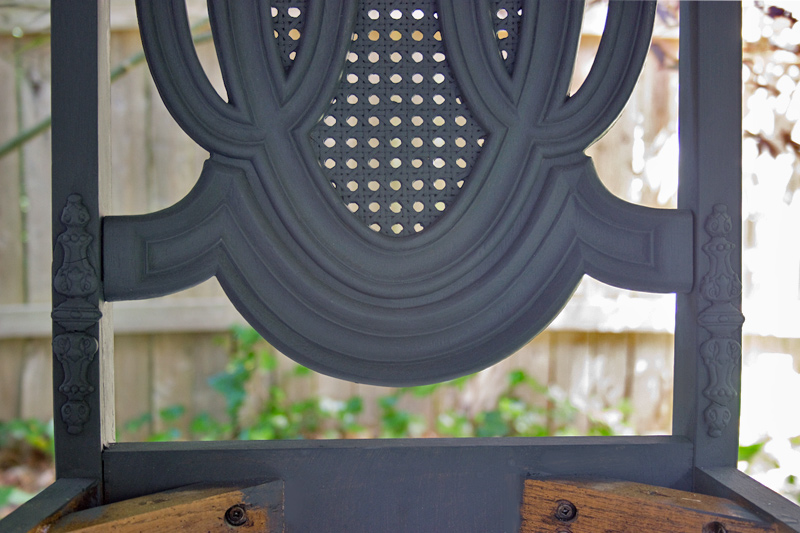 Any cracking of your appliques will only add character to the finished piece: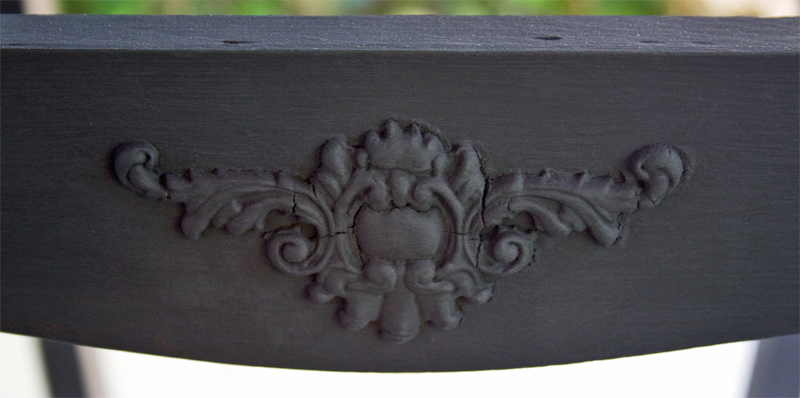 Now, we can begin to really appreciate the beauty of the curving lines: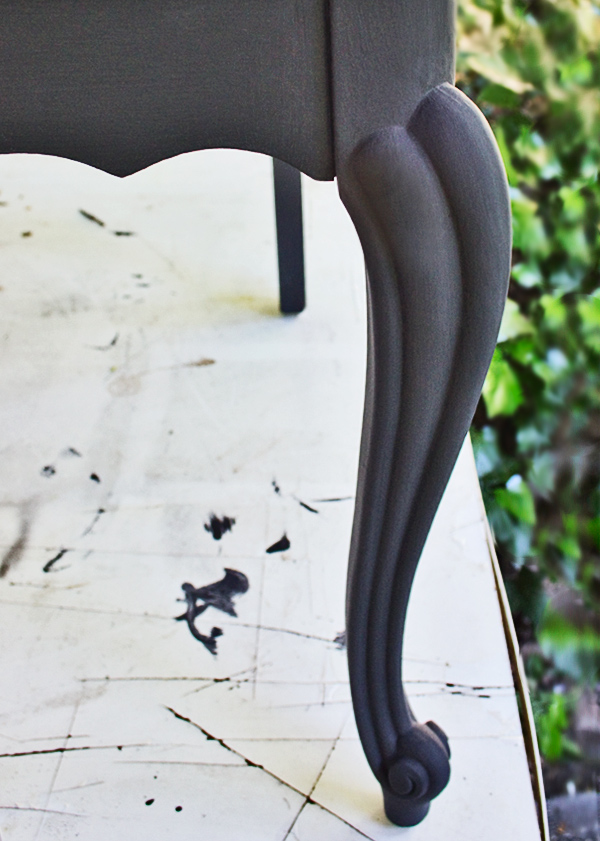 Allow the Black Bean to dry completely.
Gather your damp cloth, paint brushes, containers.
Grab your Aurora Staining Gel: Silver Bullet & Jet Black Spray Wax.
Pour a small amount of Silver Bullet into a container.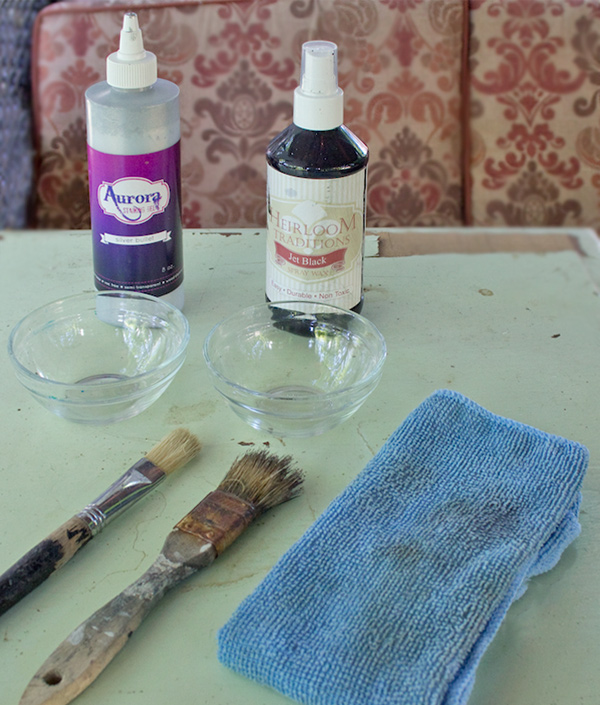 Using a dry-brush technique, gently stroke the rich metallic pigment over the high-points of the piece: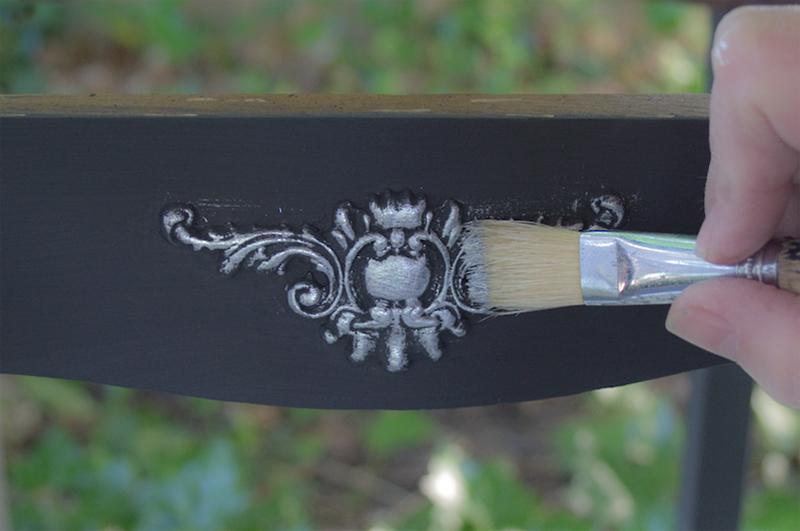 Using a scumbling technique (scrubbing back and forth with an almost dry brush) add Silver Bullet to the field of the apron: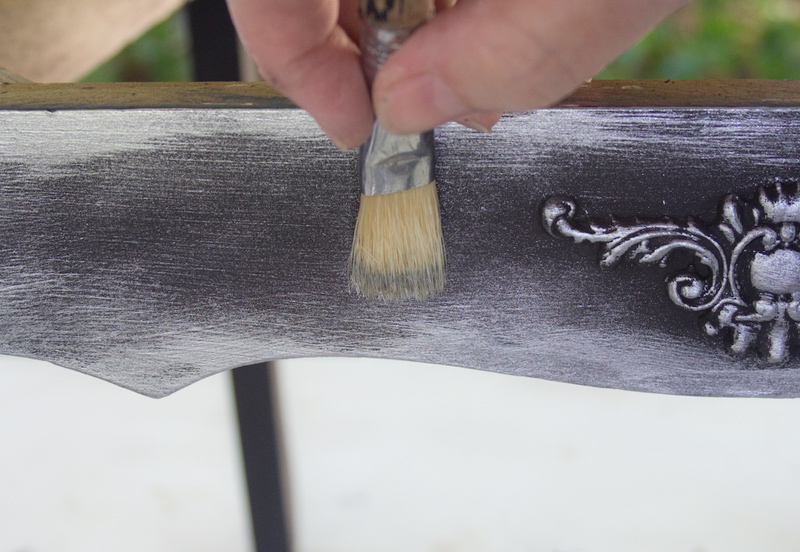 Carefully highlight the carved features with Silver Bullet, allowing the Black Bean undercoat to show through in the recesses: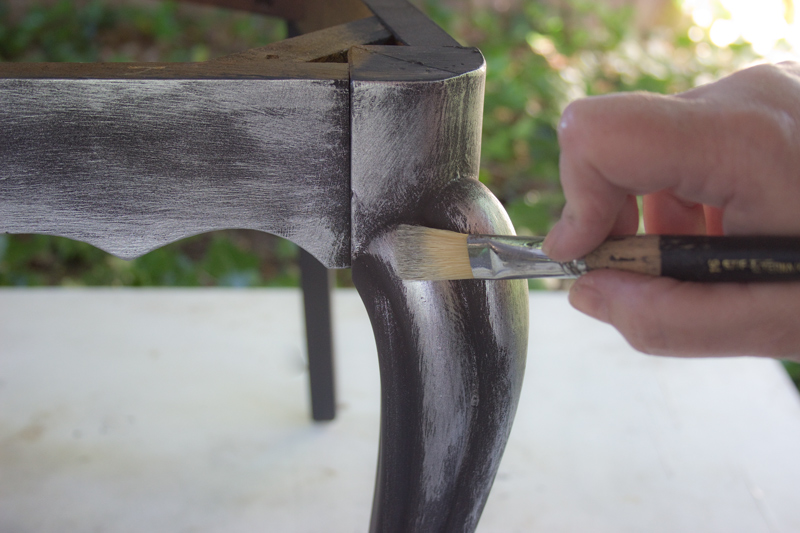 While the Silver Bullet is still damp, use a flogging technique (a swift back and forth sweeping motion) to soften the highlights: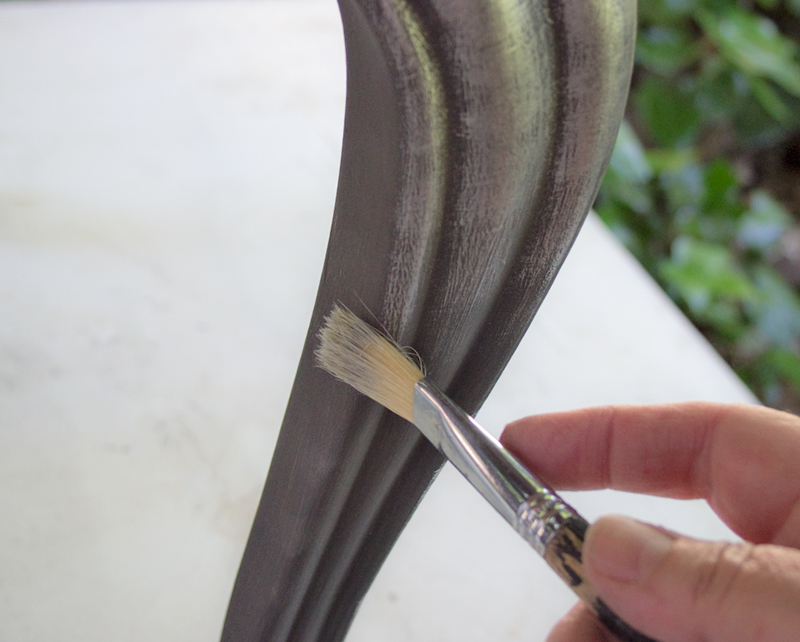 By dipping a cloth in the Silver Bullet, and tapping off the excess, you can swiftly highlight all of the intricate detailing with a simple swipe of your hand: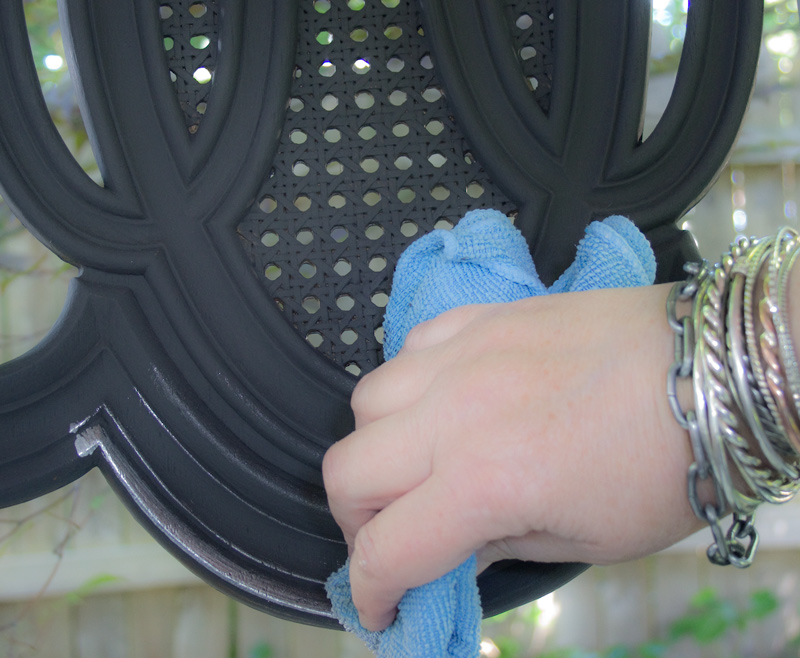 Once the Silver Bullet has cured (overnight is best), pour a small amount of Jet Black Spray Wax into a container, and apply with a brush: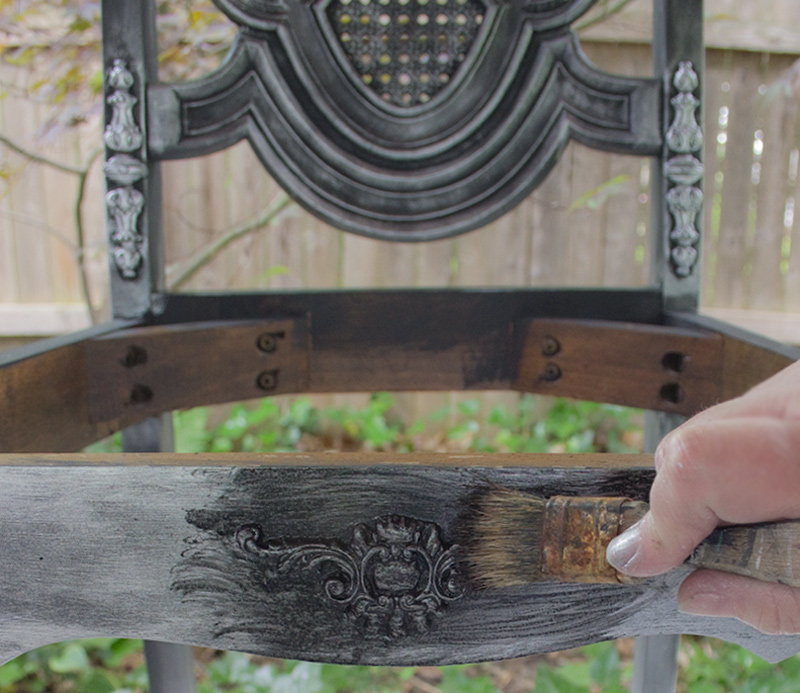 Working in sections, apply the Spray Wax, then gently wipe it back with a damp cloth:
Continue this process over the entire surface, until you realize you've just created a masterpiece!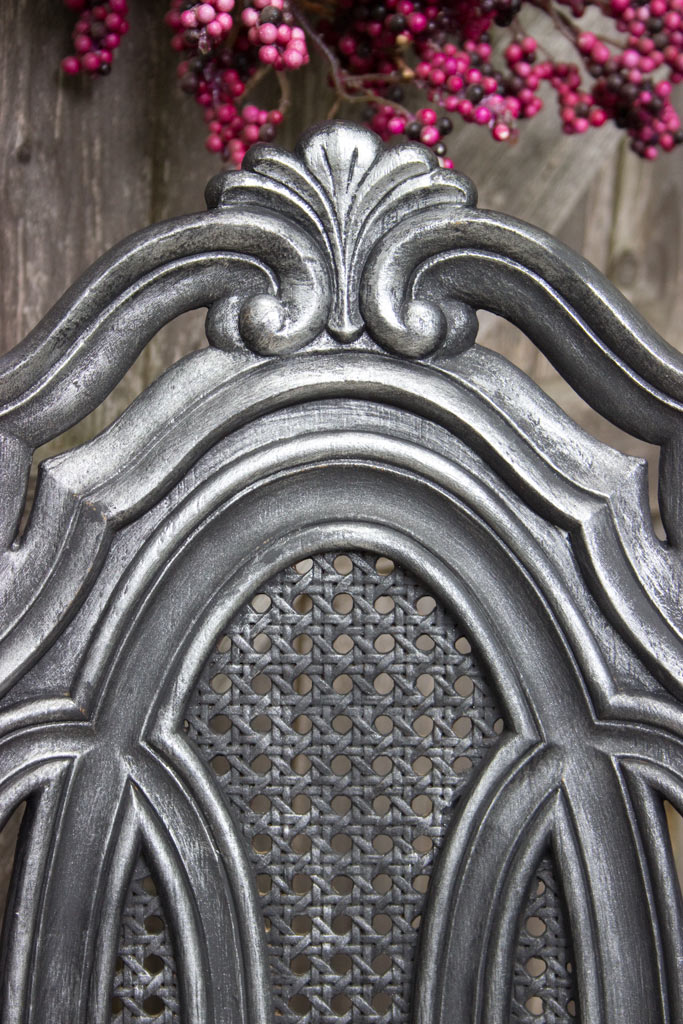 Because the Spray Wax is a permanent top-coat, no further protection is necessary!
Re-attach your newly covered seat cushions, and have a well deserved cup 'o tea.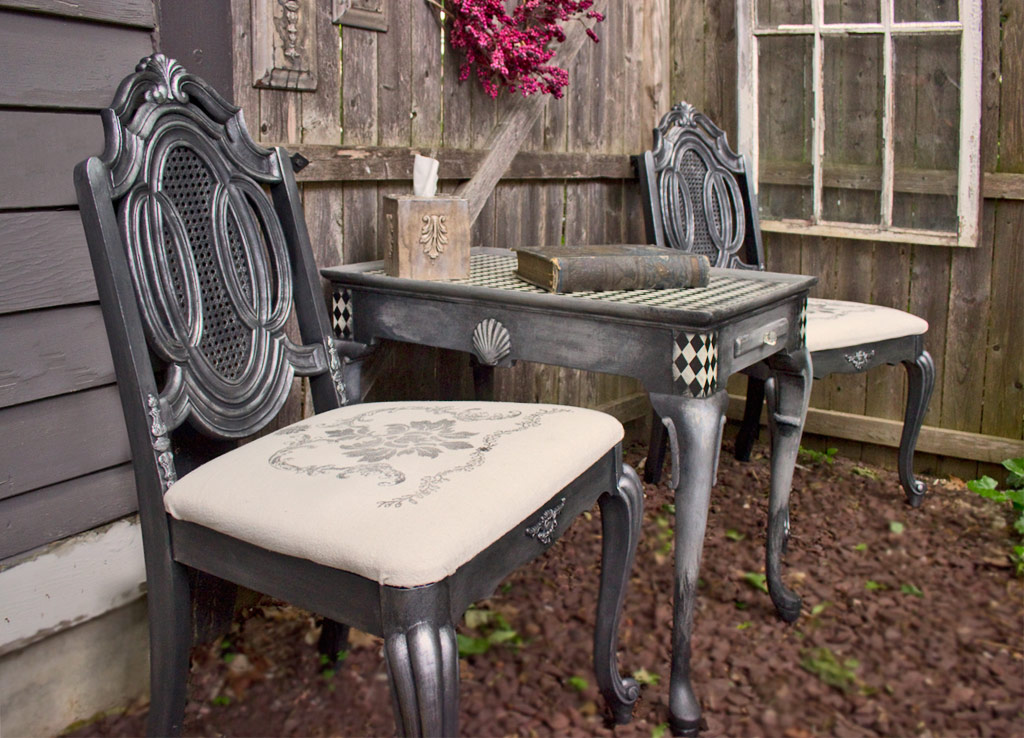 With very little effort, you now have a stunning "Antique" Silver Furniture Finish!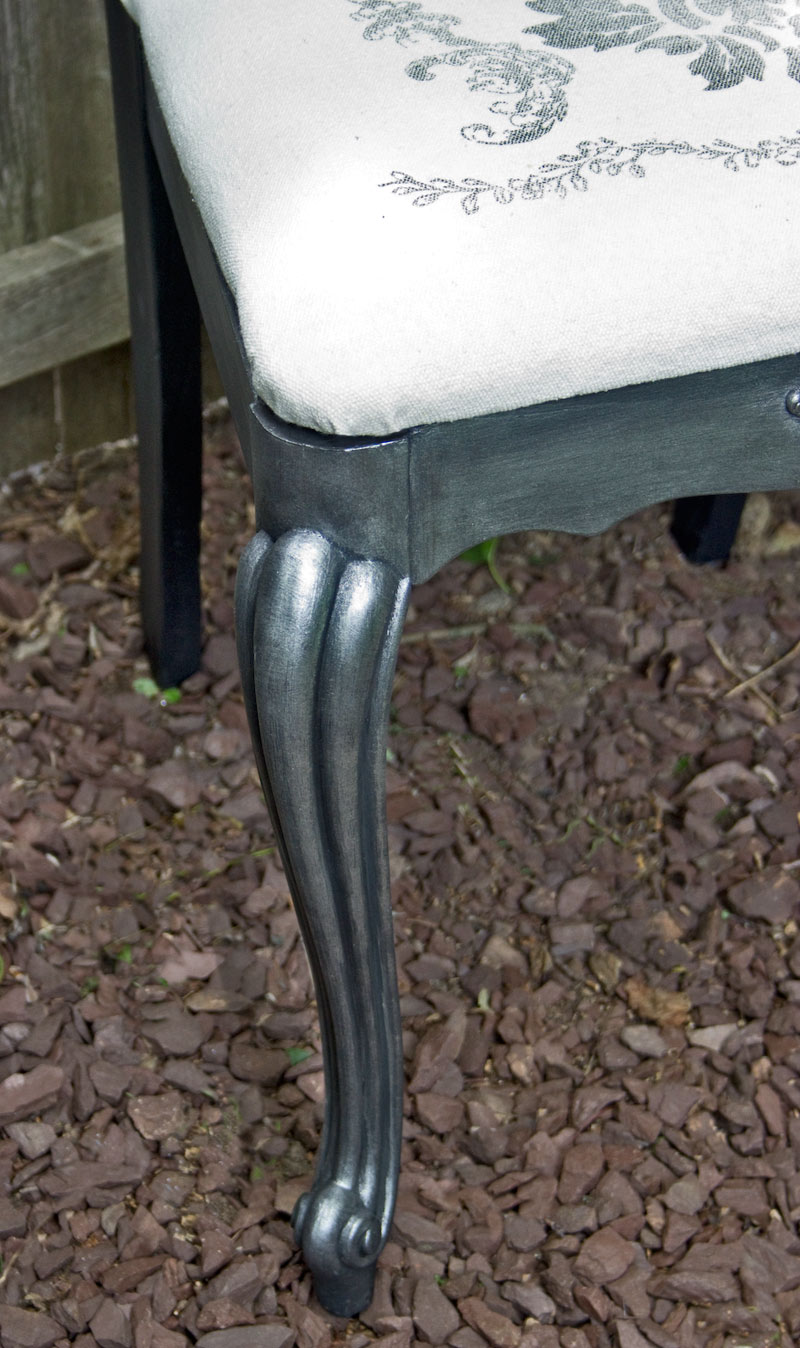 Looks like these two weren't quite as far gone as it seemed!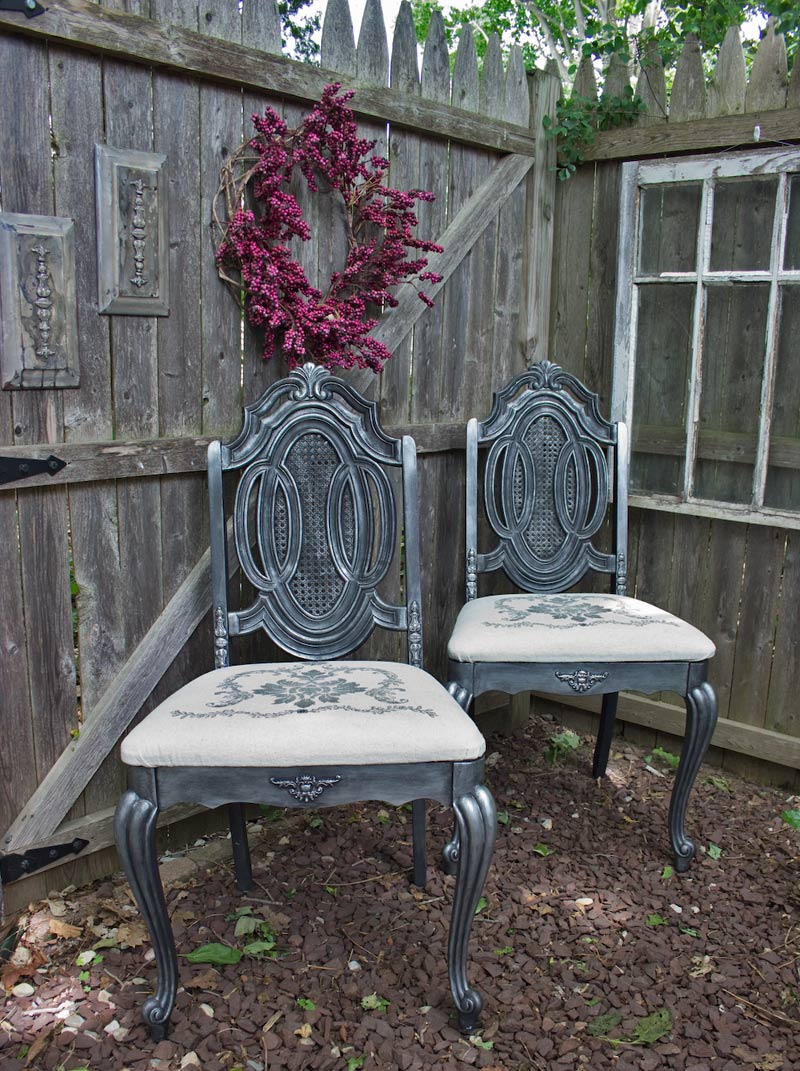 Seriously, the right products can make all the difference in the world.
Some facts about Heirloom Traditions Paint and Finishes:
Water Clean-Up
Low or No VOCs (depending on the product)
Manufactured in America 
Among the highest quality paints and finishes available ANYWHERE
It's easy to see why they are quickly becoming the favorite brand of furniture enthusiasts world-wide. 
This finish is now officially one of my favorites – I love a big pay-off for a modest effort! I hope you also enjoyed this Antique Painted Furniture – Old World Silver Finish Technique!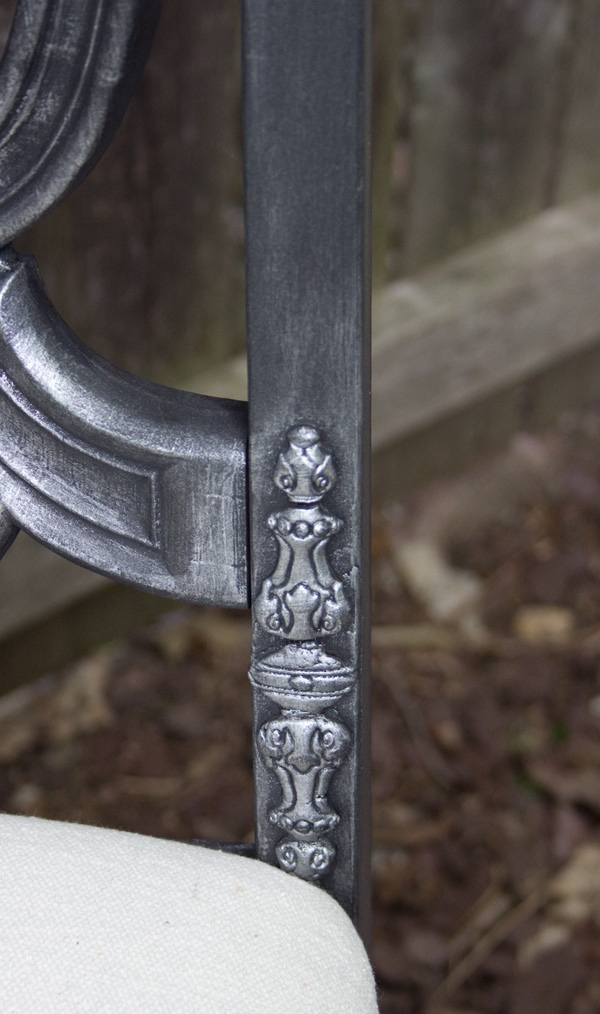 For more information on Heirloom Traditions Paint and Products, please visit www.heirloomtraditionspaint.com
---
Full Disclosure: Heirloom Traditions Paint supplied their products to be used in this project, and they sponsored this post – however, I supplied the elbow grease, rescued furniture, design concept, and experimental insanity! All of which reflect my own point of view, regardless of affiliation…
---
As always, thank you for visiting The Graphics Fairy – we're so glad you're here!
Anytime you feel like exploring the quirky side of crafting, come see me at Thicketworks – there's always a joyful mess in the making!
Until next time,
Heather ♥
You might enjoy THIS recent project: