What is the Best Glue for Paper Crafts?
In this article, I will try to demystify the Best Glue for Paper Crafts, or should I say Glues plural?! This is a question we get a lot here on The Graphics Fairy. There are different types of Glue for paper crafters who work in different formats – from collage to junk journaling and scrapbooking to card makers, to DIY projects and more. As a life-long paper crafter, I have my preferences of adhesives for attaching paper to paper and other surfaces. To get a broader view, I asked many other paper artists to chime in with their favorite Paper Glue and why they love it. I will share their thoughts throughout the post.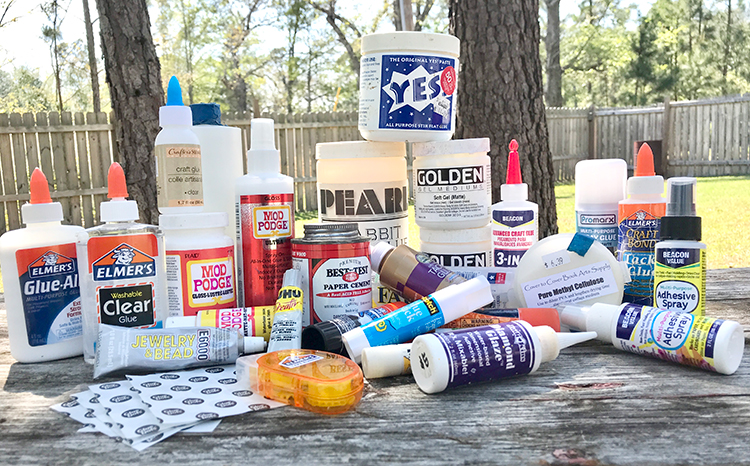 Broadly speaking, the best type of glue for paper crafting is a non-toxic, acid-free glue that is relatively thin and strong, that dries fast while not wrinkling the paper. In most cases it will be a white glue. There are numerous craft glues that can be used not only for paper crafts, but also for projects with elements such as fabric, lace, foam, or wood. To be honest, what truly makes the best glue for papercraft projects is what works best for you, your specific paper project, and your crafting style. 
Yes… there are so many different paper crafting options, techniques, and styles that you will probably find the need to use multiple types of glue depending on the project and the desired results.
What You Need to Know About Paper Glue
There are two question to answer for selecting an adhesive for your paper project. These are:
1) How long will the bond last? (Durability, including strength and flexibility)
2) Do the materials require a Wet or Dry Glue?
To avoid being repetitive, it should be noted that almost all types of paper glue are non-toxic and acid-free, including all of the ones mentioned in this tutorial. A few non-water-based paper glues are mildly toxic until dry, but not considered a health hazard. PRO TIP: It is important that you do not rely solely on what a particular brand may advertise about their glue. Perform tests. Try them out and make your own determination.
What Exactly Does Acid-free Mean?
You will hear the words 'acid-free' mentioned often in the glue universe. Why is that important? Acid-free glue helps slow down the yellowing and crumbling of paper as it ages. Without being too technical or scientific, it is all about pH!!! A pH scale is numbered 0-14. A 7 = pH neutral, which means acid free when pertaining to glue. Any number with a pH value above 7 is called alkaline, which of course is acid-free as well. A number below pH 7 is considered acidic. A few of the paper glues we review are actually in the alkaline category, with most being pH neutral, but all are acid-free. YAY!
How To Choose The Right Glue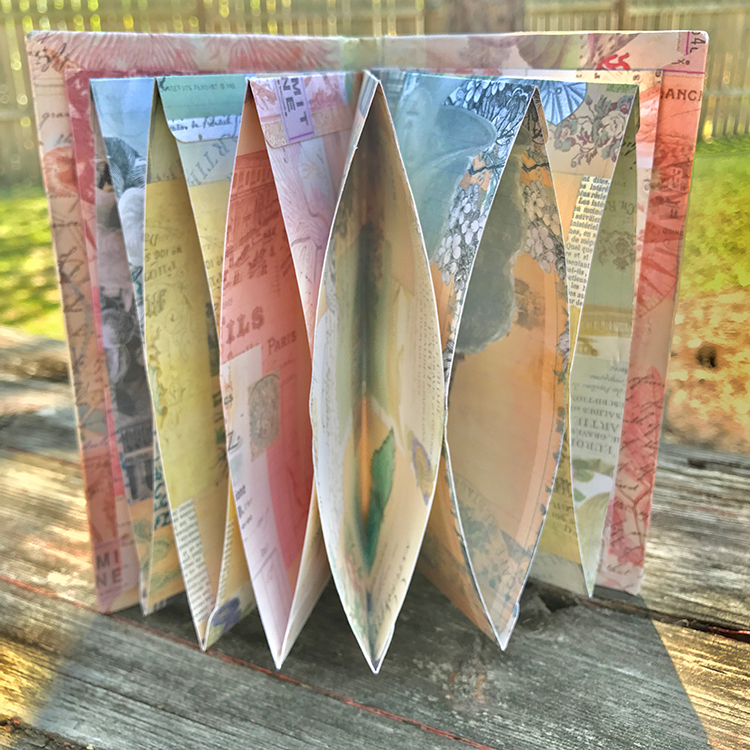 For high quality and long lasting paper crafts like the accordion pocket book above, you will need the 'right' glue for the project you are creating. Technically, the best glues for paper crafting projects are simply ones that are acid-free, which prevent yellowing and also provide a strong, secure adhesive bond without damaging the integrity of the paper being used. Keep in mind that some water-based paper glues are more susceptible to wrinkling and warping than non-water-based ones, but many modern water-based glues are designed to maintain exceptional strength and flexibility.
Depending on the project and how experienced you are with crafting, another consideration is whether or not you want to use a glue that is considered repositionable. This means that if you need to move glued items on paper, you have time to do so before the glue is completely set. As a book binder, I am pretty particular about my adhesives. For bookbinding, you want to use a glue with properties that are 'archival' so they will last for generations. These are non-yellowing adhesives with strong, durable bonds, and allow the bonded paper materials to remain flexible.
A Few Things About Glue
There are differences between paper craft glues. For example, some are smoother or stronger than others. Some are water-resistant, and others not. Drying times of paper glues vary from very quick with an immediate bond (called 'fast grab') to over 20 hours. There are different finishes with craft glues, ranging from clear to matte to glossy. The instruments utilized for applying glue to paper projects range from glue pens and fine-tipped dispensers for thin lines of glue to spray adhesives for large scale endeavors. Flexibility is one of the foremost qualities to look for when choosing glue for paper crafting. Otherwise the paper with become brittle and damaged.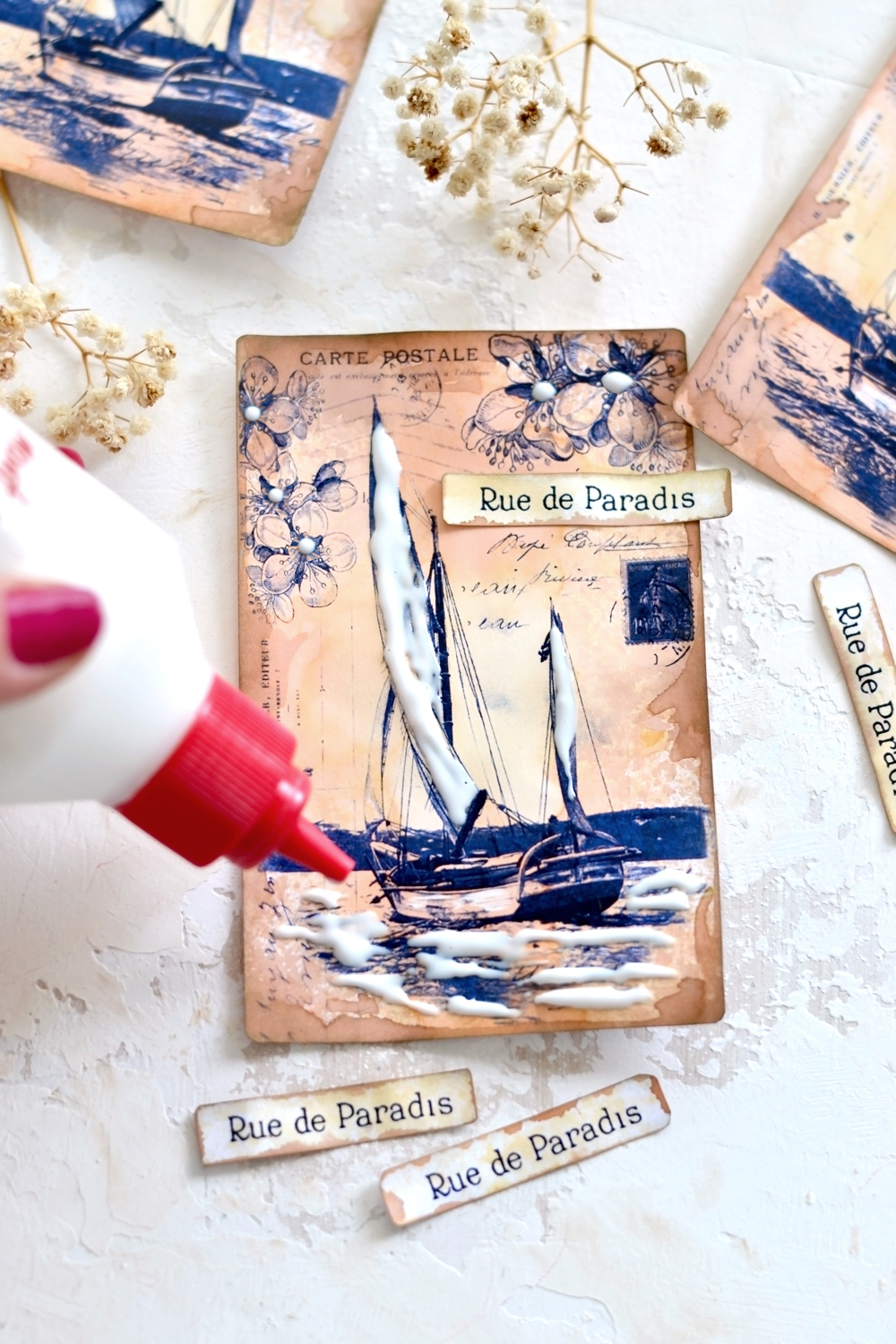 Water-based vs. Solvent-based Glue
These two broad categories of glues often cause confusion. The majority of glues used today for paper to paper applications are water-based, but both water and solved-based forms are important for different types of paper crafting. Water-based glues generally cost less than solvent-based ones. Both types contain a resin as the binding agent. When the water evaporates, a strong bond forms. When the solvent evaporates, a bond that is structurally extremely strong and durable results. This bond is more resistant to things like chemicals and wider temperature ranges. Solvent-based glues are sometimes used for more demanding and durable applications for the long term. Other components are sometimes added to 'chemically enhance' the quality of both forms of glue. For example, acrylics can be added to both water-based and solvent-based ones. In summary, both forms are ideal if used properly for the project at hand.
Types of Paper Glue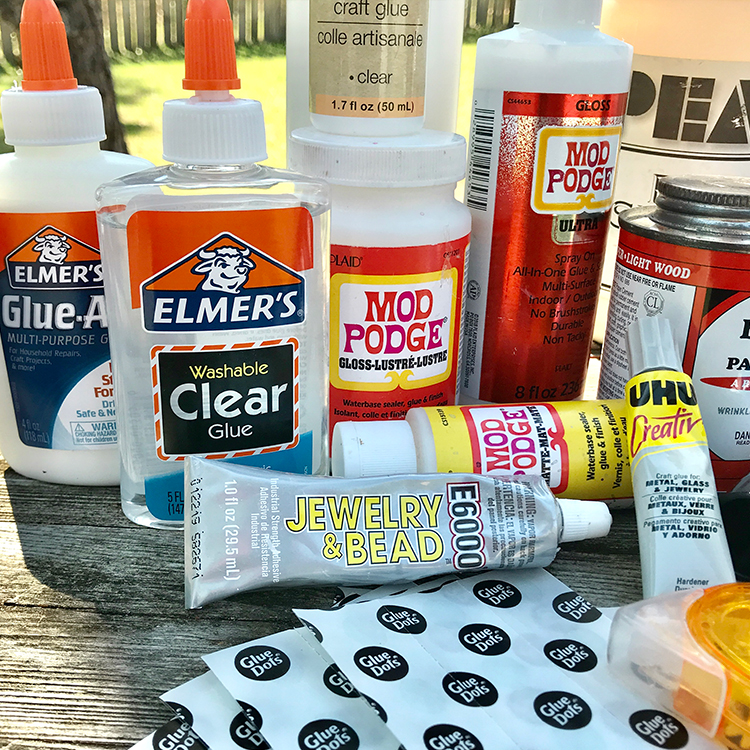 You have probably heard of and used the majority of items on this list. I have included some of the most common categories of glues for paper. There are several others out there with more being invented all the time. In the "How to Use Glue" section below we will discover the qualities and uses for each type.
Glue Sticks
Glue Pens
PVA, White Glue, Liquid Glue
Tacky PVA Glue
Solvent Glue
Industrial Adhesive
Contact and Rubber Cement
Specialized Pastes
Spray Adhesives
Hot Glue/EVA
Mod Podge
Dry Adhesive Tape Runners
Glue Dots and Foam Tape
Archival
How to Use Glue
Let's now look at how to use the various types of glue along with some of the most popular, commonly used brands. Please note that there are many other brands available worldwide. I tried to mention the most easily available and best known. If you have a fave that is not here, please mention it in the comments!
1. Glue Sticks. Glue sticks are an almost dry adhesive and very easy to use on paper crafts. Great for beginners and kids. Simply spread lightly for a clean, no mess clear bond that does a good job of preventing paper from buckling. The bond strength is similar to that of PVA white glue.
Elmer's All Purpose Glue Stick  
UHU stic Glue Stick
3M Scotch Brand Repositionable Glue Stick 
2. Glue Pens. Glue pens have a fine tip and are perfect for small embellishments on paper or cardstock. Great for producing thin lines for glitter or decorative items. A must have for your paper crafts that require precision.
Zig Fine Tip Two Way Glue Pen  
Sakura Quickly Glue Pen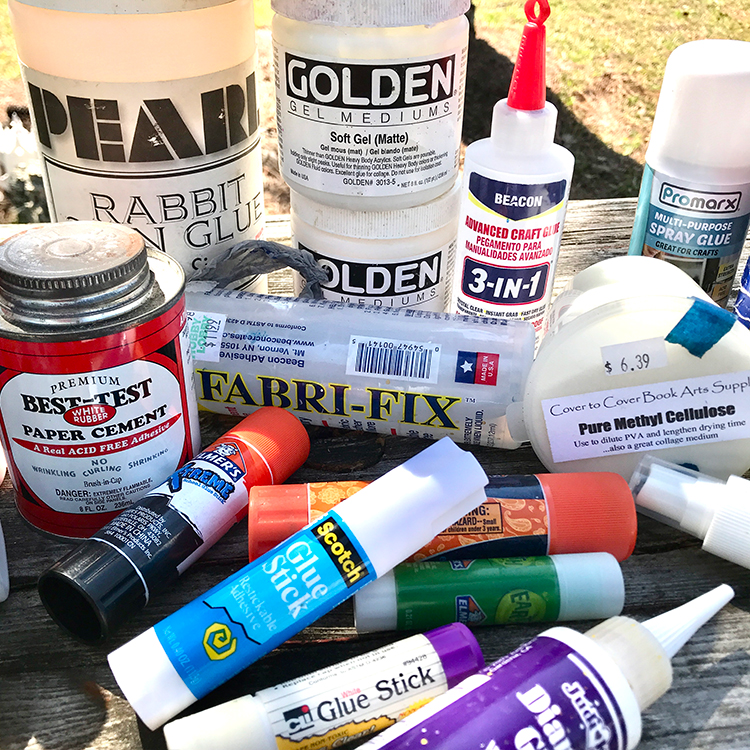 3. PVA Glue  PVA (polyvinyl acetate) glue is standard White Glue like Elmer's School Slue that is water-based, dries clear, and is typically completely dry in 18-24 hours. It is considered to be a flexible glue and can be used for many of your basic paper crafting projects. PVA actually includes white glue (school glue), tacky glue, and wood glue. Wood glues are strong, set quickly, and can be sanded.
Elmer's Liquid PVA School Glue  
4. Tacky PVA Glue  These water-based glues are a form of 'PVA White Glue' that is chemically enhanced to produce a much stronger and flexible bond. It dries clear in around 35 minutes. Within this category is a form of Tacky PVA glue known as Archival PVA. This glue is chemically formulated specifically for archival preservation with properties such as anti-yellowing and anti-wrinkling.
Lineco Neutral pH Adhesive & Lineco Books by Hand Adhesive (see 14 Archival) Both are PVAs, very popular, and top sellers on Amazon.
Aileen's Tacky Glue. 
5. Solvent Based Glue  Solvent-based glues are the choice for many paper crafters worldwide because the chemical properties. Not only are they water-resistant but also safe in cold and hot temperatures. This form of glue bonds immediately with extreme strength and remains flexible with no wrinkling or buckling. For both light or heavy duty projects.
Beacon 3-In-1, Beacon Fabri-Tac. Additionally, Fabri-fix is often used for book and paper related repairs in addition to fabric repair. Fabri-fix is more of a temporary glue.
Collall All Purpose Glue. 
6. Industrial Adhesive Glue  This form of water-based glue is chemically enhanced to create similar qualities to solvent-based glues with the fact that it is dries and bonds extremely fast and strong and also stays flexible without wrinkling or buckling.
Art Institute Glitter Designer Clear Adhesive (Art Glitter Glue)  It does not contain glitter. The most popular industrial strength adhesive for paper crafting, including cardboard and poster board, is most likely 'Art Glitter Glue.' This water-based flexible glue does not actually contain glitter in it. The name is derived from the fact that it works stupendously as a hard, permanent glue for adding glitter among other materials. It fast dries clear and strong. The glue is also impressive when gluing patterned cut outs like flowers and and birds. This is a result of an optional ultra-fine metal tip that enables very thin lines that are needed around the edges for a clean, professional look.
7. Contact Cement and Rubber Cement  Contact cement is fast drying 'on contact,' hence the name contact cement. Typically solvent-based, it dries hard and strong but lacks pliability. Rubber cement also dries fast (5-15 minutes) but is pliable (flexible) and paper can be repositioned if needed. When it dries, the rubber portion remains intact, leaving a strong but flexible bond. Both contact and rubber cement are applied to both sides of the paper materials being bonded and held tightly together as they dry.
Weldwood Original Contact Cement  
Elmer's Craft Bond Rubber Cement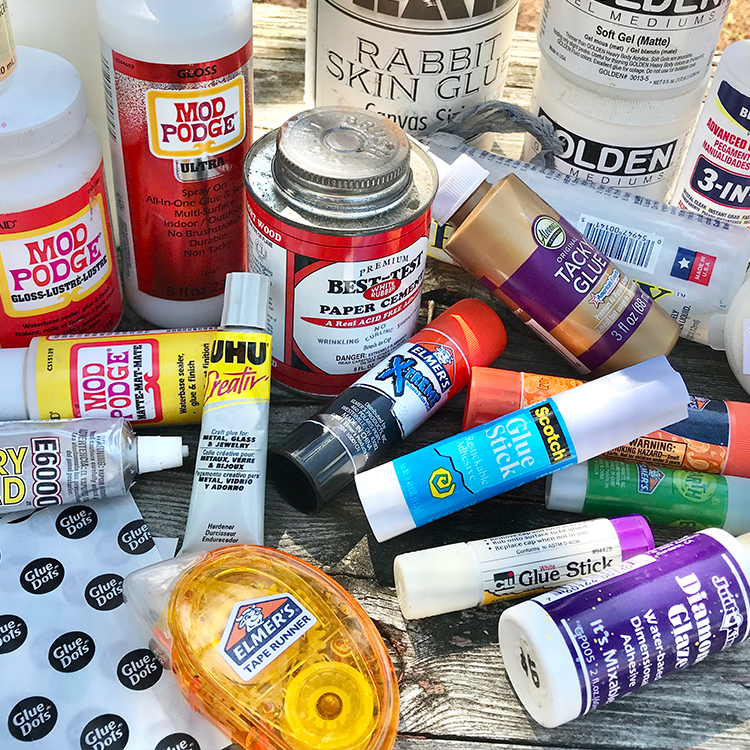 8. Specialized Pastes  These are water-based organic glues that are thick, and known as 'flat' glues because when applied to paper with a brush they are spread thin and flat instead of raised. Pastes dry clear and slowly, are repositional, and are easy to clean with warm water. Typically pastes are wrinkle and warp free.
Lineco Methyl Cellulose Adhesive and Wheat Starch Paste  These Lineco products are known for their longevity and bookbinding qualities.
YES Paste All-Purpose Stik Flat Glue 
9. Spray Adhesives. Especially for use over a large area. Both surfaces should be sprayed and pressed firmly together for maximum bond strength. Generally paper is repositionable for up to ten minutes. Spray adhesives are not waterproof but the best ones don't bleed through or wrinkle paper with proper use, and dry to handle in the three hour range.
Krylon Spray Adhesive
Easy-Tac

Repositionable Adhesive Spray

  
Elmer's Adhesive Spray  
10. Hot Glue/EVA  The form of glue used for hot glue guns is EVA (Ethylene Vinyl Adhesive). This is another good option for for a fast and clean bond within a few minutes since the glue bonds as it cools, leaving a rubbery-like feel and flexibility. It is waterproof and has stress-crack resistance, resistance to high and low temperatures, and UV light. These are of course qualities for longevity. The bond strength is generally considered moderate. There are some hot glue guns that dispense cooler glue which is safe for kids. Be careful not to touch the glue right away as it is too hot.
AdTech Crystal Clear Glue Sticks
Gorilla Glue Dual Temp Hot Glue Gun Kit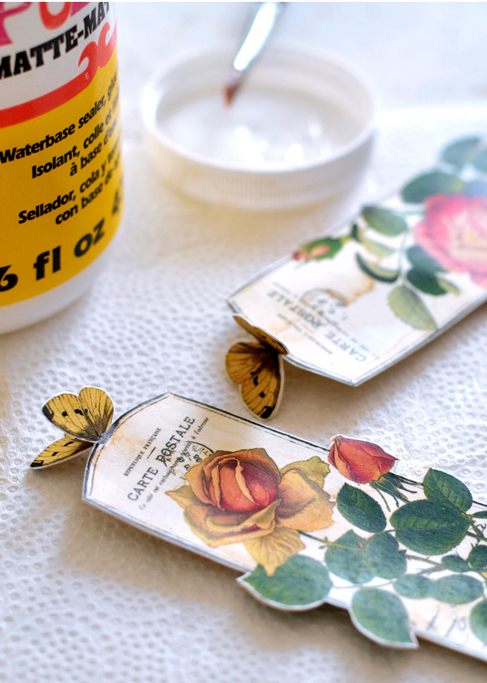 11. Mod Podge Original and Mod Podge Dishwasher Safe  Mod Podge is a versatile glue because it not only works well as an adhesive but also as a sealer. It is available in both non-water-resistant (Mod Podge Original) and water-resistant (Dishwasher-safe) versions. Considered a superb option for collage art, apply glue with a foam brush in even strokes and smooth the surface after placing your images on collage paper. It can be applied to your images to seal them on the paper about 20 minutes after gluing them in place. It dries with a matte finish.
12. Dry Adhesive Tape Runners  A convenient to use hand held device that releases a thin, continuous line of double-sided adhesive. Instantly bonds with paper, photos, ribbon, etc. They range in size from small, palm size to a large one with a handle grip.
Elmer's CraftBond Tape Runner  
Tombow Tape Runners 
3M Advanced Tape Glider (ATG)
13. Glue Dots and Foam Tape. Made of synthetic materials and rubber, these easy to use double-sided adhesives are simply pressed into place on paper. They are available in removable (low tack) to permanent bond (super high tack) versions.
Glue Dots Mini Adhesive Dot Sheets  
14. Archival Glue (Best for Archival Preservation)  Archival preservation is especially important for bookbinding and all other paper crafting among professional bookbinders, collage crafters, and scrapbookers. Enhanced with special chemicals that produce a longer lasting flexible glue that will not yellow or become brittle. The glue is great for book covers and spines as well.
Lineco Books by Hand pH Neutral Adhesive  
Helmer Neutral pH  
15. Miscellaneous Glue  I only mention this because so many of our TGF members love The Ultimate Glue. I have not used it. It is an adhesive formulated for difficult to glue surfaces like: glass, ceramics, plastic, metal, vinyl, fabric, leather, wood, painted and varnished surfaces, plus fiberglass and of course paper. It dries fast and clear. It claims to be the only non-toxic, water-based super glue. 
The Ultimate Glue from Crafter's Pick  This is a unique, liquid white glue, but not PVA. It is a super glue. It is very thick and dries quickly so you need to make sure that the placement is perfect. It is not repositionable. If the substrate is porous, the glue should permanently dry in 6-24 hours.

 Flexible, water-resistant bond.
What is the Best Glue for Scrapbooking and Junk Journals?
That is the million dollar question here at The Graphics Fairy. Karen and Emily surveyed about 50 members of our tribe on Facebook and Instagram. We also asked our Paper Craft Designers for their faves. As expected, we received a myriad of answers. I have the Top 10 for you.
Favorite Glues of TGF Creative Team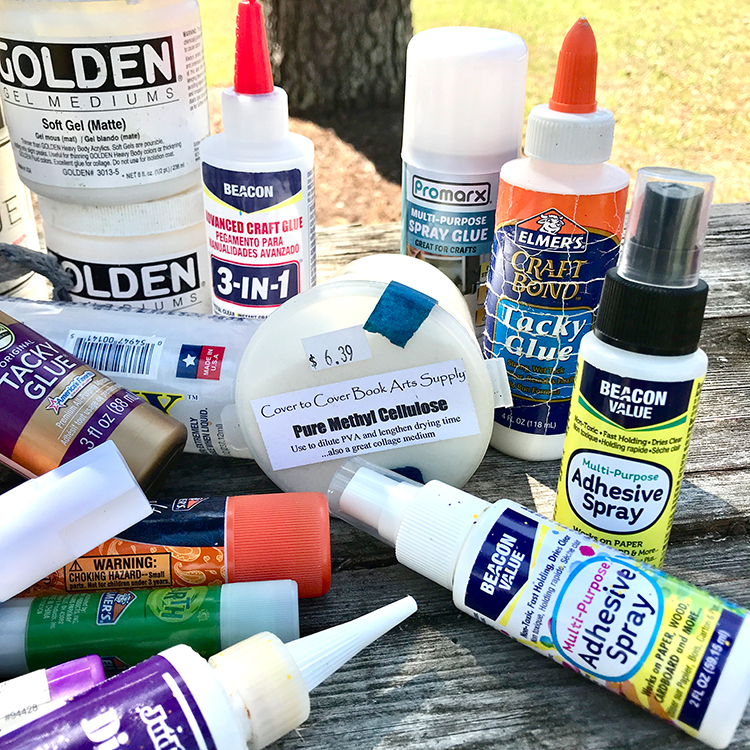 I asked the members of The Graphics Fairy Creative Team to weigh in on their favorite glues. Here are their answers.
Anna Hollingworth from Leximbue Journals- UK: "I always use EVA glue which is water based. There are two different types the Fast and Slow dry. It is a bookbinder glue that I find at Shepherds Bookbinders here in London. It is similar to Tacky glue. The wonderful thing about this glue is that it has no smell and when it dries it keeps the papers smooth so no bubbling at all! The other glue that I use is Collall. It is great for heavy duty. I use it to attach spines and anything else that I want to be confident about."
Sharon Hoerth of The Journalocity Shop: "When it comes to glue, I like choices! I usually line up my favorite three when I start crafting. I use Scotch Permanent glue stick for most of my paper gluing. Like it for smooth and flat edge to edge coverage. I use Fabri-Tac for fabric to paper or whenever I have something lumpy, bumpy or on the thick/heavy side. I have the most confidence in its sticking ability. For those really small, narrow spots and edges, I like to use white tacky glue in a thin tip bottle for the most precision."
Jane Chipp from Willow Blue Vintage- UK:  "I use Mod Podge for most collage work. It spreads really easily and can be used as a sealant and, importantly when I'm selling artworks, it is archival so it doesn't yellow with age. For attaching objects in assemblages I use a hot glue gun. For sticking heavy papers or card I use a Pritt Glue stick."
Kate Stevens of Pixie K Designs- New Zealand: "As far as glue goes, we are somewhat limited down under. I'd love to try out the Beacons glue you all use but we can't get it here. I use Art Glitter Glue a lot. It's still a wet glue but it dries fast and clear and has a great hold. The fine tip is really good for applying glue to fine details like fussy cut bits etc. if I ever get to the US I will bring home a suitcase of Fabri Tac"
Heather Naggy from Ruby and Pearl:  "I always use Fabri Tac glue for pretty much everything ever. It works so well on paper I might like it better for paper than fabric 🙂  I used to try all sorts of glues but now I just use that. Pros:  it holds everything, paper, fabric, even bits of jewelry. It dries super fast so there is very little wait time in between steps. Cons: It is a bit expensive and the nozzle needs some tender loving care to get the right flow. Mostly I couldn't construct the things I make without it! I too have tried so many glues and am pretty boring and just use Fabri-Tac. There's really no comparison! Fabri-Tac glue… it is not water based so when using inkjet prints the ink does not bleed. That is one of the most important things about it for me."
Terri Kolte from The Gypsy Magpie:  "I pretty much exclusively use Beacon 3-in-1 liquid adhesive. It is extremely forgiving, dries fast and is absolutely permanent- NOTHING comes apart."
Emily Martin:  "E6000 – when you need a very strong bond (like a project I'm going to hang that's heavy.) Beacon 3-in-1 – good all around glue; dries clear, there's a little time to move things, but has a strong bond. Glue Stick – Elmers – because it's inexpensive, but I don't think the longevity is there. Double-sided tape. I realize that's not a glue, but it's an adhesive. I also like the foam tapes when adding dimension to paper projects. Matte Mod Podge – for decoupage and often use in multiple coats to get a smooth finish. Because it's water-based though, when I would do lots of coasters or anything that I expect lots of handling & wear, I'd always use a spray sealer from Krylon on top."
Karen Watson (aka The Graphics Fairy) I'm not a glue expert by any means, but I just wanted to add if you are working with German Glass Glitter (which is heavy and tends to shed) I swear by Elmer's School Blue Gel, as it really holds the glitter to paper or cardboard.
What Is the Best Glue for Scrapbooking and Junk Journals?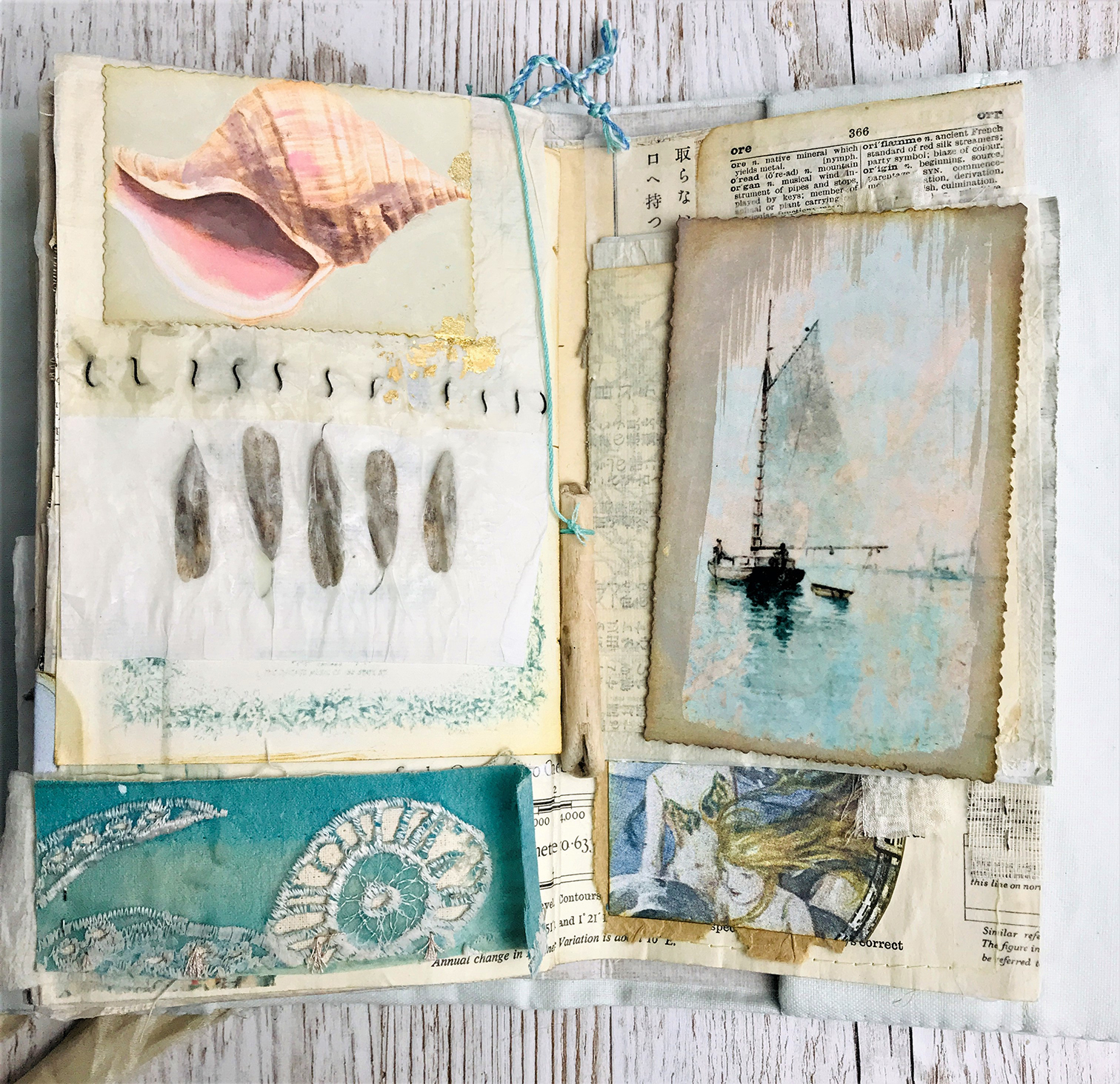 One popular option for scrapbookers and junk journalists is the tape runner for its no mess, dry, instant bond properties. Glue dots or mounting squares are instant-dry adhesives and help to prevent pages and paper keepsakes from buckling and warping. Glue sticks are another fine choice, which essentially provide the same benefits. For heavier materials like fabric ribbon, E6000 or a hot glue gun with paper-specific glue may be a good choice. A huge benefit to hot glue is the ability to fill in cracks and crevices. It is very malleable once warm to the touch as well.
Solvent-based glues are another splendid option because of quick drying, flexibility, and ability to immediately produce an exceptionally strong bond of a wide array of embellishments such as leather and glass to paper. If you have images that you want to seal, Mod Podge is a perfect choice. It also works well for bonding paper. Used with collages and other art forms, Mod Podge is quite versatile. Certain pastes are an option for scrapbooking and junk journaling as well. Modeling paste is an example. It adds texture to your creations and is repositionable. It can take several days to fully dry, but dries hard and can be sanded.
Different Types of Cardboard Glue
Some types of adhesives do not work well on cardboard due to the thickness and rigidity compared to paper. The two most commonly used forms of glue for gluing cardboard are tacky PVA (white glue) and contact cement. They are both ideal for permanently bonding all forms of cardboard. Being water- based, white glue takes advantage of the fact that cardboard is porous and favors the absorption of water, allowing the glue to permeate the pores of it. This leaves a deep and firmer bond than most other glue types. PVA glue however is not practical for applying materials such as metal, glass, plastic, or rubber. Contact cement dries much faster and costs a bit more but it is very precise. Pritt Stick, the first glue stick in the world, claims to be a glue for cardboard.
Hot glue sticks applied with a glue gun provide a durable bond. The hot glue is especially beneficial for attaching small details to cardboard like buttons, stickers, and ribbons. Another popular choice is Mod Podge Waterbase Sealer, Glue, and Finish for thick cardboard. It can be sanded smooth once fully cured. If you intend to join heavier materials to cardboard like metal, glass, or stone, solvent-based glues are a smart choice. Water-based industrial strength adhesives like 'Art Glitter Glue' are strong, flexible, and can bond heavier materials as well. Spray adhesives work well for joining papers and light materials to cardboard over large areas.
I hope that you enjoyed learning "What is the Best Glue for Paper Crafts." You should be able to make the best decision as to what type of glue to use on your projects. When I am not exploring with craft projects along with old and new techniques in my Graphics Fairy sandbox, I also create Photoshop Elements tutorials and craft project videos over on The Graphics Fairy Premium Membership site. You can find even more of my books, junk journals, mixed media art, classes, and whimsical shenanigans on Rebecca E Parsons Dot Com.