Dog Drawing
Let's learn how to Draw a Dog… or 2 or 3 or 4 even! In this post you will find step by step instructions for creating easy Dog drawings! In particular we will learn how to draw a Bulldog. I'll walk you through the steps of this cute guy, that came from an early 1900's drawing book in my collection. I'm sure most of us would agree that Dogs are the best! If you love dogs, then this blog post is for you. At the bottom of the post you will find a printable practice worksheet that you can print out and have space for your work. There is also an additional practice sheet offered with even more simple Dog Drawings including how to draw a Pug, how to draw a Dachshund and another breed as well. You can print out as many practice sheets as you like, so that you can keep at it until you are happy with your work. Check out these easy drawings of different breeds in just a few simple steps. Practice them and then create your own Canine pup by drawing it in your style! The possibilities are endless with these doggie designs.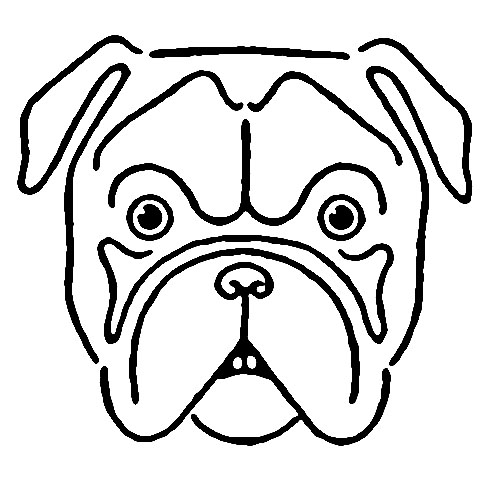 How to Draw a Bulldog
At the bottom of this page you will find the Dog drawing diagram for some cute, but fierce looking, Bulldogs! You really could stop before the final detailed drawing if you like, I think the line drawing versions are really fun too. Or you can even grab the Bulldog line drawing clipart image above to use in your projects. Beginners may want to overlay some tracing and practice first, to build muscle memory in their hands and get a feel for drawing with a pencil or pen, and of course an eraser is also helpful. Follow along with the steps below.
Step 1

Step 1. First Draw a pencil line down the center of your page to use as a guide line. (you will erase this later). Draw 2 small circles on either side for the eyes, and add a small filled in circle for the Pupils. Leave a bit of white in the pupil for the highlight. Next dray the a small upside down U shape with the ends curling in for the Dog nose and nostrils.
Step 2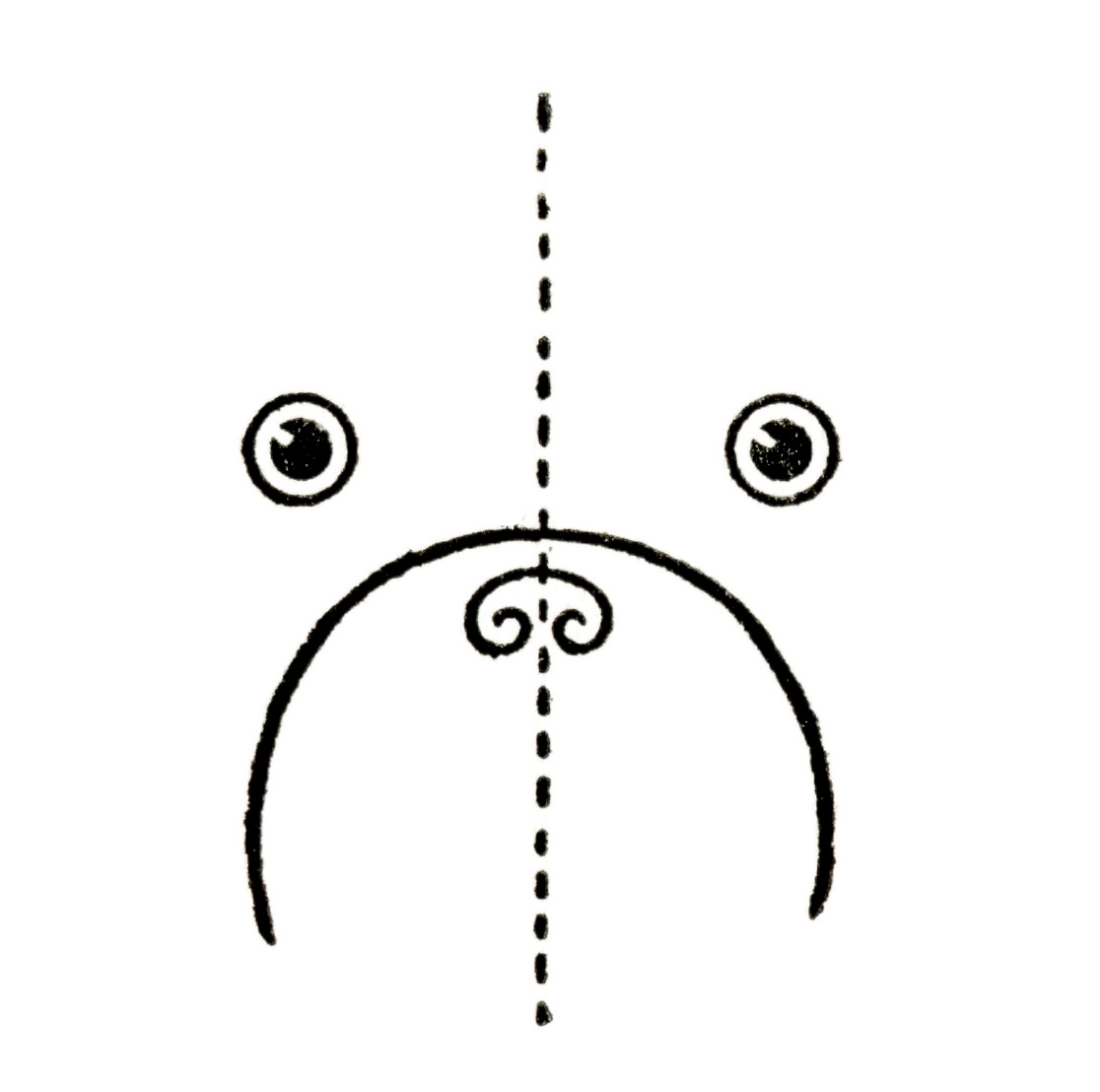 Step2. Next draw a large upside down U shape around the nose for the snout.
Step 3

Step 3. Draw a curvy line over each eye ball that meets in the middle, drawing it up the forehead a bit.
Step 4

Step 4. Draw the lines for his jowels. They are 2 curved lines that come down from the nose and then up on either side.
Step 5

Step 5. At this point you can erase your center guideline. Then outline his head, leaving spaces for his ears, and just meeting up close to his jowls. Add a small line for his mouth in a frown position.
Step 6

Step 6. Add his ears. At this point he looks pretty good! You could stop here, especially for young kids, or you can add more detail in the next steps.
Step 7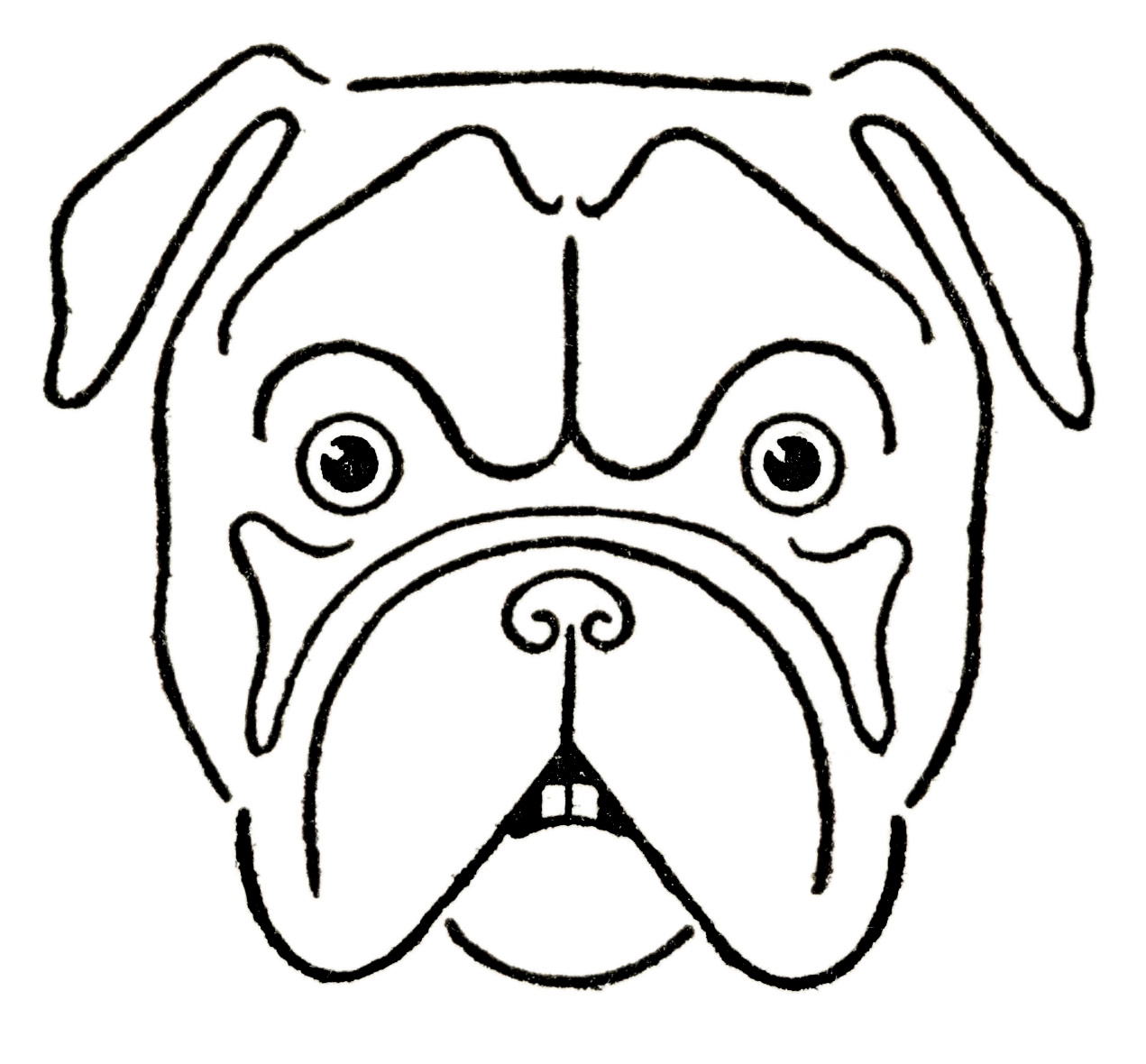 Step 7. Draw in 2 small rectangles for his teeth and then shade in the rest of the mouth area. Add in his frown wrinkles and the wrinkles under his eyes. Now you have a nice Cartoon Bulldog Drawing that looks quite cute! But you can add even more detail below if you want to carry on.
Step 8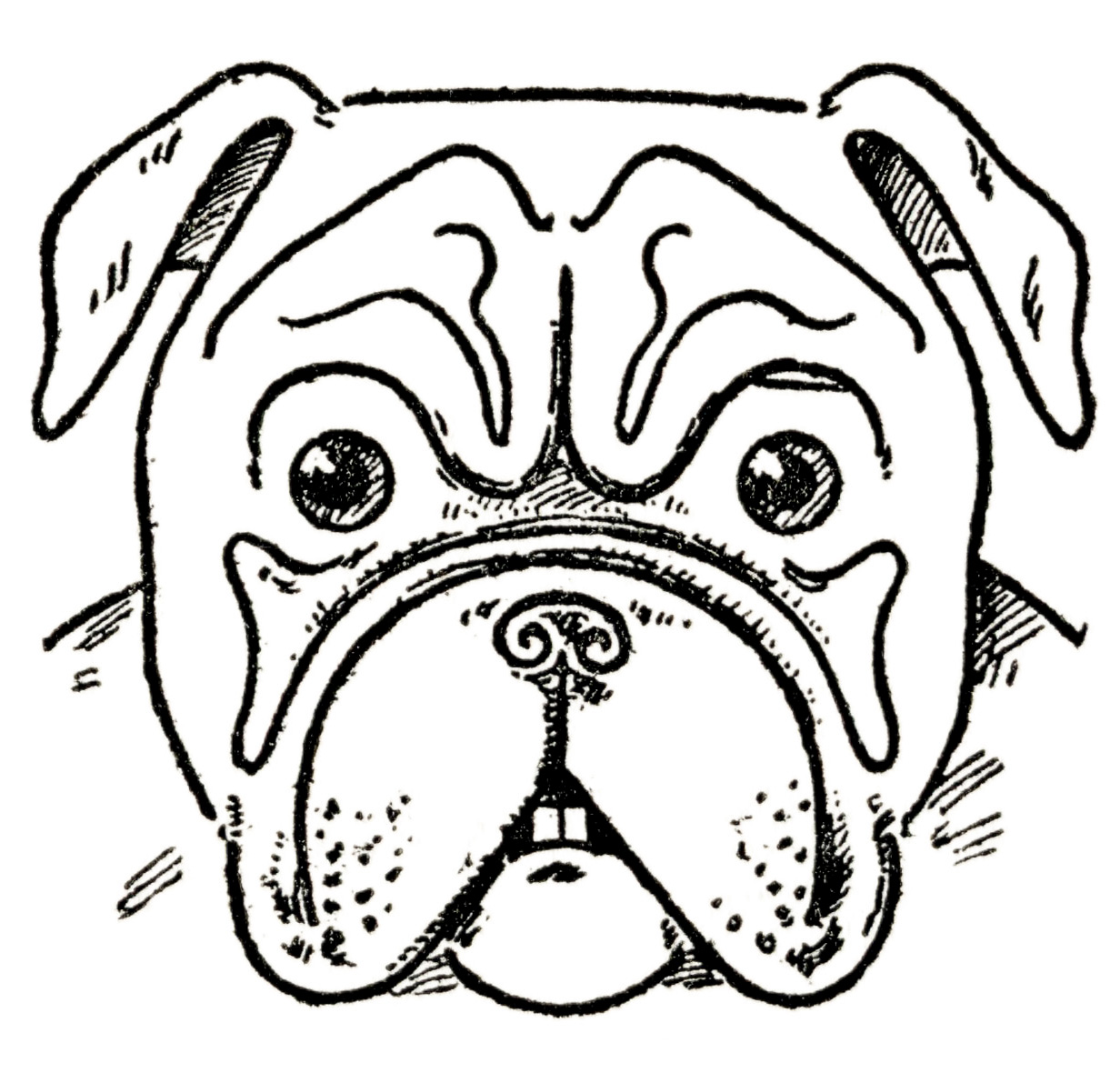 Step 8. Add additional fine details by shading in the areas that you see above to add texture. And creating the dots along his jowls. You can add some lines for the Dog's neck and shoulders too.
Color in your Dog Drawing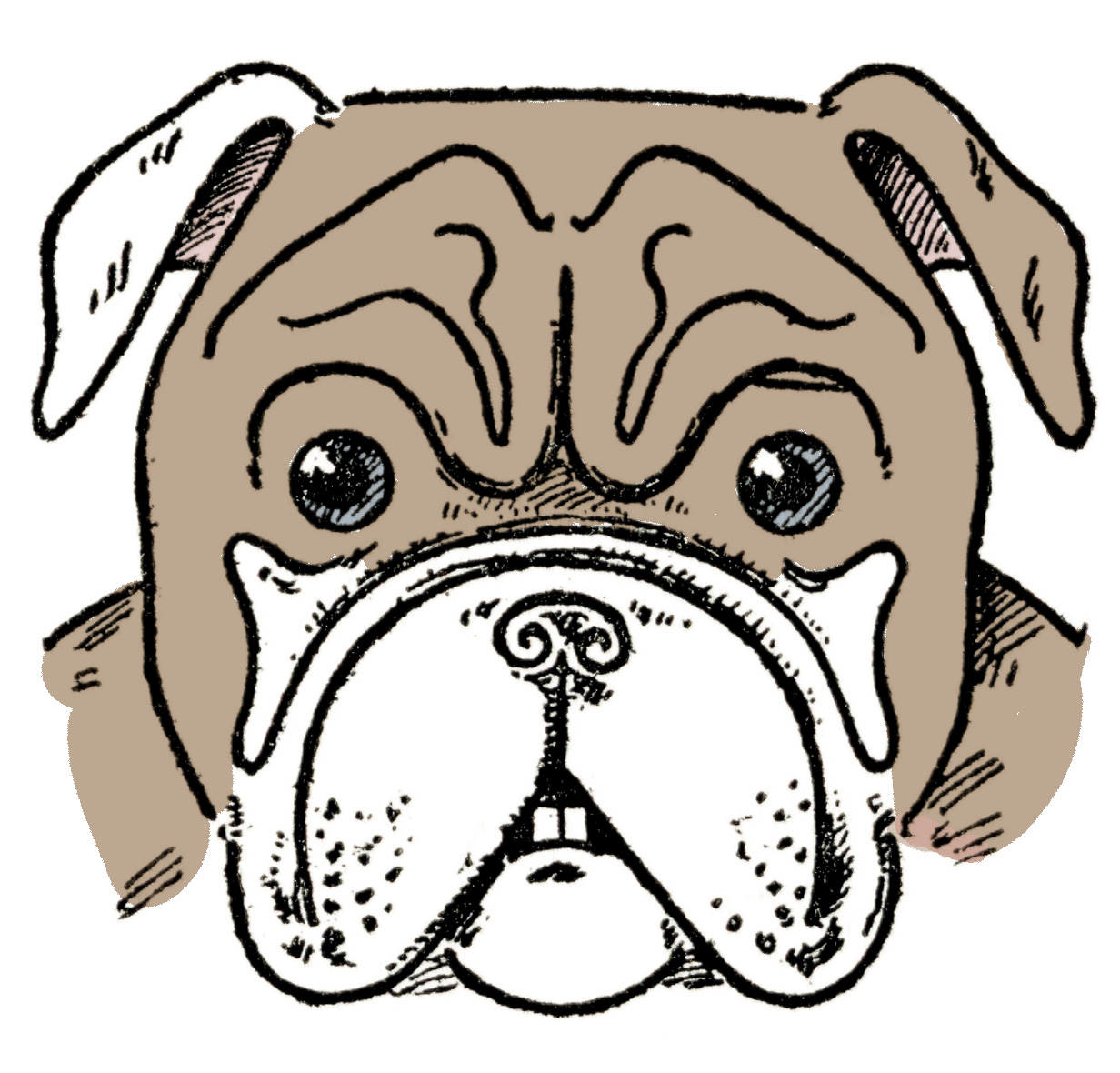 Now for the fun things! Don't forget to color in your Bulldog drawing if you like. Grab your markers, colored pencils, Crayola crayons or oil pastels. You can be creative and keep some areas of the fur white and add brown to other areas. You could make both ears white or both brown, or pink or purple even. Have fun with his eye color too. Mix it up however you like and create your own artwork masterpiece!
Printable Bulldog Drawing Practice Sheet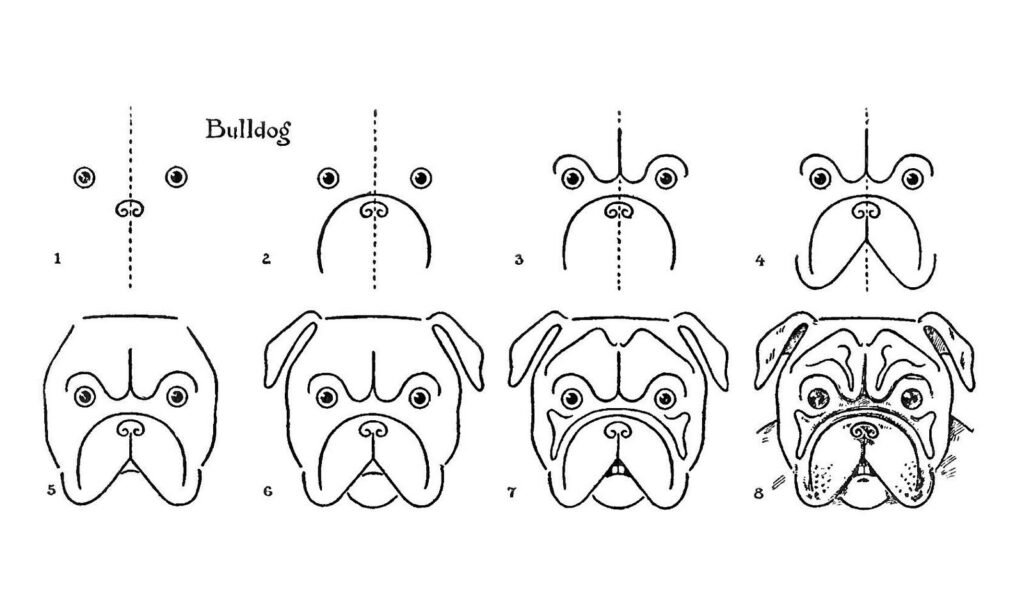 Click HERE for the Full Size Printable PDF of the Bulldogs Drawing Page
Make sure you grab the How to Draw a Bulldog Practice sheet above! I've included some white space on it, so that you can practice on the same sheet as the dog drawing tutorial.
How to Draw a Dog: Pug and a Dachshund Dog Drawing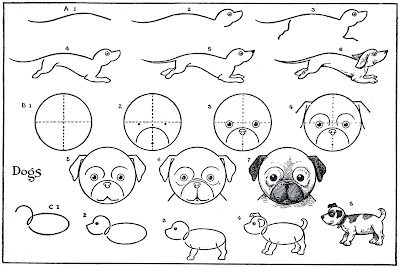 Click HERE for the Full Size Printable Dog Drawing Page

And here is another one of the Vintage Drawing pages of Dogs, this time though we have several different breeds to try out. This page shows how to Draw a cute Pug, I think he might be my favorite, and adorable an Dachshund and a little spotted Dog. I'm not sure what type of Dog's breed that last one is, maybe some sort of Terrier … but he's pretty cute too, and he even has a collar. As with the ones above, some of these you can stop before the very end to create more a of cartoon Dog type look. 
I hope you enjoyed these little Bulldog Drawing drawing lesson and How to Draw a Dog lessons. You can print out as many of these easy step by step drawing tutorial practice sheets as you like, so that your whole family can learn to draw man's best friend! You might also enjoy a similar lesson on drawing Frogs HERE. 
Hello! Are you new to The Graphics Fairy?
Welcome, I'm so glad you're here! Browse around to find 
thousands of Stock Images
 that you can use in your projects or designs! I post new Vintage images every day, as well as projects and DIY's too! Need more info about my site? Try my 
FAQ
 page.