Best Paper for Journal Making!
Oh the world of paper… and the Best Paper for Journal Making! You want your journal to be beautiful as well as functional. The paper you choose makes all the difference. It's Rebecca here to share my life-long fascination with paper. I began my working life as a graphic designer for a well-known paper manufacturer. It was there I learned everything one could possibly want to know about how paper was made, how the paper you choose affects your project, and how inks, dyes, and paints react with paper… and so much more. Today I will share that knowledge as we learn about the best papers for making your own books and journals.

What is a HandMade Journal?
A handmade journal is usually made from high quality papers, like watercolor or high fiber rag papers. These allow for exploring  your imagination and self-expression in a wonderfully personalized way. For our purposes, we will be talking about two types of art journals – an Art Journal and a Junk Journal. The Art Journal is a special book used to record, store, discover, and develop your thoughts and art in your voice. Journal keeping is a uniquely personal experience reflecting your life in words, sketches, or art, like collage or painting. It often reflects your daily life events, memories, and feelings. It can also be a way of keeping up and expanding on ideas. A journal for creative people is a more colorful and artsy 'diary' containing patterns, images, pictures, etc. These need to be made on good quality papers in order to last.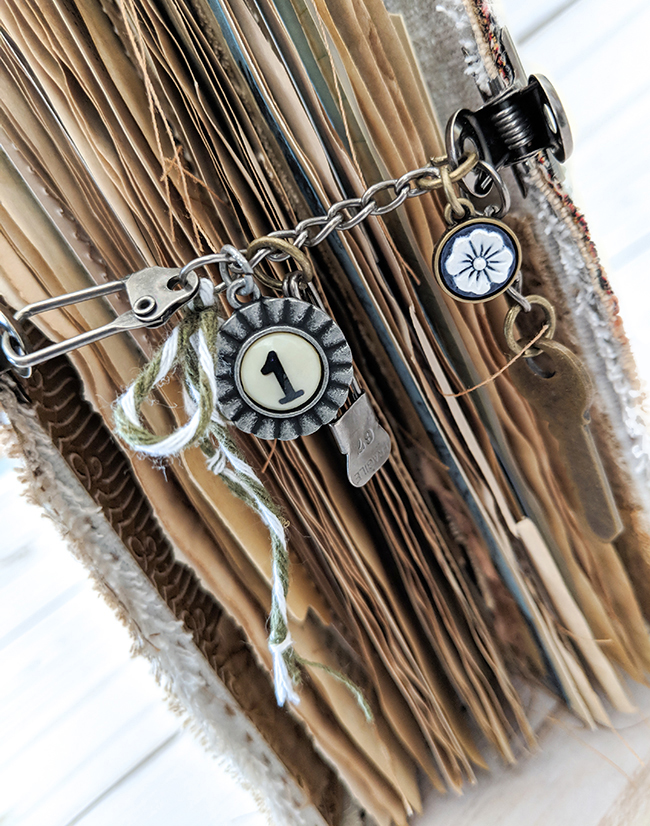 The Junk Journal, on the other hand, is anything goes as far as paper. Any paper is acceptable to use! The term junk journal originally related to a personal journal that was truly made of junk paper, in particular junk mail. This has evolved however, and now includes many other forms of paper along with embellishments of all sorts as you see in the handmade journal above.
The Best Paper for Journals
Now let's get into the meat of this tutorial, which is all about the various types of paper that are practical for use in your journal. The paper that you will want to use for your journal will be determined by the type of journal being created. The type, finish, and texture are truly important when selecting paper for bookbinding. If you are creating a vessel to hold your art, you will need a high quality paper or specialized paper made for your medium. If you are only utilizing items like old magazines or junk mail, you probably will not need any specialized paper. There is honestly no 'best' paper for a junk journal. Many different kinds of paper are used in a JJ for texture and depth.
Paper selection will be about many factors – the feel and look, the finish, and the weight of the paper are all important considerations. You must keep in mind the intended use of the book as well as the ease of folding and cutting the papers. You do not want your paper to buckle,  warp, or stretch. Here are a few questions to think about before making a paper selection:
What will this journal be used for?
What medium is the book for? Will the medium used bleed through to the other side of the paper?
What type of paper do I need? (text, watercolor, drawing, etc.)
Do you need the paper to be porous or not?
Do the pages need to be flexible or stiff?
What weight paper do I need? (20-200 lbs.)
Do you need paper with lines or a dot grid?
Does the paper need to be acid free? (Use acid-free paper for books you wish to keep, as it will yellow less with age.)
What Finish does the paper need?
What Texture does the paper need?
Do I need Color paper?
Does the Grain make a difference in this journal?
Will I need to print on the paper? (inkjet, laser)
The Best Paper for Art Journals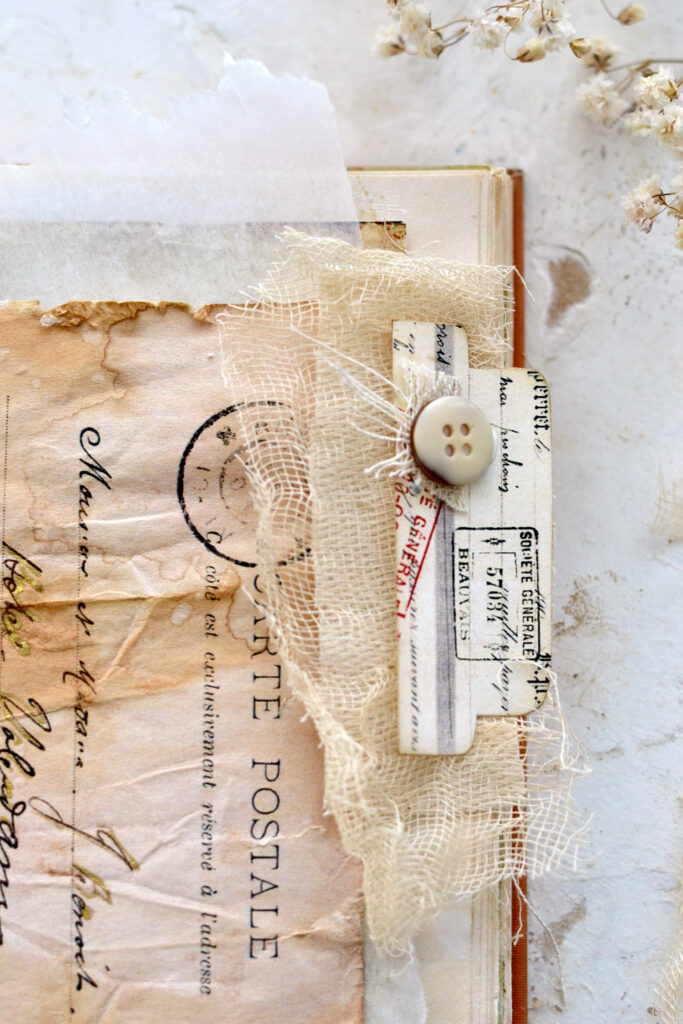 There are thousands of different papers available today. This can make the process of selecting the perfect paper for your book or journal a little confusing. Remember that you want your journal to be beautiful as well as functional. Let's review the important components of paper you should know. Here are a few things to consider when choosing a paper:
Weight In the US, there are several standard weights of paper: bond, book, text, cover, index, and tag.

Bond Weight Paper is the lightest and is what most people call printer, copier, or writing paper. The weight ranges from 20 lb to 36 lb. The heavier weight bond papers are better for double sided projects, resumes, flyers, etc.
Book Weight Paper is what is used in most books and catalogs and is heavier than bond. The weight ranges from 30 lb to 155 lb. Think of them as paper in books.
Text Weight Paper is generally a little heaver than bond and little better that book. The weight ranges from 50 lb to 100 lb. Think of this as stationery or letterhead paper.
Cover Weight Paper is thick and heavy. It is commonly called card stock. The weight ranges from 60 lb to 120 lb. It is mostly used for cards, business cards, etc.
Index Weight Paper is thick (think index cards). The weight ranges from 90 lb to 140 lb. Think of this paper as a minimal folder or tab dividers.
Tag Weight Paper is really heavy and stiff. The weight ranges from 100 lb to 200 lb. Think of this paper as clothing hang tags and junk mail post card flyers.
Watercolor Weight Paper is a little different from the above papers. The standard weights are 190 gsm (90 lb.), 300 gsm (140 lb.), 356 gsm (260 lb.), and 638 gsm (300 lb).

Texture is the feel or the hand of the paper. There are four textures of bond, book, and text papers – smooth, embossed, coated, and uncoated. For art papers, texture is generally the most important factor. Let's look at some of the most popular paper textures:

Smooth Paper is sleek and crisp. It can be difficult to write on with pen or pencil.
Vellum Paper has a smooth surface. Ink does not bleed on this texture.
Laid Paper has raised parallel lines across the sheet. They range from subtle fine lines to more pronounced. This paper is best for charcoal, pastel, and soft pencil work. Some brands are Canson Ingres, Hahnemühle Ingres, and Strathmore 500 Series Charcoal Paper.
Textured Paper has an uneven and irregular surface. The tooth (how the medium clings to the paper) and the hardness vary from manufacturer to manufacturer. The heaviness allows you to use harder pressure of strokes with harder mediums like pencil or pastel and charcoal. Strathmore Pure Tints and Canson Mi-Teintes are some of the faves.
Wove Paper has a very smooth feel. There is almost no texture, although the heavier ones may have come roughness. It is great for ink and graphite drawing. Arches Text Wove (Velin d'Arches) is a fave.
Rough Paper is just that; very bumpy. When shading with pencils, pastels, charcoal, or chalk the irregular pattern will be visible. This texture is a favorite of watercolor artists. NOTE: Watercolor paper differs by the manufacturer. Please experiment to find what works for your style. WC paper has a smoother side and a rougher side. Some brands are whiter than others. Strathmore, Fabriano, and Arches are popular brands. Watercolor Papers come in two varieties:

Hot-pressed Watercolor Paper has a smooth surface and very little tooth. Paint dries quickly on this paper. It is also good for drawing and for pen and ink background washes.

Cold-pressed Watercolor Paper has a slightly textured surface. Watercolor artists use this one the most. It is good for washes as well as fine detail work.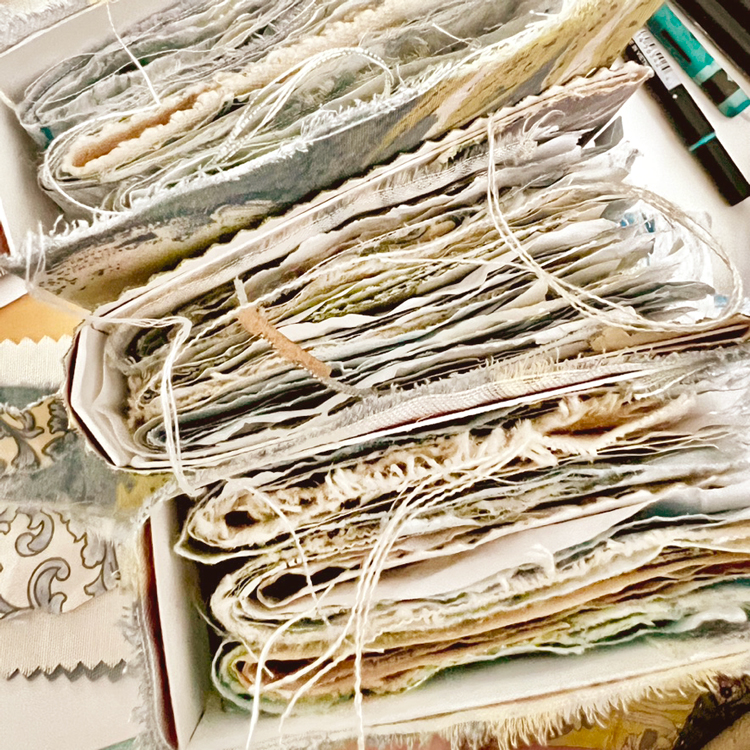 Recycled Papers have a flecked or mottled surface that gives them a natural or organic look and feel. It is eco-friendly. These come in several textures like leather, cork, etc.

Grain is the most difficult thing to understand and explain about paper. Grain happens in the manufacturing process when the fibers align. Grain is important to book making because all paper has one direction that tears and folds more easily. It is more a challenging task when tried against the grain, plus the paper will potentially crack along the fold. Thus your journal might fall apart! NOTE: If you must fold against the grain, always score your paper!! To find the grain of the paper, place a sheet between your hands and gently press the paper towards the middle. Turn the sheet sideways and repeat. The direction that bends more easily is the grain direction.
Finish is another important part of a sheet of paper. The finish can affect how your medium works on the paper. If your medium absorbs into the paper or lays on top, it can make a huge difference to the final look.

Uncoated Papers have no additives applied to them. They are more absorbent than coated paper.
Coated Papers have a thin layer of material applied to them. It can be gloss, matte, or metallic. The coating will affect the absorbency.

Color of a paper is a big deal to a project. Papers come in every color imaginable. Plus, you can color paper yourself with paint, watercolor, tea, coffee, dyes, etc.
Of course, the type of art you will be creating inside this book will determine what type of paper you will create your signatures with. Signatures are the foundational component of a journal. A signature is simply a set of about four to seven pieces of paper that are folded and stitched into the spine of the book to create the structure. As with most art, you will find the papers that work best for you and your style.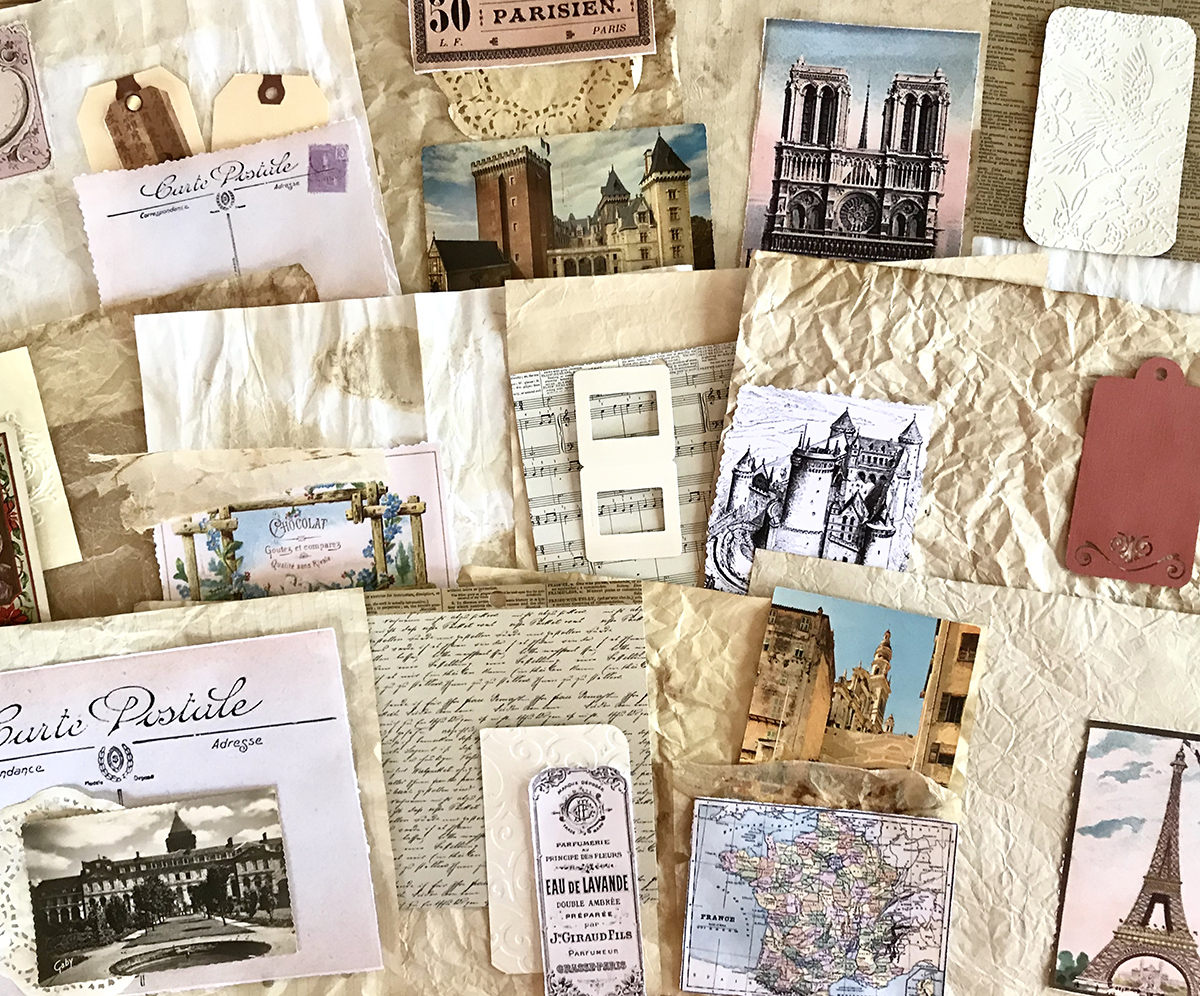 Types of Art Journals
Let's look at the different types of art journals you might be making:
Watercolor Journal. This journal will probably contain the most expensive paper of your journals. If you will be doing watercolors inside your journal, you will want the type of watercolor paper you prefer. There are many weights and finishes to consider. If you have been creating watercolor art for a while, you will have a preference.
Mixed Media Journal. If you will be creating mixed media artworks inside your journal, you will want the type of paper that will hold up to wet media and wet glues. There are many weights and finishes to consider. You can go with watercolor paper discussed above or a special paper manufactured for mixed media. See my Ultimate Guide to What is the Best Mixed Media Paper.
Drawing or Sketching Journal. If you will be doing sketches or drawings in your journal, you will want the type of paper made for the medium you use. Some of these are: Pencil or Graphite Sketches, Charcoal Drawing, or Colored Pencil Drawing. There are many weights and finishes to consider. If you have been drawing for a while, you will have a preference.
The Best Paper for Junk Journals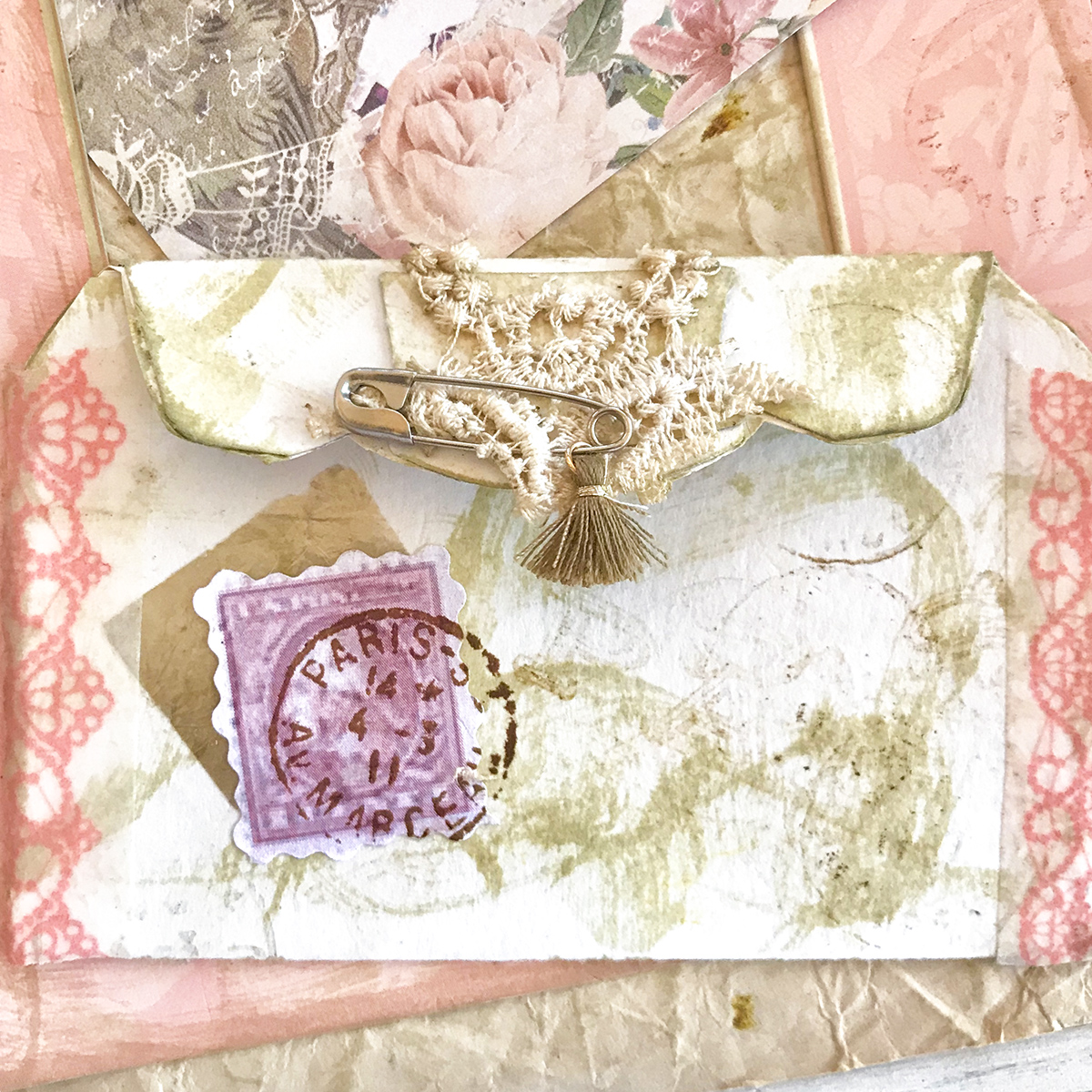 A Junk Journal is a great gift to artists and enthusiasts. By utilizing so many types paper materials that may not be practical with other artistic endeavors, junk journaling opened up a new and exciting art form to many creative people. Even items that you may have considered 'throwaways' are often used. Tokens, charms, feathers, polished stones, and buttons are just a few embellishment options. This art form is considered sustainable or eco-friendly because 'junk' is reused for a valuable purpose. For beginners, there are junk journal kits that can be helpful to get started.
Printer/Copier Paper/Text Weight Paper. Some crafters prefer only using paper that is over 20#. This is the common size for printer/copier paper. Theses papers hold up well for popular uses like tea or coffee dyeing, and can be wetted followed by baking or air drying for additional strength for folding and embossing. Folding papers is done to create pockets for hiding special trinkets. This is considered to be a good choice for beginners since it is inexpensive and will provide the opportunity to experiment with your ideas as you learn. Please see the Best Paper for Art Journals above for more papers to use!
Cardstock. Cardstock is a popular option for making covers for journals because of its thickness and durability. A thick, heavier weight type of scrapbook paper, it is one of numerous superb choices for making signatures in your journal. This paper is also excellent for making things like pockets and art cards.
Cardboard/Chipboard. Also strong and durable, these options work great for covers as well. They can be covered with paint, fabric, or paper to enhance the appearance. Old book covers and even cereal boxes are other popular options for covering your journal.
Scrapbook Paper. Scrapbook is another fine choice to add to the mix for making your signatures or other ideas. It is especially useful as an outer page for signatures as it is a bit heavier than some of the other options and is available in unlimited varieties of lovely patterns. Lightweight paper can easily be adhered to the backside for an added interesting element.
Kraft Paper. Also commonly used with a variety of other papers in signatures; or, like everything else in a junk journal, whatever 'suits your fancy.' Kraft paper is a strong brown colored paper that has elasticity and tear resistant properties.
Tea and Coffee Dyed Paper. A popular technique to produce a vintage look to paper is to brush tea or coffee onto it, leaving a stained effect. Two types of paper that are ideal for this are watercolor and the heavier weight mixed media papers, which can actually be 'dunked' into the liquids if you prefer. If writing with ink or printing, this should always be done prior to staining.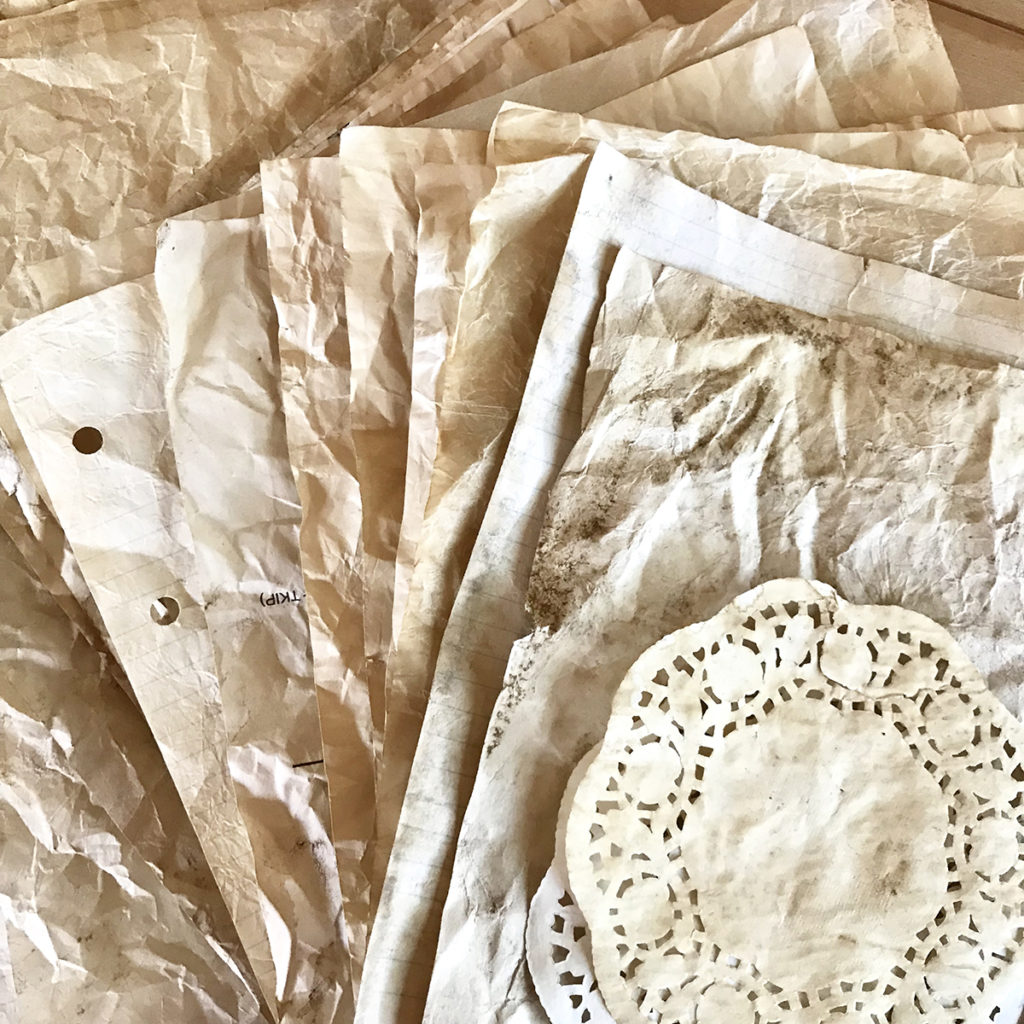 Vellum Paper. Vellum is a softer, translucent paper that is also known as tracing paper. It can simply add another paper element to the mix to enhance your journaling projects, and when printed, it becomes quite beautiful with images and script writing.
Ledger Paper. Another fun choice to add color and design to your journals.
Parchment Baking Paper. Since it can be bought on a roll then cut to size, this is an economical option that can also be dyed. It works well for your pockets, envelopes, tucks, and dividers.
Newspaper or Newsprint. Add interesting articles or stain with tea or coffee for that vintage effect. Plain newsprint is perfect for stamping patterns onto as well.
Magazine Papers. Magazine pages are great for cutting out individual letters or pictures. You can cut out a whole page that interests you as well.
Tissue Paper. Try using tissue paper for a light, subtle effect if you wish.
Handmade Paper. You can make you own paper as well to add a textured nuance to your books.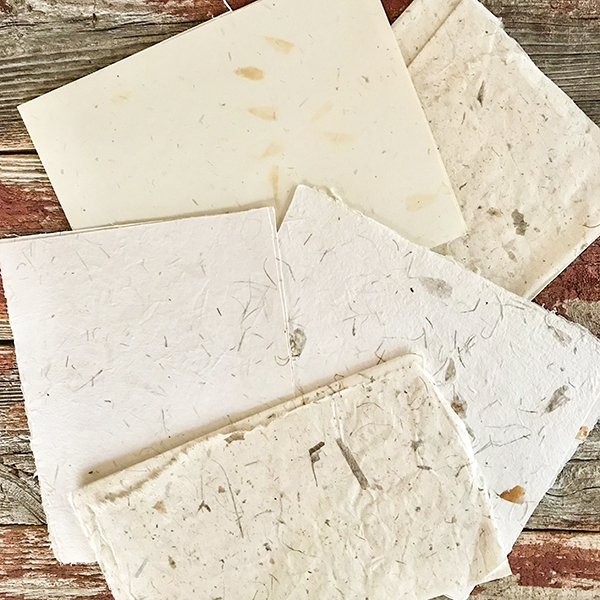 Paper Ephemera
Ephemeral means a lot to us here on The Graphics Fairy! It is worth noting that digital ephemera is what we do at The Graphics Fairy. Plus, our Premium Site has printable papers, envelopes, tags, and loads of themed bundles of ephemera for junk journals, art journals, and books. Below you see several pieces of ephemera that have been artfully made to look antique. You might enjoy this How to Make Paper Look Old tutorial.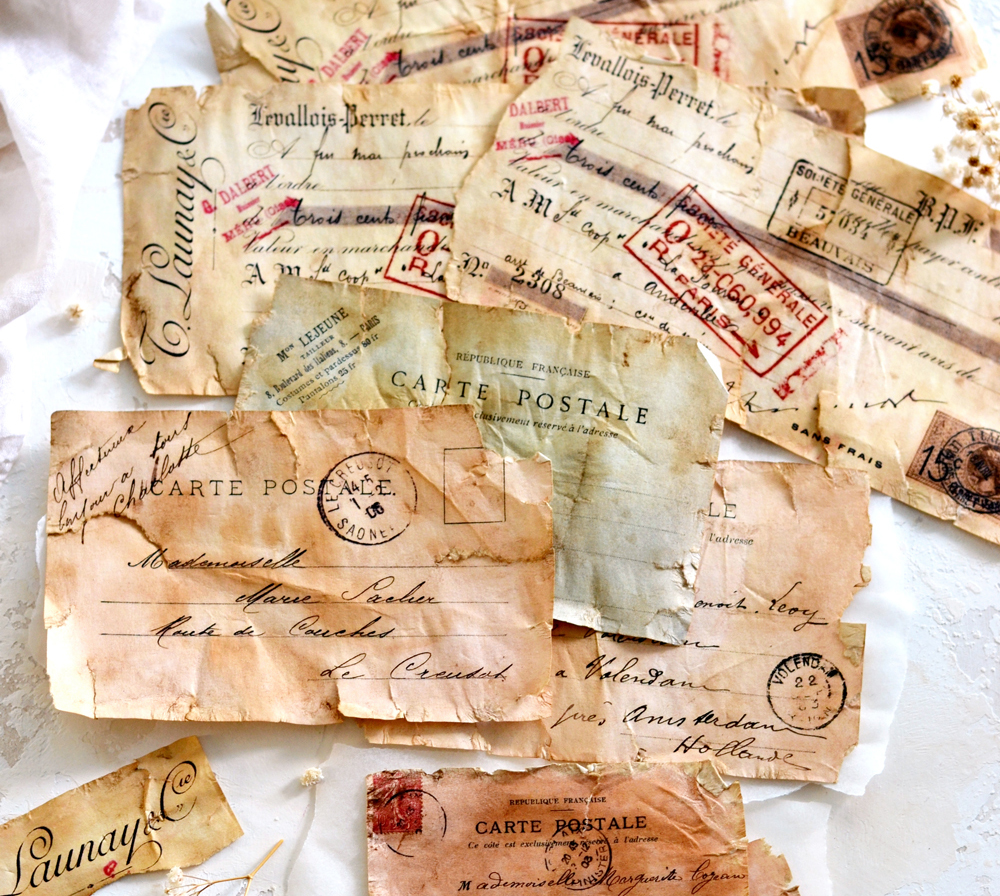 There are certain elements that are common with all of these journals, such as found and recycled materials along with ephemera. Ephemera basically references scraps of different types of materials (including paper) that have a vintage quality to them. Ephemera can be found around the house or other places like flea markets, thrift stores, and craft stores. Specifically designed for junk journaling, ready-made ephemera can be purchased as well. You can produce a vintage look by several means such as tea and coffee dyeing, burning, tearing, and smoke staining paper, or utilizing distressed oxide with an applicator. Distressed oxide ink is available in a variety of colors that leaves a terrific aged appearance to paper.
On the paper side, items like receipts, tickets like for plane, bus, or movies, maps, paper bags, paper tags, wallpaper, wrapping paper, brochures, sheet music, old instruction manuals, patterned papers, etc., are great. Old books, ledgers, magazines, catalogues, postcards, envelopes, business cards, greeting cards, advertisements, and old photos are more examples of splendid paper related items. The choices are truly limitless! Ideas for journal themes also have no limits. For example, you may want a family history theme, historical timeframe theme (e.g., Victorian), religious theme, sports theme, or even a special vacations theme! Some people have a hobby of collecting leaflets from every museum and art gallery they visit to add to their journals. Sounds like lots of fun! As with many arts and crafts, whatever you like most is all that really matters.
A Word About Heirloom Quality
Of foremost importance if you are including family heirlooms such as photos, special documents, fabric items, or vintage ephemera, is to make sure that they are made with archival paper that is acid-free if possible. This will help to protect them from things like yellowing or becoming brittle over time when exposed to light and heat.