What is Mixed Media Paper?
Every artist uses paper. When looking for paper for mixed media, you will find hundreds of options. The hardest part is deciding which to use. Mixed media, altered, paper, and even digital artists use paper as their chosen surface. The paper you choose matters! Mixed Media? Drawing? Sketch? Tracing? Handmade? Japanese? All those different Watercolors? So many choices. It can be confusing. You just want to make art. I have been using paper in my art for years and I have a love affair with all kinds of paper. I hoard collect it. Let me demystify paper types and introduce you to the most commonly used papers for fine art projects.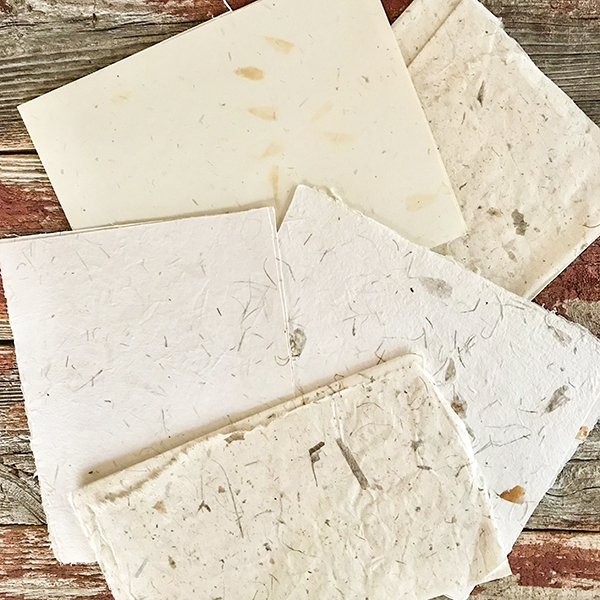 What is Paper?
Paper is a mixture of materials formed to create a flat sheet. Paper is made from interwoven fibers; the longer the fiber the stronger the paper. The weave of the paper is what gives it strength. Size is often applied during manufacturing to make paper more stable and prevent it from being too absorbent. Paper, by nature, will disintegrate when it becomes too wet.
What kind of fiber is paper for mixed media made from? Plant fibers. Interesting. All types of plants are turned into paper: cotton, bamboo, papyrus, banana, grasses, really anything that can be turned into pulp. Most paper is made from trees: softwoods like spruce, pine, fir, and hemlock and hardwoods such as eucalyptus, aspen, and birch.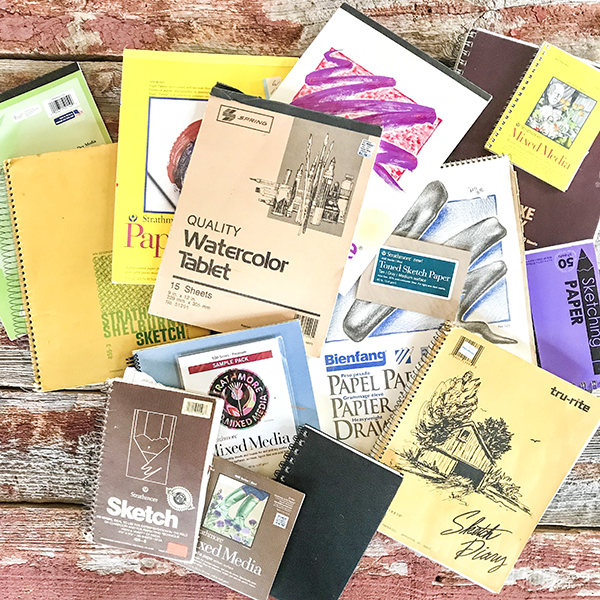 Paper Surfaces
There are essentially three basic types of art paper surfaces – Rough, Cold Pressed, and Hot Pressed. The heavier the weight of paper, the thicker and generally more 'toothy,' or textured it is. A paper's tooth or grain (surface feel) is a critically important consideration. The more tooth the paper has, the rougher it feels. Tooth is what allows your chosen medium to adhere to the paper. Most papers are defined by both their texture AND tooth. These will be stated on the packaging along with weight in pounds. (copy paper=20lb, cardstock=50-130 lb) Good papers also include wet strength or how it reacts when wet mediums are applied and suggested mediums.
If you fall in love with paper, and use it for your art, you should understand the nuances and capabilities of the papers you use. Knowing which paper will work for what you want to do will save you hours of frustration. In other words, how does it feel when you touch it and how does it react when you create art on it!
Rough Surface: This has the most texture due to the manufacturing process of having the papermaking blankets press on both sides of the paper. This creates a bumpy or pitted irregular surface. This surface is best for loose strokes and less detailed work where the inconsistencies of the paper become part of the art. Watercolorists love this paper as do mixed media artists. Dry media like pastel and charcoal work well also.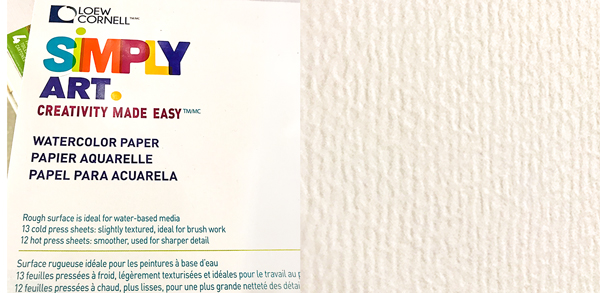 Cold Pressed: The paper is pressed a second time without the blanket, flattening the surface. It has a fine grain that can be visible with some mediums. This surface is good for most mediums.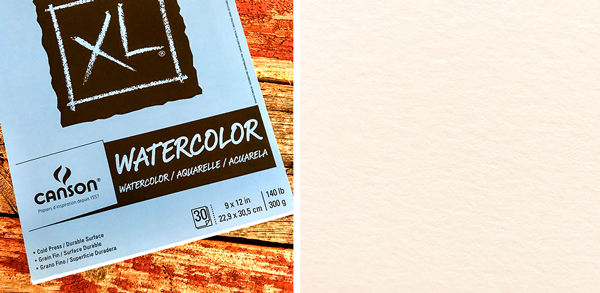 Hot Pressed: The paper is also pressed on a hot cylinder, which bonds the fibers closer together and creates a smoother surface. It allows for very fine detail with pencils. It often comes in pads. Hot Pressed Paper also creates beautiful washes with watercolor.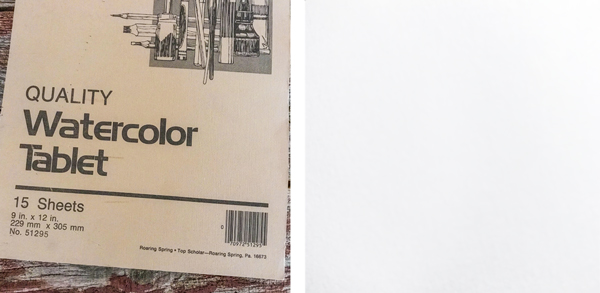 It is important to note that the variations of each surface are produced by the manufacturer to maximize the available options for its use. So try several brands to find your favorite.
What is Mixed Media Paper
Now we can elaborate on the paper of the common art forms that apply to each surface. These are Mixed Media, Watercolor, Drawing, Sketch, and Tracing paper.
Mixed Media: Mixed Media paper is a rough surface type, and its a heavier weight paper that has 'tooth' to allow for wet media applications such as gouache (opaque or 'non- translucent' paint that has a binder), acrylic paint, markers, and ink. This media pad paper by Strathmore is also excellent for the use of dry mediums.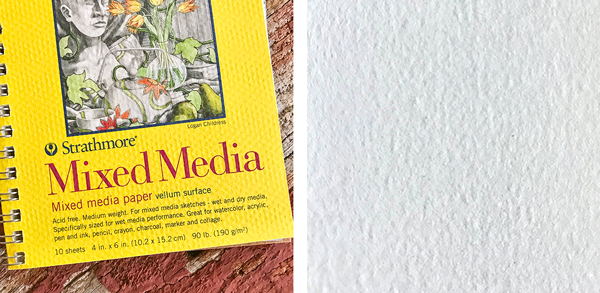 Watercolor: Traditional Watercolor paper is usually cold press paper and more textured (toothier) than most drawing papers. It won't bow or curl when wet (watery) mediums are used. Acrylics, gouache, and of course watercolors, are used with this paper. It should be noted that oil paints can be used if the paper is first covered with gesso as a primer. Generally, artists only use oils as a preparatory sketch before painting on canvas.
(See watercolor paper photos in above section)
Drawing: Drawing paper is considered a semi-heavy weight paper that is used primarily for dry mediums like graphite pencils, oil pastels, colored pencil and charcoal. This paper is also strong enough to withstand repeated erasing.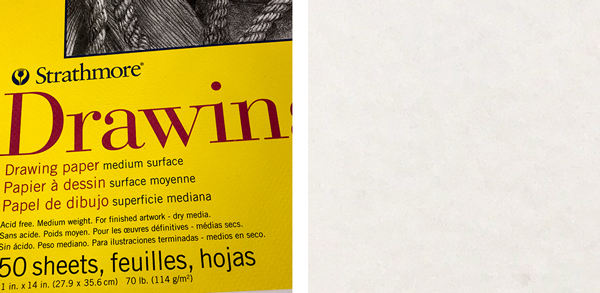 Sketch: Sketch paper is an example of a hot-pressed paper with a smooth textured finish, and is amenable to use of pens, pencils, ink, and charcoal. This sketchbook paper is superb for sketches that require fine details such as botanical drawings.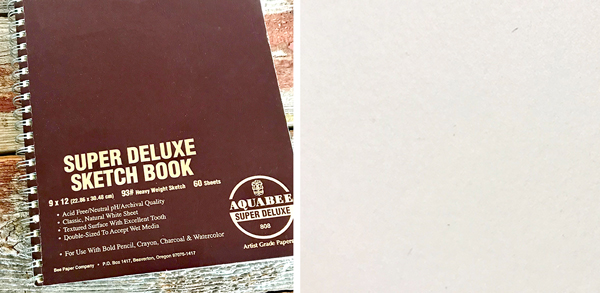 Tracing: Tracing paper is very smooth and is semi-transparent. It is designed only for pen and pencil use, and is the right choice for pattern making and outlining. Many mixed media artists use this translucent paper in their art with digital stamps and in junk journals.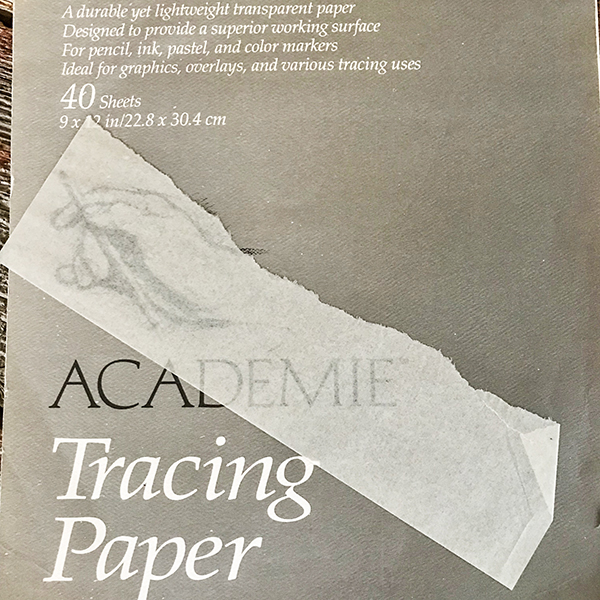 Handmade: I love to make paper for my own art. I love the control I have over the design, the weight, and the feel/texture. I also really enjoy the papermaking process.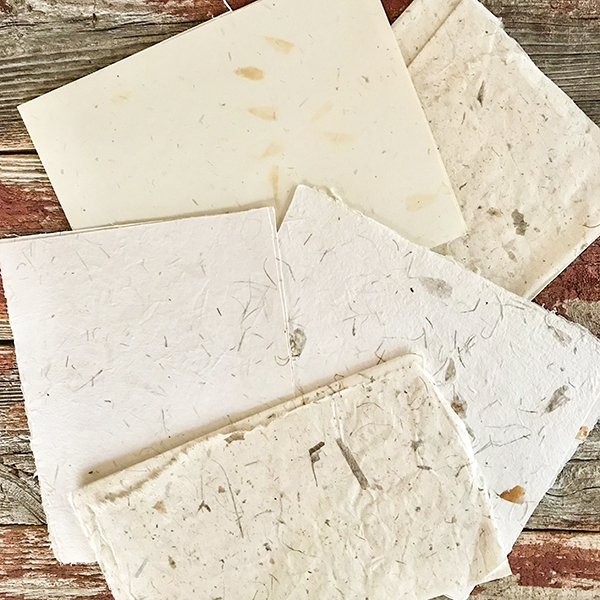 Other Papers for Mixed Media
Tissue: Acid-free tissue papers, used to wrap fiber, can be used to create texture when crumpled. Some non acid-free papers are printed with patterns, which add design elements to your art.
Japanese or Washi: Japanese papers have long fibers and are quite strong, even though they are very lightweight. The colors and designs are beautiful to incorporate into your art.
I think it is worth mentioning that the Japanese are revered for their long history of making exceptionally beautiful paper by hand. They are considered fine artisans and pass the skill down from generation to generation. They are very proud of their paper-making heritage and the techniques developed by their ancestors.
Archival Issues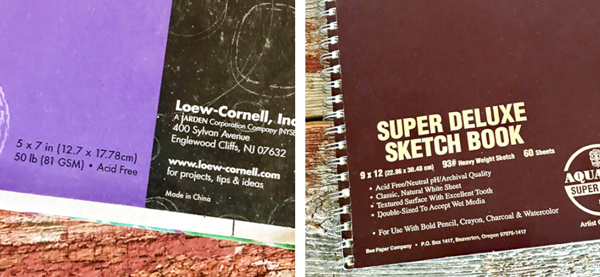 Choose acid free or pH neutral paper if you are looking for longevity. Lignin (a wood based impurity) decays over time. It will produce acid, making paper deteriorate. If you want your artwork to survive for centuries, it is critical to know if your materials are acid-free. Acid free suggests that the paper is made without rosin and alum sizing. Both make the paper acidic. The best archival grade paper is made from 100% cotton. This paper is strong, acid free, and lasts the longest. Recycled papers are great for the environment, but have limited longevity.
A Word About Chipboard
If you use chipboard in your mixed media (who doesn't), be aware that not all chipboard is acid-free. Chipboard is actually fragments of recycled paper layered and glued to create a non-corrugated cardboard. It comes in several weights.
Storing Paper
The longevity of paper depends greatly on the way it is manufactured and the type of pulp used in the process. It also depends on where you live. Paper will absorb the acidity of your studio environment. Left exposed long enough, the paper with develop foxing or rust. This effect is loved, and often mechanically produced, by today's paper artists. But true foxing means the paper is slowly disintegrating. All this said, plastic bags are the best place to store your fine papers. It seals out much of the air quality that will affect your paper. Make sure you remove all the air in the bag before sealing.
Limits of Paper for Mixed Media
Now that you know more about paper than you ever wanted to know, please understand there are limits of paper as a surface for layered artwork. Paper for Mixed Media is designed for layers of paint, ink, pastel, watercolor, etc. It is not intended to hold multiple layers of bulky, heavy items. If you want to build a highly altered and multi-layered artwork, I strongly suggest you consider using a wood or canvas substrate.
A Word About Altered Books
If you want to make a highly layered altered book using bulky items, I would advise that you create niches within the book to hold these items. You can remove a large amount of pages and build some texture. Just be aware that heavy items can tear pages as they are turned. I always tell students to think of the paper towel commercials where a heavy item is placed on a wet towel. Most will break. Most pages with heavy items attached will eventually tear during turning. Always think about the end result when designing.
I hope that you have enjoyed learning about Paper for Mixed Media as much as I have! I encourage you to experiment with several papers to find your favorite. Let me know if you find a new way to use them please!! You might also like my other deconstructing Guides to Gesso HERE or Gel Mediums HERE!
I also teach Photoshop Elements tutorials over on The Graphics Fairy Premium Membership site. You can find even more of my art, DIYs, and whimsical shenanigans on My Blog HERE.