Celebration of the Seasons Junk Journal
Hey, everyone! Julie Rohrer of August Birdsong, one of our amazing Junk Journal Design Team Members, created a fabulous Celebration of the Seasons Junk Journal for us this week. As you know, we feature one new Junk Journal project each week created by one of our creative team of artists. Our Design Team Members select from the 100's of Vintage Image Bundles on our Premium Membership Site, for their creations, in order to show you beautiful ways to use those images. We hope you will be totally inspired by this series!
Therefore, please make sure you check out the video tour at the bottom of the page…please scroll all the way down to see it. Are you ready to be inspired? I will step out of the way and let Julie introduce herself, and tell you all about her lovely project…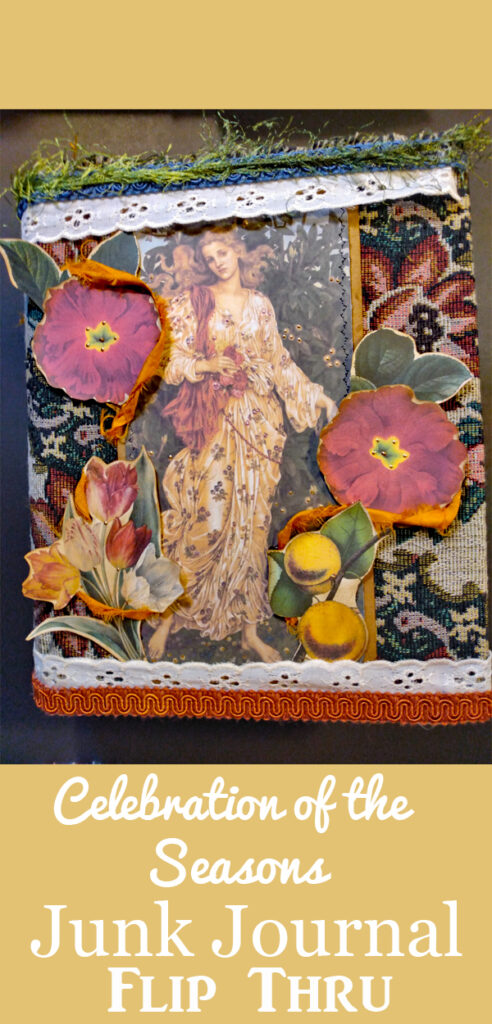 Hello Everyone! For my May Design Team Journal, I am bringing you a seasonal celebration of images. Spring has felt especially liberating this year as the world is slowly emerging from the "long winter" that was 2020, and I started to think about different ways to creatively capture the four seasons.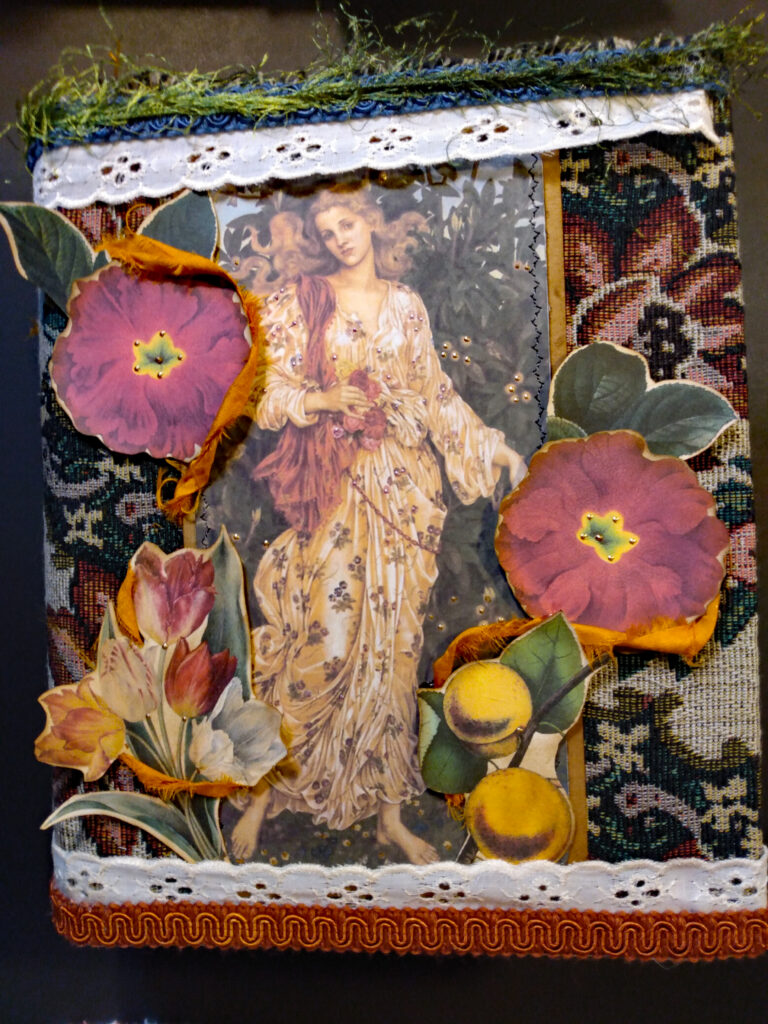 As I was scrolling through the various bundles on The Graphics Fairy's website, I came across two bundles that caught my imagination: French Fashion Ladies and Theatrical Characters.
As I looked at those French ladies in the gorgeous gowns, I thought they looked just like tulips or full blown roses if you turned them upside down. Now that would have looked really silly, but it did get me thinking how they might represent personified versions of seasons like spring and summer. So with that in mind, I noticed how the "frostily" dressed character in the Theatrical Characters bundle would make a great Jack Frost for winter.
WINTER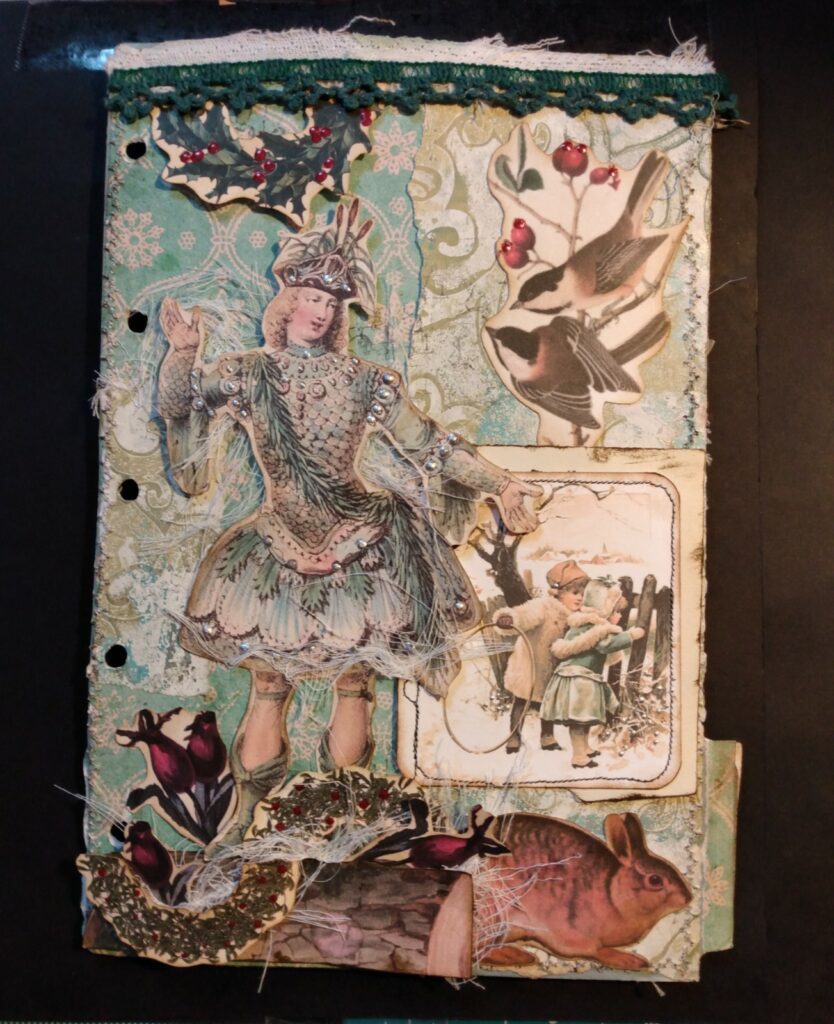 I copied and pasted the characters onto a google document where I could enlarge them to paper doll size. I did the same for various types of ephemera, like flowers, fruits, birds, animals, and greenery, to match the various seasonal colors and images. Then I added these images to collaged background pages I made using paper scraps from my last journal project as well as some vintage music and book pages.
SPRING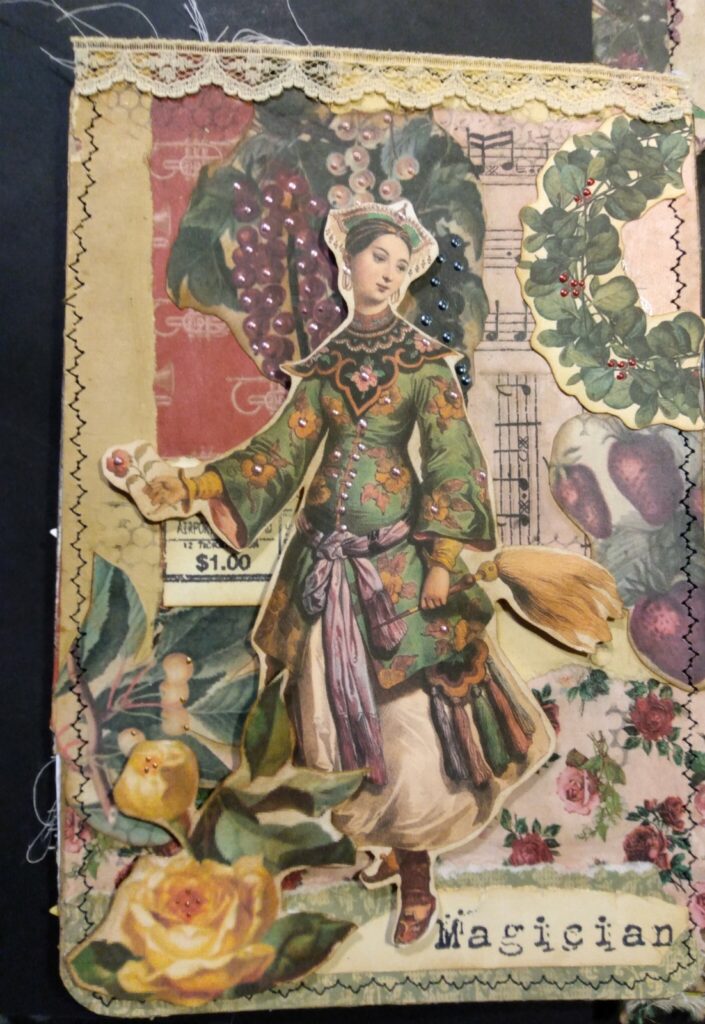 On the "Spring Magician" page, we have a character whose outfit reminded me of a Botticelli painting like "Spring-Primavera". I added the word magician because spring can feel like a magical time as so much beauty in nature emerges from the deadness of winter.
SUMMER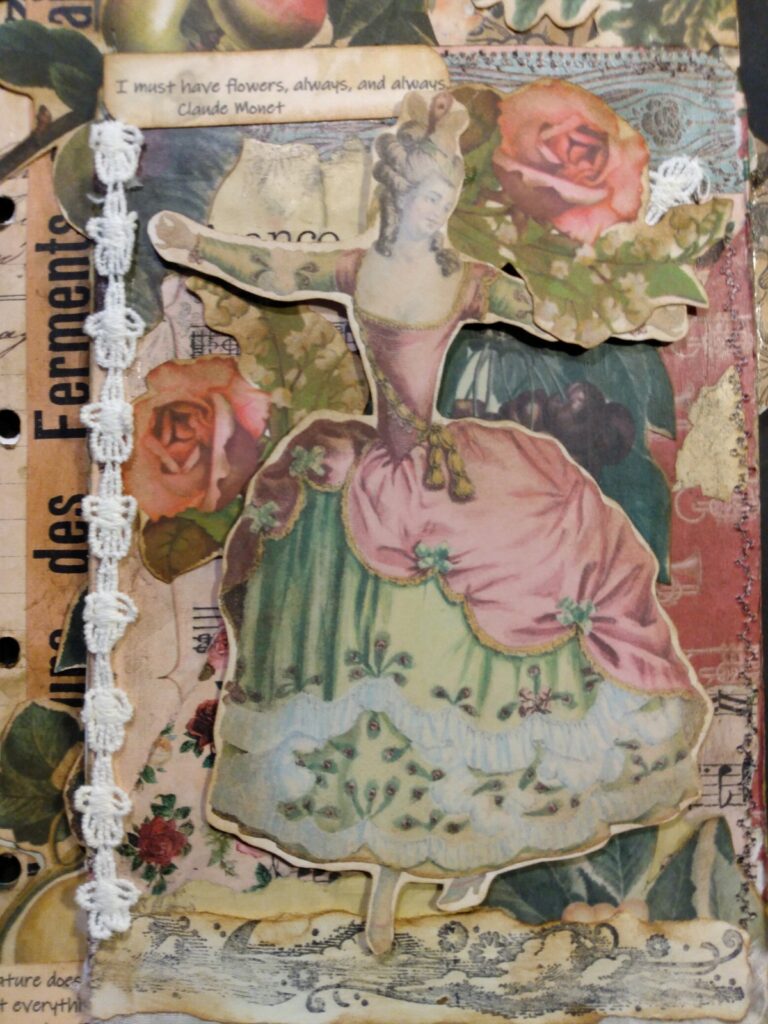 I am a visual journaler and like to build my pages on the cardstock dividers in vintage Better Homes & Gardens three-ring binders. They are sturdy like a canvas for a book, allowing me to create very dimensional collages using adhesive foam squares. I like to have the flowers and leaves surrounding and sometimes overlapping my focal points and other ephemera on the page as you can see in this picture of "Early Summer." This helps to create more depth and a sense of looking in on a scene as you can see in the next picture of "The Red Bird".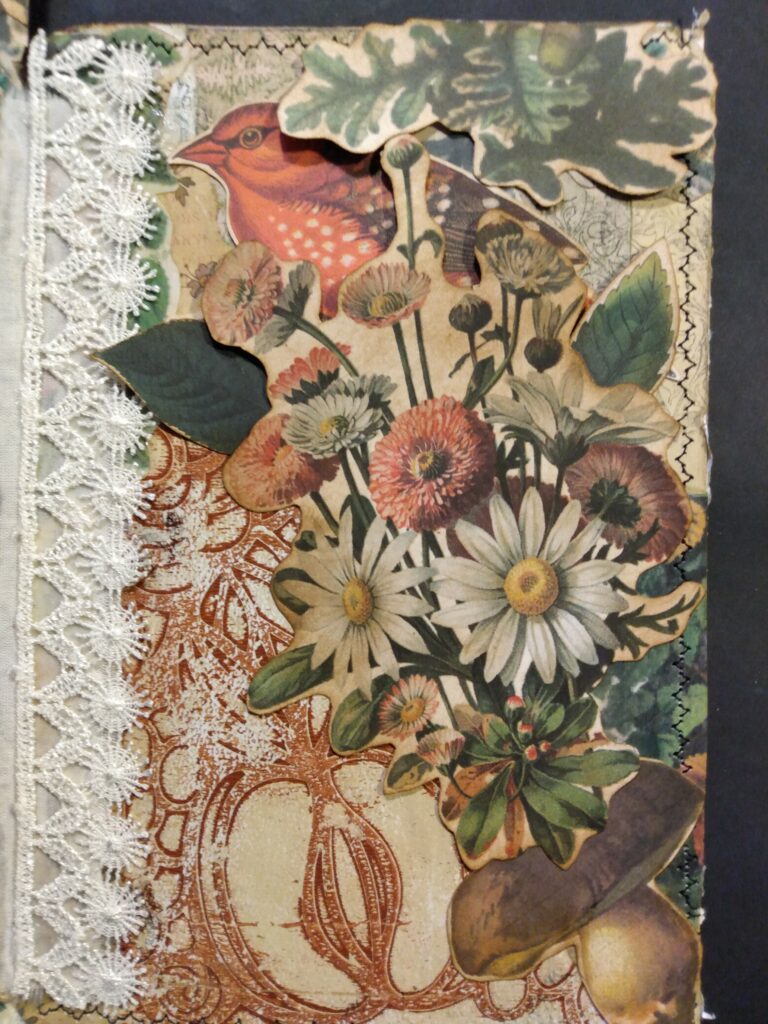 Working on these sturdier bases allows me to attach additional flip-pages to the base pages. You can see where I created a hinge on the right side of the next picture of "Late Summer", using some muslin covered with the green ribbon and the floral ribbon. The muslin hinges are one inch wide and about half an inch of muslin gets glued on both pages, creating the hinge to "The Red Bird" page.
FALL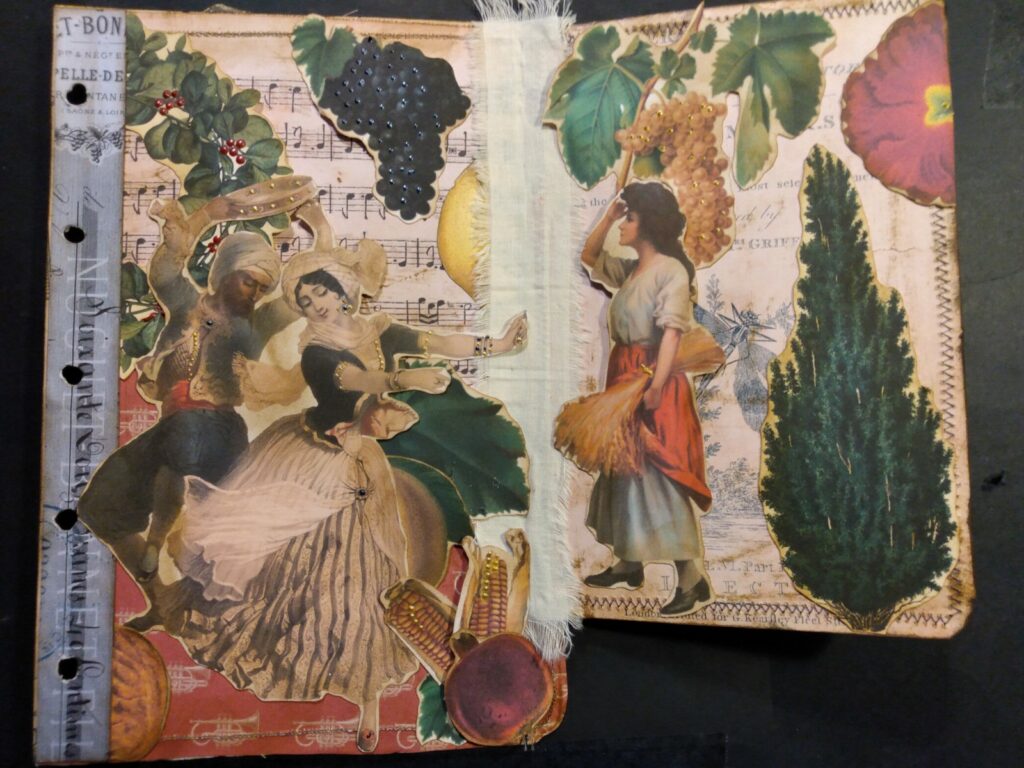 The Vintage Gypsy bundle offered some great characters to represent fall and the harvest season. I found that A Taste of Tuscany bundle had a lot of good fall ephemera in it, like grapes, figs, and sunflowers. You can see how both of these bundles worked well together in the next page called "Fall Festival".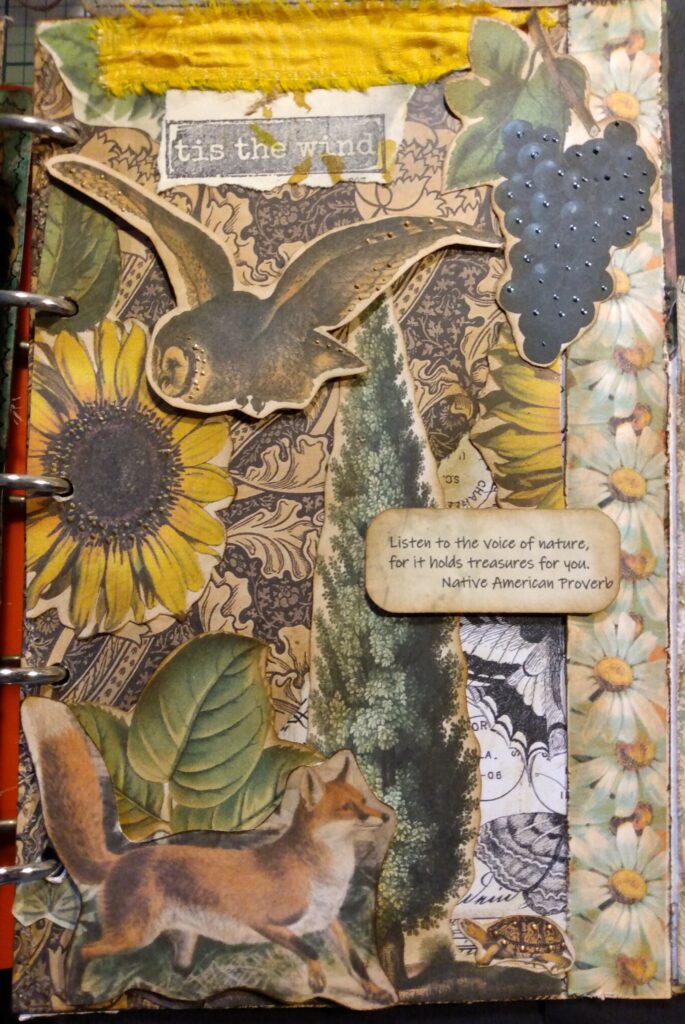 In the next picture, "Fall Fox", I used a lot of brown in the background and the dark yellow of the sunflowers to capture the look of late autumn colors.
WINTER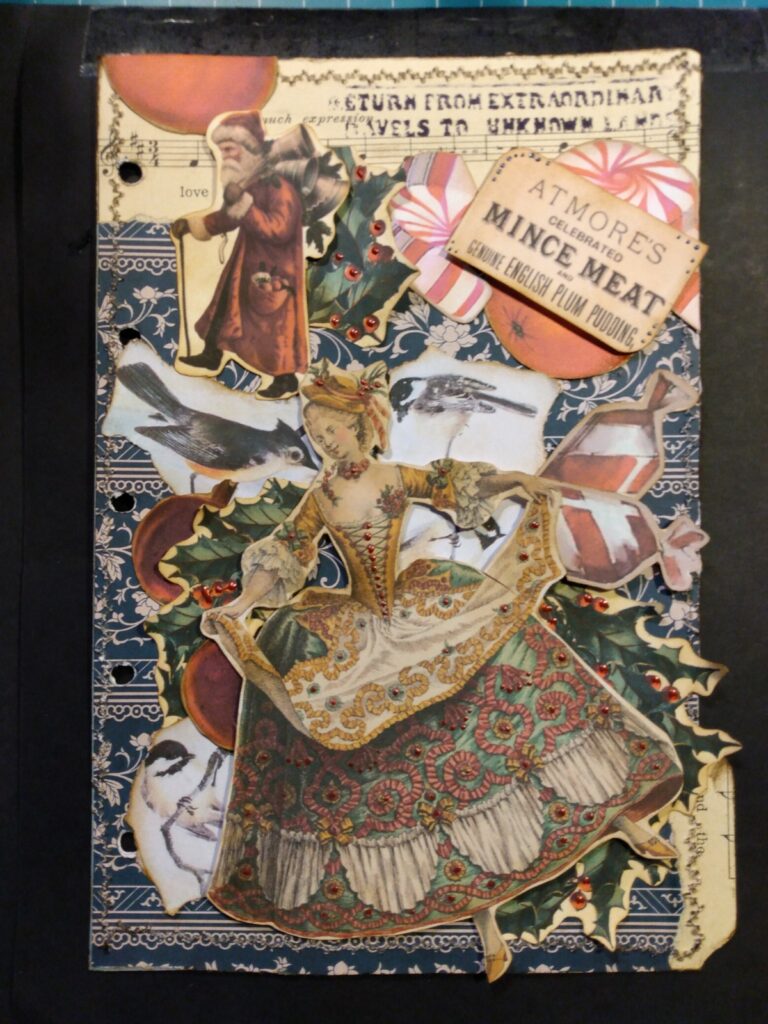 For the end of the journal, I used Christmas colors to express the celebratory nature of the season as the world settles down for a long winter again. I chose this French lady on the "Christmas Cheer" page because her gown has all the green, red, and gold of the Christmas season in it, but I placed her against a blue background with winter birds surrounding her to illustrate that the cold months have arrived.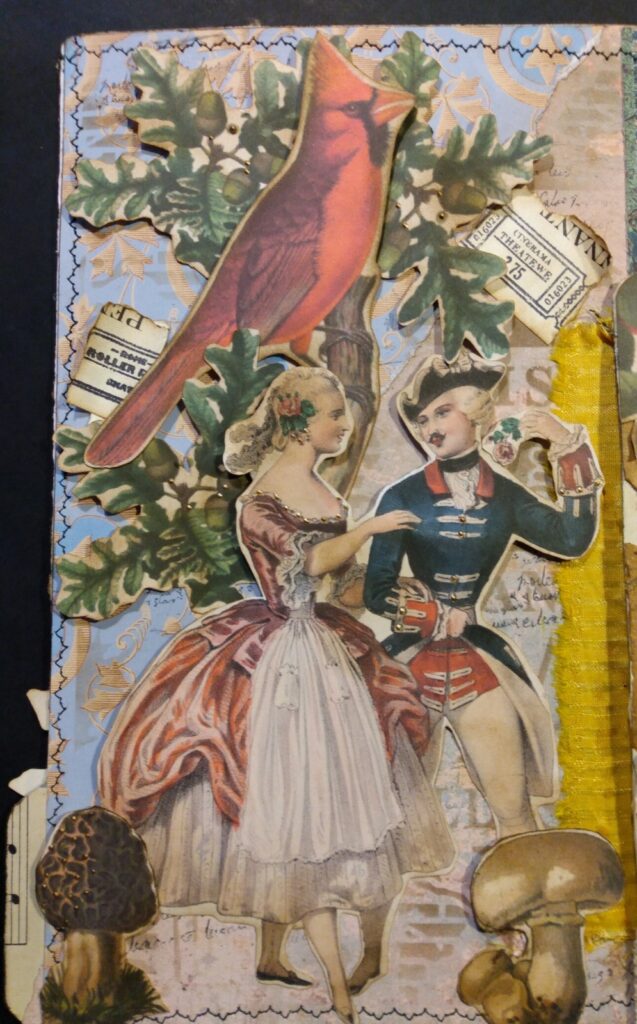 My last page, "Christmas Courting", shows a couple smitten with each other as they leave the holiday party. Soon the New Year of seasonal beauty will begin again.
 CELEBRATION OF THE SEASONS JUNK JOURNAL SHOW & TELL VIDEO TOUR
Let's take a tour of it together:
Bundles Used in this project:
Antique India Patterns
A Taste of Tuscany
Autumn Harvest
Berries & Cherries
Birds & Nests
Blissful Blossoms
Blue & White Chinoiserie
Country Lane Ephemera
European Renaissance
Fall Botanicals
Farmers Market
French Fashion Ladies
Holiday Fruits & Flowers
Owls & Mushrooms
Red & Green Ephemera
Romantic Roses
Royalty
Spring Bulbs
Theatrical Characters
The Secret Garden
Vintage Gypsy Style
Woodland Walk
This journal brought back good childhood memories of playing with paper dolls in imaginary worlds I created. I hope you gained some new ideas for crafting with the various characters and ephemera found at The Graphics Fairy. Remember that any page in this journal could make a lovely card or journal cover if you don't have a lot of time.
Happy Crafting!
Julie
Check out the Graphics Fairy Premium Membership Site HERE!
Hello! Are you new to The Graphics Fairy?
Welcome, I'm so glad you're here! Browse around to find 
thousands of Stock Images
 that you can use in your projects or designs! I post new Vintage images every day, as well as projects and DIY's too! Need more info about my site? Try my 
FAQ
 page.