5 Antique Coats of Arms Images and Crests
I love to look at Antique Coats of Arms Images and Crests and try to figure out the meaning of each symbol. Some are very elaborate and highly detailed like our first image below. Some are more whimsical and less detailed. This collection of Antique Coats of Arms with Crests has a little bit of both for you today. Some are just for fun and some a bit more serious. Contrary to popular opinion, there are no family coat of arms. There are, however, family crests. The crest is the portion above the helmet on a coat of arms. Wouldn't it be fun to design your own coat of arms and/or family crest? I know we are crafty enough to do that. This would be a fun DIY project for everyone. Mine, of course, would have fairy wings above the helmet for sure. TEE HEE.
These images were all scanned from a rare Circa 1876 Ornamental Design book in my collection.
Coats of Arms and Crests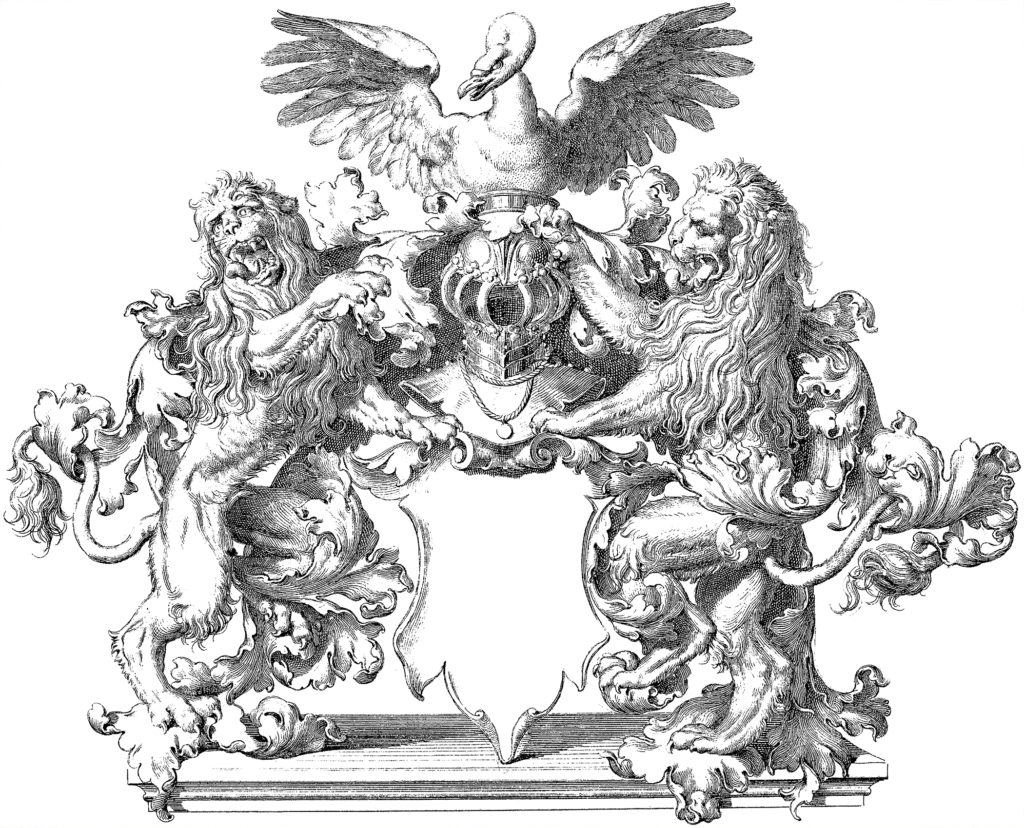 Our first image above is a beautiful example of an almost full heraldic image consisting of shield, supporters, crest, and helmet on a wooden stand. The only thing that is missing is the motto, which usually wraps the bottom elements of the coat of arms. This Antique Coats of Arms with a Crest is a highly detailed, beautifully illustrated image featuring two magnificent lions on either side (they are the supporters) wrapped with scrolling acanthus leaves. They are roaring fiercely with mouths wide open. Their long curly manes and tails are just gorgeous with curling tufts of hair on the ends. The shield stands between the lions and has a pointed, leaf like bottom and a scroll top. Above the shield is the elaborate helmet showing vertical openings for seeing, a neck covering with a necklace and pendant, and intricate and pretty fancy patterning. Above that could be a thin crown encircling a large white bird with a wide wing span and a curling neck with a menacing scowl and an open mouth. I believe this was a family of fighters who most probably won their battles.
Less Detailed Coats of Arms

Our second image is more plain with what appears to me to have a bit of whimsy. There are no supporters and the shield is fairly plain and straightforward. The same can be said about the helmet. The neck part, showing the rivets along the side, is fairly high. The top is flat coming to a point over the tiny eye opening. I imagine it would be difficult to see out of this one. It would even be more difficult to breathe. Crests are considered to be essential to the coat of arms and are never separated from it. So this long billowing scarf-like crest with rounded edges is what makes this image whimsical to me.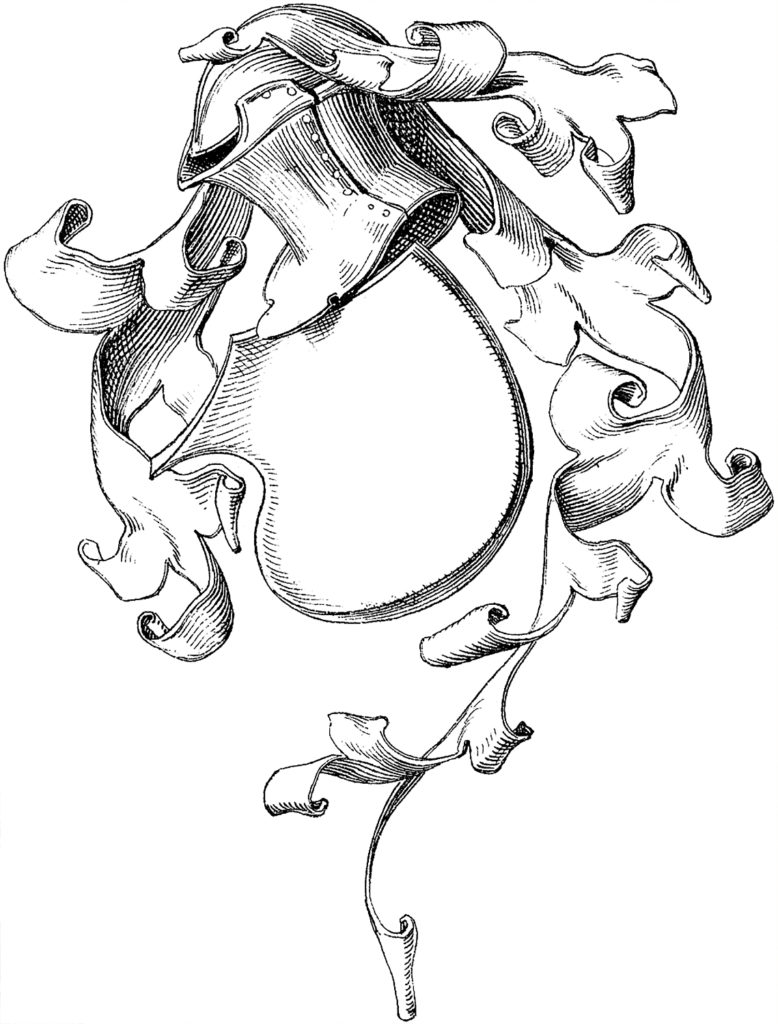 As far as Antique Coats of Arms go, this one is fairly simple. Again, there are no supporters, but the shield is rounded and concave giving it some design interest. This knight's helmet served its purpose in protecting the head of its wearer. Like the one above, this helmet covered the whole face. A small air hole eye slit offered a limited field of vision. But I imagine it was safer than if it were open. The crest is very interesting on this coat of arms. It appears to be metal that is cut and formed into curls looking like leaves. What could this mean?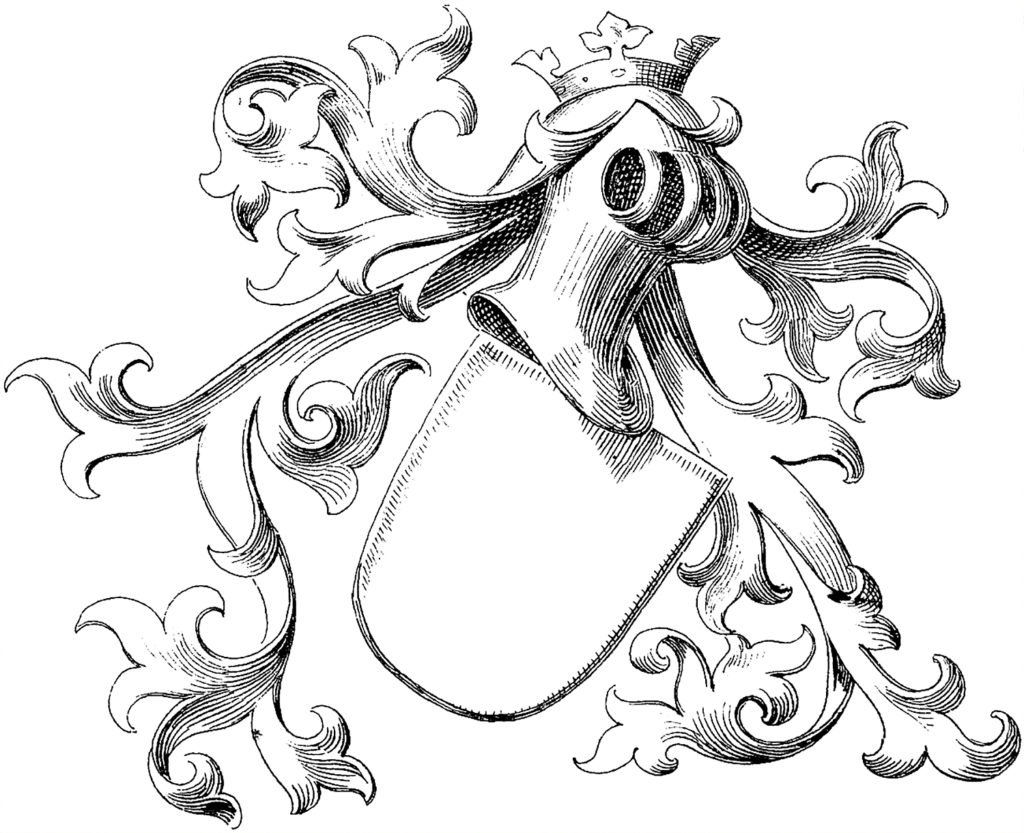 Our next coat of arms looks almost feminine to me. The crest has long flowing metal with fleur de lis decorative design or motif often used by many of the Catholic saints of France. Most notably, it has a crown, meaning the bearer was a monarch, had a sovereign state, or was endorsed by the crown. The air holes are much larger on this one and were created to assist the knight's breathing.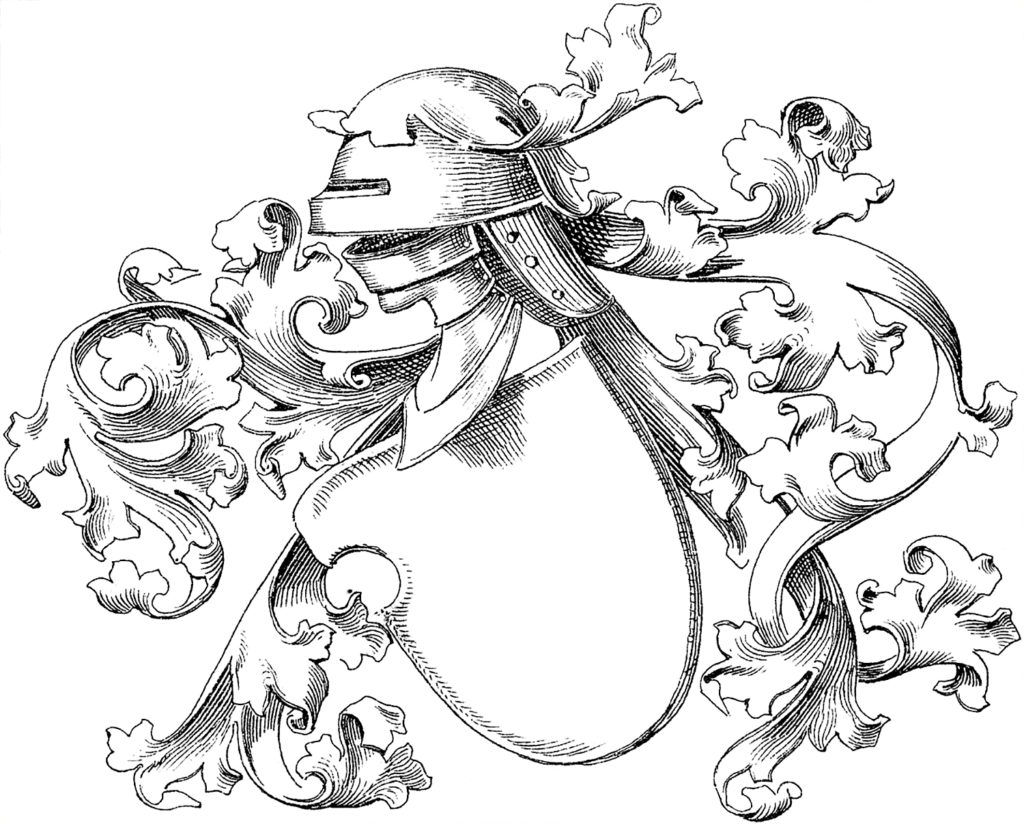 Our final Antique Coats of Arms is just beautiful. The shield has a rounded bottom and appears to be fairly thick. The helmet has several moving parts that layer and lift to protect and allow for some measure of comfort for the wearer. The curl of the crest displays lots of movement. It is made of curled acanthus leaves forming a fleur de lis pattern. I think this is my favorite.
I could see these Antique Coats of Arms Images and Crests being used as a digital stamp or in decoupage or collage projects. Of course they would work beautifully in a Medieval junk journal as well. You might also like our European Renaissance Image Kit from the Premium Site!

Hello! Are you new to The Graphics Fairy?
Welcome, I'm so glad you're here! Browse around to find
thousands of Stock Images
that you can use in your projects or designs! Need more info about my site? Try my
FAQ
page.