Today I'm sharing 25+ beautiful silhouette images. These are some of my favorites, and silhouettes are perfect for so many holiday crafts, like cards, original art, and pillows…you name it! You can also use these images with your cutting machines and make some beautiful projects too!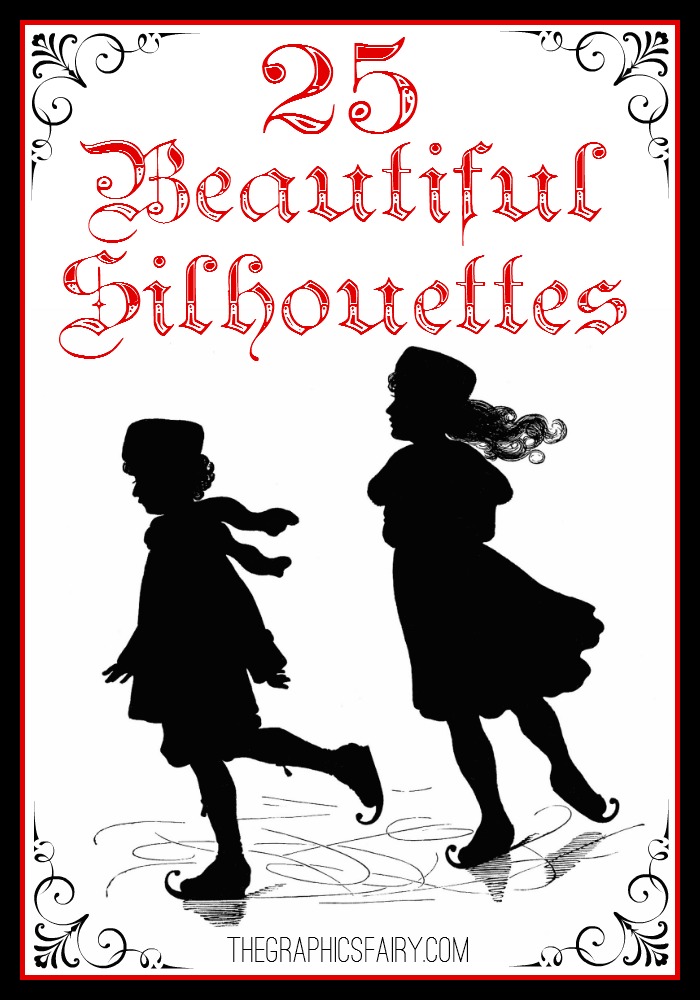 ANIMALS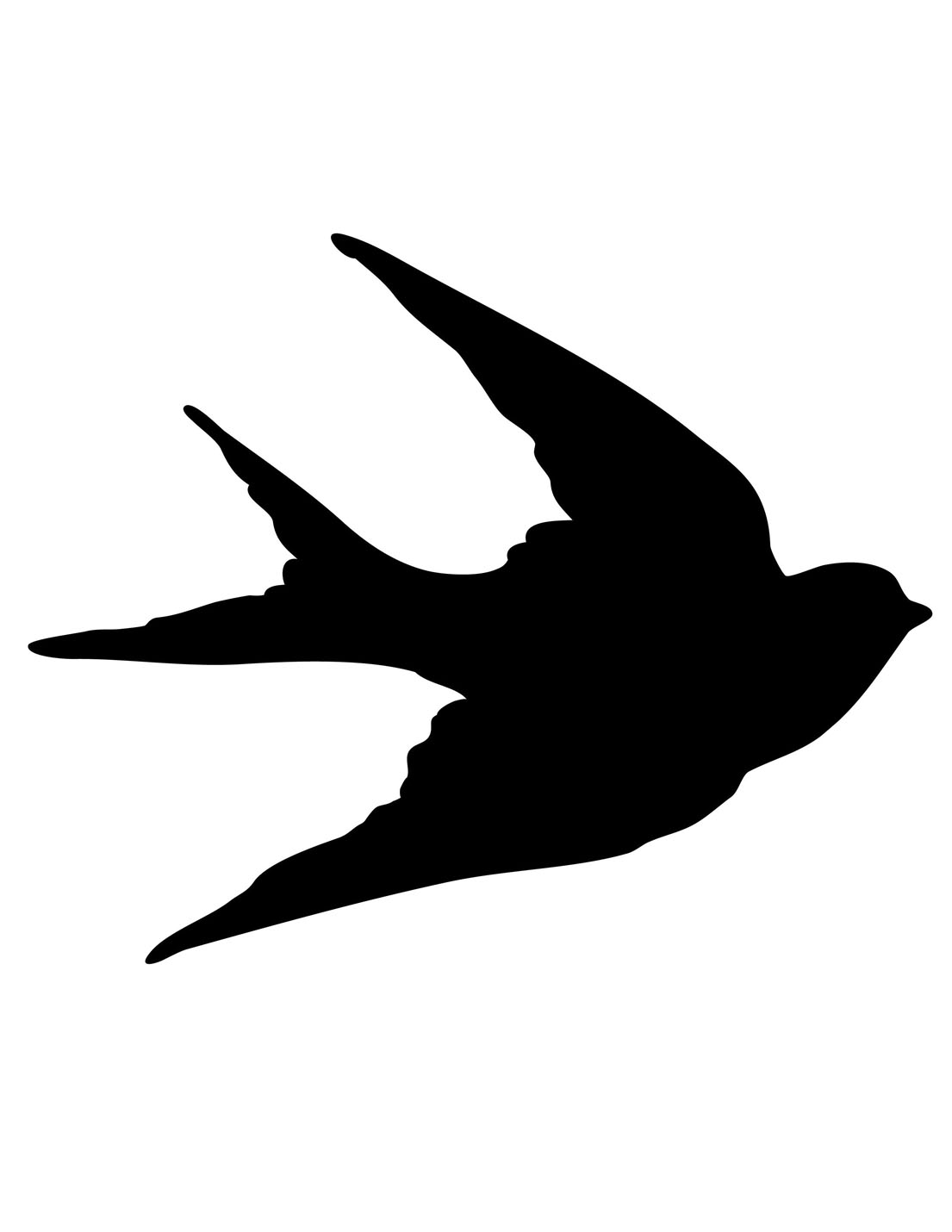 1)   Swallow Silhouette.  This pretty swallow has outstretched wings and appears to be gliding through the air! This one is great to print right onto transfer paper and iron on to make towels, pillows, tote bags, t-shirts etc. There is also a mirrored version in the post as well!
2)   Bird with Lyre.  This image dates to 1883. This one is a marvelous silhouette showing a a bird perched on some vines, with a lyre base. The post includes a black and white version and a link to a blue and white version.
3)   Running Bunny.  This nice little bunny rabbit silhouette comes from an 1870's typography book! This adorable rabbit is running and has his legs outstretched in front of him and behind him. This is an iconic bunny image that would be great for children's projects and Easter crafts.
4)   Cute Critters.  These cute silhouettes come from a 1918 children's book. The image has a cute mouse, dragonfly and a cricket (with a cane). I've also included a version of the mouse by himself, I think he would be cute for Christmas projects. He looks like he's tiptoeing around!
5)   Cow with Birds.  This is a sweet vintage silhouette image from an 1870's children's book! This one shows a lovely cow who looks like she's ready to eat some grass. There are three sparrow birds on the ground.
WINTER AND CHRISTMAS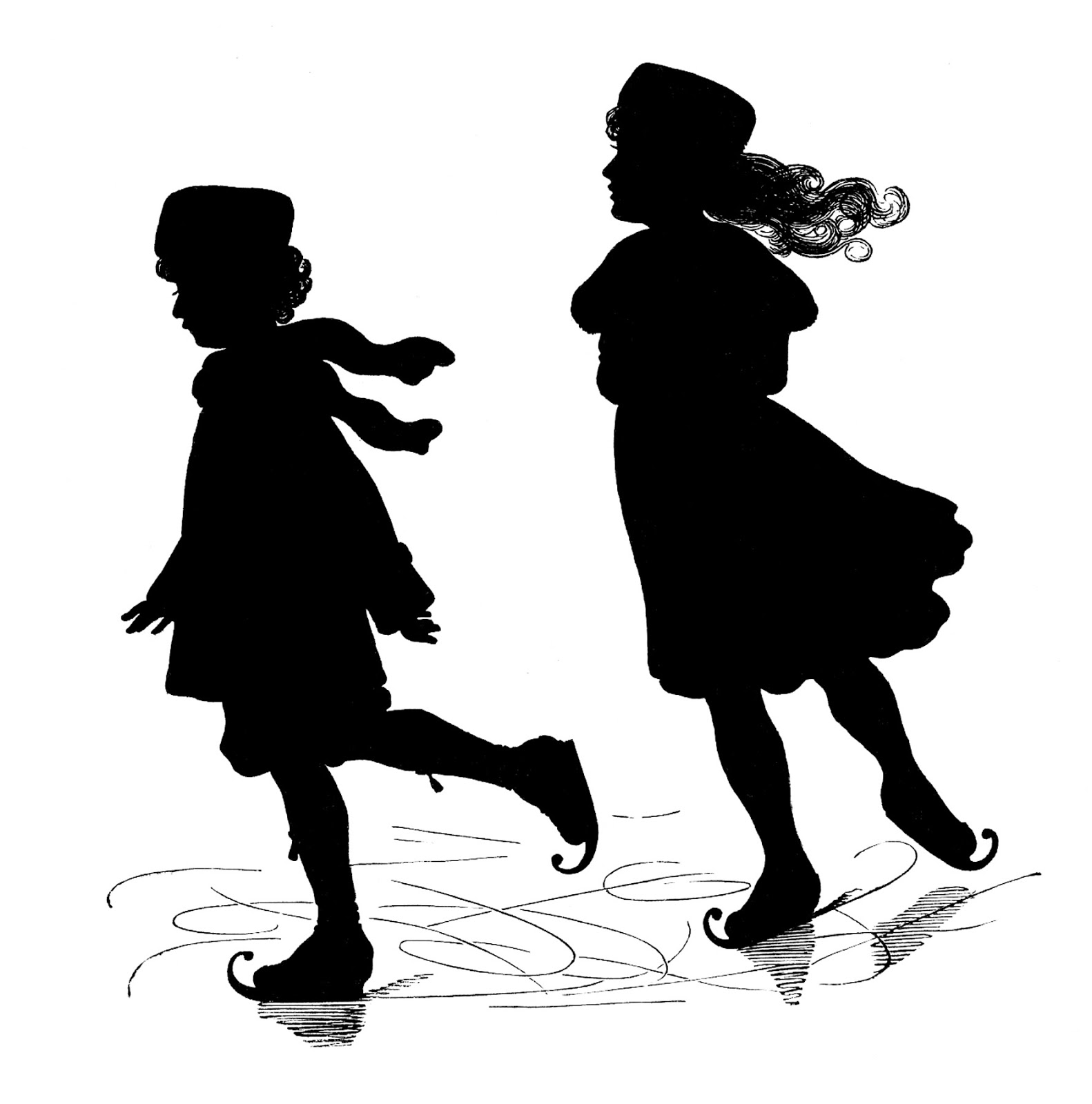 6)   Boy and Girl Ice Skating.  This silhouette shows a cute boy and girl ice skating on a pond. The little boy has a trailing scarf and the little girl has flowing hair. I love the designs their skates have made on the ice. I've included both children separately in the post in case you want to use one or the other.
7)   Santa with Reindeer Silhouette.  This is a pre 1920 Santa from a Victorian Ad. I cleaned him up a bit and tinted his outfit bright red. In the background is a silhouette of Santa's reindeer and sleigh, ready for him to jump in and get going!
8)   Christmas Tree Border.  This cute Christmas silhouette shows a row of six potted Christmas trees with five starts. This one was scanned from an old 1940's printer's book in my collection.
9)   Jack Frost Ice Skater.  This is a sweet silhouette from an 1870's poetry magazine! A young boy with a billowing scarf is ice skating. He has a stick in his hand and there are some holly branches in the background. He reminds me a lot of Jack Frost with a cane.
10)   Joy to the World Frame.  This is a lovely vintage oval frame with the words "Joy to the World" inside. This post has three versions, a red one, a green one, and a black frame. This would be great for a gift tag, label, or card!
11)   Noble Deer and Antlers.  This noble deer with his chest puffed out and large antlers looks very regal to me. He came from an 1880's magazine. I've also included just the antlers in a separate silhouette, perfect for winter crafting.
CHILDREN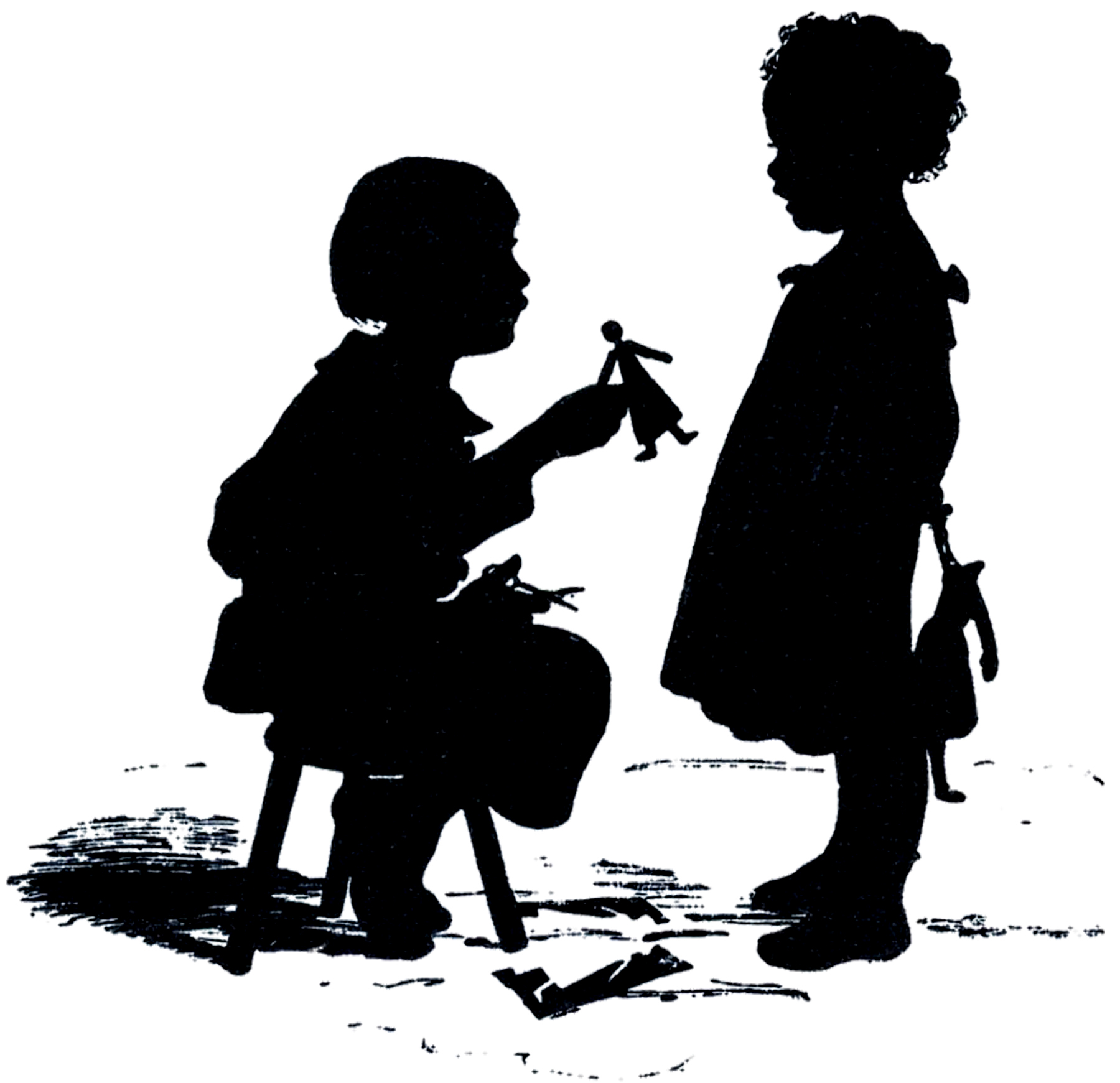 12)   Children with Paper Dolls.  This is a charming vintage paper dolls silhouette from the 1870's. The image shows two darling children, one holding a doll behind her back, and the little boy appears to be offering her another doll to play with.
13)   Young Girl with Deer.  This lovely image shows a little girl with a small deer. She has a cute hat with a bow and is wearing a button up dress. The girl is holding some type of leaves up for the fawn to eat.
14)   Mother and Daughter Dancing.  This one is of a mother and daughter holding hands, and they appear to be dancing or skipping. Such a charming graphic, I think it would work really well for projects for mom.
15)   Children Playing Dress Up.  This is another sweet antique silhouette from a circa 1872 children's book. This one had the title "Papa & Mama" and shows two children playing dress up, with their little doll. The little boy is wearing a top hat and cane, and the girl is carrying an umbrella.
16)   Dusting and Sweeping Girl.  These are two cute, early 1920's silhouettes! Both images show a girl cleaning up around the house, in the first one she is dusting and the second one shows her sweeping, with a little dog.
17)   Young Boy with Horse and Dog.  This one is a cute little boy with a small pony all saddled up. There are two devoted dogs at the boy's feet, looking up at him. Darling!
MEN AND WOMEN


18)   Men on Bicycles.  This fun image shows four men riding bicycles. They are all wearing matching caps. This one is from a 1921 children's magazine.
19)   Female Bust.  This is another one from one of my antique typography books. This is a lovely silhouette bust of a woman, surrounded by flowers and bows. The second version shows just the woman's profile isolated. Very pretty!
20)   Bride and Groom.  This sweet silhouette shows a bride and groom ready to walk down the aisle. The bride wears a long flowing veil. I thought it would be fun to use on some little matchbooks for a wedding!
21)   Men Driving.  Today I'm sharing a few vintage transportation silhouettes. Included are two silhouettes showing men driving old fashioned automobiles. The third image in the post shows a man riding a daring motorcycle.
22)   Woman in Oval Frame.  This image comes from an old hairnet package! There is an oval frame with dot details, and a pretty woman's profile with way hair. This one had a classic look, like an old cameo almost!
CIRCUS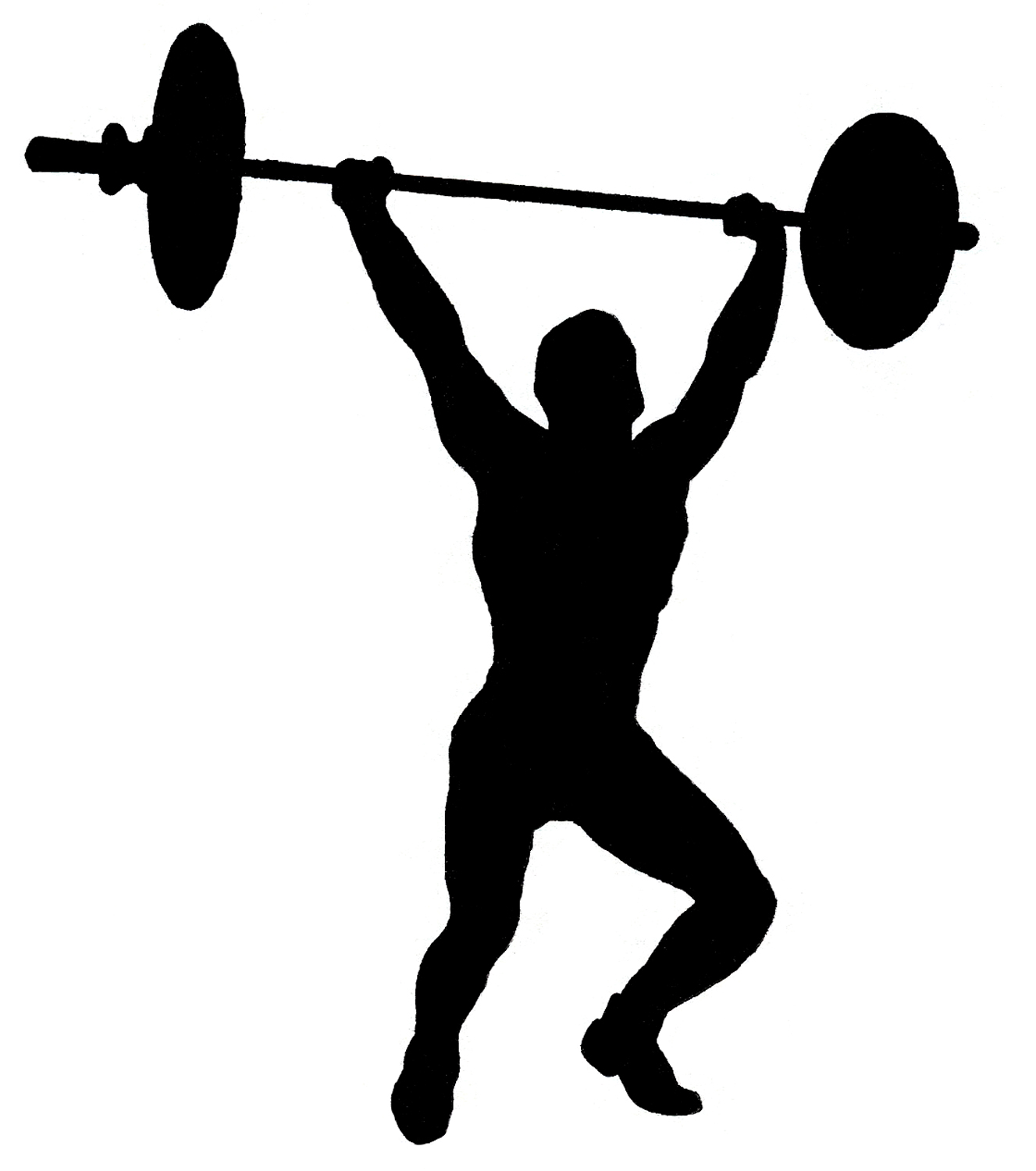 23)   Strongman.  This fun circus image shows a strong man holding a barbell above his head. I think these circus silhouettes would be fun to use for cards, and great to add to some whimsical background papers.
24)   Circus Elephant.  This is a wonderful and talented elephant, balancing on a small box. This classic circus image would be great for invitations to a child's party.
25)   Playful Monkeys.  This fun image shows two curious monkeys with their curled tails walking on what looks to be a log or branch.
26)   Acrobats with Horses. This circus image shows two horses, a man, and a female circus performer. The man is balancing on the backs of the two horses, while the woman is balancing on his leg. I just love the feathers in the horse bridles!
 ************************************************************************
 I hope you enjoy these silhouettes. There are many more silhouettes in the archives, including more children, and some great Halloween & Thanksgiving images too!
Don't forget that you can change the color of your silhouettes — you don't have to just stick to traditional black.  This tutorial gives you a quick and easy way to change the silhouette to any color you can think of!
Hello! Are you new to The Graphics Fairy?
Welcome, I'm so glad you're here! Browse around to find
thousands of Stock Images
that you can use in your projects or designs! I post new Vintage images every day, as well as projects and DIY's too! Need more info about my site? Try my
FAQ
page.