Hello, you wonderful Graphics Fairy readers – It's Heather from Thicketworks with an easy classic two-toned paint finish! I love this look, and it couldn't be easier to achieve.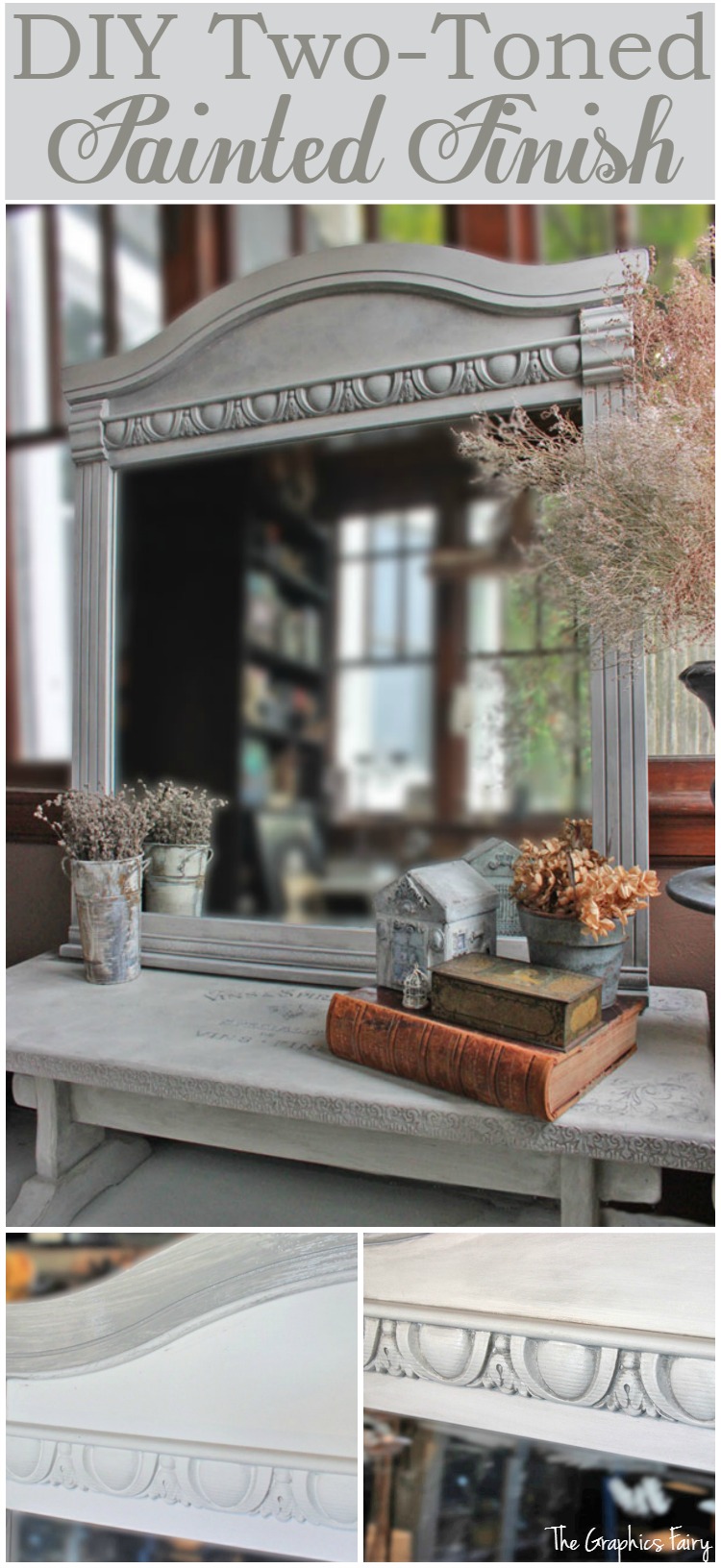 This post is sponsored by the creative folks over at Heirloom Traditions.
---
If you would like to create a similar transformation, here's what you'll need:
A piece of furniture that could use some love!
A decent quality two-inch paint brush
A beat up chip brush or similar
A Best Chalk Brush, medium
Heirloom Traditions Dust of Ages Aging Powder
A collection of rags for wiping back paint washes, and for polishing the waxed surface.
(I used microfiber rags, and they worked beautifully).
---
This project began with the sound of screeching tires! We were all dressed up and on our way to a celebration dinner, when my head swiveled, my hands yanked the steering wheel, and my foot stomped on the brakes…yep, you guessed it: Curbside Treasure Trove!
With the help of my well dressed companions, we wrestled this monster into the van, along with several other fantastic items, all of which were destined for the dumpster…well, not on MY watch. (My long-suffering family deserves your sympathy)
While cleansing the poor thing, I discovered that it was made of some strange composite material: not quite MDF, not wood, but compressed fibers coated with a synthetic skin. Yikes! What have I done? This stuff will never allow itself to be painted! However, nothing ventured, etc.
I can't recommend that you go looking for something made of this stuff, but if you happen to come across it, don't despair!
Because I love to test the limits of things, I decided to dive in WITHOUT sanding the surface, and WITHOUT any primer whatsoever. Who says I'm not brave?
Here to tell you, even though this synthetic skin thing had me worried, it was no match for Heirloom Traditions Chalk Type Paint. Join me, as we turn this bizarre simulated wood item into a classically inspired beauty!
After some minor repairs (the bottom edge was smushed, so I added a couple of trim pieces made of actual WOOD) here's our subject, in all its' synthetic glory: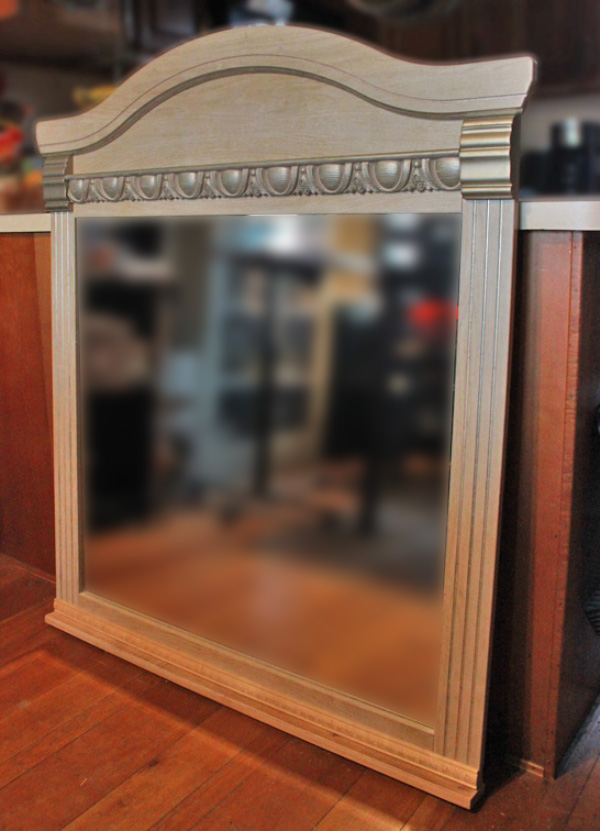 Gotta love the gold plastic molding, right?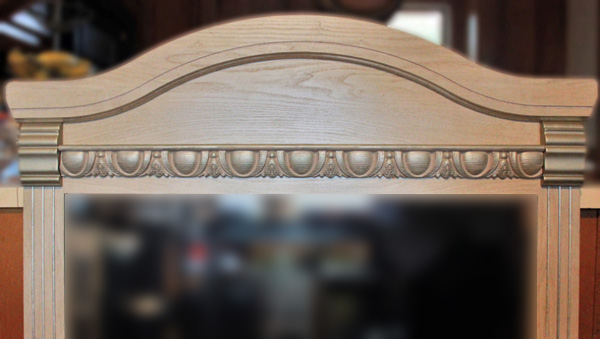 We'll just see about that!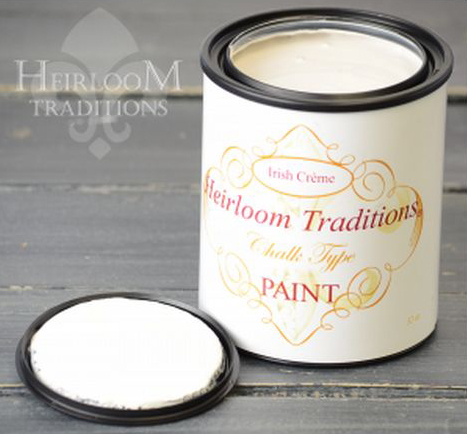 1) After two coats of Irish Creme, a gorgeously rich light taupe: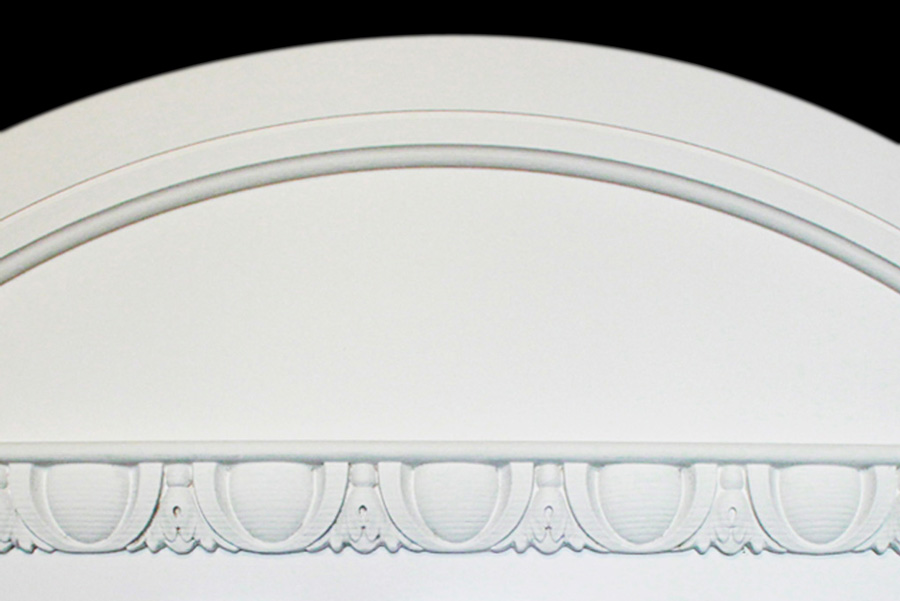 Whew, no problem with coverage, even over this bizarre plastic finish. Yay!
Ah, now that it's beginning to gain a bit of dignity… time to grunge it up a little.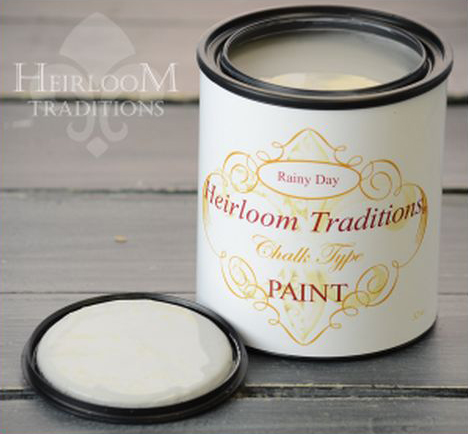 2) Mix 3 Tablespoons of Rainy Day with an equal amount of water to create a soft gray wash: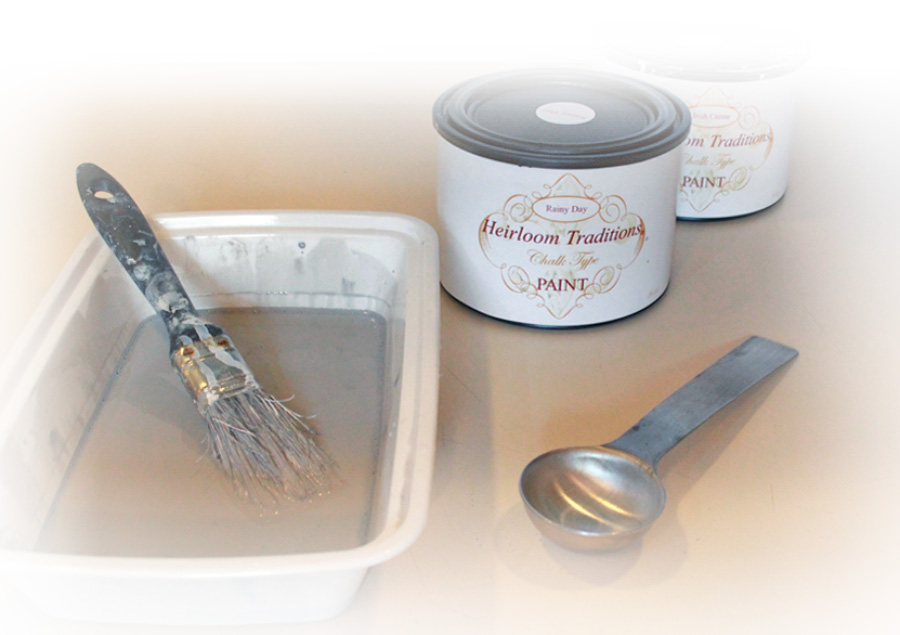 3) Generously slather the wash over the pristine Irish Creme: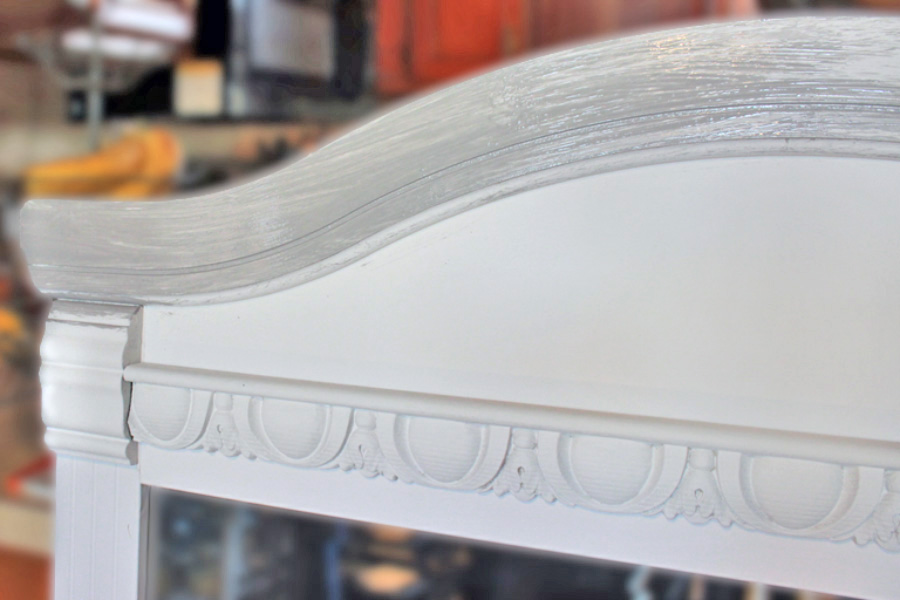 4) Working in sections, wipe the wash back with a damp rag, leaving character and depth behind: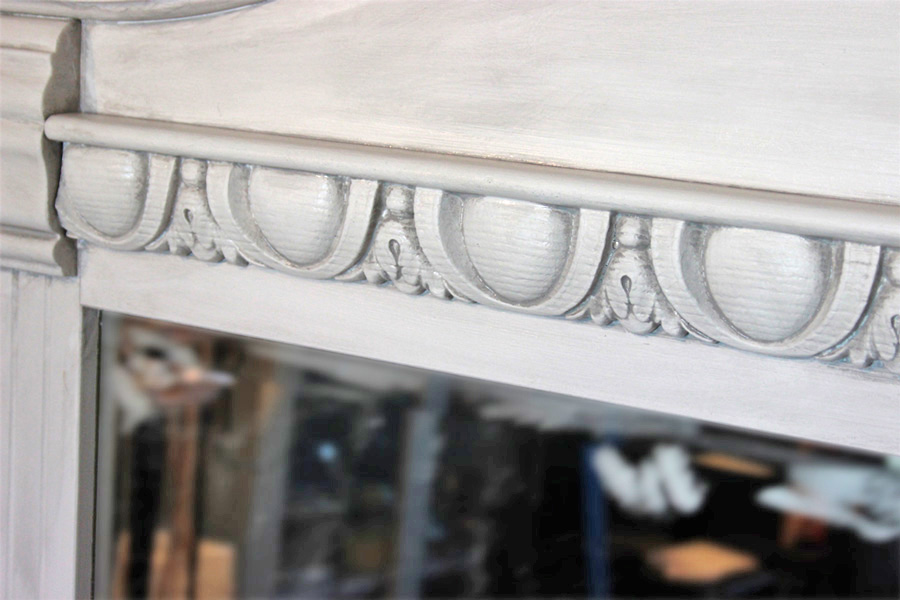 5) Continue the process until all the crevices are darkened. Make sure to wipe-back while the wash is still wet. Rinse your rag out over and over during this process.
6) Using a beat up old brush, stipple a very light and patchy touch of Rainy Day over the surface of the piece, creating a cloudy effect.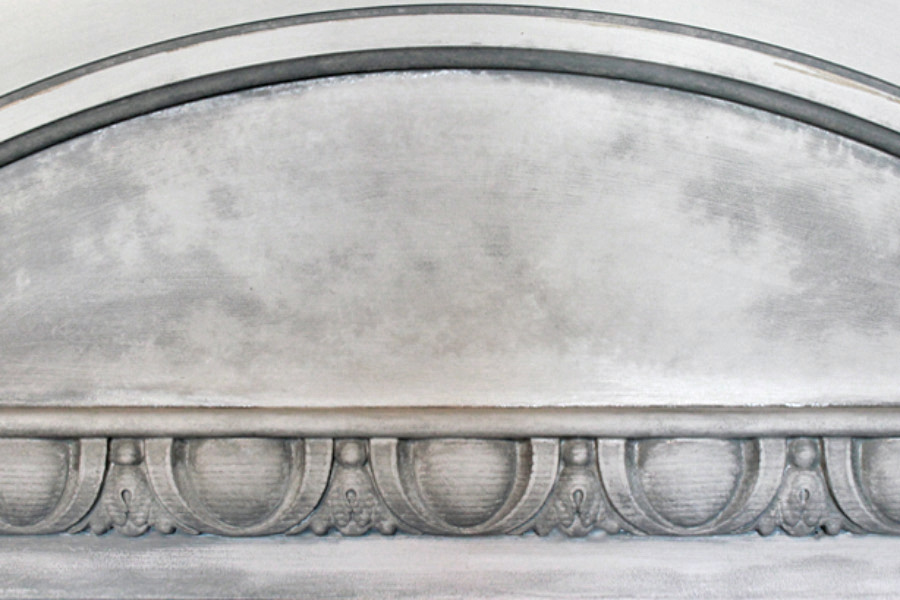 7) Once this layer has dried, dry brush the details with the Irish Creme to increase the drama.
8) When the dry-brushed surface has dried, it's time for finishing! Using your Best Chalk Brush, work a coat of Clear Wax over the surface, working in sections.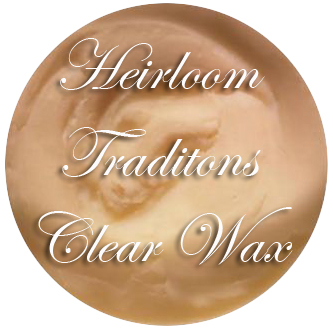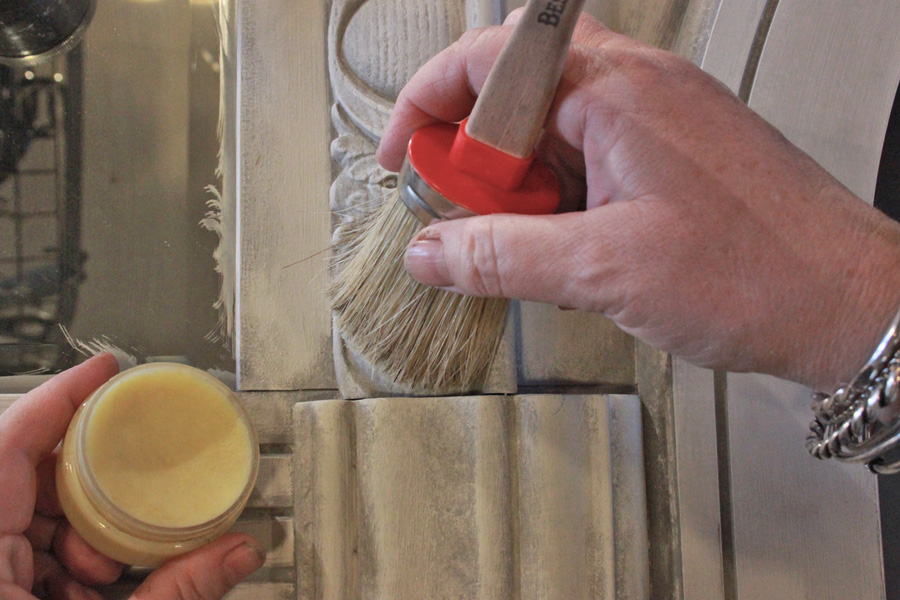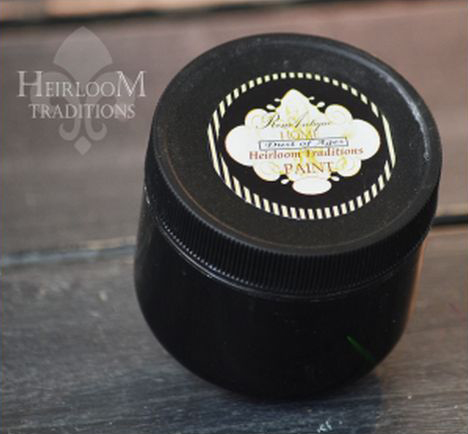 9) While the wax is moist, sprinkle Dust of Ages over the areas you'd like to 'soften':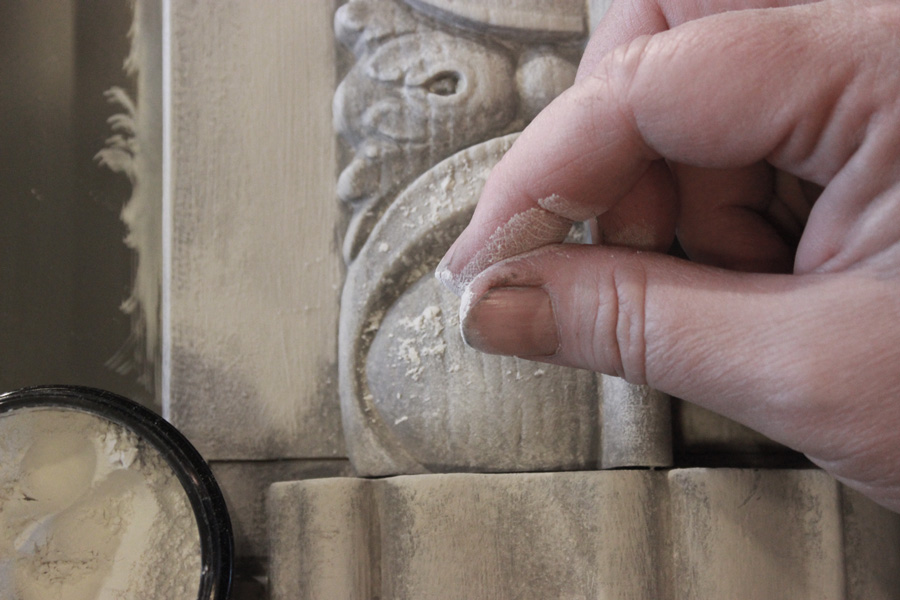 10) Work the dust into the wax to create a gloriously aged appearance. (I used my fingers and an old scruffy brush).
11) Now it's time to buff the surface. Using clean, dry rags, wipe the wax back until the surface feels smooth and just a bit slick. This will protect your finish and results in the softest gleam.
Note: Your fingertips will tell you when you've hit the sweet spot. The rag will no longer 'drag' over the surface, and any sticky feeling will be gone.
No more gold plastic! Woo hoo!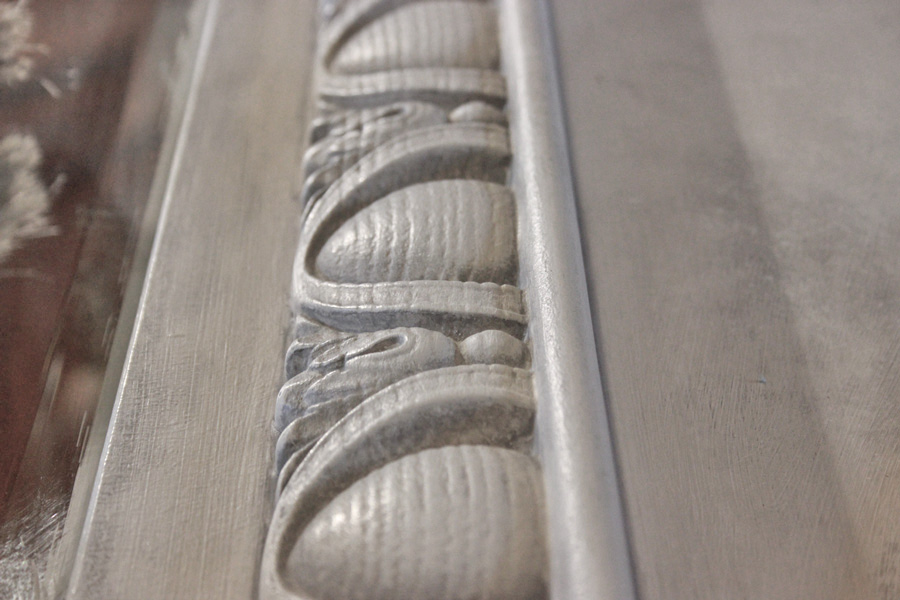 Note: it's inevitable that when you work on a mirror, you'll get some wax on the glass. No problem! A quick swipe with some Isopropyl (rubbing) Alcohol, and the mess is gone. No need for Mineral Spirits…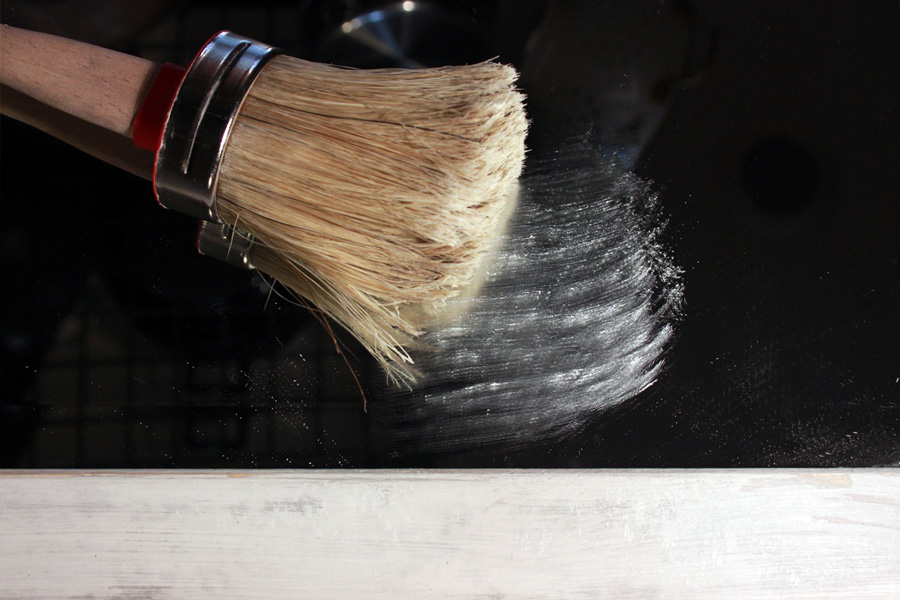 And that, my friends, is that! You now have a one-of-a-kind classical beauty, that no one will suspect began life as a tacky curbside dumpster-bound orphan.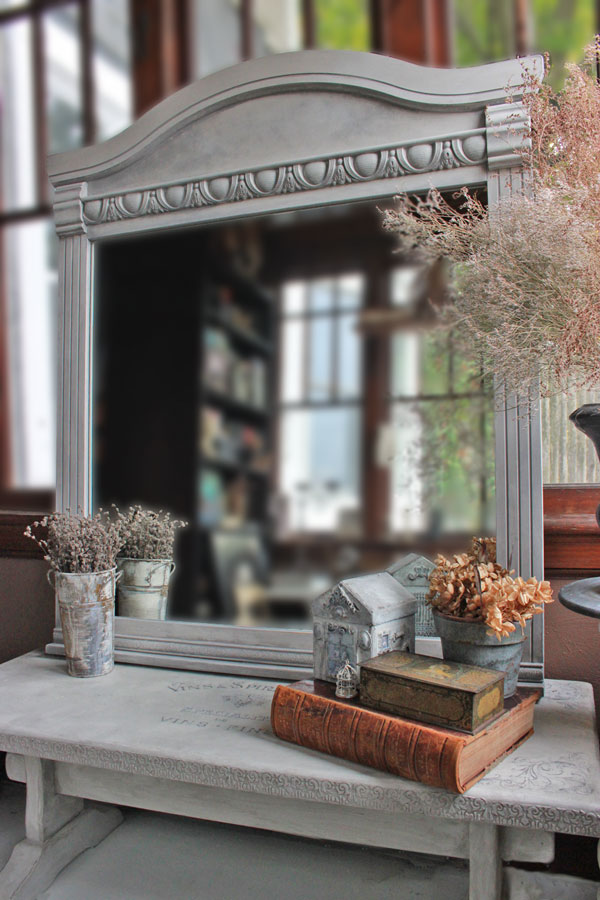 *Full Disclosure: Heirloom Traditions supplied their products to be used in this project, and they sponsored this post – however, I supplied the elbow grease, rescued furniture, design concept, and opinions! All of which reflect my own point of view, regardless of affiliation…
For more information on Heirloom Traditions Products, please visit www.heirloomtraditionspaint.com
Thanks for joining me for this journey of redemption! If you like the satisfaction of transforming ordinary objects into something extraordinary, come hang out at Thicketworks, and see what trouble you can get into.
You're always welcome there.
Take Care,
Heather