The Die Cutting Craze
Do you want a digital die cutting machine, but are confused about which one is best for you? Do you own a die cutting machine, but have never used it? Hopefully, I can demystify the two leading machines for you! I will explore the pros and cons of the best die cut machines and 'get under the hood' so to speak. They can be a little intimidating at first. Trust me, I understand your reluctance. I have a confession! I had a Cricut Expression that I never…ever took out of the box after spending around $300 for it. I don't want this to happen to you. They are too much fun for Mixed Media artists. Let's uncomplicate them and get you cutting.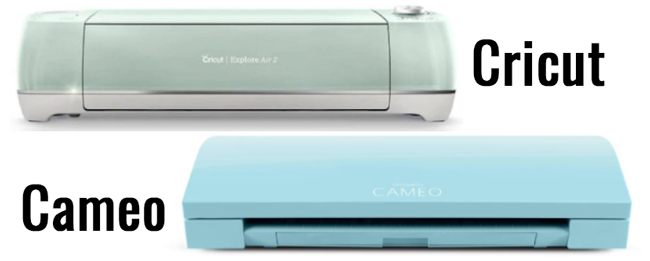 What is a Digital Die Cutting Machine?
An electronic die cutter is a tool used by Mixed Media artists, sign makers, book makers, scrapbookers, paper crafters, card makers, etc. It can open up a whole new world for your art and crafting. The machine uses a blade to cut designs, shapes, letters and numbers, plus patterns out of cardstock, papers, vinyl, felt, foam, fabric, etc.
While the machines may seem a little complicated, once you jump in and learn by doing, it will probably become one of your favorite tools. Plus, the loyal fans and followers of each machine have formed giving and sharing communities where you can quickly and easily find help and tips.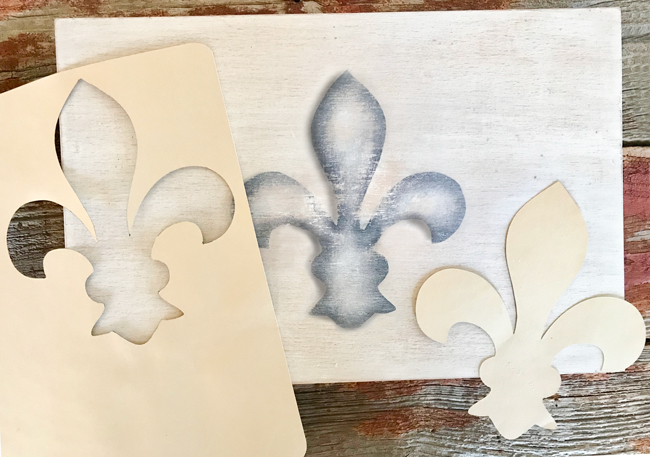 I especially love to cut The Graphics Fairy images into stencils (above); frames, boxes…and so much more. This is one of the many projects from my upcoming Stenciling eCourse here at TGF!
Today I am comparing the Cricut Explore Air 2 vs. the Silhouette Cameo 3 electronic die cutting machines. This is truly analogous to describing the features of an iphone and android phone and attempting to determine which one is better than the other. It cannot be done because there is a set of people who swear by each. Similarly, the Cricut and Cameo 3 are products with commonalities and differences but are both exceptional products, and it really is subjective to attempt to determine which is better. So I will just provide information to help you understand what they do best.
Cricut vs. Silhouette
I need to be transparent with you up front. I own a Cricut Explore Air 2. I do not own or use a Silhouette Cameo 3. However, for this article I have spoken with several crafters who use each of the machines. So I am confident that this will be a factual, unbiased comparison of both. There are good things and a few cons about both machines. It really comes down to which machine will do what you want or need it to do.
The Software and Apps
Let's first look at the software. Both machines are WiFi compatible. The Cricut utilizes cloud based software through the Internet whereas the Silhouette uses software that is downloaded onto your computer. There are also Apps available for both. The App for Cricut is currently only fully operational on an Ipad or Iphone. It is in Beta phase for Android. The Cameo 3 has Apps for both systems.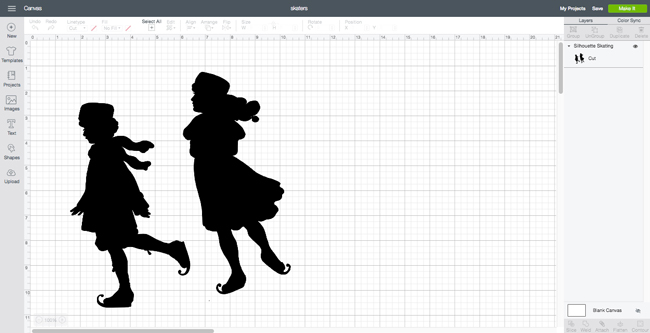 The Air 2 software is called Cricut Design Space (above) and the Cameo's is Silhouette Studio. Both are great. The Studio software is actually a bit more advanced than that of the Design Space. Therefore, Silhouette has a higher learning curve. The initial setup time of the Silhouette is longer but if internet access is an issue it may be the better alternative. The Cricut is generally more user-friendly than the Cameo 3 for beginners. Both units have bluetooth capability so designs can be created on your tablet or laptop and sent wirelessly to the cutter. This makes the cutting easy and fun!
Fonts and Images
The Design Space software enables the use of Cricut fonts, which are free. You also have the option of paying $9.99 per month or 99 cents per download to select from a much larger image and font library. Silhouette Studio provides the use of 8 fonts (some are free) with the same option of paying for downloaded fonts and designs for minimal fees. Both Silhouette Studio and Cricut Design Space allow you to import The Graphics Fairy SVG files from the Premium Site, or your own designs created in Illustrator or another vector software program. I created the DIY Mercury Glass Reindeer project below by using a reindeer image from TGF to cut on my Cricut.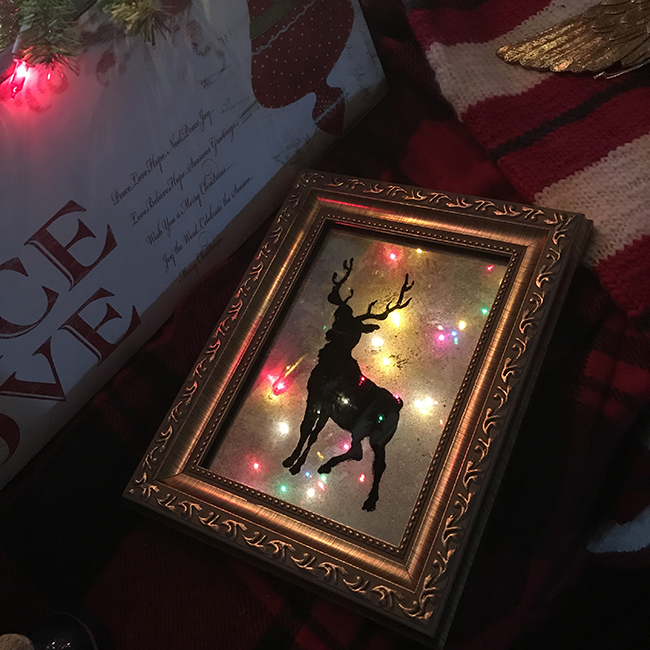 Cutting
The Cricut allows for cutting sizes up to 11.5″ x 23.5″ and the Silhouette 12″x 10 feet. The Silhouette therefore is the obvious choice if you are creating signage or longer designs. The Cricut cutting space is reduced down to 6″ x 8.5″ if you're using the Print and Cut function or importing your own designs from Illustrator or another non-Cricut software program. It is browser dependent.

However, the Cricut uses superior blades made with carbide and is more amenable to making the best precision cuts. This is particularly true when cutting highly intricate patterns and designs.
Additionally, the Cricut is faster at both cutting and drawing with its Fast Mode feature, which can be used on card stock, vinyl, and iron-on materials. Both cutters have a dual carriage, which enables writing and drawing or writing and scoring to be completed in one step instead of two. Plus, both can cut over 100 different kinds of materials. Remember, the Cricut actually runs at a faster speed than the Silhouette.
Both cutters have automated features and are easy to use. The Explore Air 2 has what is called a Smart Set Dial on the front, which has settings that automatically calibrate for the most often used materials such as vinyl, paper, card stock, and bonded fabric. You can also customize the automatic settings by selecting from over eighty additional materials with the Design Space software.
The Cameo 3 has a large touchscreen designed to minimize user errors. It also has an Auto Blade setting that automatically calibrates the correct blade settings according to the materials being used.
Accessories

If you have seen the displays at craft stores like shown above, you know just how many accessories there are for each machine. If you have not yet purchased a cutting machine, I would advise you to purchase one bundled with a start-up kit. It gives you the necessary tools you need. Additionally, there are bundles on shopping channels that usually include cool accessories, materials, pens, and other goodies. Do your research first to find the best deal that works for you. Here is a current Cameo 3 Starter bundle. Here is a current Cricut Explore Air 2 Starter bundle. There are some other specific function bundles:
Cricut Vinyl Bundle
Cameo Vinyl Bundle
Cricut Iron-On Bundle
Cameo Craft Bundle
Here are the accessories you might want: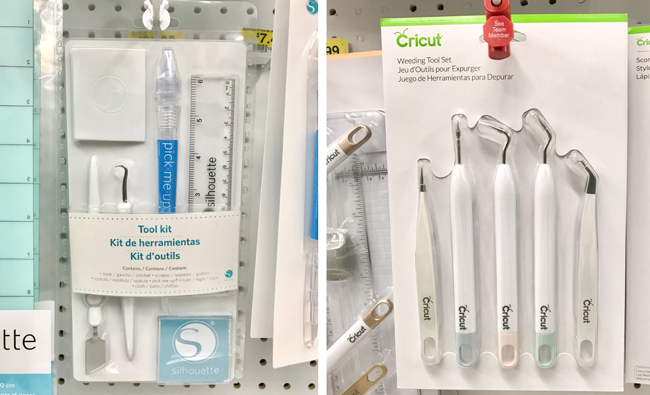 Cricut Basic Tool Kit
Cameo Basic Tools
Cricut Extra Blades
Cameo Extra Blades and Mats
Cricut Extra Cutting Mats
The Machines
I'll finish by noting that both products are visually appealing. They are designed to be a part of your creative desktop. This is a 'beauty in the eyes of the beholder' issue. The Cricut Explore Air 2 is available in several pastel colors, raspberry, and black.
The Silhouette Cameo 3 is available in white, black, grey, pastels, and a few limited edition colors at specialty stores. It is truly quite sleek and stylish. Both have lots of storage space for tools and blades. The Cameo 3 has an intuitive touch screen with audio alerts. The Cricut has automatic settings available through the Smart Set Dial.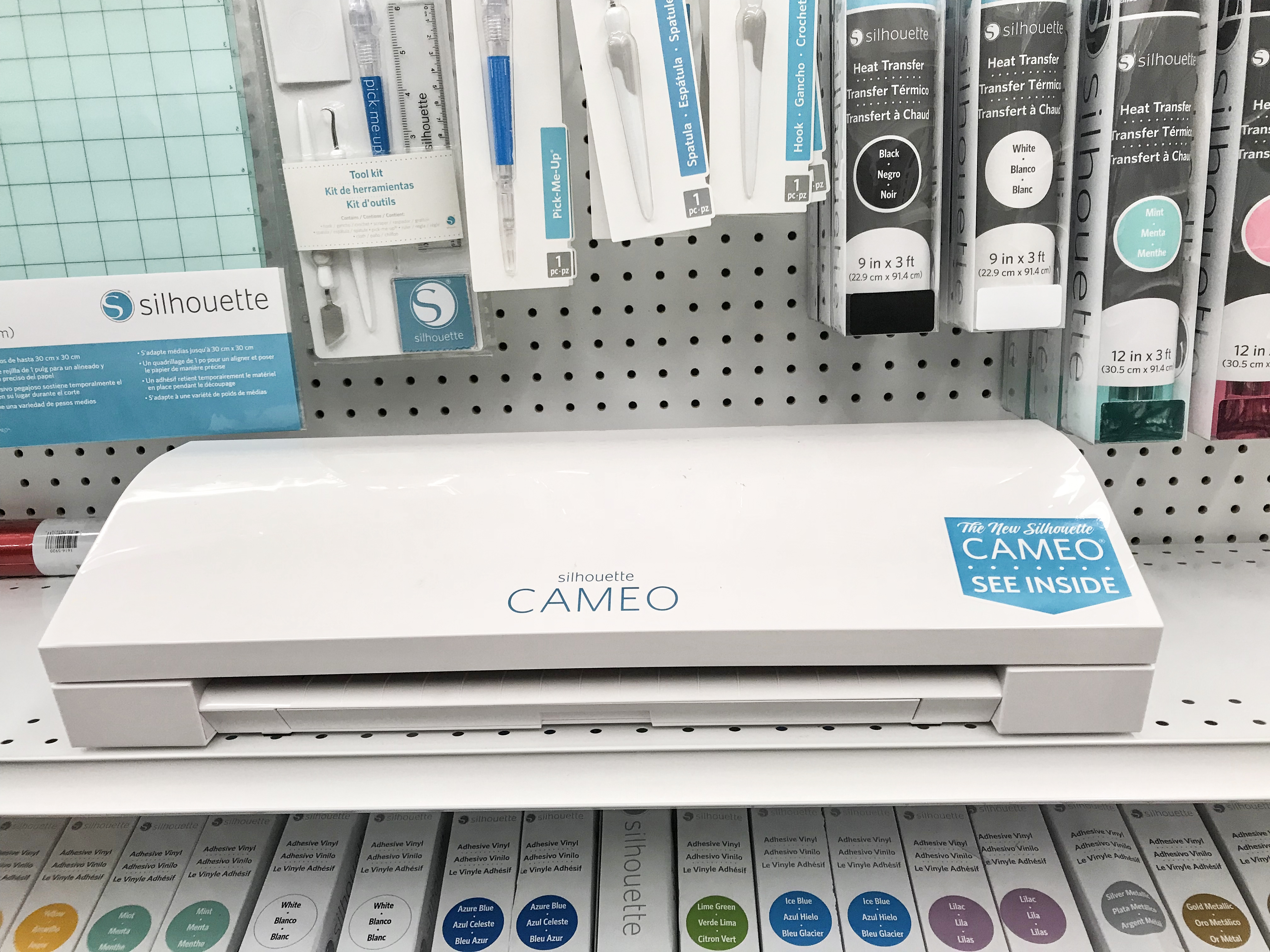 The Cricut Maker
You may wonder why I didn't write about the newest Cricut Maker Die Cutting Machine with commercial-grade cutting power. It is an amazing machine, but I feel that the Explore Air 2 compares best to the Cameo 3. When you are ready to upgrade, this will probably be the machine of choice. According to the Cricut website, the Cricut Maker is the ultimate smart cutting machine: "The Cricut Maker handles fabrics, leather, paper, and balsa wood with effortless precision. It cuts sewing patterns in just a few clicks. And places more creative possibilities than ever at your fingertips. With its revolutionary toolset, Cricut Maker cuts, writes, and scores more materials – with greater precision and control – than ever before. Plus, with more tools coming, Cricut Maker grows with you as you master each new craft."
I create Photoshop Elements tutorials over on The Graphics Fairy Premium Membership site. You can find even more of my art, DIYs, and whimsical shenanigans on Cre8tive Compass Magazine, Cre8tiva (just launched), and loads of my digital art on Instagram.